<![CDATA[ var dwellicious_data = { "address": "300 Pebble Beach Dr ", "city": "BRENTWOOD", "state": "CA", "zip": "94513-7072", "zip4": "", "area": "", "subdivision": "", "county": "", "price": "750000", "beds": "4", "baths": "3", "sqft": "3127", "lotsize": "7616", "yearbuilt": "2002-01-01", "proptype": "Residential", "mlsnum": "40861099", "active": true, "remarks": "Welcome home to golf course resort living in beautiful Deer Ridge! Enjoy no rear neighbors in this entertainer's dream home with custom touches throughout. Downstairs has formal living and dining rooms along with a large bedroom and full bath. The kitchen is fully updated with s/s appliances, island and large walk-in pantry. The eat-in-kitchen will WOW you with the awesome barn door! Relax and enjoy an enormous family room with shutters, crown molding and high ceilings. Speakers are in the living room, family room, loft and master! All 4 bedrooms are roomy with tons of natural light. The large loft could be turned back into a 5th bedroom with room to spare. The master has the ultimate wow-factor with a gigantic walk-in closet and huge bathroom. Cabinets and ceiling storage in the garage can stay. The exterior is drought-friendly and conveniently located on a corner lot, close to schools, freeway, restaurants and shopping. Open house Saturday, 4/20, 1-4.", "photos": [ { "displayorder": 0, "url": "//cdnparap30.paragonrels.com/ParagonImages/Property/P3/MAXEBRDI/40861099/0/0/0/ffb2361349ad838a67a4eb2d23e732e3/84/85ca3af8714d0d4f13c33841d862b014/40861099.JPG", "caption": "" }, "displayorder": 1, "url": "//cdnparap30.paragonrels.com/ParagonImages/Property/P3/MAXEBRDI/40861099/1/0/0/67cdf86eea2e70977a48338822c6ed99/84/85ca3af8714d0d4f13c33841d862b014/40861099-1.JPG", "caption": "" }, "displayorder": 2, "url": "//cdnparap30.paragonrels.com/ParagonImages/Property/P3/MAXEBRDI/40861099/2/0/0/a234bfcb34f1e3f188d3a6072261cc56/84/85ca3af8714d0d4f13c33841d862b014/40861099-2.JPG", "caption": "" }, "displayorder": 3, "url": "//cdnparap30.paragonrels.com/ParagonImages/Property/P3/MAXEBRDI/40861099/3/0/0/f64b0d2d37cf27bbee65d04018d81b64/84/85ca3af8714d0d4f13c33841d862b014/40861099-3.JPG", "caption": "" }, "displayorder": 4, "url": "//cdnparap30.paragonrels.com/ParagonImages/Property/P3/MAXEBRDI/40861099/4/0/0/85e71bd8ea6fed68ace9ba217d67fcc1/84/85ca3af8714d0d4f13c33841d862b014/40861099-4.JPG", "caption": "" }, "displayorder": 5, "url": "//cdnparap30.paragonrels.com/ParagonImages/Property/P3/MAXEBRDI/40861099/5/0/0/05f2bf348096e9f619ce59ed661754e1/84/85ca3af8714d0d4f13c33841d862b014/40861099-5.JPG", "caption": "" }, "displayorder": 6, "url": "//cdnparap30.paragonrels.com/ParagonImages/Property/P3/MAXEBRDI/40861099/6/0/0/3d878931d1b32de9686be63f53a932eb/84/85ca3af8714d0d4f13c33841d862b014/40861099-6.JPG", "caption": "" }, "displayorder": 7, "url": "//cdnparap30.paragonrels.com/ParagonImages/Property/P3/MAXEBRDI/40861099/7/0/0/6de822c025b031709fc6bd4ef874daf7/84/85ca3af8714d0d4f13c33841d862b014/40861099-7.JPG", "caption": "" }, "displayorder": 8, "url": "//cdnparap30.paragonrels.com/ParagonImages/Property/P3/MAXEBRDI/40861099/8/0/0/7795f91d82d431bf05538c2fba220f99/84/85ca3af8714d0d4f13c33841d862b014/40861099-8.JPG", "caption": "" }, "displayorder": 9, "url": "//cdnparap30.paragonrels.com/ParagonImages/Property/P3/MAXEBRDI/40861099/9/0/0/df743d7ecd6710bc598738414f6d93f0/84/85ca3af8714d0d4f13c33841d862b014/40861099-9.JPG", "caption": "" }, "displayorder": 10, "url": "//cdnparap30.paragonrels.com/ParagonImages/Property/P3/MAXEBRDI/40861099/10/0/0/d7b2298f52f221743dae94defa3ba3e7/84/85ca3af8714d0d4f13c33841d862b014/40861099-10.JPG", "caption": "" }, "displayorder": 11, "url": "//cdnparap30.paragonrels.com/ParagonImages/Property/P3/MAXEBRDI/40861099/11/0/0/67c40494f775837015b464b4a93d4dba/84/85ca3af8714d0d4f13c33841d862b014/40861099-11.JPG", "caption": "" }, "displayorder": 12, "url": "//cdnparap30.paragonrels.com/ParagonImages/Property/P3/MAXEBRDI/40861099/12/0/0/f60bbbcd993163b13b713fd1cebccce9/84/85ca3af8714d0d4f13c33841d862b014/40861099-12.JPG", "caption": "" }, "displayorder": 13, "url": "//cdnparap30.paragonrels.com/ParagonImages/Property/P3/MAXEBRDI/40861099/13/0/0/f43b90a4414b8a41cc7ec68a10ccaf28/84/85ca3af8714d0d4f13c33841d862b014/40861099-13.JPG", "caption": "" }, "displayorder": 14, "url": "//cdnparap30.paragonrels.com/ParagonImages/Property/P3/MAXEBRDI/40861099/14/0/0/d84206639d457625c1c263a446f1d1c7/84/85ca3af8714d0d4f13c33841d862b014/40861099-14.JPG", "caption": "" }, "displayorder": 15, "url": "//cdnparap30.paragonrels.com/ParagonImages/Property/P3/MAXEBRDI/40861099/15/0/0/037b92f9d66e747e1f759fc2aa72953e/84/85ca3af8714d0d4f13c33841d862b014/40861099-15.JPG", "caption": "" }, "displayorder": 16, "url": "//cdnparap30.paragonrels.com/ParagonImages/Property/P3/MAXEBRDI/40861099/16/0/0/c0b60c782e19f9d56c399ed49b6c1b7c/84/85ca3af8714d0d4f13c33841d862b014/40861099-16.JPG", "caption": "" }, "displayorder": 17, "url": "//cdnparap30.paragonrels.com/ParagonImages/Property/P3/MAXEBRDI/40861099/17/0/0/29c06860c5498a5bcfdb1f70e9971728/84/85ca3af8714d0d4f13c33841d862b014/40861099-17.JPG", "caption": "" }, "displayorder": 18, "url": "//cdnparap30.paragonrels.com/ParagonImages/Property/P3/MAXEBRDI/40861099/18/0/0/38cb12ea613a0155b9ccd6c40eb2f737/84/85ca3af8714d0d4f13c33841d862b014/40861099-18.JPG", "caption": "" }, "displayorder": 19, "url": "//cdnparap30.paragonrels.com/ParagonImages/Property/P3/MAXEBRDI/40861099/19/0/0/e145a43470df31f65052f4d00fba715b/84/85ca3af8714d0d4f13c33841d862b014/40861099-19.JPG", "caption": "" }, "displayorder": 20, "url": "//cdnparap30.paragonrels.com/ParagonImages/Property/P3/MAXEBRDI/40861099/20/0/0/3eac3a0d4ade35eb99582b311d363274/84/85ca3af8714d0d4f13c33841d862b014/40861099-20.JPG", "caption": "" }, "displayorder": 21, "url": "//cdnparap30.paragonrels.com/ParagonImages/Property/P3/MAXEBRDI/40861099/21/0/0/795648fd5916389af6b44ef5d63a739a/84/85ca3af8714d0d4f13c33841d862b014/40861099-21.JPG", "caption": "" }, "displayorder": 22, "url": "//cdnparap30.paragonrels.com/ParagonImages/Property/P3/MAXEBRDI/40861099/22/0/0/ae178ec298b19364dbdc87b6ab34a552/84/85ca3af8714d0d4f13c33841d862b014/40861099-22.JPG", "caption": "" }, "displayorder": 23, "url": "//cdnparap30.paragonrels.com/ParagonImages/Property/P3/MAXEBRDI/40861099/23/0/0/ea1a131b8871ea869b9bc48f048af991/84/85ca3af8714d0d4f13c33841d862b014/40861099-23.JPG", "caption": "" }, "displayorder": 24, "url": "//cdnparap30.paragonrels.com/ParagonImages/Property/P3/MAXEBRDI/40861099/24/0/0/f398fcfad34ac17fb51505a1b81c0985/84/85ca3af8714d0d4f13c33841d862b014/40861099-24.JPG", "caption": "" }, "displayorder": 25, "url": "//cdnparap30.paragonrels.com/ParagonImages/Property/P3/MAXEBRDI/40861099/25/0/0/029dffcbcc3923e5cf965e347d601a2d/84/85ca3af8714d0d4f13c33841d862b014/40861099-25.JPG", "caption": "" }, "displayorder": 26, "url": "//cdnparap30.paragonrels.com/ParagonImages/Property/P3/MAXEBRDI/40861099/26/0/0/d8d3756e375e4247b8cbec37bde90a9e/84/85ca3af8714d0d4f13c33841d862b014/40861099-26.JPG", "caption": "" }, "displayorder": 27, "url": "//cdnparap30.paragonrels.com/ParagonImages/Property/P3/MAXEBRDI/40861099/27/0/0/b29ee495710e886d7b79fd85388c3202/84/85ca3af8714d0d4f13c33841d862b014/40861099-27.JPG", "caption": "" }, "displayorder": 28, "url": "//cdnparap30.paragonrels.com/ParagonImages/Property/P3/MAXEBRDI/40861099/28/0/0/d5f8ef28e9595922cc333769553bb848/84/85ca3af8714d0d4f13c33841d862b014/40861099-28.JPG", "caption": "" }, "displayorder": 29, "url": "//cdnparap30.paragonrels.com/ParagonImages/Property/P3/MAXEBRDI/40861099/29/0/0/52e380e8a0782a4376ad4105abc3fd7c/84/85ca3af8714d0d4f13c33841d862b014/40861099-29.JPG", "caption": "" }, "displayorder": 30, "url": "//cdnparap30.paragonrels.com/ParagonImages/Property/P3/MAXEBRDI/40861099/30/0/0/7cb53862a59bb19828d617bcd2970e44/84/85ca3af8714d0d4f13c33841d862b014/40861099-30.JPG", "caption": "" }, "displayorder": 31, "url": "//cdnparap30.paragonrels.com/ParagonImages/Property/P3/MAXEBRDI/40861099/31/0/0/379b1295b30f3aeb6dca1176f27d2f38/84/85ca3af8714d0d4f13c33841d862b014/40861099-31.JPG", "caption": "" }, "displayorder": 32, "url": "//cdnparap30.paragonrels.com/ParagonImages/Property/P3/MAXEBRDI/40861099/32/0/0/96ac27c3849fc4b42c73e75f12e8dcb0/84/85ca3af8714d0d4f13c33841d862b014/40861099-32.JPG", "caption": "" }, "displayorder": 33, "url": "//cdnparap30.paragonrels.com/ParagonImages/Property/P3/MAXEBRDI/40861099/33/0/0/dd230c0a564ada20a2b156d3a1d6c54e/84/85ca3af8714d0d4f13c33841d862b014/40861099-33.JPG", "caption": "" }, "displayorder": 34, "url": "//cdnparap30.paragonrels.com/ParagonImages/Property/P3/MAXEBRDI/40861099/34/0/0/8e332c350d0bf1fc7de09a2f489c7aa1/84/85ca3af8714d0d4f13c33841d862b014/40861099-34.JPG", "caption": "" }, "displayorder": 35, "url": "//cdnparap30.paragonrels.com/ParagonImages/Property/P3/MAXEBRDI/40861099/35/0/0/11bd82866a3d6d272443acd23a53204b/84/85ca3af8714d0d4f13c33841d862b014/40861099-35.JPG", "caption": "" }, "displayorder": 36, "url": "//cdnparap30.paragonrels.com/ParagonImages/Property/P3/MAXEBRDI/40861099/36/0/0/bf614dc27664383661c4aa0e1ad98a91/84/85ca3af8714d0d4f13c33841d862b014/40861099-36.JPG", "caption": "" }, "displayorder": 37, "url": "//cdnparap30.paragonrels.com/ParagonImages/Property/P3/MAXEBRDI/40861099/37/0/0/899df15b4ee1a7c90d4d3eec8c596df9/84/85ca3af8714d0d4f13c33841d862b014/40861099-37.JPG", "caption": "" }, "displayorder": 38, "url": "//cdnparap30.paragonrels.com/ParagonImages/Property/P3/MAXEBRDI/40861099/38/0/0/165d09c082fbbe3bceadfef5c1708f79/84/85ca3af8714d0d4f13c33841d862b014/40861099-38.JPG", "caption": "" }, "displayorder": 39, "url": "//cdnparap30.paragonrels.com/ParagonImages/Property/P3/MAXEBRDI/40861099/39/0/0/03e7b554051eba019261bbd79939de90/84/85ca3af8714d0d4f13c33841d862b014/40861099-39.JPG", "caption": "" } ], "agent": { "name": "WENDY GREGORICH", "phone": "", "email": "wendy@teamgrealestate.com" }, "broker": { "name": "JDK & ASSOCIATES REALTY INC", "phone": "", "email": "" } }; ]]>
300 Pebble Beach Dr
BRENTWOOD, CA 94513-7072

Click here for map
Residential Home
$750,000
3,127 Sq Feet
4 Bedrooms
3 Bathrooms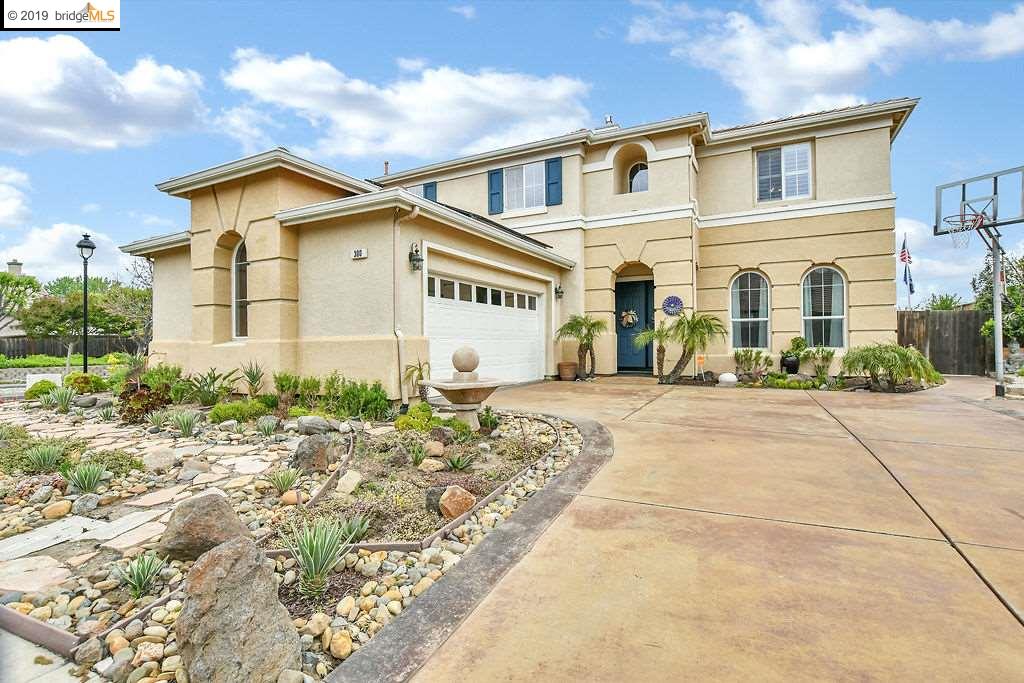 Details:
Lot Sq Feet:
7,616
Fireplaces:
1
HOA?
No
Bank Owned?
No
Status:
Active
Remarks:
Welcome home to golf course resort living in beautiful Deer Ridge! Enjoy no rear neighbors in this entertainer's dream home with custom touches throughout. Downstairs has formal living and dining rooms along with a large bedroom and full bath. The kitchen is fully updated with s/s appliances, island and large walk-in pantry. The eat-in-kitchen will WOW you with the awesome barn door! Relax and enjoy an enormous family room with shutters, crown molding and high ceilings. Speakers are in the living room, family room, loft and master! All 4 bedrooms are roomy with tons of natural light. The large loft could be turned back into a 5th bedroom with room to spare. The master has the ultimate wow-factor with a gigantic walk-in closet and huge bathroom. Cabinets and ceiling storage in the garage can stay. The exterior is drought-friendly and conveniently located on a corner lot, close to schools, freeway, restaurants and shopping. Open house Saturday, 4/20, 1-4.
There are currently no open houses for this property. Please contact
WENDY GREGORICH
to schedule an appointment.