<![CDATA[ var dwellicious_data = { "address": "820 Palmer Rd ", "city": "WALNUT CREEK", "state": "CA", "zip": "94596", "zip4": "", "area": "", "subdivision": "", "county": "", "price": "1175000", "beds": "3", "baths": "2", "sqft": "2028", "lotsize": "13500", "yearbuilt": "1949-01-01", "proptype": "Residential", "mlsnum": "40895759", "active": true, "remarks": "Located in desirable Walnut Heights, beautiful one-story home with owned solar in secluded setting tucked off the street. The spacious open kitchen overlooks living & dining room with hardwood flooring, pellet stove and bar. Updated kitchen features a large island with gas cooktop, granite counters, ample cabinet space, & double ovens. Huge family room with vaulted ceiling, skylight, built-in storage, & heated flooring. Master bedroom features an elegantly upgraded ensuite bathroom, also with heated flooring, dual vanity sinks & a walk-in stone shower. Enjoy direct access to the hot tub deck outside. Also, enjoy two additional bedrooms & guest bath. Two entertainment areas outside, in the backyard, find oversized deck with multiple benches for enjoying the natural surroundings. In the front, enjoy the Bocce ball court, custom paver driveway & sitting porch. Top-rated Walnut Creek schools and minutes to downtown Walnut Creek, BART and freeway.", "photos": [ { "displayorder": 0, "url": "//cdnparap30.paragonrels.com/ParagonImages/Property/P3/MAXEBRDI/40895759/0/0/0/f3c1e60f76a256c09eb46270ae6ac3fe/93/f62059ed7e642efd648809a9a80b55ba/40895759.JPG", "caption": "" }, "displayorder": 1, "url": "//cdnparap30.paragonrels.com/ParagonImages/Property/P3/MAXEBRDI/40895759/2/0/0/963b9db7b37a2c856c0b3ba758fe29e0/93/f62059ed7e642efd648809a9a80b55ba/40895759-2.JPG", "caption": "" }, "displayorder": 2, "url": "//cdnparap30.paragonrels.com/ParagonImages/Property/P3/MAXEBRDI/40895759/3/0/0/a67f3b1fcb5a5c5a6bbe551a54394614/93/f62059ed7e642efd648809a9a80b55ba/40895759-3.JPG", "caption": "" }, "displayorder": 3, "url": "//cdnparap30.paragonrels.com/ParagonImages/Property/P3/MAXEBRDI/40895759/4/0/0/27d7c4fd61e8134eb961a64bf9c3f766/93/f62059ed7e642efd648809a9a80b55ba/40895759-4.JPG", "caption": "" }, "displayorder": 4, "url": "//cdnparap30.paragonrels.com/ParagonImages/Property/P3/MAXEBRDI/40895759/5/0/0/1ec91b6dd3935d5e510b261b90d56f00/93/f62059ed7e642efd648809a9a80b55ba/40895759-5.JPG", "caption": "" }, "displayorder": 5, "url": "//cdnparap30.paragonrels.com/ParagonImages/Property/P3/MAXEBRDI/40895759/6/0/0/40092e3ca3556e48606339a6a2056058/93/f62059ed7e642efd648809a9a80b55ba/40895759-6.JPG", "caption": "" }, "displayorder": 6, "url": "//cdnparap30.paragonrels.com/ParagonImages/Property/P3/MAXEBRDI/40895759/7/0/0/7c279b2e0cba5b21e9d76d2ff3a793b1/93/f62059ed7e642efd648809a9a80b55ba/40895759-7.JPG", "caption": "" }, "displayorder": 7, "url": "//cdnparap30.paragonrels.com/ParagonImages/Property/P3/MAXEBRDI/40895759/8/0/0/28e195b13575001d05896d64f605dfb6/93/f62059ed7e642efd648809a9a80b55ba/40895759-8.JPG", "caption": "" }, "displayorder": 8, "url": "//cdnparap30.paragonrels.com/ParagonImages/Property/P3/MAXEBRDI/40895759/9/0/0/8c1e4f046bd4f77ad9c66b28905ab8c9/93/f62059ed7e642efd648809a9a80b55ba/40895759-9.JPG", "caption": "" }, "displayorder": 9, "url": "//cdnparap30.paragonrels.com/ParagonImages/Property/P3/MAXEBRDI/40895759/10/0/0/7949841601245c54d77dd1c73f8c848d/93/f62059ed7e642efd648809a9a80b55ba/40895759-10.JPG", "caption": "" }, "displayorder": 10, "url": "//cdnparap30.paragonrels.com/ParagonImages/Property/P3/MAXEBRDI/40895759/11/0/0/201278417aca3e1247ffd472c552082a/93/f62059ed7e642efd648809a9a80b55ba/40895759-11.JPG", "caption": "" }, "displayorder": 11, "url": "//cdnparap30.paragonrels.com/ParagonImages/Property/P3/MAXEBRDI/40895759/12/0/0/568c4a4580d118b459fb173cf9b0a3c7/93/f62059ed7e642efd648809a9a80b55ba/40895759-12.JPG", "caption": "" }, "displayorder": 12, "url": "//cdnparap30.paragonrels.com/ParagonImages/Property/P3/MAXEBRDI/40895759/13/0/0/f7dc3ad4115aa47218ae7303ca42210f/93/f62059ed7e642efd648809a9a80b55ba/40895759-13.JPG", "caption": "" }, "displayorder": 13, "url": "//cdnparap30.paragonrels.com/ParagonImages/Property/P3/MAXEBRDI/40895759/14/0/0/94fcdb21af9491dae65ba780e0aa380d/93/f62059ed7e642efd648809a9a80b55ba/40895759-14.JPG", "caption": "" }, "displayorder": 14, "url": "//cdnparap30.paragonrels.com/ParagonImages/Property/P3/MAXEBRDI/40895759/15/0/0/a4de59b730c85f8a0d4c733d0bb90475/93/f62059ed7e642efd648809a9a80b55ba/40895759-15.JPG", "caption": "" }, "displayorder": 15, "url": "//cdnparap30.paragonrels.com/ParagonImages/Property/P3/MAXEBRDI/40895759/16/0/0/cdb9e5bc4cd02d28771a74c60fd6fbe7/93/f62059ed7e642efd648809a9a80b55ba/40895759-16.JPG", "caption": "" }, "displayorder": 16, "url": "//cdnparap30.paragonrels.com/ParagonImages/Property/P3/MAXEBRDI/40895759/17/0/0/e1fa3a72d418bc858b92574e2af950e1/93/f62059ed7e642efd648809a9a80b55ba/40895759-17.JPG", "caption": "" } ], "agent": { "name": "Renee White", "phone": "925-876-2441", "email": "renee@reneewhite.com" }, "broker": { "name": "Keller Williams Realty", "phone": "", "email": "" } }; ]]>
820 Palmer Rd
WALNUT CREEK, CA 94596

Click here for map
Residential Home
$1,175,000
2,028 Sq Feet
3 Bedrooms
2 Bathrooms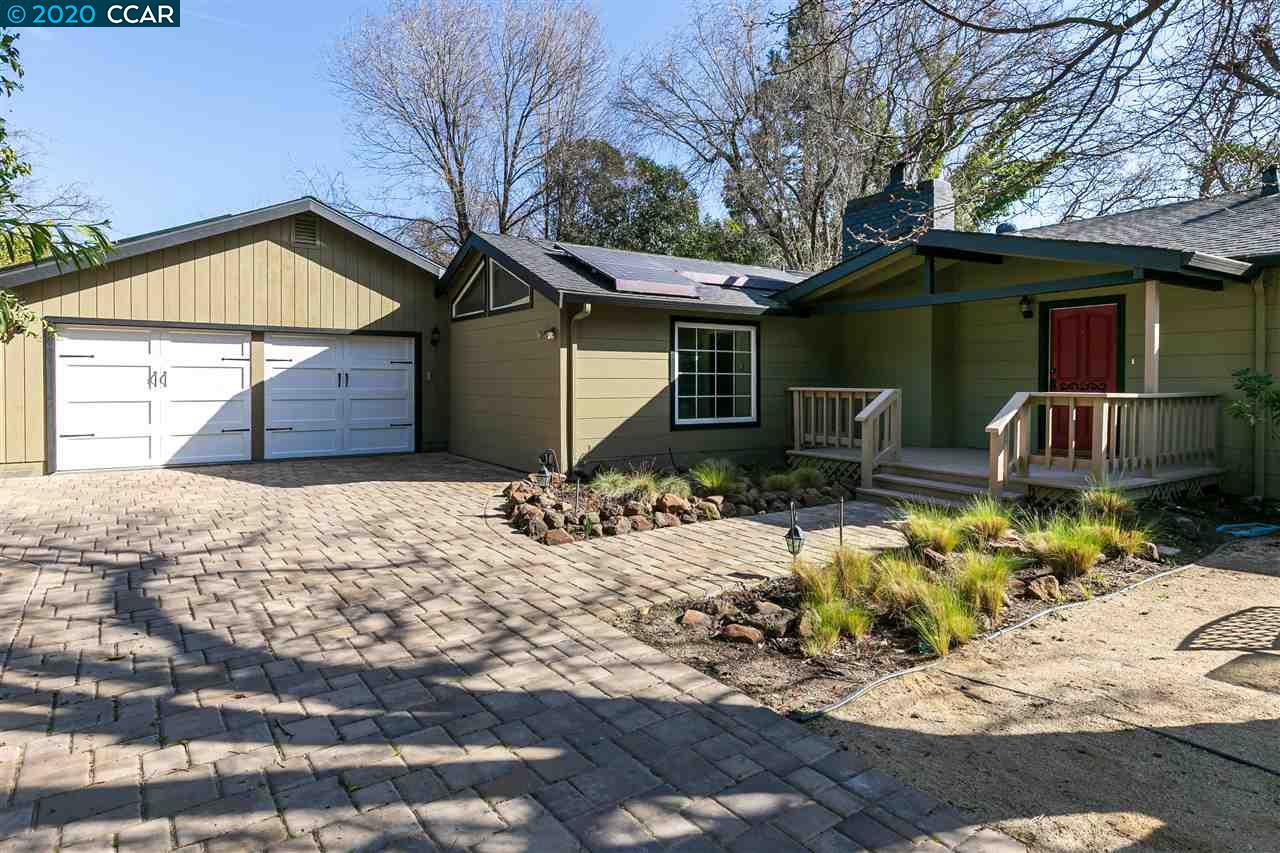 Listed by Renee White of Keller Williams Realty
DRE# 01462315
Details:
Lot Sq Feet:
13,500
Fireplaces:
1
HOA?
No
Bank Owned?
No
Status:
Active
Remarks:
Located in desirable Walnut Heights, beautiful one-story home with owned solar in secluded setting tucked off the street. The spacious open kitchen overlooks living & dining room with hardwood flooring, pellet stove and bar. Updated kitchen features a large island with gas cooktop, granite counters, ample cabinet space, & double ovens. Huge family room with vaulted ceiling, skylight, built-in storage, & heated flooring. Master bedroom features an elegantly upgraded ensuite bathroom, also with heated flooring, dual vanity sinks & a walk-in stone shower. Enjoy direct access to the hot tub deck outside. Also, enjoy two additional bedrooms & guest bath. Two entertainment areas outside, in the backyard, find oversized deck with multiple benches for enjoying the natural surroundings. In the front, enjoy the Bocce ball court, custom paver driveway & sitting porch. Top-rated Walnut Creek schools and minutes to downtown Walnut Creek, BART and freeway.
There are currently no open houses for this property. Please contact
Renee White
to schedule an appointment.