<![CDATA[ var dwellicious_data = { "address": "515 Bourne Ln ", "city": "DANVILLE", "state": "CA", "zip": "94506", "zip4": "", "area": "", "subdivision": "", "county": "", "price": "1879900", "beds": "5", "baths": "5", "sqft": "4288", "lotsize": "18252", "yearbuilt": "1999-01-01", "proptype": "Residential", "mlsnum": "40904105", "active": true, "remarks": "Sat 5/23, 12:30-1:30, Join Zoom Meeting ID: 870 8300 6647 **https://my.matterport.com/show/?m=t395W9C7z1y&mls=1 **VIDEO: https://youtu.be/h82Ov7NrLb4 **Custom Shadow Creek estate with panoramic views from nearly every room! This home blends beautiful craftsmanship with a serene storybook setting & offers 5 full beds & baths, a bright floor plan with a grand wrought iron staircase, a stunning kitchen, elegant landscaping, and incredible attention-to-detail throughout. One full bed and bath downstairs and additional bonus/game room upstairs. Retreat to the beautiful master suite that offers a conjoined office, cozy lounge area, stone fireplace, spa-like bathroom, huge walk-in closet, and breathtaking views. Extravagant details include custom built-ins, carpet and travertine floors, beautiful millwork, beaming hardwoods, regal French doors, and recessed lighting.", "photos": [ { "displayorder": 0, "url": "//cdnparap30.paragonrels.com/ParagonImages/Property/P3/MAXEBRDI/40904105/0/0/0/81d58586a98cc08ec0cde3ac3cd6d751/93/2082c9bb25a492cd83c7c71a32e28c27/40904105.JPG", "caption": "" }, "displayorder": 1, "url": "//cdnparap30.paragonrels.com/ParagonImages/Property/P3/MAXEBRDI/40904105/1/0/0/322c5e673e10e102dfdbe62397e567d7/93/2082c9bb25a492cd83c7c71a32e28c27/40904105-1.JPG", "caption": "" }, "displayorder": 2, "url": "//cdnparap30.paragonrels.com/ParagonImages/Property/P3/MAXEBRDI/40904105/2/0/0/75f752b2d863cdf6f15fad1a7de880cf/93/2082c9bb25a492cd83c7c71a32e28c27/40904105-2.JPG", "caption": "" }, "displayorder": 3, "url": "//cdnparap30.paragonrels.com/ParagonImages/Property/P3/MAXEBRDI/40904105/3/0/0/9f8c5b46fa0dd0f00edc39dec301a444/93/2082c9bb25a492cd83c7c71a32e28c27/40904105-3.JPG", "caption": "" }, "displayorder": 4, "url": "//cdnparap30.paragonrels.com/ParagonImages/Property/P3/MAXEBRDI/40904105/4/0/0/21c7d80913270ce52dcde85ae7097c14/93/2082c9bb25a492cd83c7c71a32e28c27/40904105-4.JPG", "caption": "" }, "displayorder": 5, "url": "//cdnparap30.paragonrels.com/ParagonImages/Property/P3/MAXEBRDI/40904105/5/0/0/966fa2cebe4237e4ed92a5a6c405a40e/93/2082c9bb25a492cd83c7c71a32e28c27/40904105-5.JPG", "caption": "" }, "displayorder": 6, "url": "//cdnparap30.paragonrels.com/ParagonImages/Property/P3/MAXEBRDI/40904105/6/0/0/b3c1d297a22c6d1623d2e2039539ceeb/93/2082c9bb25a492cd83c7c71a32e28c27/40904105-6.JPG", "caption": "" }, "displayorder": 7, "url": "//cdnparap30.paragonrels.com/ParagonImages/Property/P3/MAXEBRDI/40904105/7/0/0/fa22a42153a7ce9a0d8ef28d58fab896/93/2082c9bb25a492cd83c7c71a32e28c27/40904105-7.JPG", "caption": "" }, "displayorder": 8, "url": "//cdnparap30.paragonrels.com/ParagonImages/Property/P3/MAXEBRDI/40904105/8/0/0/4ee81370cf1a08b0ea6020dd96be26fb/93/2082c9bb25a492cd83c7c71a32e28c27/40904105-8.JPG", "caption": "" }, "displayorder": 9, "url": "//cdnparap30.paragonrels.com/ParagonImages/Property/P3/MAXEBRDI/40904105/9/0/0/a1b013dff51daf5ff9adb0735d4091f7/93/2082c9bb25a492cd83c7c71a32e28c27/40904105-9.JPG", "caption": "" }, "displayorder": 10, "url": "//cdnparap30.paragonrels.com/ParagonImages/Property/P3/MAXEBRDI/40904105/10/0/0/4fbe794860b291867f107774f0a4763b/93/2082c9bb25a492cd83c7c71a32e28c27/40904105-10.JPG", "caption": "" }, "displayorder": 11, "url": "//cdnparap30.paragonrels.com/ParagonImages/Property/P3/MAXEBRDI/40904105/11/0/0/cae313069b03395488c32a62a7ec8a11/93/2082c9bb25a492cd83c7c71a32e28c27/40904105-11.JPG", "caption": "" }, "displayorder": 12, "url": "//cdnparap30.paragonrels.com/ParagonImages/Property/P3/MAXEBRDI/40904105/12/0/0/f35c231879aa9ec4ba1ec0c7d4fee660/93/2082c9bb25a492cd83c7c71a32e28c27/40904105-12.JPG", "caption": "" }, "displayorder": 13, "url": "//cdnparap30.paragonrels.com/ParagonImages/Property/P3/MAXEBRDI/40904105/13/0/0/bb93b9f466981ac0a462c64264f46c5c/93/2082c9bb25a492cd83c7c71a32e28c27/40904105-13.JPG", "caption": "" }, "displayorder": 14, "url": "//cdnparap30.paragonrels.com/ParagonImages/Property/P3/MAXEBRDI/40904105/14/0/0/2f1d8eb4cf1d9887b2f4a3193c8ea11f/93/2082c9bb25a492cd83c7c71a32e28c27/40904105-14.JPG", "caption": "" }, "displayorder": 15, "url": "//cdnparap30.paragonrels.com/ParagonImages/Property/P3/MAXEBRDI/40904105/15/0/0/d6ada861055e2dcf9815bc46fe92f135/93/2082c9bb25a492cd83c7c71a32e28c27/40904105-15.JPG", "caption": "" }, "displayorder": 16, "url": "//cdnparap30.paragonrels.com/ParagonImages/Property/P3/MAXEBRDI/40904105/16/0/0/0cb80ceea7367ad40ba975b9a333a193/93/2082c9bb25a492cd83c7c71a32e28c27/40904105-16.JPG", "caption": "" }, "displayorder": 17, "url": "//cdnparap30.paragonrels.com/ParagonImages/Property/P3/MAXEBRDI/40904105/17/0/0/63ed59bd9a705da00283671b10e4ca41/93/2082c9bb25a492cd83c7c71a32e28c27/40904105-17.JPG", "caption": "" }, "displayorder": 18, "url": "//cdnparap30.paragonrels.com/ParagonImages/Property/P3/MAXEBRDI/40904105/18/0/0/1d9ddbe9c3f6323e8307be7e7002b02b/93/2082c9bb25a492cd83c7c71a32e28c27/40904105-18.JPG", "caption": "" }, "displayorder": 19, "url": "//cdnparap30.paragonrels.com/ParagonImages/Property/P3/MAXEBRDI/40904105/19/0/0/d1f12d5b0b2bcff49e3ceebdefd43ad8/93/2082c9bb25a492cd83c7c71a32e28c27/40904105-19.JPG", "caption": "" }, "displayorder": 20, "url": "//cdnparap30.paragonrels.com/ParagonImages/Property/P3/MAXEBRDI/40904105/20/0/0/52d470f47a3a70665dbe5248ccb05f81/93/2082c9bb25a492cd83c7c71a32e28c27/40904105-20.JPG", "caption": "" }, "displayorder": 21, "url": "//cdnparap30.paragonrels.com/ParagonImages/Property/P3/MAXEBRDI/40904105/21/0/0/628a5300e827155f76f2b18e605040f6/93/2082c9bb25a492cd83c7c71a32e28c27/40904105-21.JPG", "caption": "" }, "displayorder": 22, "url": "//cdnparap30.paragonrels.com/ParagonImages/Property/P3/MAXEBRDI/40904105/22/0/0/82877d05a1c07c95e5eaf67302fa3628/93/2082c9bb25a492cd83c7c71a32e28c27/40904105-22.JPG", "caption": "" }, "displayorder": 23, "url": "//cdnparap30.paragonrels.com/ParagonImages/Property/P3/MAXEBRDI/40904105/23/0/0/d28a4b0a4791e87ece830c140f6ec70e/93/2082c9bb25a492cd83c7c71a32e28c27/40904105-23.JPG", "caption": "" }, "displayorder": 24, "url": "//cdnparap30.paragonrels.com/ParagonImages/Property/P3/MAXEBRDI/40904105/24/0/0/babc4404a5b784ea5bb7b31f4dc61e23/93/2082c9bb25a492cd83c7c71a32e28c27/40904105-24.JPG", "caption": "" }, "displayorder": 25, "url": "//cdnparap30.paragonrels.com/ParagonImages/Property/P3/MAXEBRDI/40904105/25/0/0/d367acf10aa9b1ebfd0de366a703c785/93/2082c9bb25a492cd83c7c71a32e28c27/40904105-25.JPG", "caption": "" }, "displayorder": 26, "url": "//cdnparap30.paragonrels.com/ParagonImages/Property/P3/MAXEBRDI/40904105/26/0/0/2e481b5779c2c5fc20925a5bb42f8528/93/2082c9bb25a492cd83c7c71a32e28c27/40904105-26.JPG", "caption": "" }, "displayorder": 27, "url": "//cdnparap30.paragonrels.com/ParagonImages/Property/P3/MAXEBRDI/40904105/27/0/0/d41de39154543b002c7f8a87d37914dc/93/2082c9bb25a492cd83c7c71a32e28c27/40904105-27.JPG", "caption": "" }, "displayorder": 28, "url": "//cdnparap30.paragonrels.com/ParagonImages/Property/P3/MAXEBRDI/40904105/28/0/0/05830bac920b0b1071838c8792243828/93/2082c9bb25a492cd83c7c71a32e28c27/40904105-28.JPG", "caption": "" }, "displayorder": 29, "url": "//cdnparap30.paragonrels.com/ParagonImages/Property/P3/MAXEBRDI/40904105/29/0/0/f6fea6c256310ce643c88f831da1e720/93/2082c9bb25a492cd83c7c71a32e28c27/40904105-29.JPG", "caption": "" }, "displayorder": 30, "url": "//cdnparap30.paragonrels.com/ParagonImages/Property/P3/MAXEBRDI/40904105/30/0/0/420a9f4cc7c0f3ea870aecbecf1eb4e6/93/2082c9bb25a492cd83c7c71a32e28c27/40904105-30.JPG", "caption": "" }, "displayorder": 31, "url": "//cdnparap30.paragonrels.com/ParagonImages/Property/P3/MAXEBRDI/40904105/31/0/0/790e7675e8dcbeb338280858d4fa07fa/93/2082c9bb25a492cd83c7c71a32e28c27/40904105-31.JPG", "caption": "" }, "displayorder": 32, "url": "//cdnparap30.paragonrels.com/ParagonImages/Property/P3/MAXEBRDI/40904105/32/0/0/03835bed93e81c508152c5a31ce375c7/93/2082c9bb25a492cd83c7c71a32e28c27/40904105-32.JPG", "caption": "" }, "displayorder": 33, "url": "//cdnparap30.paragonrels.com/ParagonImages/Property/P3/MAXEBRDI/40904105/33/0/0/8163f6af24527e12d06edca0ee71a668/93/2082c9bb25a492cd83c7c71a32e28c27/40904105-33.JPG", "caption": "" }, "displayorder": 34, "url": "//cdnparap30.paragonrels.com/ParagonImages/Property/P3/MAXEBRDI/40904105/34/0/0/90d6244c708cefac37f8323a52176ac6/93/2082c9bb25a492cd83c7c71a32e28c27/40904105-34.JPG", "caption": "" }, "displayorder": 35, "url": "//cdnparap30.paragonrels.com/ParagonImages/Property/P3/MAXEBRDI/40904105/35/0/0/a489d368027dc5d0db4c98624b07fd9a/93/2082c9bb25a492cd83c7c71a32e28c27/40904105-35.JPG", "caption": "" }, "displayorder": 36, "url": "//cdnparap30.paragonrels.com/ParagonImages/Property/P3/MAXEBRDI/40904105/36/0/0/b08779eb1007616909d992244096185c/93/2082c9bb25a492cd83c7c71a32e28c27/40904105-36.JPG", "caption": "" }, "displayorder": 37, "url": "//cdnparap30.paragonrels.com/ParagonImages/Property/P3/MAXEBRDI/40904105/37/0/0/5956b11abf4535660238964585bb41d6/93/2082c9bb25a492cd83c7c71a32e28c27/40904105-37.JPG", "caption": "" }, "displayorder": 38, "url": "//cdnparap30.paragonrels.com/ParagonImages/Property/P3/MAXEBRDI/40904105/38/0/0/a3565ed7a888bb36d10b5cc24415127d/93/2082c9bb25a492cd83c7c71a32e28c27/40904105-38.JPG", "caption": "" }, "displayorder": 39, "url": "//cdnparap30.paragonrels.com/ParagonImages/Property/P3/MAXEBRDI/40904105/39/0/0/1dbd31e8422c116afe6c5cdcfcc589d4/93/2082c9bb25a492cd83c7c71a32e28c27/40904105-39.JPG", "caption": "" } ], "agent": { "name": "Lisa Doyle", "phone": "925-8554046", "email": "LDoyle@Rockcliff.com" }, "broker": { "name": "J. Rockcliff Realtors Inc.", "phone": "", "email": "" } }; ]]>
515 Bourne Ln
DANVILLE, CA 94506

Click here for map
Residential Home
$1,879,900
4,288 Sq Feet
5 Bedrooms
5 Bathrooms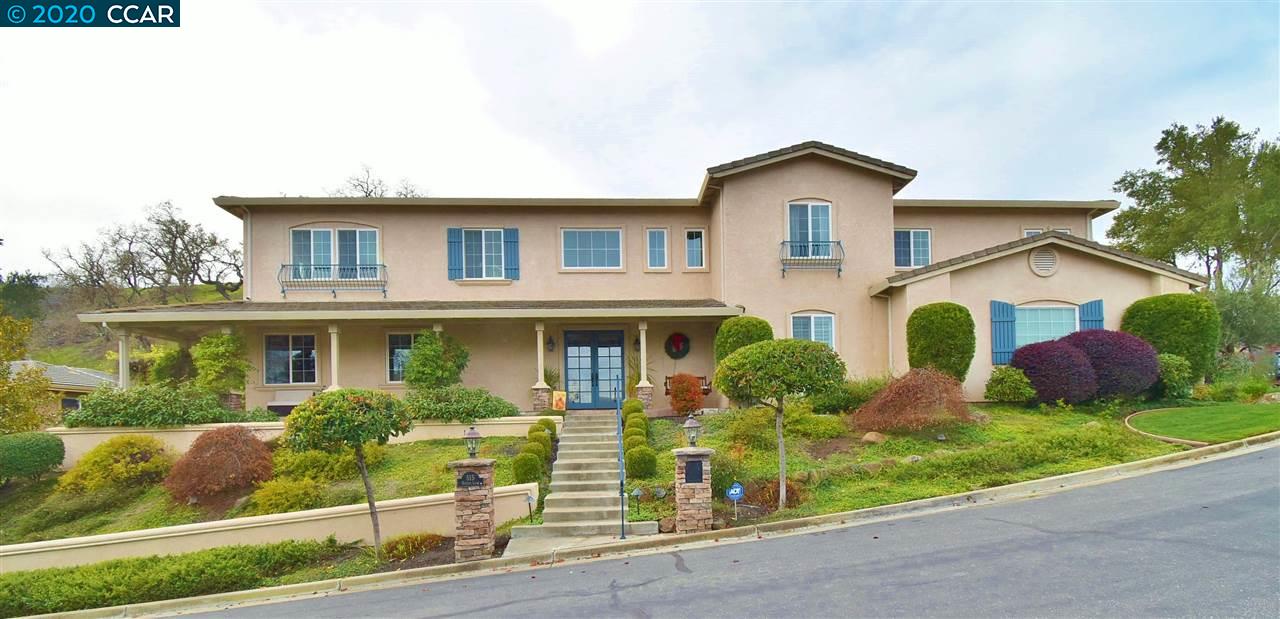 Listed by Lisa Doyle of J. Rockcliff Realtors Inc.
DRE# 01149880
Details:
Lot Sq Feet:
18,252
Fireplaces:
2
HOA?
Yes
Bank Owned?
No
Status:
Active
Remarks:
Sat 5/23, 12:30-1:30, Join Zoom Meeting ID: 870 8300 6647 **https://my.matterport.com/show/?m=t395W9C7z1y&mls=1 **VIDEO: https://youtu.be/h82Ov7NrLb4 **Custom Shadow Creek estate with panoramic views from nearly every room! This home blends beautiful craftsmanship with a serene storybook setting & offers 5 full beds & baths, a bright floor plan with a grand wrought iron staircase, a stunning kitchen, elegant landscaping, and incredible attention-to-detail throughout. One full bed and bath downstairs and additional bonus/game room upstairs. Retreat to the beautiful master suite that offers a conjoined office, cozy lounge area, stone fireplace, spa-like bathroom, huge walk-in closet, and breathtaking views. Extravagant details include custom built-ins, carpet and travertine floors, beautiful millwork, beaming hardwoods, regal French doors, and recessed lighting.
There are currently no open houses for this property. Please contact
Lisa Doyle
to schedule an appointment.