<![CDATA[ var dwellicious_data = { "address": "921 Mandana Blvd ", "city": "OAKLAND", "state": "CA", "zip": "94610", "zip4": "", "area": "", "subdivision": "", "county": "", "price": "1450000", "beds": "3", "baths": "2", "sqft": "1537", "lotsize": "3480", "yearbuilt": "1925-01-01", "proptype": "Residential", "mlsnum": "40904219", "active": true, "remarks": "Crocker Highlands Beauty with views of Oakland Skyscape, adjacent to award-winning Crocker Highlands Elementary and near Piedmont parks and pool. The recently remodeled kitchen is an epicurean's dream w stone countertops, custom cabinetry, new stainless steel appliances. Breakfast nook and a formal dining room makes it ideal for both parties and gatherings. Main level offers living and dining, 3 bedrooms inc the master suite & a second full bath, laundry. Gorgeous french doors lead to a large deck to the backyard, pergola. The lower level has a an addition office/play/guest room and leads via internal access to a two car attached garage. Near Lakeshore restaurants and shopping, Farmers Market, Lake Merritt, Grand Lake Theater. Easy commute to downtown Oakland and San Francisco. https://vimeo.com/412279990", "photos": [ { "displayorder": 0, "url": "//cdnparap30.paragonrels.com/ParagonImages/Property/P3/MAXEBRDI/40904219/0/0/0/61ca945471aea06d6a18f9a37b8b5204/96/5d44c1b782df92f019f022e988cd3114/40904219.JPG", "caption": "" }, "displayorder": 1, "url": "//cdnparap30.paragonrels.com/ParagonImages/Property/P3/MAXEBRDI/40904219/1/0/0/9481c33ca1343f912180c5c62d620a65/96/5d44c1b782df92f019f022e988cd3114/40904219-1.JPG", "caption": "" }, "displayorder": 2, "url": "//cdnparap30.paragonrels.com/ParagonImages/Property/P3/MAXEBRDI/40904219/2/0/0/33979af5fda82be41f4cfe96c3da7a13/96/5d44c1b782df92f019f022e988cd3114/40904219-2.JPG", "caption": "" }, "displayorder": 3, "url": "//cdnparap30.paragonrels.com/ParagonImages/Property/P3/MAXEBRDI/40904219/3/0/0/36ecf2c7bbf572b853b38be52ad2c63c/96/5d44c1b782df92f019f022e988cd3114/40904219-3.JPG", "caption": "" }, "displayorder": 4, "url": "//cdnparap30.paragonrels.com/ParagonImages/Property/P3/MAXEBRDI/40904219/4/0/0/9873de1f03b64aa1777b2122112b136d/96/5d44c1b782df92f019f022e988cd3114/40904219-4.JPG", "caption": "" }, "displayorder": 5, "url": "//cdnparap30.paragonrels.com/ParagonImages/Property/P3/MAXEBRDI/40904219/5/0/0/0252ed3802aa79b33d07fb899fe3d579/96/5d44c1b782df92f019f022e988cd3114/40904219-5.JPG", "caption": "" }, "displayorder": 6, "url": "//cdnparap30.paragonrels.com/ParagonImages/Property/P3/MAXEBRDI/40904219/6/0/0/4f47eadc20229f267166891f77528cad/96/5d44c1b782df92f019f022e988cd3114/40904219-6.JPG", "caption": "" }, "displayorder": 7, "url": "//cdnparap30.paragonrels.com/ParagonImages/Property/P3/MAXEBRDI/40904219/7/0/0/0bd83ab94a66ab1f457f754a76320ac8/96/5d44c1b782df92f019f022e988cd3114/40904219-7.JPG", "caption": "" }, "displayorder": 8, "url": "//cdnparap30.paragonrels.com/ParagonImages/Property/P3/MAXEBRDI/40904219/8/0/0/11eeb66de4af91d55bef475afec489e3/96/5d44c1b782df92f019f022e988cd3114/40904219-8.JPG", "caption": "" }, "displayorder": 9, "url": "//cdnparap30.paragonrels.com/ParagonImages/Property/P3/MAXEBRDI/40904219/9/0/0/ab46c354d3843cf7f06f6dc3413b0496/96/5d44c1b782df92f019f022e988cd3114/40904219-9.JPG", "caption": "" }, "displayorder": 10, "url": "//cdnparap30.paragonrels.com/ParagonImages/Property/P3/MAXEBRDI/40904219/10/0/0/c2358ceee2e12757567a5de8e0e8c126/96/5d44c1b782df92f019f022e988cd3114/40904219-10.JPG", "caption": "" }, "displayorder": 11, "url": "//cdnparap30.paragonrels.com/ParagonImages/Property/P3/MAXEBRDI/40904219/11/0/0/25792c49756c3973c1f5494165f6b9fc/96/5d44c1b782df92f019f022e988cd3114/40904219-11.JPG", "caption": "" }, "displayorder": 12, "url": "//cdnparap30.paragonrels.com/ParagonImages/Property/P3/MAXEBRDI/40904219/12/0/0/5cff5659545016665ab4017bb67d0211/96/5d44c1b782df92f019f022e988cd3114/40904219-12.JPG", "caption": "" }, "displayorder": 13, "url": "//cdnparap30.paragonrels.com/ParagonImages/Property/P3/MAXEBRDI/40904219/13/0/0/ef081c9b9aca12ca06c75957975a9e31/96/5d44c1b782df92f019f022e988cd3114/40904219-13.JPG", "caption": "" }, "displayorder": 14, "url": "//cdnparap30.paragonrels.com/ParagonImages/Property/P3/MAXEBRDI/40904219/14/0/0/ad140508f86428c0b17445ed86dea11b/96/5d44c1b782df92f019f022e988cd3114/40904219-14.JPG", "caption": "" }, "displayorder": 15, "url": "//cdnparap30.paragonrels.com/ParagonImages/Property/P3/MAXEBRDI/40904219/15/0/0/035cac22995a140542c6455a45317dde/96/5d44c1b782df92f019f022e988cd3114/40904219-15.JPG", "caption": "" }, "displayorder": 16, "url": "//cdnparap30.paragonrels.com/ParagonImages/Property/P3/MAXEBRDI/40904219/16/0/0/ead5555d31eb5fd29816cf0c7ec3fb04/96/5d44c1b782df92f019f022e988cd3114/40904219-16.JPG", "caption": "" }, "displayorder": 17, "url": "//cdnparap30.paragonrels.com/ParagonImages/Property/P3/MAXEBRDI/40904219/17/0/0/1b5fc3e8ca28e713b07545f961cad813/96/5d44c1b782df92f019f022e988cd3114/40904219-17.JPG", "caption": "" }, "displayorder": 18, "url": "//cdnparap30.paragonrels.com/ParagonImages/Property/P3/MAXEBRDI/40904219/18/0/0/97ab6463571630b8227564f6f5be5232/96/5d44c1b782df92f019f022e988cd3114/40904219-18.JPG", "caption": "" }, "displayorder": 19, "url": "//cdnparap30.paragonrels.com/ParagonImages/Property/P3/MAXEBRDI/40904219/19/0/0/ff403b64113abdb959a65f006bd73b53/96/5d44c1b782df92f019f022e988cd3114/40904219-19.JPG", "caption": "" }, "displayorder": 20, "url": "//cdnparap30.paragonrels.com/ParagonImages/Property/P3/MAXEBRDI/40904219/20/0/0/a35ab2d309b0c2a991d383ffd607fc3c/96/5d44c1b782df92f019f022e988cd3114/40904219-20.JPG", "caption": "" }, "displayorder": 21, "url": "//cdnparap30.paragonrels.com/ParagonImages/Property/P3/MAXEBRDI/40904219/21/0/0/79b71cff03cfaf11a7ba731dc34e12d2/96/5d44c1b782df92f019f022e988cd3114/40904219-21.JPG", "caption": "" }, "displayorder": 22, "url": "//cdnparap30.paragonrels.com/ParagonImages/Property/P3/MAXEBRDI/40904219/22/0/0/5c5d4708232f4803d11cdf724e54caf9/96/5d44c1b782df92f019f022e988cd3114/40904219-22.JPG", "caption": "" }, "displayorder": 23, "url": "//cdnparap30.paragonrels.com/ParagonImages/Property/P3/MAXEBRDI/40904219/23/0/0/cb34ba189ba68cab0463835619fa8d4f/96/5d44c1b782df92f019f022e988cd3114/40904219-23.JPG", "caption": "" }, "displayorder": 24, "url": "//cdnparap30.paragonrels.com/ParagonImages/Property/P3/MAXEBRDI/40904219/24/0/0/11c3daf4991089b7066953fa41fd0108/96/5d44c1b782df92f019f022e988cd3114/40904219-24.JPG", "caption": "" }, "displayorder": 25, "url": "//cdnparap30.paragonrels.com/ParagonImages/Property/P3/MAXEBRDI/40904219/25/0/0/5cd0ac52c3d0a897c250ae88d20e4ba7/96/5d44c1b782df92f019f022e988cd3114/40904219-25.JPG", "caption": "" }, "displayorder": 26, "url": "//cdnparap30.paragonrels.com/ParagonImages/Property/P3/MAXEBRDI/40904219/26/0/0/d39e553325528912e2b9314d10acdb4f/96/5d44c1b782df92f019f022e988cd3114/40904219-26.JPG", "caption": "" }, "displayorder": 27, "url": "//cdnparap30.paragonrels.com/ParagonImages/Property/P3/MAXEBRDI/40904219/27/0/0/8ff786d4e400c9e1286637f4fdb1b710/96/5d44c1b782df92f019f022e988cd3114/40904219-27.JPG", "caption": "" }, "displayorder": 28, "url": "//cdnparap30.paragonrels.com/ParagonImages/Property/P3/MAXEBRDI/40904219/28/0/0/2c8cc818db998e06ce91257136c1cfa4/96/5d44c1b782df92f019f022e988cd3114/40904219-28.JPG", "caption": "" }, "displayorder": 29, "url": "//cdnparap30.paragonrels.com/ParagonImages/Property/P3/MAXEBRDI/40904219/29/0/0/7011440f8cfc67f939243ab04f090282/96/5d44c1b782df92f019f022e988cd3114/40904219-29.JPG", "caption": "" }, "displayorder": 30, "url": "//cdnparap30.paragonrels.com/ParagonImages/Property/P3/MAXEBRDI/40904219/30/0/0/1e54a3477aad58d5788c4364a0244f89/96/5d44c1b782df92f019f022e988cd3114/40904219-30.JPG", "caption": "" }, "displayorder": 31, "url": "//cdnparap30.paragonrels.com/ParagonImages/Property/P3/MAXEBRDI/40904219/31/0/0/3d5d600eda5f98c79b10c9c24ee8a477/96/5d44c1b782df92f019f022e988cd3114/40904219-31.JPG", "caption": "" }, "displayorder": 32, "url": "//cdnparap30.paragonrels.com/ParagonImages/Property/P3/MAXEBRDI/40904219/32/0/0/ab572ae1dccd5038b4f23f926c77621a/96/5d44c1b782df92f019f022e988cd3114/40904219-32.JPG", "caption": "" }, "displayorder": 33, "url": "//cdnparap30.paragonrels.com/ParagonImages/Property/P3/MAXEBRDI/40904219/33/0/0/63cc9a54a45b350f05e1d86010841eda/96/5d44c1b782df92f019f022e988cd3114/40904219-33.JPG", "caption": "" }, "displayorder": 34, "url": "//cdnparap30.paragonrels.com/ParagonImages/Property/P3/MAXEBRDI/40904219/34/0/0/615fe0f9db7c2ffe3bf04f5a6db188ee/96/5d44c1b782df92f019f022e988cd3114/40904219-34.JPG", "caption": "" }, "displayorder": 35, "url": "//cdnparap30.paragonrels.com/ParagonImages/Property/P3/MAXEBRDI/40904219/35/0/0/00f3dde1be2e077b67466899bca5f7de/96/5d44c1b782df92f019f022e988cd3114/40904219-35.JPG", "caption": "" }, "displayorder": 36, "url": "//cdnparap30.paragonrels.com/ParagonImages/Property/P3/MAXEBRDI/40904219/36/0/0/6788c3d042c54d00ca53a838c889dc99/96/5d44c1b782df92f019f022e988cd3114/40904219-36.JPG", "caption": "" }, "displayorder": 37, "url": "//cdnparap30.paragonrels.com/ParagonImages/Property/P3/MAXEBRDI/40904219/37/0/0/15e396adbb569c36c76b738cfac0fb6e/96/5d44c1b782df92f019f022e988cd3114/40904219-37.JPG", "caption": "" }, "displayorder": 38, "url": "//cdnparap30.paragonrels.com/ParagonImages/Property/P3/MAXEBRDI/40904219/38/0/0/f64b45f19c54e50029dd7bd7f6ca91a2/96/5d44c1b782df92f019f022e988cd3114/40904219-38.JPG", "caption": "" }, "displayorder": 39, "url": "//cdnparap30.paragonrels.com/ParagonImages/Property/P3/MAXEBRDI/40904219/39/0/0/8f7b55480cb67e61ec50fc60aed685dd/96/5d44c1b782df92f019f022e988cd3114/40904219-39.JPG", "caption": "" } ], "agent": { "name": "ANISSA BURNLEY", "phone": "415-290-5886", "email": "aburnley@yahoo.com" }, "broker": { "name": "COLDWELL BANKER REALTY", "phone": "", "email": "" } }; ]]>
921 Mandana Blvd
OAKLAND, CA 94610

Click here for map
Residential Home
$1,450,000
1,537 Sq Feet
3 Bedrooms
2 Bathrooms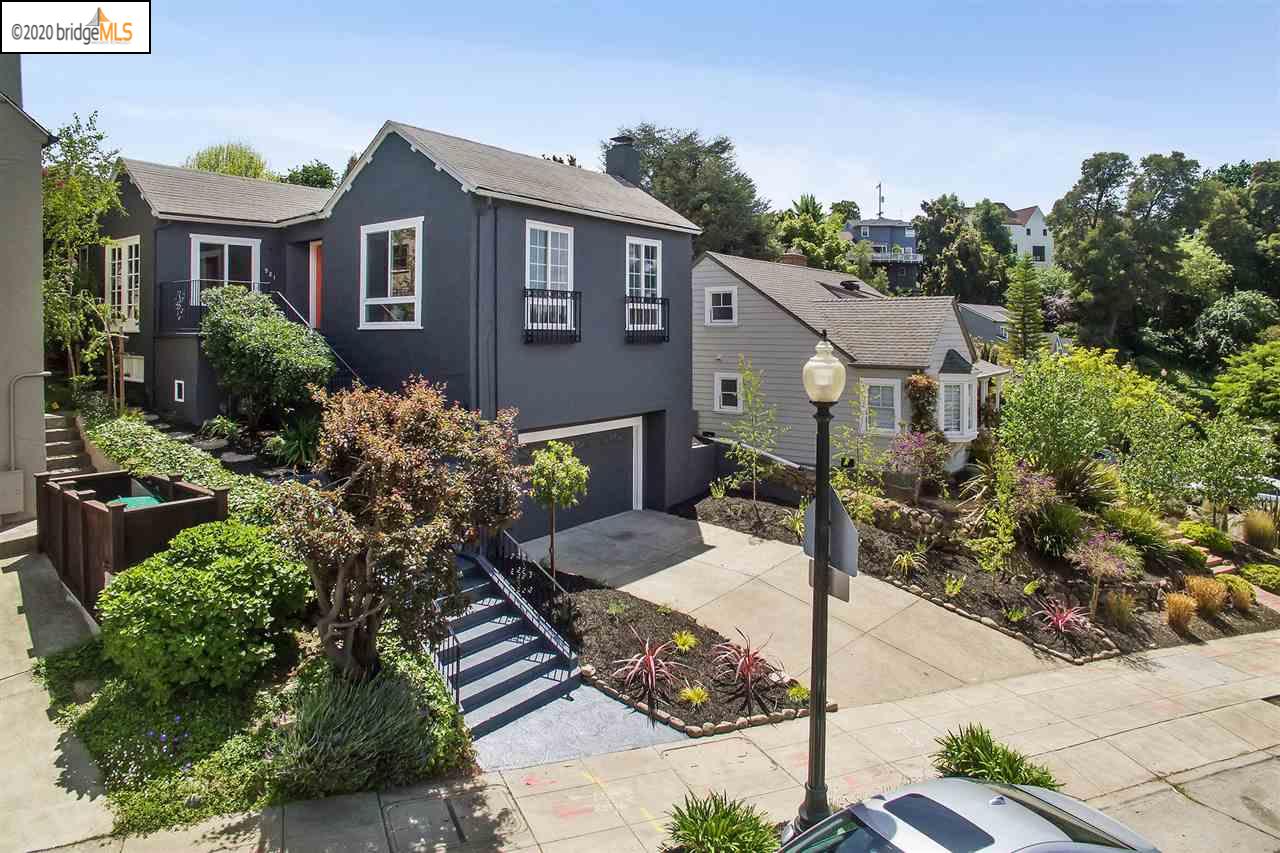 Details:
Lot Sq Feet:
3,480
Fireplaces:
1
HOA?
No
Bank Owned?
No
Status:
Active
Remarks:
Crocker Highlands Beauty with views of Oakland Skyscape, adjacent to award-winning Crocker Highlands Elementary and near Piedmont parks and pool. The recently remodeled kitchen is an epicurean's dream w stone countertops, custom cabinetry, new stainless steel appliances. Breakfast nook and a formal dining room makes it ideal for both parties and gatherings. Main level offers living and dining, 3 bedrooms inc the master suite & a second full bath, laundry. Gorgeous french doors lead to a large deck to the backyard, pergola. The lower level has a an addition office/play/guest room and leads via internal access to a two car attached garage. Near Lakeshore restaurants and shopping, Farmers Market, Lake Merritt, Grand Lake Theater. Easy commute to downtown Oakland and San Francisco. https://vimeo.com/412279990
There are currently no open houses for this property. Please contact
ANISSA BURNLEY
to schedule an appointment.