<![CDATA[ var dwellicious_data = { "address": "853 45Th St ", "city": "OAKLAND", "state": "CA", "zip": "94608", "zip4": "", "area": "", "subdivision": "", "county": "", "price": "895000", "beds": "2", "baths": "1", "sqft": "960", "lotsize": "3000", "yearbuilt": "1921-01-01", "proptype": "Residential", "mlsnum": "40905224", "active": true, "remarks": "Making home a sanctuary was the dream for the current owners, an architect & landscape designer. You walk into a sweet living room where you can cozy up to the super efficient gas fireplace or head to work or for a workout in the bonus space garage currently used as a home office and gym. The dining room is open, light filled with original woodwork and built-in all restored by the owner. Off the dining room, the bedrooms are nicely separated for privacy and there are wood floors throughout. The kitchen is a world of its own! You can throw open the exquisite extra-wide custom french doors, and your entire eat-in kitchen becomes an al fresco dining experience! Out on the deck you are surrounded with gorgeous succulents in your drought-tolerant, low maintenance garden. A large basement can be accessed from the garden & has plentiful storage. Ideally located near Temescal's shops, breweries, & restaurants as well as BART & AC Transit. 853-45thSt.com", "photos": [ { "displayorder": 0, "url": "//cdnparap30.paragonrels.com/ParagonImages/Property/P3/MAXEBRDI/40905224/0/0/0/dd6ed8337c4fb0f18aad63ccbd8a5b8f/96/df4439b5b7bf819ed2685389d8f0f71d/40905224.JPG", "caption": "" }, "displayorder": 1, "url": "//cdnparap30.paragonrels.com/ParagonImages/Property/P3/MAXEBRDI/40905224/1/0/0/54f309c3be377465606892c19b3ed2d9/96/df4439b5b7bf819ed2685389d8f0f71d/40905224-1.JPG", "caption": "" }, "displayorder": 2, "url": "//cdnparap30.paragonrels.com/ParagonImages/Property/P3/MAXEBRDI/40905224/2/0/0/d00c2657937af9202db15855aef268bf/96/df4439b5b7bf819ed2685389d8f0f71d/40905224-2.JPG", "caption": "" }, "displayorder": 3, "url": "//cdnparap30.paragonrels.com/ParagonImages/Property/P3/MAXEBRDI/40905224/3/0/0/58df38c6a8b06bf17758aa657d3e9b42/96/df4439b5b7bf819ed2685389d8f0f71d/40905224-3.JPG", "caption": "" }, "displayorder": 4, "url": "//cdnparap30.paragonrels.com/ParagonImages/Property/P3/MAXEBRDI/40905224/4/0/0/28dda5ead0441ddc7413153415c80ec2/96/df4439b5b7bf819ed2685389d8f0f71d/40905224-4.JPG", "caption": "" }, "displayorder": 5, "url": "//cdnparap30.paragonrels.com/ParagonImages/Property/P3/MAXEBRDI/40905224/5/0/0/12ef6805901b19cce3aae2166acaea90/96/df4439b5b7bf819ed2685389d8f0f71d/40905224-5.JPG", "caption": "" }, "displayorder": 6, "url": "//cdnparap30.paragonrels.com/ParagonImages/Property/P3/MAXEBRDI/40905224/6/0/0/9b76a2f2f31e4dc7fab40ad3d7fe924a/96/df4439b5b7bf819ed2685389d8f0f71d/40905224-6.JPG", "caption": "" }, "displayorder": 7, "url": "//cdnparap30.paragonrels.com/ParagonImages/Property/P3/MAXEBRDI/40905224/7/0/0/d0bffb1a8d555393809af962b9d9650b/96/df4439b5b7bf819ed2685389d8f0f71d/40905224-7.JPG", "caption": "" }, "displayorder": 8, "url": "//cdnparap30.paragonrels.com/ParagonImages/Property/P3/MAXEBRDI/40905224/8/0/0/b7c8310e5259da4a44d83d8f0da0fc42/96/df4439b5b7bf819ed2685389d8f0f71d/40905224-8.JPG", "caption": "" }, "displayorder": 9, "url": "//cdnparap30.paragonrels.com/ParagonImages/Property/P3/MAXEBRDI/40905224/9/0/0/65fffc90f501b86e9e6748a1810ba1a5/96/df4439b5b7bf819ed2685389d8f0f71d/40905224-9.JPG", "caption": "" }, "displayorder": 10, "url": "//cdnparap30.paragonrels.com/ParagonImages/Property/P3/MAXEBRDI/40905224/10/0/0/9da7c46363dc483ea3f93675ae69987d/96/df4439b5b7bf819ed2685389d8f0f71d/40905224-10.JPG", "caption": "" }, "displayorder": 11, "url": "//cdnparap30.paragonrels.com/ParagonImages/Property/P3/MAXEBRDI/40905224/11/0/0/98eff7df84c5b34b6909df9fdf532bf0/96/df4439b5b7bf819ed2685389d8f0f71d/40905224-11.JPG", "caption": "" }, "displayorder": 12, "url": "//cdnparap30.paragonrels.com/ParagonImages/Property/P3/MAXEBRDI/40905224/12/0/0/7b47cc2b5e420fb0f11734a6822bc599/96/df4439b5b7bf819ed2685389d8f0f71d/40905224-12.JPG", "caption": "" }, "displayorder": 13, "url": "//cdnparap30.paragonrels.com/ParagonImages/Property/P3/MAXEBRDI/40905224/13/0/0/15164ce0d4f04a5da057e2e8b665fa72/96/df4439b5b7bf819ed2685389d8f0f71d/40905224-13.JPG", "caption": "" }, "displayorder": 14, "url": "//cdnparap30.paragonrels.com/ParagonImages/Property/P3/MAXEBRDI/40905224/14/0/0/24308c32969afda68e708c791761ddc5/96/df4439b5b7bf819ed2685389d8f0f71d/40905224-14.JPG", "caption": "" }, "displayorder": 15, "url": "//cdnparap30.paragonrels.com/ParagonImages/Property/P3/MAXEBRDI/40905224/15/0/0/5ad718e40d662a151b8e7799e40e7a11/96/df4439b5b7bf819ed2685389d8f0f71d/40905224-15.JPG", "caption": "" }, "displayorder": 16, "url": "//cdnparap30.paragonrels.com/ParagonImages/Property/P3/MAXEBRDI/40905224/16/0/0/58eb85e3b620fa427e39c5054391adeb/96/df4439b5b7bf819ed2685389d8f0f71d/40905224-16.JPG", "caption": "" }, "displayorder": 17, "url": "//cdnparap30.paragonrels.com/ParagonImages/Property/P3/MAXEBRDI/40905224/17/0/0/4eeb02c1e4c0e5c88d903e8b82af96af/96/df4439b5b7bf819ed2685389d8f0f71d/40905224-17.JPG", "caption": "" }, "displayorder": 18, "url": "//cdnparap30.paragonrels.com/ParagonImages/Property/P3/MAXEBRDI/40905224/18/0/0/ee24e1ae9d1cab0e4783b308e63d203e/96/df4439b5b7bf819ed2685389d8f0f71d/40905224-18.JPG", "caption": "" }, "displayorder": 19, "url": "//cdnparap30.paragonrels.com/ParagonImages/Property/P3/MAXEBRDI/40905224/19/0/0/2959ab9f44b5b15c878004e7bd66ac55/96/df4439b5b7bf819ed2685389d8f0f71d/40905224-19.JPG", "caption": "" }, "displayorder": 20, "url": "//cdnparap30.paragonrels.com/ParagonImages/Property/P3/MAXEBRDI/40905224/20/0/0/931e3d5b32dffd53ff6c0228ce510870/96/df4439b5b7bf819ed2685389d8f0f71d/40905224-20.JPG", "caption": "" }, "displayorder": 21, "url": "//cdnparap30.paragonrels.com/ParagonImages/Property/P3/MAXEBRDI/40905224/21/0/0/ccc540f15190e70c84fea8483bcb9b22/96/df4439b5b7bf819ed2685389d8f0f71d/40905224-21.JPG", "caption": "" }, "displayorder": 22, "url": "//cdnparap30.paragonrels.com/ParagonImages/Property/P3/MAXEBRDI/40905224/22/0/0/94ff8d96a961aef6a9c0176f93210500/96/df4439b5b7bf819ed2685389d8f0f71d/40905224-22.JPG", "caption": "" } ], "agent": { "name": "CHIMENE POLLARD", "phone": "510-846-3601", "email": "Chimene@Team510.com" }, "broker": { "name": "RED OAK REALTY", "phone": "", "email": "" } }; ]]>
853 45Th St
OAKLAND, CA 94608

Click here for map
Residential Home
$895,000
960 Sq Feet
2 Bedrooms
1 Bathroom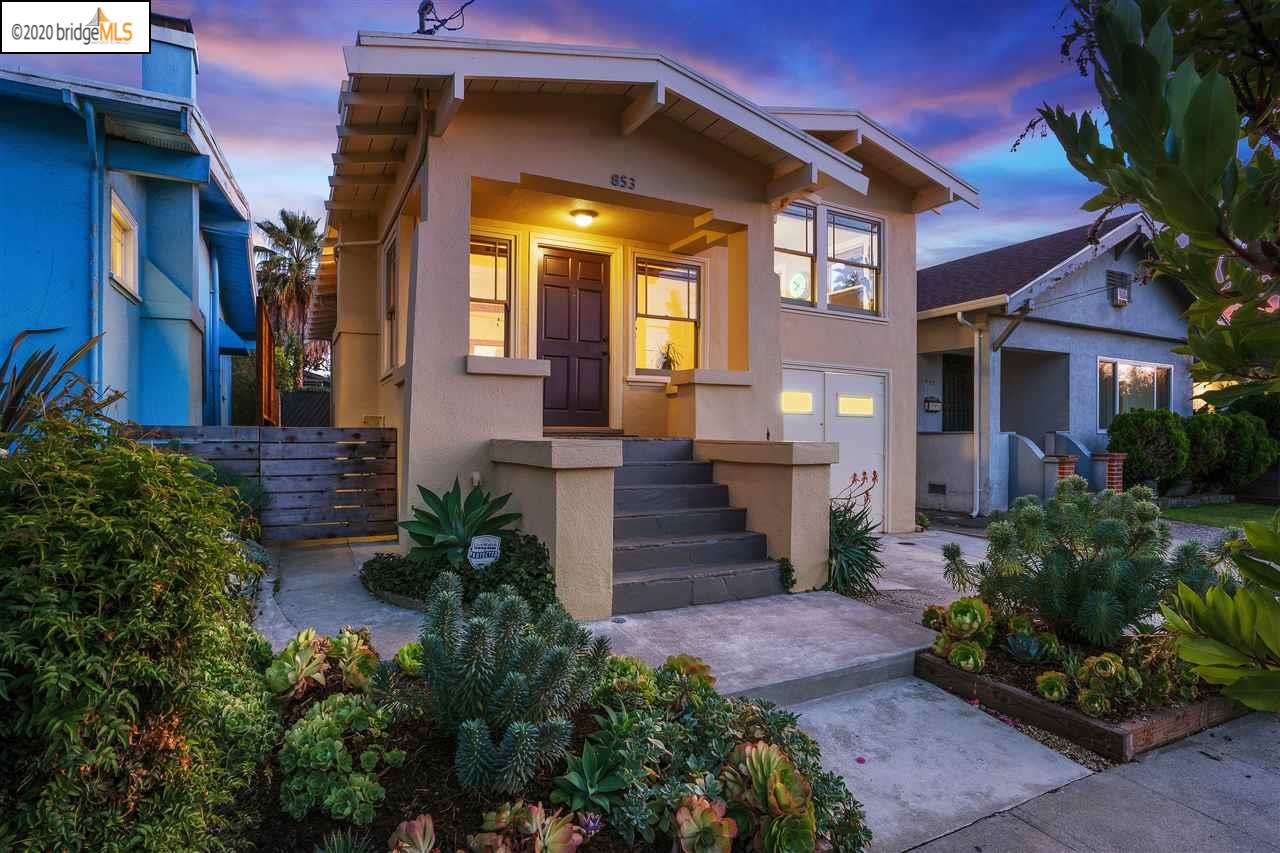 Details:
Lot Sq Feet:
3,000
Fireplaces:
1
HOA?
No
Bank Owned?
No
Status:
Active
Remarks:
Making home a sanctuary was the dream for the current owners, an architect & landscape designer. You walk into a sweet living room where you can cozy up to the super efficient gas fireplace or head to work or for a workout in the bonus space garage currently used as a home office and gym. The dining room is open, light filled with original woodwork and built-in all restored by the owner. Off the dining room, the bedrooms are nicely separated for privacy and there are wood floors throughout. The kitchen is a world of its own! You can throw open the exquisite extra-wide custom french doors, and your entire eat-in kitchen becomes an al fresco dining experience! Out on the deck you are surrounded with gorgeous succulents in your drought-tolerant, low maintenance garden. A large basement can be accessed from the garden & has plentiful storage. Ideally located near Temescal's shops, breweries, & restaurants as well as BART & AC Transit. 853-45thSt.com
There are currently no open houses for this property. Please contact
CHIMENE POLLARD
to schedule an appointment.