<![CDATA[ var dwellicious_data = { "address": "1514 C Street ", "city": "ANTIOCH", "state": "CA", "zip": "94509", "zip4": "", "area": "", "subdivision": "", "county": "", "price": "320888", "beds": "1", "baths": "1", "sqft": "728", "lotsize": "3034", "yearbuilt": "1952-01-01", "proptype": "Residential", "mlsnum": "40913094", "active": false, "remarks": "Antioch Bungalow - This 1+ Bd/1Ba home has a bonus room used as a 2nd Bdrm w/adjacent closet in hallway. This home is centrally located in downtown area close to k - 12 schools, BART & HWY 4. The charming home greets you with a warm front yard and and inviting porch. The home is surrounded by city park, speedway, paintball park, flea market and the popular Solar Swim and Gym. Inside you will find original hardwood floors, wood accent walls & plenty of windows for sunlight. Updated kitchen has an oversized sink with new fixtures. Kitchen window overlooks the back patio/garden. A walking garden with peach tree, lemon tree and mature white grapevine and a small shed. The large bedroom has a walk in closet and connecting bathroom passes through to kitchen. New copper plumbing, new exterior tankless water heater and new electrical panel with room to grow. The gated carport is covered for add'l storage in the loft/attic. This is an excellent rental property or a starter home!", "photos": [ { "displayorder": 0, "url": "//cdnparap30.paragonrels.com/ParagonImages/Property/P3/MAXEBRDI/40913094/0/0/0/a84c971a25c2d393f1c236e5e310d0ff/99/ffb6a6b3b3c7098670ec4671f171a738/40913094.JPG", "caption": "" }, "displayorder": 1, "url": "//cdnparap30.paragonrels.com/ParagonImages/Property/P3/MAXEBRDI/40913094/1/0/0/1bbfdcee7ac1c21c21d565636f258a00/99/ffb6a6b3b3c7098670ec4671f171a738/40913094-1.JPG", "caption": "" }, "displayorder": 2, "url": "//cdnparap30.paragonrels.com/ParagonImages/Property/P3/MAXEBRDI/40913094/2/0/0/b3850ab4a55de3e71fb2d750aabe02eb/99/ffb6a6b3b3c7098670ec4671f171a738/40913094-2.JPG", "caption": "" }, "displayorder": 3, "url": "//cdnparap30.paragonrels.com/ParagonImages/Property/P3/MAXEBRDI/40913094/3/0/0/03e3d488c095fa75bdf013d4b13701c4/99/ffb6a6b3b3c7098670ec4671f171a738/40913094-3.JPG", "caption": "" }, "displayorder": 4, "url": "//cdnparap30.paragonrels.com/ParagonImages/Property/P3/MAXEBRDI/40913094/4/0/0/1e1529a39c33c2b1170c8d9e1fd2d012/99/ffb6a6b3b3c7098670ec4671f171a738/40913094-4.JPG", "caption": "" }, "displayorder": 5, "url": "//cdnparap30.paragonrels.com/ParagonImages/Property/P3/MAXEBRDI/40913094/5/0/0/e71c3380df559bd9f2bfe3cd4d2aa071/99/ffb6a6b3b3c7098670ec4671f171a738/40913094-5.JPG", "caption": "" }, "displayorder": 6, "url": "//cdnparap30.paragonrels.com/ParagonImages/Property/P3/MAXEBRDI/40913094/6/0/0/0de4522e555fa3b761fc551182e02b5e/99/ffb6a6b3b3c7098670ec4671f171a738/40913094-6.JPG", "caption": "" }, "displayorder": 7, "url": "//cdnparap30.paragonrels.com/ParagonImages/Property/P3/MAXEBRDI/40913094/7/0/0/faeb7e19cef24abe187306ef1ea66b5f/99/ffb6a6b3b3c7098670ec4671f171a738/40913094-7.JPG", "caption": "" }, "displayorder": 8, "url": "//cdnparap30.paragonrels.com/ParagonImages/Property/P3/MAXEBRDI/40913094/8/0/0/49bda37d0be37bdc9489078f66390ffd/99/ffb6a6b3b3c7098670ec4671f171a738/40913094-8.JPG", "caption": "" }, "displayorder": 9, "url": "//cdnparap30.paragonrels.com/ParagonImages/Property/P3/MAXEBRDI/40913094/9/0/0/fb8d029a93eee1c7ac38379cbc56f4f2/99/ffb6a6b3b3c7098670ec4671f171a738/40913094-9.JPG", "caption": "" }, "displayorder": 10, "url": "//cdnparap30.paragonrels.com/ParagonImages/Property/P3/MAXEBRDI/40913094/10/0/0/9adc054b05cb36652757ee41caedf508/99/ffb6a6b3b3c7098670ec4671f171a738/40913094-10.JPG", "caption": "" }, "displayorder": 11, "url": "//cdnparap30.paragonrels.com/ParagonImages/Property/P3/MAXEBRDI/40913094/11/0/0/ce85d866b656404ce2e181f751de1041/99/ffb6a6b3b3c7098670ec4671f171a738/40913094-11.JPG", "caption": "" }, "displayorder": 12, "url": "//cdnparap30.paragonrels.com/ParagonImages/Property/P3/MAXEBRDI/40913094/12/0/0/d674f1686671d30a554e1d9f6656a9ca/99/ffb6a6b3b3c7098670ec4671f171a738/40913094-12.JPG", "caption": "" }, "displayorder": 13, "url": "//cdnparap30.paragonrels.com/ParagonImages/Property/P3/MAXEBRDI/40913094/13/0/0/13fecb208cdefc816ba71e535793f091/99/ffb6a6b3b3c7098670ec4671f171a738/40913094-13.JPG", "caption": "" }, "displayorder": 14, "url": "//cdnparap30.paragonrels.com/ParagonImages/Property/P3/MAXEBRDI/40913094/14/0/0/d4be64f3eaa0dc8f1520830098fb067e/99/ffb6a6b3b3c7098670ec4671f171a738/40913094-14.JPG", "caption": "" }, "displayorder": 15, "url": "//cdnparap30.paragonrels.com/ParagonImages/Property/P3/MAXEBRDI/40913094/15/0/0/a680bc6086d6b3b170fbd6fce0033882/99/ffb6a6b3b3c7098670ec4671f171a738/40913094-15.JPG", "caption": "" }, "displayorder": 16, "url": "//cdnparap30.paragonrels.com/ParagonImages/Property/P3/MAXEBRDI/40913094/16/0/0/5a3dadd4c22f9458e435a42eb074944b/99/ffb6a6b3b3c7098670ec4671f171a738/40913094-16.JPG", "caption": "" }, "displayorder": 17, "url": "//cdnparap30.paragonrels.com/ParagonImages/Property/P3/MAXEBRDI/40913094/17/0/0/b77eda8949a898a9bd0e5f01e9e2ab5b/99/ffb6a6b3b3c7098670ec4671f171a738/40913094-17.JPG", "caption": "" }, "displayorder": 18, "url": "//cdnparap30.paragonrels.com/ParagonImages/Property/P3/MAXEBRDI/40913094/18/0/0/328e26e667698aa7991f3ec2ab20bbe3/99/ffb6a6b3b3c7098670ec4671f171a738/40913094-18.JPG", "caption": "" }, "displayorder": 19, "url": "//cdnparap30.paragonrels.com/ParagonImages/Property/P3/MAXEBRDI/40913094/19/0/0/3c8e1f1e9a3ef94c570879dbbaefcb8a/99/ffb6a6b3b3c7098670ec4671f171a738/40913094-19.JPG", "caption": "" }, "displayorder": 20, "url": "//cdnparap30.paragonrels.com/ParagonImages/Property/P3/MAXEBRDI/40913094/20/0/0/f35acf6b5c556ad4b8c528c29e858597/99/ffb6a6b3b3c7098670ec4671f171a738/40913094-20.JPG", "caption": "" }, "displayorder": 21, "url": "//cdnparap30.paragonrels.com/ParagonImages/Property/P3/MAXEBRDI/40913094/21/0/0/dba4ccd02bd39139f6fe260ef7a2b935/99/ffb6a6b3b3c7098670ec4671f171a738/40913094-21.JPG", "caption": "" }, "displayorder": 22, "url": "//cdnparap30.paragonrels.com/ParagonImages/Property/P3/MAXEBRDI/40913094/22/0/0/4113212d16776c7f79d451b5e1bb0c1f/99/ffb6a6b3b3c7098670ec4671f171a738/40913094-22.JPG", "caption": "" }, "displayorder": 23, "url": "//cdnparap30.paragonrels.com/ParagonImages/Property/P3/MAXEBRDI/40913094/23/0/0/93a971c1cc09d213ce837f41e27fa85e/99/ffb6a6b3b3c7098670ec4671f171a738/40913094-23.JPG", "caption": "" }, "displayorder": 24, "url": "//cdnparap30.paragonrels.com/ParagonImages/Property/P3/MAXEBRDI/40913094/24/0/0/ffad3c2dd1ccc6302193eb80beb3780e/99/ffb6a6b3b3c7098670ec4671f171a738/40913094-24.JPG", "caption": "" } ], "agent": { "name": "Jennifer Hickman", "phone": "650-520-3106", "email": "jennifer.hickman@gobhg.com" }, "broker": { "name": "Better Homes and Gardens Real Estate JFF", "phone": "", "email": "" } }; ]]>
1514 C Street
ANTIOCH, CA 94509

Click here for map
Residential Home
$320,888
728 Sq Feet
1 Bedroom
1 Bathroom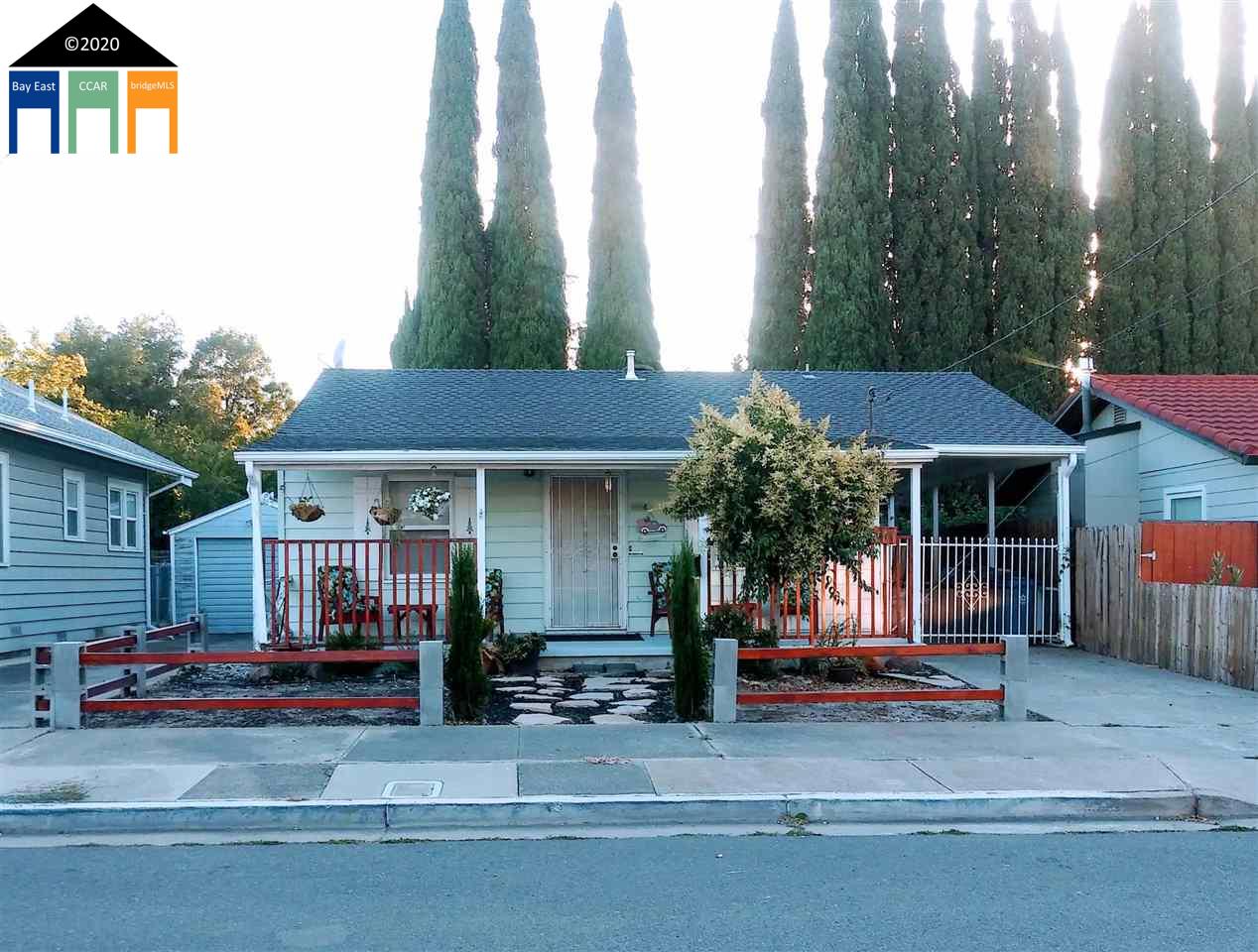 Listed by Jennifer Hickman of Better Homes and Gardens Real Estate JFF
DRE# 02060849
Details:
Lot Sq Feet:
3,034
Fireplaces:
0
HOA?
No
Bank Owned?
No
Status:
Withdrawn
Remarks:
Antioch Bungalow - This 1+ Bd/1Ba home has a bonus room used as a 2nd Bdrm w/adjacent closet in hallway. This home is centrally located in downtown area close to k - 12 schools, BART & HWY 4. The charming home greets you with a warm front yard and and inviting porch. The home is surrounded by city park, speedway, paintball park, flea market and the popular Solar Swim and Gym. Inside you will find original hardwood floors, wood accent walls & plenty of windows for sunlight. Updated kitchen has an oversized sink with new fixtures. Kitchen window overlooks the back patio/garden. A walking garden with peach tree, lemon tree and mature white grapevine and a small shed. The large bedroom has a walk in closet and connecting bathroom passes through to kitchen. New copper plumbing, new exterior tankless water heater and new electrical panel with room to grow. The gated carport is covered for add'l storage in the loft/attic. This is an excellent rental property or a starter home!
There are currently no open houses for this property. Please contact
Jennifer Hickman
to schedule an appointment.