<![CDATA[ var dwellicious_data = { "address": "2814 Hillegass Ave #C2", "city": "BERKELEY", "state": "CA", "zip": "94705", "zip4": "", "area": "", "subdivision": "", "county": "", "price": "699000", "beds": "2", "baths": "2", "sqft": "972", "lotsize": "0", "yearbuilt": "1966-01-01", "proptype": "Residential", "mlsnum": "40912061", "active": false, "remarks": "Nestled at the heart of the vibrant Elmwood neighborhood, this charming condo offers two bedrooms, two bathrooms and much more. A beautiful courtyard filled with vibrant green trees and colorful flowers captures your attention from the moment you arrive. Located on the second floor at the rear of the complex, this sweet unit is reminiscent of a modern tree house. Upon entering the home, you are greeted with beautiful eco-friendly laminate floors, a large and open living/dining room combo and a well appointed kitchen with all the modern amenities. A private patio is positioned just off the living room and boasts lovely tree views. Just beyond the kitchen is the hallway which leads to the main bedroom which has its own ensuite bathroom. The guest bedroom and the large guest bathroom are located just across the hall from there. There is tons of storage, a covered parking space and shared laundry. Just a stone's throw from the unit are shops, restaurants and much much more.", "photos": [ { "displayorder": 0, "url": "//cdnparap30.paragonrels.com/ParagonImages/Property/P3/MAXEBRDI/40912061/0/0/0/419910632a8159f268d2c432245b490f/96/233eab72a8b2fcef7e132e72644b5b4f/40912061.JPG", "caption": "" }, "displayorder": 1, "url": "//cdnparap30.paragonrels.com/ParagonImages/Property/P3/MAXEBRDI/40912061/1/0/0/62b483fb77ca882fce64e8d5f31e2e31/96/233eab72a8b2fcef7e132e72644b5b4f/40912061-1.JPG", "caption": "" }, "displayorder": 2, "url": "//cdnparap30.paragonrels.com/ParagonImages/Property/P3/MAXEBRDI/40912061/2/0/0/479cdb6e4049edab10fbbcc842ce2bf0/96/233eab72a8b2fcef7e132e72644b5b4f/40912061-2.JPG", "caption": "" }, "displayorder": 3, "url": "//cdnparap30.paragonrels.com/ParagonImages/Property/P3/MAXEBRDI/40912061/3/0/0/503645a1a9c394b2bf1e437c07f14d94/96/233eab72a8b2fcef7e132e72644b5b4f/40912061-3.JPG", "caption": "" }, "displayorder": 4, "url": "//cdnparap30.paragonrels.com/ParagonImages/Property/P3/MAXEBRDI/40912061/4/0/0/af1874432af72998c538fb5a024aebcb/96/233eab72a8b2fcef7e132e72644b5b4f/40912061-4.JPG", "caption": "" }, "displayorder": 5, "url": "//cdnparap30.paragonrels.com/ParagonImages/Property/P3/MAXEBRDI/40912061/5/0/0/160653854671f430d196fd0dc6ebd3ac/96/233eab72a8b2fcef7e132e72644b5b4f/40912061-5.JPG", "caption": "" }, "displayorder": 6, "url": "//cdnparap30.paragonrels.com/ParagonImages/Property/P3/MAXEBRDI/40912061/6/0/0/ca619855cb6b21ce98c6cdd1d43fbecf/96/233eab72a8b2fcef7e132e72644b5b4f/40912061-6.JPG", "caption": "" }, "displayorder": 7, "url": "//cdnparap30.paragonrels.com/ParagonImages/Property/P3/MAXEBRDI/40912061/7/0/0/1fafe0d66c046a566ccac7cd13aed988/96/233eab72a8b2fcef7e132e72644b5b4f/40912061-7.JPG", "caption": "" }, "displayorder": 8, "url": "//cdnparap30.paragonrels.com/ParagonImages/Property/P3/MAXEBRDI/40912061/8/0/0/b7bbf7f34bcd1574627d099c061ca6d2/96/233eab72a8b2fcef7e132e72644b5b4f/40912061-8.JPG", "caption": "" }, "displayorder": 9, "url": "//cdnparap30.paragonrels.com/ParagonImages/Property/P3/MAXEBRDI/40912061/9/0/0/e8ac613aee26d2343b162bd7a76c32f0/96/233eab72a8b2fcef7e132e72644b5b4f/40912061-9.JPG", "caption": "" }, "displayorder": 10, "url": "//cdnparap30.paragonrels.com/ParagonImages/Property/P3/MAXEBRDI/40912061/10/0/0/b88abae5da2cafa379d58e86a5b7d72a/96/233eab72a8b2fcef7e132e72644b5b4f/40912061-10.JPG", "caption": "" }, "displayorder": 11, "url": "//cdnparap30.paragonrels.com/ParagonImages/Property/P3/MAXEBRDI/40912061/11/0/0/b2e38f9de15ef9c53421c5c5033ef122/96/233eab72a8b2fcef7e132e72644b5b4f/40912061-11.JPG", "caption": "" }, "displayorder": 12, "url": "//cdnparap30.paragonrels.com/ParagonImages/Property/P3/MAXEBRDI/40912061/12/0/0/adb71614d1ad568a86c00eb9e5bbb827/96/233eab72a8b2fcef7e132e72644b5b4f/40912061-12.JPG", "caption": "" }, "displayorder": 13, "url": "//cdnparap30.paragonrels.com/ParagonImages/Property/P3/MAXEBRDI/40912061/13/0/0/ed17178a33fbf0b920644345aa0aa617/96/233eab72a8b2fcef7e132e72644b5b4f/40912061-13.JPG", "caption": "" }, "displayorder": 14, "url": "//cdnparap30.paragonrels.com/ParagonImages/Property/P3/MAXEBRDI/40912061/14/0/0/66af4f4629490291ffc3426a4fe3fa57/96/233eab72a8b2fcef7e132e72644b5b4f/40912061-14.JPG", "caption": "" }, "displayorder": 15, "url": "//cdnparap30.paragonrels.com/ParagonImages/Property/P3/MAXEBRDI/40912061/15/0/0/7edbe595a63299de2d6b17ae3d9e5c9a/96/233eab72a8b2fcef7e132e72644b5b4f/40912061-15.JPG", "caption": "" }, "displayorder": 16, "url": "//cdnparap30.paragonrels.com/ParagonImages/Property/P3/MAXEBRDI/40912061/16/0/0/a98ce1657631f2af2724c82ec518c82f/96/233eab72a8b2fcef7e132e72644b5b4f/40912061-16.JPG", "caption": "" }, "displayorder": 17, "url": "//cdnparap30.paragonrels.com/ParagonImages/Property/P3/MAXEBRDI/40912061/17/0/0/11d672eeffd8c41d07ce6e4bd9a5f1c7/96/233eab72a8b2fcef7e132e72644b5b4f/40912061-17.JPG", "caption": "" }, "displayorder": 18, "url": "//cdnparap30.paragonrels.com/ParagonImages/Property/P3/MAXEBRDI/40912061/18/0/0/8810574060ac2312af02b2061646242d/96/233eab72a8b2fcef7e132e72644b5b4f/40912061-18.JPG", "caption": "" }, "displayorder": 19, "url": "//cdnparap30.paragonrels.com/ParagonImages/Property/P3/MAXEBRDI/40912061/19/0/0/8627abc86d4b0b442e318a9f1a9b13e4/96/233eab72a8b2fcef7e132e72644b5b4f/40912061-19.JPG", "caption": "" }, "displayorder": 20, "url": "//cdnparap30.paragonrels.com/ParagonImages/Property/P3/MAXEBRDI/40912061/20/0/0/d54fdeb5cc3e9834675815bf1442137f/96/233eab72a8b2fcef7e132e72644b5b4f/40912061-20.JPG", "caption": "" }, "displayorder": 21, "url": "//cdnparap30.paragonrels.com/ParagonImages/Property/P3/MAXEBRDI/40912061/21/0/0/f8d45f35a7b43df0e024307e83d42aa1/96/233eab72a8b2fcef7e132e72644b5b4f/40912061-21.JPG", "caption": "" }, "displayorder": 22, "url": "//cdnparap30.paragonrels.com/ParagonImages/Property/P3/MAXEBRDI/40912061/22/0/0/328c73f7b9e3835869f6c410d27afd6e/96/233eab72a8b2fcef7e132e72644b5b4f/40912061-22.JPG", "caption": "" }, "displayorder": 23, "url": "//cdnparap30.paragonrels.com/ParagonImages/Property/P3/MAXEBRDI/40912061/23/0/0/e74cf0d07a8573d1234a0c8adc793ff7/96/233eab72a8b2fcef7e132e72644b5b4f/40912061-23.JPG", "caption": "" }, "displayorder": 24, "url": "//cdnparap30.paragonrels.com/ParagonImages/Property/P3/MAXEBRDI/40912061/24/0/0/5a90d5debcb6c14bcfabac6ccd1db4b4/96/233eab72a8b2fcef7e132e72644b5b4f/40912061-24.JPG", "caption": "" }, "displayorder": 25, "url": "//cdnparap30.paragonrels.com/ParagonImages/Property/P3/MAXEBRDI/40912061/25/0/0/38e2ac1cc2e62d0d06f9b51194d3ebea/96/233eab72a8b2fcef7e132e72644b5b4f/40912061-25.JPG", "caption": "" }, "displayorder": 26, "url": "//cdnparap30.paragonrels.com/ParagonImages/Property/P3/MAXEBRDI/40912061/26/0/0/40b7b61c98f91950a85334b6c64b2de0/96/233eab72a8b2fcef7e132e72644b5b4f/40912061-26.JPG", "caption": "" }, "displayorder": 27, "url": "//cdnparap30.paragonrels.com/ParagonImages/Property/P3/MAXEBRDI/40912061/27/0/0/a762380f6e3ec0453785cdd351ff1604/96/233eab72a8b2fcef7e132e72644b5b4f/40912061-27.JPG", "caption": "" }, "displayorder": 28, "url": "//cdnparap30.paragonrels.com/ParagonImages/Property/P3/MAXEBRDI/40912061/28/0/0/45b5d141c70800a8aeec9dacc4562406/96/233eab72a8b2fcef7e132e72644b5b4f/40912061-28.JPG", "caption": "" }, "displayorder": 29, "url": "//cdnparap30.paragonrels.com/ParagonImages/Property/P3/MAXEBRDI/40912061/29/0/0/e15b9d4bef171418fe5103228df9eddc/96/233eab72a8b2fcef7e132e72644b5b4f/40912061-29.JPG", "caption": "" }, "displayorder": 30, "url": "//cdnparap30.paragonrels.com/ParagonImages/Property/P3/MAXEBRDI/40912061/30/0/0/1190a3ec1fdfd117b57e0aaf3aaa191b/96/233eab72a8b2fcef7e132e72644b5b4f/40912061-30.JPG", "caption": "" }, "displayorder": 31, "url": "//cdnparap30.paragonrels.com/ParagonImages/Property/P3/MAXEBRDI/40912061/31/0/0/a98dd4840b926ff0c1e1d1807f1334e7/96/233eab72a8b2fcef7e132e72644b5b4f/40912061-31.JPG", "caption": "" }, "displayorder": 32, "url": "//cdnparap30.paragonrels.com/ParagonImages/Property/P3/MAXEBRDI/40912061/32/0/0/d63d2e8a3ce31aca0db42c5ae89fc6a9/96/233eab72a8b2fcef7e132e72644b5b4f/40912061-32.JPG", "caption": "" }, "displayorder": 33, "url": "//cdnparap30.paragonrels.com/ParagonImages/Property/P3/MAXEBRDI/40912061/33/0/0/117fe4bf53ea67976fcb0f347ccf6dc7/96/233eab72a8b2fcef7e132e72644b5b4f/40912061-33.JPG", "caption": "" }, "displayorder": 34, "url": "//cdnparap30.paragonrels.com/ParagonImages/Property/P3/MAXEBRDI/40912061/34/0/0/dc53b6b37c47a2ae7f961e76f56b1c30/96/233eab72a8b2fcef7e132e72644b5b4f/40912061-34.JPG", "caption": "" }, "displayorder": 35, "url": "//cdnparap30.paragonrels.com/ParagonImages/Property/P3/MAXEBRDI/40912061/35/0/0/a5e8d899e19895e82df8f2ef669d6179/96/233eab72a8b2fcef7e132e72644b5b4f/40912061-35.JPG", "caption": "" }, "displayorder": 36, "url": "//cdnparap30.paragonrels.com/ParagonImages/Property/P3/MAXEBRDI/40912061/36/0/0/75c70c51cf264cab36738b94477fd673/96/233eab72a8b2fcef7e132e72644b5b4f/40912061-36.JPG", "caption": "" } ], "agent": { "name": "GEORGIA RUDDEROW", "phone": "510-325-0407", "email": "georgia@therealrudderow.com" }, "broker": { "name": "RED OAK REALTY", "phone": "", "email": "" } }; ]]>
2814 Hillegass Ave #C2
BERKELEY, CA 94705

Click here for map
Condo
$699,000
972 Sq Feet
2 Bedrooms
2 Bathrooms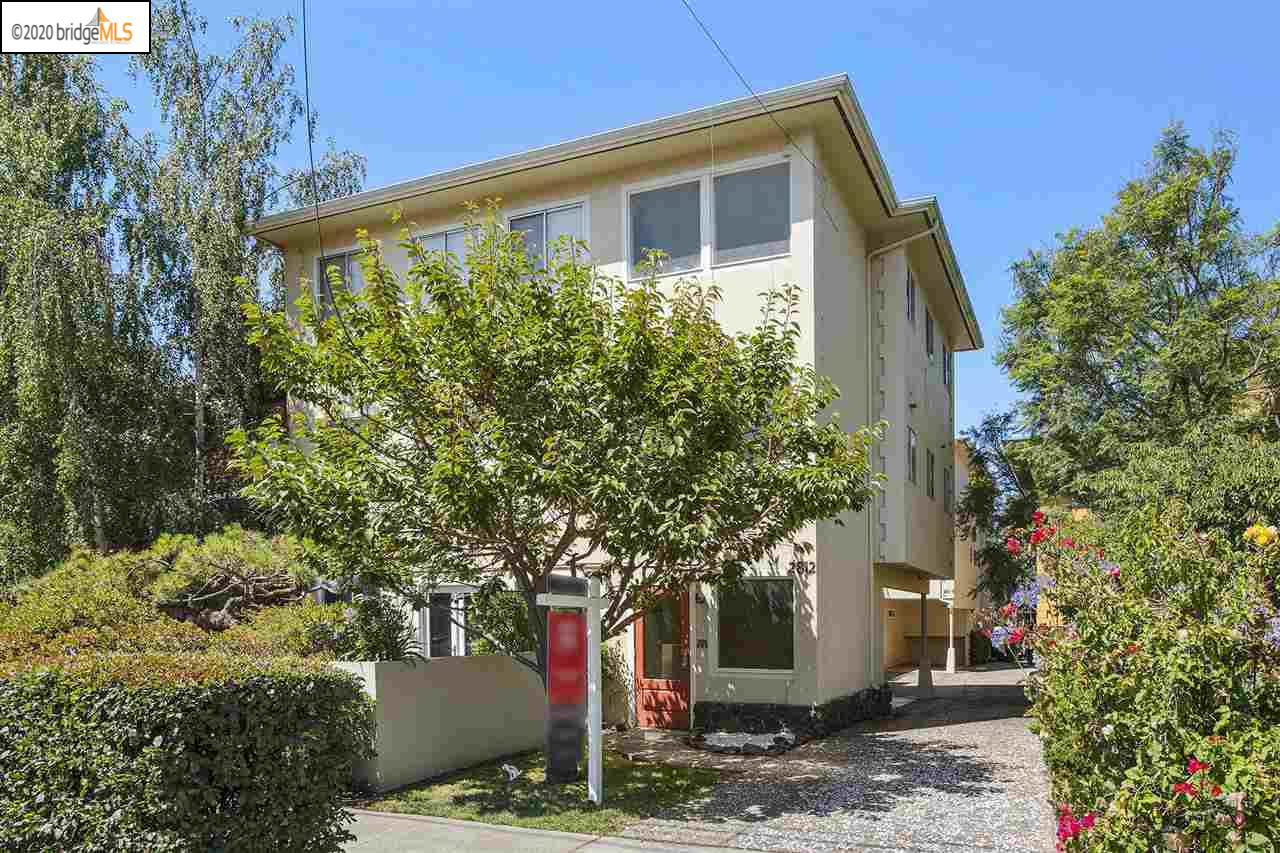 Details:
Lot Sq Feet:
0
Fireplaces:
0
HOA?
Yes
Bank Owned?
No
Status:
Pending
Remarks:
Nestled at the heart of the vibrant Elmwood neighborhood, this charming condo offers two bedrooms, two bathrooms and much more. A beautiful courtyard filled with vibrant green trees and colorful flowers captures your attention from the moment you arrive. Located on the second floor at the rear of the complex, this sweet unit is reminiscent of a modern tree house. Upon entering the home, you are greeted with beautiful eco-friendly laminate floors, a large and open living/dining room combo and a well appointed kitchen with all the modern amenities. A private patio is positioned just off the living room and boasts lovely tree views. Just beyond the kitchen is the hallway which leads to the main bedroom which has its own ensuite bathroom. The guest bedroom and the large guest bathroom are located just across the hall from there. There is tons of storage, a covered parking space and shared laundry. Just a stone's throw from the unit are shops, restaurants and much much more.
There are currently no open houses for this property. Please contact
GEORGIA RUDDEROW
to schedule an appointment.