<![CDATA[ var dwellicious_data = { "address": "19544 Santa Maria Ave ", "city": "CASTRO VALLEY", "state": "CA", "zip": "94546", "zip4": "", "area": "", "subdivision": "", "county": "", "price": "849000", "beds": "3", "baths": "2", "sqft": "1519", "lotsize": "4750", "yearbuilt": "1945-01-01", "proptype": "Residential", "mlsnum": "40915317", "active": false, "remarks": "Awesome opportunity in the heart of Castro Valley! This home offers flexible living with two houses on one lot. The 2-bedroom, one bath front unit in approximately 1036 sq. ft. of living space is light and bright featuring bamboo floors, vaulted ceilings, fireplace, air conditioning, plantation shutters, Nest thermostat, indoor laundry and one car garage. The open kitchen with gas stove and stainless appliances is laid out perfectly for meal preparation with plenty of counter space and storage. Cozy backyard with patio and grassy area for entertaining, relaxing, and gardening. Rear unit studio with kitchen and private bath, approx. 480 sq. ft. is currently rented. Close to shopping, restaurants, BART, freeway access, Lake Chabot, Castro Valley community center and award-winning Castro Valley schools.", "photos": [ { "displayorder": 0, "url": "//cdnparap30.paragonrels.com/ParagonImages/Property/P3/MAXEBRDI/40915317/0/0/0/015d07d4b1503be5d6fae22c9d5a6500/98/69d604bcc4a7153673abe28205f11fa5/40915317.JPG", "caption": "" }, "displayorder": 1, "url": "//cdnparap30.paragonrels.com/ParagonImages/Property/P3/MAXEBRDI/40915317/1/0/0/5a201bcc99cde42670dba3257d8921e3/98/69d604bcc4a7153673abe28205f11fa5/40915317-1.JPG", "caption": "" }, "displayorder": 2, "url": "//cdnparap30.paragonrels.com/ParagonImages/Property/P3/MAXEBRDI/40915317/2/0/0/dfe411af1a9178247b5d8c99637e71e5/98/69d604bcc4a7153673abe28205f11fa5/40915317-2.JPG", "caption": "" }, "displayorder": 3, "url": "//cdnparap30.paragonrels.com/ParagonImages/Property/P3/MAXEBRDI/40915317/3/0/0/0155a6553cf2262c7c998ebdee6c4d20/98/69d604bcc4a7153673abe28205f11fa5/40915317-3.JPG", "caption": "" }, "displayorder": 4, "url": "//cdnparap30.paragonrels.com/ParagonImages/Property/P3/MAXEBRDI/40915317/4/0/0/ba81e8e233dfea76e36e359420362ee0/98/69d604bcc4a7153673abe28205f11fa5/40915317-4.JPG", "caption": "" }, "displayorder": 5, "url": "//cdnparap30.paragonrels.com/ParagonImages/Property/P3/MAXEBRDI/40915317/5/0/0/7d4cf07481b0c689be4f5f8e70796169/98/69d604bcc4a7153673abe28205f11fa5/40915317-5.JPG", "caption": "" }, "displayorder": 6, "url": "//cdnparap30.paragonrels.com/ParagonImages/Property/P3/MAXEBRDI/40915317/6/0/0/bbfedfb043f17820150f736f33790492/98/69d604bcc4a7153673abe28205f11fa5/40915317-6.JPG", "caption": "" }, "displayorder": 7, "url": "//cdnparap30.paragonrels.com/ParagonImages/Property/P3/MAXEBRDI/40915317/7/0/0/87a85203278f03d774c2f40fe56d19ca/98/69d604bcc4a7153673abe28205f11fa5/40915317-7.JPG", "caption": "" }, "displayorder": 8, "url": "//cdnparap30.paragonrels.com/ParagonImages/Property/P3/MAXEBRDI/40915317/8/0/0/6495481722150bd817b6e8c1f74eb8fd/98/69d604bcc4a7153673abe28205f11fa5/40915317-8.JPG", "caption": "" }, "displayorder": 9, "url": "//cdnparap30.paragonrels.com/ParagonImages/Property/P3/MAXEBRDI/40915317/9/0/0/fc58d68e629394adf672bed869c36cc9/98/69d604bcc4a7153673abe28205f11fa5/40915317-9.JPG", "caption": "" }, "displayorder": 10, "url": "//cdnparap30.paragonrels.com/ParagonImages/Property/P3/MAXEBRDI/40915317/10/0/0/39fff530f397ce50973b796738f62414/98/69d604bcc4a7153673abe28205f11fa5/40915317-10.JPG", "caption": "" }, "displayorder": 11, "url": "//cdnparap30.paragonrels.com/ParagonImages/Property/P3/MAXEBRDI/40915317/11/0/0/1b22294c1af3aa6f2f2daecd18dddfc5/98/69d604bcc4a7153673abe28205f11fa5/40915317-11.JPG", "caption": "" }, "displayorder": 12, "url": "//cdnparap30.paragonrels.com/ParagonImages/Property/P3/MAXEBRDI/40915317/12/0/0/77ddbed5c857d9db463a118b985bc5c3/98/69d604bcc4a7153673abe28205f11fa5/40915317-12.JPG", "caption": "" }, "displayorder": 13, "url": "//cdnparap30.paragonrels.com/ParagonImages/Property/P3/MAXEBRDI/40915317/13/0/0/8f295e1936e607c05850f3e2ef3e9df4/98/69d604bcc4a7153673abe28205f11fa5/40915317-13.JPG", "caption": "" }, "displayorder": 14, "url": "//cdnparap30.paragonrels.com/ParagonImages/Property/P3/MAXEBRDI/40915317/14/0/0/6756ba677032e3319aac80673d467def/98/69d604bcc4a7153673abe28205f11fa5/40915317-14.JPG", "caption": "" }, "displayorder": 15, "url": "//cdnparap30.paragonrels.com/ParagonImages/Property/P3/MAXEBRDI/40915317/15/0/0/564bb542f8601fdbb7e2da4f261fd8e7/98/69d604bcc4a7153673abe28205f11fa5/40915317-15.JPG", "caption": "" }, "displayorder": 16, "url": "//cdnparap30.paragonrels.com/ParagonImages/Property/P3/MAXEBRDI/40915317/16/0/0/c0a37240947ad2a3bd65d0bd1db8a69f/98/69d604bcc4a7153673abe28205f11fa5/40915317-16.JPG", "caption": "" }, "displayorder": 17, "url": "//cdnparap30.paragonrels.com/ParagonImages/Property/P3/MAXEBRDI/40915317/17/0/0/6fa6de359d73254d40ec148f5f3c75ea/98/69d604bcc4a7153673abe28205f11fa5/40915317-17.JPG", "caption": "" }, "displayorder": 18, "url": "//cdnparap30.paragonrels.com/ParagonImages/Property/P3/MAXEBRDI/40915317/18/0/0/676ca51d2138b21fa807f40138434303/98/69d604bcc4a7153673abe28205f11fa5/40915317-18.JPG", "caption": "" }, "displayorder": 19, "url": "//cdnparap30.paragonrels.com/ParagonImages/Property/P3/MAXEBRDI/40915317/19/0/0/cf728ae9e4cb9586a1367b0e29996e2d/98/69d604bcc4a7153673abe28205f11fa5/40915317-19.JPG", "caption": "" }, "displayorder": 20, "url": "//cdnparap30.paragonrels.com/ParagonImages/Property/P3/MAXEBRDI/40915317/20/0/0/ce84527eda887e30a9fa5f6b44071ac4/98/69d604bcc4a7153673abe28205f11fa5/40915317-20.JPG", "caption": "" }, "displayorder": 21, "url": "//cdnparap30.paragonrels.com/ParagonImages/Property/P3/MAXEBRDI/40915317/21/0/0/18b3119070452473024211fcd489adfa/98/69d604bcc4a7153673abe28205f11fa5/40915317-21.JPG", "caption": "" }, "displayorder": 22, "url": "//cdnparap30.paragonrels.com/ParagonImages/Property/P3/MAXEBRDI/40915317/22/0/0/4b1be3c38adc3a2467e0520112ef9757/98/69d604bcc4a7153673abe28205f11fa5/40915317-22.JPG", "caption": "" }, "displayorder": 23, "url": "//cdnparap30.paragonrels.com/ParagonImages/Property/P3/MAXEBRDI/40915317/23/0/0/aa231d9bdd8c659b64d9ff917ebb4bdf/98/69d604bcc4a7153673abe28205f11fa5/40915317-23.JPG", "caption": "" }, "displayorder": 24, "url": "//cdnparap30.paragonrels.com/ParagonImages/Property/P3/MAXEBRDI/40915317/24/0/0/1b156326e48777f91068d7e0ac076286/98/69d604bcc4a7153673abe28205f11fa5/40915317-24.JPG", "caption": "" }, "displayorder": 25, "url": "//cdnparap30.paragonrels.com/ParagonImages/Property/P3/MAXEBRDI/40915317/25/0/0/782dc9722d769aca1b727262378618f5/98/69d604bcc4a7153673abe28205f11fa5/40915317-25.JPG", "caption": "" }, "displayorder": 26, "url": "//cdnparap30.paragonrels.com/ParagonImages/Property/P3/MAXEBRDI/40915317/26/0/0/212b4a10b15cf75665b2330041d6617a/98/69d604bcc4a7153673abe28205f11fa5/40915317-26.JPG", "caption": "" }, "displayorder": 27, "url": "//cdnparap30.paragonrels.com/ParagonImages/Property/P3/MAXEBRDI/40915317/27/0/0/034badb6dc150492a0221c783f78e980/98/69d604bcc4a7153673abe28205f11fa5/40915317-27.JPG", "caption": "" }, "displayorder": 28, "url": "//cdnparap30.paragonrels.com/ParagonImages/Property/P3/MAXEBRDI/40915317/28/0/0/6c1eed5a2e2a35a0685b0d7f45ee9be8/98/69d604bcc4a7153673abe28205f11fa5/40915317-28.JPG", "caption": "" }, "displayorder": 29, "url": "//cdnparap30.paragonrels.com/ParagonImages/Property/P3/MAXEBRDI/40915317/29/0/0/a5cc85adeaac64f0638fb6477254ca80/98/69d604bcc4a7153673abe28205f11fa5/40915317-29.JPG", "caption": "" }, "displayorder": 30, "url": "//cdnparap30.paragonrels.com/ParagonImages/Property/P3/MAXEBRDI/40915317/30/0/0/d4a288277ed55bd2f654dcd06eaf9ac8/98/69d604bcc4a7153673abe28205f11fa5/40915317-30.JPG", "caption": "" }, "displayorder": 31, "url": "//cdnparap30.paragonrels.com/ParagonImages/Property/P3/MAXEBRDI/40915317/31/0/0/748a33f207281c4693b04f252016e52e/98/69d604bcc4a7153673abe28205f11fa5/40915317-31.JPG", "caption": "" }, "displayorder": 32, "url": "//cdnparap30.paragonrels.com/ParagonImages/Property/P3/MAXEBRDI/40915317/32/0/0/806eeb9aad1277e79722afe652703b3b/98/69d604bcc4a7153673abe28205f11fa5/40915317-32.JPG", "caption": "" }, "displayorder": 33, "url": "//cdnparap30.paragonrels.com/ParagonImages/Property/P3/MAXEBRDI/40915317/33/0/0/52908a1246101e0ce5f15930992e81ff/98/69d604bcc4a7153673abe28205f11fa5/40915317-33.JPG", "caption": "" }, "displayorder": 34, "url": "//cdnparap30.paragonrels.com/ParagonImages/Property/P3/MAXEBRDI/40915317/34/0/0/324fa964dbcc3356efdbdb6e97276f90/98/69d604bcc4a7153673abe28205f11fa5/40915317-34.JPG", "caption": "" }, "displayorder": 35, "url": "//cdnparap30.paragonrels.com/ParagonImages/Property/P3/MAXEBRDI/40915317/35/0/0/a97f0d059010f778b1b69a4e585f6289/98/69d604bcc4a7153673abe28205f11fa5/40915317-35.JPG", "caption": "" }, "displayorder": 36, "url": "//cdnparap30.paragonrels.com/ParagonImages/Property/P3/MAXEBRDI/40915317/36/0/0/1ca1f3a15423d9a9fa9492904dffcdcb/98/69d604bcc4a7153673abe28205f11fa5/40915317-36.JPG", "caption": "" }, "displayorder": 37, "url": "//cdnparap30.paragonrels.com/ParagonImages/Property/P3/MAXEBRDI/40915317/37/0/0/e0e181b9245b8bb77808de38f5c8f9f5/98/69d604bcc4a7153673abe28205f11fa5/40915317-37.JPG", "caption": "" }, "displayorder": 38, "url": "//cdnparap30.paragonrels.com/ParagonImages/Property/P3/MAXEBRDI/40915317/38/0/0/0cb50fe1e6b0dbc77c67f4c139ae6409/98/69d604bcc4a7153673abe28205f11fa5/40915317-38.JPG", "caption": "" }, "displayorder": 39, "url": "//cdnparap30.paragonrels.com/ParagonImages/Property/P3/MAXEBRDI/40915317/39/0/0/030bea97f34ab05b364301c908b1040b/98/69d604bcc4a7153673abe28205f11fa5/40915317-39.JPG", "caption": "" } ], "agent": { "name": "Leslie Peterson", "phone": "510-697-1208", "email": "leslie@evolvereca.com" }, "broker": { "name": "Evolve Real Estate", "phone": "", "email": "" } }; ]]>
19544 Santa Maria Ave
CASTRO VALLEY, CA 94546

Click here for map
Residential Home
$849,000
1,519 Sq Feet
3 Bedrooms
2 Bathrooms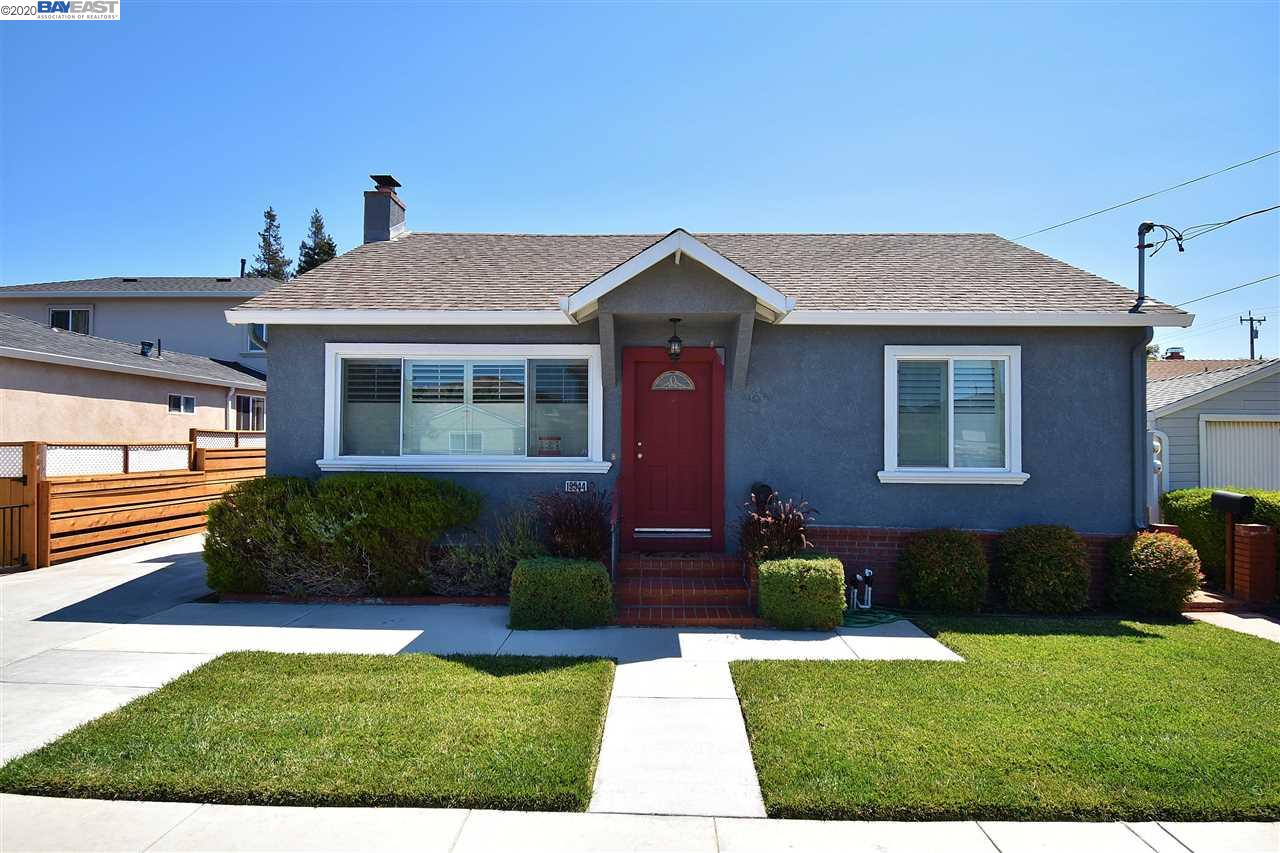 Details:
Lot Sq Feet:
4,750
Fireplaces:
1
HOA?
No
Bank Owned?
No
Status:
Pending
Remarks:
Awesome opportunity in the heart of Castro Valley! This home offers flexible living with two houses on one lot. The 2-bedroom, one bath front unit in approximately 1036 sq. ft. of living space is light and bright featuring bamboo floors, vaulted ceilings, fireplace, air conditioning, plantation shutters, Nest thermostat, indoor laundry and one car garage. The open kitchen with gas stove and stainless appliances is laid out perfectly for meal preparation with plenty of counter space and storage. Cozy backyard with patio and grassy area for entertaining, relaxing, and gardening. Rear unit studio with kitchen and private bath, approx. 480 sq. ft. is currently rented. Close to shopping, restaurants, BART, freeway access, Lake Chabot, Castro Valley community center and award-winning Castro Valley schools.
There are currently no open houses for this property. Please contact
Leslie Peterson
to schedule an appointment.