<![CDATA[ var dwellicious_data = { "address": "1815 Elm St ", "city": "EL CERRITO", "state": "CA", "zip": "94530", "zip4": "", "area": "", "subdivision": "", "county": "", "price": "699000", "beds": "2", "baths": "1", "sqft": "862", "lotsize": "3125", "yearbuilt": "1951-01-01", "proptype": "Residential", "mlsnum": "40915324", "active": false, "remarks": "Home Sweet Home! Lovingly maintained contemporary 2 bedroom in move-in condition. Peaceful living room and cozy dining area. Partial views of the Bay Bridge, Downtown San Francisco, Golden Gate Bridge and Mt. Tamalpais. Big kitchen and large, separate laundry room; all appliances included. Lots of roomy closets. Hardwood floors throughout. Sweet patio in front with sitting area and lemon tree. Deep lot with a majestic redwood tree. Attached garage with auto roll-up door. Architectural sketches for possible expansion of large subarea (buyer to verify). Madera Elementary School (buyer to verify school district and availability). Close to Del Norte BART. Sewer compliant. Don't miss!", "photos": [ { "displayorder": 0, "url": "//cdnparap30.paragonrels.com/ParagonImages/Property/P3/MAXEBRDI/40915324/0/0/0/c577f8823a9b8a72f10e8218fff54398/96/5cf40b7053ea23f19256cc6f2db76e40/40915324.JPG", "caption": "" }, "displayorder": 1, "url": "//cdnparap30.paragonrels.com/ParagonImages/Property/P3/MAXEBRDI/40915324/1/0/0/8ec335eaec1fcf0d140830306df9d874/96/5cf40b7053ea23f19256cc6f2db76e40/40915324-1.JPG", "caption": "" }, "displayorder": 2, "url": "//cdnparap30.paragonrels.com/ParagonImages/Property/P3/MAXEBRDI/40915324/2/0/0/3f1064a222273ff679bb04094857b8f3/96/5cf40b7053ea23f19256cc6f2db76e40/40915324-2.JPG", "caption": "" }, "displayorder": 3, "url": "//cdnparap30.paragonrels.com/ParagonImages/Property/P3/MAXEBRDI/40915324/3/0/0/4503d7b8c36f0574acbfeebd839b38f8/96/5cf40b7053ea23f19256cc6f2db76e40/40915324-3.JPG", "caption": "" }, "displayorder": 4, "url": "//cdnparap30.paragonrels.com/ParagonImages/Property/P3/MAXEBRDI/40915324/4/0/0/8d71f33a42812a30e57e626483056f3a/96/5cf40b7053ea23f19256cc6f2db76e40/40915324-4.JPG", "caption": "" }, "displayorder": 5, "url": "//cdnparap30.paragonrels.com/ParagonImages/Property/P3/MAXEBRDI/40915324/5/0/0/355f2b1b0d9c541aa3848dafd5fd7e0f/96/5cf40b7053ea23f19256cc6f2db76e40/40915324-5.JPG", "caption": "" }, "displayorder": 6, "url": "//cdnparap30.paragonrels.com/ParagonImages/Property/P3/MAXEBRDI/40915324/6/0/0/2cbcc380681cc29a442e043ec857428b/96/5cf40b7053ea23f19256cc6f2db76e40/40915324-6.JPG", "caption": "" }, "displayorder": 7, "url": "//cdnparap30.paragonrels.com/ParagonImages/Property/P3/MAXEBRDI/40915324/7/0/0/a01f1591753e6e2ae6a94d861398aa17/96/5cf40b7053ea23f19256cc6f2db76e40/40915324-7.JPG", "caption": "" }, "displayorder": 8, "url": "//cdnparap30.paragonrels.com/ParagonImages/Property/P3/MAXEBRDI/40915324/8/0/0/d725fed634d641f25315c3d9541ac401/96/5cf40b7053ea23f19256cc6f2db76e40/40915324-8.JPG", "caption": "" }, "displayorder": 9, "url": "//cdnparap30.paragonrels.com/ParagonImages/Property/P3/MAXEBRDI/40915324/9/0/0/18fb2b15b739f0df0edd1259b3fd2fb9/96/5cf40b7053ea23f19256cc6f2db76e40/40915324-9.JPG", "caption": "" }, "displayorder": 10, "url": "//cdnparap30.paragonrels.com/ParagonImages/Property/P3/MAXEBRDI/40915324/10/0/0/bb3304d71bb5dfbb3165d94693132e5f/96/5cf40b7053ea23f19256cc6f2db76e40/40915324-10.JPG", "caption": "" }, "displayorder": 11, "url": "//cdnparap30.paragonrels.com/ParagonImages/Property/P3/MAXEBRDI/40915324/11/0/0/d68f0820271576cda90c6fff3a9694ad/96/5cf40b7053ea23f19256cc6f2db76e40/40915324-11.JPG", "caption": "" }, "displayorder": 12, "url": "//cdnparap30.paragonrels.com/ParagonImages/Property/P3/MAXEBRDI/40915324/12/0/0/23c6805ca5a934665c72c0770962b543/96/5cf40b7053ea23f19256cc6f2db76e40/40915324-12.JPG", "caption": "" }, "displayorder": 13, "url": "//cdnparap30.paragonrels.com/ParagonImages/Property/P3/MAXEBRDI/40915324/13/0/0/e74298239fa46c0d9c146042c53d77da/96/5cf40b7053ea23f19256cc6f2db76e40/40915324-13.JPG", "caption": "" }, "displayorder": 14, "url": "//cdnparap30.paragonrels.com/ParagonImages/Property/P3/MAXEBRDI/40915324/14/0/0/100bee389c0b5715c4424932529fc723/96/5cf40b7053ea23f19256cc6f2db76e40/40915324-14.JPG", "caption": "" }, "displayorder": 15, "url": "//cdnparap30.paragonrels.com/ParagonImages/Property/P3/MAXEBRDI/40915324/15/0/0/37df27ea645b8eaaafa68edc10a87448/96/5cf40b7053ea23f19256cc6f2db76e40/40915324-15.JPG", "caption": "" }, "displayorder": 16, "url": "//cdnparap30.paragonrels.com/ParagonImages/Property/P3/MAXEBRDI/40915324/16/0/0/567d41ad66259beda7fc66347920af1e/96/5cf40b7053ea23f19256cc6f2db76e40/40915324-16.JPG", "caption": "" }, "displayorder": 17, "url": "//cdnparap30.paragonrels.com/ParagonImages/Property/P3/MAXEBRDI/40915324/17/0/0/c2c313d1ad056d1c89776f0698ad4e30/96/5cf40b7053ea23f19256cc6f2db76e40/40915324-17.JPG", "caption": "" }, "displayorder": 18, "url": "//cdnparap30.paragonrels.com/ParagonImages/Property/P3/MAXEBRDI/40915324/18/0/0/1e625ed1e4ec7531cca5193ef9967f36/96/5cf40b7053ea23f19256cc6f2db76e40/40915324-18.JPG", "caption": "" }, "displayorder": 19, "url": "//cdnparap30.paragonrels.com/ParagonImages/Property/P3/MAXEBRDI/40915324/19/0/0/b95b5bf86528e407f78dc4fc299a39cb/96/5cf40b7053ea23f19256cc6f2db76e40/40915324-19.JPG", "caption": "" }, "displayorder": 20, "url": "//cdnparap30.paragonrels.com/ParagonImages/Property/P3/MAXEBRDI/40915324/20/0/0/94c55969c604365190a0066f99f2120a/96/5cf40b7053ea23f19256cc6f2db76e40/40915324-20.JPG", "caption": "" }, "displayorder": 21, "url": "//cdnparap30.paragonrels.com/ParagonImages/Property/P3/MAXEBRDI/40915324/21/0/0/1b1b6af97f40010163178d4fb8ae1e9b/96/5cf40b7053ea23f19256cc6f2db76e40/40915324-21.JPG", "caption": "" }, "displayorder": 22, "url": "//cdnparap30.paragonrels.com/ParagonImages/Property/P3/MAXEBRDI/40915324/22/0/0/8bf297bb0ad8b49a9e4a769e394fffd1/96/5cf40b7053ea23f19256cc6f2db76e40/40915324-22.JPG", "caption": "" }, "displayorder": 23, "url": "//cdnparap30.paragonrels.com/ParagonImages/Property/P3/MAXEBRDI/40915324/23/0/0/189327968c2f6effb20309d71d7ac93b/96/5cf40b7053ea23f19256cc6f2db76e40/40915324-23.JPG", "caption": "" }, "displayorder": 24, "url": "//cdnparap30.paragonrels.com/ParagonImages/Property/P3/MAXEBRDI/40915324/24/0/0/dba03ebc1c45f081306f07f3917202a2/96/5cf40b7053ea23f19256cc6f2db76e40/40915324-24.JPG", "caption": "" }, "displayorder": 25, "url": "//cdnparap30.paragonrels.com/ParagonImages/Property/P3/MAXEBRDI/40915324/25/0/0/e6bb143ce2a1d517196e0adf6b440dfe/96/5cf40b7053ea23f19256cc6f2db76e40/40915324-25.JPG", "caption": "" }, "displayorder": 26, "url": "//cdnparap30.paragonrels.com/ParagonImages/Property/P3/MAXEBRDI/40915324/26/0/0/83bed0390f7c401c6dc03c4f8a55e876/96/5cf40b7053ea23f19256cc6f2db76e40/40915324-26.JPG", "caption": "" }, "displayorder": 27, "url": "//cdnparap30.paragonrels.com/ParagonImages/Property/P3/MAXEBRDI/40915324/27/0/0/9cbd56453cc92b91014e843701e977a8/96/5cf40b7053ea23f19256cc6f2db76e40/40915324-27.JPG", "caption": "" }, "displayorder": 28, "url": "//cdnparap30.paragonrels.com/ParagonImages/Property/P3/MAXEBRDI/40915324/28/0/0/6f279983b5f49436b67dc5fd5a1b660b/96/5cf40b7053ea23f19256cc6f2db76e40/40915324-28.JPG", "caption": "" }, "displayorder": 29, "url": "//cdnparap30.paragonrels.com/ParagonImages/Property/P3/MAXEBRDI/40915324/29/0/0/089d42fb4c47dade2629c52cdce92a20/96/5cf40b7053ea23f19256cc6f2db76e40/40915324-29.JPG", "caption": "" } ], "agent": { "name": "DORIS DEE PLUNKETT", "phone": "510-684-1557", "email": "dee@redoakrealty.com" }, "broker": { "name": "RED OAK REALTY", "phone": "", "email": "" } }; ]]>
1815 Elm St
EL CERRITO, CA 94530

Click here for map
Residential Home
$699,000
862 Sq Feet
2 Bedrooms
1 Bathroom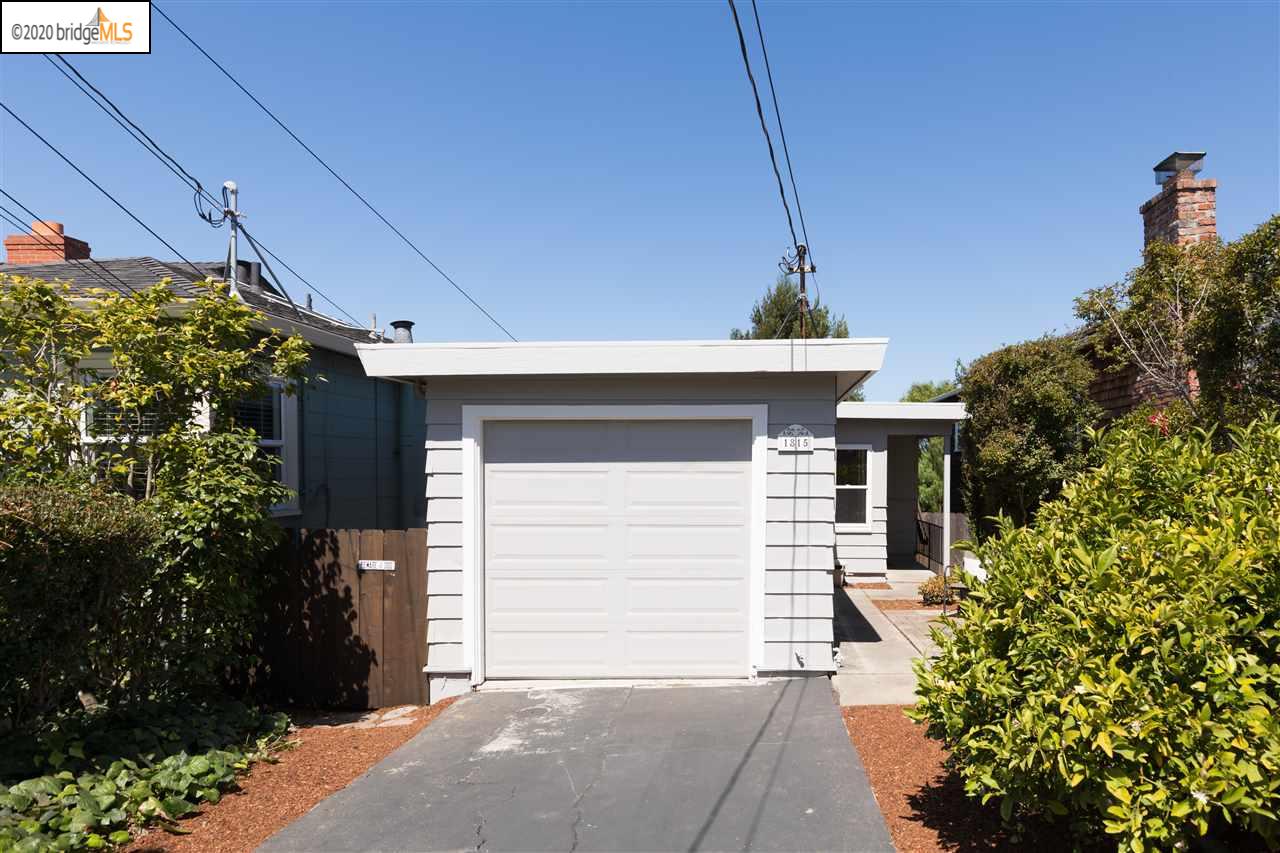 Details:
Lot Sq Feet:
3,125
Fireplaces:
0
HOA?
No
Bank Owned?
No
Status:
Sold
Remarks:
Home Sweet Home! Lovingly maintained contemporary 2 bedroom in move-in condition. Peaceful living room and cozy dining area. Partial views of the Bay Bridge, Downtown San Francisco, Golden Gate Bridge and Mt. Tamalpais. Big kitchen and large, separate laundry room; all appliances included. Lots of roomy closets. Hardwood floors throughout. Sweet patio in front with sitting area and lemon tree. Deep lot with a majestic redwood tree. Attached garage with auto roll-up door. Architectural sketches for possible expansion of large subarea (buyer to verify). Madera Elementary School (buyer to verify school district and availability). Close to Del Norte BART. Sewer compliant. Don't miss!
There are currently no open houses for this property. Please contact
DORIS DEE PLUNKETT
to schedule an appointment.