<![CDATA[ var dwellicious_data = { "address": "322 CLIFTON St ", "city": "OAKLAND", "state": "CA", "zip": "94618", "zip4": "", "area": "", "subdivision": "", "county": "", "price": "1395000", "beds": "3", "baths": "1", "sqft": "1688", "lotsize": "4200", "yearbuilt": "1915-01-01", "proptype": "Residential", "mlsnum": "40915356", "active": false, "remarks": "This exemplary 1915 Rockridge Craftsman has many surprises awaiting you! The bright cobalt blue tiles that grace the front steps, and the pretty Star pattern laid into the brick walkway, the wide and welcoming front porch. Inside, the Gumwood woodwork glows in the ample natural light, the textured brick fireplace, and architectural details like the pull-down secretary desk and the built-in seating benches showcase the craftsmanship of a bygone era. The sunlit kitchen and adjacent pantry offer ample storage. A roomy third bedroom is large enough for multi-functional use: a family room? A workout space? 2 home offices? You decide! The rear garden offers an unusual view of exposed brick of the adjacent building to lend a New York vibe, while the open-air garage" structure now functions as an outdoor cabana. Enjoy the all riches of the Rockridge lifestyle (College Ave shopping, restaurants, BART, Farmers Market), Chabot Elementary and the whopping Walkscore of 94!", "photos": [ { "displayorder": 0, "url": "//cdnparap30.paragonrels.com/ParagonImages/Property/P3/MAXEBRDI/40915356/0/0/0/94e14d917b282507eb212864b23420d5/96/18237c7ad2df6ee9a1c6b82586c3a898/40915356.JPG", "caption": "" }, "displayorder": 1, "url": "//cdnparap30.paragonrels.com/ParagonImages/Property/P3/MAXEBRDI/40915356/1/0/0/65fbf5765e14e18f77033c307a282af3/96/18237c7ad2df6ee9a1c6b82586c3a898/40915356-1.JPG", "caption": "" }, "displayorder": 2, "url": "//cdnparap30.paragonrels.com/ParagonImages/Property/P3/MAXEBRDI/40915356/2/0/0/576b62f7081df15aa904f99d14386da5/96/18237c7ad2df6ee9a1c6b82586c3a898/40915356-2.JPG", "caption": "" }, "displayorder": 3, "url": "//cdnparap30.paragonrels.com/ParagonImages/Property/P3/MAXEBRDI/40915356/3/0/0/48d92c8f74a2f1bb8c2378ff7ca2540d/96/18237c7ad2df6ee9a1c6b82586c3a898/40915356-3.JPG", "caption": "" }, "displayorder": 4, "url": "//cdnparap30.paragonrels.com/ParagonImages/Property/P3/MAXEBRDI/40915356/4/0/0/96362f267bce1d73818b97f987dcc8fb/96/18237c7ad2df6ee9a1c6b82586c3a898/40915356-4.JPG", "caption": "" }, "displayorder": 5, "url": "//cdnparap30.paragonrels.com/ParagonImages/Property/P3/MAXEBRDI/40915356/5/0/0/6fdc79334d1bd268af2242053b725676/96/18237c7ad2df6ee9a1c6b82586c3a898/40915356-5.JPG", "caption": "" }, "displayorder": 6, "url": "//cdnparap30.paragonrels.com/ParagonImages/Property/P3/MAXEBRDI/40915356/6/0/0/12e136692d507b2330322ea67c87dd4d/96/18237c7ad2df6ee9a1c6b82586c3a898/40915356-6.JPG", "caption": "" }, "displayorder": 7, "url": "//cdnparap30.paragonrels.com/ParagonImages/Property/P3/MAXEBRDI/40915356/7/0/0/ed9dd7ec4663a1daf9391e4c924067ef/96/18237c7ad2df6ee9a1c6b82586c3a898/40915356-7.JPG", "caption": "" }, "displayorder": 8, "url": "//cdnparap30.paragonrels.com/ParagonImages/Property/P3/MAXEBRDI/40915356/8/0/0/3b8b61a788d0e8bb053c8dfbf89d9b63/96/18237c7ad2df6ee9a1c6b82586c3a898/40915356-8.JPG", "caption": "" }, "displayorder": 9, "url": "//cdnparap30.paragonrels.com/ParagonImages/Property/P3/MAXEBRDI/40915356/9/0/0/eec1e883b92169f6719ce623f8e91054/96/18237c7ad2df6ee9a1c6b82586c3a898/40915356-9.JPG", "caption": "" }, "displayorder": 10, "url": "//cdnparap30.paragonrels.com/ParagonImages/Property/P3/MAXEBRDI/40915356/10/0/0/f39ef6a27a0e06fcf5ee1b64431cfb2c/96/18237c7ad2df6ee9a1c6b82586c3a898/40915356-10.JPG", "caption": "" }, "displayorder": 11, "url": "//cdnparap30.paragonrels.com/ParagonImages/Property/P3/MAXEBRDI/40915356/11/0/0/8446ee907a0bd1475a2c3fd856182d15/96/18237c7ad2df6ee9a1c6b82586c3a898/40915356-11.JPG", "caption": "" }, "displayorder": 12, "url": "//cdnparap30.paragonrels.com/ParagonImages/Property/P3/MAXEBRDI/40915356/12/0/0/3f09a5e8653b033f24a3b8ca54271d0c/96/18237c7ad2df6ee9a1c6b82586c3a898/40915356-12.JPG", "caption": "" }, "displayorder": 13, "url": "//cdnparap30.paragonrels.com/ParagonImages/Property/P3/MAXEBRDI/40915356/13/0/0/4f2c48ba24d2216e8b49f086318b9638/96/18237c7ad2df6ee9a1c6b82586c3a898/40915356-13.JPG", "caption": "" }, "displayorder": 14, "url": "//cdnparap30.paragonrels.com/ParagonImages/Property/P3/MAXEBRDI/40915356/14/0/0/a04ee699f24b1b1ee385c2af67928eda/96/18237c7ad2df6ee9a1c6b82586c3a898/40915356-14.JPG", "caption": "" }, "displayorder": 15, "url": "//cdnparap30.paragonrels.com/ParagonImages/Property/P3/MAXEBRDI/40915356/15/0/0/23e5676f2a08e70e08800a1b1ca5fc5c/96/18237c7ad2df6ee9a1c6b82586c3a898/40915356-15.JPG", "caption": "" }, "displayorder": 16, "url": "//cdnparap30.paragonrels.com/ParagonImages/Property/P3/MAXEBRDI/40915356/16/0/0/3816ec930714bb1fd825df9a0e9fc4c5/96/18237c7ad2df6ee9a1c6b82586c3a898/40915356-16.JPG", "caption": "" }, "displayorder": 17, "url": "//cdnparap30.paragonrels.com/ParagonImages/Property/P3/MAXEBRDI/40915356/17/0/0/7ba8f6ccc40c50dc762070a9bb8b1aac/96/18237c7ad2df6ee9a1c6b82586c3a898/40915356-17.JPG", "caption": "" }, "displayorder": 18, "url": "//cdnparap30.paragonrels.com/ParagonImages/Property/P3/MAXEBRDI/40915356/18/0/0/5bad505d9b784794c593041ca1bd5b58/96/18237c7ad2df6ee9a1c6b82586c3a898/40915356-18.JPG", "caption": "" }, "displayorder": 19, "url": "//cdnparap30.paragonrels.com/ParagonImages/Property/P3/MAXEBRDI/40915356/19/0/0/b56ed115ea616aeb8006667e5ee0f37d/96/18237c7ad2df6ee9a1c6b82586c3a898/40915356-19.JPG", "caption": "" }, "displayorder": 20, "url": "//cdnparap30.paragonrels.com/ParagonImages/Property/P3/MAXEBRDI/40915356/20/0/0/ea8db5c4eddc54c7aa81ad5288aef242/96/18237c7ad2df6ee9a1c6b82586c3a898/40915356-20.JPG", "caption": "" }, "displayorder": 21, "url": "//cdnparap30.paragonrels.com/ParagonImages/Property/P3/MAXEBRDI/40915356/21/0/0/8c777508773f1add4d5484b635a3fe66/96/18237c7ad2df6ee9a1c6b82586c3a898/40915356-21.JPG", "caption": "" }, "displayorder": 22, "url": "//cdnparap30.paragonrels.com/ParagonImages/Property/P3/MAXEBRDI/40915356/22/0/0/c6457e6ed59a21f46dc1d7782b73fa6b/96/18237c7ad2df6ee9a1c6b82586c3a898/40915356-22.JPG", "caption": "" }, "displayorder": 23, "url": "//cdnparap30.paragonrels.com/ParagonImages/Property/P3/MAXEBRDI/40915356/23/0/0/2be329f98f7beba85c465750c91ec818/96/18237c7ad2df6ee9a1c6b82586c3a898/40915356-23.JPG", "caption": "" }, "displayorder": 24, "url": "//cdnparap30.paragonrels.com/ParagonImages/Property/P3/MAXEBRDI/40915356/24/0/0/c59d5cc8441d82d150d4cb4b35b78c23/96/18237c7ad2df6ee9a1c6b82586c3a898/40915356-24.JPG", "caption": "" }, "displayorder": 25, "url": "//cdnparap30.paragonrels.com/ParagonImages/Property/P3/MAXEBRDI/40915356/25/0/0/49219456007f3ae1a00f145d8f75b714/96/18237c7ad2df6ee9a1c6b82586c3a898/40915356-25.JPG", "caption": "" }, "displayorder": 26, "url": "//cdnparap30.paragonrels.com/ParagonImages/Property/P3/MAXEBRDI/40915356/26/0/0/e91412dddc587c61be71434b38106776/96/18237c7ad2df6ee9a1c6b82586c3a898/40915356-26.JPG", "caption": "" }, "displayorder": 27, "url": "//cdnparap30.paragonrels.com/ParagonImages/Property/P3/MAXEBRDI/40915356/27/0/0/2c1420eed4954d98ae79c0325f7d86da/96/18237c7ad2df6ee9a1c6b82586c3a898/40915356-27.JPG", "caption": "" }, "displayorder": 28, "url": "//cdnparap30.paragonrels.com/ParagonImages/Property/P3/MAXEBRDI/40915356/28/0/0/1747f4a0597e4cb1c20ac3a4fd5c7549/96/18237c7ad2df6ee9a1c6b82586c3a898/40915356-28.JPG", "caption": "" }, "displayorder": 29, "url": "//cdnparap30.paragonrels.com/ParagonImages/Property/P3/MAXEBRDI/40915356/29/0/0/1a77d1b1350a682a02827939353c7d81/96/18237c7ad2df6ee9a1c6b82586c3a898/40915356-29.JPG", "caption": "" }, "displayorder": 30, "url": "//cdnparap30.paragonrels.com/ParagonImages/Property/P3/MAXEBRDI/40915356/30/0/0/965b3a2889f44dae124240e6777638ab/96/18237c7ad2df6ee9a1c6b82586c3a898/40915356-30.JPG", "caption": "" }, "displayorder": 31, "url": "//cdnparap30.paragonrels.com/ParagonImages/Property/P3/MAXEBRDI/40915356/31/0/0/6d24dc6ad22293cbb495746fe82aa9fa/96/18237c7ad2df6ee9a1c6b82586c3a898/40915356-31.JPG", "caption": "" }, "displayorder": 32, "url": "//cdnparap30.paragonrels.com/ParagonImages/Property/P3/MAXEBRDI/40915356/32/0/0/f11d0ff388ac4215553e6be08704ad0d/96/18237c7ad2df6ee9a1c6b82586c3a898/40915356-32.JPG", "caption": "" }, "displayorder": 33, "url": "//cdnparap30.paragonrels.com/ParagonImages/Property/P3/MAXEBRDI/40915356/33/0/0/cbe36b8f85a63783775591b5d8160954/96/18237c7ad2df6ee9a1c6b82586c3a898/40915356-33.JPG", "caption": "" }, "displayorder": 34, "url": "//cdnparap30.paragonrels.com/ParagonImages/Property/P3/MAXEBRDI/40915356/34/0/0/8cb06ea84ec08bdcb4903cb61668be6a/96/18237c7ad2df6ee9a1c6b82586c3a898/40915356-34.JPG", "caption": "" }, "displayorder": 35, "url": "//cdnparap30.paragonrels.com/ParagonImages/Property/P3/MAXEBRDI/40915356/35/0/0/c785b6982fc6d1eb839f665032dffdbc/96/18237c7ad2df6ee9a1c6b82586c3a898/40915356-35.JPG", "caption": "" }, "displayorder": 36, "url": "//cdnparap30.paragonrels.com/ParagonImages/Property/P3/MAXEBRDI/40915356/36/0/0/c1cd899149f2f3a4139b1f151c23e29c/96/18237c7ad2df6ee9a1c6b82586c3a898/40915356-36.JPG", "caption": "" }, "displayorder": 37, "url": "//cdnparap30.paragonrels.com/ParagonImages/Property/P3/MAXEBRDI/40915356/37/0/0/03a48c9888e9808151b6b824dd79964b/96/18237c7ad2df6ee9a1c6b82586c3a898/40915356-37.JPG", "caption": "" }, "displayorder": 38, "url": "//cdnparap30.paragonrels.com/ParagonImages/Property/P3/MAXEBRDI/40915356/38/0/0/26fe244ea0701497da9b9ca96530d5f4/96/18237c7ad2df6ee9a1c6b82586c3a898/40915356-38.JPG", "caption": "" }, "displayorder": 39, "url": "//cdnparap30.paragonrels.com/ParagonImages/Property/P3/MAXEBRDI/40915356/39/0/0/c0fe6f67aa9cf8b5a7894dc376e7b391/96/18237c7ad2df6ee9a1c6b82586c3a898/40915356-39.JPG", "caption": "" } ], "agent": { "name": "MADELINE LILLEY", "phone": "510-919-8997", "email": "maxi@redoakrealty.com" }, "broker": { "name": "RED OAK REALTY", "phone": "", "email": "" } }; ]]>
322 CLIFTON St
OAKLAND, CA 94618

Click here for map
Residential Home
$1,395,000
1,688 Sq Feet
3 Bedrooms
1 Bathroom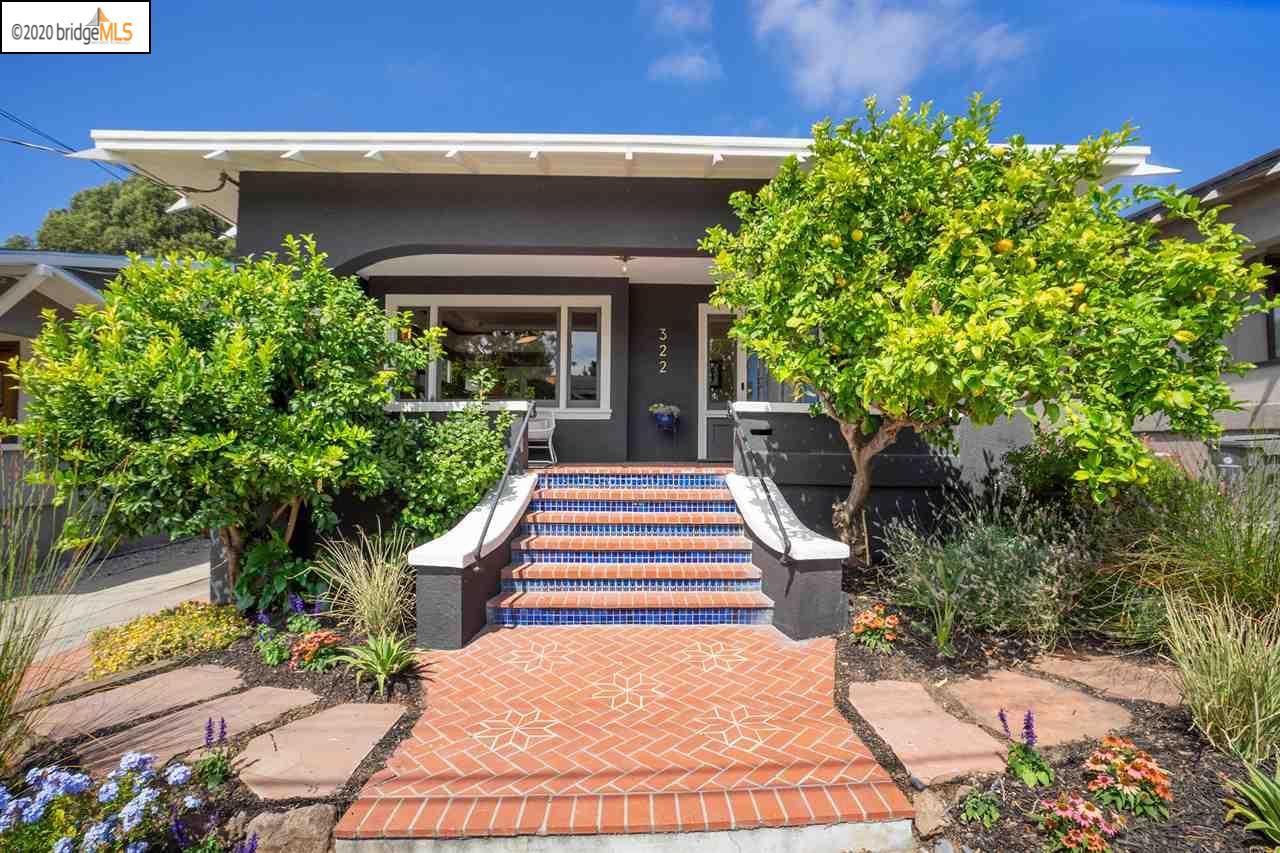 Details:
Lot Sq Feet:
4,200
Fireplaces:
1
HOA?
No
Bank Owned?
No
Status:
Sold
Remarks:
This exemplary 1915 Rockridge Craftsman has many surprises awaiting you! The bright cobalt blue tiles that grace the front steps, and the pretty Star pattern laid into the brick walkway, the wide and welcoming front porch. Inside, the Gumwood woodwork glows in the ample natural light, the textured brick fireplace, and architectural details like the pull-down secretary desk and the built-in seating benches showcase the craftsmanship of a bygone era. The sunlit kitchen and adjacent pantry offer ample storage. A roomy third bedroom is large enough for multi-functional use: a family room? A workout space? 2 home offices? You decide! The rear garden offers an unusual view of exposed brick of the adjacent building to lend a New York vibe, while the open-air "garage" structure now functions as an outdoor cabana. Enjoy the all riches of the Rockridge lifestyle (College Ave shopping, restaurants, BART, Farmers Market), Chabot Elementary and the whopping Walkscore of 94!
There are currently no open houses for this property. Please contact
MADELINE LILLEY
to schedule an appointment.