<![CDATA[ var dwellicious_data = { "address": "2521 Pleasant St ", "city": "OAKLAND", "state": "CA", "zip": "94602", "zip4": "", "area": "", "subdivision": "", "county": "", "price": "699000", "beds": "2", "baths": "1", "sqft": "937", "lotsize": "6540", "yearbuilt": "1920-01-01", "proptype": "Residential", "mlsnum": "40915550", "active": false, "remarks": "Built in 1920 & situated on a non-thoroughfare street just 2 blocks from Fruitvale Ave.'s Farmer Joe's, La Farine & Peet's, this sensational home has been lovingly renovated/remodeled & is now a striking design showcase from top to bottom w/both vintage & contemporary details & finishes. Every room in this 2BR, 1BA home features custom windows/French doors & new lighting; new mechanicals include roof/electrical/copper plumbing/furnace. Attention to details is unmatched, from the sliding barn door w/stained glass to the repurposed original chimney bricks. The kitchen is spectacular. An expansive teakwood deck (520sf) + hot tub sits next to a willow grove and beautifully landscaped level backyard. Horizontal redwood fencing & a custom decorative iron electronic gate offer privacy & security. A detached garage is now a finished bonus space (243 sf), perfect for a workshop, studio or home office while working remotely. This home is a perfect jewel that must be seen to be appreciated!", "photos": [ { "displayorder": 0, "url": "//cdnparap30.paragonrels.com/ParagonImages/Property/P3/MAXEBRDI/40915550/0/0/0/af18fafb5b96928a979a0e70b762fac4/96/20f252edcbe996654add59bcb6d3bbe6/40915550.JPG", "caption": "" }, "displayorder": 1, "url": "//cdnparap30.paragonrels.com/ParagonImages/Property/P3/MAXEBRDI/40915550/1/0/0/49b3f722d4bf577b4771bdbfdfe54f81/96/20f252edcbe996654add59bcb6d3bbe6/40915550-1.JPG", "caption": "" }, "displayorder": 2, "url": "//cdnparap30.paragonrels.com/ParagonImages/Property/P3/MAXEBRDI/40915550/2/0/0/4c2e64192aa01974e132504f69daf5d3/96/20f252edcbe996654add59bcb6d3bbe6/40915550-2.JPG", "caption": "" }, "displayorder": 3, "url": "//cdnparap30.paragonrels.com/ParagonImages/Property/P3/MAXEBRDI/40915550/3/0/0/48b9e5e843e5c88c92496baabaa2ff6e/96/20f252edcbe996654add59bcb6d3bbe6/40915550-3.JPG", "caption": "" }, "displayorder": 4, "url": "//cdnparap30.paragonrels.com/ParagonImages/Property/P3/MAXEBRDI/40915550/4/0/0/5bcfb77e0cd2c3b843a2a6f4c33a427d/96/20f252edcbe996654add59bcb6d3bbe6/40915550-4.JPG", "caption": "" }, "displayorder": 5, "url": "//cdnparap30.paragonrels.com/ParagonImages/Property/P3/MAXEBRDI/40915550/5/0/0/e77ee450b0c0e3935fd331d73dbb60f4/96/20f252edcbe996654add59bcb6d3bbe6/40915550-5.JPG", "caption": "" }, "displayorder": 6, "url": "//cdnparap30.paragonrels.com/ParagonImages/Property/P3/MAXEBRDI/40915550/6/0/0/45211d96b6905bd22374f0b362128022/96/20f252edcbe996654add59bcb6d3bbe6/40915550-6.JPG", "caption": "" }, "displayorder": 7, "url": "//cdnparap30.paragonrels.com/ParagonImages/Property/P3/MAXEBRDI/40915550/7/0/0/0299b250474d5a83635f2e779c5b8730/96/20f252edcbe996654add59bcb6d3bbe6/40915550-7.JPG", "caption": "" }, "displayorder": 8, "url": "//cdnparap30.paragonrels.com/ParagonImages/Property/P3/MAXEBRDI/40915550/8/0/0/ab4c7f0ff6b2671d960a9eadb0070b74/96/20f252edcbe996654add59bcb6d3bbe6/40915550-8.JPG", "caption": "" }, "displayorder": 9, "url": "//cdnparap30.paragonrels.com/ParagonImages/Property/P3/MAXEBRDI/40915550/9/0/0/97f1e80d05c27990c38b2579d6646821/96/20f252edcbe996654add59bcb6d3bbe6/40915550-9.JPG", "caption": "" }, "displayorder": 10, "url": "//cdnparap30.paragonrels.com/ParagonImages/Property/P3/MAXEBRDI/40915550/10/0/0/8d3dbb5c80e4e961052576f261086381/96/20f252edcbe996654add59bcb6d3bbe6/40915550-10.JPG", "caption": "" }, "displayorder": 11, "url": "//cdnparap30.paragonrels.com/ParagonImages/Property/P3/MAXEBRDI/40915550/11/0/0/24f5d488d7a88c72b3396f0c7e9fb42f/96/20f252edcbe996654add59bcb6d3bbe6/40915550-11.JPG", "caption": "" }, "displayorder": 12, "url": "//cdnparap30.paragonrels.com/ParagonImages/Property/P3/MAXEBRDI/40915550/12/0/0/55796fa513a14a1587f895a6aa8630ea/96/20f252edcbe996654add59bcb6d3bbe6/40915550-12.JPG", "caption": "" }, "displayorder": 13, "url": "//cdnparap30.paragonrels.com/ParagonImages/Property/P3/MAXEBRDI/40915550/13/0/0/ad6cadb9dabd79ba20c52e39d4d54c5c/96/20f252edcbe996654add59bcb6d3bbe6/40915550-13.JPG", "caption": "" }, "displayorder": 14, "url": "//cdnparap30.paragonrels.com/ParagonImages/Property/P3/MAXEBRDI/40915550/14/0/0/b6fc6cdcb3d8c8d68356531ebc64e964/96/20f252edcbe996654add59bcb6d3bbe6/40915550-14.JPG", "caption": "" }, "displayorder": 15, "url": "//cdnparap30.paragonrels.com/ParagonImages/Property/P3/MAXEBRDI/40915550/15/0/0/f2f16c4638fa357139af9ba968e63495/96/20f252edcbe996654add59bcb6d3bbe6/40915550-15.JPG", "caption": "" }, "displayorder": 16, "url": "//cdnparap30.paragonrels.com/ParagonImages/Property/P3/MAXEBRDI/40915550/16/0/0/14b1c62fb68c350f87b62bb22d9dbe67/96/20f252edcbe996654add59bcb6d3bbe6/40915550-16.JPG", "caption": "" }, "displayorder": 17, "url": "//cdnparap30.paragonrels.com/ParagonImages/Property/P3/MAXEBRDI/40915550/17/0/0/2a502b84c5a599d7a9dd13bf9a0dd88a/96/20f252edcbe996654add59bcb6d3bbe6/40915550-17.JPG", "caption": "" }, "displayorder": 18, "url": "//cdnparap30.paragonrels.com/ParagonImages/Property/P3/MAXEBRDI/40915550/18/0/0/b80dfaa7ac8018f1f73118668b8a4862/96/20f252edcbe996654add59bcb6d3bbe6/40915550-18.JPG", "caption": "" }, "displayorder": 19, "url": "//cdnparap30.paragonrels.com/ParagonImages/Property/P3/MAXEBRDI/40915550/19/0/0/d4ffa0b268521c33b9454563095da21c/96/20f252edcbe996654add59bcb6d3bbe6/40915550-19.JPG", "caption": "" }, "displayorder": 20, "url": "//cdnparap30.paragonrels.com/ParagonImages/Property/P3/MAXEBRDI/40915550/20/0/0/51abd2a582638d456ddb348e9ac9d800/96/20f252edcbe996654add59bcb6d3bbe6/40915550-20.JPG", "caption": "" }, "displayorder": 21, "url": "//cdnparap30.paragonrels.com/ParagonImages/Property/P3/MAXEBRDI/40915550/21/0/0/f2ae1e52ad54037a5338443e978dbb09/96/20f252edcbe996654add59bcb6d3bbe6/40915550-21.JPG", "caption": "" }, "displayorder": 22, "url": "//cdnparap30.paragonrels.com/ParagonImages/Property/P3/MAXEBRDI/40915550/22/0/0/cd83bb4feacaa841076f3b5995c53677/96/20f252edcbe996654add59bcb6d3bbe6/40915550-22.JPG", "caption": "" }, "displayorder": 23, "url": "//cdnparap30.paragonrels.com/ParagonImages/Property/P3/MAXEBRDI/40915550/23/0/0/ab3c9f4520401f3fd5f3f7ae2b55c492/96/20f252edcbe996654add59bcb6d3bbe6/40915550-23.JPG", "caption": "" }, "displayorder": 24, "url": "//cdnparap30.paragonrels.com/ParagonImages/Property/P3/MAXEBRDI/40915550/24/0/0/6d4e4eedcd7a134d1425b501f4ab214e/96/20f252edcbe996654add59bcb6d3bbe6/40915550-24.JPG", "caption": "" }, "displayorder": 25, "url": "//cdnparap30.paragonrels.com/ParagonImages/Property/P3/MAXEBRDI/40915550/25/0/0/9bf526d0c477d7e05c9ffb75dd8a6695/96/20f252edcbe996654add59bcb6d3bbe6/40915550-25.JPG", "caption": "" }, "displayorder": 26, "url": "//cdnparap30.paragonrels.com/ParagonImages/Property/P3/MAXEBRDI/40915550/26/0/0/208e958b8c5cc843df423bf738330a31/96/20f252edcbe996654add59bcb6d3bbe6/40915550-26.JPG", "caption": "" }, "displayorder": 27, "url": "//cdnparap30.paragonrels.com/ParagonImages/Property/P3/MAXEBRDI/40915550/27/0/0/a20a83b12fee162b79abfa72ccf255c9/96/20f252edcbe996654add59bcb6d3bbe6/40915550-27.JPG", "caption": "" }, "displayorder": 28, "url": "//cdnparap30.paragonrels.com/ParagonImages/Property/P3/MAXEBRDI/40915550/28/0/0/93cff23a3096e5471435846e17379bc5/96/20f252edcbe996654add59bcb6d3bbe6/40915550-28.JPG", "caption": "" }, "displayorder": 29, "url": "//cdnparap30.paragonrels.com/ParagonImages/Property/P3/MAXEBRDI/40915550/29/0/0/fe74a6f4f706d7458fc15eac0fd51b9f/96/20f252edcbe996654add59bcb6d3bbe6/40915550-29.JPG", "caption": "" }, "displayorder": 30, "url": "//cdnparap30.paragonrels.com/ParagonImages/Property/P3/MAXEBRDI/40915550/30/0/0/7d5f06a535483ffa9c201ccc375d3d8f/96/20f252edcbe996654add59bcb6d3bbe6/40915550-30.JPG", "caption": "" }, "displayorder": 31, "url": "//cdnparap30.paragonrels.com/ParagonImages/Property/P3/MAXEBRDI/40915550/31/0/0/eb3dd4b1fca8f5210133af265f2e0712/96/20f252edcbe996654add59bcb6d3bbe6/40915550-31.JPG", "caption": "" }, "displayorder": 32, "url": "//cdnparap30.paragonrels.com/ParagonImages/Property/P3/MAXEBRDI/40915550/32/0/0/ba2ae6dffb7b4ad442c11493353967cf/96/20f252edcbe996654add59bcb6d3bbe6/40915550-32.JPG", "caption": "" }, "displayorder": 33, "url": "//cdnparap30.paragonrels.com/ParagonImages/Property/P3/MAXEBRDI/40915550/33/0/0/582552bda3f38a72d2543d0ef426a75d/96/20f252edcbe996654add59bcb6d3bbe6/40915550-33.JPG", "caption": "" }, "displayorder": 34, "url": "//cdnparap30.paragonrels.com/ParagonImages/Property/P3/MAXEBRDI/40915550/34/0/0/4c2100a13201ac5a35888545fe0cafc4/96/20f252edcbe996654add59bcb6d3bbe6/40915550-34.JPG", "caption": "" }, "displayorder": 35, "url": "//cdnparap30.paragonrels.com/ParagonImages/Property/P3/MAXEBRDI/40915550/35/0/0/6c34c18121e5f55989247d02426a5d64/96/20f252edcbe996654add59bcb6d3bbe6/40915550-35.JPG", "caption": "" }, "displayorder": 36, "url": "//cdnparap30.paragonrels.com/ParagonImages/Property/P3/MAXEBRDI/40915550/36/0/0/c23239c8409f65114064c66bc55fa3da/96/20f252edcbe996654add59bcb6d3bbe6/40915550-36.JPG", "caption": "" } ], "agent": { "name": "ROBERT PARKER", "phone": "510-388-4154", "email": "robert@robertparkerhomes.com" }, "broker": { "name": "COMPASS", "phone": "", "email": "" } }; ]]>
2521 Pleasant St
OAKLAND, CA 94602

Click here for map
Residential Home
$699,000
937 Sq Feet
2 Bedrooms
1 Bathroom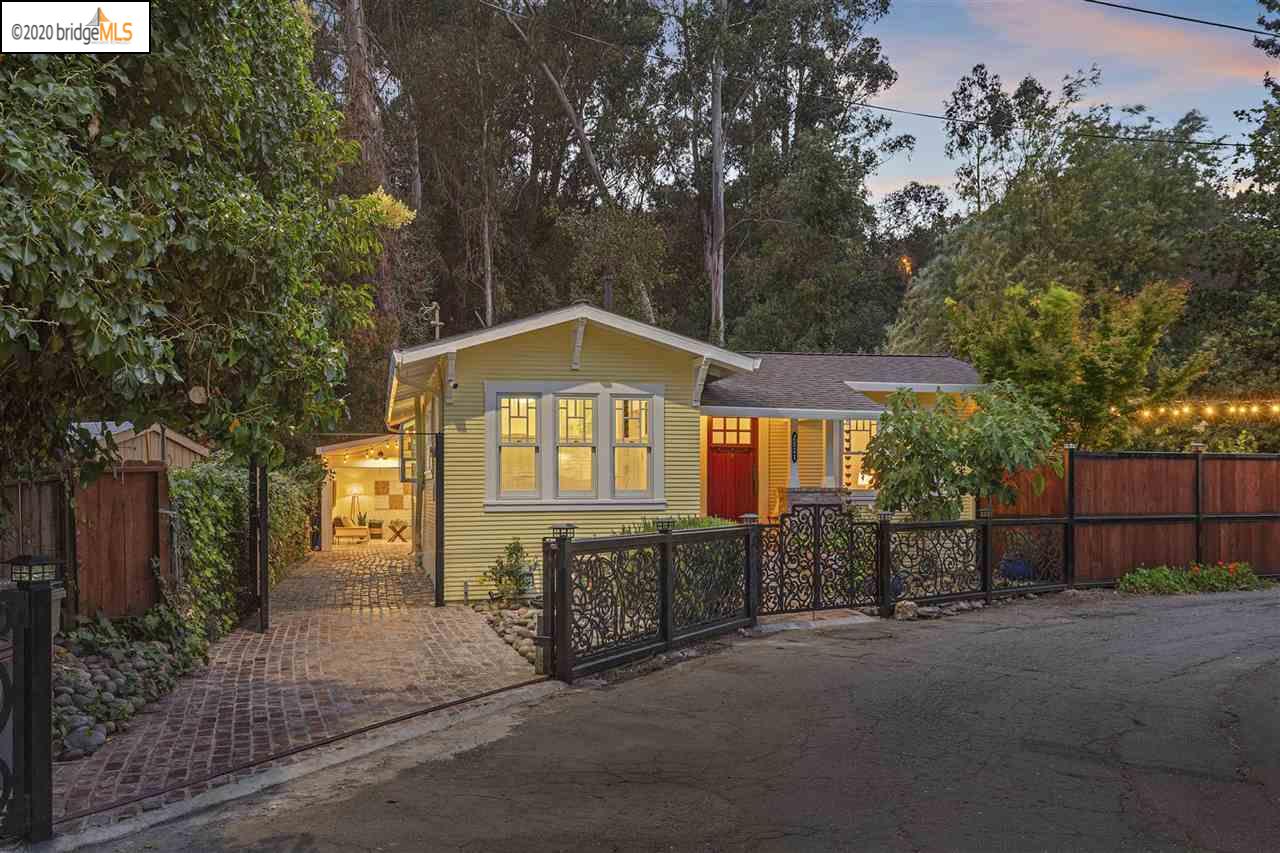 Details:
Lot Sq Feet:
6,540
Fireplaces:
1
HOA?
No
Bank Owned?
No
Status:
Sold
Remarks:
Built in 1920 & situated on a non-thoroughfare street just 2 blocks from Fruitvale Ave.'s Farmer Joe's, La Farine & Peet's, this sensational home has been lovingly renovated/remodeled & is now a striking design showcase from top to bottom w/both vintage & contemporary details & finishes. Every room in this 2BR, 1BA home features custom windows/French doors & new lighting; new mechanicals include roof/electrical/copper plumbing/furnace. Attention to details is unmatched, from the sliding barn door w/stained glass to the repurposed original chimney bricks. The kitchen is spectacular. An expansive teakwood deck (520sf) + hot tub sits next to a willow grove and beautifully landscaped level backyard. Horizontal redwood fencing & a custom decorative iron electronic gate offer privacy & security. A detached garage is now a finished bonus space (243 sf), perfect for a workshop, studio or home office while working remotely. This home is a perfect jewel that must be seen to be appreciated!
There are currently no open houses for this property. Please contact
ROBERT PARKER
to schedule an appointment.