<![CDATA[ var dwellicious_data = { "address": "7637 Ney Ave ", "city": "OAKLAND", "state": "CA", "zip": "94605", "zip4": "", "area": "", "subdivision": "", "county": "", "price": "529000", "beds": "2", "baths": "1", "sqft": "1060", "lotsize": "2556", "yearbuilt": "1928-01-01", "proptype": "Residential", "mlsnum": "40922371", "active": false, "remarks": "This classic bungalow lies in the heart of Oakland's Eastmont Hills Neighborhood. This 2+BR, 1BA gem features hardwood floors throughout, fireplace in the large open living room, a spacious dining area and dual pane windows. The kitchen has been updated with modern appliances, granite counters and built-in microwave. The bathroom has been updated with a newer vanity, lighting and shower tile. Down just a few stairs is the laundry area and a bonus space (NOT included in the square footage) with updated flooring that could be used as TV room or rumpus room, a home office or all of the above! Outside is a large landscaped private yard with a decomposed granite patio, 2-Car detached garage, bonus storage shed and long driveway for additional or even RV parking. In front is a new front yard fence & side gate (2020). This home is a fantastic blend of modern comfort and historic charm close to shopping, dining, schools, Mills College, I-580 & 13 and more!", "photos": [ { "displayorder": 0, "url": "//cdnparap30.paragonrels.com/ParagonImages/Property/P3/MAXEBRDI/40922371/0/0/0/9406ef8c2c94fa5a44d4de2a34ea2201/96/798ed10628bb11bc4d01004cbfe489d0/40922371.JPG", "caption": "" }, "displayorder": 1, "url": "//cdnparap30.paragonrels.com/ParagonImages/Property/P3/MAXEBRDI/40922371/1/0/0/b3d6c3b5ace5672f8a9f87bafb2f70a7/96/798ed10628bb11bc4d01004cbfe489d0/40922371-1.JPG", "caption": "" }, "displayorder": 2, "url": "//cdnparap30.paragonrels.com/ParagonImages/Property/P3/MAXEBRDI/40922371/2/0/0/070e996533bec5d5ea84590e8001014f/96/798ed10628bb11bc4d01004cbfe489d0/40922371-2.JPG", "caption": "" }, "displayorder": 3, "url": "//cdnparap30.paragonrels.com/ParagonImages/Property/P3/MAXEBRDI/40922371/3/0/0/73d1da225c600f50ecd7501e82620d33/96/798ed10628bb11bc4d01004cbfe489d0/40922371-3.JPG", "caption": "" }, "displayorder": 4, "url": "//cdnparap30.paragonrels.com/ParagonImages/Property/P3/MAXEBRDI/40922371/4/0/0/f066b8eb7c3c61f5ab120d711d495c2f/96/798ed10628bb11bc4d01004cbfe489d0/40922371-4.JPG", "caption": "" }, "displayorder": 5, "url": "//cdnparap30.paragonrels.com/ParagonImages/Property/P3/MAXEBRDI/40922371/5/0/0/507561999dc8f32eb832ad7e64171e38/96/798ed10628bb11bc4d01004cbfe489d0/40922371-5.JPG", "caption": "" }, "displayorder": 6, "url": "//cdnparap30.paragonrels.com/ParagonImages/Property/P3/MAXEBRDI/40922371/6/0/0/285a71ad1a1141ea8d2e72cbe8458128/96/798ed10628bb11bc4d01004cbfe489d0/40922371-6.JPG", "caption": "" }, "displayorder": 7, "url": "//cdnparap30.paragonrels.com/ParagonImages/Property/P3/MAXEBRDI/40922371/7/0/0/fb64edd538ba35d927a6bb662bcb3e57/96/798ed10628bb11bc4d01004cbfe489d0/40922371-7.JPG", "caption": "" }, "displayorder": 8, "url": "//cdnparap30.paragonrels.com/ParagonImages/Property/P3/MAXEBRDI/40922371/8/0/0/93970b7031677baa0b380665478a9ba0/96/798ed10628bb11bc4d01004cbfe489d0/40922371-8.JPG", "caption": "" }, "displayorder": 9, "url": "//cdnparap30.paragonrels.com/ParagonImages/Property/P3/MAXEBRDI/40922371/9/0/0/bdda1bdbd8bbbfbed4196de0da986736/96/798ed10628bb11bc4d01004cbfe489d0/40922371-9.JPG", "caption": "" }, "displayorder": 10, "url": "//cdnparap30.paragonrels.com/ParagonImages/Property/P3/MAXEBRDI/40922371/10/0/0/1009e43e6ac12430559d84fee5d0d7cc/96/798ed10628bb11bc4d01004cbfe489d0/40922371-10.JPG", "caption": "" }, "displayorder": 11, "url": "//cdnparap30.paragonrels.com/ParagonImages/Property/P3/MAXEBRDI/40922371/11/0/0/092fd5aa77abc7a100fe355c8725f0bc/96/798ed10628bb11bc4d01004cbfe489d0/40922371-11.JPG", "caption": "" }, "displayorder": 12, "url": "//cdnparap30.paragonrels.com/ParagonImages/Property/P3/MAXEBRDI/40922371/12/0/0/19972c39cfc49b15d6fd91608d99e1bc/96/798ed10628bb11bc4d01004cbfe489d0/40922371-12.JPG", "caption": "" }, "displayorder": 13, "url": "//cdnparap30.paragonrels.com/ParagonImages/Property/P3/MAXEBRDI/40922371/13/0/0/d317d8c995557ba0cac09f4cf301c5e8/96/798ed10628bb11bc4d01004cbfe489d0/40922371-13.JPG", "caption": "" }, "displayorder": 14, "url": "//cdnparap30.paragonrels.com/ParagonImages/Property/P3/MAXEBRDI/40922371/14/0/0/378f01ffca8bcd72fa94dc76e4aef012/96/798ed10628bb11bc4d01004cbfe489d0/40922371-14.JPG", "caption": "" }, "displayorder": 15, "url": "//cdnparap30.paragonrels.com/ParagonImages/Property/P3/MAXEBRDI/40922371/15/0/0/7f16a895c377054912107f8bf897d2d2/96/798ed10628bb11bc4d01004cbfe489d0/40922371-15.JPG", "caption": "" }, "displayorder": 16, "url": "//cdnparap30.paragonrels.com/ParagonImages/Property/P3/MAXEBRDI/40922371/16/0/0/bdb99f71eb99ca30510c2498ce417c41/96/798ed10628bb11bc4d01004cbfe489d0/40922371-16.JPG", "caption": "" }, "displayorder": 17, "url": "//cdnparap30.paragonrels.com/ParagonImages/Property/P3/MAXEBRDI/40922371/17/0/0/0c204c218030f65e3c02e2b715589865/96/798ed10628bb11bc4d01004cbfe489d0/40922371-17.JPG", "caption": "" }, "displayorder": 18, "url": "//cdnparap30.paragonrels.com/ParagonImages/Property/P3/MAXEBRDI/40922371/18/0/0/2978e44276f3627eeb20389bdfeb78ee/96/798ed10628bb11bc4d01004cbfe489d0/40922371-18.JPG", "caption": "" }, "displayorder": 19, "url": "//cdnparap30.paragonrels.com/ParagonImages/Property/P3/MAXEBRDI/40922371/19/0/0/377f31c7705a730963b1529a09077998/96/798ed10628bb11bc4d01004cbfe489d0/40922371-19.JPG", "caption": "" }, "displayorder": 20, "url": "//cdnparap30.paragonrels.com/ParagonImages/Property/P3/MAXEBRDI/40922371/20/0/0/6362ae5ef39ea60192c4e31bbed84228/96/798ed10628bb11bc4d01004cbfe489d0/40922371-20.JPG", "caption": "" }, "displayorder": 21, "url": "//cdnparap30.paragonrels.com/ParagonImages/Property/P3/MAXEBRDI/40922371/21/0/0/c08bfd4d9e867a901319d16ac9866aea/96/798ed10628bb11bc4d01004cbfe489d0/40922371-21.JPG", "caption": "" }, "displayorder": 22, "url": "//cdnparap30.paragonrels.com/ParagonImages/Property/P3/MAXEBRDI/40922371/22/0/0/4f14d0c6afaf2aef50cb609a06aef73b/96/798ed10628bb11bc4d01004cbfe489d0/40922371-22.JPG", "caption": "" }, "displayorder": 23, "url": "//cdnparap30.paragonrels.com/ParagonImages/Property/P3/MAXEBRDI/40922371/23/0/0/d1a4add46b09d9c6ec74082510697055/96/798ed10628bb11bc4d01004cbfe489d0/40922371-23.JPG", "caption": "" }, "displayorder": 24, "url": "//cdnparap30.paragonrels.com/ParagonImages/Property/P3/MAXEBRDI/40922371/24/0/0/0d51bec7d432bc0aca065935cd1d99cd/96/798ed10628bb11bc4d01004cbfe489d0/40922371-24.JPG", "caption": "" }, "displayorder": 25, "url": "//cdnparap30.paragonrels.com/ParagonImages/Property/P3/MAXEBRDI/40922371/25/0/0/2aaf39f662300b5bd7ce2955fa1dc2cb/96/798ed10628bb11bc4d01004cbfe489d0/40922371-25.JPG", "caption": "" }, "displayorder": 26, "url": "//cdnparap30.paragonrels.com/ParagonImages/Property/P3/MAXEBRDI/40922371/26/0/0/2b132dde0b8b02f24f12bd559e03ee2f/96/798ed10628bb11bc4d01004cbfe489d0/40922371-26.JPG", "caption": "" }, "displayorder": 27, "url": "//cdnparap30.paragonrels.com/ParagonImages/Property/P3/MAXEBRDI/40922371/27/0/0/39a335394ab4570e10e2128ba00a7256/96/798ed10628bb11bc4d01004cbfe489d0/40922371-27.JPG", "caption": "" }, "displayorder": 28, "url": "//cdnparap30.paragonrels.com/ParagonImages/Property/P3/MAXEBRDI/40922371/28/0/0/38f184f7a2d83493ef84166cbd830d95/96/798ed10628bb11bc4d01004cbfe489d0/40922371-28.JPG", "caption": "" }, "displayorder": 29, "url": "//cdnparap30.paragonrels.com/ParagonImages/Property/P3/MAXEBRDI/40922371/29/0/0/de2a8b857b33c0d005aeee36d041bca0/96/798ed10628bb11bc4d01004cbfe489d0/40922371-29.JPG", "caption": "" }, "displayorder": 30, "url": "//cdnparap30.paragonrels.com/ParagonImages/Property/P3/MAXEBRDI/40922371/30/0/0/7ea33c34500147edc671ae920fc699dc/96/798ed10628bb11bc4d01004cbfe489d0/40922371-30.JPG", "caption": "" }, "displayorder": 31, "url": "//cdnparap30.paragonrels.com/ParagonImages/Property/P3/MAXEBRDI/40922371/31/0/0/7f92afea265ec79e6cb6083e1f5f9d61/96/798ed10628bb11bc4d01004cbfe489d0/40922371-31.JPG", "caption": "" }, "displayorder": 32, "url": "//cdnparap30.paragonrels.com/ParagonImages/Property/P3/MAXEBRDI/40922371/32/0/0/f3149c47b6de3008cf580656d28df8e6/96/798ed10628bb11bc4d01004cbfe489d0/40922371-32.JPG", "caption": "" }, "displayorder": 33, "url": "//cdnparap30.paragonrels.com/ParagonImages/Property/P3/MAXEBRDI/40922371/33/0/0/99d3a9ffd0bece94c0dd510511c20dfc/96/798ed10628bb11bc4d01004cbfe489d0/40922371-33.JPG", "caption": "" }, "displayorder": 34, "url": "//cdnparap30.paragonrels.com/ParagonImages/Property/P3/MAXEBRDI/40922371/34/0/0/d40d3085fa71c42cbafbe7a3acb3c6e5/96/798ed10628bb11bc4d01004cbfe489d0/40922371-34.JPG", "caption": "" }, "displayorder": 35, "url": "//cdnparap30.paragonrels.com/ParagonImages/Property/P3/MAXEBRDI/40922371/35/0/0/c7364829932a3f989d03cbd72ad96315/96/798ed10628bb11bc4d01004cbfe489d0/40922371-35.JPG", "caption": "" } ], "agent": { "name": "DERRICK TYLER", "phone": "415-310-7453", "email": "derrick@katieandmark.com" }, "broker": { "name": "RED OAK REALTY", "phone": "", "email": "" } }; ]]>
7637 Ney Ave
OAKLAND, CA 94605

Click here for map
Residential Home
$529,000
1,060 Sq Feet
2 Bedrooms
1 Bathroom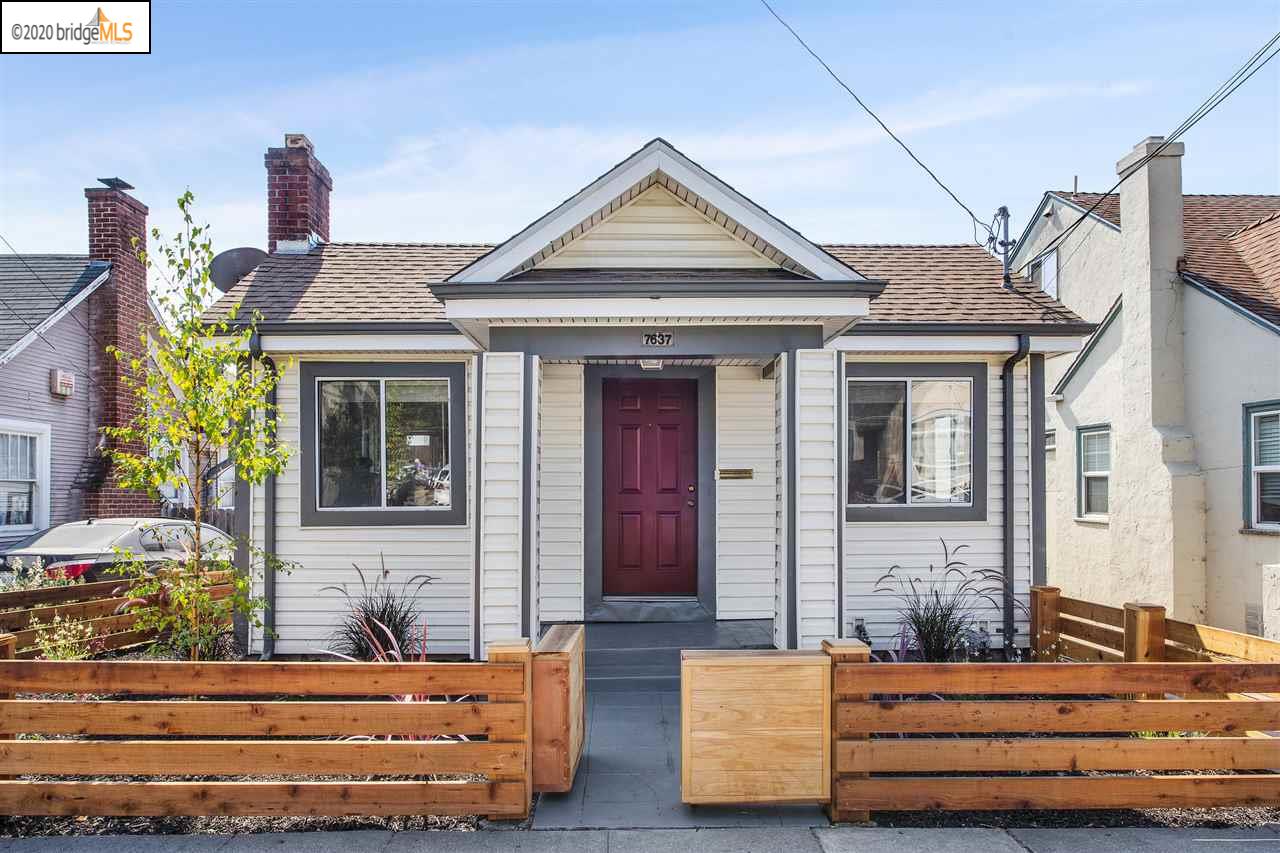 Details:
Lot Sq Feet:
2,556
Fireplaces:
1
HOA?
No
Bank Owned?
No
Status:
Pending
Remarks:
This classic bungalow lies in the heart of Oakland's Eastmont Hills Neighborhood. This 2+BR, 1BA gem features hardwood floors throughout, fireplace in the large open living room, a spacious dining area and dual pane windows. The kitchen has been updated with modern appliances, granite counters and built-in microwave. The bathroom has been updated with a newer vanity, lighting and shower tile. Down just a few stairs is the laundry area and a bonus space (NOT included in the square footage) with updated flooring that could be used as TV room or rumpus room, a home office or all of the above! Outside is a large landscaped private yard with a decomposed granite patio, 2-Car detached garage, bonus storage shed and long driveway for additional or even RV parking. In front is a new front yard fence & side gate (2020). This home is a fantastic blend of modern comfort and historic charm close to shopping, dining, schools, Mills College, I-580 & 13 and more!
There are currently no open houses for this property. Please contact
DERRICK TYLER
to schedule an appointment.