<![CDATA[ var dwellicious_data = { "address": "460 Tayberry Ln ", "city": "BRENTWOOD", "state": "CA", "zip": "94513", "zip4": "", "area": "", "subdivision": "", "county": "", "price": "639950", "beds": "2", "baths": "2", "sqft": "2156", "lotsize": "7753", "yearbuilt": "1999-01-01", "proptype": "Residential", "mlsnum": "40926064", "active": true, "remarks": "Welcome to 460 Tayberry Lane located in the desirable 55+ community, Summerset II perched above Brentwood Golf Club's Hillside course hole #6 . The fenced yard with an extended patio is east-ward facing making it a lovely extension to the living space to enjoy amazing vistas in any weather, even the sunniest of days. This desirable metal framed Wellington model home boasts a flexible floor plan with a spacious master, a comfortable junior master with ensuite, and an optional 3rd bedroom which is currently being used as a den. Also enjoy the formal living and dining room off the entry and a spacious kitchen which opens to a large family room with custom cabinetry and satin finish hardwood floors. Elegant finishes include plantation shutters, designer window coverings, crown molding, and so much more. You'll love this home and you'll love living in Summerset II. this is more than a community, it is the lifestyle you deserve.", "photos": [ { "displayorder": 0, "url": "//cdnparap30.paragonrels.com/ParagonImages/Property/P3/MAXEBRDI/40926064/0/0/0/024198f4b270b745f4920dd5bfc88cff/98/5e9ba498d1e05ac39028d11f7b3f2b0a/40926064.JPG", "caption": "" }, "displayorder": 1, "url": "//cdnparap30.paragonrels.com/ParagonImages/Property/P3/MAXEBRDI/40926064/1/0/0/7c039b1e60f91e58e9becbdc9416e2e8/98/5e9ba498d1e05ac39028d11f7b3f2b0a/40926064-1.JPG", "caption": "" }, "displayorder": 2, "url": "//cdnparap30.paragonrels.com/ParagonImages/Property/P3/MAXEBRDI/40926064/2/0/0/6973a220759c1339c89323f2a78f268f/98/5e9ba498d1e05ac39028d11f7b3f2b0a/40926064-2.JPG", "caption": "" }, "displayorder": 3, "url": "//cdnparap30.paragonrels.com/ParagonImages/Property/P3/MAXEBRDI/40926064/3/0/0/9f37d51bf368bffca2966f7cd61a05e5/98/5e9ba498d1e05ac39028d11f7b3f2b0a/40926064-3.JPG", "caption": "" }, "displayorder": 4, "url": "//cdnparap30.paragonrels.com/ParagonImages/Property/P3/MAXEBRDI/40926064/4/0/0/fa7fa50b1821fe44683fc049fa64ee40/98/5e9ba498d1e05ac39028d11f7b3f2b0a/40926064-4.JPG", "caption": "" }, "displayorder": 5, "url": "//cdnparap30.paragonrels.com/ParagonImages/Property/P3/MAXEBRDI/40926064/5/0/0/88f46b002e8a2239546380f9c987e927/98/5e9ba498d1e05ac39028d11f7b3f2b0a/40926064-5.JPG", "caption": "" }, "displayorder": 6, "url": "//cdnparap30.paragonrels.com/ParagonImages/Property/P3/MAXEBRDI/40926064/6/0/0/dcf583a2fcc24f0ea2bfa5a33f9d88b9/98/5e9ba498d1e05ac39028d11f7b3f2b0a/40926064-6.JPG", "caption": "" }, "displayorder": 7, "url": "//cdnparap30.paragonrels.com/ParagonImages/Property/P3/MAXEBRDI/40926064/7/0/0/b7ad108433e65c2fa86ee5b5674a9f0d/98/5e9ba498d1e05ac39028d11f7b3f2b0a/40926064-7.JPG", "caption": "" }, "displayorder": 8, "url": "//cdnparap30.paragonrels.com/ParagonImages/Property/P3/MAXEBRDI/40926064/8/0/0/1058d0bd2a5d6744cb200c1f537915e2/98/5e9ba498d1e05ac39028d11f7b3f2b0a/40926064-8.JPG", "caption": "" }, "displayorder": 9, "url": "//cdnparap30.paragonrels.com/ParagonImages/Property/P3/MAXEBRDI/40926064/9/0/0/bd71a6bc8718a76717ffc07438e2a9ea/98/5e9ba498d1e05ac39028d11f7b3f2b0a/40926064-9.JPG", "caption": "" }, "displayorder": 10, "url": "//cdnparap30.paragonrels.com/ParagonImages/Property/P3/MAXEBRDI/40926064/10/0/0/c544bfc64eee594591faca9cc7e3dda2/98/5e9ba498d1e05ac39028d11f7b3f2b0a/40926064-10.JPG", "caption": "" }, "displayorder": 11, "url": "//cdnparap30.paragonrels.com/ParagonImages/Property/P3/MAXEBRDI/40926064/11/0/0/247e8237c2631cb676862764bcc16486/98/5e9ba498d1e05ac39028d11f7b3f2b0a/40926064-11.JPG", "caption": "" }, "displayorder": 12, "url": "//cdnparap30.paragonrels.com/ParagonImages/Property/P3/MAXEBRDI/40926064/12/0/0/4a666d8bed510af7644a34e2ac684dc3/98/5e9ba498d1e05ac39028d11f7b3f2b0a/40926064-12.JPG", "caption": "" }, "displayorder": 13, "url": "//cdnparap30.paragonrels.com/ParagonImages/Property/P3/MAXEBRDI/40926064/13/0/0/c00e13338724d8c1331d480964ebc351/98/5e9ba498d1e05ac39028d11f7b3f2b0a/40926064-13.JPG", "caption": "" }, "displayorder": 14, "url": "//cdnparap30.paragonrels.com/ParagonImages/Property/P3/MAXEBRDI/40926064/14/0/0/e1f59d95912c9f6f23cffb40bb8b0bee/98/5e9ba498d1e05ac39028d11f7b3f2b0a/40926064-14.JPG", "caption": "" }, "displayorder": 15, "url": "//cdnparap30.paragonrels.com/ParagonImages/Property/P3/MAXEBRDI/40926064/15/0/0/10d2f8a783e77d4405c0f64d65898170/98/5e9ba498d1e05ac39028d11f7b3f2b0a/40926064-15.JPG", "caption": "" }, "displayorder": 16, "url": "//cdnparap30.paragonrels.com/ParagonImages/Property/P3/MAXEBRDI/40926064/16/0/0/0977982fbad485b79b6849b460684c7c/98/5e9ba498d1e05ac39028d11f7b3f2b0a/40926064-16.JPG", "caption": "" }, "displayorder": 17, "url": "//cdnparap30.paragonrels.com/ParagonImages/Property/P3/MAXEBRDI/40926064/17/0/0/1b4e30a9820ecbd9db50f66b45b83f2b/98/5e9ba498d1e05ac39028d11f7b3f2b0a/40926064-17.JPG", "caption": "" }, "displayorder": 18, "url": "//cdnparap30.paragonrels.com/ParagonImages/Property/P3/MAXEBRDI/40926064/18/0/0/702722cbbda3ed46f40363b246db0b21/98/5e9ba498d1e05ac39028d11f7b3f2b0a/40926064-18.JPG", "caption": "" }, "displayorder": 19, "url": "//cdnparap30.paragonrels.com/ParagonImages/Property/P3/MAXEBRDI/40926064/19/0/0/7e3d9e997304dd5ef4d7ac379bc8f12d/98/5e9ba498d1e05ac39028d11f7b3f2b0a/40926064-19.JPG", "caption": "" }, "displayorder": 20, "url": "//cdnparap30.paragonrels.com/ParagonImages/Property/P3/MAXEBRDI/40926064/20/0/0/31b189957d7366303533ae203dcd892d/98/5e9ba498d1e05ac39028d11f7b3f2b0a/40926064-20.JPG", "caption": "" }, "displayorder": 21, "url": "//cdnparap30.paragonrels.com/ParagonImages/Property/P3/MAXEBRDI/40926064/21/0/0/cbc5f97e8bb3d2f9a725a214c8c47edb/98/5e9ba498d1e05ac39028d11f7b3f2b0a/40926064-21.JPG", "caption": "" }, "displayorder": 22, "url": "//cdnparap30.paragonrels.com/ParagonImages/Property/P3/MAXEBRDI/40926064/22/0/0/2ce28f4fe8def88cb99624303b85245d/98/5e9ba498d1e05ac39028d11f7b3f2b0a/40926064-22.JPG", "caption": "" }, "displayorder": 23, "url": "//cdnparap30.paragonrels.com/ParagonImages/Property/P3/MAXEBRDI/40926064/23/0/0/ecc53d45bfc363c4fa3e984ea4b845dd/98/5e9ba498d1e05ac39028d11f7b3f2b0a/40926064-23.JPG", "caption": "" }, "displayorder": 24, "url": "//cdnparap30.paragonrels.com/ParagonImages/Property/P3/MAXEBRDI/40926064/24/0/0/d621c577eb89b82e439a5e49e7913383/98/5e9ba498d1e05ac39028d11f7b3f2b0a/40926064-24.JPG", "caption": "" }, "displayorder": 25, "url": "//cdnparap30.paragonrels.com/ParagonImages/Property/P3/MAXEBRDI/40926064/25/0/0/44d0535270c30a7452340847ad1bffb5/98/5e9ba498d1e05ac39028d11f7b3f2b0a/40926064-25.JPG", "caption": "" }, "displayorder": 26, "url": "//cdnparap30.paragonrels.com/ParagonImages/Property/P3/MAXEBRDI/40926064/26/0/0/a613ed3db0b95c62973b590891b4737b/98/5e9ba498d1e05ac39028d11f7b3f2b0a/40926064-26.JPG", "caption": "" }, "displayorder": 27, "url": "//cdnparap30.paragonrels.com/ParagonImages/Property/P3/MAXEBRDI/40926064/27/0/0/aafb275553897f4d25ec84b942078a83/98/5e9ba498d1e05ac39028d11f7b3f2b0a/40926064-27.JPG", "caption": "" }, "displayorder": 28, "url": "//cdnparap30.paragonrels.com/ParagonImages/Property/P3/MAXEBRDI/40926064/28/0/0/9e5257b176eec9d8b6f06b958bc8e824/98/5e9ba498d1e05ac39028d11f7b3f2b0a/40926064-28.JPG", "caption": "" }, "displayorder": 29, "url": "//cdnparap30.paragonrels.com/ParagonImages/Property/P3/MAXEBRDI/40926064/29/0/0/b4ec24d767020447f6e52d483040cd0b/98/5e9ba498d1e05ac39028d11f7b3f2b0a/40926064-29.JPG", "caption": "" }, "displayorder": 30, "url": "//cdnparap30.paragonrels.com/ParagonImages/Property/P3/MAXEBRDI/40926064/30/0/0/6cf2640e246dd8ac9c1b5c460f807472/98/5e9ba498d1e05ac39028d11f7b3f2b0a/40926064-30.JPG", "caption": "" }, "displayorder": 31, "url": "//cdnparap30.paragonrels.com/ParagonImages/Property/P3/MAXEBRDI/40926064/31/0/0/13b1e4774e339a50cccd23eb74551597/98/5e9ba498d1e05ac39028d11f7b3f2b0a/40926064-31.JPG", "caption": "" }, "displayorder": 32, "url": "//cdnparap30.paragonrels.com/ParagonImages/Property/P3/MAXEBRDI/40926064/35/0/0/40bb8ce574119d13b39ed59c37355a2b/98/5e9ba498d1e05ac39028d11f7b3f2b0a/40926064-35.JPG", "caption": "" }, "displayorder": 33, "url": "//cdnparap30.paragonrels.com/ParagonImages/Property/P3/MAXEBRDI/40926064/36/0/0/6f4cd7634e0b5891e526f8a17b8340d1/98/5e9ba498d1e05ac39028d11f7b3f2b0a/40926064-36.JPG", "caption": "" }, "displayorder": 34, "url": "//cdnparap30.paragonrels.com/ParagonImages/Property/P3/MAXEBRDI/40926064/37/0/0/d97a915e196e8d8b63227dbb80a16795/98/5e9ba498d1e05ac39028d11f7b3f2b0a/40926064-37.JPG", "caption": "" }, "displayorder": 35, "url": "//cdnparap30.paragonrels.com/ParagonImages/Property/P3/MAXEBRDI/40926064/38/0/0/041e5ca95da002872e0f1713da1a35f0/98/5e9ba498d1e05ac39028d11f7b3f2b0a/40926064-38.JPG", "caption": "" } ], "agent": { "name": "Jo Ann Luisi", "phone": "925-321-6104", "email": "joann.luisi@compass.com" }, "broker": { "name": "Compass", "phone": "", "email": "" } }; ]]>
460 Tayberry Ln
BRENTWOOD, CA 94513

Click here for map
Residential Home
$639,950
2,156 Sq Feet
2 Bedrooms
2 Bathrooms
1 Partial Bath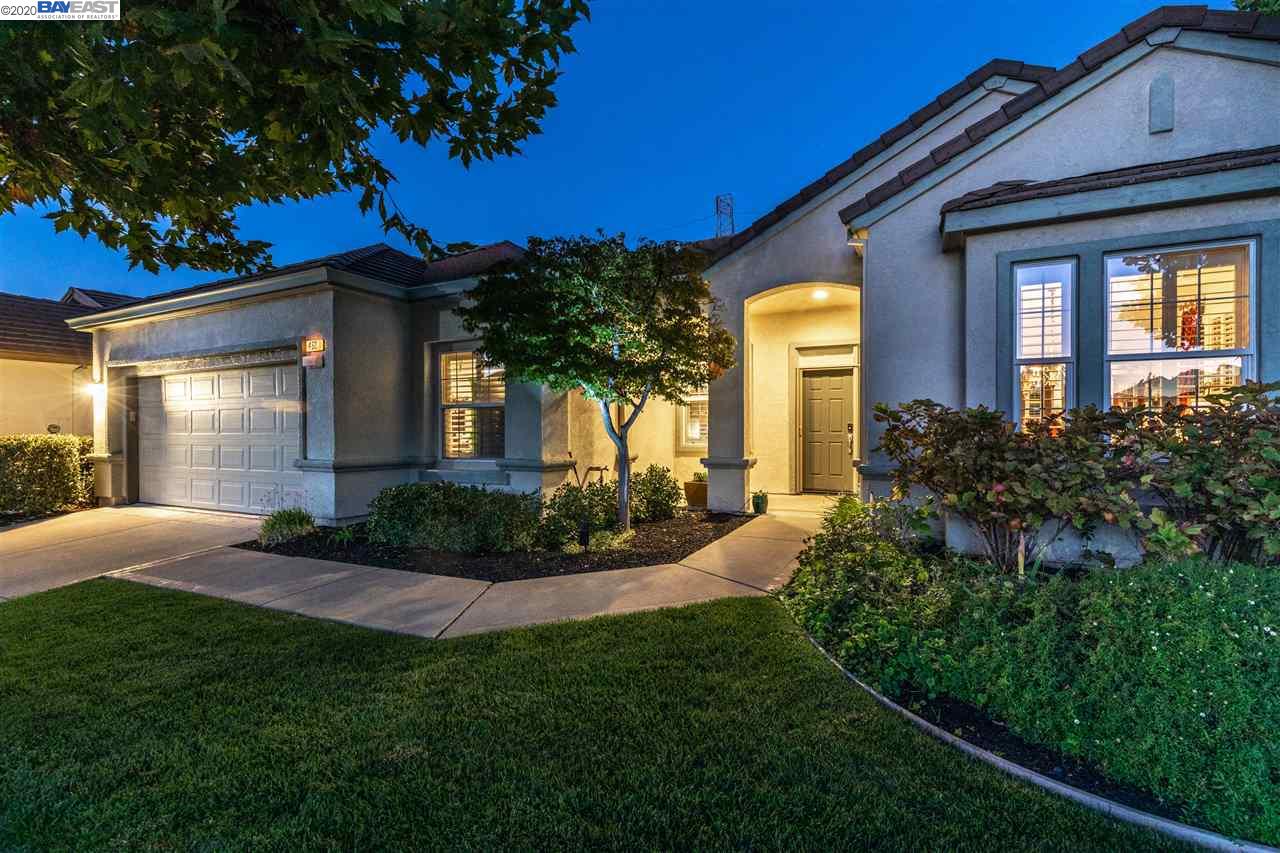 Details:
Lot Sq Feet:
7,753
Fireplaces:
1
HOA?
Yes
Bank Owned?
No
Status:
Active
Remarks:
Welcome to 460 Tayberry Lane located in the desirable 55+ community, Summerset II perched above Brentwood Golf Club's Hillside course hole #6 . The fenced yard with an extended patio is east-ward facing making it a lovely extension to the living space to enjoy amazing vistas in any weather, even the sunniest of days. This desirable metal framed Wellington model home boasts a flexible floor plan with a spacious master, a comfortable junior master with ensuite, and an optional 3rd bedroom which is currently being used as a den. Also enjoy the formal living and dining room off the entry and a spacious kitchen which opens to a large family room with custom cabinetry and satin finish hardwood floors. Elegant finishes include plantation shutters, designer window coverings, crown molding, and so much more. You'll love this home and you'll love living in Summerset II. this is more than a community, it is the lifestyle you deserve.
There are currently no open houses for this property. Please contact
Jo Ann Luisi
to schedule an appointment.