<![CDATA[ var dwellicious_data = { "address": "1522 Summit ", "city": "BERKELEY", "state": "CA", "zip": "94708", "zip4": "", "area": "", "subdivision": "", "county": "", "price": "1349000", "beds": "4", "baths": "2", "sqft": "2727", "lotsize": "6174", "yearbuilt": "1966-01-01", "proptype": "Residential", "mlsnum": "40925912", "active": false, "remarks": "Your New Home in the Redwoods. This spacious level-in, two-story house is perfectly situated for peace, comfort, and harmony with its surrounding nature. A grove of giant redwoods is the first thing you'll notice as you enter this home. Seen through a wall of windows, the trees create a restful setting that affords privacy and offers cooling shade on hot summer days. The light and airy living room with its soaring ceiling provides an inviting and generous space for informal entertaining, a spectacular fireplace serving as its focal point. The kitchen and living room areas flow out to a spacious wrap-around deck perfect for indoor and outdoor entertaining. Downstairs, you will find four generously proportioned bedrooms. The primary ensuite bedroom features custom built-in cherry cabinetry and Arts & Crafts trim. An office just beyond the ensuite bedroom was designed by a Cal professor Peter Bickel, as his study. It features copious built-bookshelves and large working spaces.", "photos": [ { "displayorder": 0, "url": "//cdnparap30.paragonrels.com/ParagonImages/Property/P3/MAXEBRDI/40925912/0/0/0/975be627f91e416973c17a804ad3638b/96/b248db1821de5a87dbf6822fbe9e8d95/40925912.JPG", "caption": "" }, "displayorder": 1, "url": "//cdnparap30.paragonrels.com/ParagonImages/Property/P3/MAXEBRDI/40925912/1/0/0/0a1a212cdbaf0f238e99770cea7ac386/96/b248db1821de5a87dbf6822fbe9e8d95/40925912-1.JPG", "caption": "" }, "displayorder": 2, "url": "//cdnparap30.paragonrels.com/ParagonImages/Property/P3/MAXEBRDI/40925912/2/0/0/b16d1c2afce11d0ad02af31ff6578383/96/b248db1821de5a87dbf6822fbe9e8d95/40925912-2.JPG", "caption": "" }, "displayorder": 3, "url": "//cdnparap30.paragonrels.com/ParagonImages/Property/P3/MAXEBRDI/40925912/3/0/0/31106f145a1b00f29cc48fca55e78876/96/b248db1821de5a87dbf6822fbe9e8d95/40925912-3.JPG", "caption": "" }, "displayorder": 4, "url": "//cdnparap30.paragonrels.com/ParagonImages/Property/P3/MAXEBRDI/40925912/4/0/0/47ac04755280d67a3583fc99f9cdafc6/96/b248db1821de5a87dbf6822fbe9e8d95/40925912-4.JPG", "caption": "" }, "displayorder": 5, "url": "//cdnparap30.paragonrels.com/ParagonImages/Property/P3/MAXEBRDI/40925912/5/0/0/0de6bd3a7d9b00ff22adce49b08178b9/96/b248db1821de5a87dbf6822fbe9e8d95/40925912-5.JPG", "caption": "" }, "displayorder": 6, "url": "//cdnparap30.paragonrels.com/ParagonImages/Property/P3/MAXEBRDI/40925912/6/0/0/e84fbd650ad059ee5f6d7b35fdc2d6bb/96/b248db1821de5a87dbf6822fbe9e8d95/40925912-6.JPG", "caption": "" }, "displayorder": 7, "url": "//cdnparap30.paragonrels.com/ParagonImages/Property/P3/MAXEBRDI/40925912/7/0/0/9eb80b0268e66e212faeb8c1186c79bb/96/b248db1821de5a87dbf6822fbe9e8d95/40925912-7.JPG", "caption": "" }, "displayorder": 8, "url": "//cdnparap30.paragonrels.com/ParagonImages/Property/P3/MAXEBRDI/40925912/8/0/0/de7e2beb439a6fa3cc5ab279dda54a20/96/b248db1821de5a87dbf6822fbe9e8d95/40925912-8.JPG", "caption": "" }, "displayorder": 9, "url": "//cdnparap30.paragonrels.com/ParagonImages/Property/P3/MAXEBRDI/40925912/9/0/0/657140e70341dcbabde9021ca5069141/96/b248db1821de5a87dbf6822fbe9e8d95/40925912-9.JPG", "caption": "" }, "displayorder": 10, "url": "//cdnparap30.paragonrels.com/ParagonImages/Property/P3/MAXEBRDI/40925912/10/0/0/a0d04764ee497b73f17c857d3a4a7f60/96/b248db1821de5a87dbf6822fbe9e8d95/40925912-10.JPG", "caption": "" }, "displayorder": 11, "url": "//cdnparap30.paragonrels.com/ParagonImages/Property/P3/MAXEBRDI/40925912/11/0/0/bcb8038281e725b98bd7474babdb3171/96/b248db1821de5a87dbf6822fbe9e8d95/40925912-11.JPG", "caption": "" }, "displayorder": 12, "url": "//cdnparap30.paragonrels.com/ParagonImages/Property/P3/MAXEBRDI/40925912/12/0/0/510efa494a2f055663df1e6b0782e0a5/96/b248db1821de5a87dbf6822fbe9e8d95/40925912-12.JPG", "caption": "" }, "displayorder": 13, "url": "//cdnparap30.paragonrels.com/ParagonImages/Property/P3/MAXEBRDI/40925912/13/0/0/b531afe9058d611d6a79dc26d7d95cd7/96/b248db1821de5a87dbf6822fbe9e8d95/40925912-13.JPG", "caption": "" }, "displayorder": 14, "url": "//cdnparap30.paragonrels.com/ParagonImages/Property/P3/MAXEBRDI/40925912/14/0/0/fed1965ca73f17bfa163ff033661ee36/96/b248db1821de5a87dbf6822fbe9e8d95/40925912-14.JPG", "caption": "" }, "displayorder": 15, "url": "//cdnparap30.paragonrels.com/ParagonImages/Property/P3/MAXEBRDI/40925912/15/0/0/948351ca366f36ea8123433fe43d222b/96/b248db1821de5a87dbf6822fbe9e8d95/40925912-15.JPG", "caption": "" }, "displayorder": 16, "url": "//cdnparap30.paragonrels.com/ParagonImages/Property/P3/MAXEBRDI/40925912/16/0/0/6588958cfd622bcf2ff210532cb45cf5/96/b248db1821de5a87dbf6822fbe9e8d95/40925912-16.JPG", "caption": "" }, "displayorder": 17, "url": "//cdnparap30.paragonrels.com/ParagonImages/Property/P3/MAXEBRDI/40925912/17/0/0/bafcb46532cc8440151a57b416d9d785/96/b248db1821de5a87dbf6822fbe9e8d95/40925912-17.JPG", "caption": "" }, "displayorder": 18, "url": "//cdnparap30.paragonrels.com/ParagonImages/Property/P3/MAXEBRDI/40925912/18/0/0/84b5f16c158a4c340528f0e11099b954/96/b248db1821de5a87dbf6822fbe9e8d95/40925912-18.JPG", "caption": "" }, "displayorder": 19, "url": "//cdnparap30.paragonrels.com/ParagonImages/Property/P3/MAXEBRDI/40925912/19/0/0/8cf1f2161aec7ff620833576b3dea9b5/96/b248db1821de5a87dbf6822fbe9e8d95/40925912-19.JPG", "caption": "" }, "displayorder": 20, "url": "//cdnparap30.paragonrels.com/ParagonImages/Property/P3/MAXEBRDI/40925912/20/0/0/4d4eb4677e023aa4a758faa4a3fcf1c2/96/b248db1821de5a87dbf6822fbe9e8d95/40925912-20.JPG", "caption": "" }, "displayorder": 21, "url": "//cdnparap30.paragonrels.com/ParagonImages/Property/P3/MAXEBRDI/40925912/21/0/0/2c0e0aa2350345db6ca8cecea4f90311/96/b248db1821de5a87dbf6822fbe9e8d95/40925912-21.JPG", "caption": "" }, "displayorder": 22, "url": "//cdnparap30.paragonrels.com/ParagonImages/Property/P3/MAXEBRDI/40925912/22/0/0/2612e06e046d0e694c533c488e7455de/96/b248db1821de5a87dbf6822fbe9e8d95/40925912-22.JPG", "caption": "" }, "displayorder": 23, "url": "//cdnparap30.paragonrels.com/ParagonImages/Property/P3/MAXEBRDI/40925912/23/0/0/9655ce240acae6c351f14cc7ef75f288/96/b248db1821de5a87dbf6822fbe9e8d95/40925912-23.JPG", "caption": "" }, "displayorder": 24, "url": "//cdnparap30.paragonrels.com/ParagonImages/Property/P3/MAXEBRDI/40925912/24/0/0/7037b43701e573dfbaf2f9a53fcb6e5d/96/b248db1821de5a87dbf6822fbe9e8d95/40925912-24.JPG", "caption": "" }, "displayorder": 25, "url": "//cdnparap30.paragonrels.com/ParagonImages/Property/P3/MAXEBRDI/40925912/25/0/0/da8086c147dbfd69e8e4395b326e5776/96/b248db1821de5a87dbf6822fbe9e8d95/40925912-25.JPG", "caption": "" }, "displayorder": 26, "url": "//cdnparap30.paragonrels.com/ParagonImages/Property/P3/MAXEBRDI/40925912/26/0/0/cb4f87bc1da609464633954fe085ce79/96/b248db1821de5a87dbf6822fbe9e8d95/40925912-26.JPG", "caption": "" }, "displayorder": 27, "url": "//cdnparap30.paragonrels.com/ParagonImages/Property/P3/MAXEBRDI/40925912/27/0/0/f0bb4ba3433ffe86b5773685d7ef76ea/96/b248db1821de5a87dbf6822fbe9e8d95/40925912-27.JPG", "caption": "" }, "displayorder": 28, "url": "//cdnparap30.paragonrels.com/ParagonImages/Property/P3/MAXEBRDI/40925912/28/0/0/285c8314b506a0bbdfe87b5a3d14d1a4/96/b248db1821de5a87dbf6822fbe9e8d95/40925912-28.JPG", "caption": "" }, "displayorder": 29, "url": "//cdnparap30.paragonrels.com/ParagonImages/Property/P3/MAXEBRDI/40925912/29/0/0/3b8ca1bb5f64a47ddadcf726648f554b/96/b248db1821de5a87dbf6822fbe9e8d95/40925912-29.JPG", "caption": "" } ], "agent": { "name": "JANET KAPLAN", "phone": "510-506-2762", "email": "janet@janetkaplan.com" }, "broker": { "name": "RED OAK REALTY", "phone": "", "email": "" } }; ]]>
1522 Summit
BERKELEY, CA 94708

Click here for map
Residential Home
$1,349,000
2,727 Sq Feet
4 Bedrooms
2 Bathrooms
1 Partial Bath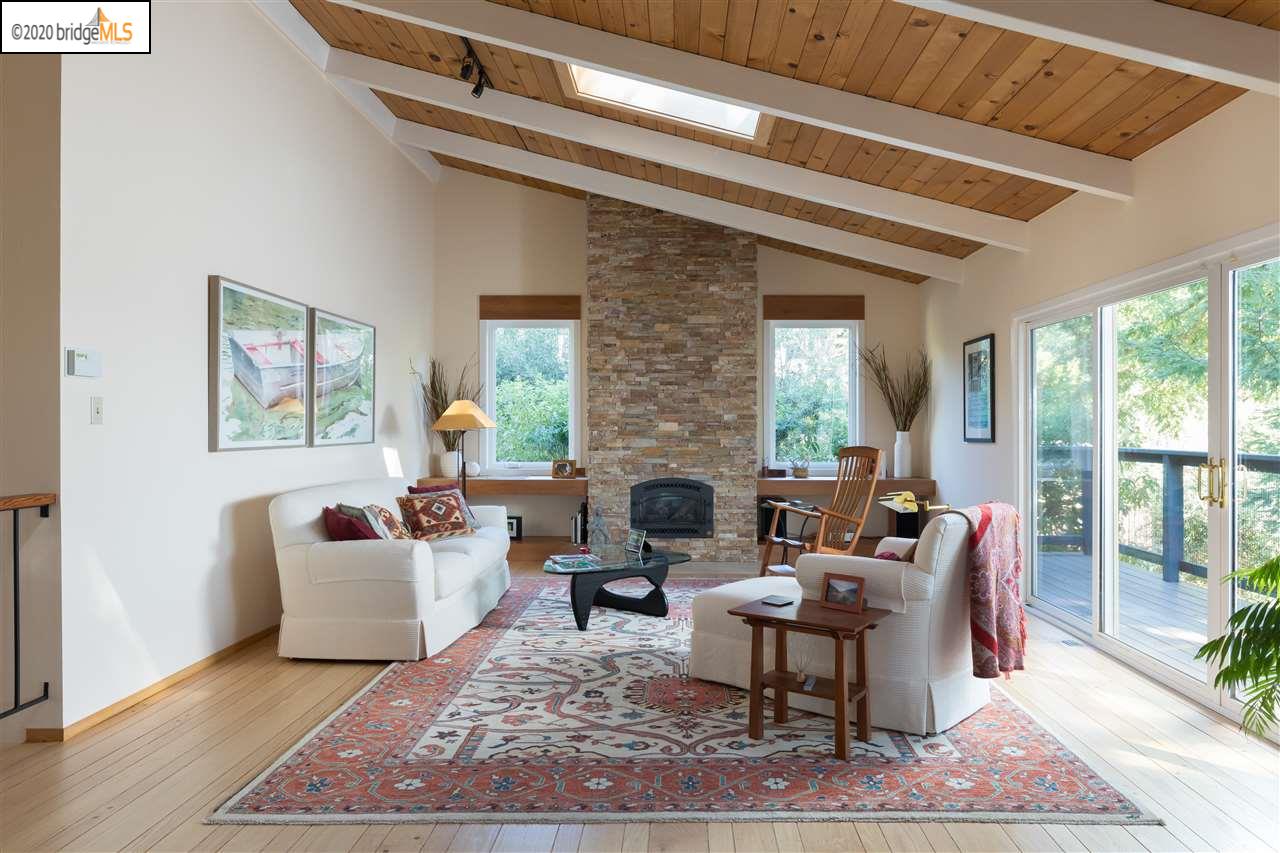 Details:
Lot Sq Feet:
6,174
Fireplaces:
1
HOA?
No
Bank Owned?
No
Status:
Pending
Remarks:
Your New Home in the Redwoods. This spacious level-in, two-story house is perfectly situated for peace, comfort, and harmony with its surrounding nature. A grove of giant redwoods is the first thing you'll notice as you enter this home. Seen through a wall of windows, the trees create a restful setting that affords privacy and offers cooling shade on hot summer days. The light and airy living room with its soaring ceiling provides an inviting and generous space for informal entertaining, a spectacular fireplace serving as its focal point. The kitchen and living room areas flow out to a spacious wrap-around deck perfect for indoor and outdoor entertaining. Downstairs, you will find four generously proportioned bedrooms. The primary ensuite bedroom features custom built-in cherry cabinetry and Arts & Crafts trim. An office just beyond the ensuite bedroom was designed by a Cal professor Peter Bickel, as his study. It features copious built-bookshelves and large working spaces.
There are currently no open houses for this property. Please contact
JANET KAPLAN
to schedule an appointment.