<![CDATA[ var dwellicious_data = { "address": "2725 Camino Lenada ", "city": "OAKLAND", "state": "CA", "zip": "94611", "zip4": "", "area": "", "subdivision": "", "county": "", "price": "799000", "beds": "2", "baths": "1", "sqft": "857", "lotsize": "7480", "yearbuilt": "1926-01-01", "proptype": "Residential", "mlsnum": "40971889", "active": false, "remarks": "Opportunity awaits on one of the most coveted streets in Piedmont Pines. Few properties in Oakland give you the chance to snatch up such a prime location, perfectly poised to make your own. Nestled at the end of a serene street, you'll have convenient access to Montclair Village, Park Boulevard shops, and countless fabulous parks and trails. Reach Joaquin Miller Elementary* and Montera Middle School** without a car, and going further is simple with quick access to highway 13. This light-filled location is full of possibilities with huge upside and potential. Whatever your goals are, this is the space to make it your own. Enjoy the peace and privacy of Piedmont Pines while still being close to it all. *Interested parties to verify with school district as attendance is not guaranteed.", "photos": [ { "displayorder": 0, "url": "//cdnparap30.paragonrels.com/ParagonImages/Property/P3/MAXEBRDI/40971889/0/0/0/7497ef5342f9c670295ac988035cbfae/104/a0e27435c8fb4561c13b5b9d4d2f4c3d/40971889.JPG", "caption": "" }, "displayorder": 1, "url": "//cdnparap30.paragonrels.com/ParagonImages/Property/P3/MAXEBRDI/40971889/1/0/0/8cb9f651b40456376aff88ff9ea3af11/104/a0e27435c8fb4561c13b5b9d4d2f4c3d/40971889-1.JPG", "caption": "" }, "displayorder": 2, "url": "//cdnparap30.paragonrels.com/ParagonImages/Property/P3/MAXEBRDI/40971889/2/0/0/f8bad603d4c4254b6b0fe2e20c6e9f23/104/a0e27435c8fb4561c13b5b9d4d2f4c3d/40971889-2.JPG", "caption": "" }, "displayorder": 3, "url": "//cdnparap30.paragonrels.com/ParagonImages/Property/P3/MAXEBRDI/40971889/3/0/0/0744d3140a454d965bcf6c29dbb2975e/104/a0e27435c8fb4561c13b5b9d4d2f4c3d/40971889-3.JPG", "caption": "" }, "displayorder": 4, "url": "//cdnparap30.paragonrels.com/ParagonImages/Property/P3/MAXEBRDI/40971889/4/0/0/f3b99fe9854a7b33b48dfa06d5feec3f/104/a0e27435c8fb4561c13b5b9d4d2f4c3d/40971889-4.JPG", "caption": "" }, "displayorder": 5, "url": "//cdnparap30.paragonrels.com/ParagonImages/Property/P3/MAXEBRDI/40971889/5/0/0/8e295b02b925a398ab18a93fe5bf7d80/104/a0e27435c8fb4561c13b5b9d4d2f4c3d/40971889-5.JPG", "caption": "" }, "displayorder": 6, "url": "//cdnparap30.paragonrels.com/ParagonImages/Property/P3/MAXEBRDI/40971889/6/0/0/59e95b8bccda087e87fdbfe3f08ecc11/104/a0e27435c8fb4561c13b5b9d4d2f4c3d/40971889-6.JPG", "caption": "" }, "displayorder": 7, "url": "//cdnparap30.paragonrels.com/ParagonImages/Property/P3/MAXEBRDI/40971889/7/0/0/5e11ec1ad74dbc4d550d331302434f7b/104/a0e27435c8fb4561c13b5b9d4d2f4c3d/40971889-7.JPG", "caption": "" }, "displayorder": 8, "url": "//cdnparap30.paragonrels.com/ParagonImages/Property/P3/MAXEBRDI/40971889/8/0/0/b278b76f99a41f438f43adcd96d0682b/104/a0e27435c8fb4561c13b5b9d4d2f4c3d/40971889-8.JPG", "caption": "" }, "displayorder": 9, "url": "//cdnparap30.paragonrels.com/ParagonImages/Property/P3/MAXEBRDI/40971889/9/0/0/c4a4b3a1144e77bfaead1d862c66801d/104/a0e27435c8fb4561c13b5b9d4d2f4c3d/40971889-9.JPG", "caption": "" }, "displayorder": 10, "url": "//cdnparap30.paragonrels.com/ParagonImages/Property/P3/MAXEBRDI/40971889/10/0/0/bec3d9e2ae79a011e22a1d616161d9d7/104/a0e27435c8fb4561c13b5b9d4d2f4c3d/40971889-10.JPG", "caption": "" }, "displayorder": 11, "url": "//cdnparap30.paragonrels.com/ParagonImages/Property/P3/MAXEBRDI/40971889/11/0/0/3e77d4ad707a3622030705477587be3e/104/a0e27435c8fb4561c13b5b9d4d2f4c3d/40971889-11.JPG", "caption": "" }, "displayorder": 12, "url": "//cdnparap30.paragonrels.com/ParagonImages/Property/P3/MAXEBRDI/40971889/12/0/0/ccfea76d3f9b772c5f189cf80dd4e37f/104/a0e27435c8fb4561c13b5b9d4d2f4c3d/40971889-12.JPG", "caption": "" }, "displayorder": 13, "url": "//cdnparap30.paragonrels.com/ParagonImages/Property/P3/MAXEBRDI/40971889/13/0/0/9f8b5edc763dcd5d3fec8fc5a6745e86/104/a0e27435c8fb4561c13b5b9d4d2f4c3d/40971889-13.JPG", "caption": "" }, "displayorder": 14, "url": "//cdnparap30.paragonrels.com/ParagonImages/Property/P3/MAXEBRDI/40971889/14/0/0/e8c2d6e6bb1ccd6b980a07930d029f56/104/a0e27435c8fb4561c13b5b9d4d2f4c3d/40971889-14.JPG", "caption": "" }, "displayorder": 15, "url": "//cdnparap30.paragonrels.com/ParagonImages/Property/P3/MAXEBRDI/40971889/15/0/0/ad15412a270d3ef541a0b777c9fe94ce/104/a0e27435c8fb4561c13b5b9d4d2f4c3d/40971889-15.JPG", "caption": "" }, "displayorder": 16, "url": "//cdnparap30.paragonrels.com/ParagonImages/Property/P3/MAXEBRDI/40971889/16/0/0/6b44284b7f1714cfb4adbe65814d2003/104/a0e27435c8fb4561c13b5b9d4d2f4c3d/40971889-16.JPG", "caption": "" }, "displayorder": 17, "url": "//cdnparap30.paragonrels.com/ParagonImages/Property/P3/MAXEBRDI/40971889/17/0/0/195654d1ccb9d3119e0f98dceb5116c8/104/a0e27435c8fb4561c13b5b9d4d2f4c3d/40971889-17.JPG", "caption": "" }, "displayorder": 18, "url": "//cdnparap30.paragonrels.com/ParagonImages/Property/P3/MAXEBRDI/40971889/18/0/0/3fa652299bc94729aaa545e6ed41b7d2/104/a0e27435c8fb4561c13b5b9d4d2f4c3d/40971889-18.JPG", "caption": "" }, "displayorder": 19, "url": "//cdnparap30.paragonrels.com/ParagonImages/Property/P3/MAXEBRDI/40971889/19/0/0/b8aa8a411dc3ee5780065a2107f44861/104/a0e27435c8fb4561c13b5b9d4d2f4c3d/40971889-19.JPG", "caption": "" }, "displayorder": 20, "url": "//cdnparap30.paragonrels.com/ParagonImages/Property/P3/MAXEBRDI/40971889/20/0/0/15715b659c5535312086ca170d803ba8/104/a0e27435c8fb4561c13b5b9d4d2f4c3d/40971889-20.JPG", "caption": "" }, "displayorder": 21, "url": "//cdnparap30.paragonrels.com/ParagonImages/Property/P3/MAXEBRDI/40971889/21/0/0/ca0a373209d622198cc6caf22d90ff7c/104/a0e27435c8fb4561c13b5b9d4d2f4c3d/40971889-21.JPG", "caption": "" }, "displayorder": 22, "url": "//cdnparap30.paragonrels.com/ParagonImages/Property/P3/MAXEBRDI/40971889/22/0/0/d34fe36e29208eaa2b2142fd80fd323e/104/a0e27435c8fb4561c13b5b9d4d2f4c3d/40971889-22.JPG", "caption": "" }, "displayorder": 23, "url": "//cdnparap30.paragonrels.com/ParagonImages/Property/P3/MAXEBRDI/40971889/23/0/0/fb434d61047af1634cc51997c97049bb/104/a0e27435c8fb4561c13b5b9d4d2f4c3d/40971889-23.JPG", "caption": "" }, "displayorder": 24, "url": "//cdnparap30.paragonrels.com/ParagonImages/Property/P3/MAXEBRDI/40971889/24/0/0/dc30803af64058d119073af8d2dcaecf/104/a0e27435c8fb4561c13b5b9d4d2f4c3d/40971889-24.JPG", "caption": "" }, "displayorder": 25, "url": "//cdnparap30.paragonrels.com/ParagonImages/Property/P3/MAXEBRDI/40971889/25/0/0/03687f74b2c979aaf7ed472a26ea2587/104/a0e27435c8fb4561c13b5b9d4d2f4c3d/40971889-25.JPG", "caption": "" }, "displayorder": 26, "url": "//cdnparap30.paragonrels.com/ParagonImages/Property/P3/MAXEBRDI/40971889/26/0/0/5c92e52fda3be831f4a673d1f346417a/104/a0e27435c8fb4561c13b5b9d4d2f4c3d/40971889-26.JPG", "caption": "" }, "displayorder": 27, "url": "//cdnparap30.paragonrels.com/ParagonImages/Property/P3/MAXEBRDI/40971889/27/0/0/06d535d5a092ae62a049dc4310c96784/104/a0e27435c8fb4561c13b5b9d4d2f4c3d/40971889-27.JPG", "caption": "" }, "displayorder": 28, "url": "//cdnparap30.paragonrels.com/ParagonImages/Property/P3/MAXEBRDI/40971889/28/0/0/3ebf7ad6e32d53d7ed7cea5e1cd569f7/104/a0e27435c8fb4561c13b5b9d4d2f4c3d/40971889-28.JPG", "caption": "" }, "displayorder": 29, "url": "//cdnparap30.paragonrels.com/ParagonImages/Property/P3/MAXEBRDI/40971889/29/0/0/1edbf41ee294d9d30a5ab3a37b06ea39/104/a0e27435c8fb4561c13b5b9d4d2f4c3d/40971889-29.JPG", "caption": "" }, "displayorder": 30, "url": "//cdnparap30.paragonrels.com/ParagonImages/Property/P3/MAXEBRDI/40971889/30/0/0/ef578e015a73a98a4de00eb80d55715d/104/a0e27435c8fb4561c13b5b9d4d2f4c3d/40971889-30.JPG", "caption": "" }, "displayorder": 31, "url": "//cdnparap30.paragonrels.com/ParagonImages/Property/P3/MAXEBRDI/40971889/31/0/0/0608755d63555b5d1f4671c2d3ae8c56/104/a0e27435c8fb4561c13b5b9d4d2f4c3d/40971889-31.JPG", "caption": "" }, "displayorder": 32, "url": "//cdnparap30.paragonrels.com/ParagonImages/Property/P3/MAXEBRDI/40971889/32/0/0/5a329fac75e6033e17f315cbb0bdafe7/104/a0e27435c8fb4561c13b5b9d4d2f4c3d/40971889-32.JPG", "caption": "" }, "displayorder": 33, "url": "//cdnparap30.paragonrels.com/ParagonImages/Property/P3/MAXEBRDI/40971889/33/0/0/22a99cae3ca02e88d47f7f2b82b78bdd/104/a0e27435c8fb4561c13b5b9d4d2f4c3d/40971889-33.JPG", "caption": "" }, "displayorder": 34, "url": "//cdnparap30.paragonrels.com/ParagonImages/Property/P3/MAXEBRDI/40971889/34/0/0/01ce43326df0e6f89a9ce08468381026/104/a0e27435c8fb4561c13b5b9d4d2f4c3d/40971889-34.JPG", "caption": "" }, "displayorder": 35, "url": "//cdnparap30.paragonrels.com/ParagonImages/Property/P3/MAXEBRDI/40971889/35/0/0/914cf7b341cbe8a8f0510652297c2821/104/a0e27435c8fb4561c13b5b9d4d2f4c3d/40971889-35.JPG", "caption": "" }, "displayorder": 36, "url": "//cdnparap30.paragonrels.com/ParagonImages/Property/P3/MAXEBRDI/40971889/36/0/0/23adcae25488044998dbf73cddd5a63b/104/a0e27435c8fb4561c13b5b9d4d2f4c3d/40971889-36.JPG", "caption": "" }, "displayorder": 37, "url": "//cdnparap30.paragonrels.com/ParagonImages/Property/P3/MAXEBRDI/40971889/37/0/0/54ca385f2995401f1a3b255f64c40a3e/104/a0e27435c8fb4561c13b5b9d4d2f4c3d/40971889-37.JPG", "caption": "" }, "displayorder": 38, "url": "//cdnparap30.paragonrels.com/ParagonImages/Property/P3/MAXEBRDI/40971889/38/0/0/a23692736934cc17addaa8f993e02c54/104/a0e27435c8fb4561c13b5b9d4d2f4c3d/40971889-38.JPG", "caption": "" }, "displayorder": 39, "url": "//cdnparap30.paragonrels.com/ParagonImages/Property/P3/MAXEBRDI/40971889/39/0/0/b19c06a5311dd97ab5ed29c323e4c697/104/a0e27435c8fb4561c13b5b9d4d2f4c3d/40971889-39.JPG", "caption": "" } ], "agent": { "name": "Roxanna Ahlbach", "phone": "415-609-9397", "email": "roxanna@eastbaycurated.com" }, "broker": { "name": "RED OAK REALTY", "phone": "", "email": "" } }; ]]>
2725 Camino Lenada
OAKLAND, CA 94611

Click here for map
Residential Home
$799,000
857 Sq Feet
2 Bedrooms
1 Bathroom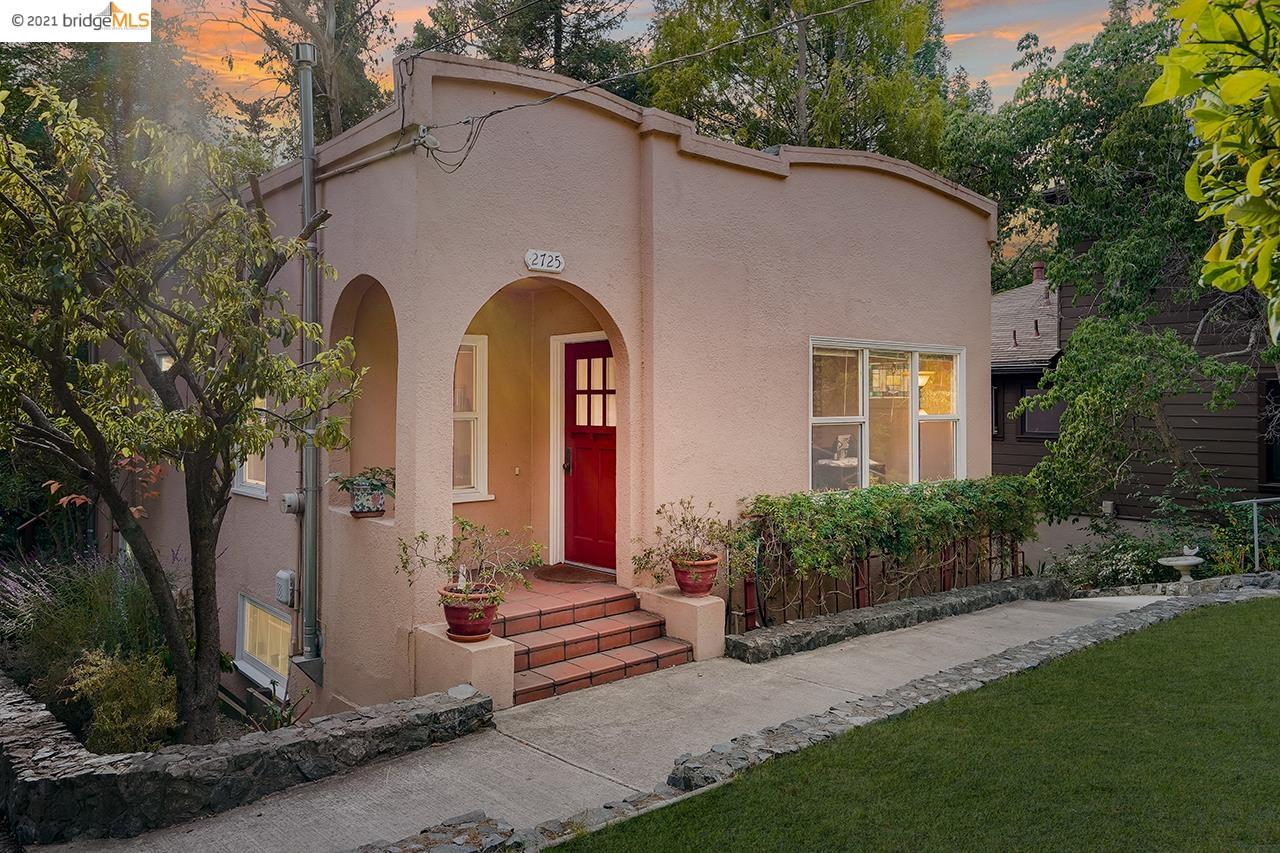 Details:
Lot Sq Feet:
7,480
Fireplaces:
1
HOA?
No
Bank Owned?
No
Status:
Sold
Remarks:
Opportunity awaits on one of the most coveted streets in Piedmont Pines. Few properties in Oakland give you the chance to snatch up such a prime location, perfectly poised to make your own. Nestled at the end of a serene street, you'll have convenient access to Montclair Village, Park Boulevard shops, and countless fabulous parks and trails. Reach Joaquin Miller Elementary* and Montera Middle School** without a car, and going further is simple with quick access to highway 13. This light-filled location is full of possibilities with huge upside and potential. Whatever your goals are, this is the space to make it your own. Enjoy the peace and privacy of Piedmont Pines while still being close to it all. *Interested parties to verify with school district as attendance is not guaranteed.
There are currently no open houses for this property. Please contact
Roxanna Ahlbach
to schedule an appointment.