<![CDATA[ var dwellicious_data = { "address": "1013 Barbara Ln ", "city": "SAN PABLO", "state": "CA", "zip": "94806", "zip4": "", "area": "", "subdivision": "", "county": "", "price": "527000", "beds": "3", "baths": "1", "sqft": "960", "lotsize": "5760", "yearbuilt": "1954-01-01", "proptype": "Residential", "mlsnum": "40971977", "active": false, "remarks": "Sharp & Sophisticated Home w/ A Fusion Of Modern & Classic Styles! Step Inside & Be Amazed By Gorgeous Light Filled Living Area That Flows Seamlessly w/ Dining & Kitchen Area! The NEW Kitchen Includes Stoned Countertops w/ Matching Backsplash, Custom Cabinets, Top-Of-The Line SS Appliances" & Bay Window! Take Advantage Of The "Comme il Faut" Bedrooms w/ Renovated Bathroom! The Floor Plan Feels Light & Airy w/ Ample Windows & Harmonious Flow That Leads To The Yard That Is Perfect For Entertaining RAIN or SHINE As It Has it's Own Custom Built Wooden Canopy & Outdoor Built IN BBQ Area! Parking Is A Breeze As It Offers Multiple Parking Areas (Extended Driveway, Garage & Rear Parking) That Can Easily Fit 6-10 Vehicles! Other Features Include: Newer Paint Inside & Out, New Flooring Throughout, New Plumbing, New Electrical Outlets, Rear Storage w/ Own Toilet & Sink, Prime Cul-de-sac Location & Friendly Neighbors Makes This Unbeatable! **Wed 10/27 4pm-6pm**", "photos": [ { "displayorder": 0, "url": "//cdnparap30.paragonrels.com/ParagonImages/Property/P3/MAXEBRDI/40971977/0/0/0/3702e31710c1c029513223019ff7c7d9/113/c8b669a756504dbdc9f114e87680efb1/40971977.JPG", "caption": "" }, "displayorder": 1, "url": "//cdnparap30.paragonrels.com/ParagonImages/Property/P3/MAXEBRDI/40971977/1/0/0/ae7400d1336eff5791ab554868361417/113/c8b669a756504dbdc9f114e87680efb1/40971977-1.JPG", "caption": "" }, "displayorder": 2, "url": "//cdnparap30.paragonrels.com/ParagonImages/Property/P3/MAXEBRDI/40971977/2/0/0/31795347d9b4db3062a147d43acaac59/113/c8b669a756504dbdc9f114e87680efb1/40971977-2.JPG", "caption": "" }, "displayorder": 3, "url": "//cdnparap30.paragonrels.com/ParagonImages/Property/P3/MAXEBRDI/40971977/3/0/0/6a79225bec08585e94816ccf519339ea/113/c8b669a756504dbdc9f114e87680efb1/40971977-3.JPG", "caption": "" }, "displayorder": 4, "url": "//cdnparap30.paragonrels.com/ParagonImages/Property/P3/MAXEBRDI/40971977/4/0/0/e610b19b2d86063881d59c5a017e0db6/113/c8b669a756504dbdc9f114e87680efb1/40971977-4.JPG", "caption": "" }, "displayorder": 5, "url": "//cdnparap30.paragonrels.com/ParagonImages/Property/P3/MAXEBRDI/40971977/5/0/0/9717008ac000baf572f5edd629f24234/113/c8b669a756504dbdc9f114e87680efb1/40971977-5.JPG", "caption": "" }, "displayorder": 6, "url": "//cdnparap30.paragonrels.com/ParagonImages/Property/P3/MAXEBRDI/40971977/6/0/0/a1a4b9d9a84efd84da59629e3168fe90/113/c8b669a756504dbdc9f114e87680efb1/40971977-6.JPG", "caption": "" }, "displayorder": 7, "url": "//cdnparap30.paragonrels.com/ParagonImages/Property/P3/MAXEBRDI/40971977/7/0/0/09be4b3b0d8c1ab8b6aa5e7d045d1366/113/c8b669a756504dbdc9f114e87680efb1/40971977-7.JPG", "caption": "" }, "displayorder": 8, "url": "//cdnparap30.paragonrels.com/ParagonImages/Property/P3/MAXEBRDI/40971977/8/0/0/c71fa7654f21f47f2a83cb7a5ad2df24/113/c8b669a756504dbdc9f114e87680efb1/40971977-8.JPG", "caption": "" }, "displayorder": 9, "url": "//cdnparap30.paragonrels.com/ParagonImages/Property/P3/MAXEBRDI/40971977/9/0/0/d476ce405a7ec0cac349e26a2b6e8c8e/113/c8b669a756504dbdc9f114e87680efb1/40971977-9.JPG", "caption": "" }, "displayorder": 10, "url": "//cdnparap30.paragonrels.com/ParagonImages/Property/P3/MAXEBRDI/40971977/10/0/0/a90798a25d95cb9c98b69b07f8c8b3a3/113/c8b669a756504dbdc9f114e87680efb1/40971977-10.JPG", "caption": "" }, "displayorder": 11, "url": "//cdnparap30.paragonrels.com/ParagonImages/Property/P3/MAXEBRDI/40971977/11/0/0/45bb0b884a7f17de2d6c86f7445042a1/113/c8b669a756504dbdc9f114e87680efb1/40971977-11.JPG", "caption": "" }, "displayorder": 12, "url": "//cdnparap30.paragonrels.com/ParagonImages/Property/P3/MAXEBRDI/40971977/12/0/0/b8054a3de0f041a9d1f318b25f2bc6da/113/c8b669a756504dbdc9f114e87680efb1/40971977-12.JPG", "caption": "" }, "displayorder": 13, "url": "//cdnparap30.paragonrels.com/ParagonImages/Property/P3/MAXEBRDI/40971977/13/0/0/d2665fb3cf974b428b83b98fa43c34b0/113/c8b669a756504dbdc9f114e87680efb1/40971977-13.JPG", "caption": "" }, "displayorder": 14, "url": "//cdnparap30.paragonrels.com/ParagonImages/Property/P3/MAXEBRDI/40971977/14/0/0/830a37deb3f8f9d0e2ab7e3b327e0448/113/c8b669a756504dbdc9f114e87680efb1/40971977-14.JPG", "caption": "" }, "displayorder": 15, "url": "//cdnparap30.paragonrels.com/ParagonImages/Property/P3/MAXEBRDI/40971977/15/0/0/7a6ce80a39d63b17577fc66ec896a601/113/c8b669a756504dbdc9f114e87680efb1/40971977-15.JPG", "caption": "" }, "displayorder": 16, "url": "//cdnparap30.paragonrels.com/ParagonImages/Property/P3/MAXEBRDI/40971977/16/0/0/e3735ae2e4641cc07b7c2a84e5febdd8/113/c8b669a756504dbdc9f114e87680efb1/40971977-16.JPG", "caption": "" }, "displayorder": 17, "url": "//cdnparap30.paragonrels.com/ParagonImages/Property/P3/MAXEBRDI/40971977/17/0/0/2102dc55b869d73bddd8d5741fce7435/113/c8b669a756504dbdc9f114e87680efb1/40971977-17.JPG", "caption": "" }, "displayorder": 18, "url": "//cdnparap30.paragonrels.com/ParagonImages/Property/P3/MAXEBRDI/40971977/18/0/0/5164e31065866b0dd72fa98db1d33d6f/113/c8b669a756504dbdc9f114e87680efb1/40971977-18.JPG", "caption": "" }, "displayorder": 19, "url": "//cdnparap30.paragonrels.com/ParagonImages/Property/P3/MAXEBRDI/40971977/19/0/0/6f204241611131f2f1c717321ca08007/113/c8b669a756504dbdc9f114e87680efb1/40971977-19.JPG", "caption": "" }, "displayorder": 20, "url": "//cdnparap30.paragonrels.com/ParagonImages/Property/P3/MAXEBRDI/40971977/20/0/0/3b13610fe41f725a78c631b1774ccf90/113/c8b669a756504dbdc9f114e87680efb1/40971977-20.JPG", "caption": "" }, "displayorder": 21, "url": "//cdnparap30.paragonrels.com/ParagonImages/Property/P3/MAXEBRDI/40971977/22/0/0/174a5db3cfea2555510ffefd0423ec93/113/c8b669a756504dbdc9f114e87680efb1/40971977-22.JPG", "caption": "" }, "displayorder": 22, "url": "//cdnparap30.paragonrels.com/ParagonImages/Property/P3/MAXEBRDI/40971977/23/0/0/fc84a8084089f745b887f047f4817064/113/c8b669a756504dbdc9f114e87680efb1/40971977-23.JPG", "caption": "" }, "displayorder": 23, "url": "//cdnparap30.paragonrels.com/ParagonImages/Property/P3/MAXEBRDI/40971977/24/0/0/a0ea611ee6d565edac316b934199d891/113/c8b669a756504dbdc9f114e87680efb1/40971977-24.JPG", "caption": "" }, "displayorder": 24, "url": "//cdnparap30.paragonrels.com/ParagonImages/Property/P3/MAXEBRDI/40971977/25/0/0/7b436048a091ce9408281629c52aa5fe/113/c8b669a756504dbdc9f114e87680efb1/40971977-25.JPG", "caption": "" }, "displayorder": 25, "url": "//cdnparap30.paragonrels.com/ParagonImages/Property/P3/MAXEBRDI/40971977/26/0/0/3540572e758b469aa1e5ce605f5717da/113/c8b669a756504dbdc9f114e87680efb1/40971977-26.JPG", "caption": "" }, "displayorder": 26, "url": "//cdnparap30.paragonrels.com/ParagonImages/Property/P3/MAXEBRDI/40971977/27/0/0/4371e8e112354d4651afaac050a385dc/113/c8b669a756504dbdc9f114e87680efb1/40971977-27.JPG", "caption": "" }, "displayorder": 27, "url": "//cdnparap30.paragonrels.com/ParagonImages/Property/P3/MAXEBRDI/40971977/28/0/0/8d510992f6046d96b3b9219c6f5eb4a3/113/c8b669a756504dbdc9f114e87680efb1/40971977-28.JPG", "caption": "" }, "displayorder": 28, "url": "//cdnparap30.paragonrels.com/ParagonImages/Property/P3/MAXEBRDI/40971977/29/0/0/8044ad9b7575a06d3c668a13cc66fb93/113/c8b669a756504dbdc9f114e87680efb1/40971977-29.JPG", "caption": "" }, "displayorder": 29, "url": "//cdnparap30.paragonrels.com/ParagonImages/Property/P3/MAXEBRDI/40971977/30/0/0/fd5f6f19ec703fb4bf6ffca75669c40f/113/c8b669a756504dbdc9f114e87680efb1/40971977-30.JPG", "caption": "" }, "displayorder": 30, "url": "//cdnparap30.paragonrels.com/ParagonImages/Property/P3/MAXEBRDI/40971977/32/0/0/492021754de597500c6f081c642f7346/113/c8b669a756504dbdc9f114e87680efb1/40971977-32.JPG", "caption": "" }, "displayorder": 31, "url": "//cdnparap30.paragonrels.com/ParagonImages/Property/P3/MAXEBRDI/40971977/33/0/0/29457a2e7e40444499f9899fac65dac1/113/c8b669a756504dbdc9f114e87680efb1/40971977-33.JPG", "caption": "" }, "displayorder": 32, "url": "//cdnparap30.paragonrels.com/ParagonImages/Property/P3/MAXEBRDI/40971977/34/0/0/a67e12c64cbecada3e6b071cf2d4b9cd/113/c8b669a756504dbdc9f114e87680efb1/40971977-34.JPG", "caption": "" }, "displayorder": 33, "url": "//cdnparap30.paragonrels.com/ParagonImages/Property/P3/MAXEBRDI/40971977/35/0/0/e2f48b099e26b7a93a08808ed233829f/113/c8b669a756504dbdc9f114e87680efb1/40971977-35.JPG", "caption": "" }, "displayorder": 34, "url": "//cdnparap30.paragonrels.com/ParagonImages/Property/P3/MAXEBRDI/40971977/36/0/0/5058d147350a319c390728de0e5f0cbd/113/c8b669a756504dbdc9f114e87680efb1/40971977-36.JPG", "caption": "" }, "displayorder": 35, "url": "//cdnparap30.paragonrels.com/ParagonImages/Property/P3/MAXEBRDI/40971977/37/0/0/82ebce2c2fd656e15510ab28b0aa3f2c/113/c8b669a756504dbdc9f114e87680efb1/40971977-37.JPG", "caption": "" }, "displayorder": 36, "url": "//cdnparap30.paragonrels.com/ParagonImages/Property/P3/MAXEBRDI/40971977/38/0/0/75b8977397c607ebde256858196ce794/113/c8b669a756504dbdc9f114e87680efb1/40971977-38.JPG", "caption": "" } ], "agent": { "name": "Marco Rodriguez", "phone": "510-3753172", "email": "marco@mvrod.com" }, "broker": { "name": "Compass", "phone": "", "email": "" } }; ]]>
1013 Barbara Ln
SAN PABLO, CA 94806

Click here for map
Residential Home
$527,000
960 Sq Feet
3 Bedrooms
1 Bathroom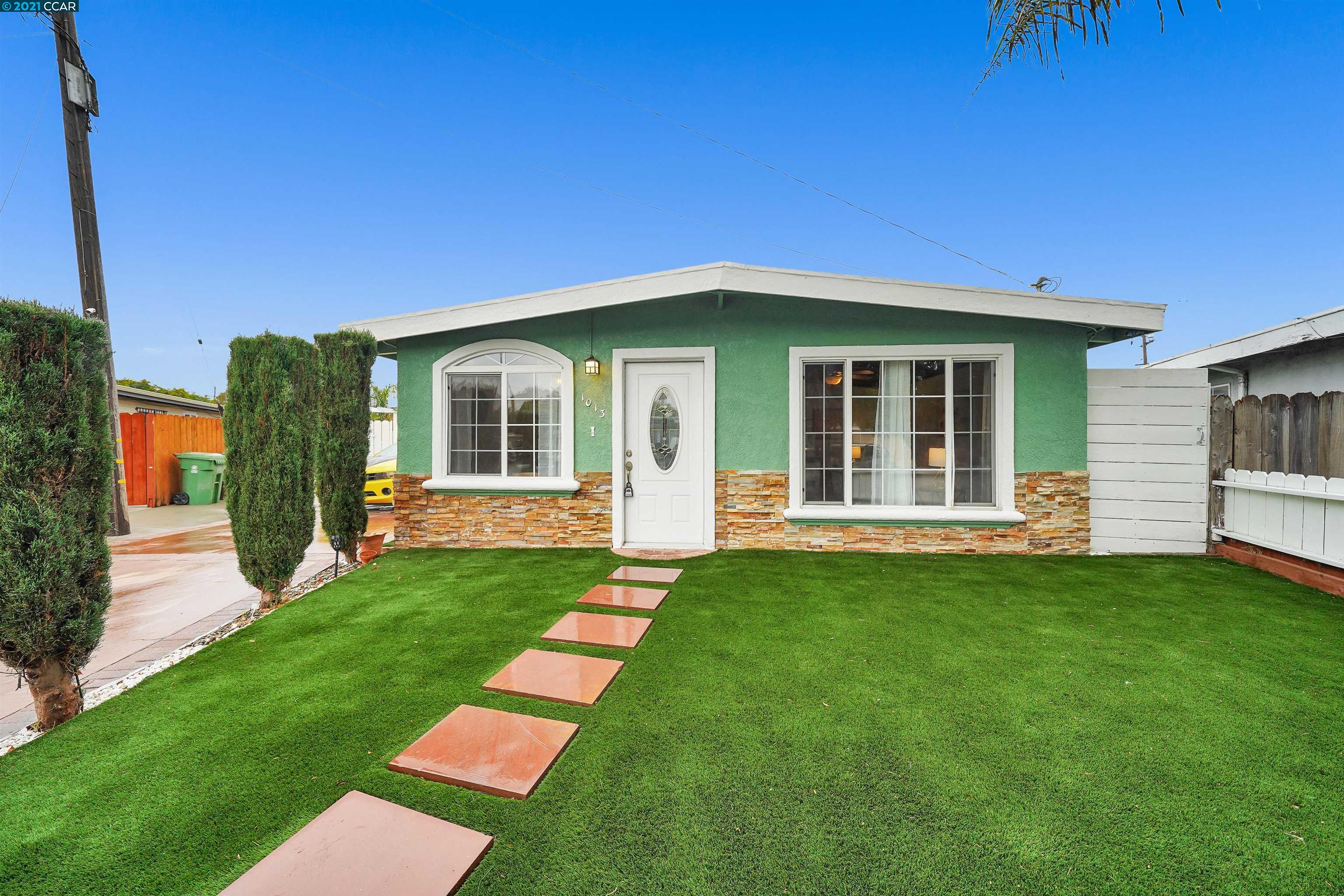 Details:
Lot Sq Feet:
5,760
Fireplaces:
0
HOA?
No
Bank Owned?
No
Status:
Pending
Remarks:
Sharp & Sophisticated Home w/ A Fusion Of Modern & Classic Styles! Step Inside & Be Amazed By Gorgeous Light Filled Living Area That Flows Seamlessly w/ Dining & Kitchen Area! The NEW Kitchen Includes Stoned Countertops w/ Matching Backsplash, Custom Cabinets, Top-Of-The Line "SS Appliances" & Bay Window! Take Advantage Of The "Comme il Faut" Bedrooms w/ Renovated Bathroom! The Floor Plan Feels Light & Airy w/ Ample Windows & Harmonious Flow That Leads To The Yard That Is Perfect For Entertaining RAIN or SHINE As It Has it's Own Custom Built Wooden Canopy & Outdoor Built IN BBQ Area! Parking Is A Breeze As It Offers Multiple Parking Areas (Extended Driveway, Garage & Rear Parking) That Can Easily Fit 6-10 Vehicles! Other Features Include: Newer Paint Inside & Out, New Flooring Throughout, New Plumbing, New Electrical Outlets, Rear Storage w/ Own Toilet & Sink, Prime Cul-de-sac Location & Friendly Neighbors Makes This Unbeatable! **Wed 10/27 4pm-6pm**
There are currently no open houses for this property. Please contact
Marco Rodriguez
to schedule an appointment.