<![CDATA[ var dwellicious_data = { "address": "1109 Elm Street ", "city": "CALISTOGA", "state": "CA", "zip": "94515", "zip4": "", "area": "", "subdivision": "", "county": "", "price": "4495000", "beds": "2", "baths": "1", "sqft": "626", "lotsize": "7464", "yearbuilt": "1880-01-01", "proptype": "Residential", "mlsnum": "ML81882796", "active": true, "remarks": "IMPORTANT: Sale & PRICE includes Embrace Calistoga Bed & Breakfast, 8 Apartments, and a Single-Family Home w/ Parking Lot for B&B: Embrace Calistoga is located on Calistoga's main street, that is lined with shops, tasting rooms, and eateries. The B&B offers 5 rooms each has a gas fireplace, some have the original hardwood floors and others a plush carpet. The rooms also contain bead board walls and vaulted ceilings. All bedrooms have bathrooms, some with an oversized soaking tub with separate shower while others contain a walk-in shower surrounded by elegant marble walls and floors. The B&B has two levels with a gorgeous spiral staircase and enormous wrap around porch. The residence has 2 bedrooms, 1 bathroom, 626 +/- sq. ft. and is located on Elm St. across from Embrace Calistoga. The large kitchen has tile countertops and beautiful wooden cabinets. The 8 apartments are behind the B&B and each has 1 bedroom and 1 bathroom.", "photos": [ { "displayorder": 0, "url": "https://mlslmedia.azureedge.net/property/MLSL/81882796/07ae9783e9ec432e99a78c5b853bb8b8/2/1", "caption": "" }, "displayorder": 1, "url": "https://mlslmedia.azureedge.net/property/MLSL/81882796/07ae9783e9ec432e99a78c5b853bb8b8/2/2", "caption": "" }, "displayorder": 2, "url": "https://mlslmedia.azureedge.net/property/MLSL/81882796/07ae9783e9ec432e99a78c5b853bb8b8/2/3", "caption": "" }, "displayorder": 3, "url": "https://mlslmedia.azureedge.net/property/MLSL/81882796/07ae9783e9ec432e99a78c5b853bb8b8/2/4", "caption": "" }, "displayorder": 4, "url": "https://mlslmedia.azureedge.net/property/MLSL/81882796/07ae9783e9ec432e99a78c5b853bb8b8/2/5", "caption": "" }, "displayorder": 5, "url": "https://mlslmedia.azureedge.net/property/MLSL/81882796/07ae9783e9ec432e99a78c5b853bb8b8/2/6", "caption": "" }, "displayorder": 6, "url": "https://mlslmedia.azureedge.net/property/MLSL/81882796/07ae9783e9ec432e99a78c5b853bb8b8/2/7", "caption": "" }, "displayorder": 7, "url": "https://mlslmedia.azureedge.net/property/MLSL/81882796/07ae9783e9ec432e99a78c5b853bb8b8/2/8", "caption": "" }, "displayorder": 8, "url": "https://mlslmedia.azureedge.net/property/MLSL/81882796/07ae9783e9ec432e99a78c5b853bb8b8/2/9", "caption": "" }, "displayorder": 9, "url": "https://mlslmedia.azureedge.net/property/MLSL/81882796/07ae9783e9ec432e99a78c5b853bb8b8/2/10", "caption": "" }, "displayorder": 10, "url": "https://mlslmedia.azureedge.net/property/MLSL/81882796/07ae9783e9ec432e99a78c5b853bb8b8/2/11", "caption": "" }, "displayorder": 11, "url": "https://mlslmedia.azureedge.net/property/MLSL/81882796/07ae9783e9ec432e99a78c5b853bb8b8/2/12", "caption": "" }, "displayorder": 12, "url": "https://mlslmedia.azureedge.net/property/MLSL/81882796/07ae9783e9ec432e99a78c5b853bb8b8/2/13", "caption": "" }, "displayorder": 13, "url": "https://mlslmedia.azureedge.net/property/MLSL/81882796/07ae9783e9ec432e99a78c5b853bb8b8/2/14", "caption": "" }, "displayorder": 14, "url": "https://mlslmedia.azureedge.net/property/MLSL/81882796/07ae9783e9ec432e99a78c5b853bb8b8/2/15", "caption": "" }, "displayorder": 15, "url": "https://mlslmedia.azureedge.net/property/MLSL/81882796/07ae9783e9ec432e99a78c5b853bb8b8/2/16", "caption": "" }, "displayorder": 16, "url": "https://mlslmedia.azureedge.net/property/MLSL/81882796/07ae9783e9ec432e99a78c5b853bb8b8/2/17", "caption": "" }, "displayorder": 17, "url": "https://mlslmedia.azureedge.net/property/MLSL/81882796/07ae9783e9ec432e99a78c5b853bb8b8/2/18", "caption": "" }, "displayorder": 18, "url": "https://mlslmedia.azureedge.net/property/MLSL/81882796/07ae9783e9ec432e99a78c5b853bb8b8/2/19", "caption": "" }, "displayorder": 19, "url": "https://mlslmedia.azureedge.net/property/MLSL/81882796/07ae9783e9ec432e99a78c5b853bb8b8/2/20", "caption": "" }, "displayorder": 20, "url": "https://mlslmedia.azureedge.net/property/MLSL/81882796/07ae9783e9ec432e99a78c5b853bb8b8/2/21", "caption": "" }, "displayorder": 21, "url": "https://mlslmedia.azureedge.net/property/MLSL/81882796/07ae9783e9ec432e99a78c5b853bb8b8/2/22", "caption": "" }, "displayorder": 22, "url": "https://mlslmedia.azureedge.net/property/MLSL/81882796/07ae9783e9ec432e99a78c5b853bb8b8/2/23", "caption": "" }, "displayorder": 23, "url": "https://mlslmedia.azureedge.net/property/MLSL/81882796/07ae9783e9ec432e99a78c5b853bb8b8/2/24", "caption": "" }, "displayorder": 24, "url": "https://mlslmedia.azureedge.net/property/MLSL/81882796/07ae9783e9ec432e99a78c5b853bb8b8/2/25", "caption": "" }, "displayorder": 25, "url": "https://mlslmedia.azureedge.net/property/MLSL/81882796/07ae9783e9ec432e99a78c5b853bb8b8/2/26", "caption": "" }, "displayorder": 26, "url": "https://mlslmedia.azureedge.net/property/MLSL/81882796/07ae9783e9ec432e99a78c5b853bb8b8/2/27", "caption": "" }, "displayorder": 27, "url": "https://mlslmedia.azureedge.net/property/MLSL/81882796/07ae9783e9ec432e99a78c5b853bb8b8/2/28", "caption": "" }, "displayorder": 28, "url": "https://mlslmedia.azureedge.net/property/MLSL/81882796/07ae9783e9ec432e99a78c5b853bb8b8/2/29", "caption": "" }, "displayorder": 29, "url": "https://mlslmedia.azureedge.net/property/MLSL/81882796/07ae9783e9ec432e99a78c5b853bb8b8/2/30", "caption": "" }, "displayorder": 30, "url": "https://mlslmedia.azureedge.net/property/MLSL/81882796/07ae9783e9ec432e99a78c5b853bb8b8/2/31", "caption": "" }, "displayorder": 31, "url": "https://mlslmedia.azureedge.net/property/MLSL/81882796/07ae9783e9ec432e99a78c5b853bb8b8/2/32", "caption": "" }, "displayorder": 32, "url": "https://mlslmedia.azureedge.net/property/MLSL/81882796/07ae9783e9ec432e99a78c5b853bb8b8/2/33", "caption": "" }, "displayorder": 33, "url": "https://mlslmedia.azureedge.net/property/MLSL/81882796/07ae9783e9ec432e99a78c5b853bb8b8/2/34", "caption": "" }, "displayorder": 34, "url": "https://mlslmedia.azureedge.net/property/MLSL/81882796/07ae9783e9ec432e99a78c5b853bb8b8/2/35", "caption": "" }, "displayorder": 35, "url": "https://mlslmedia.azureedge.net/property/MLSL/81882796/07ae9783e9ec432e99a78c5b853bb8b8/2/36", "caption": "" }, "displayorder": 36, "url": "https://mlslmedia.azureedge.net/property/MLSL/81882796/07ae9783e9ec432e99a78c5b853bb8b8/2/37", "caption": "" }, "displayorder": 37, "url": "https://mlslmedia.azureedge.net/property/MLSL/81882796/07ae9783e9ec432e99a78c5b853bb8b8/2/38", "caption": "" }, "displayorder": 38, "url": "https://mlslmedia.azureedge.net/property/MLSL/81882796/07ae9783e9ec432e99a78c5b853bb8b8/2/39", "caption": "" }, "displayorder": 39, "url": "https://mlslmedia.azureedge.net/property/MLSL/81882796/07ae9783e9ec432e99a78c5b853bb8b8/2/40", "caption": "" }, "displayorder": 40, "url": "https://mlslmedia.azureedge.net/property/MLSL/81882796/07ae9783e9ec432e99a78c5b853bb8b8/2/41", "caption": "" }, "displayorder": 41, "url": "https://mlslmedia.azureedge.net/property/MLSL/81882796/07ae9783e9ec432e99a78c5b853bb8b8/2/42", "caption": "" }, "displayorder": 42, "url": "https://mlslmedia.azureedge.net/property/MLSL/81882796/07ae9783e9ec432e99a78c5b853bb8b8/2/43", "caption": "" }, "displayorder": 43, "url": "https://mlslmedia.azureedge.net/property/MLSL/81882796/07ae9783e9ec432e99a78c5b853bb8b8/2/44", "caption": "" }, "displayorder": 44, "url": "https://mlslmedia.azureedge.net/property/MLSL/81882796/07ae9783e9ec432e99a78c5b853bb8b8/2/45", "caption": "" }, "displayorder": 45, "url": "https://mlslmedia.azureedge.net/property/MLSL/81882796/07ae9783e9ec432e99a78c5b853bb8b8/2/46", "caption": "" }, "displayorder": 46, "url": "https://mlslmedia.azureedge.net/property/MLSL/81882796/07ae9783e9ec432e99a78c5b853bb8b8/2/47", "caption": "" }, "displayorder": 47, "url": "https://mlslmedia.azureedge.net/property/MLSL/81882796/07ae9783e9ec432e99a78c5b853bb8b8/2/48", "caption": "" }, "displayorder": 48, "url": "https://mlslmedia.azureedge.net/property/MLSL/81882796/07ae9783e9ec432e99a78c5b853bb8b8/2/49", "caption": "" }, "displayorder": 49, "url": "https://mlslmedia.azureedge.net/property/MLSL/81882796/07ae9783e9ec432e99a78c5b853bb8b8/2/50", "caption": "" }, "displayorder": 50, "url": "https://mlslmedia.azureedge.net/property/MLSL/81882796/07ae9783e9ec432e99a78c5b853bb8b8/2/51", "caption": "" }, "displayorder": 51, "url": "https://mlslmedia.azureedge.net/property/MLSL/81882796/07ae9783e9ec432e99a78c5b853bb8b8/2/52", "caption": "" }, "displayorder": 52, "url": "https://mlslmedia.azureedge.net/property/MLSL/81882796/07ae9783e9ec432e99a78c5b853bb8b8/2/53", "caption": "" }, "displayorder": 53, "url": "https://mlslmedia.azureedge.net/property/MLSL/81882796/07ae9783e9ec432e99a78c5b853bb8b8/2/54", "caption": "" }, "displayorder": 54, "url": "https://mlslmedia.azureedge.net/property/MLSL/81882796/07ae9783e9ec432e99a78c5b853bb8b8/2/55", "caption": "" }, "displayorder": 55, "url": "https://mlslmedia.azureedge.net/property/MLSL/81882796/07ae9783e9ec432e99a78c5b853bb8b8/2/56", "caption": "" }, "displayorder": 56, "url": "https://mlslmedia.azureedge.net/property/MLSL/81882796/07ae9783e9ec432e99a78c5b853bb8b8/2/57", "caption": "" }, "displayorder": 57, "url": "https://mlslmedia.azureedge.net/property/MLSL/81882796/07ae9783e9ec432e99a78c5b853bb8b8/2/58", "caption": "" }, "displayorder": 58, "url": "https://mlslmedia.azureedge.net/property/MLSL/81882796/07ae9783e9ec432e99a78c5b853bb8b8/2/59", "caption": "" }, "displayorder": 59, "url": "https://mlslmedia.azureedge.net/property/MLSL/81882796/07ae9783e9ec432e99a78c5b853bb8b8/2/60", "caption": "" } ], "agent": { "name": "Mike D'Ambrosio", "phone": "408-630-0101", "email": "mdambrosio@interorealestate.com" }, "broker": { "name": "Intero Real Estate Services", "phone": "", "email": "" } }; ]]>
1109 Elm Street
CALISTOGA, CA 94515

Click here for map
Residential Home
$4,495,000
626 Sq Feet
2 Bedrooms
1 Bathroom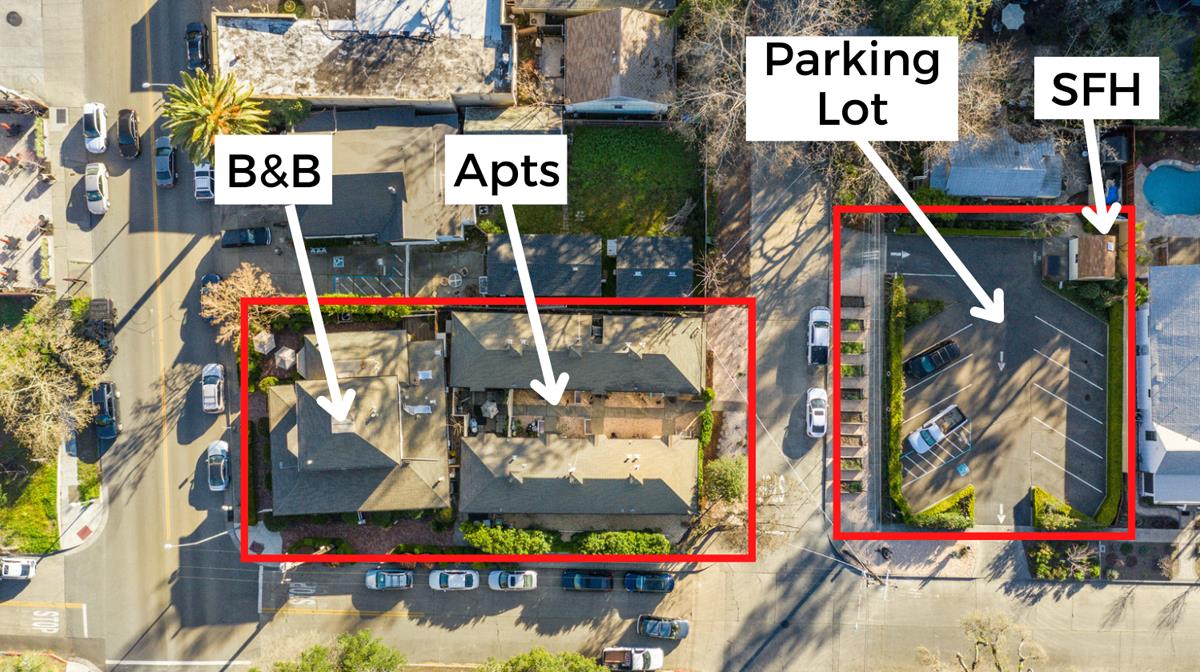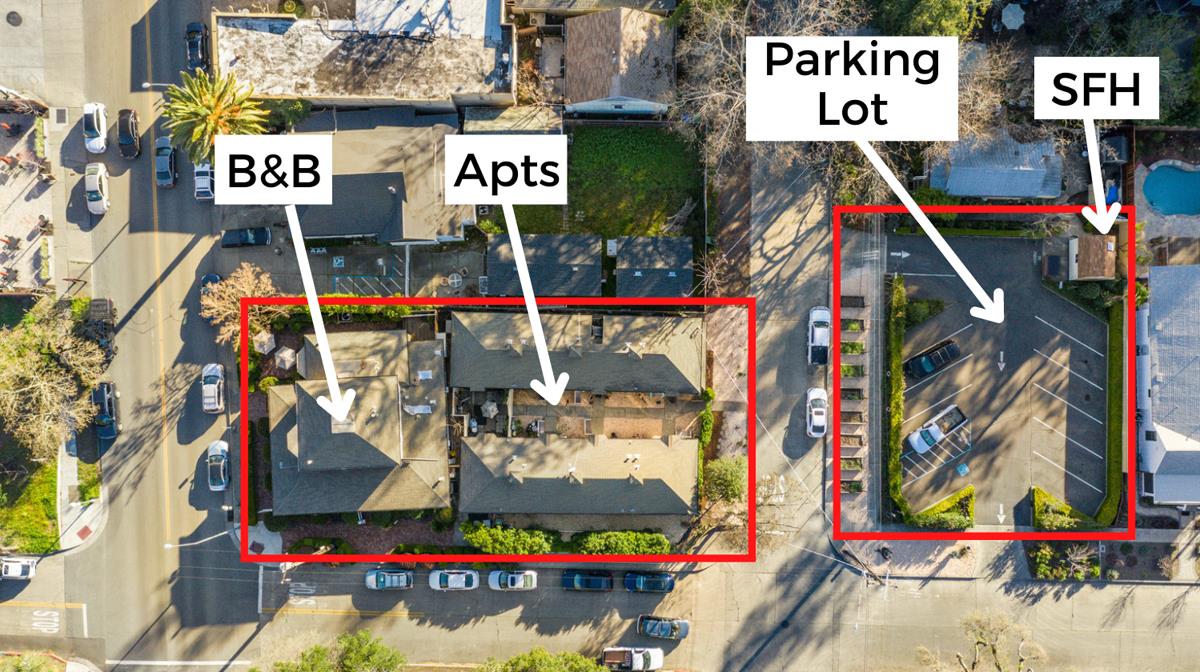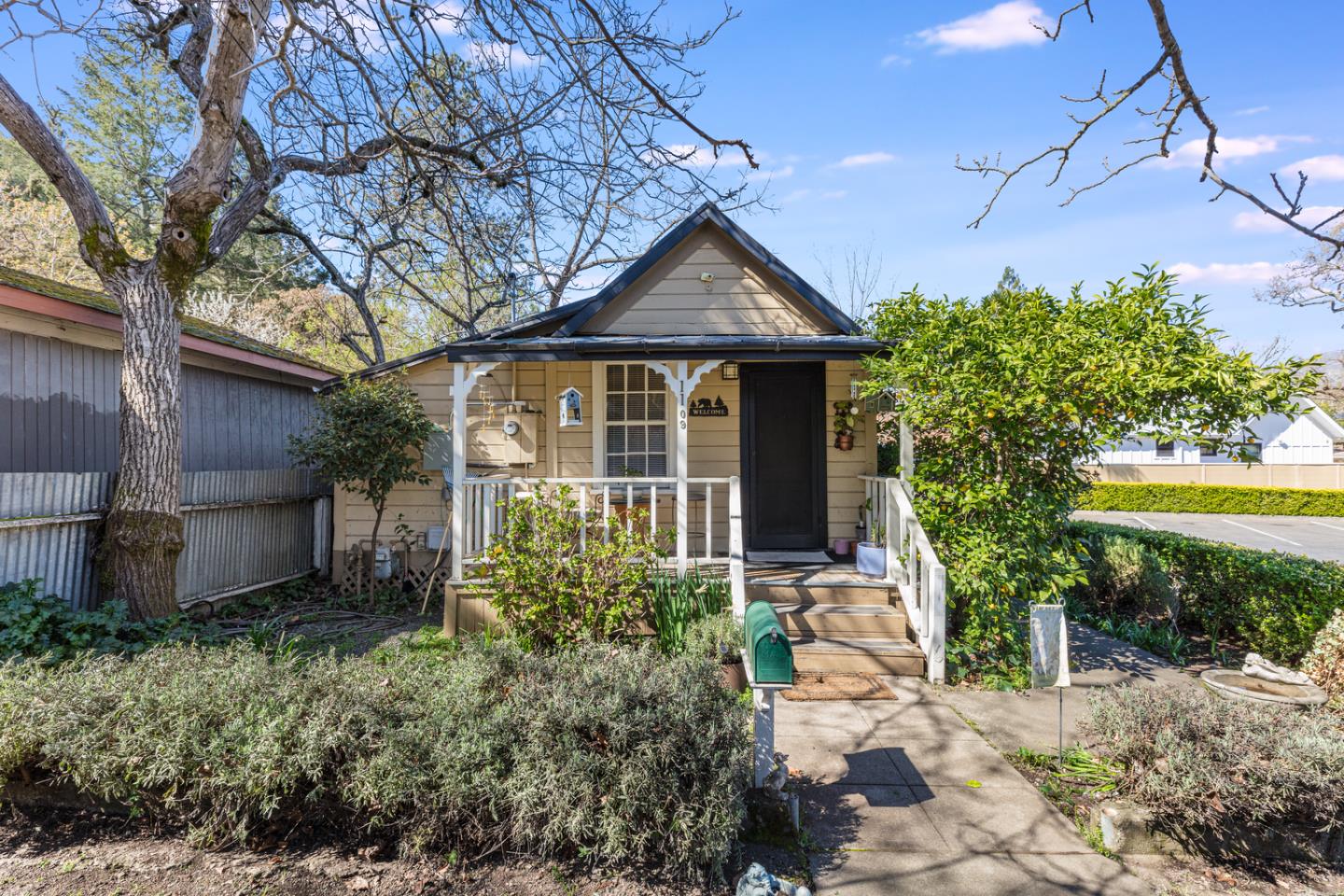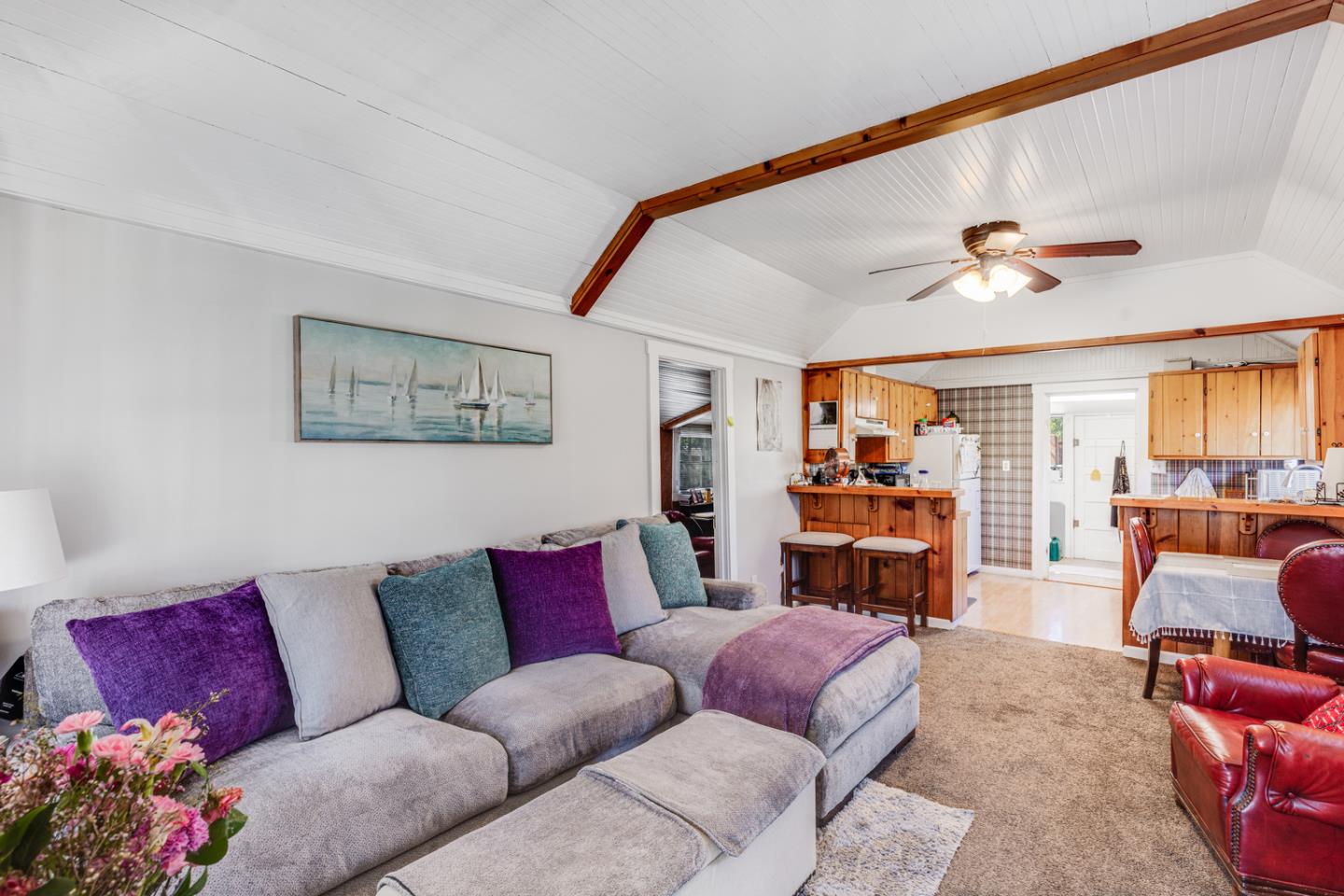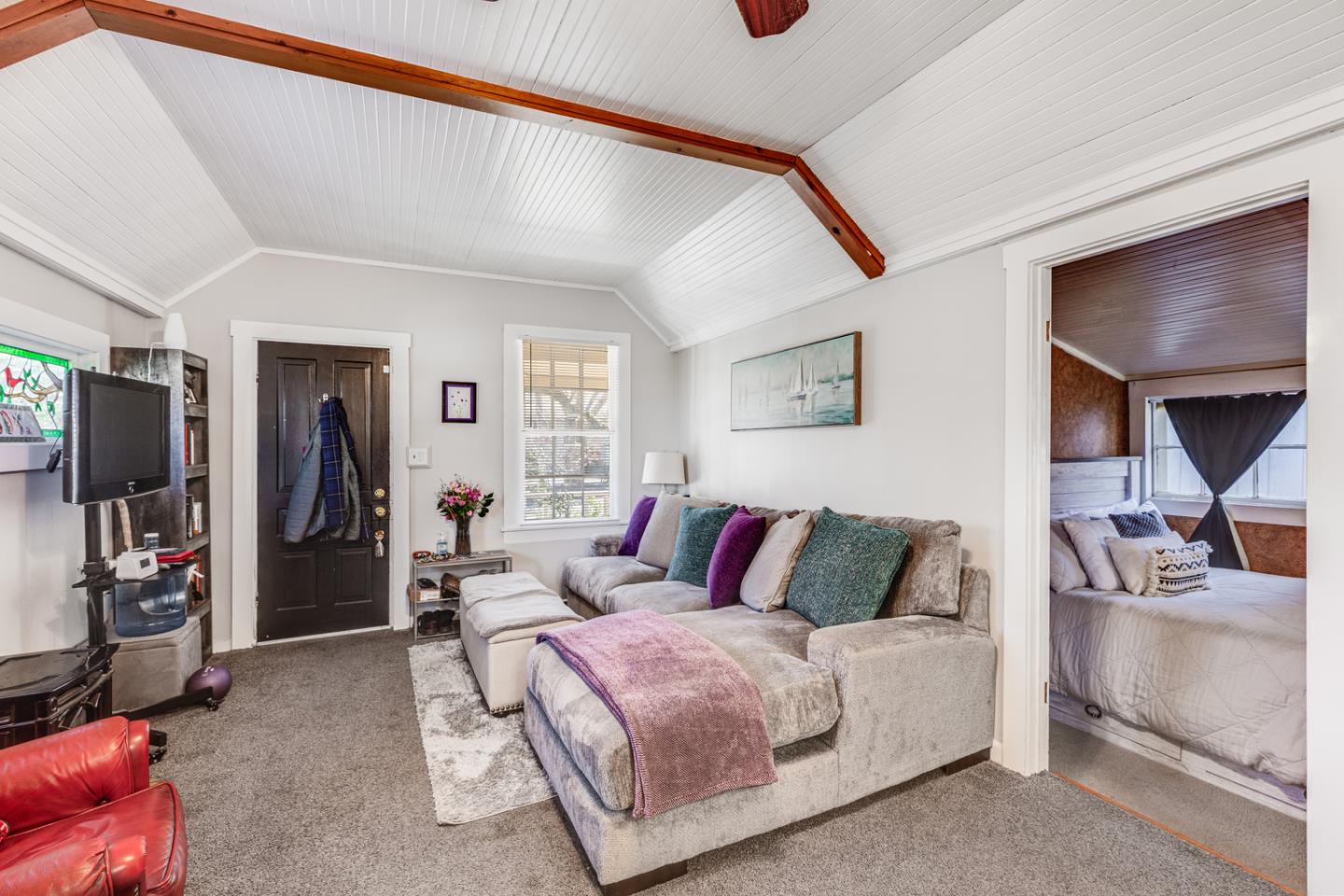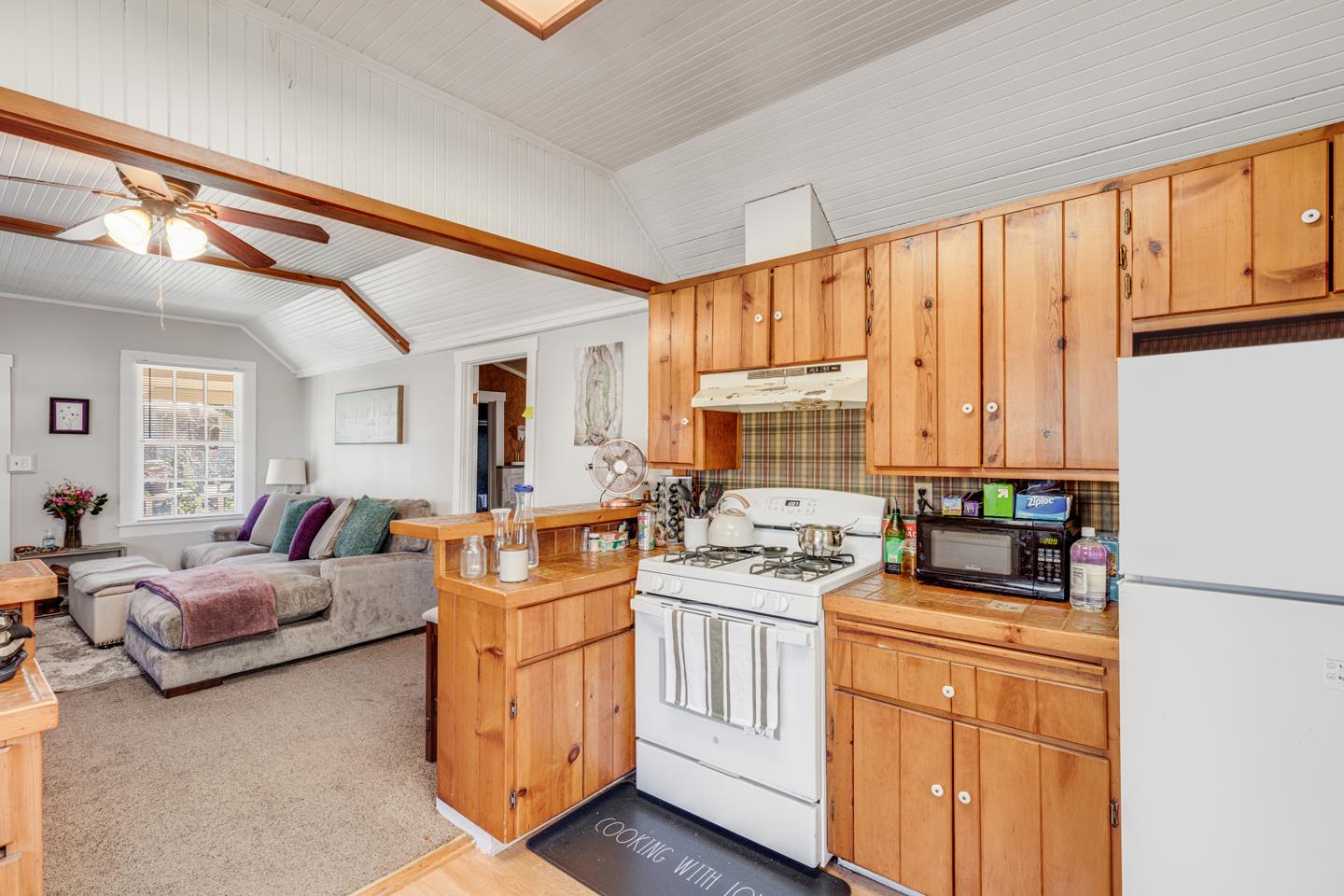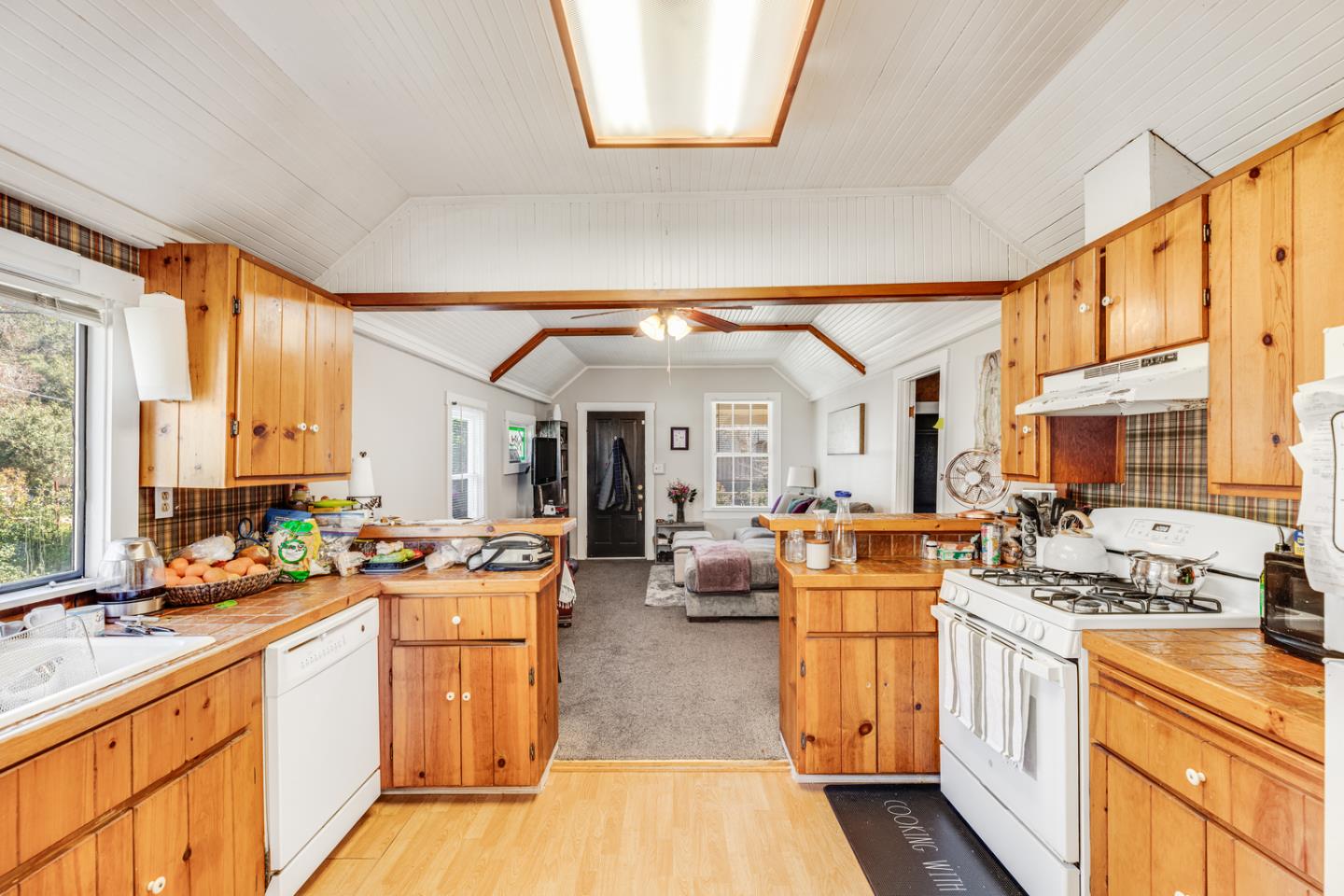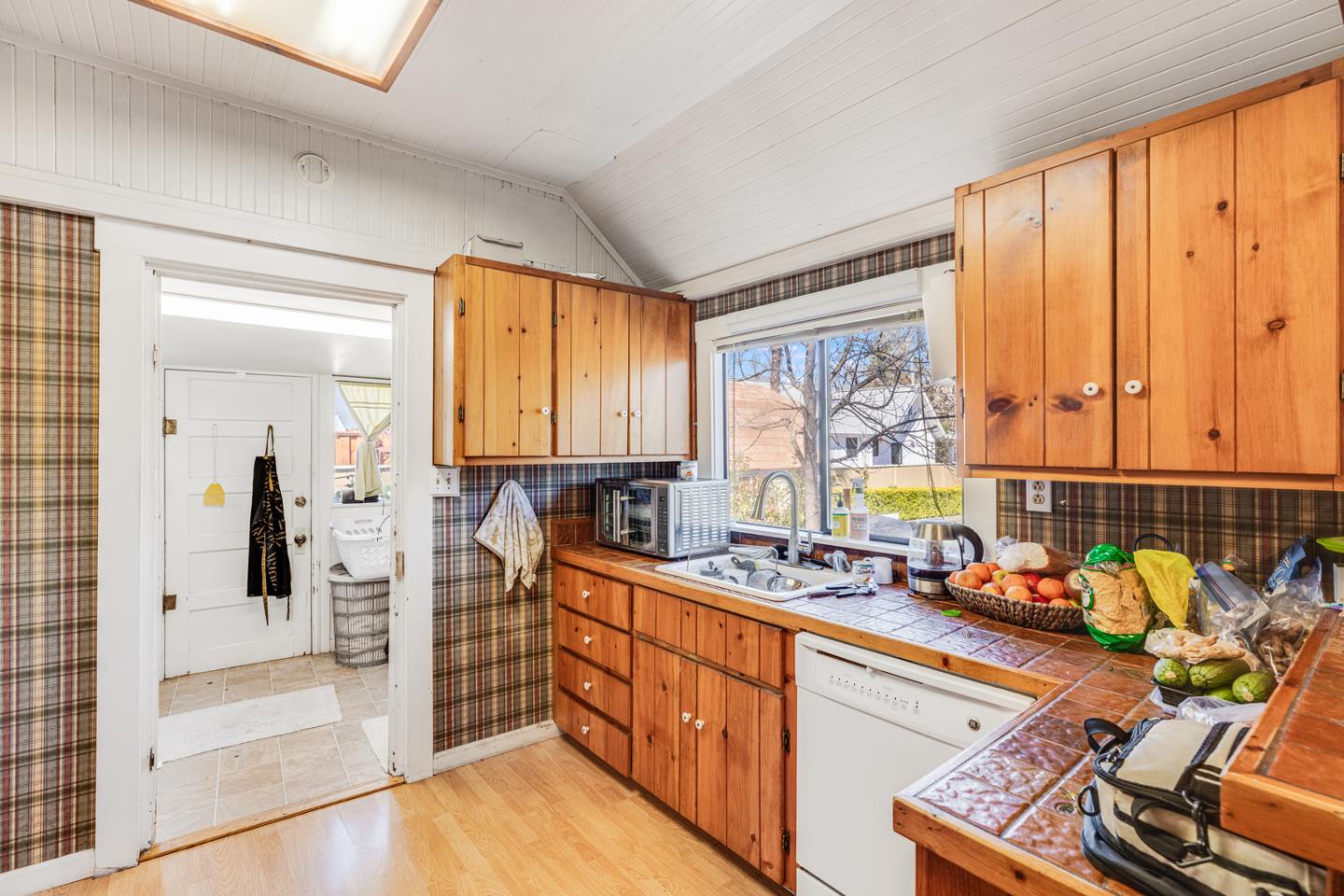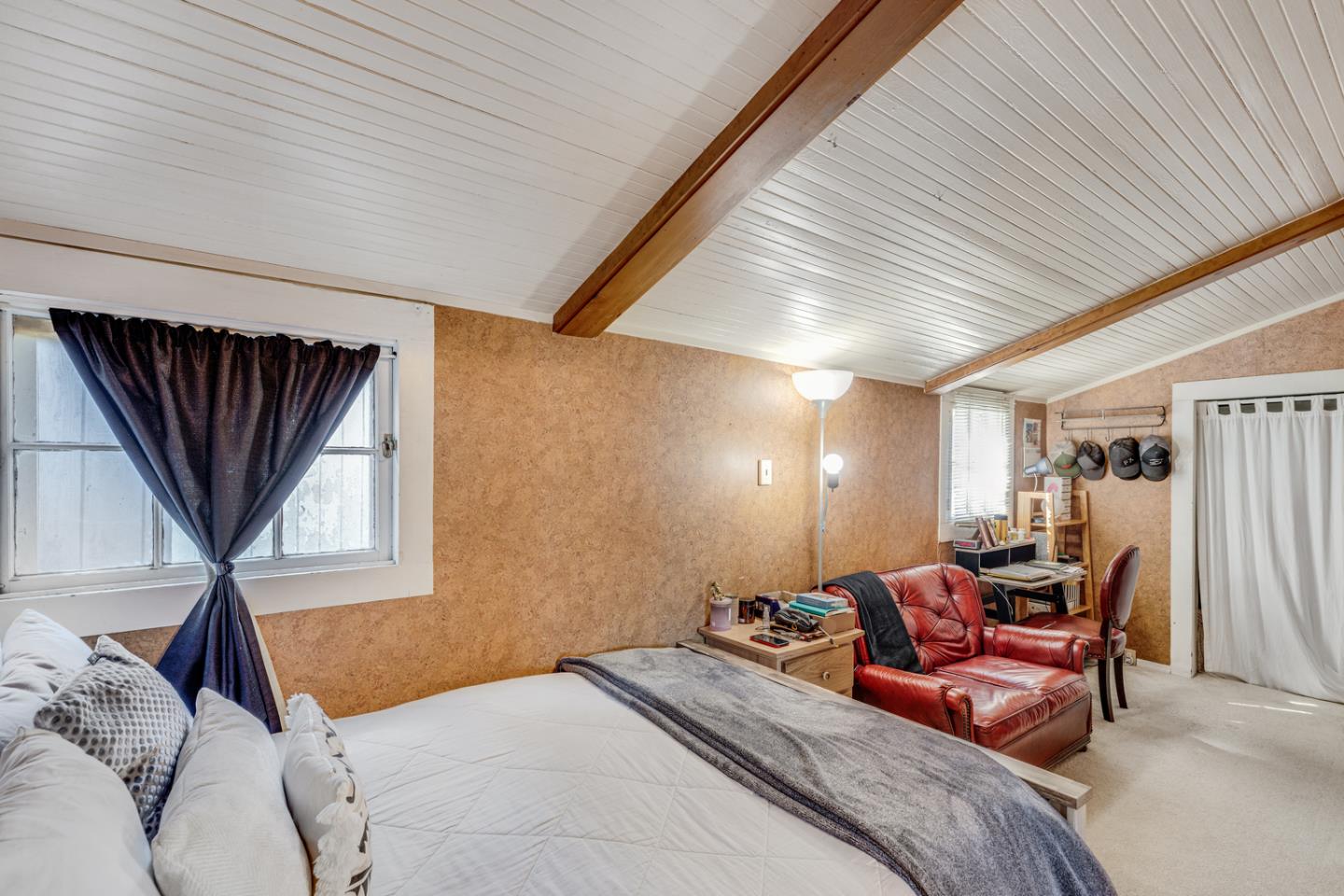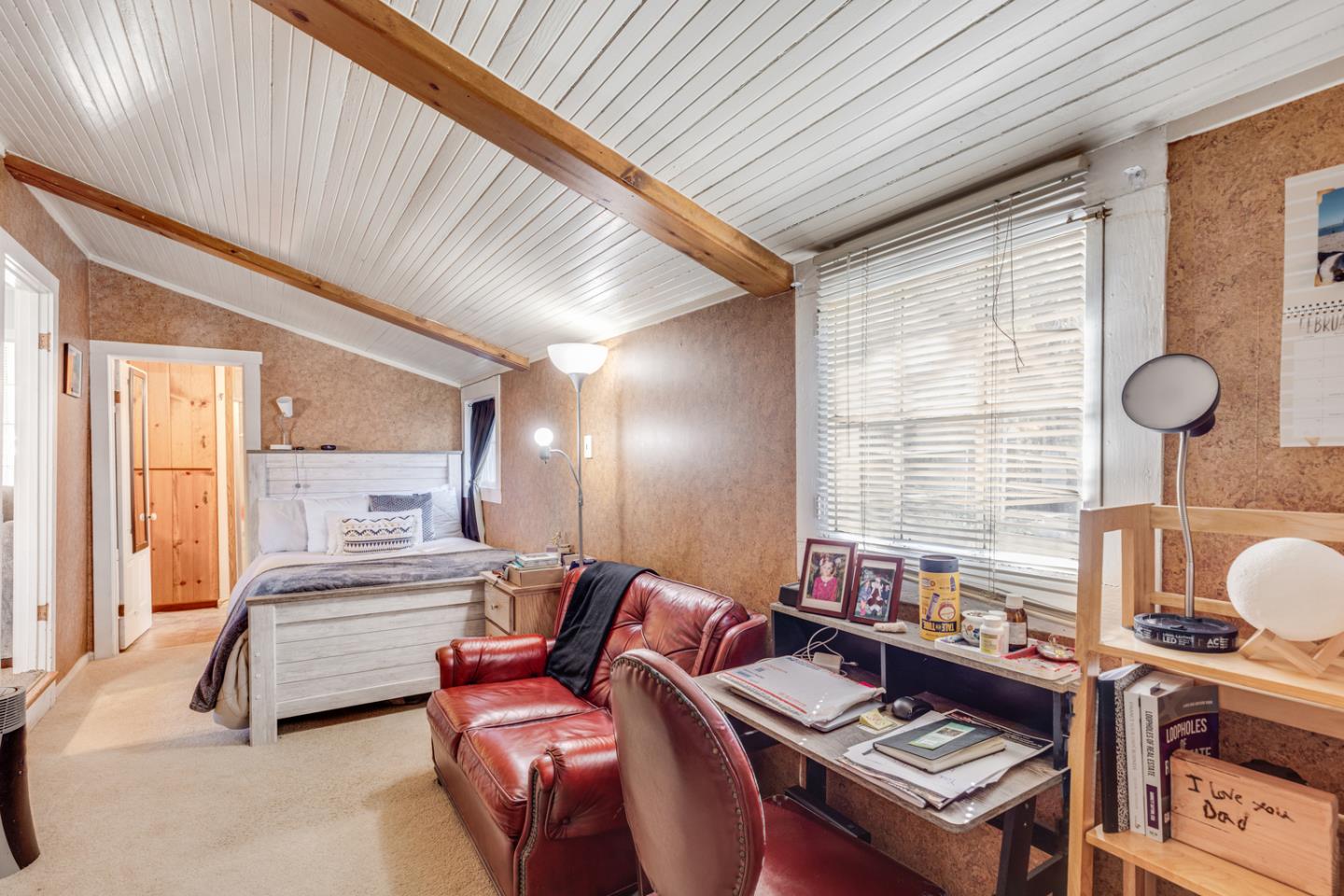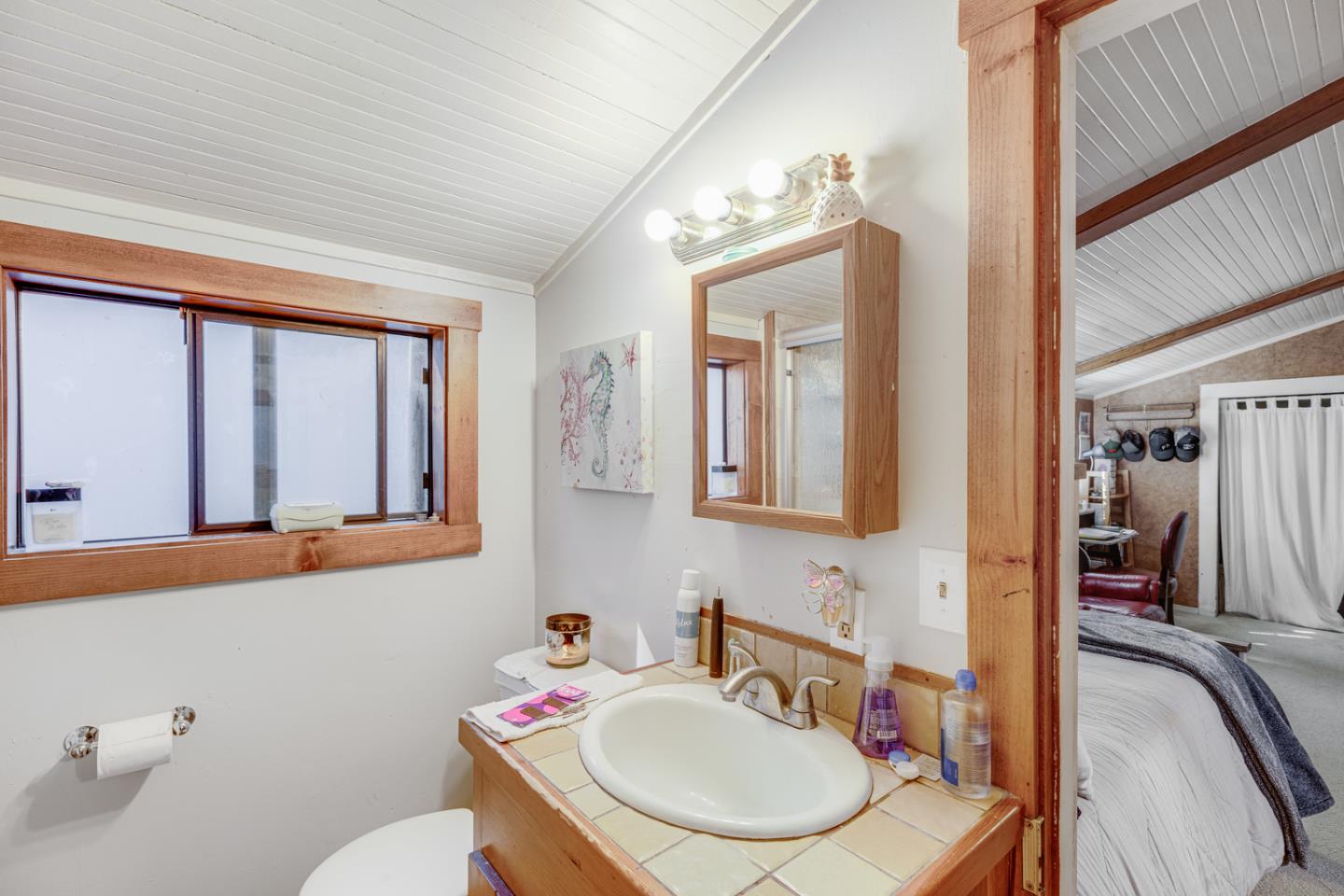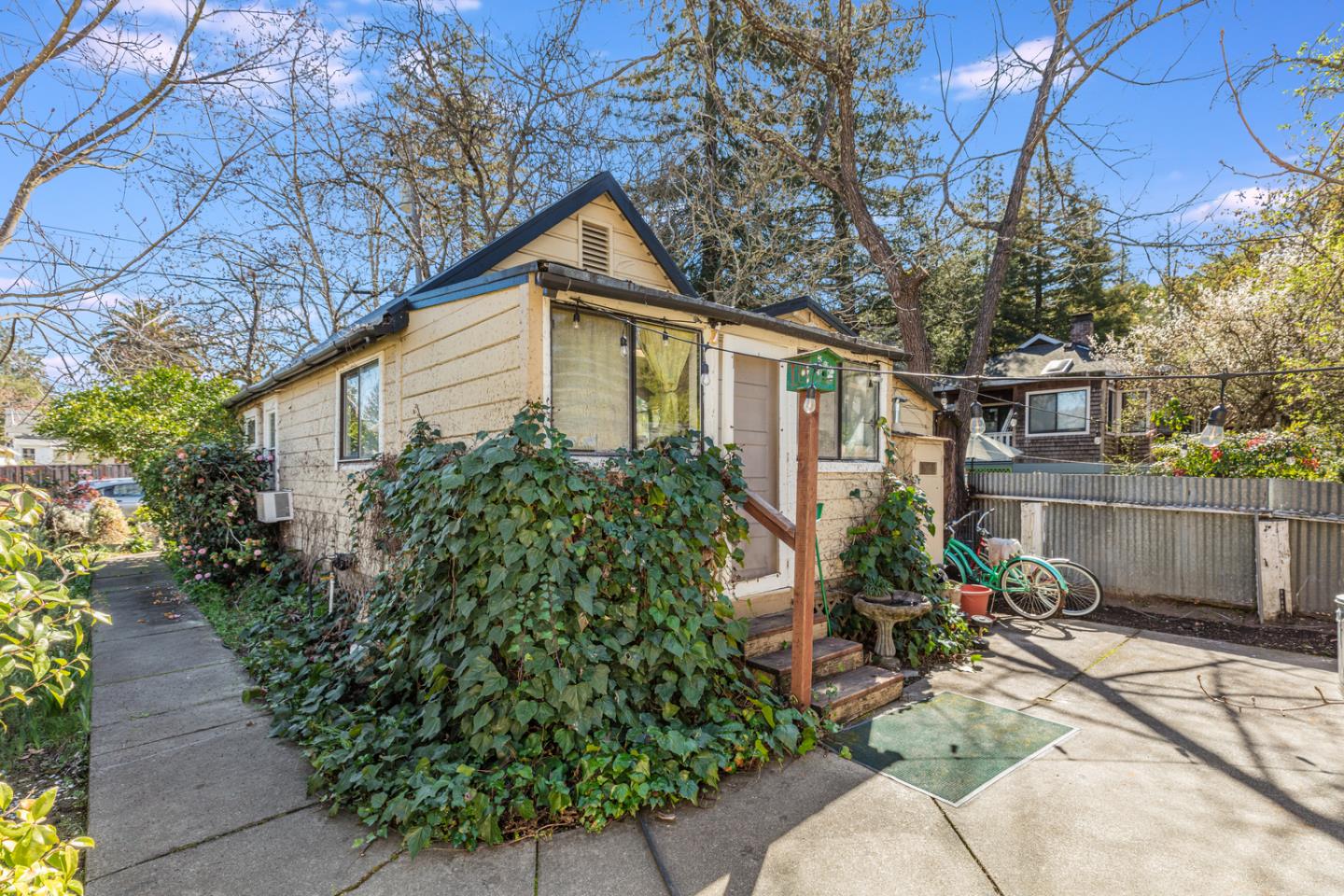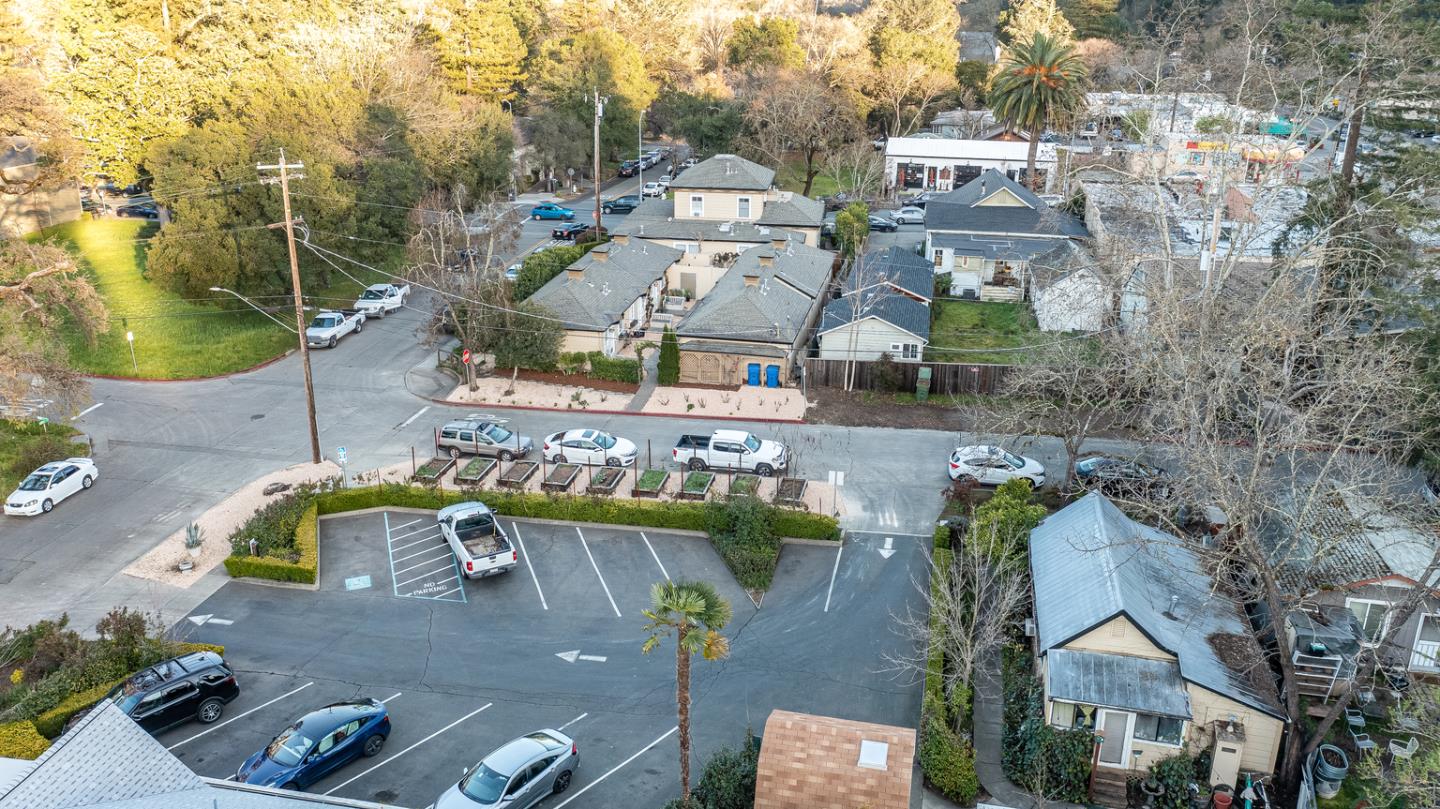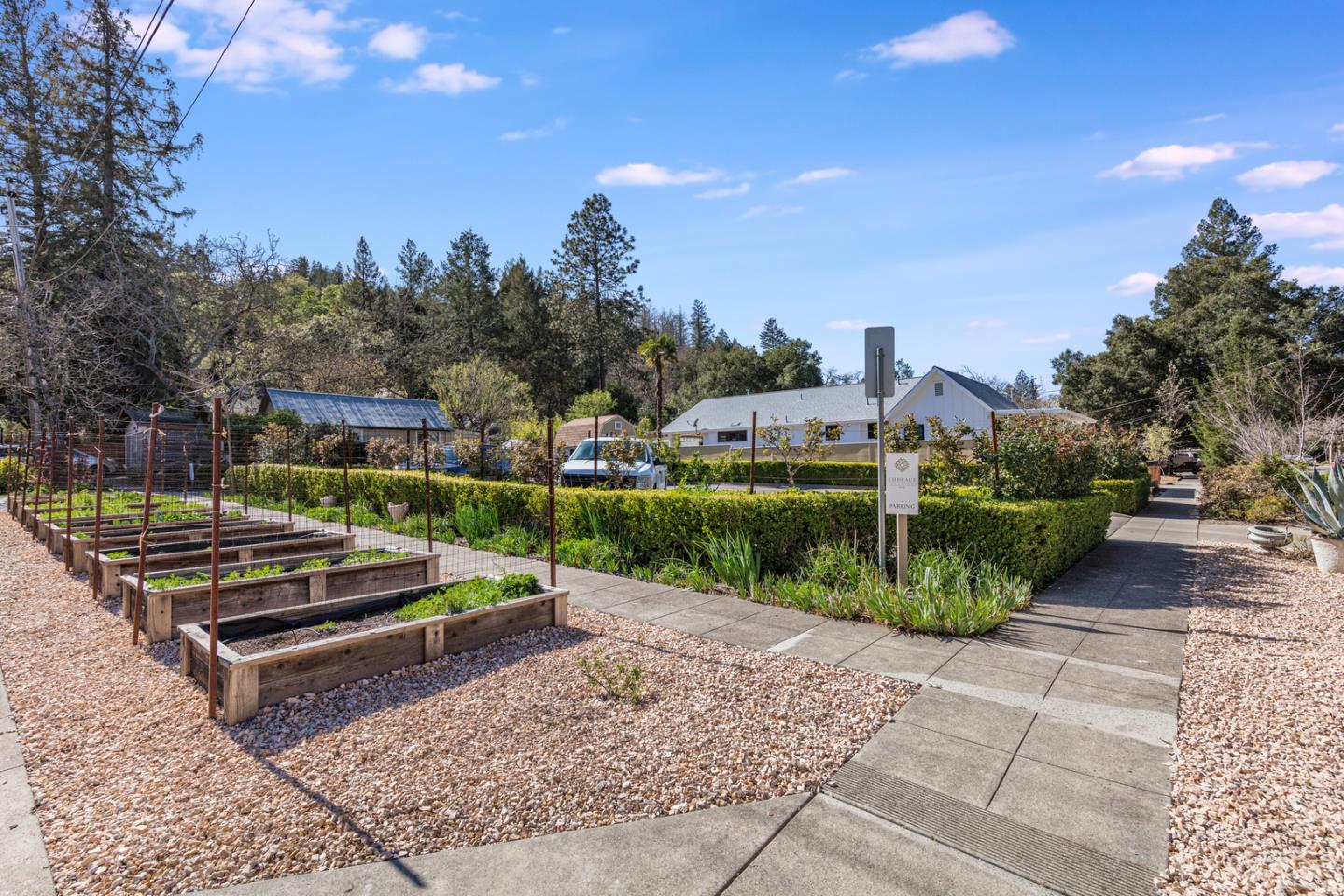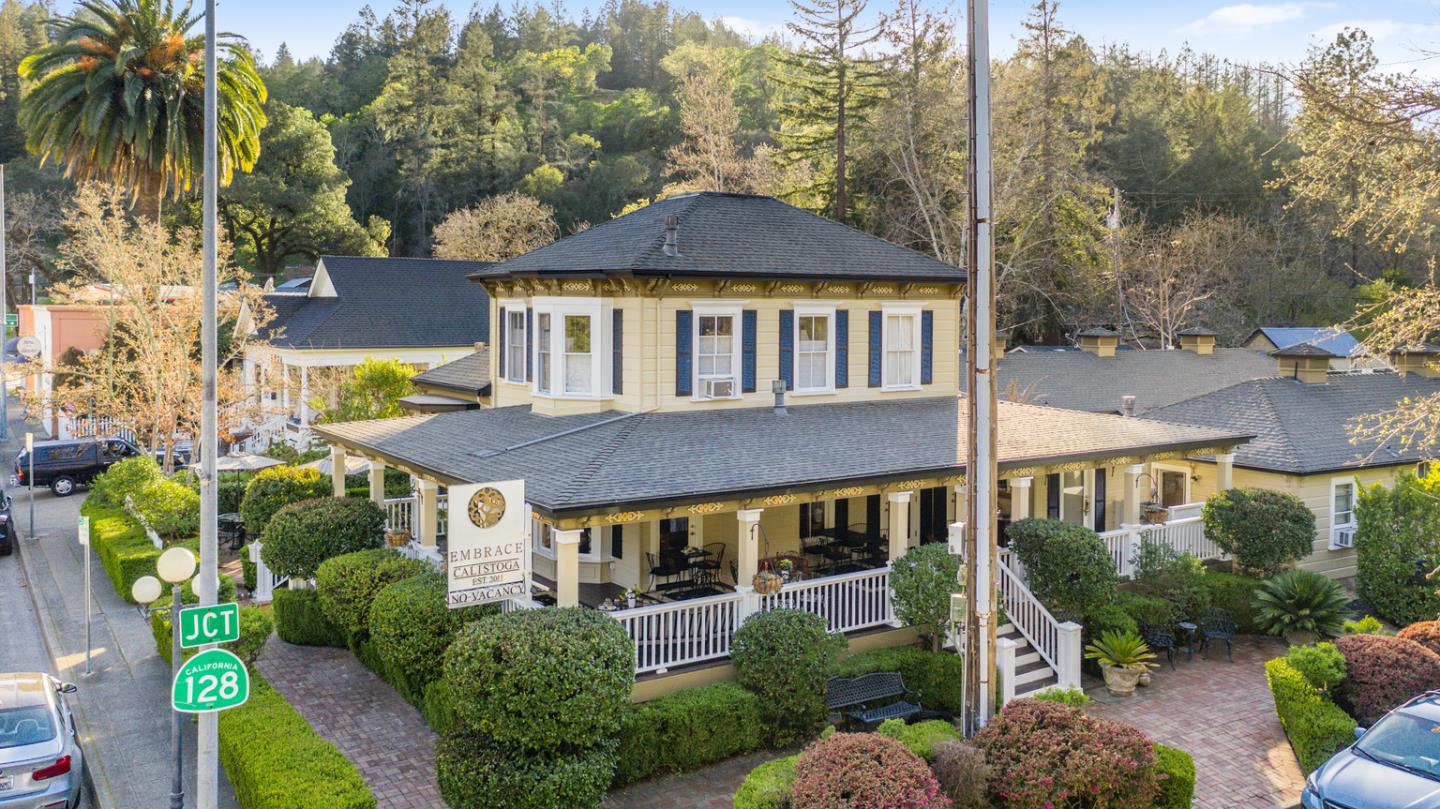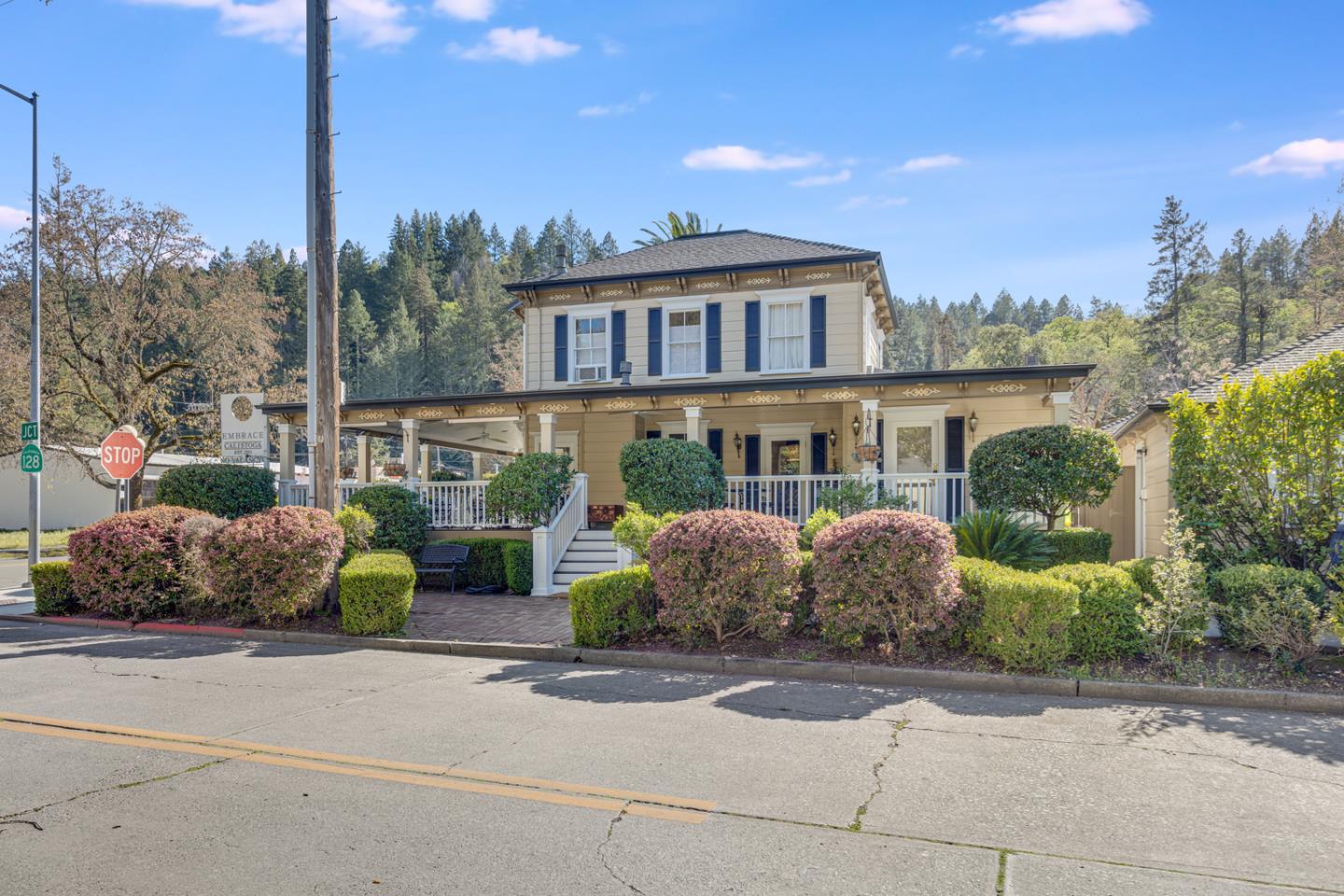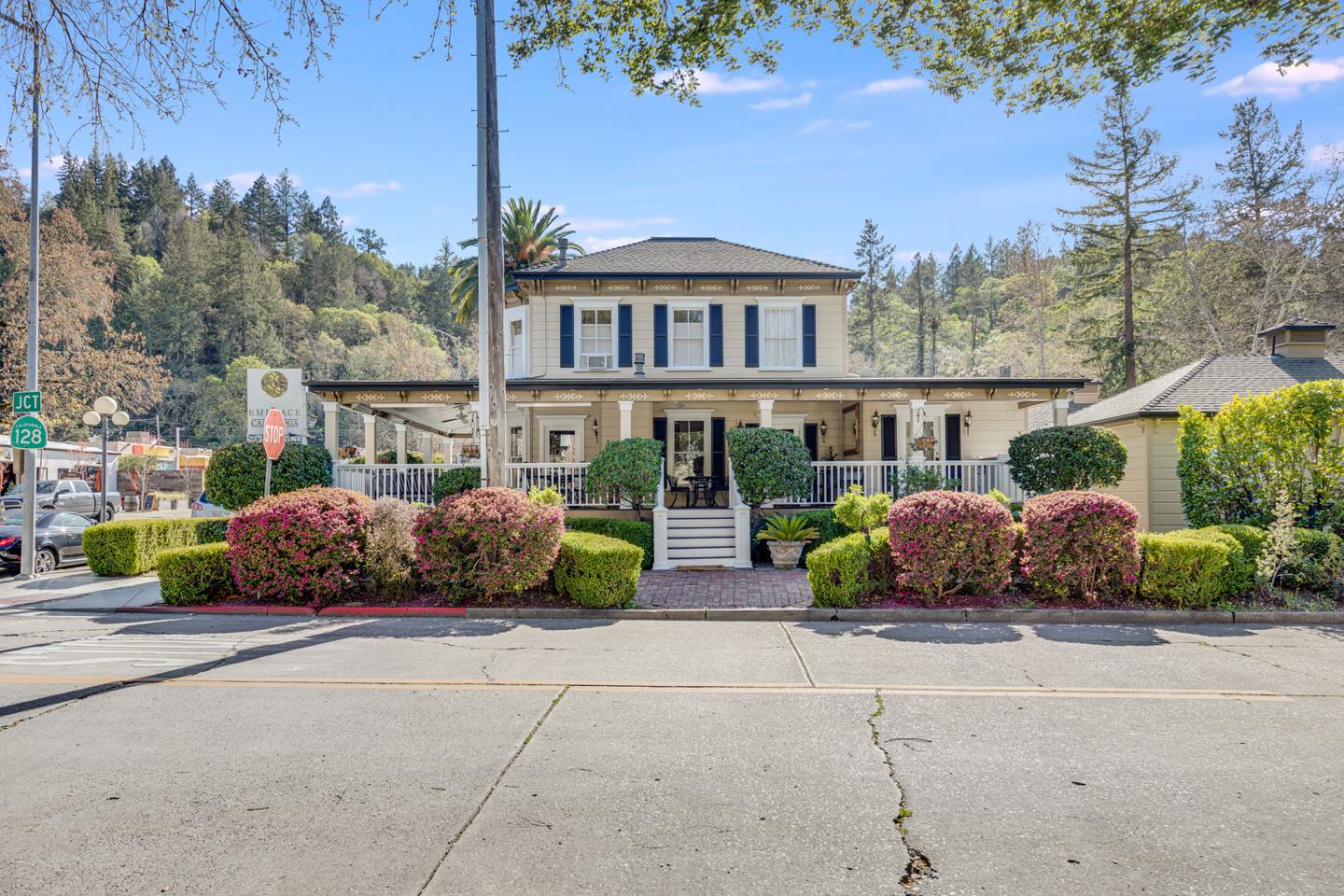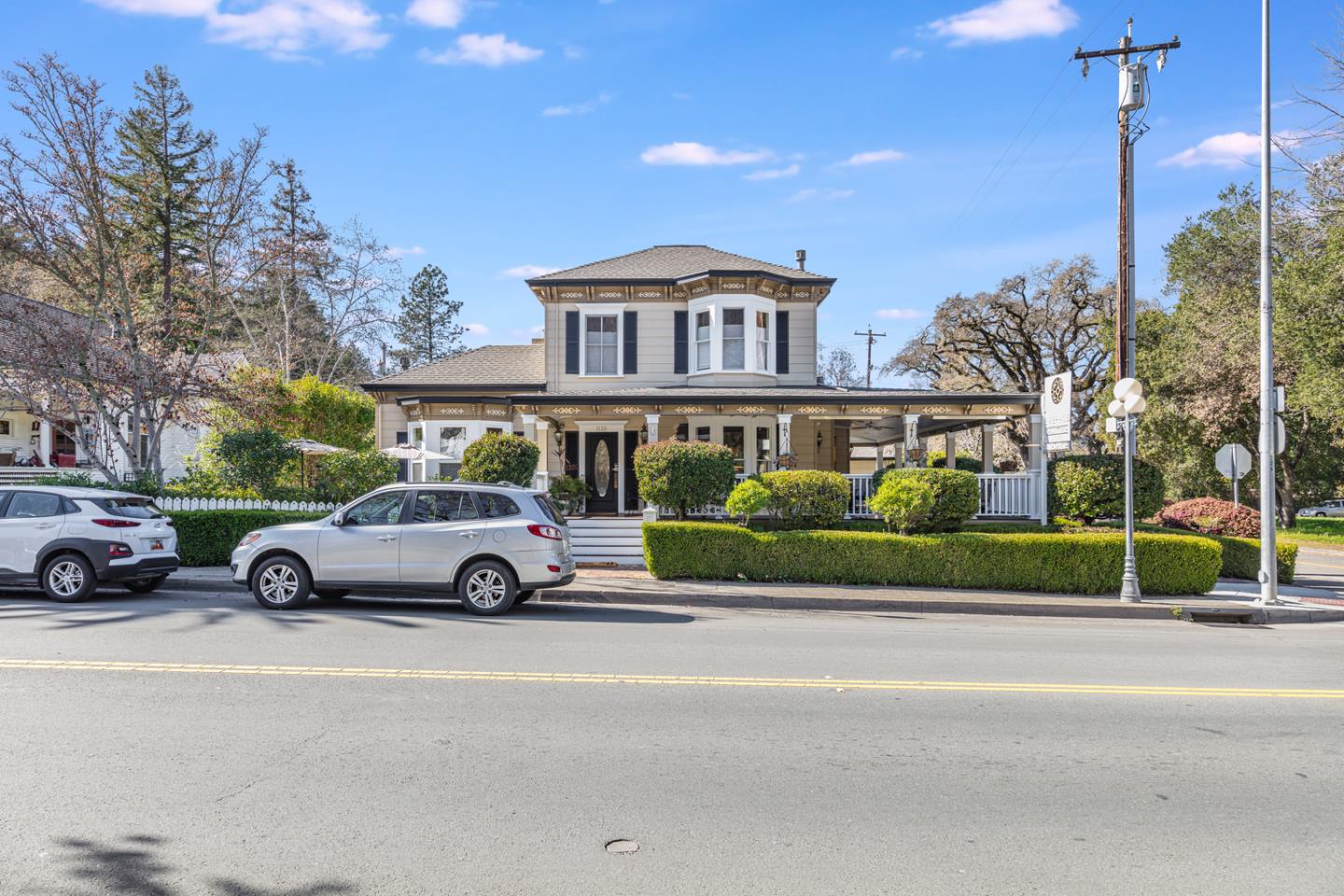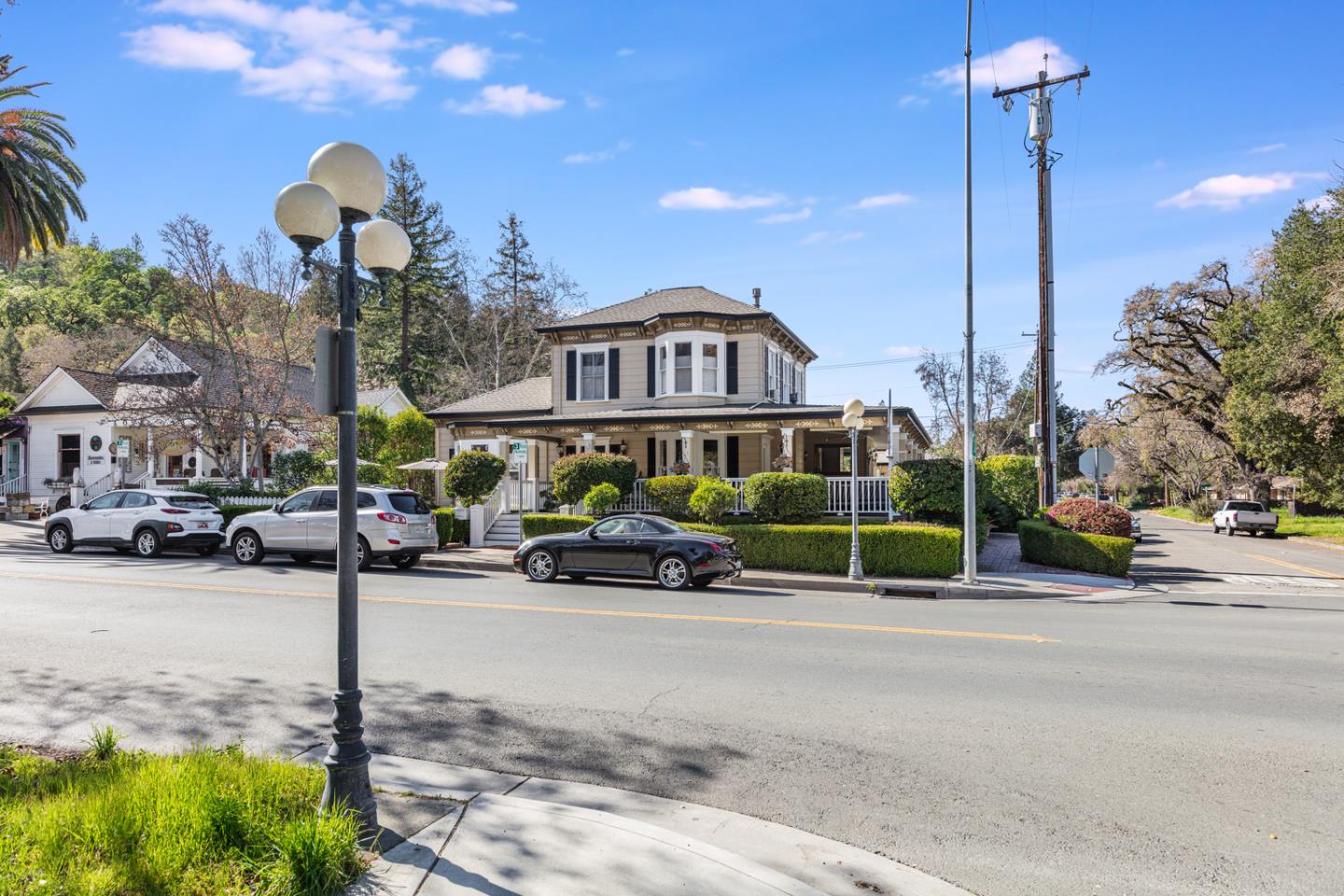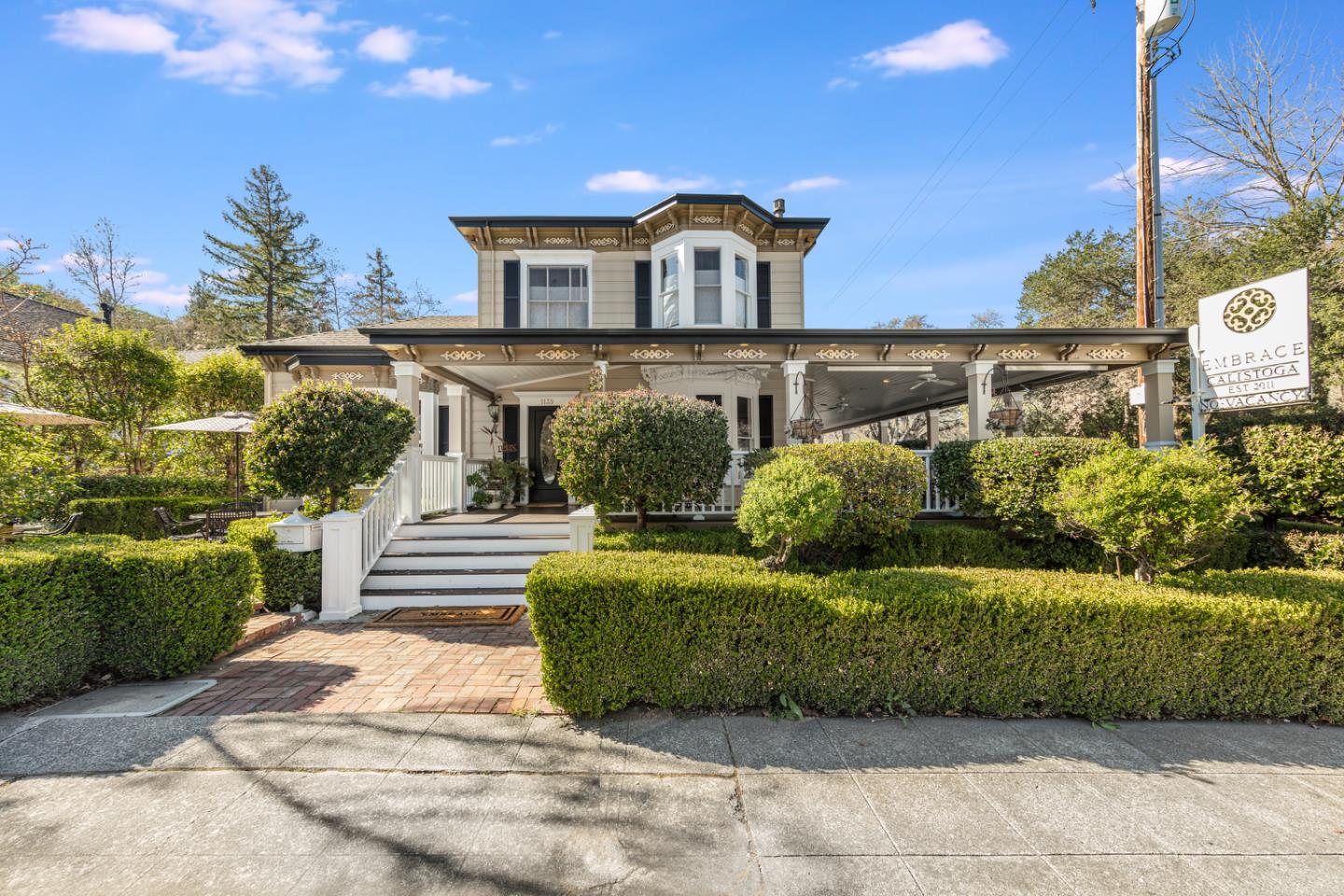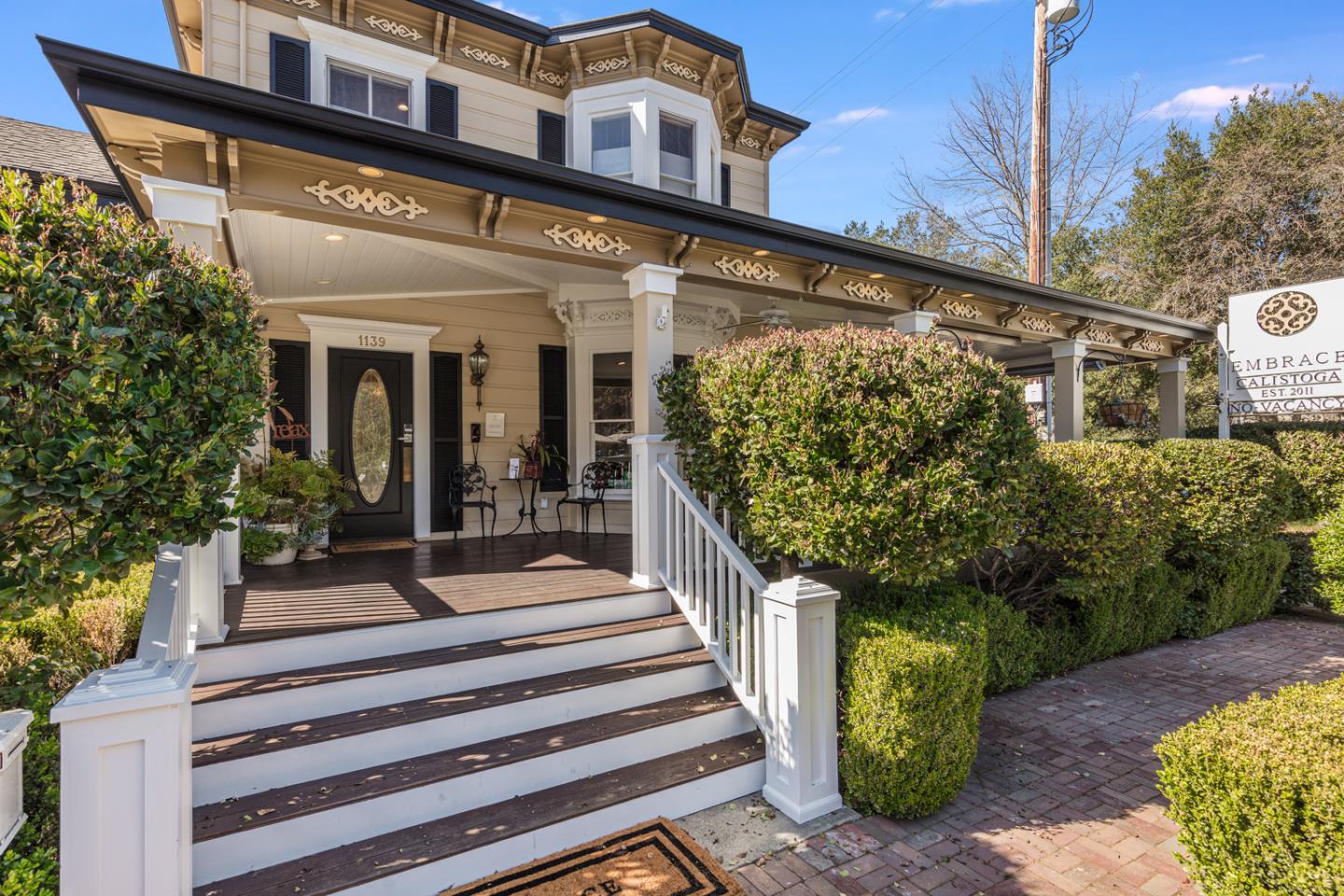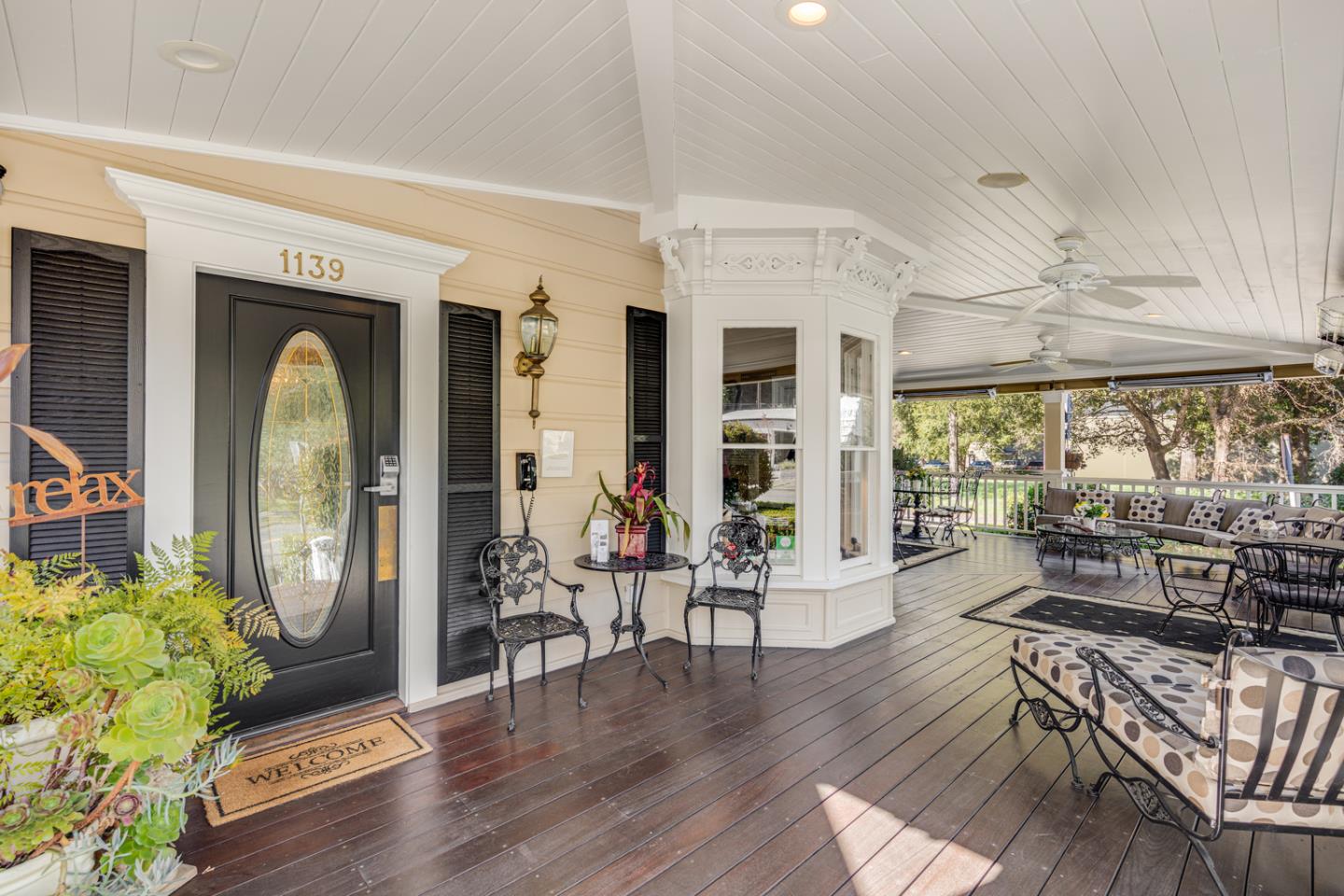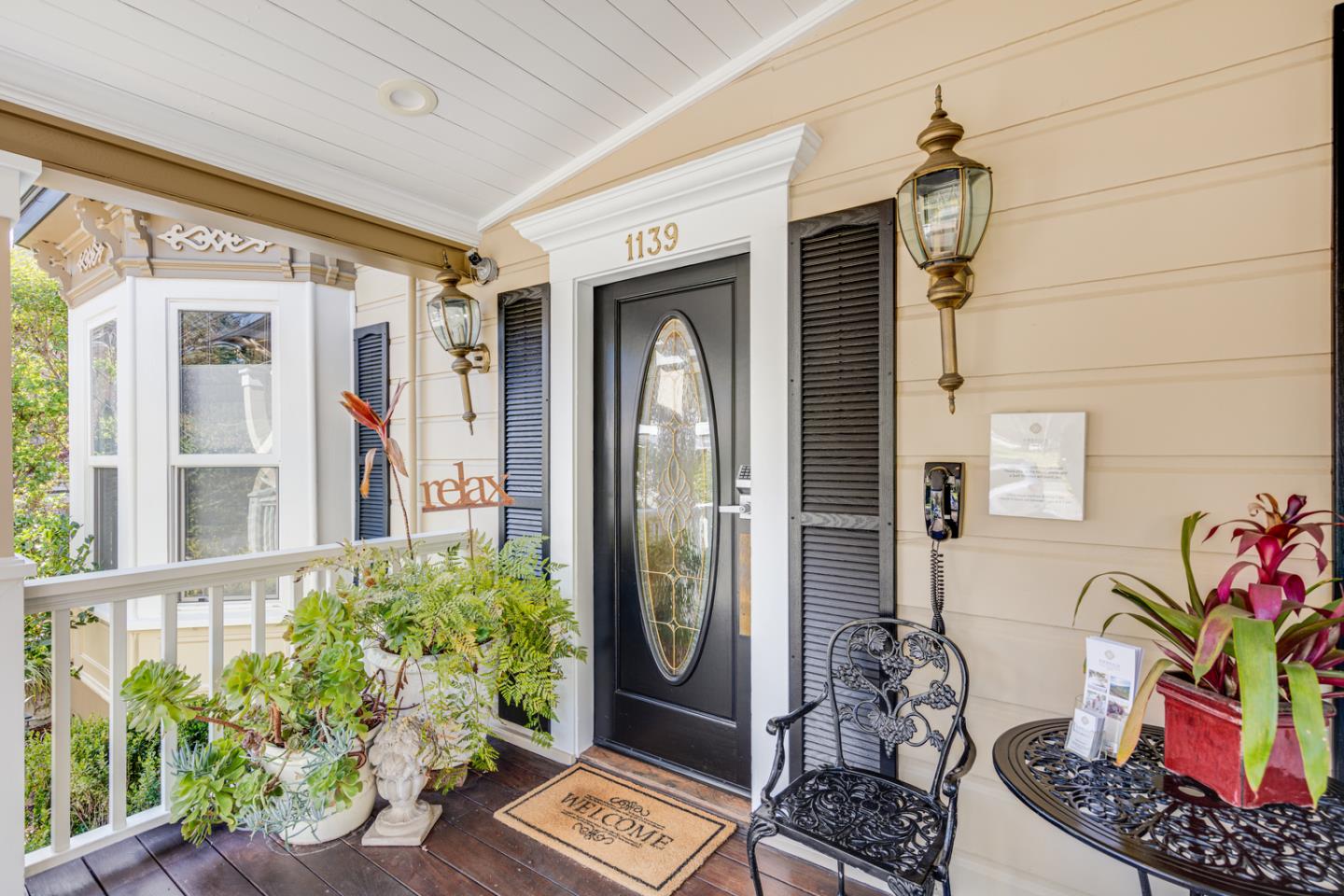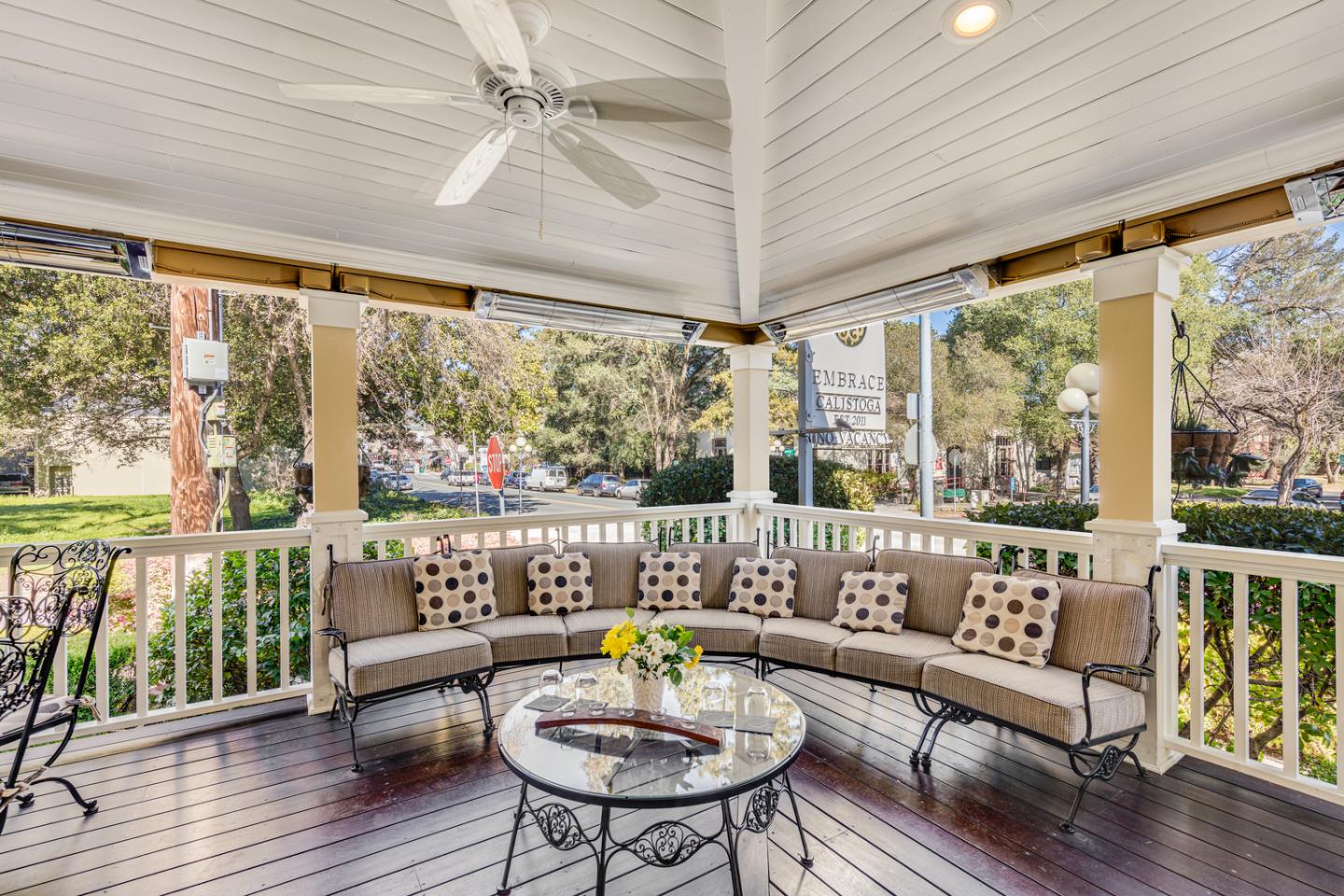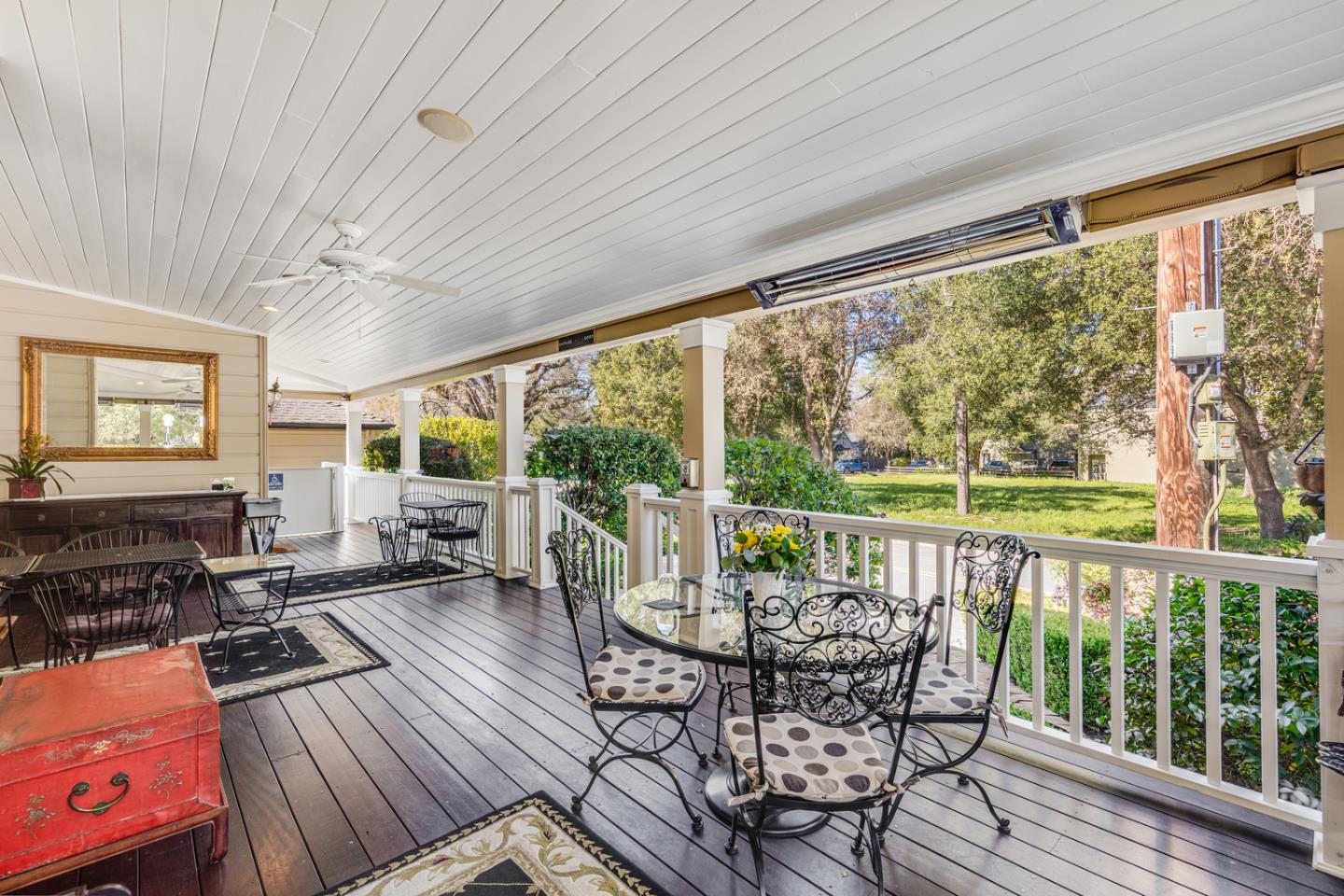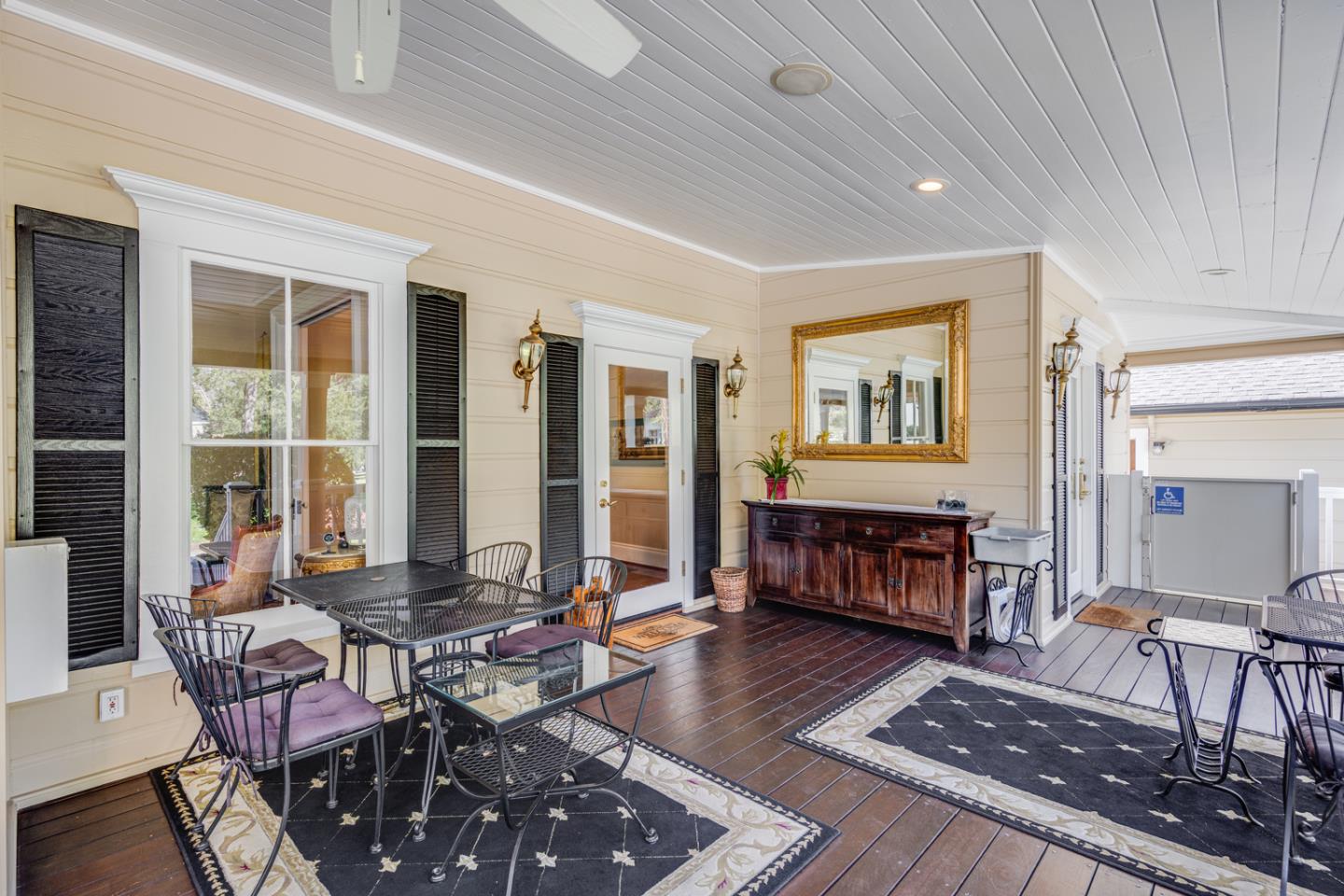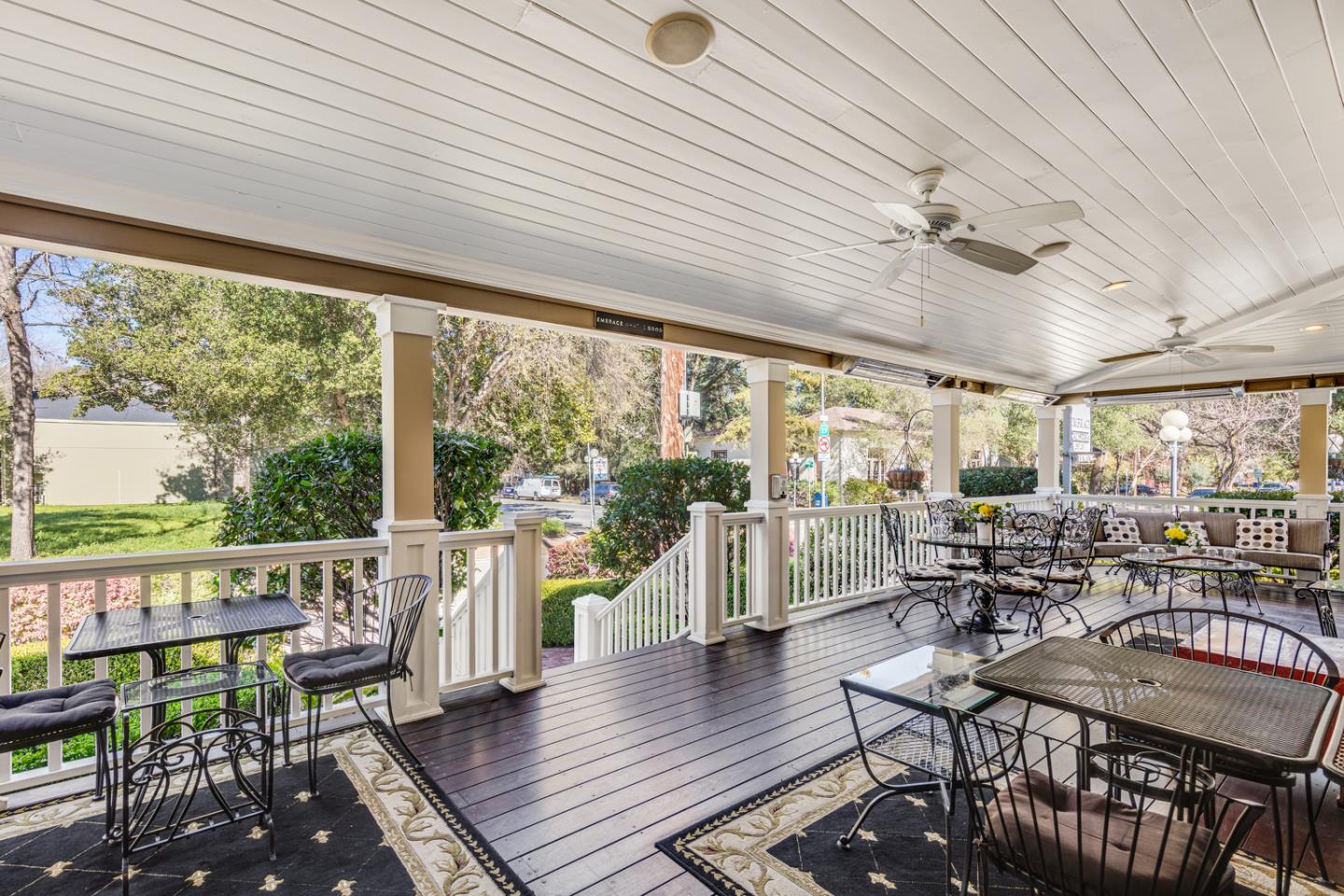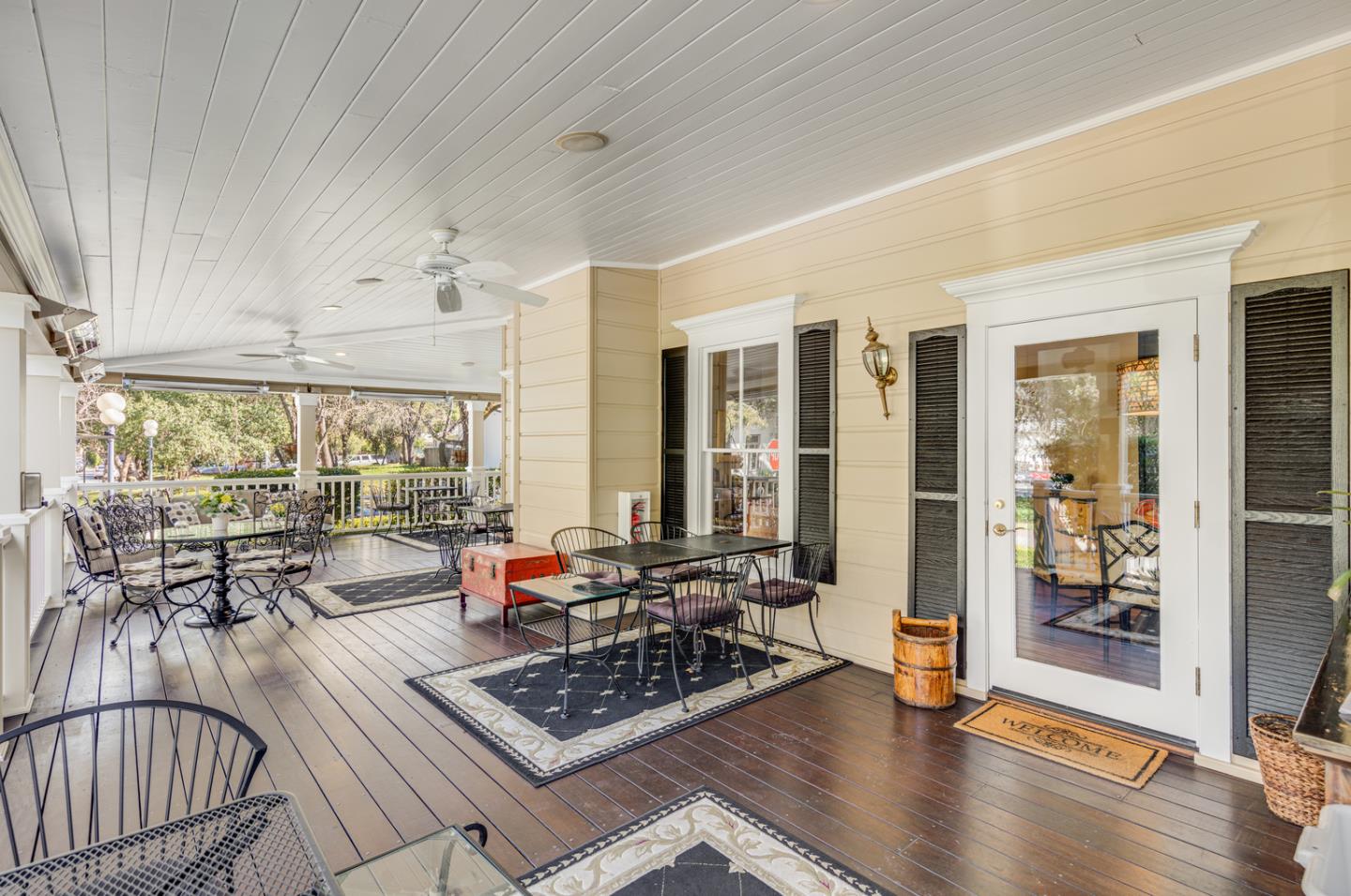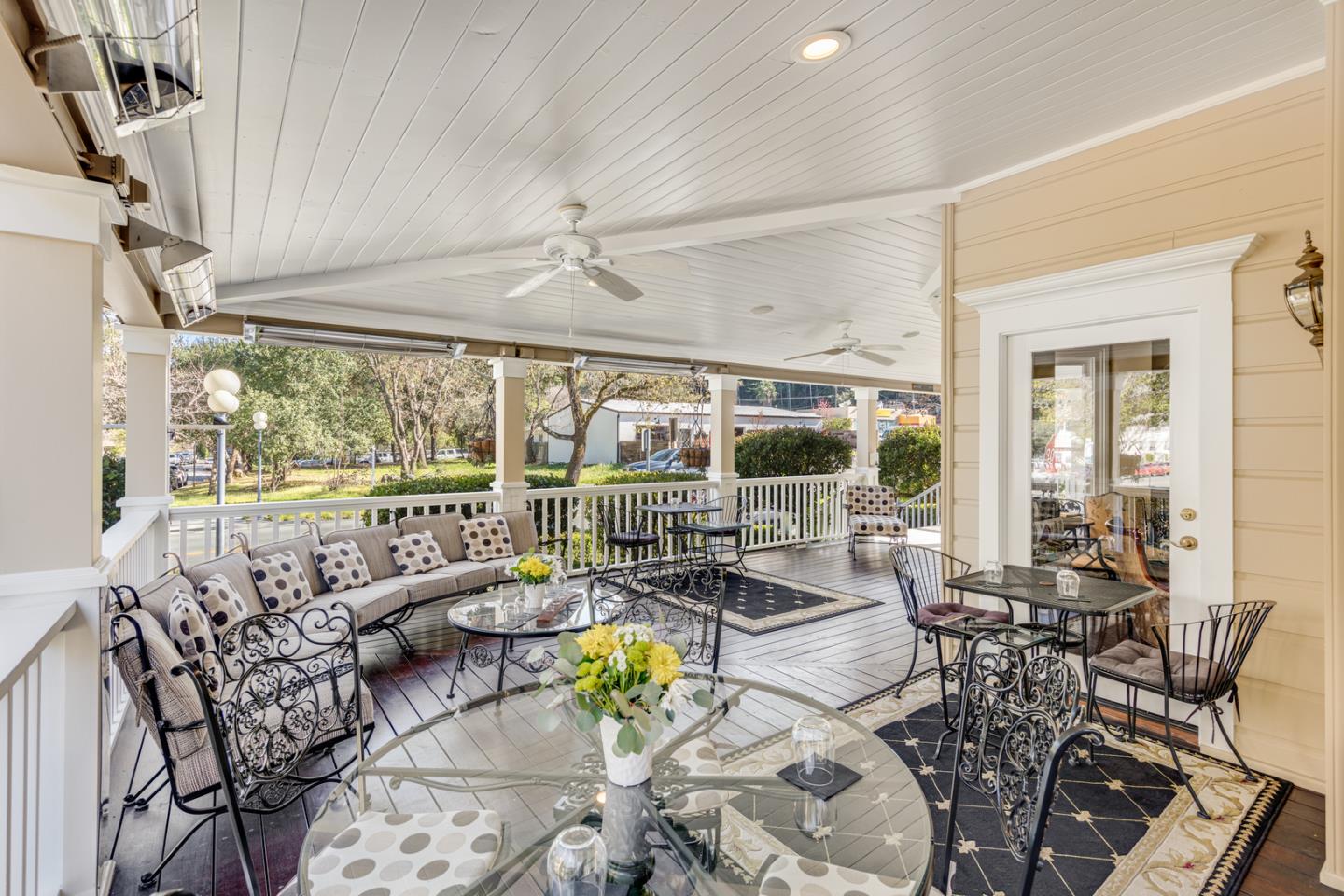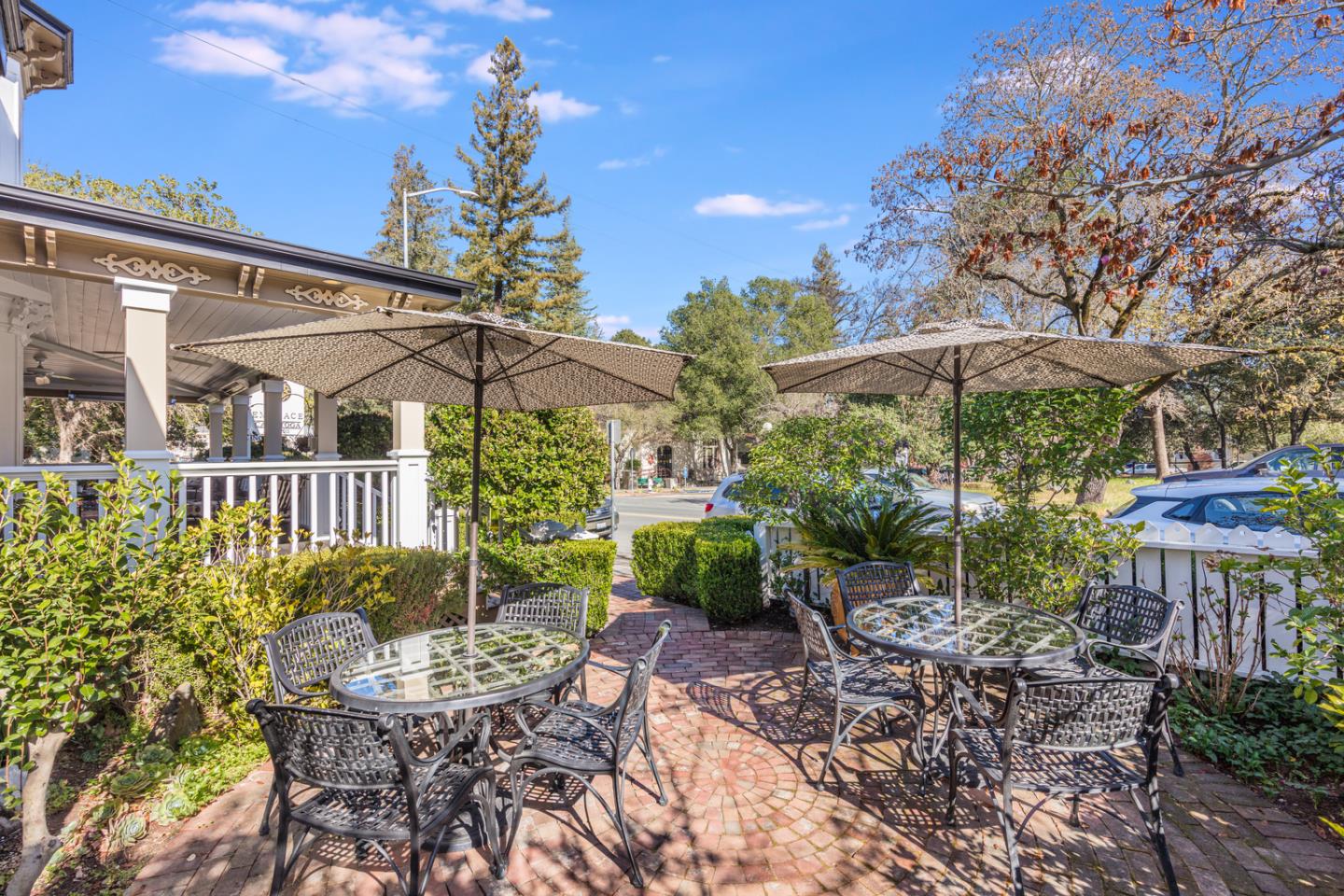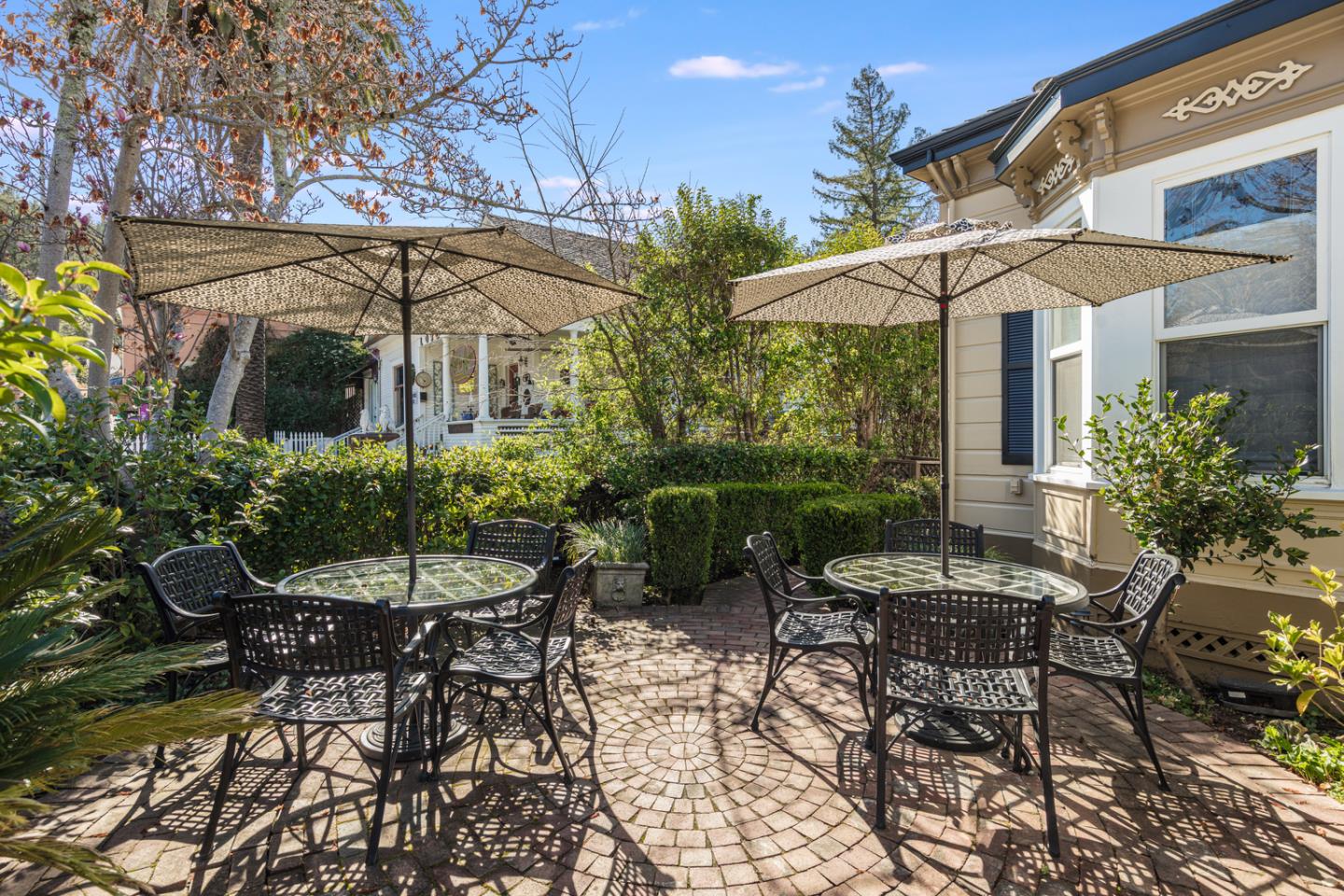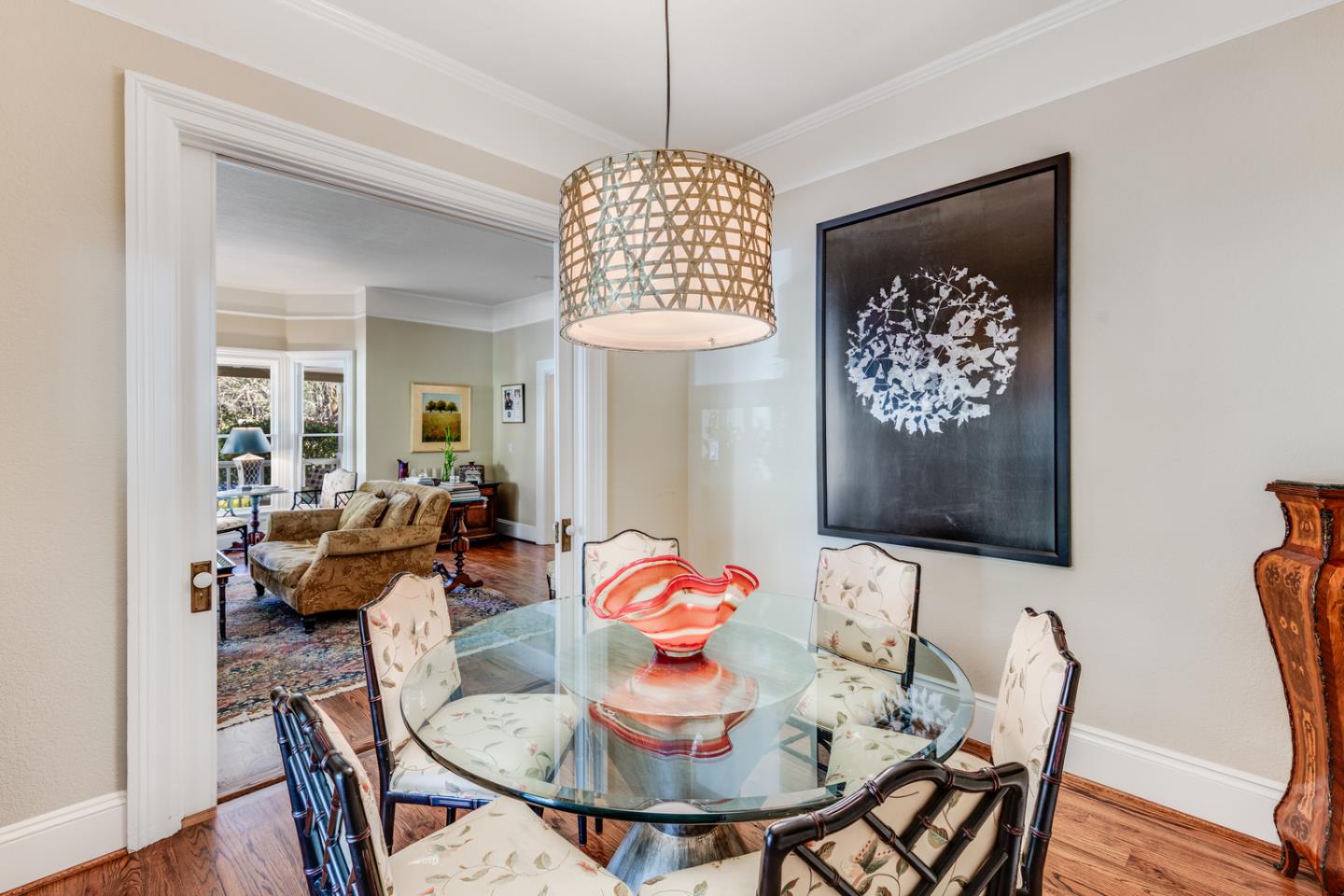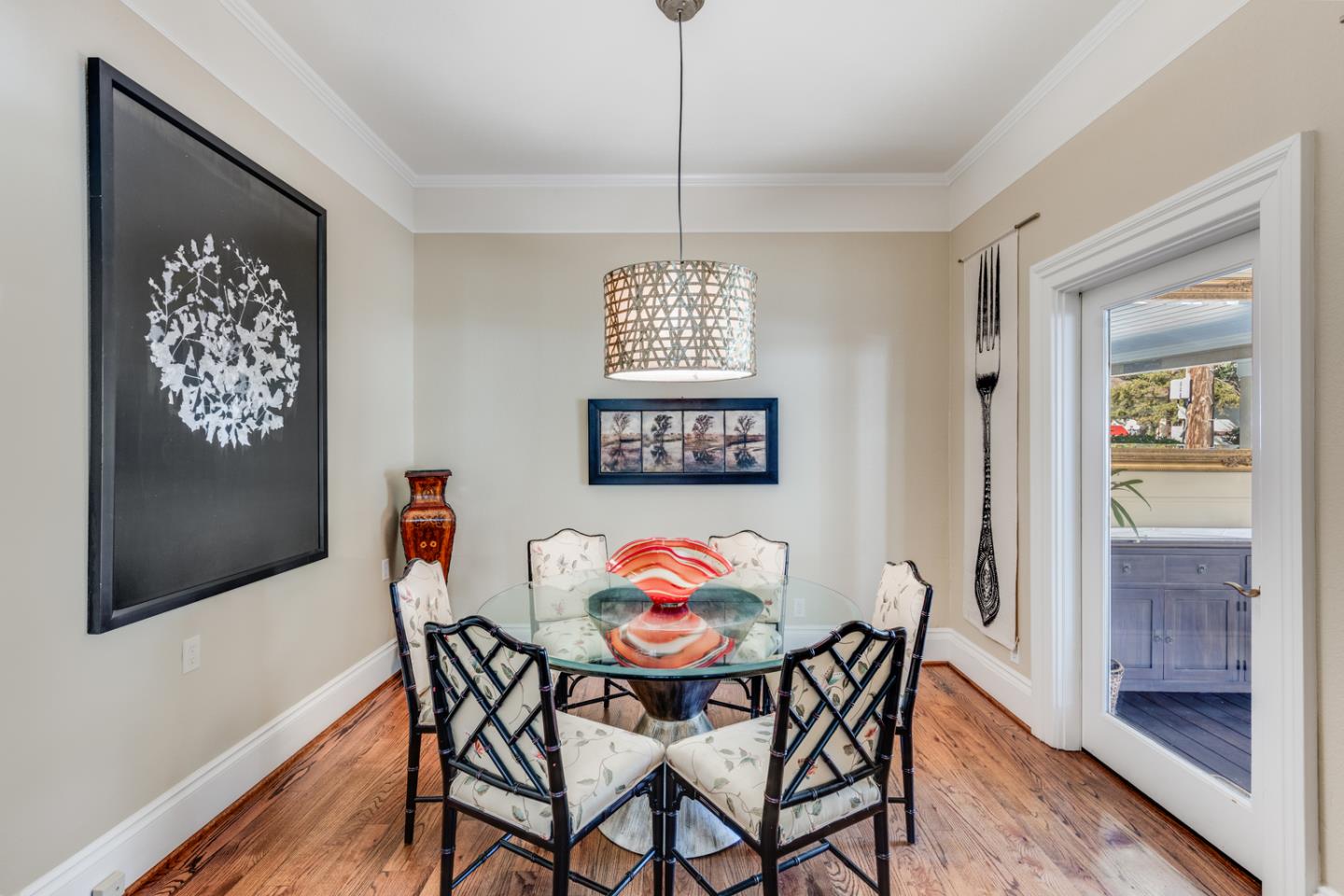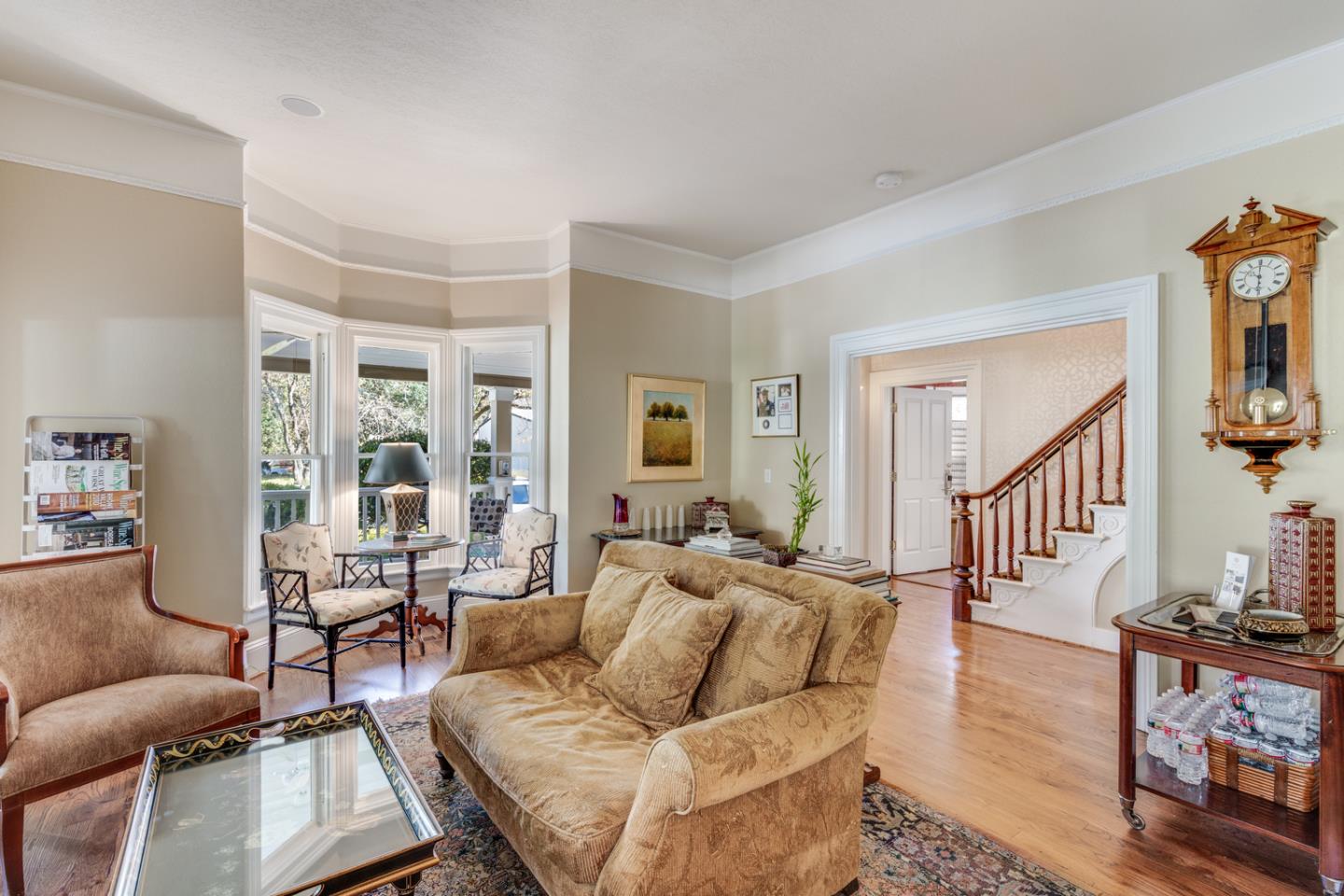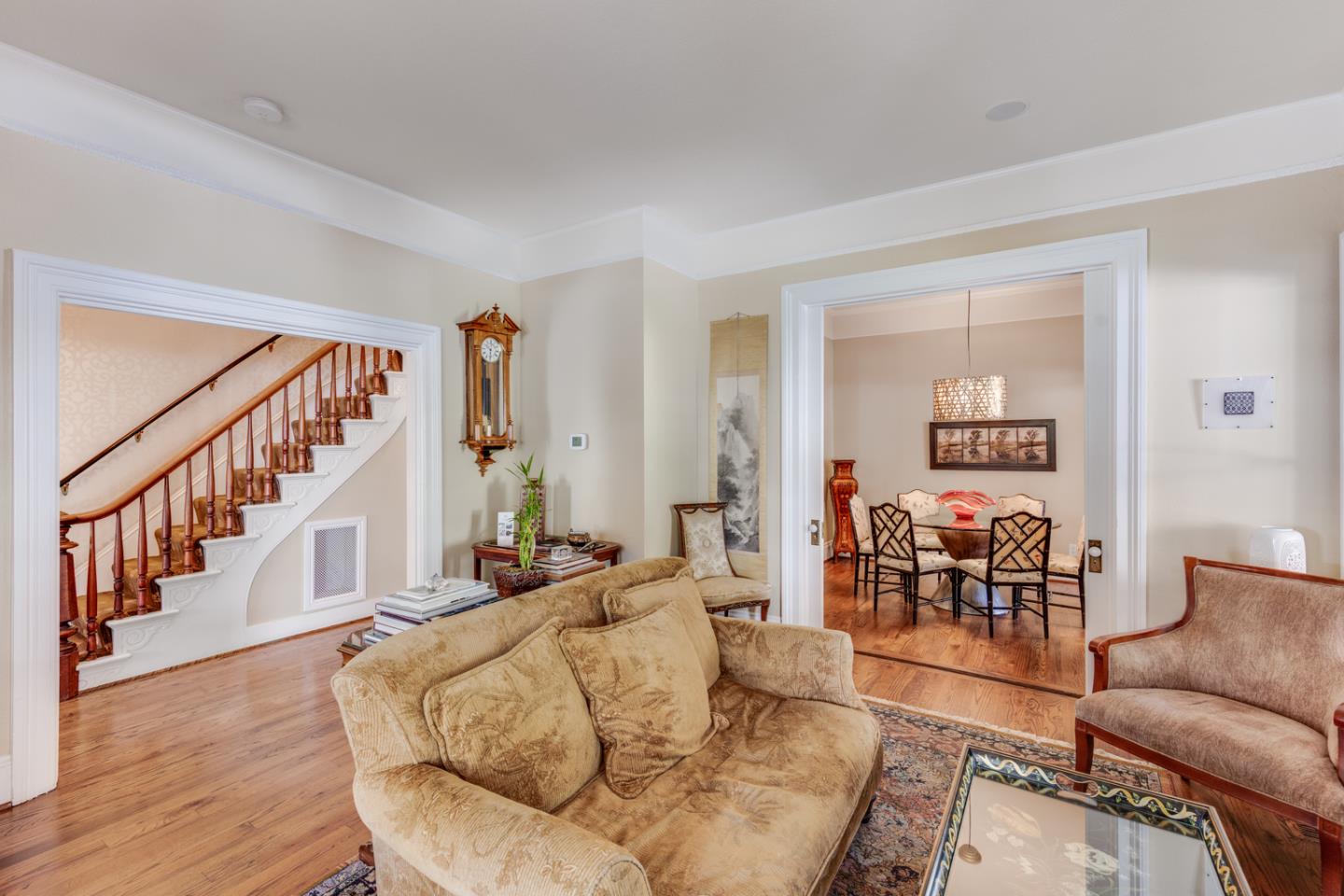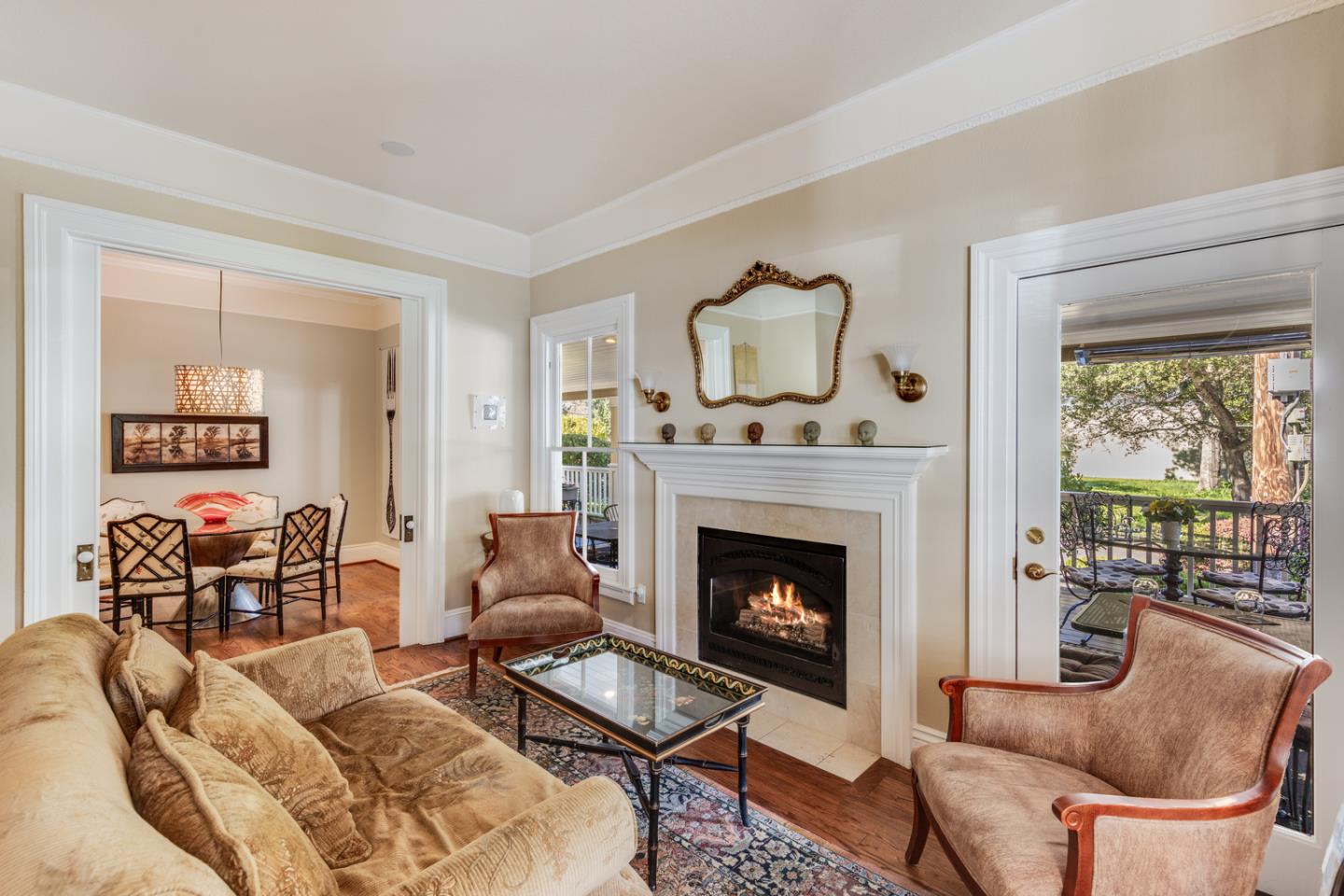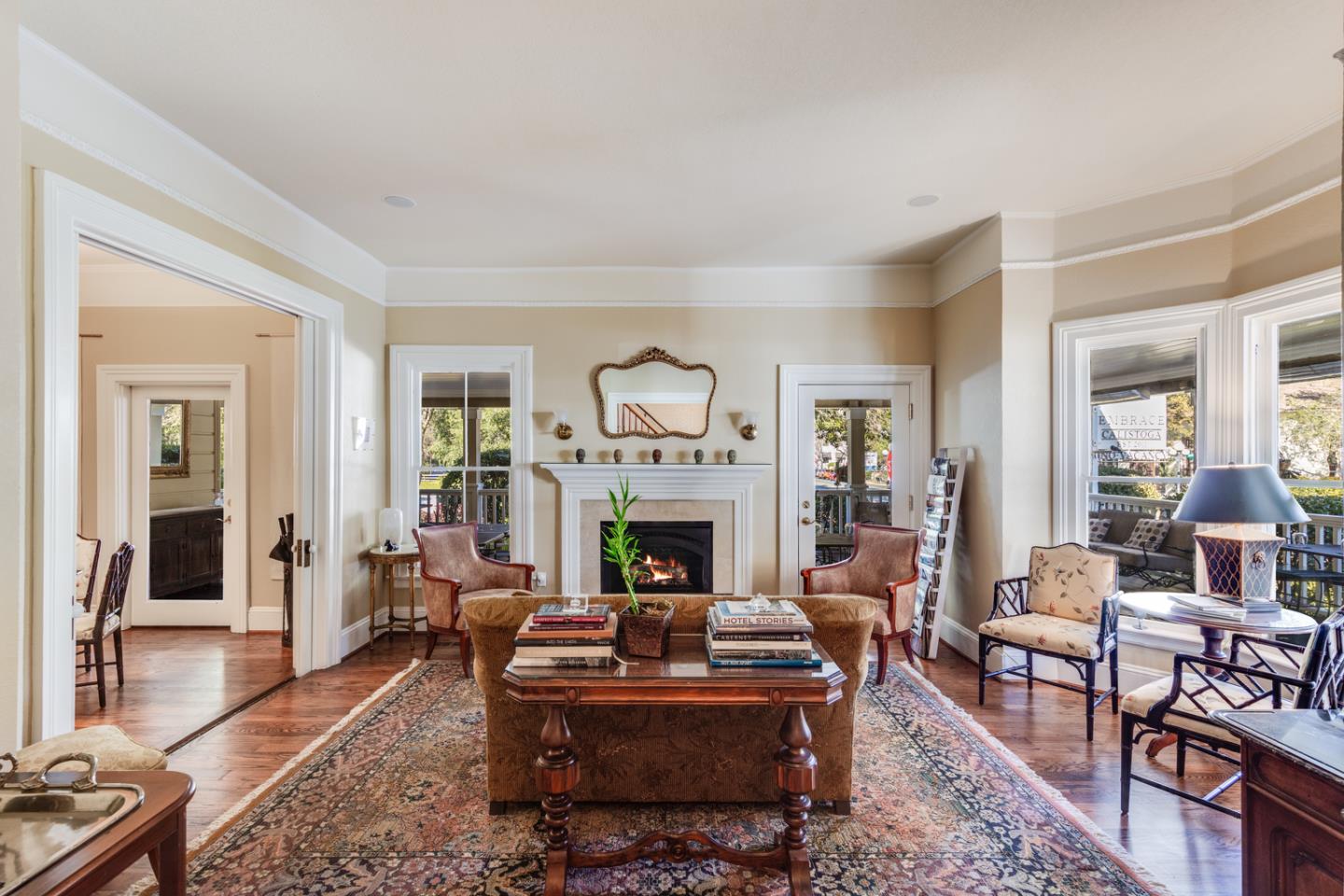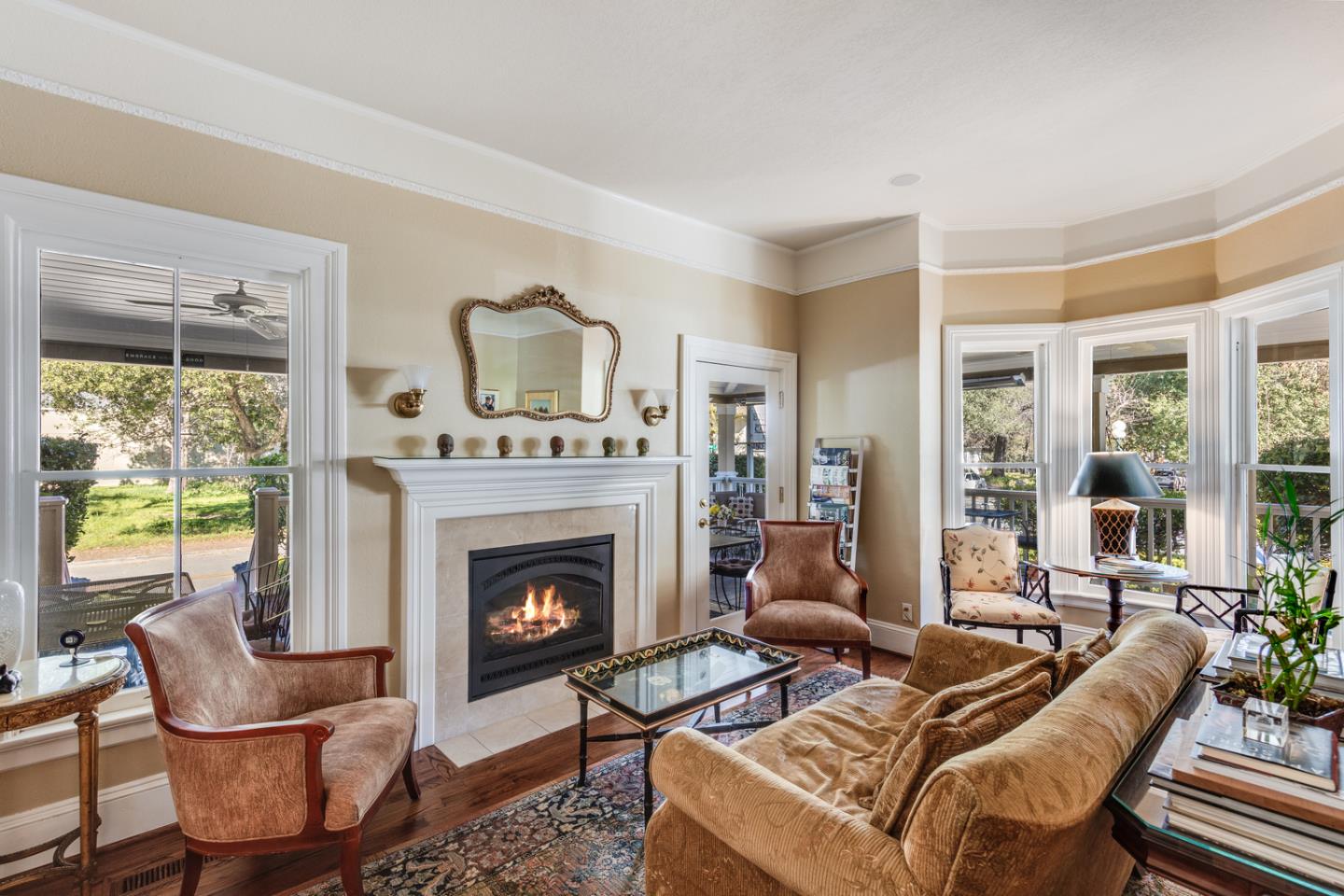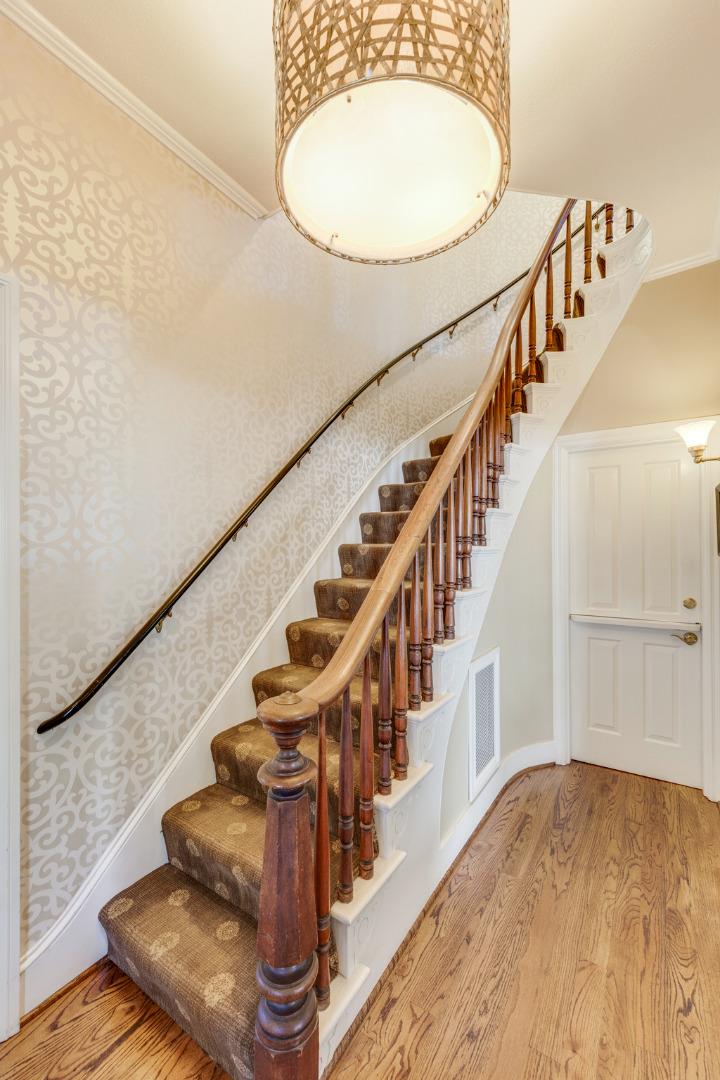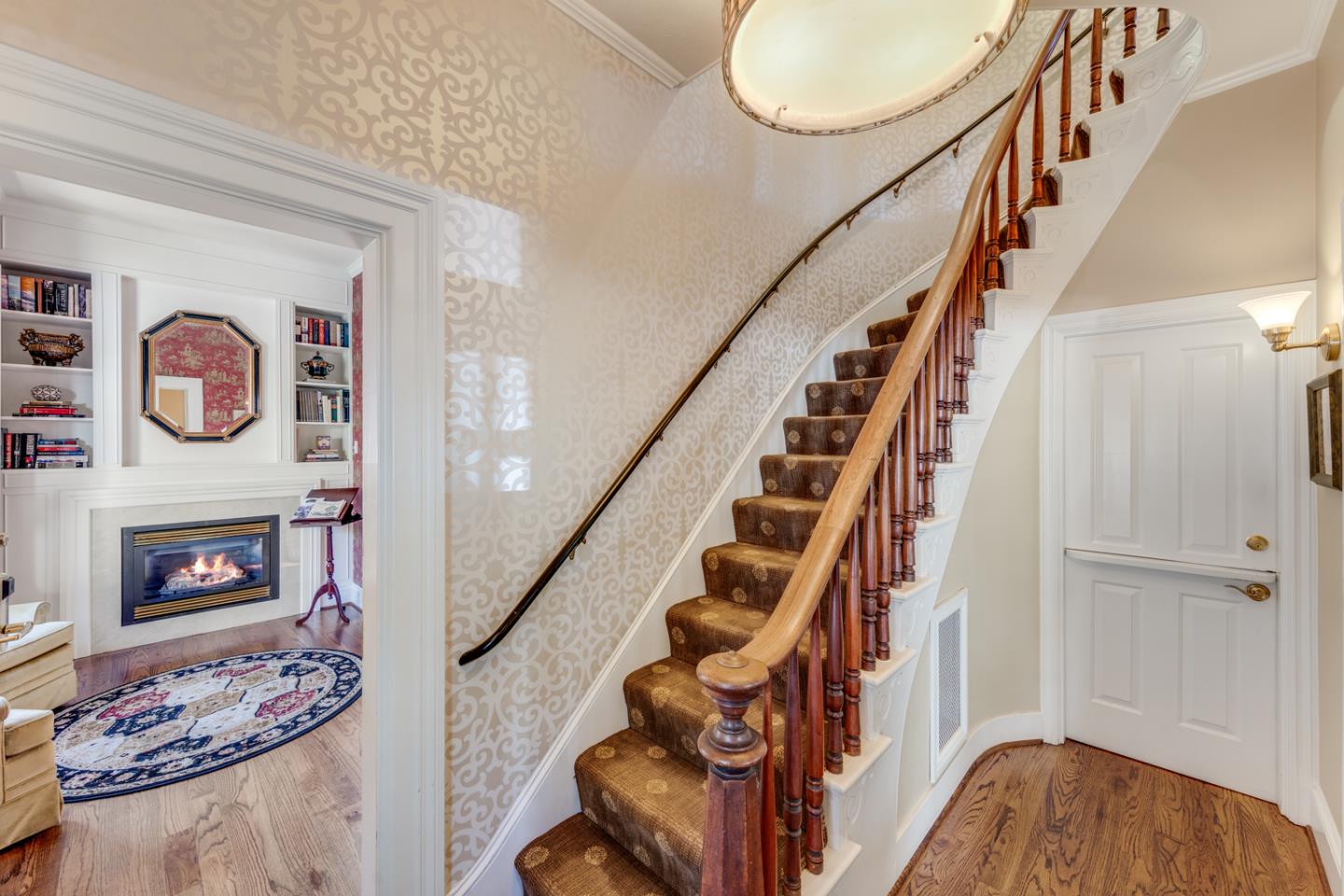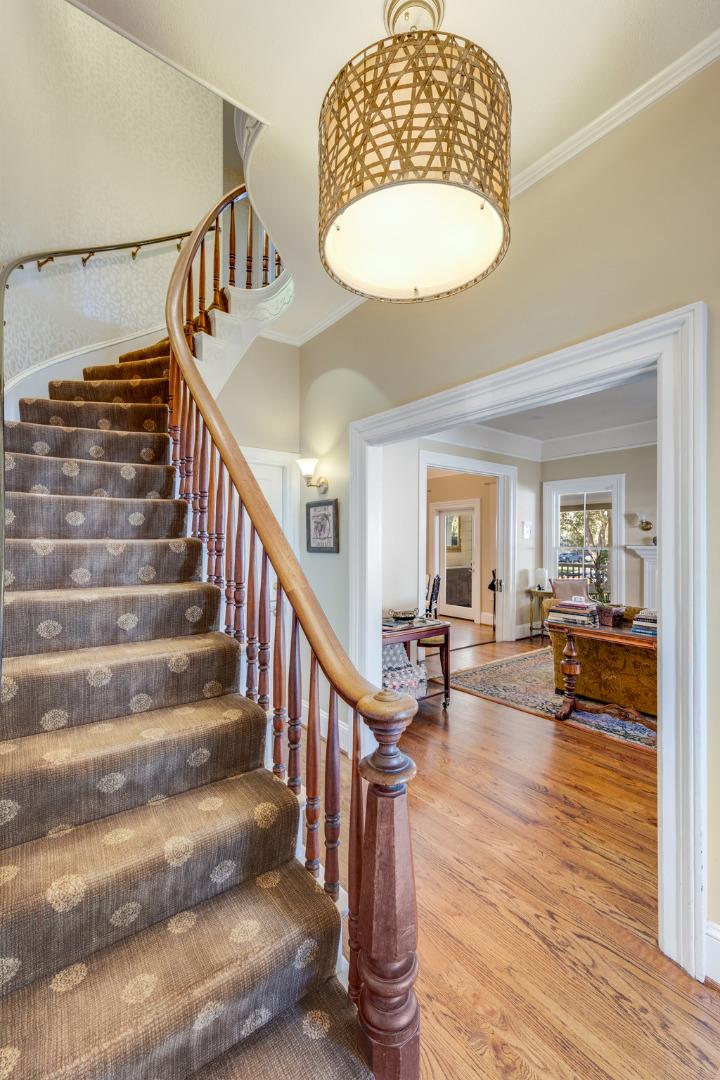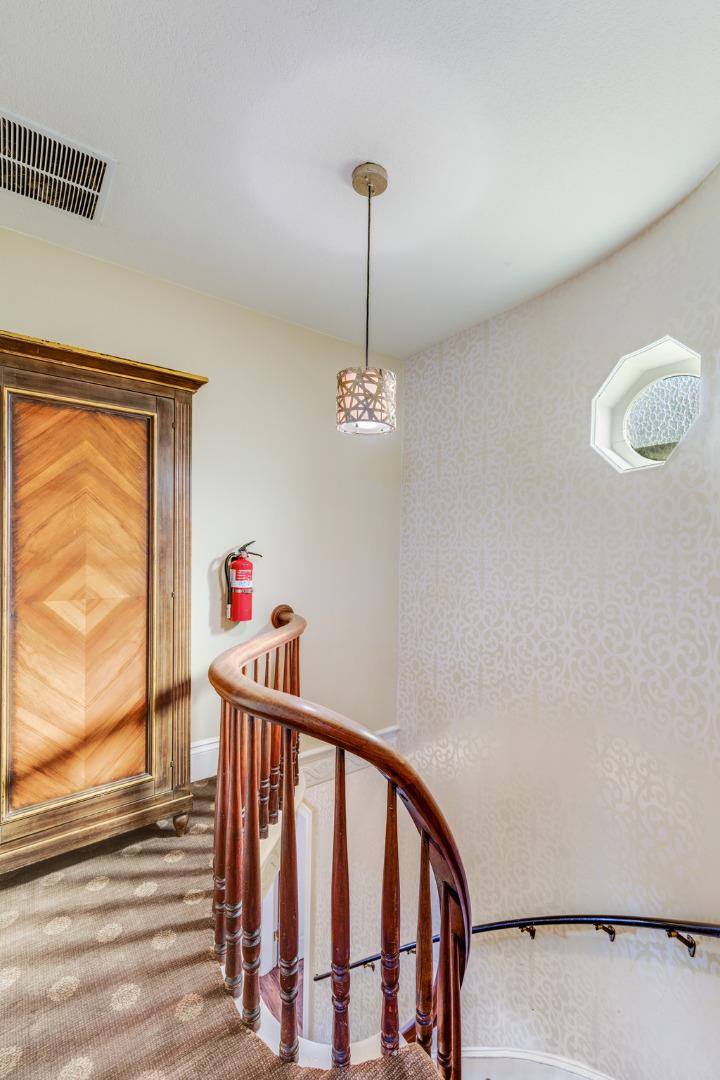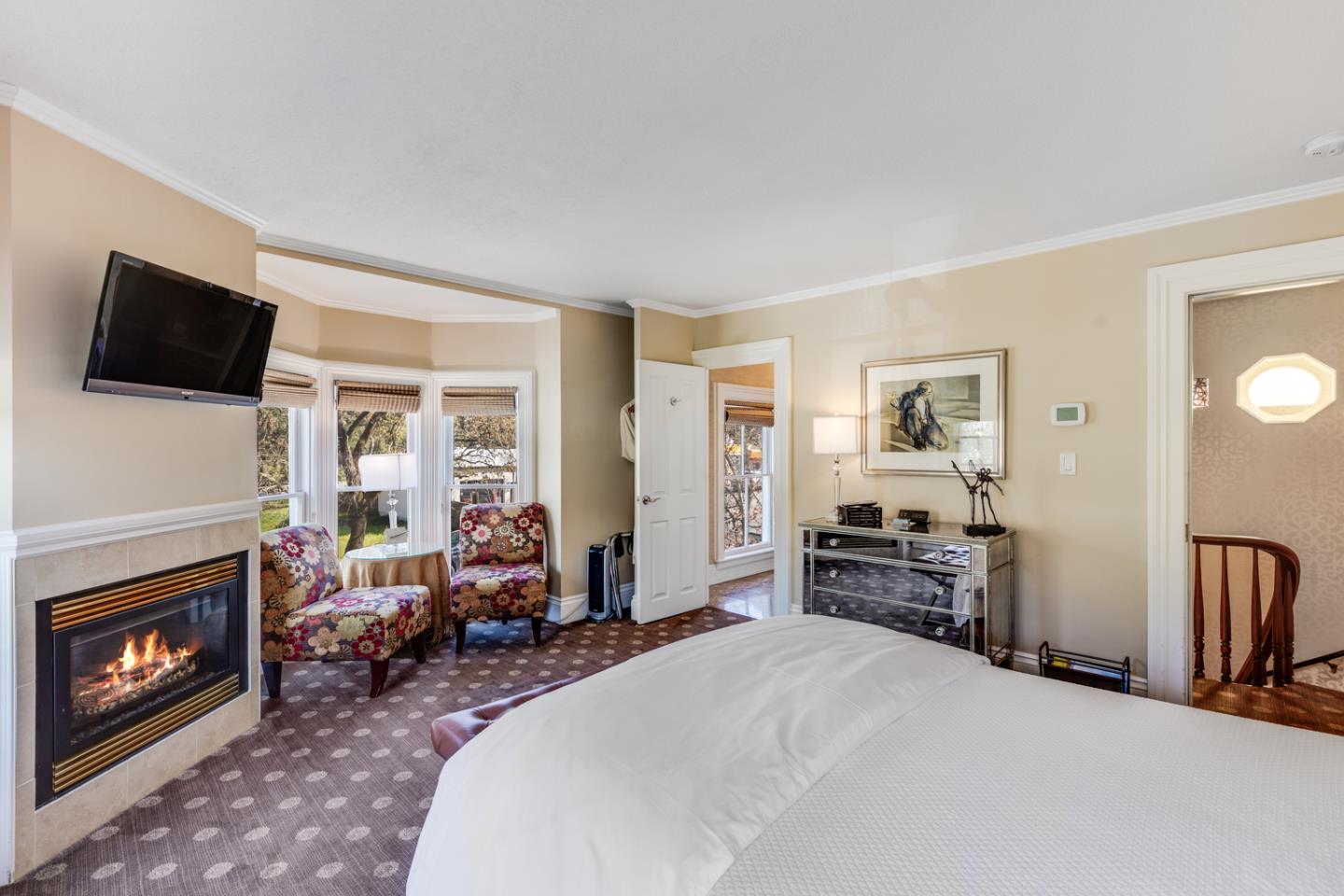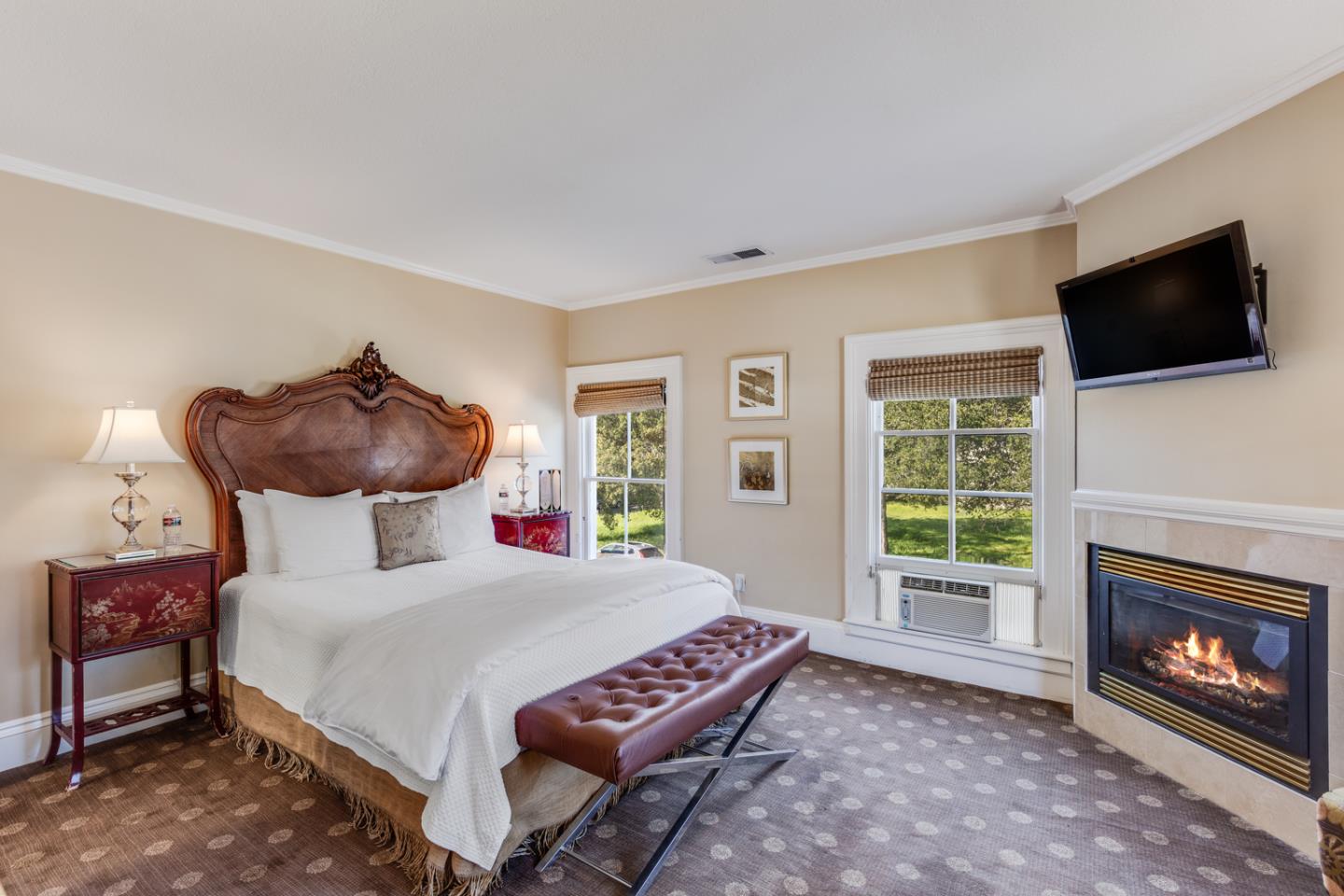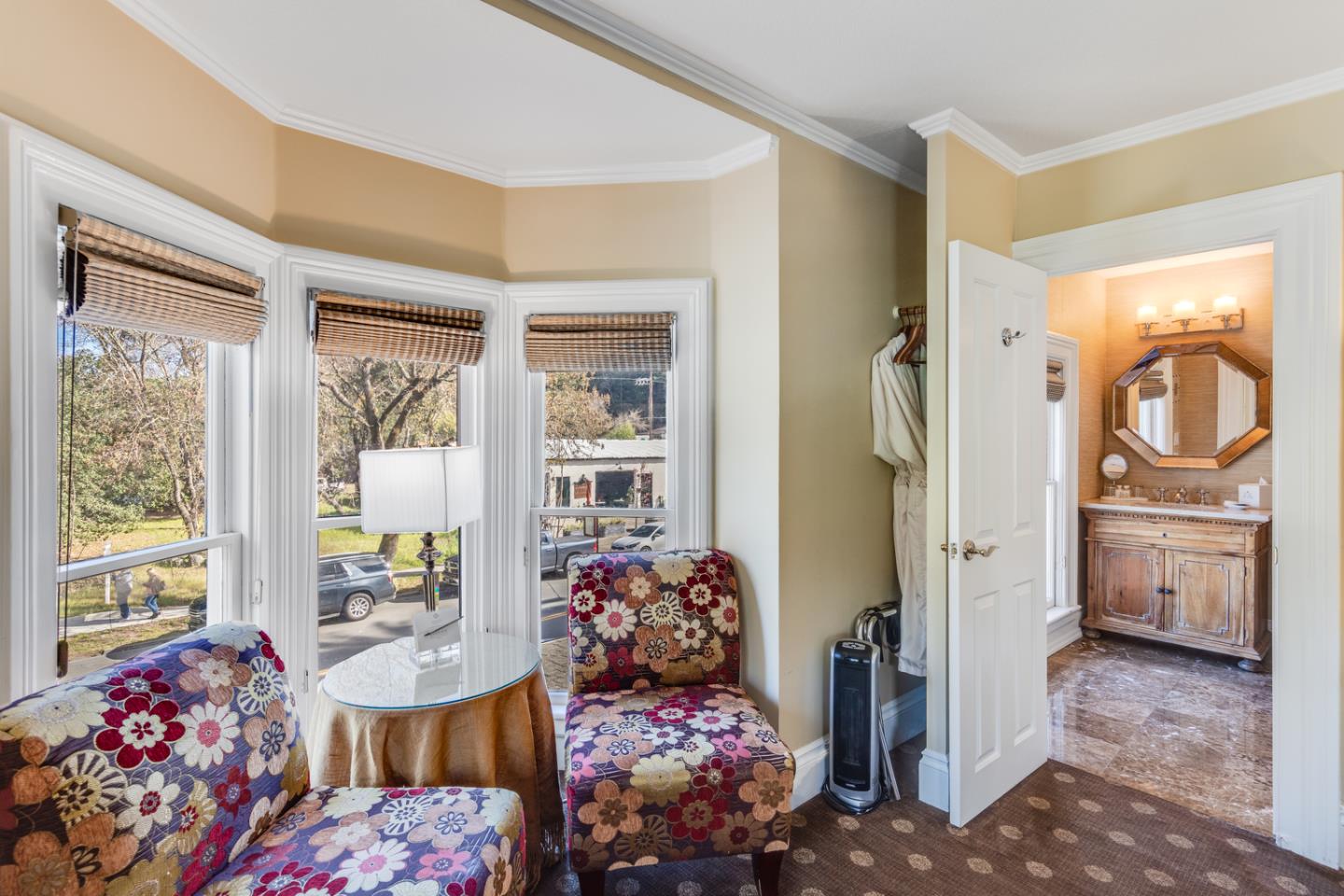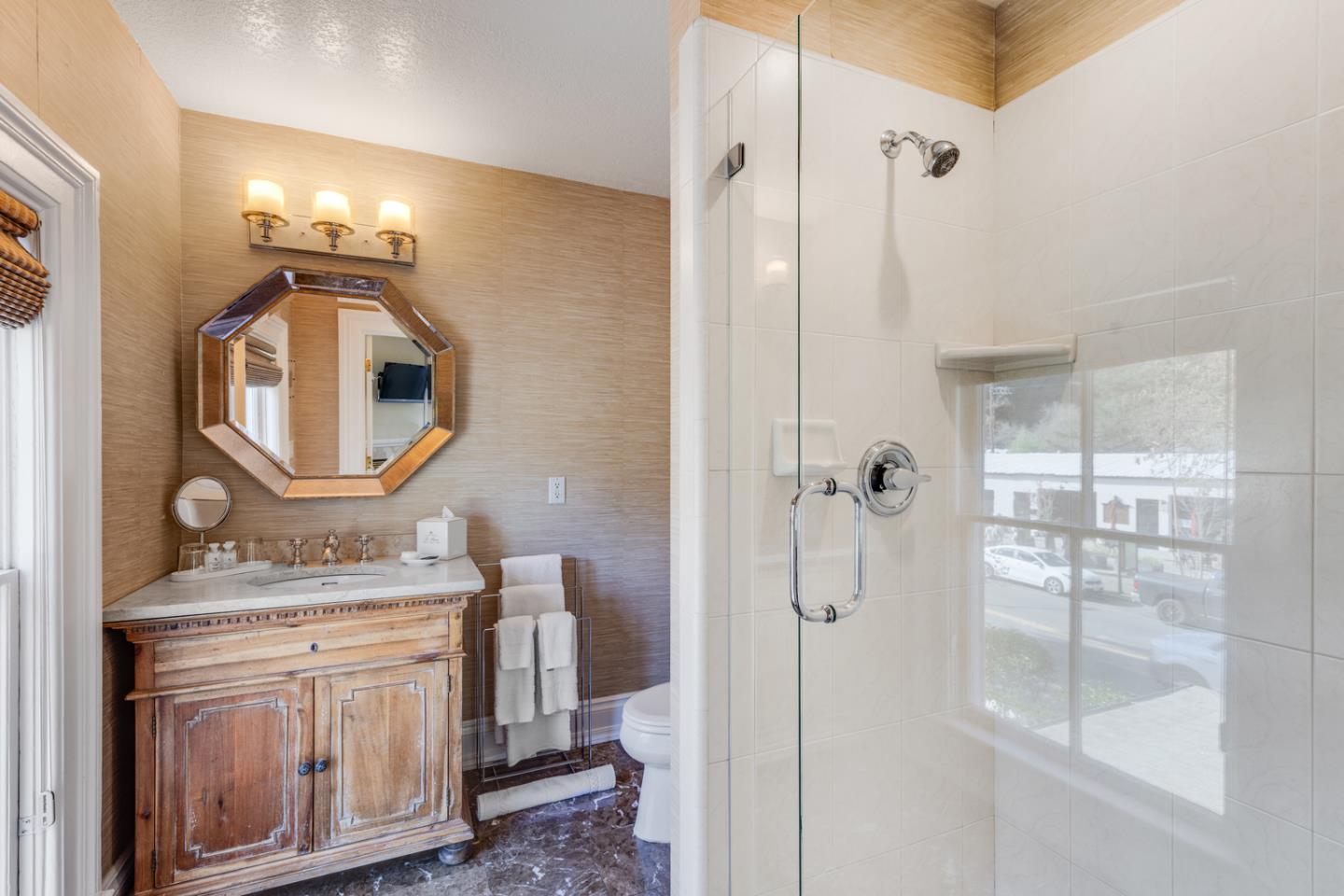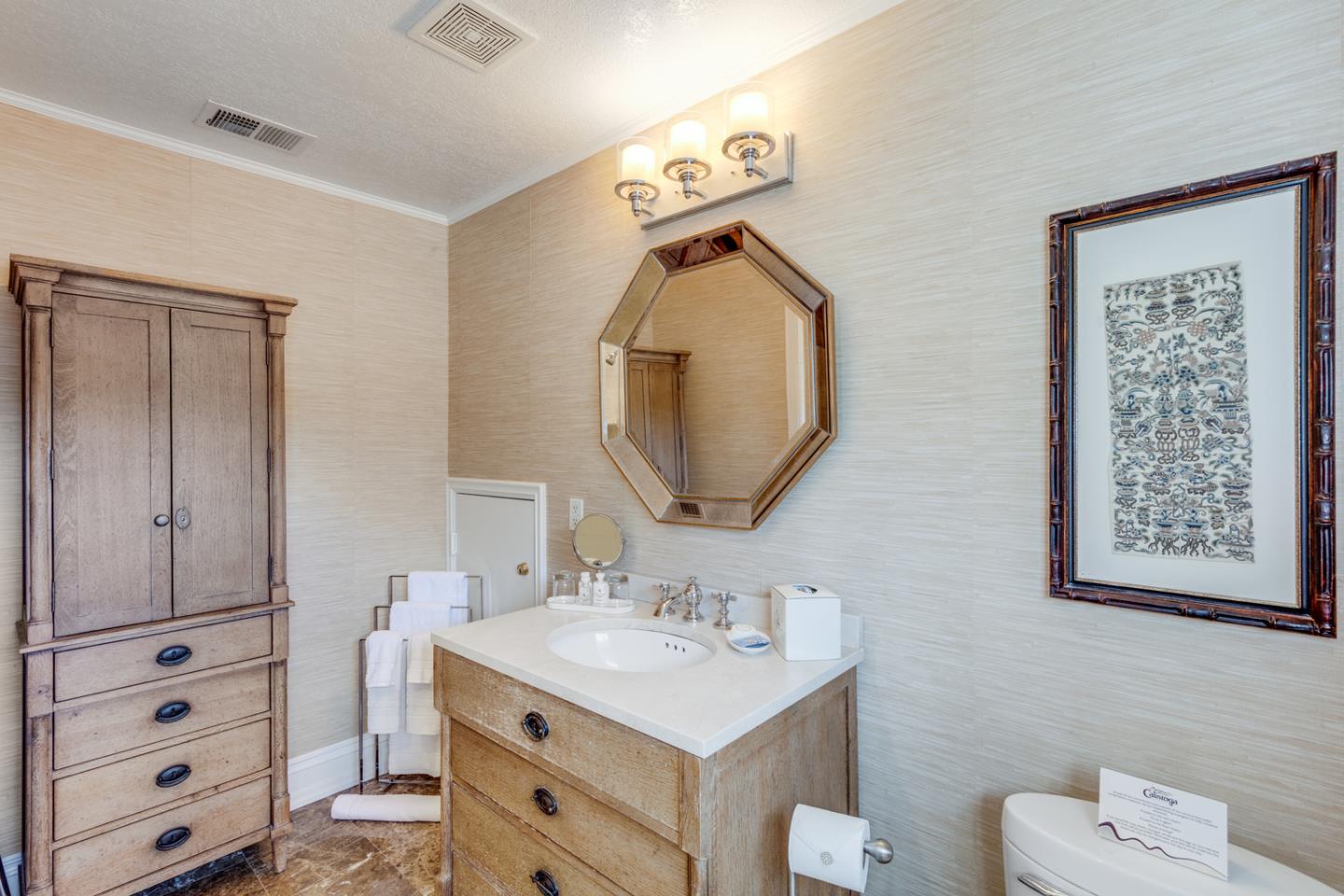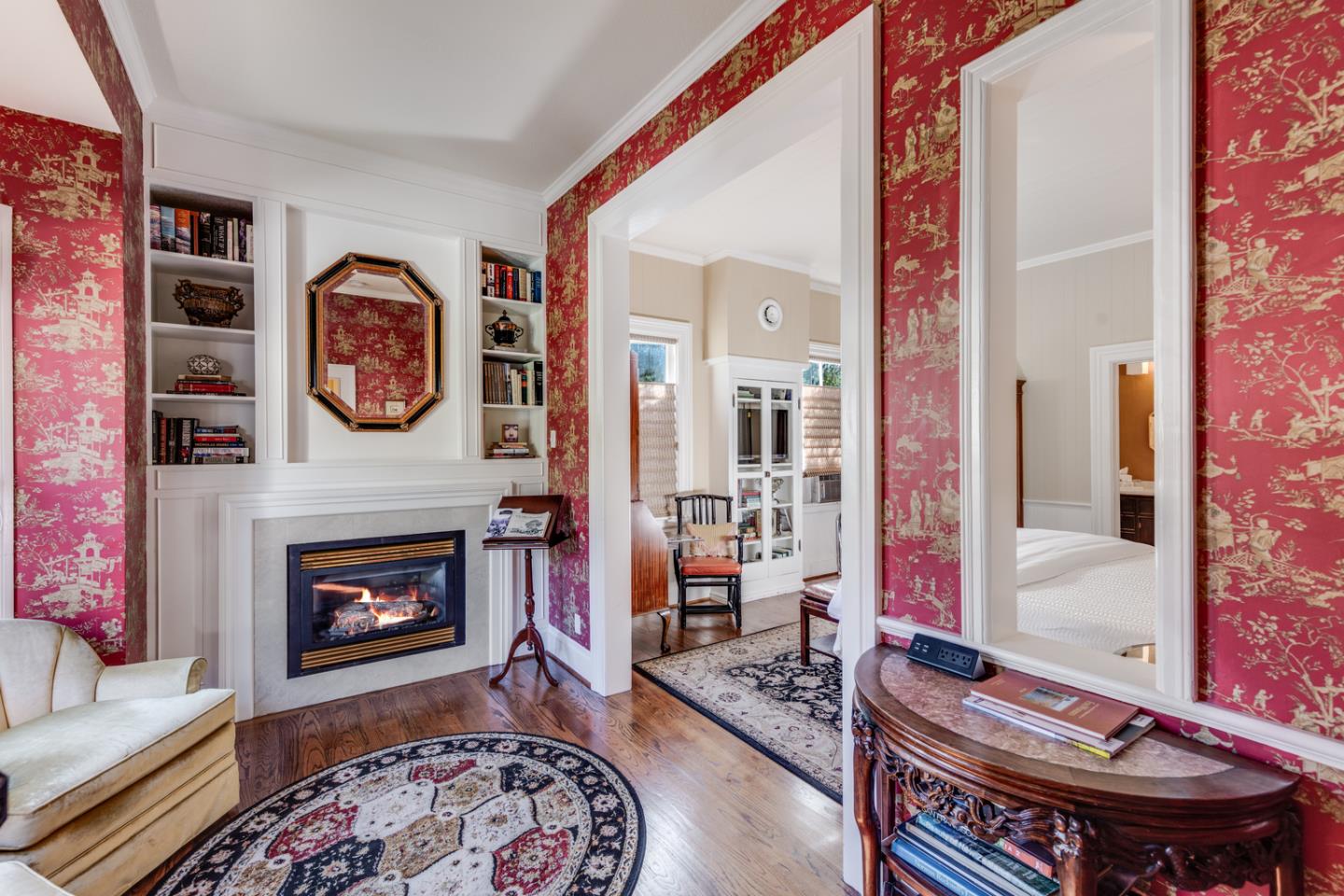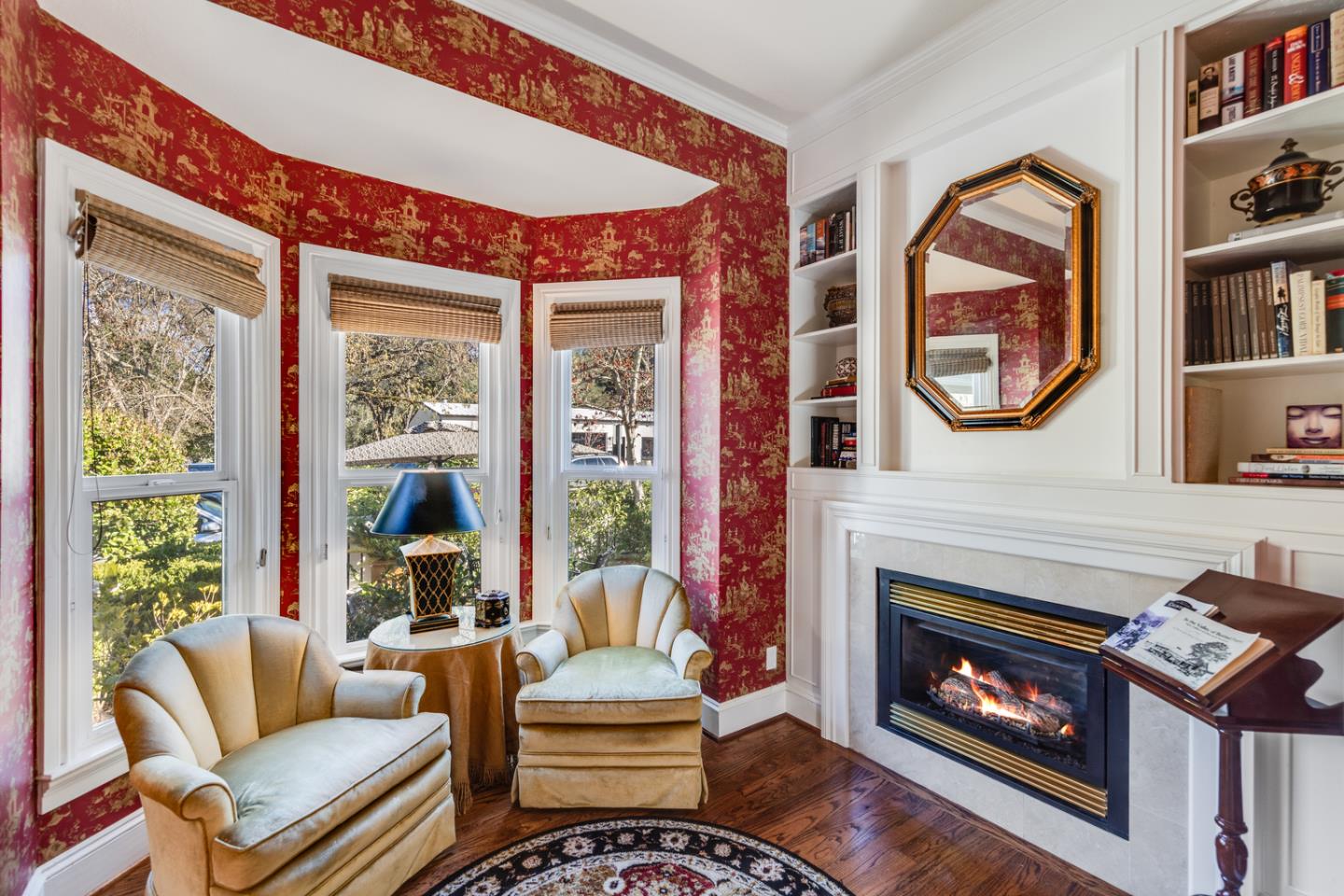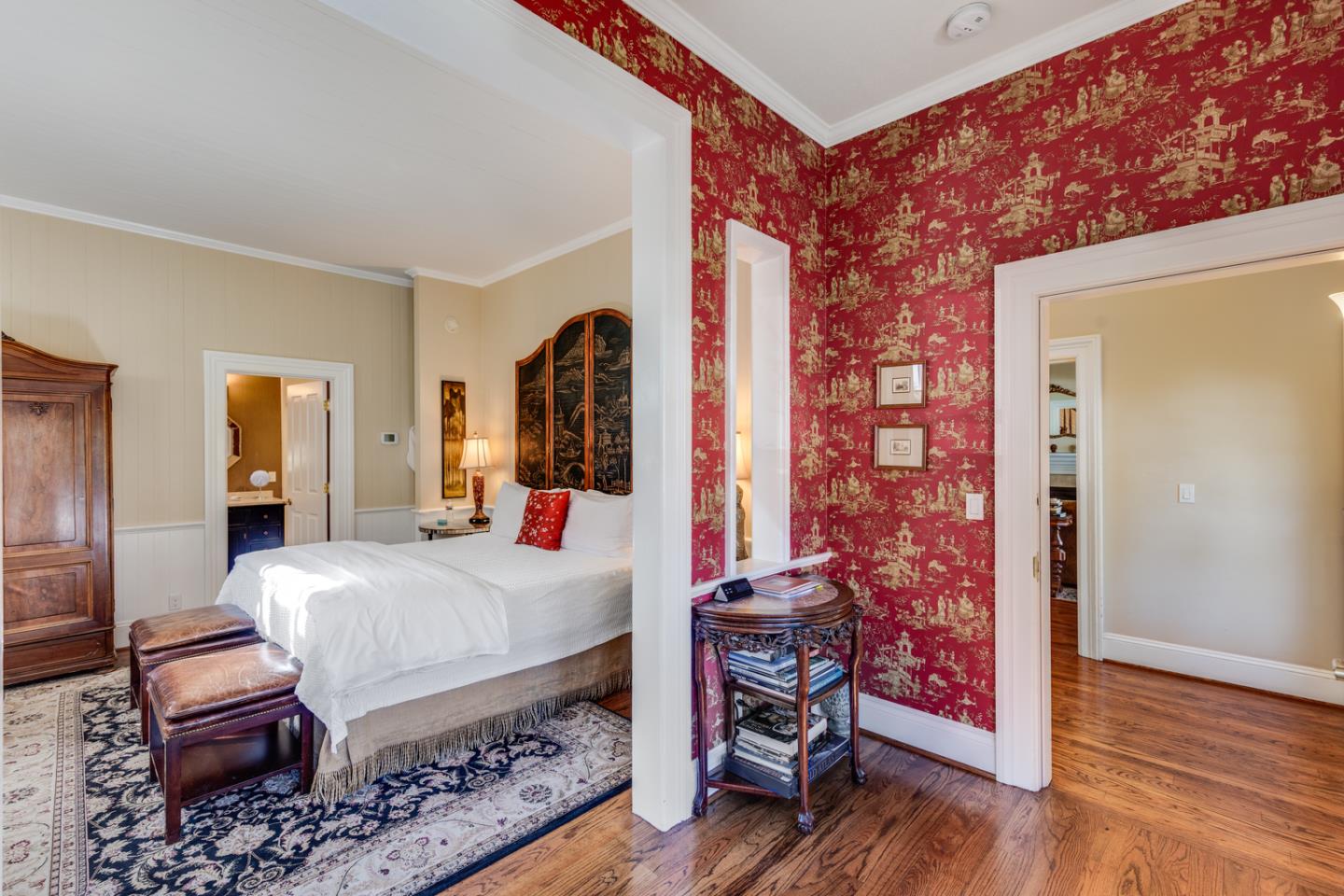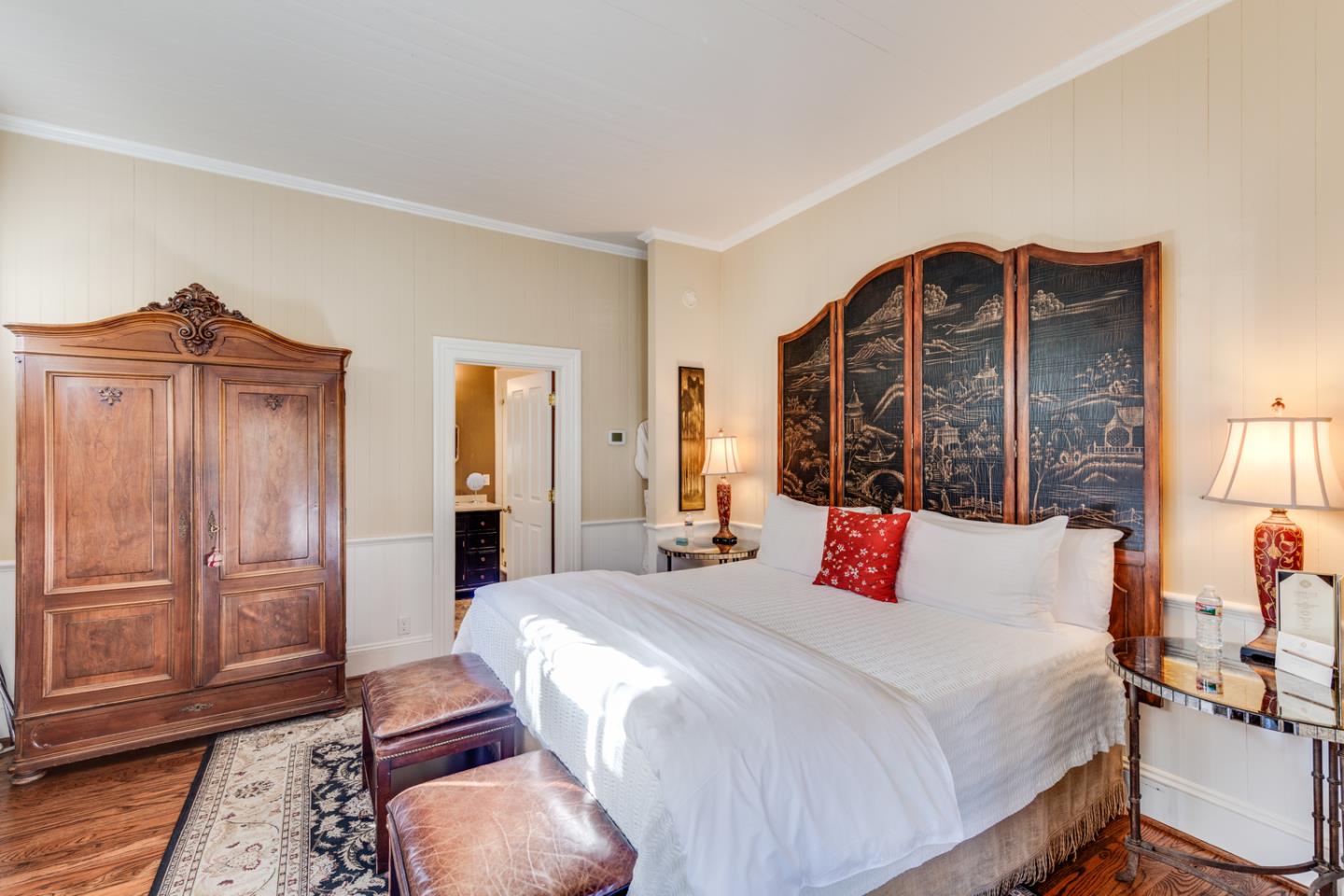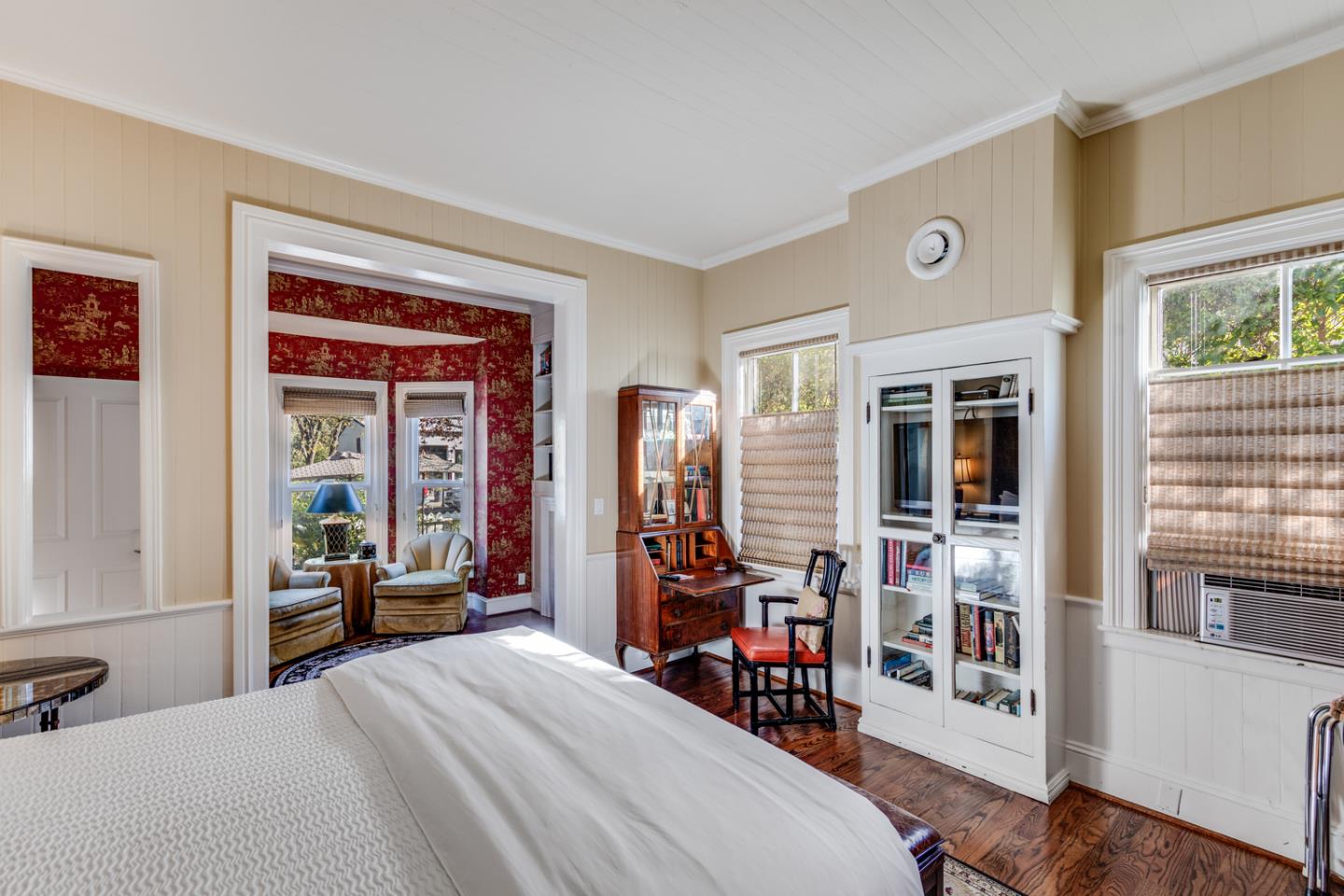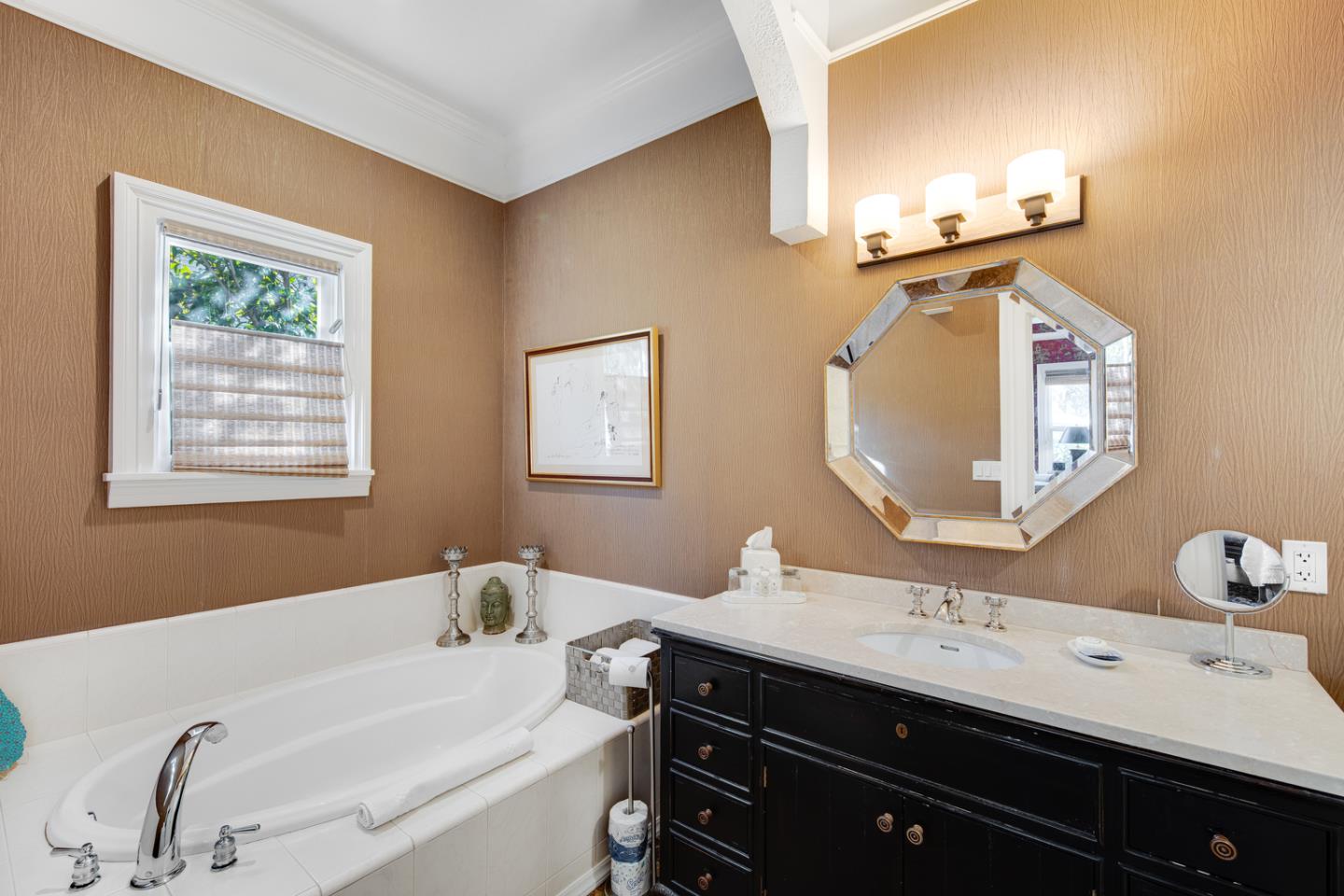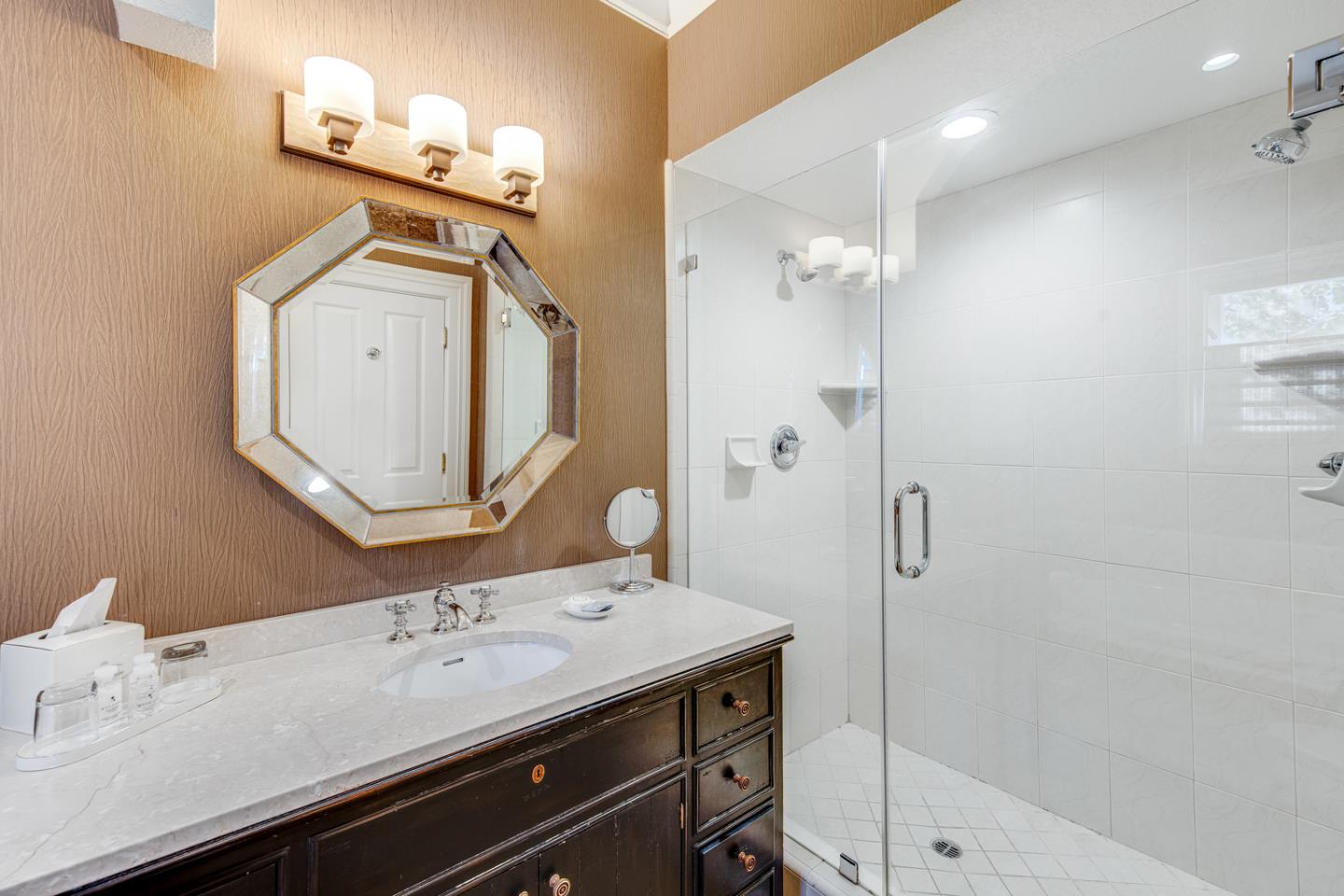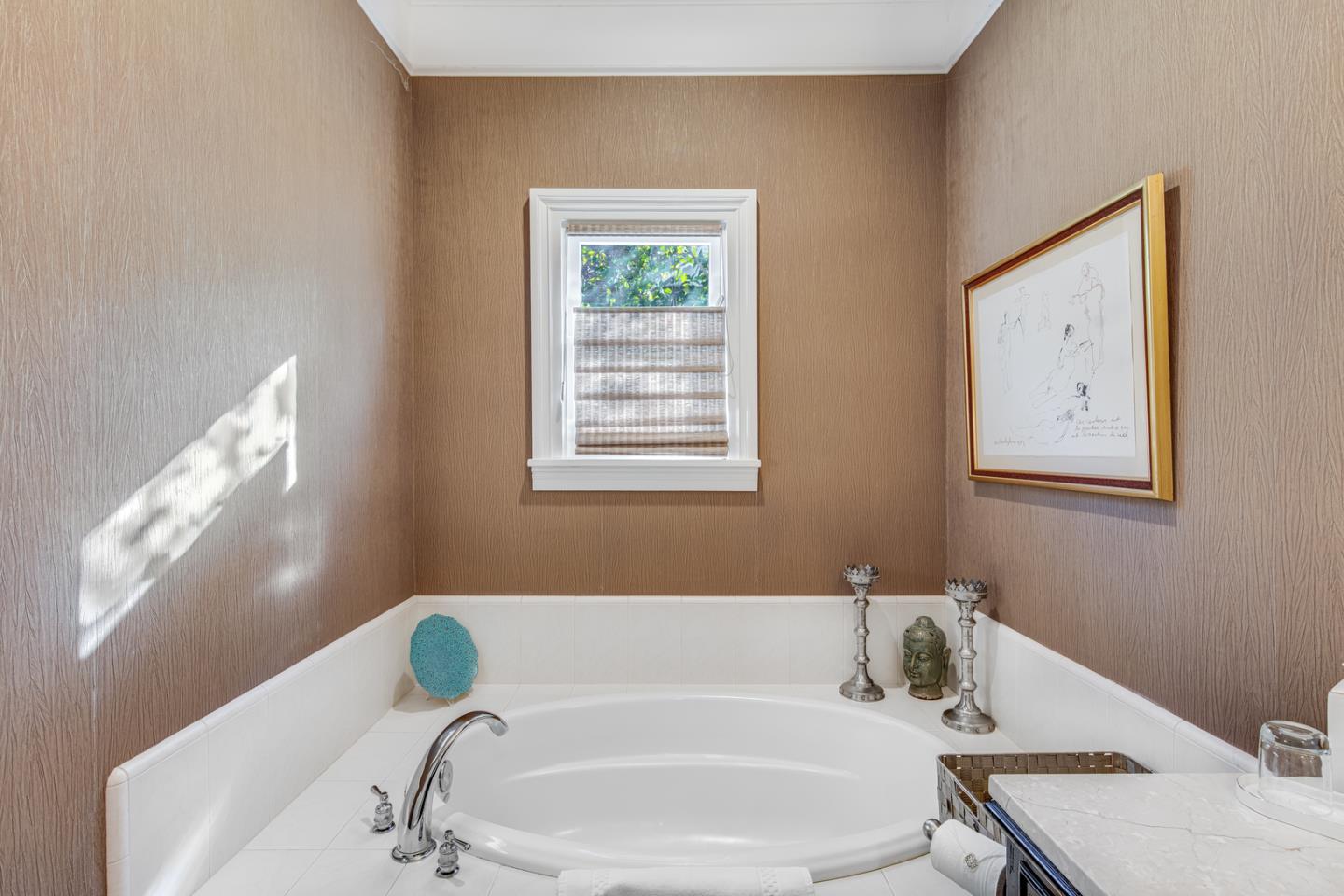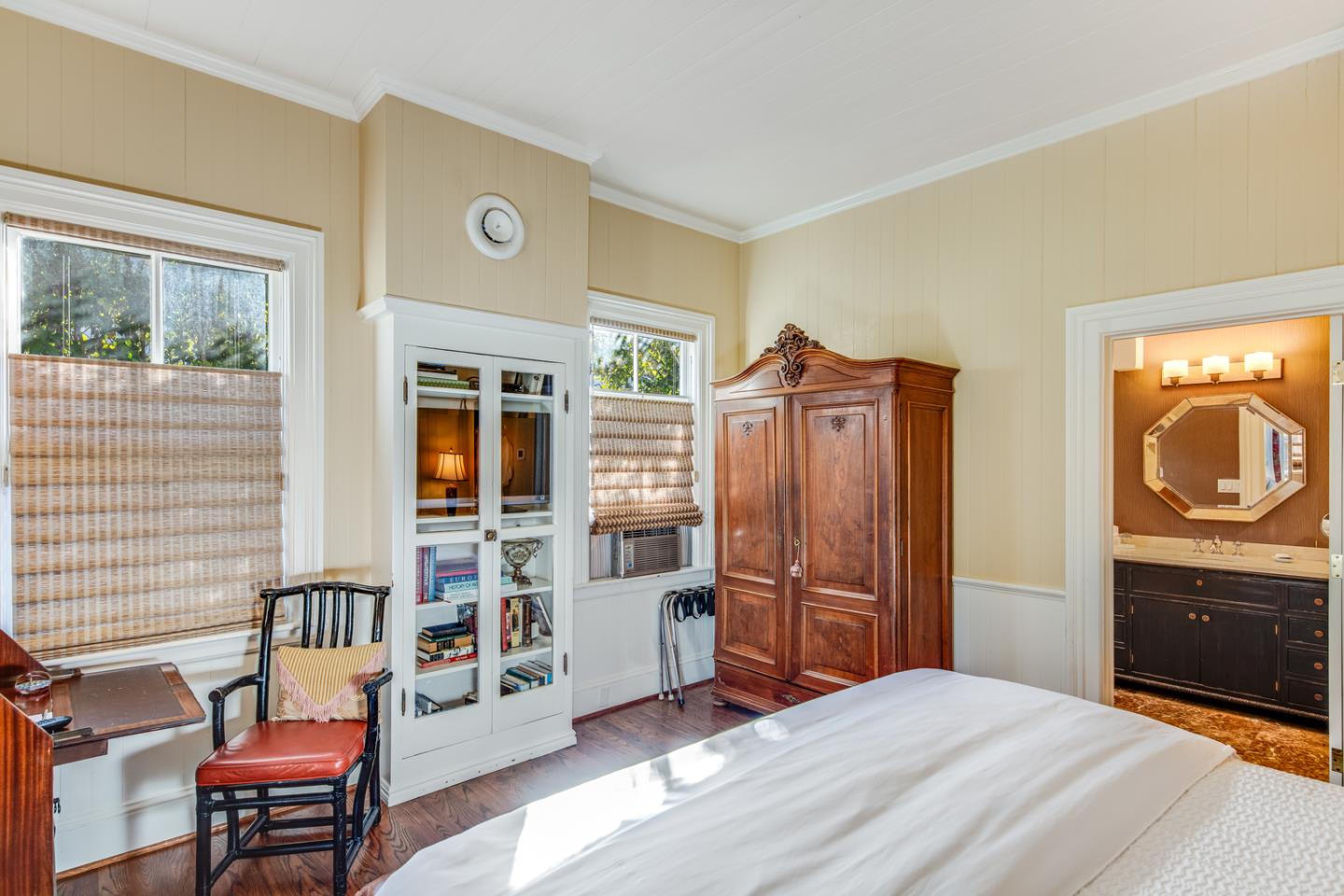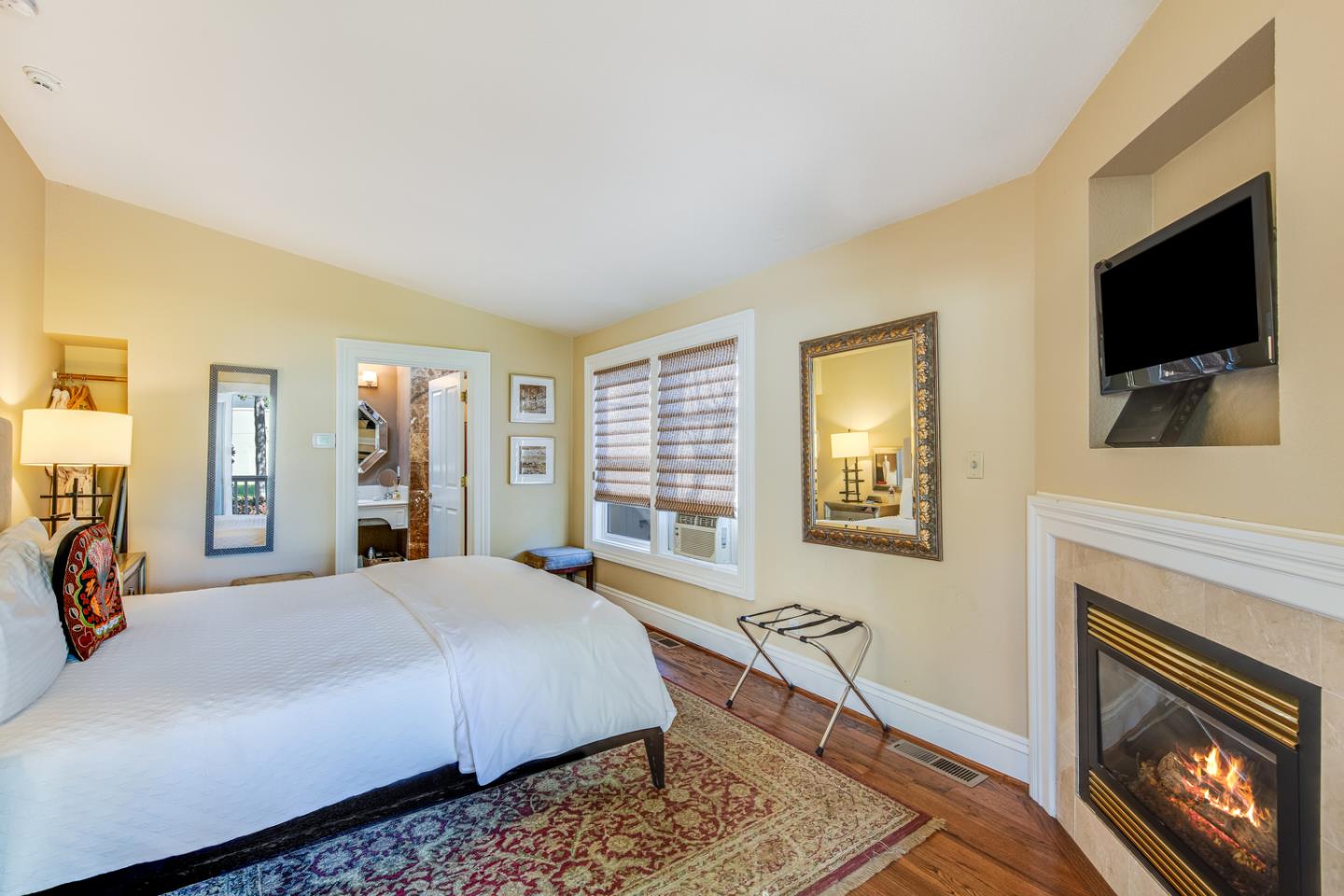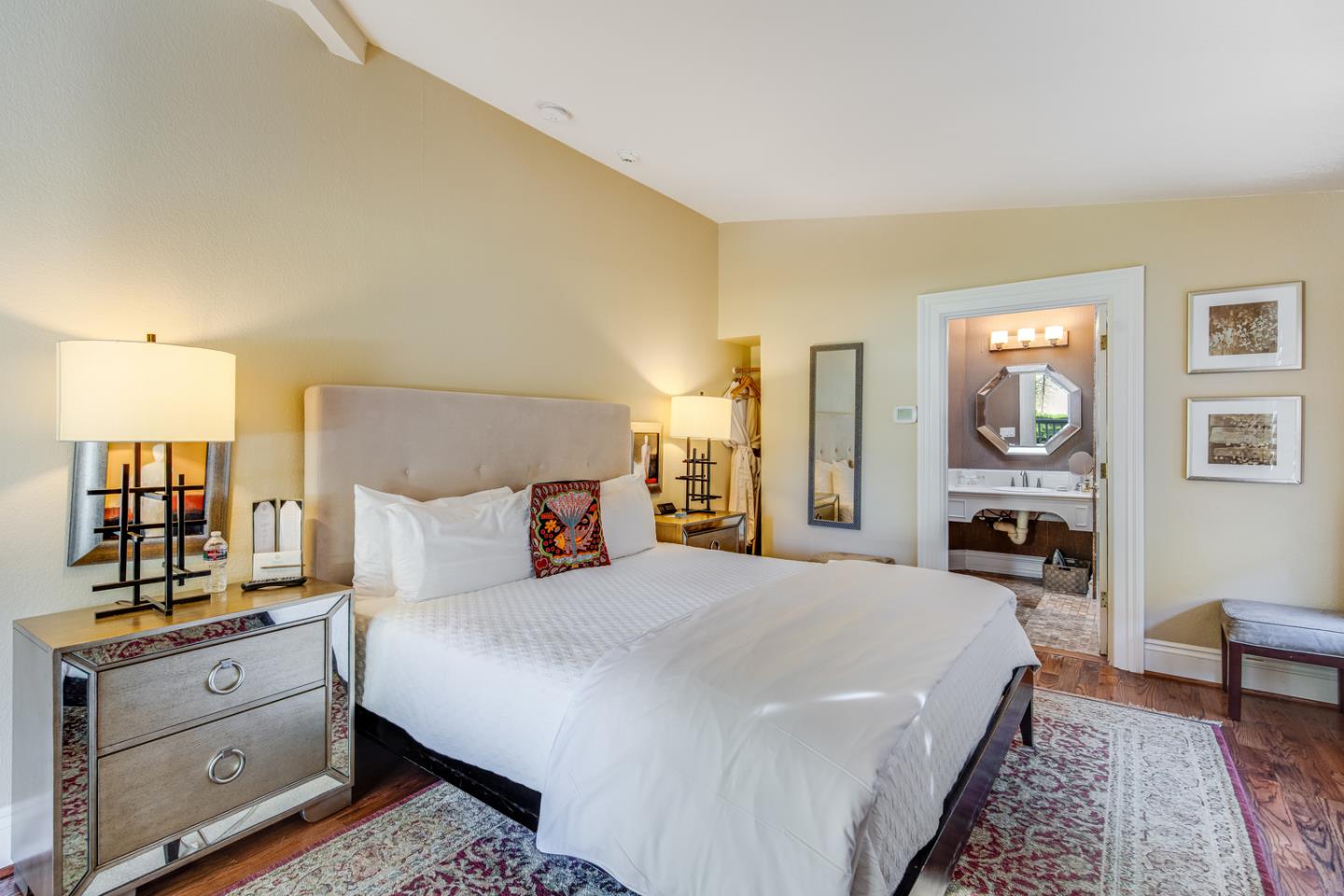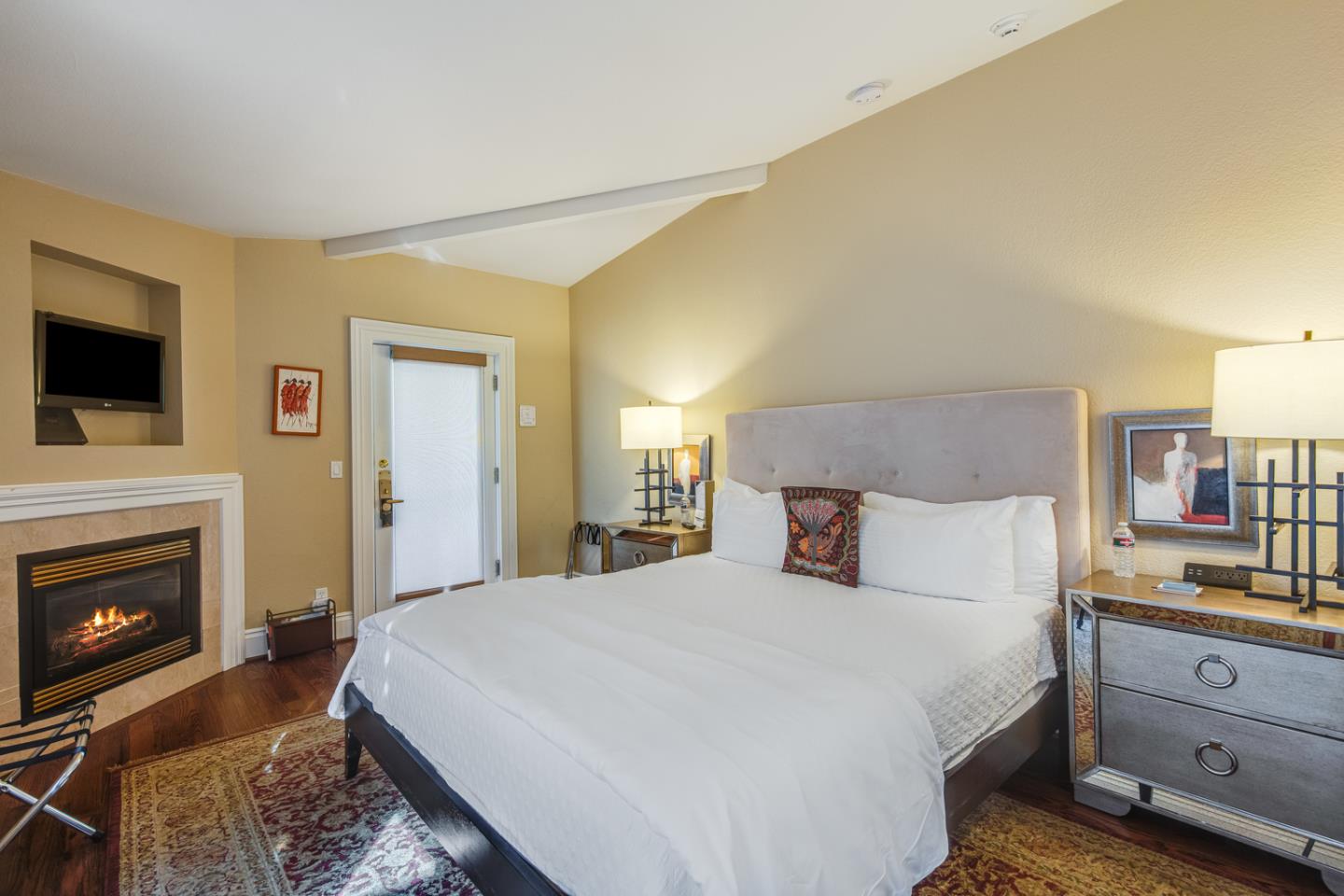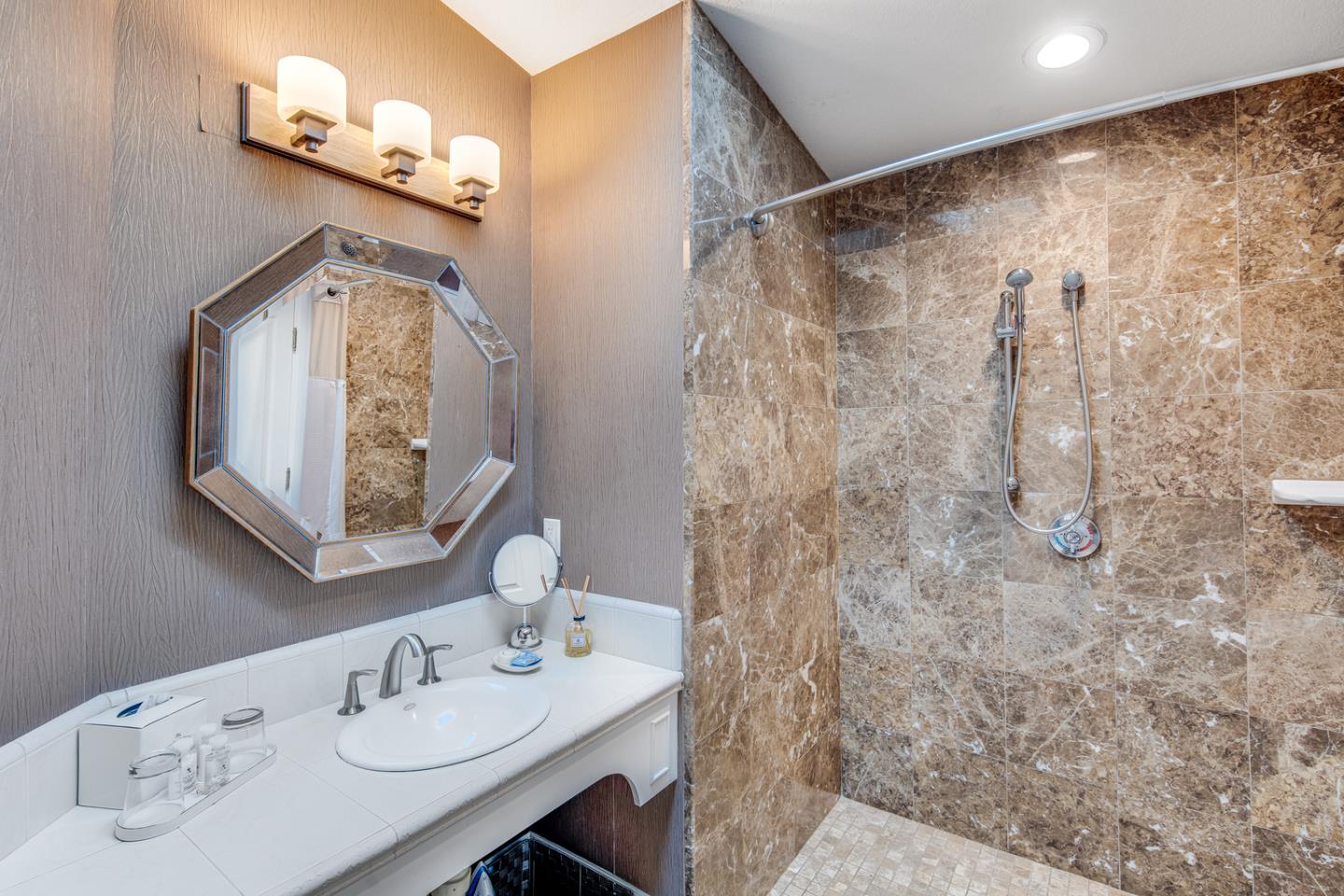 Details:
Lot Sq Feet:
7,464
Fireplaces:
0
HOA?
No
Bank Owned?
No
Status:
Active
Remarks:
IMPORTANT: Sale & PRICE includes Embrace Calistoga Bed & Breakfast, 8 Apartments, and a Single-Family Home w/ Parking Lot for B&B: Embrace Calistoga is located on Calistoga's main street, that is lined with shops, tasting rooms, and eateries. The B&B offers 5 rooms each has a gas fireplace, some have the original hardwood floors and others a plush carpet. The rooms also contain bead board walls and vaulted ceilings. All bedrooms have bathrooms, some with an oversized soaking tub with separate shower while others contain a walk-in shower surrounded by elegant marble walls and floors. The B&B has two levels with a gorgeous spiral staircase and enormous wrap around porch. The residence has 2 bedrooms, 1 bathroom, 626 +/- sq. ft. and is located on Elm St. across from Embrace Calistoga. The large kitchen has tile countertops and beautiful wooden cabinets. The 8 apartments are behind the B&B and each has 1 bedroom and 1 bathroom.
There are currently no open houses for this property. Please contact
Mike D\'Ambrosio
to schedule an appointment.