<![CDATA[ var dwellicious_data = { "address": "1203 Ballena Blvd ", "city": "ALAMEDA", "state": "CA", "zip": "94501", "zip4": "", "area": "", "subdivision": "", "county": "", "price": "1600000", "beds": "3", "baths": "2", "sqft": "2054", "lotsize": "2080", "yearbuilt": "1969-01-01", "proptype": "Residential", "mlsnum": "40993363", "active": false, "remarks": "Spectacular San Francisco Skyline view from this exceptional 3 BR, 2.5 BTH approx. 2054 sq. ft. Alameda townhome on the bay. It boasts one of the best bay/city views & has a private 31' deep-water dock. The open floor plan has bay/city views from the kitchen, LR, DR & primary suite. Light and open, it has been tastefully remodeled throughout w/ quality materials & beautifully appointed baths. Enjoy the exquisite views from the outdoor large main deck & from the primary suite balcony. Out your door, onto your boat, and in minutes you're sailing in the wide-open bay. The large open kitchen is surrounded by counters & large center island for food prep & entertaining w/adjacent convenient sitting room for comfortable entertaining & gatherings. Sliding glass doors off the kitchen lead to a sunny and private courtyard - perfect for relaxing.  Close to Spirits Alley with its wine, spirits & brew, plus easy commute to SF for work or pleasure via ferry. Everything is at your fingertips!", "photos": [ { "displayorder": 0, "url": "//cdnparap30.paragonrels.com/ParagonImages/Property/P3/MAXEBRDI/40993363/0/0/0/ca61e3ba64e510fb1d946fdf05a2867b/114/2bf9aae7f94d4edec9205372063e37f8/40993363.JPG", "caption": "" }, "displayorder": 1, "url": "//cdnparap30.paragonrels.com/ParagonImages/Property/P3/MAXEBRDI/40993363/1/0/0/d1e32ceec7c0b49f8b0176b23a1c2780/114/2bf9aae7f94d4edec9205372063e37f8/40993363-1.JPG", "caption": "" }, "displayorder": 2, "url": "//cdnparap30.paragonrels.com/ParagonImages/Property/P3/MAXEBRDI/40993363/2/0/0/2a41dbad8127afe70c62f75fd4d6eae8/114/2bf9aae7f94d4edec9205372063e37f8/40993363-2.JPG", "caption": "" }, "displayorder": 3, "url": "//cdnparap30.paragonrels.com/ParagonImages/Property/P3/MAXEBRDI/40993363/3/0/0/4a9ec9aabf954e0a09a2e7c0ee563143/114/2bf9aae7f94d4edec9205372063e37f8/40993363-3.JPG", "caption": "" }, "displayorder": 4, "url": "//cdnparap30.paragonrels.com/ParagonImages/Property/P3/MAXEBRDI/40993363/4/0/0/e6e82bbc260b199a887803dc2ea87c6a/114/2bf9aae7f94d4edec9205372063e37f8/40993363-4.JPG", "caption": "" }, "displayorder": 5, "url": "//cdnparap30.paragonrels.com/ParagonImages/Property/P3/MAXEBRDI/40993363/5/0/0/d0d87a3ffee074824d83acb264957b16/114/2bf9aae7f94d4edec9205372063e37f8/40993363-5.JPG", "caption": "" }, "displayorder": 6, "url": "//cdnparap30.paragonrels.com/ParagonImages/Property/P3/MAXEBRDI/40993363/6/0/0/915bec67564b90289683984c10ed460d/114/2bf9aae7f94d4edec9205372063e37f8/40993363-6.JPG", "caption": "" }, "displayorder": 7, "url": "//cdnparap30.paragonrels.com/ParagonImages/Property/P3/MAXEBRDI/40993363/7/0/0/f0127d89de3f62f9097e714727298f4a/114/2bf9aae7f94d4edec9205372063e37f8/40993363-7.JPG", "caption": "" }, "displayorder": 8, "url": "//cdnparap30.paragonrels.com/ParagonImages/Property/P3/MAXEBRDI/40993363/8/0/0/d49ad2efb9328c700bfca735aae0b43e/114/2bf9aae7f94d4edec9205372063e37f8/40993363-8.JPG", "caption": "" }, "displayorder": 9, "url": "//cdnparap30.paragonrels.com/ParagonImages/Property/P3/MAXEBRDI/40993363/9/0/0/1d6376a2baa2ab2e22f234fc70ffddfa/114/2bf9aae7f94d4edec9205372063e37f8/40993363-9.JPG", "caption": "" }, "displayorder": 10, "url": "//cdnparap30.paragonrels.com/ParagonImages/Property/P3/MAXEBRDI/40993363/10/0/0/a42f807048d9e3cdf58c35656c702b65/114/2bf9aae7f94d4edec9205372063e37f8/40993363-10.JPG", "caption": "" }, "displayorder": 11, "url": "//cdnparap30.paragonrels.com/ParagonImages/Property/P3/MAXEBRDI/40993363/11/0/0/9ed3d80ac9ab570419e211fbd77b4887/114/2bf9aae7f94d4edec9205372063e37f8/40993363-11.JPG", "caption": "" }, "displayorder": 12, "url": "//cdnparap30.paragonrels.com/ParagonImages/Property/P3/MAXEBRDI/40993363/12/0/0/9fb6d408cf76356587881f9c608c097b/114/2bf9aae7f94d4edec9205372063e37f8/40993363-12.JPG", "caption": "" }, "displayorder": 13, "url": "//cdnparap30.paragonrels.com/ParagonImages/Property/P3/MAXEBRDI/40993363/13/0/0/3cbdeca5bdfca9244ec39cc9be3e0a9b/114/2bf9aae7f94d4edec9205372063e37f8/40993363-13.JPG", "caption": "" }, "displayorder": 14, "url": "//cdnparap30.paragonrels.com/ParagonImages/Property/P3/MAXEBRDI/40993363/14/0/0/c57c1d89838ae3fdf41aed02bcecdb22/114/2bf9aae7f94d4edec9205372063e37f8/40993363-14.JPG", "caption": "" }, "displayorder": 15, "url": "//cdnparap30.paragonrels.com/ParagonImages/Property/P3/MAXEBRDI/40993363/15/0/0/096892f50054905baaf15562aacb573b/114/2bf9aae7f94d4edec9205372063e37f8/40993363-15.JPG", "caption": "" }, "displayorder": 16, "url": "//cdnparap30.paragonrels.com/ParagonImages/Property/P3/MAXEBRDI/40993363/16/0/0/a478e4ee3eb50d81657140bd6cab0d79/114/2bf9aae7f94d4edec9205372063e37f8/40993363-16.JPG", "caption": "" }, "displayorder": 17, "url": "//cdnparap30.paragonrels.com/ParagonImages/Property/P3/MAXEBRDI/40993363/17/0/0/e874f6ef8d71f3eef7bfef80cfb58074/114/2bf9aae7f94d4edec9205372063e37f8/40993363-17.JPG", "caption": "" }, "displayorder": 18, "url": "//cdnparap30.paragonrels.com/ParagonImages/Property/P3/MAXEBRDI/40993363/18/0/0/6ea1ba37e78923b01868aab16e5d806f/114/2bf9aae7f94d4edec9205372063e37f8/40993363-18.JPG", "caption": "" }, "displayorder": 19, "url": "//cdnparap30.paragonrels.com/ParagonImages/Property/P3/MAXEBRDI/40993363/19/0/0/4b089cf31ab9729343c6abcc68f1ad50/114/2bf9aae7f94d4edec9205372063e37f8/40993363-19.JPG", "caption": "" }, "displayorder": 20, "url": "//cdnparap30.paragonrels.com/ParagonImages/Property/P3/MAXEBRDI/40993363/20/0/0/251222673721378ce1c1b88730a280e0/114/2bf9aae7f94d4edec9205372063e37f8/40993363-20.JPG", "caption": "" }, "displayorder": 21, "url": "//cdnparap30.paragonrels.com/ParagonImages/Property/P3/MAXEBRDI/40993363/21/0/0/89673a254aee890ce75499480a4a33d7/114/2bf9aae7f94d4edec9205372063e37f8/40993363-21.JPG", "caption": "" }, "displayorder": 22, "url": "//cdnparap30.paragonrels.com/ParagonImages/Property/P3/MAXEBRDI/40993363/22/0/0/7b7cbaca1bf273a9b8133329e1dcb49a/114/2bf9aae7f94d4edec9205372063e37f8/40993363-22.JPG", "caption": "" }, "displayorder": 23, "url": "//cdnparap30.paragonrels.com/ParagonImages/Property/P3/MAXEBRDI/40993363/23/0/0/069586dc336efffc3243dc50f30ab696/114/2bf9aae7f94d4edec9205372063e37f8/40993363-23.JPG", "caption": "" }, "displayorder": 24, "url": "//cdnparap30.paragonrels.com/ParagonImages/Property/P3/MAXEBRDI/40993363/24/0/0/b950c90faef85da210529346d31c1557/114/2bf9aae7f94d4edec9205372063e37f8/40993363-24.JPG", "caption": "" }, "displayorder": 25, "url": "//cdnparap30.paragonrels.com/ParagonImages/Property/P3/MAXEBRDI/40993363/25/0/0/84e723af2c154d6da3d0feb242b5be3c/114/2bf9aae7f94d4edec9205372063e37f8/40993363-25.JPG", "caption": "" }, "displayorder": 26, "url": "//cdnparap30.paragonrels.com/ParagonImages/Property/P3/MAXEBRDI/40993363/26/0/0/160d6dc1209a637bb8e97a1c2c2a4fa0/114/2bf9aae7f94d4edec9205372063e37f8/40993363-26.JPG", "caption": "" }, "displayorder": 27, "url": "//cdnparap30.paragonrels.com/ParagonImages/Property/P3/MAXEBRDI/40993363/27/0/0/e84f3a54215739b3e6b3e4051f163efd/114/2bf9aae7f94d4edec9205372063e37f8/40993363-27.JPG", "caption": "" }, "displayorder": 28, "url": "//cdnparap30.paragonrels.com/ParagonImages/Property/P3/MAXEBRDI/40993363/28/0/0/736935ea4a12f404467d3a0324821e9b/114/2bf9aae7f94d4edec9205372063e37f8/40993363-28.JPG", "caption": "" }, "displayorder": 29, "url": "//cdnparap30.paragonrels.com/ParagonImages/Property/P3/MAXEBRDI/40993363/29/0/0/0a04c0691332d1df7e744d101a26a1da/114/2bf9aae7f94d4edec9205372063e37f8/40993363-29.JPG", "caption": "" }, "displayorder": 30, "url": "//cdnparap30.paragonrels.com/ParagonImages/Property/P3/MAXEBRDI/40993363/30/0/0/0bf7bc5a1e41e637ba5bc986c938a893/114/2bf9aae7f94d4edec9205372063e37f8/40993363-30.JPG", "caption": "" }, "displayorder": 31, "url": "//cdnparap30.paragonrels.com/ParagonImages/Property/P3/MAXEBRDI/40993363/31/0/0/17c760b4dedd6f2b9219b0be4c58db65/114/2bf9aae7f94d4edec9205372063e37f8/40993363-31.JPG", "caption": "" }, "displayorder": 32, "url": "//cdnparap30.paragonrels.com/ParagonImages/Property/P3/MAXEBRDI/40993363/32/0/0/a5882b9ca134c485eb425ec269837690/114/2bf9aae7f94d4edec9205372063e37f8/40993363-32.JPG", "caption": "" }, "displayorder": 33, "url": "//cdnparap30.paragonrels.com/ParagonImages/Property/P3/MAXEBRDI/40993363/33/0/0/38390d6e6236b3cd8850147e8f4495f3/114/2bf9aae7f94d4edec9205372063e37f8/40993363-33.JPG", "caption": "" }, "displayorder": 34, "url": "//cdnparap30.paragonrels.com/ParagonImages/Property/P3/MAXEBRDI/40993363/34/0/0/627dd5cd7dc052e7dcdc5cbac4e060c4/114/2bf9aae7f94d4edec9205372063e37f8/40993363-34.JPG", "caption": "" }, "displayorder": 35, "url": "//cdnparap30.paragonrels.com/ParagonImages/Property/P3/MAXEBRDI/40993363/35/0/0/2c311b8550b9aa8b63b6f89385696537/114/2bf9aae7f94d4edec9205372063e37f8/40993363-35.JPG", "caption": "" }, "displayorder": 36, "url": "//cdnparap30.paragonrels.com/ParagonImages/Property/P3/MAXEBRDI/40993363/36/0/0/72ad81b8a92773325ba4037dc7e2cb7d/114/2bf9aae7f94d4edec9205372063e37f8/40993363-36.JPG", "caption": "" }, "displayorder": 37, "url": "//cdnparap30.paragonrels.com/ParagonImages/Property/P3/MAXEBRDI/40993363/37/0/0/3591bf17cc316786c76547d025efa933/114/2bf9aae7f94d4edec9205372063e37f8/40993363-37.JPG", "caption": "" }, "displayorder": 38, "url": "//cdnparap30.paragonrels.com/ParagonImages/Property/P3/MAXEBRDI/40993363/38/0/0/e40c960dcc661d38b6b1e974426ef07a/114/2bf9aae7f94d4edec9205372063e37f8/40993363-38.JPG", "caption": "" }, "displayorder": 39, "url": "//cdnparap30.paragonrels.com/ParagonImages/Property/P3/MAXEBRDI/40993363/39/0/0/7fc4e7e39fa65a6160847d4e6a0664b6/114/2bf9aae7f94d4edec9205372063e37f8/40993363-39.JPG", "caption": "" }, "displayorder": 40, "url": "//cdnparap30.paragonrels.com/ParagonImages/Property/P3/MAXEBRDI/40993363/40/0/0/644d2ffaf28917592f28d87c6dcbb6e1/114/2bf9aae7f94d4edec9205372063e37f8/40993363-40.JPG", "caption": "" }, "displayorder": 41, "url": "//cdnparap30.paragonrels.com/ParagonImages/Property/P3/MAXEBRDI/40993363/41/0/0/dfc5b711002f8277e2d2234b6968792f/114/2bf9aae7f94d4edec9205372063e37f8/40993363-41.JPG", "caption": "" }, "displayorder": 42, "url": "//cdnparap30.paragonrels.com/ParagonImages/Property/P3/MAXEBRDI/40993363/42/0/0/0b1a4dc6fcef6cdf77c9f45f073920ba/114/2bf9aae7f94d4edec9205372063e37f8/40993363-42.JPG", "caption": "" }, "displayorder": 43, "url": "//cdnparap30.paragonrels.com/ParagonImages/Property/P3/MAXEBRDI/40993363/43/0/0/2e57689a4a6037bbe971f8a9a1374f1f/114/2bf9aae7f94d4edec9205372063e37f8/40993363-43.JPG", "caption": "" }, "displayorder": 44, "url": "//cdnparap30.paragonrels.com/ParagonImages/Property/P3/MAXEBRDI/40993363/44/0/0/c0721a023cf1f42365c3f7e98e317e04/114/2bf9aae7f94d4edec9205372063e37f8/40993363-44.JPG", "caption": "" }, "displayorder": 45, "url": "//cdnparap30.paragonrels.com/ParagonImages/Property/P3/MAXEBRDI/40993363/45/0/0/e7bb69e3cdf3dca32385f30d591e4a37/114/2bf9aae7f94d4edec9205372063e37f8/40993363-45.JPG", "caption": "" }, "displayorder": 46, "url": "//cdnparap30.paragonrels.com/ParagonImages/Property/P3/MAXEBRDI/40993363/46/0/0/e403654f15d3800ab29be143541925c4/114/2bf9aae7f94d4edec9205372063e37f8/40993363-46.JPG", "caption": "" }, "displayorder": 47, "url": "//cdnparap30.paragonrels.com/ParagonImages/Property/P3/MAXEBRDI/40993363/47/0/0/bc60a5354c8838de656e8f747bf7f9ed/114/2bf9aae7f94d4edec9205372063e37f8/40993363-47.JPG", "caption": "" }, "displayorder": 48, "url": "//cdnparap30.paragonrels.com/ParagonImages/Property/P3/MAXEBRDI/40993363/48/0/0/f3a770e4c14858e5abdbead7eb9e28f6/114/2bf9aae7f94d4edec9205372063e37f8/40993363-48.JPG", "caption": "" }, "displayorder": 49, "url": "//cdnparap30.paragonrels.com/ParagonImages/Property/P3/MAXEBRDI/40993363/49/0/0/20171cf7ae19f3ac8a3a86cc266f9997/114/2bf9aae7f94d4edec9205372063e37f8/40993363-49.JPG", "caption": "" }, "displayorder": 50, "url": "//cdnparap30.paragonrels.com/ParagonImages/Property/P3/MAXEBRDI/40993363/50/0/0/d710762d4d6dfc85db841b7013fd566f/114/2bf9aae7f94d4edec9205372063e37f8/40993363-50.JPG", "caption": "" }, "displayorder": 51, "url": "//cdnparap30.paragonrels.com/ParagonImages/Property/P3/MAXEBRDI/40993363/51/0/0/3059f6f2d50915bc0d50cb79c56b2995/114/2bf9aae7f94d4edec9205372063e37f8/40993363-51.JPG", "caption": "" }, "displayorder": 52, "url": "//cdnparap30.paragonrels.com/ParagonImages/Property/P3/MAXEBRDI/40993363/52/0/0/996d488da30598a0c96f8a18e331e793/114/2bf9aae7f94d4edec9205372063e37f8/40993363-52.JPG", "caption": "" }, "displayorder": 53, "url": "//cdnparap30.paragonrels.com/ParagonImages/Property/P3/MAXEBRDI/40993363/53/0/0/75f29b02e3d47807307e7de6a7dd31b7/114/2bf9aae7f94d4edec9205372063e37f8/40993363-53.JPG", "caption": "" }, "displayorder": 54, "url": "//cdnparap30.paragonrels.com/ParagonImages/Property/P3/MAXEBRDI/40993363/54/0/0/1fa6f37dc1378a0bcd86c9b328d447bb/114/2bf9aae7f94d4edec9205372063e37f8/40993363-54.JPG", "caption": "" }, "displayorder": 55, "url": "//cdnparap30.paragonrels.com/ParagonImages/Property/P3/MAXEBRDI/40993363/55/0/0/977d2637db751f43dca18f9d49c784e9/114/2bf9aae7f94d4edec9205372063e37f8/40993363-55.JPG", "caption": "" } ], "agent": { "name": "Dianna Wyman", "phone": "510-919-2876", "email": "dianna@bayside-realestate.com" }, "broker": { "name": "Bayside Real Estate", "phone": "", "email": "" } }; ]]>
1203 Ballena Blvd
ALAMEDA, CA 94501

Click here for map
Townhouse
$1,600,000
2,054 Sq Feet
3 Bedrooms
2 Bathrooms
1 Partial Bath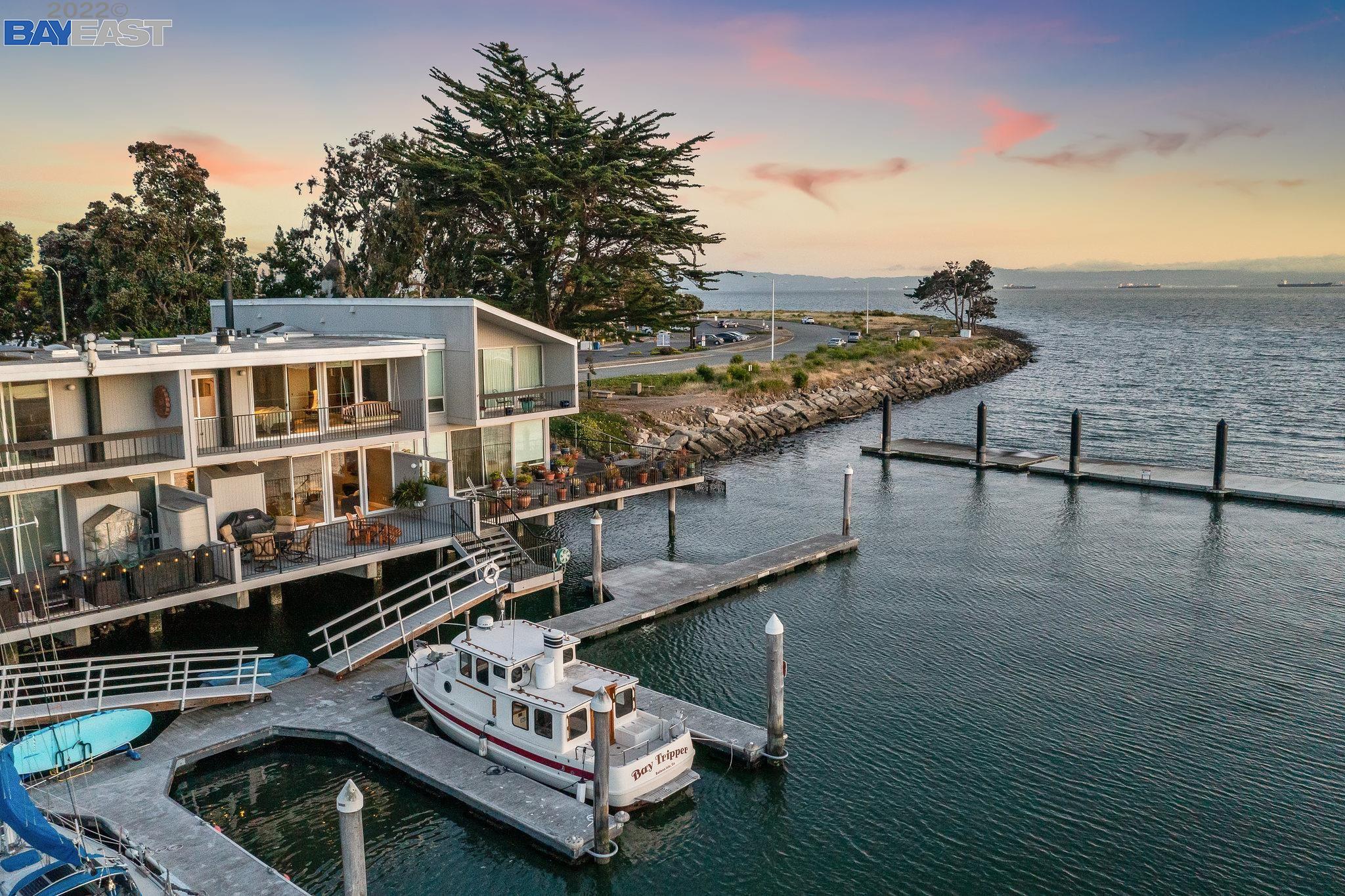 Details:
Lot Sq Feet:
2,080
Fireplaces:
1
HOA?
Yes
Bank Owned?
No
Status:
Pending
Remarks:
Spectacular San Francisco Skyline view from this exceptional 3 BR, 2.5 BTH approx. 2054 sq. ft. Alameda townhome on the bay. It boasts one of the best bay/city views & has a private 31' deep-water dock. The open floor plan has bay/city views from the kitchen, LR, DR & primary suite. Light and open, it has been tastefully remodeled throughout w/ quality materials & beautifully appointed baths. Enjoy the exquisite views from the outdoor large main deck & from the primary suite balcony. Out your door, onto your boat, and in minutes you're sailing in the wide-open bay. The large open kitchen is surrounded by counters & large center island for food prep & entertaining w/adjacent convenient sitting room for comfortable entertaining & gatherings. Sliding glass doors off the kitchen lead to a sunny and private courtyard - perfect for relaxing.  Close to Spirits Alley with its wine, spirits & brew, plus easy commute to SF for work or pleasure via ferry. Everything is at your fingertips!
There are currently no open houses for this property. Please contact
Dianna Wyman
to schedule an appointment.