<![CDATA[ var dwellicious_data = { "address": "247 4Th St #402", "city": "OAKLAND", "state": "CA", "zip": "94607", "zip4": "", "area": "", "subdivision": "", "county": "", "price": "755000", "beds": "1", "baths": "1", "sqft": "1477", "lotsize": "15021", "yearbuilt": "1923-01-01", "proptype": "Residential", "mlsnum": "40995467", "active": false, "remarks": "Top Floor, Enormous, Wonderful NY Style Loft!!! Soaring Ceilings, Exposed Concrete, Beautiful Lay Out, Movie Wall and Projector, Huge dramatic windows with a terrific viewpoint of downtown Oakland! Tons of open space, with cool nooks and crannies! Keep it as is or make it what you want, storage both in the unit and a storage closet in the secured garage. Amazing location, freeway, train, Bart, all relatively close. Restaurants, shopping, and adventures by the bay or the lake! Great Space, Great Area, Great Opportunity!! URBANITES this is what you're LOOKING FOR!!! HOA includes garbage, water, electricity, AC, fiber optic internet, and heating!!", "photos": [ { "displayorder": 0, "url": "//cdnparap30.paragonrels.com/ParagonImages/Property/P3/MAXEBRDI/40995467/0/0/0/ae1154c987859f0a6f0385413c2d46f3/121/8392ccf4a8bbcd6cfd61186bd46956c1/40995467.JPG", "caption": "" }, "displayorder": 1, "url": "//cdnparap30.paragonrels.com/ParagonImages/Property/P3/MAXEBRDI/40995467/1/0/0/eac51be1ebe53c6eebf3ef97c7bd2cce/121/8392ccf4a8bbcd6cfd61186bd46956c1/40995467-1.JPG", "caption": "" }, "displayorder": 2, "url": "//cdnparap30.paragonrels.com/ParagonImages/Property/P3/MAXEBRDI/40995467/2/0/0/2a755410637a42bb2583f8a38f03e37f/121/8392ccf4a8bbcd6cfd61186bd46956c1/40995467-2.JPG", "caption": "" }, "displayorder": 3, "url": "//cdnparap30.paragonrels.com/ParagonImages/Property/P3/MAXEBRDI/40995467/3/0/0/f8e8bc3c4ddf132acf836eaf1d447aee/121/8392ccf4a8bbcd6cfd61186bd46956c1/40995467-3.JPG", "caption": "" }, "displayorder": 4, "url": "//cdnparap30.paragonrels.com/ParagonImages/Property/P3/MAXEBRDI/40995467/4/0/0/84fa49944ca839e62abfa51b721e86ee/121/8392ccf4a8bbcd6cfd61186bd46956c1/40995467-4.JPG", "caption": "" }, "displayorder": 5, "url": "//cdnparap30.paragonrels.com/ParagonImages/Property/P3/MAXEBRDI/40995467/5/0/0/1f412eb067b61b8e9854e29d8040ea9c/121/8392ccf4a8bbcd6cfd61186bd46956c1/40995467-5.JPG", "caption": "" }, "displayorder": 6, "url": "//cdnparap30.paragonrels.com/ParagonImages/Property/P3/MAXEBRDI/40995467/6/0/0/8812a5c0197b81ad62d1c43107f17355/121/8392ccf4a8bbcd6cfd61186bd46956c1/40995467-6.JPG", "caption": "" }, "displayorder": 7, "url": "//cdnparap30.paragonrels.com/ParagonImages/Property/P3/MAXEBRDI/40995467/7/0/0/e67560e8fb8ada769b7925b0e205cada/121/8392ccf4a8bbcd6cfd61186bd46956c1/40995467-7.JPG", "caption": "" }, "displayorder": 8, "url": "//cdnparap30.paragonrels.com/ParagonImages/Property/P3/MAXEBRDI/40995467/8/0/0/ccc66e9c71c39b440098aa70e9845074/121/8392ccf4a8bbcd6cfd61186bd46956c1/40995467-8.JPG", "caption": "" }, "displayorder": 9, "url": "//cdnparap30.paragonrels.com/ParagonImages/Property/P3/MAXEBRDI/40995467/9/0/0/2a4e173a4fbd8606f87c1f0f5d3f67c6/121/8392ccf4a8bbcd6cfd61186bd46956c1/40995467-9.JPG", "caption": "" }, "displayorder": 10, "url": "//cdnparap30.paragonrels.com/ParagonImages/Property/P3/MAXEBRDI/40995467/10/0/0/0f34c78ecbfb7dfad79f94e8668f36e1/121/8392ccf4a8bbcd6cfd61186bd46956c1/40995467-10.JPG", "caption": "" }, "displayorder": 11, "url": "//cdnparap30.paragonrels.com/ParagonImages/Property/P3/MAXEBRDI/40995467/11/0/0/2fd47ef3208dd23826236dd96b621fc1/121/8392ccf4a8bbcd6cfd61186bd46956c1/40995467-11.JPG", "caption": "" }, "displayorder": 12, "url": "//cdnparap30.paragonrels.com/ParagonImages/Property/P3/MAXEBRDI/40995467/12/0/0/e599be5a22e3eaac7fd3de746491106c/121/8392ccf4a8bbcd6cfd61186bd46956c1/40995467-12.JPG", "caption": "" }, "displayorder": 13, "url": "//cdnparap30.paragonrels.com/ParagonImages/Property/P3/MAXEBRDI/40995467/13/0/0/f31dc03945bdf2b524eca8b894266da6/121/8392ccf4a8bbcd6cfd61186bd46956c1/40995467-13.JPG", "caption": "" }, "displayorder": 14, "url": "//cdnparap30.paragonrels.com/ParagonImages/Property/P3/MAXEBRDI/40995467/14/0/0/38e5443c353350a5766d4d9b2d7192d1/121/8392ccf4a8bbcd6cfd61186bd46956c1/40995467-14.JPG", "caption": "" }, "displayorder": 15, "url": "//cdnparap30.paragonrels.com/ParagonImages/Property/P3/MAXEBRDI/40995467/15/0/0/0de83a77313f5b56cc723e1bf7d34ebc/121/8392ccf4a8bbcd6cfd61186bd46956c1/40995467-15.JPG", "caption": "" }, "displayorder": 16, "url": "//cdnparap30.paragonrels.com/ParagonImages/Property/P3/MAXEBRDI/40995467/16/0/0/675c8b4885c989efe67f566e87416979/121/8392ccf4a8bbcd6cfd61186bd46956c1/40995467-16.JPG", "caption": "" }, "displayorder": 17, "url": "//cdnparap30.paragonrels.com/ParagonImages/Property/P3/MAXEBRDI/40995467/17/0/0/7824f1a80f39e29bcd2eb93fc571ebc3/121/8392ccf4a8bbcd6cfd61186bd46956c1/40995467-17.JPG", "caption": "" }, "displayorder": 18, "url": "//cdnparap30.paragonrels.com/ParagonImages/Property/P3/MAXEBRDI/40995467/18/0/0/44af5274e6c146d65820c7bea008b997/121/8392ccf4a8bbcd6cfd61186bd46956c1/40995467-18.JPG", "caption": "" }, "displayorder": 19, "url": "//cdnparap30.paragonrels.com/ParagonImages/Property/P3/MAXEBRDI/40995467/19/0/0/169c4bfb810b1f70be08047ca366c9c7/121/8392ccf4a8bbcd6cfd61186bd46956c1/40995467-19.JPG", "caption": "" }, "displayorder": 20, "url": "//cdnparap30.paragonrels.com/ParagonImages/Property/P3/MAXEBRDI/40995467/20/0/0/c2161f38dc5dbf2e4d8bc4979dfddb69/121/8392ccf4a8bbcd6cfd61186bd46956c1/40995467-20.JPG", "caption": "" }, "displayorder": 21, "url": "//cdnparap30.paragonrels.com/ParagonImages/Property/P3/MAXEBRDI/40995467/21/0/0/715cba25b915a3cfdbde056b4a9e4919/121/8392ccf4a8bbcd6cfd61186bd46956c1/40995467-21.JPG", "caption": "" }, "displayorder": 22, "url": "//cdnparap30.paragonrels.com/ParagonImages/Property/P3/MAXEBRDI/40995467/22/0/0/d236360f78dbcbfa7fbb3334d7551dde/121/8392ccf4a8bbcd6cfd61186bd46956c1/40995467-22.JPG", "caption": "" }, "displayorder": 23, "url": "//cdnparap30.paragonrels.com/ParagonImages/Property/P3/MAXEBRDI/40995467/23/0/0/94da3fffdab72c94866de99047e63cc7/121/8392ccf4a8bbcd6cfd61186bd46956c1/40995467-23.JPG", "caption": "" }, "displayorder": 24, "url": "//cdnparap30.paragonrels.com/ParagonImages/Property/P3/MAXEBRDI/40995467/24/0/0/3eecfc804b1702de7ffb9443cf5887d6/121/8392ccf4a8bbcd6cfd61186bd46956c1/40995467-24.JPG", "caption": "" }, "displayorder": 25, "url": "//cdnparap30.paragonrels.com/ParagonImages/Property/P3/MAXEBRDI/40995467/25/0/0/9d93225828f3aa424a17fbd4a5fb13ca/121/8392ccf4a8bbcd6cfd61186bd46956c1/40995467-25.JPG", "caption": "" }, "displayorder": 26, "url": "//cdnparap30.paragonrels.com/ParagonImages/Property/P3/MAXEBRDI/40995467/26/0/0/bec88c9011040c33cc82036da9079bd5/121/8392ccf4a8bbcd6cfd61186bd46956c1/40995467-26.JPG", "caption": "" }, "displayorder": 27, "url": "//cdnparap30.paragonrels.com/ParagonImages/Property/P3/MAXEBRDI/40995467/27/0/0/3bf106b53d639619a7e9a44d382f6e43/121/8392ccf4a8bbcd6cfd61186bd46956c1/40995467-27.JPG", "caption": "" }, "displayorder": 28, "url": "//cdnparap30.paragonrels.com/ParagonImages/Property/P3/MAXEBRDI/40995467/28/0/0/f45e6129c73ce67ca8abc686a38cfeca/121/8392ccf4a8bbcd6cfd61186bd46956c1/40995467-28.JPG", "caption": "" }, "displayorder": 29, "url": "//cdnparap30.paragonrels.com/ParagonImages/Property/P3/MAXEBRDI/40995467/29/0/0/a5a919eedee87a41aa2eedc45f0f2096/121/8392ccf4a8bbcd6cfd61186bd46956c1/40995467-29.JPG", "caption": "" }, "displayorder": 30, "url": "//cdnparap30.paragonrels.com/ParagonImages/Property/P3/MAXEBRDI/40995467/30/0/0/4a1906ffd634875ab960b55c267d8440/121/8392ccf4a8bbcd6cfd61186bd46956c1/40995467-30.JPG", "caption": "" }, "displayorder": 31, "url": "//cdnparap30.paragonrels.com/ParagonImages/Property/P3/MAXEBRDI/40995467/31/0/0/b52e48accc7e6ad54e1cd8a7ef83ee45/121/8392ccf4a8bbcd6cfd61186bd46956c1/40995467-31.JPG", "caption": "" }, "displayorder": 32, "url": "//cdnparap30.paragonrels.com/ParagonImages/Property/P3/MAXEBRDI/40995467/32/0/0/52bfbc85d0745c3ddfa3e2e3ea5aaef7/121/8392ccf4a8bbcd6cfd61186bd46956c1/40995467-32.JPG", "caption": "" }, "displayorder": 33, "url": "//cdnparap30.paragonrels.com/ParagonImages/Property/P3/MAXEBRDI/40995467/33/0/0/f39de3ca988925f730c8a1d462d9aee8/121/8392ccf4a8bbcd6cfd61186bd46956c1/40995467-33.JPG", "caption": "" } ], "agent": { "name": "Laura Martell", "phone": "415-948-1282", "email": "laura@danielwinklerinc.com" }, "broker": { "name": "WINKLER REAL ESTATE GROUP", "phone": "", "email": "" } }; ]]>
247 4Th St #402
OAKLAND, CA 94607

Click here for map
Condo
$755,000
1,477 Sq Feet
1 Bedroom
1 Bathroom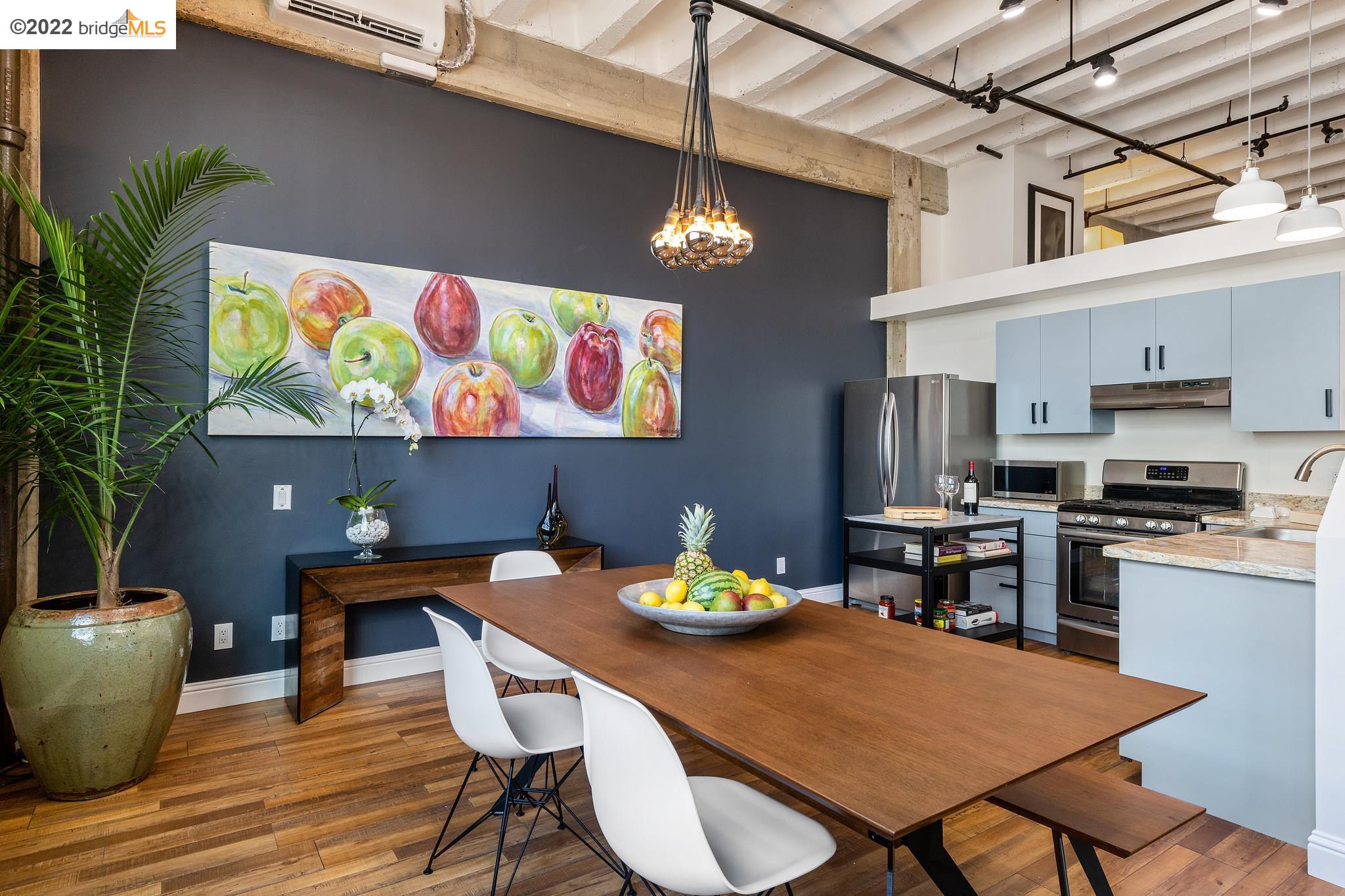 Listed by Laura Martell of WINKLER REAL ESTATE GROUP
DRE# 01401840
Details:
Lot Sq Feet:
15,021
Fireplaces:
0
HOA?
Yes
Bank Owned?
No
Status:
Expired
Remarks:
Top Floor, Enormous, Wonderful NY Style Loft!!! Soaring Ceilings, Exposed Concrete, Beautiful Lay Out, Movie Wall and Projector, Huge dramatic windows with a terrific viewpoint of downtown Oakland! Tons of open space, with cool nooks and crannies! Keep it as is or make it what you want, storage both in the unit and a storage closet in the secured garage. Amazing location, freeway, train, Bart, all relatively close. Restaurants, shopping, and adventures by the bay or the lake! Great Space, Great Area, Great Opportunity!! URBANITES this is what you're LOOKING FOR!!! HOA includes garbage, water, electricity, AC, fiber optic internet, and heating!!
There are currently no open houses for this property. Please contact
Laura Martell
to schedule an appointment.