<![CDATA[ var dwellicious_data = { "address": "574 29Th St ", "city": "OAKLAND", "state": "CA", "zip": "94609", "zip4": "", "area": "", "subdivision": "", "county": "", "price": "500000", "beds": "2", "baths": "1", "sqft": "719", "lotsize": "4375", "yearbuilt": "1922-01-01", "proptype": "Residential", "mlsnum": "40995959", "active": false, "remarks": "Eligible for Low Interest Loan or Local Grant Program!! Bright, updated condo is conveniently located along the vibrant KONO district, near Temescal, Uptown as well as Sutter and Kaiser hospitals. Treetop views and well insulated windows make this a retreat from the hum of the city. French doors open to a light drenched bedroom with a large closet. It also has a sunny walk-in closet with south facing window provides perfect light for a zoom room all day! Don't miss the additional room tucked away in the back that makes a cozy bedroom or spacious office. The kitchen boasts granite countertops, stainless-steel appliances and the updated bathroom preserves the character of the 1920's. A half-block to Commonwealth Café and Public House and walking distance to groceries, coffee, restaurants and much more! Easy commute to SF with dedicated gated parking and sunny garden space!", "photos": [ { "displayorder": 0, "url": "//cdnparap30.paragonrels.com/ParagonImages/Property/P3/MAXEBRDI/40995959/0/0/0/deb399c96e4bfc33281ac132877d94c4/121/449d38f06f8a8d1fe89e6e2733261d7e/40995959.JPG", "caption": "" }, "displayorder": 1, "url": "//cdnparap30.paragonrels.com/ParagonImages/Property/P3/MAXEBRDI/40995959/1/0/0/eadb6f0adfd86e4014565e217cccde0c/121/449d38f06f8a8d1fe89e6e2733261d7e/40995959-1.JPG", "caption": "" }, "displayorder": 2, "url": "//cdnparap30.paragonrels.com/ParagonImages/Property/P3/MAXEBRDI/40995959/2/0/0/e96af1bd115a40ebe8c303f5e304bea7/121/449d38f06f8a8d1fe89e6e2733261d7e/40995959-2.JPG", "caption": "" }, "displayorder": 3, "url": "//cdnparap30.paragonrels.com/ParagonImages/Property/P3/MAXEBRDI/40995959/3/0/0/0437234f9204f1c83d8aedbe7dc21d24/121/449d38f06f8a8d1fe89e6e2733261d7e/40995959-3.JPG", "caption": "" }, "displayorder": 4, "url": "//cdnparap30.paragonrels.com/ParagonImages/Property/P3/MAXEBRDI/40995959/4/0/0/e45a369e050d1e7d5b8482206c6a04f7/121/449d38f06f8a8d1fe89e6e2733261d7e/40995959-4.JPG", "caption": "" }, "displayorder": 5, "url": "//cdnparap30.paragonrels.com/ParagonImages/Property/P3/MAXEBRDI/40995959/5/0/0/302716a2a18ccf90f38bd06a879aaa1b/121/449d38f06f8a8d1fe89e6e2733261d7e/40995959-5.JPG", "caption": "" }, "displayorder": 6, "url": "//cdnparap30.paragonrels.com/ParagonImages/Property/P3/MAXEBRDI/40995959/6/0/0/cf4837893b36d8cfbf308061667c59a3/121/449d38f06f8a8d1fe89e6e2733261d7e/40995959-6.JPG", "caption": "" }, "displayorder": 7, "url": "//cdnparap30.paragonrels.com/ParagonImages/Property/P3/MAXEBRDI/40995959/7/0/0/ff258c1ee4816eea87e8f7ec5982a345/121/449d38f06f8a8d1fe89e6e2733261d7e/40995959-7.JPG", "caption": "" }, "displayorder": 8, "url": "//cdnparap30.paragonrels.com/ParagonImages/Property/P3/MAXEBRDI/40995959/8/0/0/debbdfa2ff222a72fdb1cb88c02fd522/121/449d38f06f8a8d1fe89e6e2733261d7e/40995959-8.JPG", "caption": "" }, "displayorder": 9, "url": "//cdnparap30.paragonrels.com/ParagonImages/Property/P3/MAXEBRDI/40995959/9/0/0/25275afd75d31ca3c0f23e16903113d3/121/449d38f06f8a8d1fe89e6e2733261d7e/40995959-9.JPG", "caption": "" }, "displayorder": 10, "url": "//cdnparap30.paragonrels.com/ParagonImages/Property/P3/MAXEBRDI/40995959/10/0/0/195e2759b1eadb5d41912d4f751a4806/121/449d38f06f8a8d1fe89e6e2733261d7e/40995959-10.JPG", "caption": "" }, "displayorder": 11, "url": "//cdnparap30.paragonrels.com/ParagonImages/Property/P3/MAXEBRDI/40995959/11/0/0/db1919fbe04910b38c17df5b5120d5d8/121/449d38f06f8a8d1fe89e6e2733261d7e/40995959-11.JPG", "caption": "" }, "displayorder": 12, "url": "//cdnparap30.paragonrels.com/ParagonImages/Property/P3/MAXEBRDI/40995959/12/0/0/52d3c8fbd7a3317faff2e106d780f39c/121/449d38f06f8a8d1fe89e6e2733261d7e/40995959-12.JPG", "caption": "" }, "displayorder": 13, "url": "//cdnparap30.paragonrels.com/ParagonImages/Property/P3/MAXEBRDI/40995959/13/0/0/8f65acf62ffc9bd49bc0d9359e8cc8b3/121/449d38f06f8a8d1fe89e6e2733261d7e/40995959-13.JPG", "caption": "" }, "displayorder": 14, "url": "//cdnparap30.paragonrels.com/ParagonImages/Property/P3/MAXEBRDI/40995959/14/0/0/42e712301c307a4b6f8e3a7a7ef8c5ca/121/449d38f06f8a8d1fe89e6e2733261d7e/40995959-14.JPG", "caption": "" }, "displayorder": 15, "url": "//cdnparap30.paragonrels.com/ParagonImages/Property/P3/MAXEBRDI/40995959/15/0/0/a67695dfc5562262ebfa5f019211830c/121/449d38f06f8a8d1fe89e6e2733261d7e/40995959-15.JPG", "caption": "" }, "displayorder": 16, "url": "//cdnparap30.paragonrels.com/ParagonImages/Property/P3/MAXEBRDI/40995959/16/0/0/9f756cfab898728c7daff5c2afc71301/121/449d38f06f8a8d1fe89e6e2733261d7e/40995959-16.JPG", "caption": "" }, "displayorder": 17, "url": "//cdnparap30.paragonrels.com/ParagonImages/Property/P3/MAXEBRDI/40995959/17/0/0/0139497cce926c39fc82640209362075/121/449d38f06f8a8d1fe89e6e2733261d7e/40995959-17.JPG", "caption": "" }, "displayorder": 18, "url": "//cdnparap30.paragonrels.com/ParagonImages/Property/P3/MAXEBRDI/40995959/18/0/0/38946dd2b8cb9c134350711afa47fc69/121/449d38f06f8a8d1fe89e6e2733261d7e/40995959-18.JPG", "caption": "" }, "displayorder": 19, "url": "//cdnparap30.paragonrels.com/ParagonImages/Property/P3/MAXEBRDI/40995959/19/0/0/24b81a2e0545e2c820b76aefaea30159/121/449d38f06f8a8d1fe89e6e2733261d7e/40995959-19.JPG", "caption": "" }, "displayorder": 20, "url": "//cdnparap30.paragonrels.com/ParagonImages/Property/P3/MAXEBRDI/40995959/20/0/0/e433e4b64305ce1ce607d9caf77d6065/121/449d38f06f8a8d1fe89e6e2733261d7e/40995959-20.JPG", "caption": "" }, "displayorder": 21, "url": "//cdnparap30.paragonrels.com/ParagonImages/Property/P3/MAXEBRDI/40995959/21/0/0/bb36fb394d705d9ef290fc472811de19/121/449d38f06f8a8d1fe89e6e2733261d7e/40995959-21.JPG", "caption": "" }, "displayorder": 22, "url": "//cdnparap30.paragonrels.com/ParagonImages/Property/P3/MAXEBRDI/40995959/22/0/0/81fc4723fde1bca4b8af0b6d33a22092/121/449d38f06f8a8d1fe89e6e2733261d7e/40995959-22.JPG", "caption": "" }, "displayorder": 23, "url": "//cdnparap30.paragonrels.com/ParagonImages/Property/P3/MAXEBRDI/40995959/23/0/0/18fa3bc7a4d68c0156be35280d0cc4d6/121/449d38f06f8a8d1fe89e6e2733261d7e/40995959-23.JPG", "caption": "" }, "displayorder": 24, "url": "//cdnparap30.paragonrels.com/ParagonImages/Property/P3/MAXEBRDI/40995959/24/0/0/eb850eee4667e563db1a3a9f44ed0f75/121/449d38f06f8a8d1fe89e6e2733261d7e/40995959-24.JPG", "caption": "" }, "displayorder": 25, "url": "//cdnparap30.paragonrels.com/ParagonImages/Property/P3/MAXEBRDI/40995959/25/0/0/f254af5ade7156211c71b1d3e3363192/121/449d38f06f8a8d1fe89e6e2733261d7e/40995959-25.JPG", "caption": "" }, "displayorder": 26, "url": "//cdnparap30.paragonrels.com/ParagonImages/Property/P3/MAXEBRDI/40995959/26/0/0/5e427f2855d01a6cf8cad6af52d699aa/121/449d38f06f8a8d1fe89e6e2733261d7e/40995959-26.JPG", "caption": "" } ], "agent": { "name": "Zoe Tamano-Hill", "phone": "415-634-5563", "email": "zoe@mondayteamagents.com" }, "broker": { "name": "KW Advisors", "phone": "", "email": "" } }; ]]>
574 29Th St
OAKLAND, CA 94609

Click here for map
Condo
$500,000
719 Sq Feet
2 Bedrooms
1 Bathroom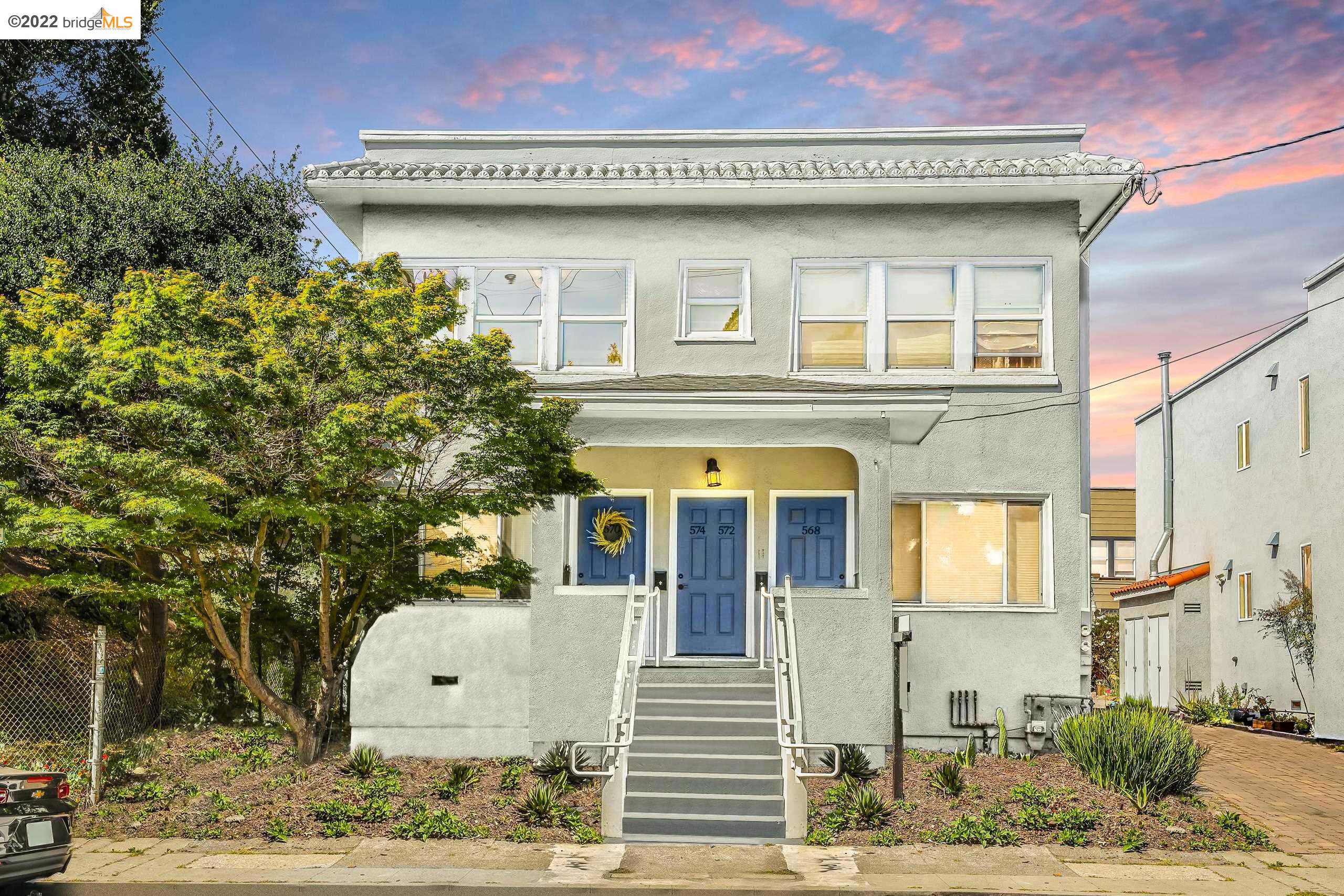 Details:
Lot Sq Feet:
4,375
Fireplaces:
0
HOA?
Yes
Bank Owned?
No
Status:
Pending
Remarks:
Eligible for Low Interest Loan or Local Grant Program!! Bright, updated condo is conveniently located along the vibrant KONO district, near Temescal, Uptown as well as Sutter and Kaiser hospitals. Treetop views and well insulated windows make this a retreat from the hum of the city. French doors open to a light drenched bedroom with a large closet. It also has a sunny walk-in closet with south facing window provides perfect light for a zoom room all day! Don't miss the additional room tucked away in the back that makes a cozy bedroom or spacious office. The kitchen boasts granite countertops, stainless-steel appliances and the updated bathroom preserves the character of the 1920's. A half-block to Commonwealth Café and Public House and walking distance to groceries, coffee, restaurants and much more! Easy commute to SF with dedicated gated parking and sunny garden space!
There are currently no open houses for this property. Please contact
Zoe Tamano-Hill
to schedule an appointment.