<![CDATA[ var dwellicious_data = { "address": "3508 May Rd ", "city": "RICHMOND", "state": "CA", "zip": "94803", "zip4": "", "area": "", "subdivision": "", "county": "", "price": "873000", "beds": "3", "baths": "2", "sqft": "1653", "lotsize": "9000", "yearbuilt": "1960-01-01", "proptype": "Residential", "mlsnum": "40996211", "active": true, "remarks": "THIS GEM is in one of the most desirable May Valley neighborhoods. As you enter this home, you can see the pride in ownership. Filled with warmth and lots of natural light through out. The spacious updated kitchen has plenty of cabinet space and it overlooks the peaceful, private backyard setting. This home offers a single story, 3 bedrooms, spacious closets, 2 beautiful updated bathrooms(master bthrm. has barn door), livingroom, two fireplaces, and a 4th bonus room for a family room, office, or possible bedroom. The spacious dining room allows you to enter the backyard ,enjoy the views of the rolling hills from the gazebo and relax in the surroundings which include fruit trees, shrubs, grassy area, trees. There is a fenced yard with a storage shed/workshop in the backyard. Located near Valley View Elementary School, De Anza High School, walking distance to the park, minutes from Orinda and Tilden Park, close to shopping centers, public transportation.", "photos": [ { "displayorder": 0, "url": "//cdnparap30.paragonrels.com/ParagonImages/Property/P3/MAXEBRDI/40996211/0/0/0/d0c1c86a1178101a047763179b5e96ac/120/766218116090d5f4fe956dc61aacee6d/40996211.JPG", "caption": "" }, "displayorder": 1, "url": "//cdnparap30.paragonrels.com/ParagonImages/Property/P3/MAXEBRDI/40996211/1/0/0/f9df885ef12d82f689e9e9dd49a250a7/120/766218116090d5f4fe956dc61aacee6d/40996211-1.JPG", "caption": "" }, "displayorder": 2, "url": "//cdnparap30.paragonrels.com/ParagonImages/Property/P3/MAXEBRDI/40996211/2/0/0/e1c0c2173f98721dbd910fcc37d732f0/120/766218116090d5f4fe956dc61aacee6d/40996211-2.JPG", "caption": "" }, "displayorder": 3, "url": "//cdnparap30.paragonrels.com/ParagonImages/Property/P3/MAXEBRDI/40996211/3/0/0/876596920b8d948e5673e3e38eca41a8/120/766218116090d5f4fe956dc61aacee6d/40996211-3.JPG", "caption": "" }, "displayorder": 4, "url": "//cdnparap30.paragonrels.com/ParagonImages/Property/P3/MAXEBRDI/40996211/4/0/0/af46eec3f7498bf519f220028a2a60f7/120/766218116090d5f4fe956dc61aacee6d/40996211-4.JPG", "caption": "" }, "displayorder": 5, "url": "//cdnparap30.paragonrels.com/ParagonImages/Property/P3/MAXEBRDI/40996211/5/0/0/831866a60bda95e4395328bc7346622e/120/766218116090d5f4fe956dc61aacee6d/40996211-5.JPG", "caption": "" }, "displayorder": 6, "url": "//cdnparap30.paragonrels.com/ParagonImages/Property/P3/MAXEBRDI/40996211/6/0/0/7b82f5bedc7bb191337972c2491d7872/120/766218116090d5f4fe956dc61aacee6d/40996211-6.JPG", "caption": "" }, "displayorder": 7, "url": "//cdnparap30.paragonrels.com/ParagonImages/Property/P3/MAXEBRDI/40996211/7/0/0/401a8012f0071b7781e3aad33b8a870a/120/766218116090d5f4fe956dc61aacee6d/40996211-7.JPG", "caption": "" }, "displayorder": 8, "url": "//cdnparap30.paragonrels.com/ParagonImages/Property/P3/MAXEBRDI/40996211/8/0/0/9be1d2d896e8a8a2ea36f97ea2c80f02/120/766218116090d5f4fe956dc61aacee6d/40996211-8.JPG", "caption": "" }, "displayorder": 9, "url": "//cdnparap30.paragonrels.com/ParagonImages/Property/P3/MAXEBRDI/40996211/9/0/0/72b009e8253a7f169af69772ec946441/120/766218116090d5f4fe956dc61aacee6d/40996211-9.JPG", "caption": "" }, "displayorder": 10, "url": "//cdnparap30.paragonrels.com/ParagonImages/Property/P3/MAXEBRDI/40996211/10/0/0/2d0b2b6fae3951c9c504a1de8ba2e365/120/766218116090d5f4fe956dc61aacee6d/40996211-10.JPG", "caption": "" }, "displayorder": 11, "url": "//cdnparap30.paragonrels.com/ParagonImages/Property/P3/MAXEBRDI/40996211/11/0/0/eb14ed7ba16021b3abdc841dab136761/120/766218116090d5f4fe956dc61aacee6d/40996211-11.JPG", "caption": "" }, "displayorder": 12, "url": "//cdnparap30.paragonrels.com/ParagonImages/Property/P3/MAXEBRDI/40996211/12/0/0/0e7a17047895c9570fe885a2e532ae19/120/766218116090d5f4fe956dc61aacee6d/40996211-12.JPG", "caption": "" }, "displayorder": 13, "url": "//cdnparap30.paragonrels.com/ParagonImages/Property/P3/MAXEBRDI/40996211/13/0/0/6dae8322587d14d0f9074415e276fbf5/120/766218116090d5f4fe956dc61aacee6d/40996211-13.JPG", "caption": "" }, "displayorder": 14, "url": "//cdnparap30.paragonrels.com/ParagonImages/Property/P3/MAXEBRDI/40996211/14/0/0/f3a5213df9c3dfc12b32cd8758bb3162/120/766218116090d5f4fe956dc61aacee6d/40996211-14.JPG", "caption": "" }, "displayorder": 15, "url": "//cdnparap30.paragonrels.com/ParagonImages/Property/P3/MAXEBRDI/40996211/15/0/0/cc58dcfa1e4d78d83b177054337dd554/120/766218116090d5f4fe956dc61aacee6d/40996211-15.JPG", "caption": "" }, "displayorder": 16, "url": "//cdnparap30.paragonrels.com/ParagonImages/Property/P3/MAXEBRDI/40996211/16/0/0/b5c091ab215ad2a32096a61d146e686b/120/766218116090d5f4fe956dc61aacee6d/40996211-16.JPG", "caption": "" }, "displayorder": 17, "url": "//cdnparap30.paragonrels.com/ParagonImages/Property/P3/MAXEBRDI/40996211/17/0/0/45f34845df7df33c8c336086c6bd5797/120/766218116090d5f4fe956dc61aacee6d/40996211-17.JPG", "caption": "" }, "displayorder": 18, "url": "//cdnparap30.paragonrels.com/ParagonImages/Property/P3/MAXEBRDI/40996211/18/0/0/1d30de3277a582aa04f53900833db306/120/766218116090d5f4fe956dc61aacee6d/40996211-18.JPG", "caption": "" }, "displayorder": 19, "url": "//cdnparap30.paragonrels.com/ParagonImages/Property/P3/MAXEBRDI/40996211/19/0/0/f1b1ab0d501242ecd832724f1161f3cd/120/766218116090d5f4fe956dc61aacee6d/40996211-19.JPG", "caption": "" }, "displayorder": 20, "url": "//cdnparap30.paragonrels.com/ParagonImages/Property/P3/MAXEBRDI/40996211/20/0/0/0adf6159802d8ed43056e6b3c6338945/120/766218116090d5f4fe956dc61aacee6d/40996211-20.JPG", "caption": "" }, "displayorder": 21, "url": "//cdnparap30.paragonrels.com/ParagonImages/Property/P3/MAXEBRDI/40996211/21/0/0/5958a4ca420a20ba17762addc53fd5d6/120/766218116090d5f4fe956dc61aacee6d/40996211-21.JPG", "caption": "" }, "displayorder": 22, "url": "//cdnparap30.paragonrels.com/ParagonImages/Property/P3/MAXEBRDI/40996211/22/0/0/dfd0185eda9201bf35fc2d8e8153b5c5/120/766218116090d5f4fe956dc61aacee6d/40996211-22.JPG", "caption": "" }, "displayorder": 23, "url": "//cdnparap30.paragonrels.com/ParagonImages/Property/P3/MAXEBRDI/40996211/23/0/0/74dffa72f94b25b29a29187e37b6309f/120/766218116090d5f4fe956dc61aacee6d/40996211-23.JPG", "caption": "" }, "displayorder": 24, "url": "//cdnparap30.paragonrels.com/ParagonImages/Property/P3/MAXEBRDI/40996211/24/0/0/cf2b30b2b7bb757478eadcfa7b7633b6/120/766218116090d5f4fe956dc61aacee6d/40996211-24.JPG", "caption": "" }, "displayorder": 25, "url": "//cdnparap30.paragonrels.com/ParagonImages/Property/P3/MAXEBRDI/40996211/25/0/0/3fc22dbe41f47fe7a2e24294468fd155/120/766218116090d5f4fe956dc61aacee6d/40996211-25.JPG", "caption": "" }, "displayorder": 26, "url": "//cdnparap30.paragonrels.com/ParagonImages/Property/P3/MAXEBRDI/40996211/26/0/0/e4c8f346cd2e2b33b7c2ababb1a7dba9/120/766218116090d5f4fe956dc61aacee6d/40996211-26.JPG", "caption": "" }, "displayorder": 27, "url": "//cdnparap30.paragonrels.com/ParagonImages/Property/P3/MAXEBRDI/40996211/27/0/0/84e51938873d5d4a6cd4ec0cf10503e3/120/766218116090d5f4fe956dc61aacee6d/40996211-27.JPG", "caption": "" }, "displayorder": 28, "url": "//cdnparap30.paragonrels.com/ParagonImages/Property/P3/MAXEBRDI/40996211/28/0/0/72fbc2a2eb6738606ab1155fb21b83c1/120/766218116090d5f4fe956dc61aacee6d/40996211-28.JPG", "caption": "" }, "displayorder": 29, "url": "//cdnparap30.paragonrels.com/ParagonImages/Property/P3/MAXEBRDI/40996211/29/0/0/60717a0d6cddc447a2e57c55cb0b5040/120/766218116090d5f4fe956dc61aacee6d/40996211-29.JPG", "caption": "" }, "displayorder": 30, "url": "//cdnparap30.paragonrels.com/ParagonImages/Property/P3/MAXEBRDI/40996211/30/0/0/8c89f6b3766c166c279855c8b6965f53/120/766218116090d5f4fe956dc61aacee6d/40996211-30.JPG", "caption": "" }, "displayorder": 31, "url": "//cdnparap30.paragonrels.com/ParagonImages/Property/P3/MAXEBRDI/40996211/31/0/0/08322a057387759f09513946165cefa4/120/766218116090d5f4fe956dc61aacee6d/40996211-31.JPG", "caption": "" }, "displayorder": 32, "url": "//cdnparap30.paragonrels.com/ParagonImages/Property/P3/MAXEBRDI/40996211/32/0/0/b2e94c8fb92f93937885ea36f1e1a862/120/766218116090d5f4fe956dc61aacee6d/40996211-32.JPG", "caption": "" }, "displayorder": 33, "url": "//cdnparap30.paragonrels.com/ParagonImages/Property/P3/MAXEBRDI/40996211/33/0/0/5263e84b20dd953b8bc5f5600fda33e8/120/766218116090d5f4fe956dc61aacee6d/40996211-33.JPG", "caption": "" }, "displayorder": 34, "url": "//cdnparap30.paragonrels.com/ParagonImages/Property/P3/MAXEBRDI/40996211/34/0/0/693cd86f5a8ca9b1cc938144d56aa666/120/766218116090d5f4fe956dc61aacee6d/40996211-34.JPG", "caption": "" }, "displayorder": 35, "url": "//cdnparap30.paragonrels.com/ParagonImages/Property/P3/MAXEBRDI/40996211/35/0/0/3b1bed85b9215e691ffdef0e2bd1aa11/120/766218116090d5f4fe956dc61aacee6d/40996211-35.JPG", "caption": "" }, "displayorder": 36, "url": "//cdnparap30.paragonrels.com/ParagonImages/Property/P3/MAXEBRDI/40996211/36/0/0/11ac9c3e63a8efcfed431949a4b3d545/120/766218116090d5f4fe956dc61aacee6d/40996211-36.JPG", "caption": "" }, "displayorder": 37, "url": "//cdnparap30.paragonrels.com/ParagonImages/Property/P3/MAXEBRDI/40996211/37/0/0/0a0f8c06260b60ea7172919b6e54487d/120/766218116090d5f4fe956dc61aacee6d/40996211-37.JPG", "caption": "" } ], "agent": { "name": "Bonnie Andrews", "phone": "510-4788266", "email": "bonniesdanes@windermere.com" }, "broker": { "name": "Windermere Rowland Realty", "phone": "", "email": "" } }; ]]>
3508 May Rd
RICHMOND, CA 94803

Click here for map
Residential Home
$873,000
1,653 Sq Feet
3 Bedrooms
2 Bathrooms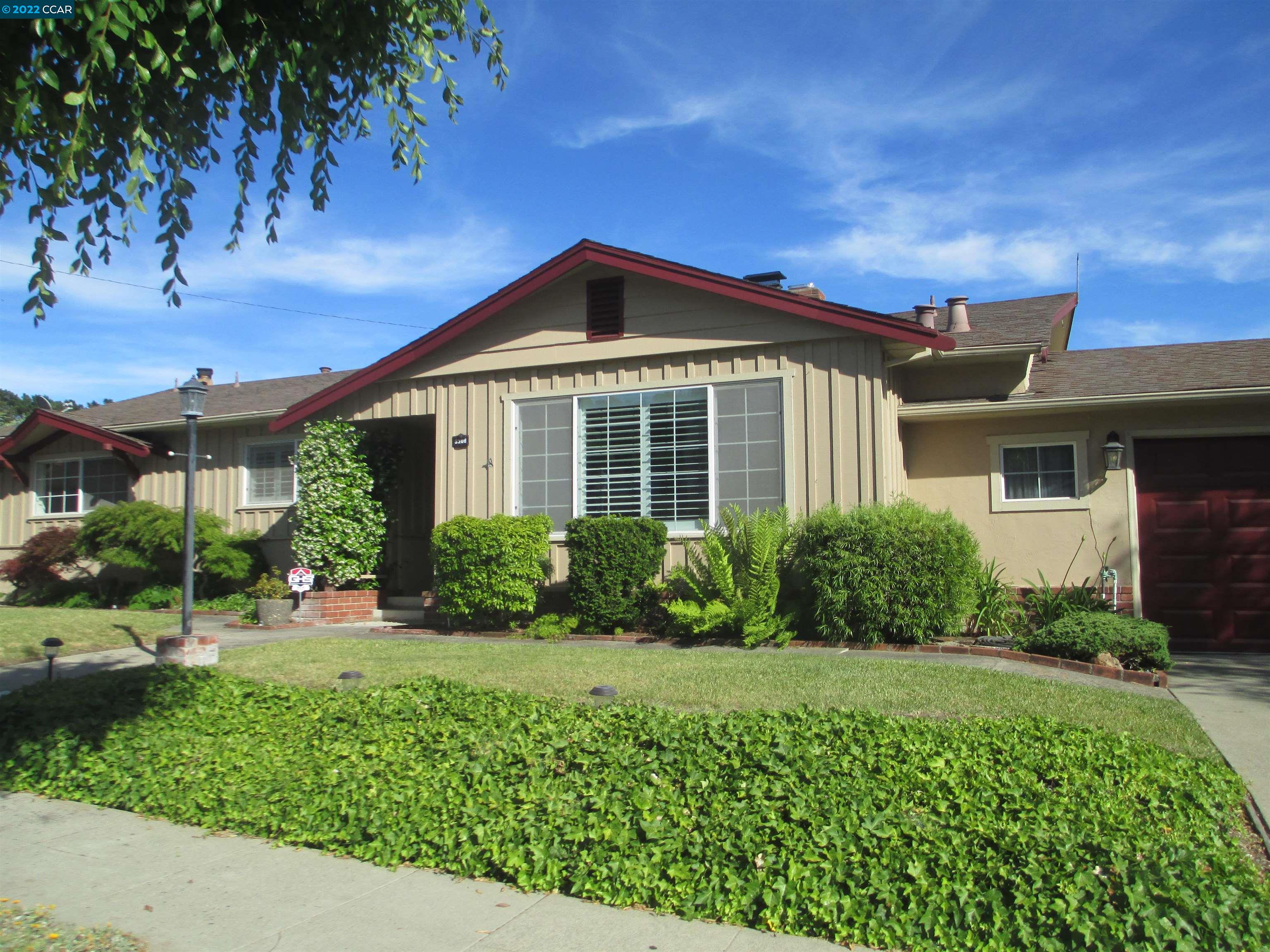 Details:
Lot Sq Feet:
9,000
Fireplaces:
2
HOA?
No
Bank Owned?
No
Status:
Active
Remarks:
THIS GEM is in one of the most desirable May Valley neighborhoods. As you enter this home, you can see the pride in ownership. Filled with warmth and lots of natural light through out. The spacious updated kitchen has plenty of cabinet space and it overlooks the peaceful, private backyard setting. This home offers a single story, 3 bedrooms, spacious closets, 2 beautiful updated bathrooms(master bthrm. has barn door), livingroom, two fireplaces, and a 4th bonus room for a family room, office, or possible bedroom. The spacious dining room allows you to enter the backyard ,enjoy the views of the rolling hills from the gazebo and relax in the surroundings which include fruit trees, shrubs, grassy area, trees. There is a fenced yard with a storage shed/workshop in the backyard. Located near Valley View Elementary School, De Anza High School, walking distance to the park, minutes from Orinda and Tilden Park, close to shopping centers, public transportation.
There are currently no open houses for this property. Please contact
Bonnie Andrews
to schedule an appointment.