<![CDATA[ var dwellicious_data = { "address": "4833 Brookdale Ave ", "city": "OAKLAND", "state": "CA", "zip": "94619", "zip4": "", "area": "", "subdivision": "", "county": "", "price": "899000", "beds": "5", "baths": "3", "sqft": "3537", "lotsize": "5179", "yearbuilt": "1918-01-01", "proptype": "Residential", "mlsnum": "40997544", "active": false, "remarks": "Amazing sunny single-family home located in Maxwell Park with breathtaking views of the bay. This home has 5 bedrooms, 2 bathrooms, and a bonus kitchenette downstairs. With the perfect layout for entertaining and artwork, this home includes spacious connected common areas and a massive living room. Main front room could be perfect as an art gallery, music/yoga studio, or private home office. The low-maintenance backyard consists of a large two-level deck, ample storage, and a studio guest cottage with a bathroom that doubles as a steam room! This house has room for everyone and could make a perfect family compound with a separate in-law and cottage. Enjoy this extremely quiet street in the sought after neighborhood of Maxwell Park! Just a few minutes from BART, 580, Downtown Oakland and all of that makes the Bay area great! This house is a commuter's dream!", "photos": [ { "displayorder": 0, "url": "//cdnparap30.paragonrels.com/ParagonImages/Property/P3/MAXEBRDI/40997544/0/0/0/be64b6b6d616cfb40ea04e4cfc9bfb0c/121/1cad8cd14f79bf97f1d61662fbf61bcb/40997544.JPG", "caption": "" }, "displayorder": 1, "url": "//cdnparap30.paragonrels.com/ParagonImages/Property/P3/MAXEBRDI/40997544/1/0/0/545a1794e98d7d70f8db2a84ef5fe353/121/1cad8cd14f79bf97f1d61662fbf61bcb/40997544-1.JPG", "caption": "" }, "displayorder": 2, "url": "//cdnparap30.paragonrels.com/ParagonImages/Property/P3/MAXEBRDI/40997544/2/0/0/d4beb905176402070cee7a5a455ec86d/121/1cad8cd14f79bf97f1d61662fbf61bcb/40997544-2.JPG", "caption": "" }, "displayorder": 3, "url": "//cdnparap30.paragonrels.com/ParagonImages/Property/P3/MAXEBRDI/40997544/3/0/0/9bef14abf4fa50721c25c24bc7fb4412/121/1cad8cd14f79bf97f1d61662fbf61bcb/40997544-3.JPG", "caption": "" }, "displayorder": 4, "url": "//cdnparap30.paragonrels.com/ParagonImages/Property/P3/MAXEBRDI/40997544/4/0/0/c48a4e593d8f690c85b66c5a1833c3cf/121/1cad8cd14f79bf97f1d61662fbf61bcb/40997544-4.JPG", "caption": "" }, "displayorder": 5, "url": "//cdnparap30.paragonrels.com/ParagonImages/Property/P3/MAXEBRDI/40997544/5/0/0/cbe609efdcc9a25a2a72f221c2f9cd7d/121/1cad8cd14f79bf97f1d61662fbf61bcb/40997544-5.JPG", "caption": "" }, "displayorder": 6, "url": "//cdnparap30.paragonrels.com/ParagonImages/Property/P3/MAXEBRDI/40997544/6/0/0/a69a48c99faa86f1e9693a3416d77d47/121/1cad8cd14f79bf97f1d61662fbf61bcb/40997544-6.JPG", "caption": "" }, "displayorder": 7, "url": "//cdnparap30.paragonrels.com/ParagonImages/Property/P3/MAXEBRDI/40997544/7/0/0/576171516edd57b69aede208b84caeb1/121/1cad8cd14f79bf97f1d61662fbf61bcb/40997544-7.JPG", "caption": "" }, "displayorder": 8, "url": "//cdnparap30.paragonrels.com/ParagonImages/Property/P3/MAXEBRDI/40997544/8/0/0/7a130792eab4bdad066eac1d5a308075/121/1cad8cd14f79bf97f1d61662fbf61bcb/40997544-8.JPG", "caption": "" }, "displayorder": 9, "url": "//cdnparap30.paragonrels.com/ParagonImages/Property/P3/MAXEBRDI/40997544/9/0/0/e7d7c4f3b03f22d7efa50042a560f768/121/1cad8cd14f79bf97f1d61662fbf61bcb/40997544-9.JPG", "caption": "" }, "displayorder": 10, "url": "//cdnparap30.paragonrels.com/ParagonImages/Property/P3/MAXEBRDI/40997544/10/0/0/1dd155246143e2a07f2537578364cb48/121/1cad8cd14f79bf97f1d61662fbf61bcb/40997544-10.JPG", "caption": "" }, "displayorder": 11, "url": "//cdnparap30.paragonrels.com/ParagonImages/Property/P3/MAXEBRDI/40997544/11/0/0/a79d9d490af71d7feea6941cefe460f2/121/1cad8cd14f79bf97f1d61662fbf61bcb/40997544-11.JPG", "caption": "" }, "displayorder": 12, "url": "//cdnparap30.paragonrels.com/ParagonImages/Property/P3/MAXEBRDI/40997544/12/0/0/81a509a5bf90b97ee21451a2a011b9d9/121/1cad8cd14f79bf97f1d61662fbf61bcb/40997544-12.JPG", "caption": "" }, "displayorder": 13, "url": "//cdnparap30.paragonrels.com/ParagonImages/Property/P3/MAXEBRDI/40997544/13/0/0/bf29c8688114c7bc544aa2a5310d237d/121/1cad8cd14f79bf97f1d61662fbf61bcb/40997544-13.JPG", "caption": "" }, "displayorder": 14, "url": "//cdnparap30.paragonrels.com/ParagonImages/Property/P3/MAXEBRDI/40997544/14/0/0/794c9de6a73dbe7e33401172a9c3815e/121/1cad8cd14f79bf97f1d61662fbf61bcb/40997544-14.JPG", "caption": "" }, "displayorder": 15, "url": "//cdnparap30.paragonrels.com/ParagonImages/Property/P3/MAXEBRDI/40997544/15/0/0/82d8f14469ed4c38af489201babe74e3/121/1cad8cd14f79bf97f1d61662fbf61bcb/40997544-15.JPG", "caption": "" }, "displayorder": 16, "url": "//cdnparap30.paragonrels.com/ParagonImages/Property/P3/MAXEBRDI/40997544/16/0/0/9f4934a90f34f9aceb1888f73811deb2/121/1cad8cd14f79bf97f1d61662fbf61bcb/40997544-16.JPG", "caption": "" }, "displayorder": 17, "url": "//cdnparap30.paragonrels.com/ParagonImages/Property/P3/MAXEBRDI/40997544/17/0/0/5d7e4c51eadeebadddcdeb01dde443bd/121/1cad8cd14f79bf97f1d61662fbf61bcb/40997544-17.JPG", "caption": "" }, "displayorder": 18, "url": "//cdnparap30.paragonrels.com/ParagonImages/Property/P3/MAXEBRDI/40997544/18/0/0/eecbce4d17865559f49171d93134a368/121/1cad8cd14f79bf97f1d61662fbf61bcb/40997544-18.JPG", "caption": "" } ], "agent": { "name": "Gaylen Roberts", "phone": "510-761-9536", "email": "gaylen@gaylenrobertsgroup.com" }, "broker": { "name": "KW Advisors", "phone": "", "email": "" } }; ]]>
4833 Brookdale Ave
OAKLAND, CA 94619

Click here for map
Residential Home
$899,000
3,537 Sq Feet
5 Bedrooms
3 Bathrooms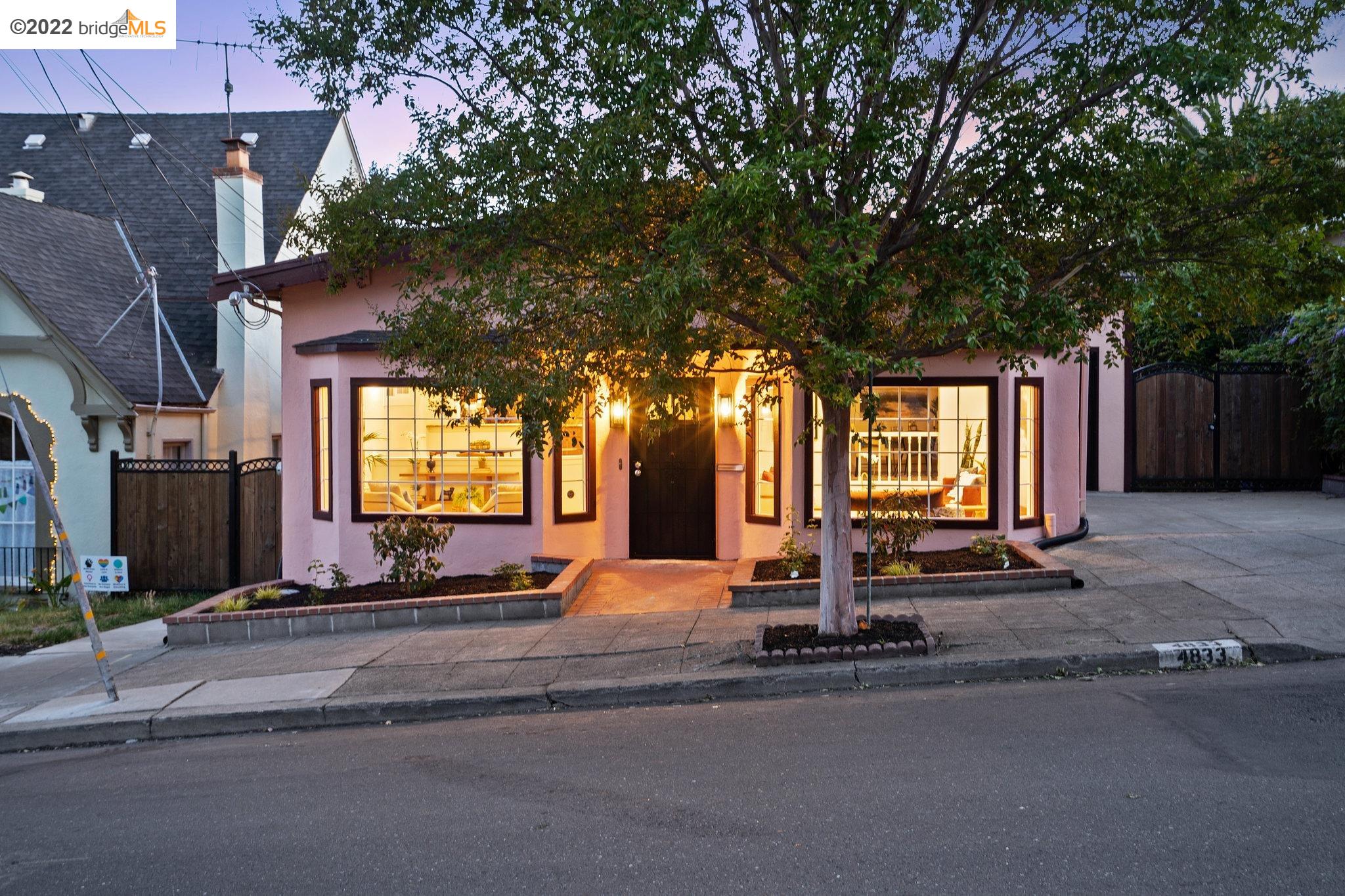 Details:
Lot Sq Feet:
5,179
Fireplaces:
1
HOA?
No
Bank Owned?
No
Status:
Pending
Remarks:
Amazing sunny single-family home located in Maxwell Park with breathtaking views of the bay. This home has 5 bedrooms, 2 bathrooms, and a bonus kitchenette downstairs. With the perfect layout for entertaining and artwork, this home includes spacious connected common areas and a massive living room. Main front room could be perfect as an art gallery, music/yoga studio, or private home office. The low-maintenance backyard consists of a large two-level deck, ample storage, and a studio guest cottage with a bathroom that doubles as a steam room! This house has room for everyone and could make a perfect family compound with a separate in-law and cottage. Enjoy this extremely quiet street in the sought after neighborhood of Maxwell Park! Just a few minutes from BART, 580, Downtown Oakland and all of that makes the Bay area great! This house is a commuter's dream!
There are currently no open houses for this property. Please contact
Gaylen Roberts
to schedule an appointment.