<![CDATA[ var dwellicious_data = { "address": "424 Staten Ave ##102", "city": "OAKLAND", "state": "CA", "zip": "94610", "zip4": "", "area": "", "subdivision": "", "county": "", "price": "600001", "beds": "2", "baths": "2", "sqft": "1047", "lotsize": "12500", "yearbuilt": "1963-01-01", "proptype": "Residential", "mlsnum": "40997713", "active": false, "remarks": "OPEN 2-4:30 7/31.Transparent pricing! Stunning & spacious 2/2 Adams Point condominium. Welcoming space with an open concept floor plan where luxe vinyl floors beautifully complement crisp white tones & gorgeous finishes throughout. From the living room, the large private balcony is accessed through glass sliders providing plenty of natural light & a great indoor-outdoor flow perfect for entertaining.The home chef will enjoy the beautifully designed kitchen featuring gleaming quartz countertops, a stylish subway tile backsplash, plenty of cabinetry, a suite of stainless-steel appliances & adjacent dining area. Secure bldg with interior access from gated garage with a deeded prkg space, a community laundry facility & bike racks. Amazing location close to Lake Merritt. Whole Foods & Trader Joe's for shopping. Shops & restaurants on Grand Ave, Lakeshore Ave, Piedmont Ave & Broadway. Easy access to I-580, I-980 & HWY 24. Close to Casual Carpool, SF Transbay Bus, & 19th St BART. 95 WalkScore", "photos": [ { "displayorder": 0, "url": "//cdnparap30.paragonrels.com/ParagonImages/Property/P3/MAXEBRDI/40997713/0/0/0/d947333be1e3f93fdea92e1fd6e7f42e/121/dc677c29af92e16ed353eff172c58298/40997713.JPG", "caption": "" }, "displayorder": 1, "url": "//cdnparap30.paragonrels.com/ParagonImages/Property/P3/MAXEBRDI/40997713/1/0/0/b83358902e6e9b7adbad47fe6194e945/121/dc677c29af92e16ed353eff172c58298/40997713-1.JPG", "caption": "" }, "displayorder": 2, "url": "//cdnparap30.paragonrels.com/ParagonImages/Property/P3/MAXEBRDI/40997713/2/0/0/97e60f0780aae09af0fbdd2c803d367a/121/dc677c29af92e16ed353eff172c58298/40997713-2.JPG", "caption": "" }, "displayorder": 3, "url": "//cdnparap30.paragonrels.com/ParagonImages/Property/P3/MAXEBRDI/40997713/3/0/0/6c200b8ded0c34911737d5b7f1627315/121/dc677c29af92e16ed353eff172c58298/40997713-3.JPG", "caption": "" }, "displayorder": 4, "url": "//cdnparap30.paragonrels.com/ParagonImages/Property/P3/MAXEBRDI/40997713/4/0/0/63ddbbe7a7acfbcd10173176b8cf3373/121/dc677c29af92e16ed353eff172c58298/40997713-4.JPG", "caption": "" }, "displayorder": 5, "url": "//cdnparap30.paragonrels.com/ParagonImages/Property/P3/MAXEBRDI/40997713/5/0/0/5f38b961dbe6687a0d5cb7f1c5a4be19/121/dc677c29af92e16ed353eff172c58298/40997713-5.JPG", "caption": "" }, "displayorder": 6, "url": "//cdnparap30.paragonrels.com/ParagonImages/Property/P3/MAXEBRDI/40997713/6/0/0/358f6705896a462aa5a5aa7d44fdf2d5/121/dc677c29af92e16ed353eff172c58298/40997713-6.JPG", "caption": "" }, "displayorder": 7, "url": "//cdnparap30.paragonrels.com/ParagonImages/Property/P3/MAXEBRDI/40997713/7/0/0/a664e01e198970e1dcc4e7f18545c8b3/121/dc677c29af92e16ed353eff172c58298/40997713-7.JPG", "caption": "" }, "displayorder": 8, "url": "//cdnparap30.paragonrels.com/ParagonImages/Property/P3/MAXEBRDI/40997713/8/0/0/090840526ab09b790fbf92ad30524a9e/121/dc677c29af92e16ed353eff172c58298/40997713-8.JPG", "caption": "" }, "displayorder": 9, "url": "//cdnparap30.paragonrels.com/ParagonImages/Property/P3/MAXEBRDI/40997713/9/0/0/db0709e0f6412abfce019433bc7c8665/121/dc677c29af92e16ed353eff172c58298/40997713-9.JPG", "caption": "" }, "displayorder": 10, "url": "//cdnparap30.paragonrels.com/ParagonImages/Property/P3/MAXEBRDI/40997713/10/0/0/c2b917d5d64bc4449fe80d5e9b2f23e8/121/dc677c29af92e16ed353eff172c58298/40997713-10.JPG", "caption": "" }, "displayorder": 11, "url": "//cdnparap30.paragonrels.com/ParagonImages/Property/P3/MAXEBRDI/40997713/11/0/0/bbced0f31fc3ea3cc913bdf06c052f98/121/dc677c29af92e16ed353eff172c58298/40997713-11.JPG", "caption": "" }, "displayorder": 12, "url": "//cdnparap30.paragonrels.com/ParagonImages/Property/P3/MAXEBRDI/40997713/12/0/0/52e44a58e7e66fe6af9c380bd38b5fde/121/dc677c29af92e16ed353eff172c58298/40997713-12.JPG", "caption": "" }, "displayorder": 13, "url": "//cdnparap30.paragonrels.com/ParagonImages/Property/P3/MAXEBRDI/40997713/13/0/0/e92e51a6432a09ee4ad1f22d4ec0c628/121/dc677c29af92e16ed353eff172c58298/40997713-13.JPG", "caption": "" }, "displayorder": 14, "url": "//cdnparap30.paragonrels.com/ParagonImages/Property/P3/MAXEBRDI/40997713/14/0/0/ffd1842f6d443a29f5c0ec9045032548/121/dc677c29af92e16ed353eff172c58298/40997713-14.JPG", "caption": "" }, "displayorder": 15, "url": "//cdnparap30.paragonrels.com/ParagonImages/Property/P3/MAXEBRDI/40997713/15/0/0/0e6e61f07161c2cb4a8d46eeda9b2aec/121/dc677c29af92e16ed353eff172c58298/40997713-15.JPG", "caption": "" }, "displayorder": 16, "url": "//cdnparap30.paragonrels.com/ParagonImages/Property/P3/MAXEBRDI/40997713/16/0/0/38284ea15168fd66a2d2fafaddb87873/121/dc677c29af92e16ed353eff172c58298/40997713-16.JPG", "caption": "" }, "displayorder": 17, "url": "//cdnparap30.paragonrels.com/ParagonImages/Property/P3/MAXEBRDI/40997713/17/0/0/8a0c18a5671a427d76c42f137c851ccb/121/dc677c29af92e16ed353eff172c58298/40997713-17.JPG", "caption": "" }, "displayorder": 18, "url": "//cdnparap30.paragonrels.com/ParagonImages/Property/P3/MAXEBRDI/40997713/18/0/0/6153d5c4fd517f4e0fc9eed6a1c7a1cc/121/dc677c29af92e16ed353eff172c58298/40997713-18.JPG", "caption": "" }, "displayorder": 19, "url": "//cdnparap30.paragonrels.com/ParagonImages/Property/P3/MAXEBRDI/40997713/19/0/0/52736c33b3910b2b418ae473f85ab4ac/121/dc677c29af92e16ed353eff172c58298/40997713-19.JPG", "caption": "" }, "displayorder": 20, "url": "//cdnparap30.paragonrels.com/ParagonImages/Property/P3/MAXEBRDI/40997713/20/0/0/b2e4e1fcc0d1e1f74cc5c47c5eeb96e0/121/dc677c29af92e16ed353eff172c58298/40997713-20.JPG", "caption": "" }, "displayorder": 21, "url": "//cdnparap30.paragonrels.com/ParagonImages/Property/P3/MAXEBRDI/40997713/21/0/0/11c852ac87c4a9b5c333549fa228333c/121/dc677c29af92e16ed353eff172c58298/40997713-21.JPG", "caption": "" }, "displayorder": 22, "url": "//cdnparap30.paragonrels.com/ParagonImages/Property/P3/MAXEBRDI/40997713/22/0/0/f504fe7673dc0df651eba2f7ad73da5a/121/dc677c29af92e16ed353eff172c58298/40997713-22.JPG", "caption": "" }, "displayorder": 23, "url": "//cdnparap30.paragonrels.com/ParagonImages/Property/P3/MAXEBRDI/40997713/23/0/0/f62d1a79af275eadd2e9175af932dcad/121/dc677c29af92e16ed353eff172c58298/40997713-23.JPG", "caption": "" }, "displayorder": 24, "url": "//cdnparap30.paragonrels.com/ParagonImages/Property/P3/MAXEBRDI/40997713/24/0/0/be5def39407915dfc54ef58b4f9c0836/121/dc677c29af92e16ed353eff172c58298/40997713-24.JPG", "caption": "" }, "displayorder": 25, "url": "//cdnparap30.paragonrels.com/ParagonImages/Property/P3/MAXEBRDI/40997713/25/0/0/7867e90b9386ed291fcaf5d470a7d6a5/121/dc677c29af92e16ed353eff172c58298/40997713-25.JPG", "caption": "" }, "displayorder": 26, "url": "//cdnparap30.paragonrels.com/ParagonImages/Property/P3/MAXEBRDI/40997713/26/0/0/5c85ebd736d66da84eabc1a7629a9dbd/121/dc677c29af92e16ed353eff172c58298/40997713-26.JPG", "caption": "" }, "displayorder": 27, "url": "//cdnparap30.paragonrels.com/ParagonImages/Property/P3/MAXEBRDI/40997713/27/0/0/3c7423a629f0667f22bb916f0d1c1e1e/121/dc677c29af92e16ed353eff172c58298/40997713-27.JPG", "caption": "" }, "displayorder": 28, "url": "//cdnparap30.paragonrels.com/ParagonImages/Property/P3/MAXEBRDI/40997713/28/0/0/5feae7c20f2ec153618d8f71b674bf01/121/dc677c29af92e16ed353eff172c58298/40997713-28.JPG", "caption": "" } ], "agent": { "name": "Shelly Flynn", "phone": "510-472-3074", "email": "homes@shellyflynn.com" }, "broker": { "name": "Corcoran Global Living", "phone": "", "email": "" } }; ]]>
424 Staten Ave ##102
OAKLAND, CA 94610

Click here for map
Condo
$600,001
1,047 Sq Feet
2 Bedrooms
2 Bathrooms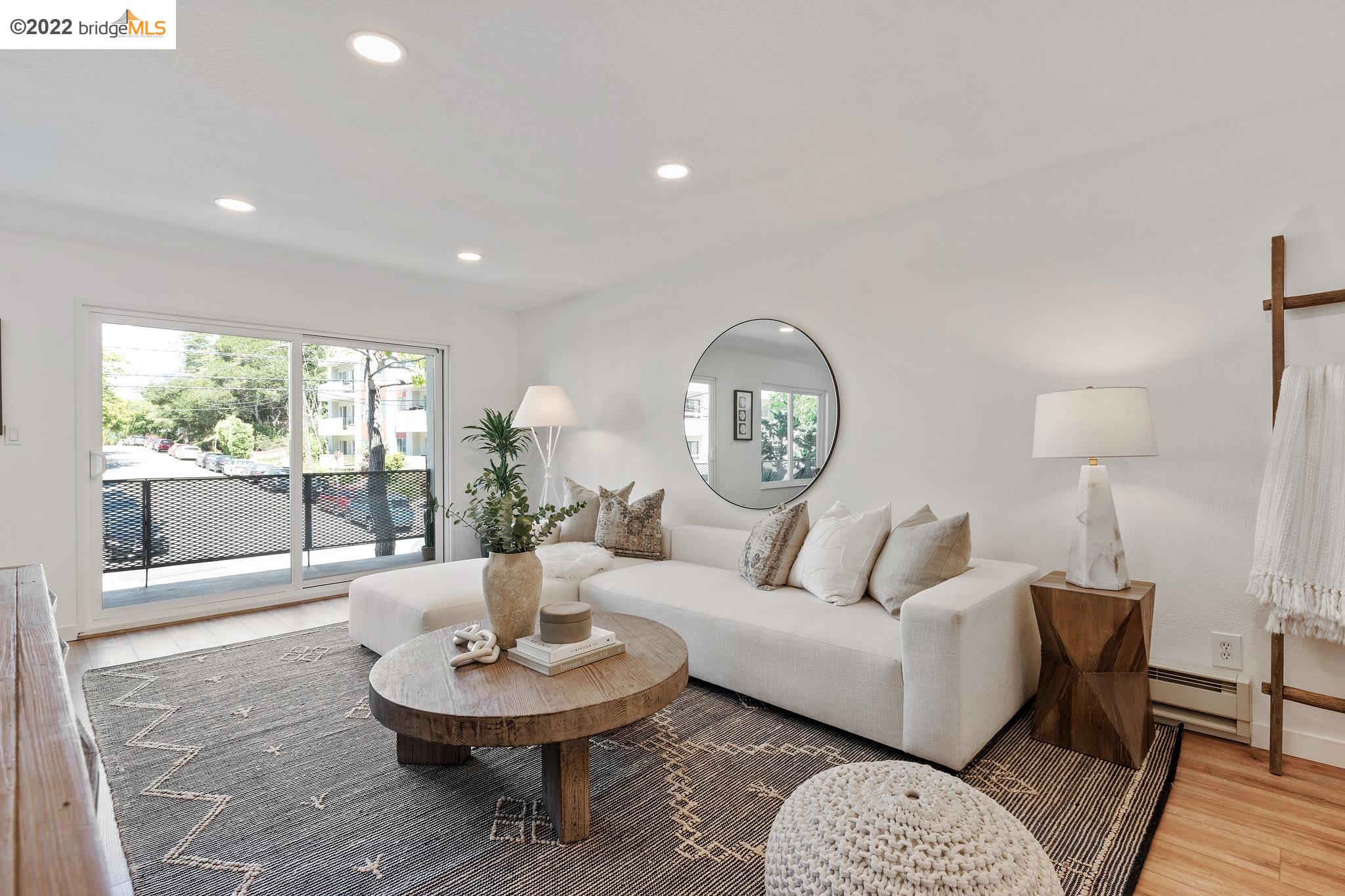 Listed by Shelly Flynn of Corcoran Global Living
DRE# 01479075
Details:
Lot Sq Feet:
12,500
Fireplaces:
0
HOA?
Yes
Bank Owned?
No
Status:
Pending
Remarks:
OPEN 2-4:30 7/31.Transparent pricing! Stunning & spacious 2/2 Adams Point condominium. Welcoming space with an open concept floor plan where luxe vinyl floors beautifully complement crisp white tones & gorgeous finishes throughout. From the living room, the large private balcony is accessed through glass sliders providing plenty of natural light & a great indoor-outdoor flow perfect for entertaining.The home chef will enjoy the beautifully designed kitchen featuring gleaming quartz countertops, a stylish subway tile backsplash, plenty of cabinetry, a suite of stainless-steel appliances & adjacent dining area. Secure bldg with interior access from gated garage with a deeded prkg space, a community laundry facility & bike racks. Amazing location close to Lake Merritt. Whole Foods & Trader Joe's for shopping. Shops & restaurants on Grand Ave, Lakeshore Ave, Piedmont Ave & Broadway. Easy access to I-580, I-980 & HWY 24. Close to Casual Carpool, SF Transbay Bus, & 19th St BART. 95 WalkScore
There are currently no open houses for this property. Please contact
Shelly Flynn
to schedule an appointment.