<![CDATA[ var dwellicious_data = { "address": "977 Regal Rd ", "city": "BERKELEY", "state": "CA", "zip": "94708", "zip4": "", "area": "", "subdivision": "", "county": "", "price": "1495000", "beds": "5", "baths": "4", "sqft": "2193", "lotsize": "7570", "yearbuilt": "1922-01-01", "proptype": "Residential", "mlsnum": "40997816", "active": false, "remarks": "A needle in a haystack is the appropriate metaphor for 977 Regal Road in the Berkeley Hills. While originally built in 1922, this beautiful property has been completely remodeled and is as close to new construction as you are likely to find in this neighborhood. Updates include a completely new foundation, new framing throughout, a new triple laminate roof, soundproof drywall, cotton wool insulation, energy recovery ventilators (ERV), Cat6 coax hardwired throughout the home, water filtration system, tankless water heater, high efficiency furnaces, and all new windows. The large dining area is adjacent to the kitchen with a custom panel dishwasher and refrigerator for a seamless, integrated look. The large backyard also includes 3 terraced decks with beautiful bay views. Just steps from Cragmont park, this prime location provides convenient access to nature, hiking, and bicycling. Years in development, this property clearly reflects the name of the street on which it is sited - Regal.", "photos": [ { "displayorder": 0, "url": "//cdnparap30.paragonrels.com/ParagonImages/Property/P3/MAXEBRDI/40997816/0/0/0/38fefd104f0935e31216a2d844589012/121/9d7827a718b869089a4679067df551e5/40997816.JPG", "caption": "" }, "displayorder": 1, "url": "//cdnparap30.paragonrels.com/ParagonImages/Property/P3/MAXEBRDI/40997816/1/0/0/32a2cbe9dce6887541fb3bd24c1cce9c/121/9d7827a718b869089a4679067df551e5/40997816-1.JPG", "caption": "" }, "displayorder": 2, "url": "//cdnparap30.paragonrels.com/ParagonImages/Property/P3/MAXEBRDI/40997816/2/0/0/3f9ed35c0f582fa497100ee504658618/121/9d7827a718b869089a4679067df551e5/40997816-2.JPG", "caption": "" }, "displayorder": 3, "url": "//cdnparap30.paragonrels.com/ParagonImages/Property/P3/MAXEBRDI/40997816/3/0/0/19a9ea891f4421745604c5fa2d359279/121/9d7827a718b869089a4679067df551e5/40997816-3.JPG", "caption": "" }, "displayorder": 4, "url": "//cdnparap30.paragonrels.com/ParagonImages/Property/P3/MAXEBRDI/40997816/4/0/0/3c093d6e41a913ccbbae5e94b2437023/121/9d7827a718b869089a4679067df551e5/40997816-4.JPG", "caption": "" }, "displayorder": 5, "url": "//cdnparap30.paragonrels.com/ParagonImages/Property/P3/MAXEBRDI/40997816/5/0/0/f7f6f36fcfd89d0e79315465cb845266/121/9d7827a718b869089a4679067df551e5/40997816-5.JPG", "caption": "" }, "displayorder": 6, "url": "//cdnparap30.paragonrels.com/ParagonImages/Property/P3/MAXEBRDI/40997816/6/0/0/0379494da1b7eff68ace4ca78ea9fff7/121/9d7827a718b869089a4679067df551e5/40997816-6.JPG", "caption": "" }, "displayorder": 7, "url": "//cdnparap30.paragonrels.com/ParagonImages/Property/P3/MAXEBRDI/40997816/7/0/0/48c4eaa02f221270e88394616d9dd0e1/121/9d7827a718b869089a4679067df551e5/40997816-7.JPG", "caption": "" }, "displayorder": 8, "url": "//cdnparap30.paragonrels.com/ParagonImages/Property/P3/MAXEBRDI/40997816/8/0/0/00a2aa77df438f1f7a8f8a2f3f744ee0/121/9d7827a718b869089a4679067df551e5/40997816-8.JPG", "caption": "" }, "displayorder": 9, "url": "//cdnparap30.paragonrels.com/ParagonImages/Property/P3/MAXEBRDI/40997816/9/0/0/0359e7e5cb720f897aed4cf4c346ac24/121/9d7827a718b869089a4679067df551e5/40997816-9.JPG", "caption": "" }, "displayorder": 10, "url": "//cdnparap30.paragonrels.com/ParagonImages/Property/P3/MAXEBRDI/40997816/10/0/0/cd85f576891d08883ab63c1cc9a24271/121/9d7827a718b869089a4679067df551e5/40997816-10.JPG", "caption": "" }, "displayorder": 11, "url": "//cdnparap30.paragonrels.com/ParagonImages/Property/P3/MAXEBRDI/40997816/11/0/0/bf8f0f280fea115d8f00727fdeee8a60/121/9d7827a718b869089a4679067df551e5/40997816-11.JPG", "caption": "" }, "displayorder": 12, "url": "//cdnparap30.paragonrels.com/ParagonImages/Property/P3/MAXEBRDI/40997816/12/0/0/cc84a7cf6db6ee8029a3c13e4f6b8f0f/121/9d7827a718b869089a4679067df551e5/40997816-12.JPG", "caption": "" }, "displayorder": 13, "url": "//cdnparap30.paragonrels.com/ParagonImages/Property/P3/MAXEBRDI/40997816/13/0/0/7875a186500d4d4f78adaf8c9f09c091/121/9d7827a718b869089a4679067df551e5/40997816-13.JPG", "caption": "" }, "displayorder": 14, "url": "//cdnparap30.paragonrels.com/ParagonImages/Property/P3/MAXEBRDI/40997816/14/0/0/9de1b4436bd35931cdfb5b290fa1908c/121/9d7827a718b869089a4679067df551e5/40997816-14.JPG", "caption": "" }, "displayorder": 15, "url": "//cdnparap30.paragonrels.com/ParagonImages/Property/P3/MAXEBRDI/40997816/15/0/0/4ade3441e7ed62006e2d75400f73b85a/121/9d7827a718b869089a4679067df551e5/40997816-15.JPG", "caption": "" }, "displayorder": 16, "url": "//cdnparap30.paragonrels.com/ParagonImages/Property/P3/MAXEBRDI/40997816/16/0/0/462a1511cfe005892cde8bc9355fe424/121/9d7827a718b869089a4679067df551e5/40997816-16.JPG", "caption": "" }, "displayorder": 17, "url": "//cdnparap30.paragonrels.com/ParagonImages/Property/P3/MAXEBRDI/40997816/17/0/0/ea7dd5efe6c1fb36349bb755c6da3c53/121/9d7827a718b869089a4679067df551e5/40997816-17.JPG", "caption": "" }, "displayorder": 18, "url": "//cdnparap30.paragonrels.com/ParagonImages/Property/P3/MAXEBRDI/40997816/18/0/0/db430e7d4578cf7f6f2c5b543960a4cb/121/9d7827a718b869089a4679067df551e5/40997816-18.JPG", "caption": "" }, "displayorder": 19, "url": "//cdnparap30.paragonrels.com/ParagonImages/Property/P3/MAXEBRDI/40997816/19/0/0/26c8d0fea5de28bc82c6d05b47ce35eb/121/9d7827a718b869089a4679067df551e5/40997816-19.JPG", "caption": "" }, "displayorder": 20, "url": "//cdnparap30.paragonrels.com/ParagonImages/Property/P3/MAXEBRDI/40997816/20/0/0/b1de354fd1ea1e11bd7267f7483079fc/121/9d7827a718b869089a4679067df551e5/40997816-20.JPG", "caption": "" }, "displayorder": 21, "url": "//cdnparap30.paragonrels.com/ParagonImages/Property/P3/MAXEBRDI/40997816/21/0/0/75826136ae044297181cee4d609a02f8/121/9d7827a718b869089a4679067df551e5/40997816-21.JPG", "caption": "" }, "displayorder": 22, "url": "//cdnparap30.paragonrels.com/ParagonImages/Property/P3/MAXEBRDI/40997816/22/0/0/8b8030344736d7b3561ac258c97d9767/121/9d7827a718b869089a4679067df551e5/40997816-22.JPG", "caption": "" }, "displayorder": 23, "url": "//cdnparap30.paragonrels.com/ParagonImages/Property/P3/MAXEBRDI/40997816/23/0/0/c86c274e9613b37c16f214a1fe31b26d/121/9d7827a718b869089a4679067df551e5/40997816-23.JPG", "caption": "" }, "displayorder": 24, "url": "//cdnparap30.paragonrels.com/ParagonImages/Property/P3/MAXEBRDI/40997816/24/0/0/348b46f76ff77c229a22685b494419b3/121/9d7827a718b869089a4679067df551e5/40997816-24.JPG", "caption": "" }, "displayorder": 25, "url": "//cdnparap30.paragonrels.com/ParagonImages/Property/P3/MAXEBRDI/40997816/25/0/0/6c954d9346bbce454ff98f3b03de2514/121/9d7827a718b869089a4679067df551e5/40997816-25.JPG", "caption": "" }, "displayorder": 26, "url": "//cdnparap30.paragonrels.com/ParagonImages/Property/P3/MAXEBRDI/40997816/26/0/0/1d154089768ec1223eaf8fe356465cfa/121/9d7827a718b869089a4679067df551e5/40997816-26.JPG", "caption": "" }, "displayorder": 27, "url": "//cdnparap30.paragonrels.com/ParagonImages/Property/P3/MAXEBRDI/40997816/27/0/0/7f674533cd681a2699614b5d6746b972/121/9d7827a718b869089a4679067df551e5/40997816-27.JPG", "caption": "" }, "displayorder": 28, "url": "//cdnparap30.paragonrels.com/ParagonImages/Property/P3/MAXEBRDI/40997816/28/0/0/003a44a2721aa2aa29c871dbde0ad422/121/9d7827a718b869089a4679067df551e5/40997816-28.JPG", "caption": "" }, "displayorder": 29, "url": "//cdnparap30.paragonrels.com/ParagonImages/Property/P3/MAXEBRDI/40997816/29/0/0/d727c205ff3ed8c86d609bdb3b49e292/121/9d7827a718b869089a4679067df551e5/40997816-29.JPG", "caption": "" }, "displayorder": 30, "url": "//cdnparap30.paragonrels.com/ParagonImages/Property/P3/MAXEBRDI/40997816/30/0/0/41238d988aff0b26e1c159c7bc5be8cf/121/9d7827a718b869089a4679067df551e5/40997816-30.JPG", "caption": "" }, "displayorder": 31, "url": "//cdnparap30.paragonrels.com/ParagonImages/Property/P3/MAXEBRDI/40997816/31/0/0/2fe2198cf41c60660405617996526858/121/9d7827a718b869089a4679067df551e5/40997816-31.JPG", "caption": "" }, "displayorder": 32, "url": "//cdnparap30.paragonrels.com/ParagonImages/Property/P3/MAXEBRDI/40997816/32/0/0/b712e8c77104866982fdbc69a4136866/121/9d7827a718b869089a4679067df551e5/40997816-32.JPG", "caption": "" }, "displayorder": 33, "url": "//cdnparap30.paragonrels.com/ParagonImages/Property/P3/MAXEBRDI/40997816/33/0/0/8559fb4276962e96585a177065e09d5e/121/9d7827a718b869089a4679067df551e5/40997816-33.JPG", "caption": "" }, "displayorder": 34, "url": "//cdnparap30.paragonrels.com/ParagonImages/Property/P3/MAXEBRDI/40997816/34/0/0/321fa8e8f6b30799c045ef863c7b1160/121/9d7827a718b869089a4679067df551e5/40997816-34.JPG", "caption": "" }, "displayorder": 35, "url": "//cdnparap30.paragonrels.com/ParagonImages/Property/P3/MAXEBRDI/40997816/35/0/0/35a00f7baf6cc9fb410d4575b88ec1e5/121/9d7827a718b869089a4679067df551e5/40997816-35.JPG", "caption": "" }, "displayorder": 36, "url": "//cdnparap30.paragonrels.com/ParagonImages/Property/P3/MAXEBRDI/40997816/36/0/0/80ac5c42905f300fc66e57795a1662a1/121/9d7827a718b869089a4679067df551e5/40997816-36.JPG", "caption": "" }, "displayorder": 37, "url": "//cdnparap30.paragonrels.com/ParagonImages/Property/P3/MAXEBRDI/40997816/37/0/0/b18362834e195407332d839f9bedf840/121/9d7827a718b869089a4679067df551e5/40997816-37.JPG", "caption": "" }, "displayorder": 38, "url": "//cdnparap30.paragonrels.com/ParagonImages/Property/P3/MAXEBRDI/40997816/38/0/0/f6f37de949528f4292f79cc1a060d954/121/9d7827a718b869089a4679067df551e5/40997816-38.JPG", "caption": "" }, "displayorder": 39, "url": "//cdnparap30.paragonrels.com/ParagonImages/Property/P3/MAXEBRDI/40997816/39/0/0/5b5e2106b5e7f93d5017110b575ab100/121/9d7827a718b869089a4679067df551e5/40997816-39.JPG", "caption": "" }, "displayorder": 40, "url": "//cdnparap30.paragonrels.com/ParagonImages/Property/P3/MAXEBRDI/40997816/40/0/0/fe6e6b413921989149695c4576f7f772/121/9d7827a718b869089a4679067df551e5/40997816-40.JPG", "caption": "" }, "displayorder": 41, "url": "//cdnparap30.paragonrels.com/ParagonImages/Property/P3/MAXEBRDI/40997816/41/0/0/c3d0b202f4f437940887a35e2a2da207/121/9d7827a718b869089a4679067df551e5/40997816-41.JPG", "caption": "" }, "displayorder": 42, "url": "//cdnparap30.paragonrels.com/ParagonImages/Property/P3/MAXEBRDI/40997816/42/0/0/c7d87801b30a17784e299947a5110911/121/9d7827a718b869089a4679067df551e5/40997816-42.JPG", "caption": "" }, "displayorder": 43, "url": "//cdnparap30.paragonrels.com/ParagonImages/Property/P3/MAXEBRDI/40997816/43/0/0/96c2ce53e249496c8e8a2912fe1442a7/121/9d7827a718b869089a4679067df551e5/40997816-43.JPG", "caption": "" }, "displayorder": 44, "url": "//cdnparap30.paragonrels.com/ParagonImages/Property/P3/MAXEBRDI/40997816/44/0/0/4428cbe39a1b317d19a1286af9f4f484/121/9d7827a718b869089a4679067df551e5/40997816-44.JPG", "caption": "" }, "displayorder": 45, "url": "//cdnparap30.paragonrels.com/ParagonImages/Property/P3/MAXEBRDI/40997816/45/0/0/50a0bf18d6dfd6f146535274dc383282/121/9d7827a718b869089a4679067df551e5/40997816-45.JPG", "caption": "" }, "displayorder": 46, "url": "//cdnparap30.paragonrels.com/ParagonImages/Property/P3/MAXEBRDI/40997816/46/0/0/38607eb9de1efba1f316554f86cc539b/121/9d7827a718b869089a4679067df551e5/40997816-46.JPG", "caption": "" }, "displayorder": 47, "url": "//cdnparap30.paragonrels.com/ParagonImages/Property/P3/MAXEBRDI/40997816/47/0/0/4d0d07a0cabf0cd3bdc5407daa735f09/121/9d7827a718b869089a4679067df551e5/40997816-47.JPG", "caption": "" }, "displayorder": 48, "url": "//cdnparap30.paragonrels.com/ParagonImages/Property/P3/MAXEBRDI/40997816/48/0/0/678f7b69345f4d737079038b756dd584/121/9d7827a718b869089a4679067df551e5/40997816-48.JPG", "caption": "" }, "displayorder": 49, "url": "//cdnparap30.paragonrels.com/ParagonImages/Property/P3/MAXEBRDI/40997816/49/0/0/bffb58b17d19240c9fa7112ec7a7a4a0/121/9d7827a718b869089a4679067df551e5/40997816-49.JPG", "caption": "" }, "displayorder": 50, "url": "//cdnparap30.paragonrels.com/ParagonImages/Property/P3/MAXEBRDI/40997816/50/0/0/d2491fd9e3c95d8ac0060fa54d1aeef6/121/9d7827a718b869089a4679067df551e5/40997816-50.JPG", "caption": "" }, "displayorder": 51, "url": "//cdnparap30.paragonrels.com/ParagonImages/Property/P3/MAXEBRDI/40997816/51/0/0/bdcdb7162cdbb395ce110b073390d92d/121/9d7827a718b869089a4679067df551e5/40997816-51.JPG", "caption": "" }, "displayorder": 52, "url": "//cdnparap30.paragonrels.com/ParagonImages/Property/P3/MAXEBRDI/40997816/52/0/0/77001b5c35a301327ca8b7364e2ce4b2/121/9d7827a718b869089a4679067df551e5/40997816-52.JPG", "caption": "" }, "displayorder": 53, "url": "//cdnparap30.paragonrels.com/ParagonImages/Property/P3/MAXEBRDI/40997816/53/0/0/7b04610029f115ba3c487d109f00ffb5/121/9d7827a718b869089a4679067df551e5/40997816-53.JPG", "caption": "" }, "displayorder": 54, "url": "//cdnparap30.paragonrels.com/ParagonImages/Property/P3/MAXEBRDI/40997816/54/0/0/e73f57391e603fc97b820b1225eb084c/121/9d7827a718b869089a4679067df551e5/40997816-54.JPG", "caption": "" }, "displayorder": 55, "url": "//cdnparap30.paragonrels.com/ParagonImages/Property/P3/MAXEBRDI/40997816/55/0/0/8d6aec9b627d61f868eb2a25f23d8f57/121/9d7827a718b869089a4679067df551e5/40997816-55.JPG", "caption": "" }, "displayorder": 56, "url": "//cdnparap30.paragonrels.com/ParagonImages/Property/P3/MAXEBRDI/40997816/56/0/0/14229ddd847633e45fc82ffbc536242c/121/9d7827a718b869089a4679067df551e5/40997816-56.JPG", "caption": "" }, "displayorder": 57, "url": "//cdnparap30.paragonrels.com/ParagonImages/Property/P3/MAXEBRDI/40997816/57/0/0/ac2b2b58393f0676262918bbcc2541d8/121/9d7827a718b869089a4679067df551e5/40997816-57.JPG", "caption": "" } ], "agent": { "name": "Megan Micco", "phone": "510-708-9952", "email": "megan@meganmicco.com" }, "broker": { "name": "COMPASS", "phone": "", "email": "" } }; ]]>
977 Regal Rd
BERKELEY, CA 94708

Click here for map
Residential Home
$1,495,000
2,193 Sq Feet
5 Bedrooms
4 Bathrooms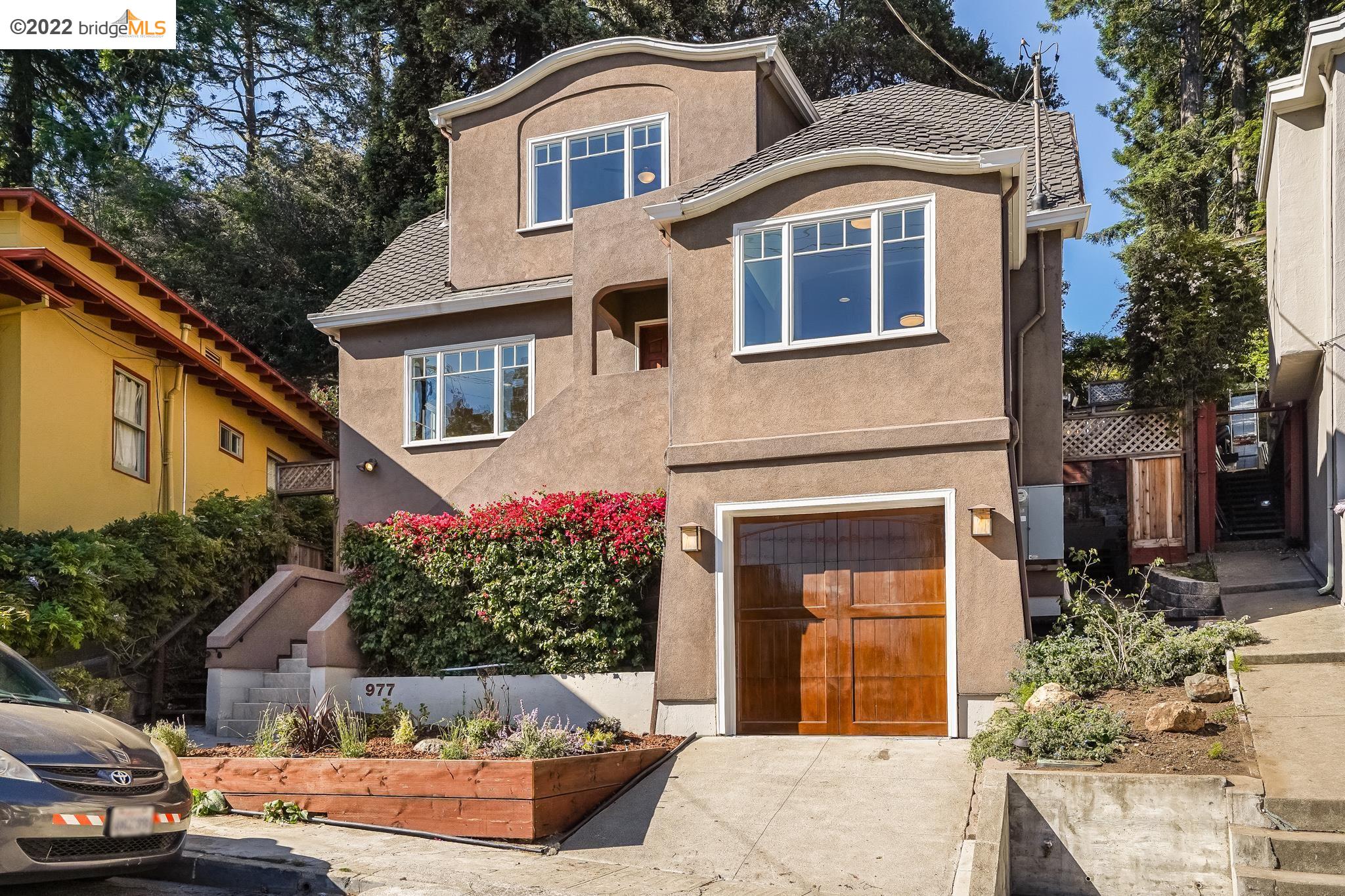 Details:
Lot Sq Feet:
7,570
Fireplaces:
0
HOA?
No
Bank Owned?
No
Status:
Sold
Remarks:
A needle in a haystack is the appropriate metaphor for 977 Regal Road in the Berkeley Hills. While originally built in 1922, this beautiful property has been completely remodeled and is as close to new construction as you are likely to find in this neighborhood. Updates include a completely new foundation, new framing throughout, a new triple laminate roof, soundproof drywall, cotton wool insulation, energy recovery ventilators (ERV), Cat6 coax hardwired throughout the home, water filtration system, tankless water heater, high efficiency furnaces, and all new windows. The large dining area is adjacent to the kitchen with a custom panel dishwasher and refrigerator for a seamless, integrated look. The large backyard also includes 3 terraced decks with beautiful bay views. Just steps from Cragmont park, this prime location provides convenient access to nature, hiking, and bicycling. Years in development, this property clearly reflects the name of the street on which it is sited - Regal.
There are currently no open houses for this property. Please contact
Megan Micco
to schedule an appointment.