<![CDATA[ var dwellicious_data = { "address": "6605 Blake St ", "city": "EL CERRITO", "state": "CA", "zip": "94530", "zip4": "", "area": "", "subdivision": "", "county": "", "price": "950000", "beds": "2", "baths": "1", "sqft": "996", "lotsize": "4300", "yearbuilt": "1952-01-01", "proptype": "Residential", "mlsnum": "40998308", "active": false, "remarks": "Great house to live in or hold as investment in the heart of El Cerrito! Yard is so big, perhaps can add an ADU. Hobby room approx 14 x14, level lot, curb appeal, attic storage, dual paned windows, open living, dining, full bath fresh and new, refinished hardwood flooring, new carpet, new paint inside and out, prime location close to Safeway, restaurants, shopping center and parks, 2 block BART, easy access to I-80 & I-580. Keystone Montessori School for kids is just next door.", "photos": [ { "displayorder": 0, "url": "//cdnparap30.paragonrels.com/ParagonImages/Property/P3/MAXEBRDI/40998308/0/0/0/0557af38b6a894bb15ad7d0f697454ee/114/6bed63bd5f9ff98ec854d76a1e7c7988/40998308.JPG", "caption": "" }, "displayorder": 1, "url": "//cdnparap30.paragonrels.com/ParagonImages/Property/P3/MAXEBRDI/40998308/1/0/0/21e6f1e77fa6ea293d777aceea4093b2/114/6bed63bd5f9ff98ec854d76a1e7c7988/40998308-1.JPG", "caption": "" }, "displayorder": 2, "url": "//cdnparap30.paragonrels.com/ParagonImages/Property/P3/MAXEBRDI/40998308/2/0/0/8293db93bb75da3f1c4a3975f985b717/114/6bed63bd5f9ff98ec854d76a1e7c7988/40998308-2.JPG", "caption": "" }, "displayorder": 3, "url": "//cdnparap30.paragonrels.com/ParagonImages/Property/P3/MAXEBRDI/40998308/3/0/0/3706407a7f2e5fc8f3cb856e09cfdfb3/114/6bed63bd5f9ff98ec854d76a1e7c7988/40998308-3.JPG", "caption": "" }, "displayorder": 4, "url": "//cdnparap30.paragonrels.com/ParagonImages/Property/P3/MAXEBRDI/40998308/4/0/0/b736a90b835aeba2663114e339928227/114/6bed63bd5f9ff98ec854d76a1e7c7988/40998308-4.JPG", "caption": "" }, "displayorder": 5, "url": "//cdnparap30.paragonrels.com/ParagonImages/Property/P3/MAXEBRDI/40998308/5/0/0/3ad7f73ae306dc9d77c417081b8a7db5/114/6bed63bd5f9ff98ec854d76a1e7c7988/40998308-5.JPG", "caption": "" }, "displayorder": 6, "url": "//cdnparap30.paragonrels.com/ParagonImages/Property/P3/MAXEBRDI/40998308/6/0/0/4a560526b1be353abd68693386058d54/114/6bed63bd5f9ff98ec854d76a1e7c7988/40998308-6.JPG", "caption": "" }, "displayorder": 7, "url": "//cdnparap30.paragonrels.com/ParagonImages/Property/P3/MAXEBRDI/40998308/7/0/0/b1aaefdec8c991535c4d09f0a0412f22/114/6bed63bd5f9ff98ec854d76a1e7c7988/40998308-7.JPG", "caption": "" }, "displayorder": 8, "url": "//cdnparap30.paragonrels.com/ParagonImages/Property/P3/MAXEBRDI/40998308/8/0/0/5e535811f975b6637c5ea02014139cdb/114/6bed63bd5f9ff98ec854d76a1e7c7988/40998308-8.JPG", "caption": "" }, "displayorder": 9, "url": "//cdnparap30.paragonrels.com/ParagonImages/Property/P3/MAXEBRDI/40998308/9/0/0/0bea70c1e9d275c915efaccb293ce191/114/6bed63bd5f9ff98ec854d76a1e7c7988/40998308-9.JPG", "caption": "" }, "displayorder": 10, "url": "//cdnparap30.paragonrels.com/ParagonImages/Property/P3/MAXEBRDI/40998308/10/0/0/6f6a552b63c9880363d1929f5e99ab55/114/6bed63bd5f9ff98ec854d76a1e7c7988/40998308-10.JPG", "caption": "" }, "displayorder": 11, "url": "//cdnparap30.paragonrels.com/ParagonImages/Property/P3/MAXEBRDI/40998308/11/0/0/1cb57faf335c41ca069338592716247e/114/6bed63bd5f9ff98ec854d76a1e7c7988/40998308-11.JPG", "caption": "" }, "displayorder": 12, "url": "//cdnparap30.paragonrels.com/ParagonImages/Property/P3/MAXEBRDI/40998308/12/0/0/d47022281095727d58ff476f9d7cbc76/114/6bed63bd5f9ff98ec854d76a1e7c7988/40998308-12.JPG", "caption": "" }, "displayorder": 13, "url": "//cdnparap30.paragonrels.com/ParagonImages/Property/P3/MAXEBRDI/40998308/13/0/0/30dd303e1bced91242f2967921f52b16/114/6bed63bd5f9ff98ec854d76a1e7c7988/40998308-13.JPG", "caption": "" }, "displayorder": 14, "url": "//cdnparap30.paragonrels.com/ParagonImages/Property/P3/MAXEBRDI/40998308/14/0/0/e70329f391ad997085d1017d05e14245/114/6bed63bd5f9ff98ec854d76a1e7c7988/40998308-14.JPG", "caption": "" }, "displayorder": 15, "url": "//cdnparap30.paragonrels.com/ParagonImages/Property/P3/MAXEBRDI/40998308/15/0/0/3473c2491aefa276ae2c875551f7e882/114/6bed63bd5f9ff98ec854d76a1e7c7988/40998308-15.JPG", "caption": "" }, "displayorder": 16, "url": "//cdnparap30.paragonrels.com/ParagonImages/Property/P3/MAXEBRDI/40998308/16/0/0/47787a3fba789a27e0e42cc2bae7a01a/114/6bed63bd5f9ff98ec854d76a1e7c7988/40998308-16.JPG", "caption": "" }, "displayorder": 17, "url": "//cdnparap30.paragonrels.com/ParagonImages/Property/P3/MAXEBRDI/40998308/18/0/0/40582a28685ed1a619509c2e7a9149a2/114/6bed63bd5f9ff98ec854d76a1e7c7988/40998308-18.JPG", "caption": "" }, "displayorder": 18, "url": "//cdnparap30.paragonrels.com/ParagonImages/Property/P3/MAXEBRDI/40998308/19/0/0/742a9c5c245a13000c884faf16399da8/114/6bed63bd5f9ff98ec854d76a1e7c7988/40998308-19.JPG", "caption": "" }, "displayorder": 19, "url": "//cdnparap30.paragonrels.com/ParagonImages/Property/P3/MAXEBRDI/40998308/20/0/0/aafe89eeb2bacddbfe6c762328af16e7/114/6bed63bd5f9ff98ec854d76a1e7c7988/40998308-20.JPG", "caption": "" } ], "agent": { "name": "Martin Y Lu", "phone": "415-706-5268", "email": "lu.martinlucky@gmail.com" }, "broker": { "name": "Alliance Bay Realty", "phone": "", "email": "" } }; ]]>
6605 Blake St
EL CERRITO, CA 94530

Click here for map
Residential Home
$950,000
996 Sq Feet
2 Bedrooms
1 Bathroom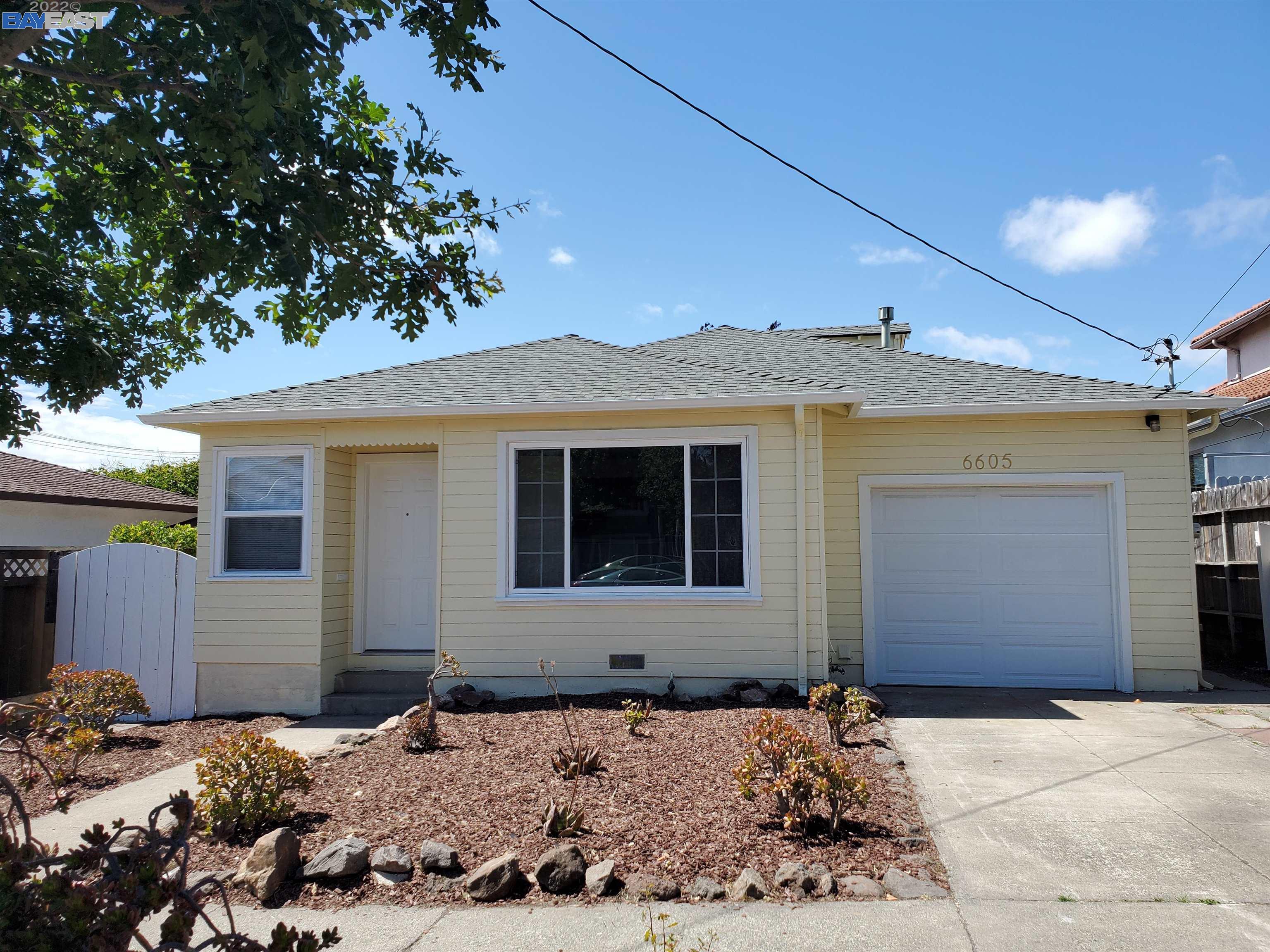 Listed by Martin Y Lu of Alliance Bay Realty
DRE# 01741113
Details:
Lot Sq Feet:
4,300
Fireplaces:
0
HOA?
No
Bank Owned?
No
Status:
Pending
Remarks:
Great house to live in or hold as investment in the heart of El Cerrito! Yard is so big, perhaps can add an ADU. Hobby room approx 14 x14, level lot, curb appeal, attic storage, dual paned windows, open living, dining, full bath fresh and new, refinished hardwood flooring, new carpet, new paint inside and out, prime location close to Safeway, restaurants, shopping center and parks, 2 block BART, easy access to I-80 & I-580. Keystone Montessori School for kids is just next door.
There are currently no open houses for this property. Please contact
Martin Y Lu
to schedule an appointment.