<![CDATA[ var dwellicious_data = { "address": "2064 Morello Avenue ", "city": "PLEASANT HILL", "state": "CA", "zip": "94523", "zip4": "", "area": "", "subdivision": "", "county": "", "price": "1199000", "beds": "3", "baths": "2", "sqft": "1596", "lotsize": "7070", "yearbuilt": "1966-01-01", "proptype": "Residential", "mlsnum": "40998760", "active": false, "remarks": "This Valhalla neighborhood stunner is the full triple threat! Open Concept, filled with natural light, and just remodeled! The two tone paint design of the exterior, coupled with the new garage door and new swanky front door immediately capture your attention. The split level floor plan combined with the open great room creates a true contemporary ambiance. The eat in kitchen features a massive island as the centerpiece, the kitchen presents an abundance of counter space and cabinet storage. New quartz countertops and brand new SS appliances as well. Brand new luxury laminate floors throughout. Impeccable lighting throughout, featuring modern light fixtures, recessed lighting and vast natural light. Two decks are featured off of the great room and one off of the primary suite that showcases an incredible view of Mt. Diablo. The backyard is the definition of an entertainers dream! It provides a private space with freshly added grass and a stone paver walkway. Top rated PH Schools!", "photos": [ { "displayorder": 0, "url": "//cdnparap30.paragonrels.com/ParagonImages/Property/P3/MAXEBRDI/40998760/0/0/0/aca6d20dcec87eadade23a258f3aed2f/120/f0929906eaa0a9081bc6b06662fbc4e6/40998760.JPG", "caption": "" }, "displayorder": 1, "url": "//cdnparap30.paragonrels.com/ParagonImages/Property/P3/MAXEBRDI/40998760/1/0/0/994a6d913c4cacf47eb341fa09b1af19/120/f0929906eaa0a9081bc6b06662fbc4e6/40998760-1.JPG", "caption": "" }, "displayorder": 2, "url": "//cdnparap30.paragonrels.com/ParagonImages/Property/P3/MAXEBRDI/40998760/2/0/0/804453a7cc05d8def0440a47f2a2cfea/120/f0929906eaa0a9081bc6b06662fbc4e6/40998760-2.JPG", "caption": "" }, "displayorder": 3, "url": "//cdnparap30.paragonrels.com/ParagonImages/Property/P3/MAXEBRDI/40998760/3/0/0/a74c086ca3fd4e4173cf60310923fc4d/120/f0929906eaa0a9081bc6b06662fbc4e6/40998760-3.JPG", "caption": "" }, "displayorder": 4, "url": "//cdnparap30.paragonrels.com/ParagonImages/Property/P3/MAXEBRDI/40998760/4/0/0/31426873920f6524c53ab356159ceec5/120/f0929906eaa0a9081bc6b06662fbc4e6/40998760-4.JPG", "caption": "" }, "displayorder": 5, "url": "//cdnparap30.paragonrels.com/ParagonImages/Property/P3/MAXEBRDI/40998760/5/0/0/6bd7fcbb1f2019ddfc93c018b4265aa6/120/f0929906eaa0a9081bc6b06662fbc4e6/40998760-5.JPG", "caption": "" }, "displayorder": 6, "url": "//cdnparap30.paragonrels.com/ParagonImages/Property/P3/MAXEBRDI/40998760/6/0/0/f9bfbe70c1386efb69d0196cee0e41a3/120/f0929906eaa0a9081bc6b06662fbc4e6/40998760-6.JPG", "caption": "" }, "displayorder": 7, "url": "//cdnparap30.paragonrels.com/ParagonImages/Property/P3/MAXEBRDI/40998760/7/0/0/ccfd0bfbf9ea6ccc31781f531305713d/120/f0929906eaa0a9081bc6b06662fbc4e6/40998760-7.JPG", "caption": "" }, "displayorder": 8, "url": "//cdnparap30.paragonrels.com/ParagonImages/Property/P3/MAXEBRDI/40998760/8/0/0/ffa6d9a4e6646f79198745f610cbfbd1/120/f0929906eaa0a9081bc6b06662fbc4e6/40998760-8.JPG", "caption": "" }, "displayorder": 9, "url": "//cdnparap30.paragonrels.com/ParagonImages/Property/P3/MAXEBRDI/40998760/9/0/0/7905470ca036f74f3890974a10a03094/120/f0929906eaa0a9081bc6b06662fbc4e6/40998760-9.JPG", "caption": "" }, "displayorder": 10, "url": "//cdnparap30.paragonrels.com/ParagonImages/Property/P3/MAXEBRDI/40998760/10/0/0/01a83c4ef2dfcce5cf137ec7247bb237/120/f0929906eaa0a9081bc6b06662fbc4e6/40998760-10.JPG", "caption": "" }, "displayorder": 11, "url": "//cdnparap30.paragonrels.com/ParagonImages/Property/P3/MAXEBRDI/40998760/11/0/0/9e26267e2876fad5b6a813c66d2cd854/120/f0929906eaa0a9081bc6b06662fbc4e6/40998760-11.JPG", "caption": "" }, "displayorder": 12, "url": "//cdnparap30.paragonrels.com/ParagonImages/Property/P3/MAXEBRDI/40998760/12/0/0/c3b4519aba838ccaec8a39a0d99c06a4/120/f0929906eaa0a9081bc6b06662fbc4e6/40998760-12.JPG", "caption": "" }, "displayorder": 13, "url": "//cdnparap30.paragonrels.com/ParagonImages/Property/P3/MAXEBRDI/40998760/13/0/0/da95625ec8b4d2e13575f785d11ff7e6/120/f0929906eaa0a9081bc6b06662fbc4e6/40998760-13.JPG", "caption": "" }, "displayorder": 14, "url": "//cdnparap30.paragonrels.com/ParagonImages/Property/P3/MAXEBRDI/40998760/14/0/0/d2d8f393d24bf90b9f128beaa07f4aa3/120/f0929906eaa0a9081bc6b06662fbc4e6/40998760-14.JPG", "caption": "" }, "displayorder": 15, "url": "//cdnparap30.paragonrels.com/ParagonImages/Property/P3/MAXEBRDI/40998760/15/0/0/070751c15e4fcaa7379cfe911f0ef065/120/f0929906eaa0a9081bc6b06662fbc4e6/40998760-15.JPG", "caption": "" }, "displayorder": 16, "url": "//cdnparap30.paragonrels.com/ParagonImages/Property/P3/MAXEBRDI/40998760/16/0/0/24242c3bb17db9a9ca629614efac147d/120/f0929906eaa0a9081bc6b06662fbc4e6/40998760-16.JPG", "caption": "" }, "displayorder": 17, "url": "//cdnparap30.paragonrels.com/ParagonImages/Property/P3/MAXEBRDI/40998760/17/0/0/cdee72f0b3e9631e9c9b7fea0c126f8b/120/f0929906eaa0a9081bc6b06662fbc4e6/40998760-17.JPG", "caption": "" }, "displayorder": 18, "url": "//cdnparap30.paragonrels.com/ParagonImages/Property/P3/MAXEBRDI/40998760/18/0/0/b2fd501220ec1666e020c80aa7bfea2e/120/f0929906eaa0a9081bc6b06662fbc4e6/40998760-18.JPG", "caption": "" }, "displayorder": 19, "url": "//cdnparap30.paragonrels.com/ParagonImages/Property/P3/MAXEBRDI/40998760/19/0/0/ead3646787943241baf57110ea0fc659/120/f0929906eaa0a9081bc6b06662fbc4e6/40998760-19.JPG", "caption": "" }, "displayorder": 20, "url": "//cdnparap30.paragonrels.com/ParagonImages/Property/P3/MAXEBRDI/40998760/20/0/0/4e6ab7fc3c3433f568a1462632c47464/120/f0929906eaa0a9081bc6b06662fbc4e6/40998760-20.JPG", "caption": "" }, "displayorder": 21, "url": "//cdnparap30.paragonrels.com/ParagonImages/Property/P3/MAXEBRDI/40998760/21/0/0/fcc5b5e4cecc546692f0d1be02241aaa/120/f0929906eaa0a9081bc6b06662fbc4e6/40998760-21.JPG", "caption": "" }, "displayorder": 22, "url": "//cdnparap30.paragonrels.com/ParagonImages/Property/P3/MAXEBRDI/40998760/22/0/0/2a224a508aaf1e0896643c62a6a172dc/120/f0929906eaa0a9081bc6b06662fbc4e6/40998760-22.JPG", "caption": "" }, "displayorder": 23, "url": "//cdnparap30.paragonrels.com/ParagonImages/Property/P3/MAXEBRDI/40998760/23/0/0/367633efc8c44bb67a9104b7b879988b/120/f0929906eaa0a9081bc6b06662fbc4e6/40998760-23.JPG", "caption": "" }, "displayorder": 24, "url": "//cdnparap30.paragonrels.com/ParagonImages/Property/P3/MAXEBRDI/40998760/24/0/0/f4b553f27670960e171165e85c8db184/120/f0929906eaa0a9081bc6b06662fbc4e6/40998760-24.JPG", "caption": "" }, "displayorder": 25, "url": "//cdnparap30.paragonrels.com/ParagonImages/Property/P3/MAXEBRDI/40998760/25/0/0/fb9e4ca4bceeece4d831a3a98b7ff7f2/120/f0929906eaa0a9081bc6b06662fbc4e6/40998760-25.JPG", "caption": "" }, "displayorder": 26, "url": "//cdnparap30.paragonrels.com/ParagonImages/Property/P3/MAXEBRDI/40998760/26/0/0/8a90a2466136b371c2ec1b65ded57fcc/120/f0929906eaa0a9081bc6b06662fbc4e6/40998760-26.JPG", "caption": "" }, "displayorder": 27, "url": "//cdnparap30.paragonrels.com/ParagonImages/Property/P3/MAXEBRDI/40998760/27/0/0/02404d82e428b7917a0dabebaeccac3f/120/f0929906eaa0a9081bc6b06662fbc4e6/40998760-27.JPG", "caption": "" }, "displayorder": 28, "url": "//cdnparap30.paragonrels.com/ParagonImages/Property/P3/MAXEBRDI/40998760/28/0/0/8886e0b9ed4d9a73853a4fba755ef33f/120/f0929906eaa0a9081bc6b06662fbc4e6/40998760-28.JPG", "caption": "" }, "displayorder": 29, "url": "//cdnparap30.paragonrels.com/ParagonImages/Property/P3/MAXEBRDI/40998760/29/0/0/f5238d4beab2c8ac81f33a0deba539ab/120/f0929906eaa0a9081bc6b06662fbc4e6/40998760-29.JPG", "caption": "" }, "displayorder": 30, "url": "//cdnparap30.paragonrels.com/ParagonImages/Property/P3/MAXEBRDI/40998760/30/0/0/55a201eb4a3cf84c6a222c764eb6a254/120/f0929906eaa0a9081bc6b06662fbc4e6/40998760-30.JPG", "caption": "" }, "displayorder": 31, "url": "//cdnparap30.paragonrels.com/ParagonImages/Property/P3/MAXEBRDI/40998760/31/0/0/7fd3f45bdac7234c2347834ce468e442/120/f0929906eaa0a9081bc6b06662fbc4e6/40998760-31.JPG", "caption": "" }, "displayorder": 32, "url": "//cdnparap30.paragonrels.com/ParagonImages/Property/P3/MAXEBRDI/40998760/32/0/0/1d20a73aedefa5179bc8f6f1a460d8f6/120/f0929906eaa0a9081bc6b06662fbc4e6/40998760-32.JPG", "caption": "" }, "displayorder": 33, "url": "//cdnparap30.paragonrels.com/ParagonImages/Property/P3/MAXEBRDI/40998760/33/0/0/3d49109dfc37cb4424abb8c0e24a867e/120/f0929906eaa0a9081bc6b06662fbc4e6/40998760-33.JPG", "caption": "" }, "displayorder": 34, "url": "//cdnparap30.paragonrels.com/ParagonImages/Property/P3/MAXEBRDI/40998760/34/0/0/2506e46b9931620f10945709381eeb9c/120/f0929906eaa0a9081bc6b06662fbc4e6/40998760-34.JPG", "caption": "" }, "displayorder": 35, "url": "//cdnparap30.paragonrels.com/ParagonImages/Property/P3/MAXEBRDI/40998760/35/0/0/8c343e03ca94ef27bda506842c6a89f9/120/f0929906eaa0a9081bc6b06662fbc4e6/40998760-35.JPG", "caption": "" }, "displayorder": 36, "url": "//cdnparap30.paragonrels.com/ParagonImages/Property/P3/MAXEBRDI/40998760/36/0/0/078dba77798d0d06f0cd5bb671218073/120/f0929906eaa0a9081bc6b06662fbc4e6/40998760-36.JPG", "caption": "" }, "displayorder": 37, "url": "//cdnparap30.paragonrels.com/ParagonImages/Property/P3/MAXEBRDI/40998760/37/0/0/a8aca923ebf8aad2a1e0a20f0b739c4c/120/f0929906eaa0a9081bc6b06662fbc4e6/40998760-37.JPG", "caption": "" }, "displayorder": 38, "url": "//cdnparap30.paragonrels.com/ParagonImages/Property/P3/MAXEBRDI/40998760/38/0/0/58d32eb329bedfb81e5565acd42c418f/120/f0929906eaa0a9081bc6b06662fbc4e6/40998760-38.JPG", "caption": "" }, "displayorder": 39, "url": "//cdnparap30.paragonrels.com/ParagonImages/Property/P3/MAXEBRDI/40998760/39/0/0/f5d1a1a511404725e76e331370ca2cb7/120/f0929906eaa0a9081bc6b06662fbc4e6/40998760-39.JPG", "caption": "" } ], "agent": { "name": "Alex Janson", "phone": "925-7659868", "email": "alex@calhomeinfo.com" }, "broker": { "name": "Cal Home", "phone": "", "email": "" } }; ]]>
2064 Morello Avenue
PLEASANT HILL, CA 94523

Click here for map
Residential Home
$1,199,000
1,596 Sq Feet
3 Bedrooms
2 Bathrooms
1 Partial Bath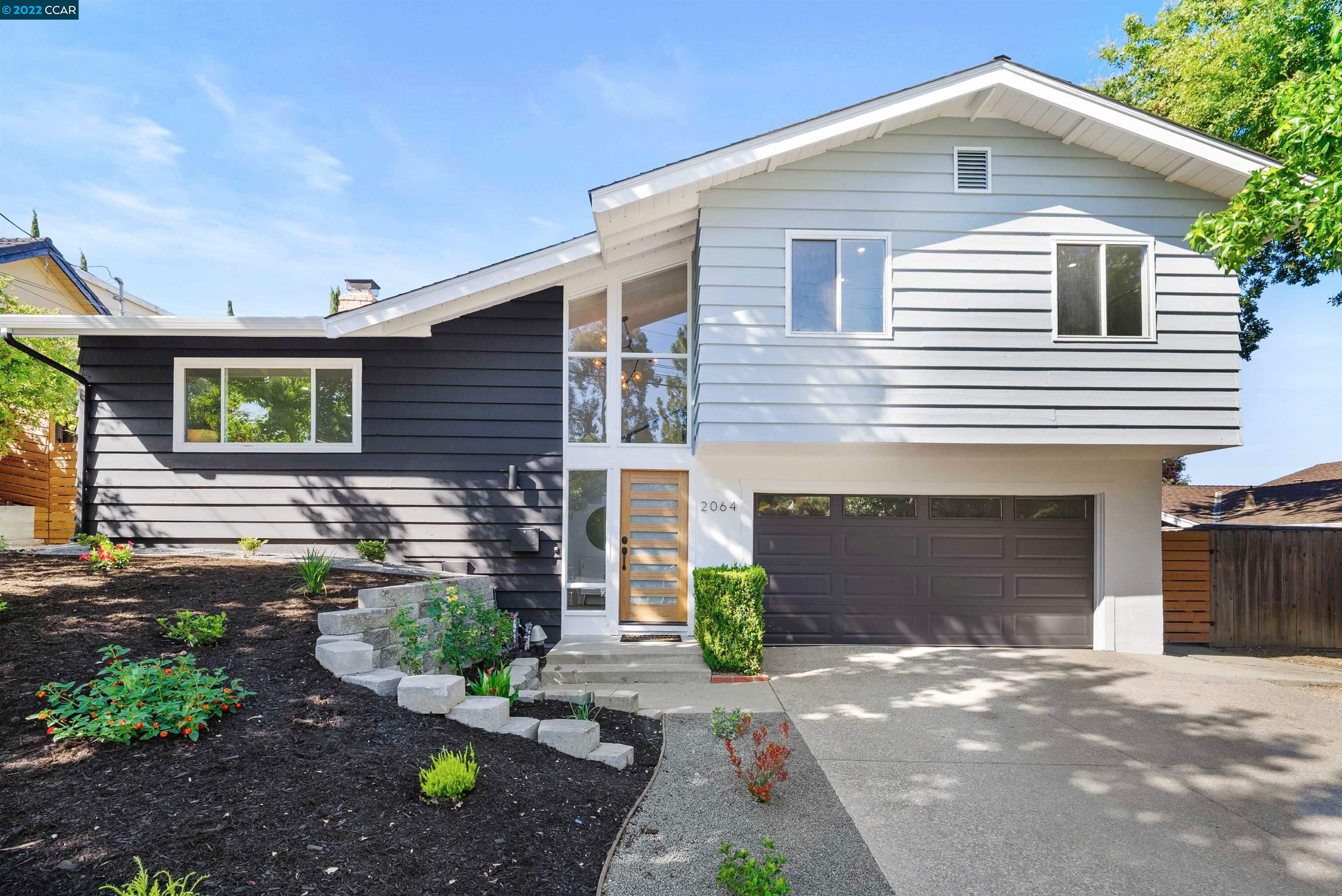 Details:
Lot Sq Feet:
7,070
Fireplaces:
1
HOA?
No
Bank Owned?
No
Status:
Sold
Remarks:
This Valhalla neighborhood stunner is the full triple threat! Open Concept, filled with natural light, and just remodeled! The two tone paint design of the exterior, coupled with the new garage door and new swanky front door immediately capture your attention. The split level floor plan combined with the open great room creates a true contemporary ambiance. The eat in kitchen features a massive island as the centerpiece, the kitchen presents an abundance of counter space and cabinet storage. New quartz countertops and brand new SS appliances as well. Brand new luxury laminate floors throughout. Impeccable lighting throughout, featuring modern light fixtures, recessed lighting and vast natural light. Two decks are featured off of the great room and one off of the primary suite that showcases an incredible view of Mt. Diablo. The backyard is the definition of an entertainers dream! It provides a private space with freshly added grass and a stone paver walkway. Top rated PH Schools!
There are currently no open houses for this property. Please contact
Alex Janson
to schedule an appointment.