<![CDATA[ var dwellicious_data = { "address": "248 Nancy Ln ", "city": "PLEASANT HILL", "state": "CA", "zip": "94523", "zip4": "", "area": "", "subdivision": "", "county": "", "price": "947500", "beds": "3", "baths": "1", "sqft": "1042", "lotsize": "14500", "yearbuilt": "1949-01-01", "proptype": "Residential", "mlsnum": "40999252", "active": false, "remarks": "Gregory Gardens charmer located at the end of a quiet court on a massive lot! 3 bedroom, 1 bath. Newly renovated home from new vinyl plank flooring throughout, central air and heat, recessed lighting, dual pane windows and fresh paint inside and out! Kitchen with granite countertops new stainless-steel refrigerator and large stainless-steel hood. gas and electric hook-up option for stove and dryer. Huge pie-shaped lot for future expansion or perfect for adding an ADU. French doors leading out to the large back patio for entertaining. Close to outstanding schools, shops, movie theater and parks. Centrally located to HWY 680 and public transportation. OPEN HOUSE 7/23 & 7/24 1PM TO 3PM", "photos": [ { "displayorder": 0, "url": "//cdnparap30.paragonrels.com/ParagonImages/Property/P3/MAXEBRDI/40999252/0/0/0/78204ba70058b55adbc1d47f2c8c7479/120/ccf8a7d07efd22d624cd874caf8c453c/40999252.JPG", "caption": "" }, "displayorder": 1, "url": "//cdnparap30.paragonrels.com/ParagonImages/Property/P3/MAXEBRDI/40999252/1/0/0/378c4e94bb71d44529b49f9a3b12b16d/120/ccf8a7d07efd22d624cd874caf8c453c/40999252-1.JPG", "caption": "" }, "displayorder": 2, "url": "//cdnparap30.paragonrels.com/ParagonImages/Property/P3/MAXEBRDI/40999252/2/0/0/e8e01cefeb34e7805b4d85ad29e31e85/120/ccf8a7d07efd22d624cd874caf8c453c/40999252-2.JPG", "caption": "" }, "displayorder": 3, "url": "//cdnparap30.paragonrels.com/ParagonImages/Property/P3/MAXEBRDI/40999252/3/0/0/cb96243059f49eddf24c8aca9c6a14e5/120/ccf8a7d07efd22d624cd874caf8c453c/40999252-3.JPG", "caption": "" }, "displayorder": 4, "url": "//cdnparap30.paragonrels.com/ParagonImages/Property/P3/MAXEBRDI/40999252/4/0/0/0cb8b83205ee41bd04e2f5f9f59ffdd1/120/ccf8a7d07efd22d624cd874caf8c453c/40999252-4.JPG", "caption": "" }, "displayorder": 5, "url": "//cdnparap30.paragonrels.com/ParagonImages/Property/P3/MAXEBRDI/40999252/5/0/0/a61e621fd07e462f03d8db4573605d0f/120/ccf8a7d07efd22d624cd874caf8c453c/40999252-5.JPG", "caption": "" }, "displayorder": 6, "url": "//cdnparap30.paragonrels.com/ParagonImages/Property/P3/MAXEBRDI/40999252/6/0/0/1e9233e1a9f76b5a5b59455953279740/120/ccf8a7d07efd22d624cd874caf8c453c/40999252-6.JPG", "caption": "" }, "displayorder": 7, "url": "//cdnparap30.paragonrels.com/ParagonImages/Property/P3/MAXEBRDI/40999252/7/0/0/7a0f944fd27a381d8c46c7a09b23930e/120/ccf8a7d07efd22d624cd874caf8c453c/40999252-7.JPG", "caption": "" }, "displayorder": 8, "url": "//cdnparap30.paragonrels.com/ParagonImages/Property/P3/MAXEBRDI/40999252/8/0/0/85fa7c0402aef5a37051631630a5e638/120/ccf8a7d07efd22d624cd874caf8c453c/40999252-8.JPG", "caption": "" }, "displayorder": 9, "url": "//cdnparap30.paragonrels.com/ParagonImages/Property/P3/MAXEBRDI/40999252/9/0/0/e99f670e2cb8d56eee8fea99d2a5e03f/120/ccf8a7d07efd22d624cd874caf8c453c/40999252-9.JPG", "caption": "" }, "displayorder": 10, "url": "//cdnparap30.paragonrels.com/ParagonImages/Property/P3/MAXEBRDI/40999252/10/0/0/1a3c715b78cea19266445ee129f6564f/120/ccf8a7d07efd22d624cd874caf8c453c/40999252-10.JPG", "caption": "" }, "displayorder": 11, "url": "//cdnparap30.paragonrels.com/ParagonImages/Property/P3/MAXEBRDI/40999252/11/0/0/d228abd282275c0d7b9c083bb50a9066/120/ccf8a7d07efd22d624cd874caf8c453c/40999252-11.JPG", "caption": "" }, "displayorder": 12, "url": "//cdnparap30.paragonrels.com/ParagonImages/Property/P3/MAXEBRDI/40999252/12/0/0/b235da18f4685ff5e4b07fe0ccf28011/120/ccf8a7d07efd22d624cd874caf8c453c/40999252-12.JPG", "caption": "" }, "displayorder": 13, "url": "//cdnparap30.paragonrels.com/ParagonImages/Property/P3/MAXEBRDI/40999252/13/0/0/c0f6997ad71014aa5b4baa78b43f23c1/120/ccf8a7d07efd22d624cd874caf8c453c/40999252-13.JPG", "caption": "" }, "displayorder": 14, "url": "//cdnparap30.paragonrels.com/ParagonImages/Property/P3/MAXEBRDI/40999252/14/0/0/6d3492c23cc4824273153f32963ea5fd/120/ccf8a7d07efd22d624cd874caf8c453c/40999252-14.JPG", "caption": "" }, "displayorder": 15, "url": "//cdnparap30.paragonrels.com/ParagonImages/Property/P3/MAXEBRDI/40999252/15/0/0/97719d8b53323f2ea0e364d42e20e243/120/ccf8a7d07efd22d624cd874caf8c453c/40999252-15.JPG", "caption": "" }, "displayorder": 16, "url": "//cdnparap30.paragonrels.com/ParagonImages/Property/P3/MAXEBRDI/40999252/16/0/0/be352ef3be203ef9b2c54148d84174e3/120/ccf8a7d07efd22d624cd874caf8c453c/40999252-16.JPG", "caption": "" }, "displayorder": 17, "url": "//cdnparap30.paragonrels.com/ParagonImages/Property/P3/MAXEBRDI/40999252/17/0/0/1ec18d37278f0f4ef8b0ef178beeb878/120/ccf8a7d07efd22d624cd874caf8c453c/40999252-17.JPG", "caption": "" }, "displayorder": 18, "url": "//cdnparap30.paragonrels.com/ParagonImages/Property/P3/MAXEBRDI/40999252/18/0/0/1634158c8df266c3dbd68ffaabbec946/120/ccf8a7d07efd22d624cd874caf8c453c/40999252-18.JPG", "caption": "" }, "displayorder": 19, "url": "//cdnparap30.paragonrels.com/ParagonImages/Property/P3/MAXEBRDI/40999252/19/0/0/84bd05c7ff7cb49702837d7addf41910/120/ccf8a7d07efd22d624cd874caf8c453c/40999252-19.JPG", "caption": "" }, "displayorder": 20, "url": "//cdnparap30.paragonrels.com/ParagonImages/Property/P3/MAXEBRDI/40999252/20/0/0/beed85278ceaa563e7b0f9daec476340/120/ccf8a7d07efd22d624cd874caf8c453c/40999252-20.JPG", "caption": "" }, "displayorder": 21, "url": "//cdnparap30.paragonrels.com/ParagonImages/Property/P3/MAXEBRDI/40999252/21/0/0/b0e70c80d21a60288c3a5e77d9088db9/120/ccf8a7d07efd22d624cd874caf8c453c/40999252-21.JPG", "caption": "" }, "displayorder": 22, "url": "//cdnparap30.paragonrels.com/ParagonImages/Property/P3/MAXEBRDI/40999252/22/0/0/35e9db276a04b14c76d186af5bab7dca/120/ccf8a7d07efd22d624cd874caf8c453c/40999252-22.JPG", "caption": "" }, "displayorder": 23, "url": "//cdnparap30.paragonrels.com/ParagonImages/Property/P3/MAXEBRDI/40999252/23/0/0/92148bc8070cd7b4fed4c60cb44f7c2c/120/ccf8a7d07efd22d624cd874caf8c453c/40999252-23.JPG", "caption": "" }, "displayorder": 24, "url": "//cdnparap30.paragonrels.com/ParagonImages/Property/P3/MAXEBRDI/40999252/24/0/0/d880f6e14b0d41efd643934c9d6f6220/120/ccf8a7d07efd22d624cd874caf8c453c/40999252-24.JPG", "caption": "" }, "displayorder": 25, "url": "//cdnparap30.paragonrels.com/ParagonImages/Property/P3/MAXEBRDI/40999252/25/0/0/6755267e1f1632babd7fc40bb95fe82b/120/ccf8a7d07efd22d624cd874caf8c453c/40999252-25.JPG", "caption": "" }, "displayorder": 26, "url": "//cdnparap30.paragonrels.com/ParagonImages/Property/P3/MAXEBRDI/40999252/26/0/0/44463ab0730e7f43acc411a7eb045486/120/ccf8a7d07efd22d624cd874caf8c453c/40999252-26.JPG", "caption": "" }, "displayorder": 27, "url": "//cdnparap30.paragonrels.com/ParagonImages/Property/P3/MAXEBRDI/40999252/28/0/0/ba0030a9d589ab995b518faa7e4e8e0c/120/ccf8a7d07efd22d624cd874caf8c453c/40999252-28.JPG", "caption": "" } ], "agent": { "name": "Josh Haller", "phone": "925-4082725", "email": "josh@brickhouserep.com" }, "broker": { "name": "Brickhouse Real Estate Partner", "phone": "", "email": "" } }; ]]>
248 Nancy Ln
PLEASANT HILL, CA 94523

Click here for map
Residential Home
$947,500
1,042 Sq Feet
3 Bedrooms
1 Bathroom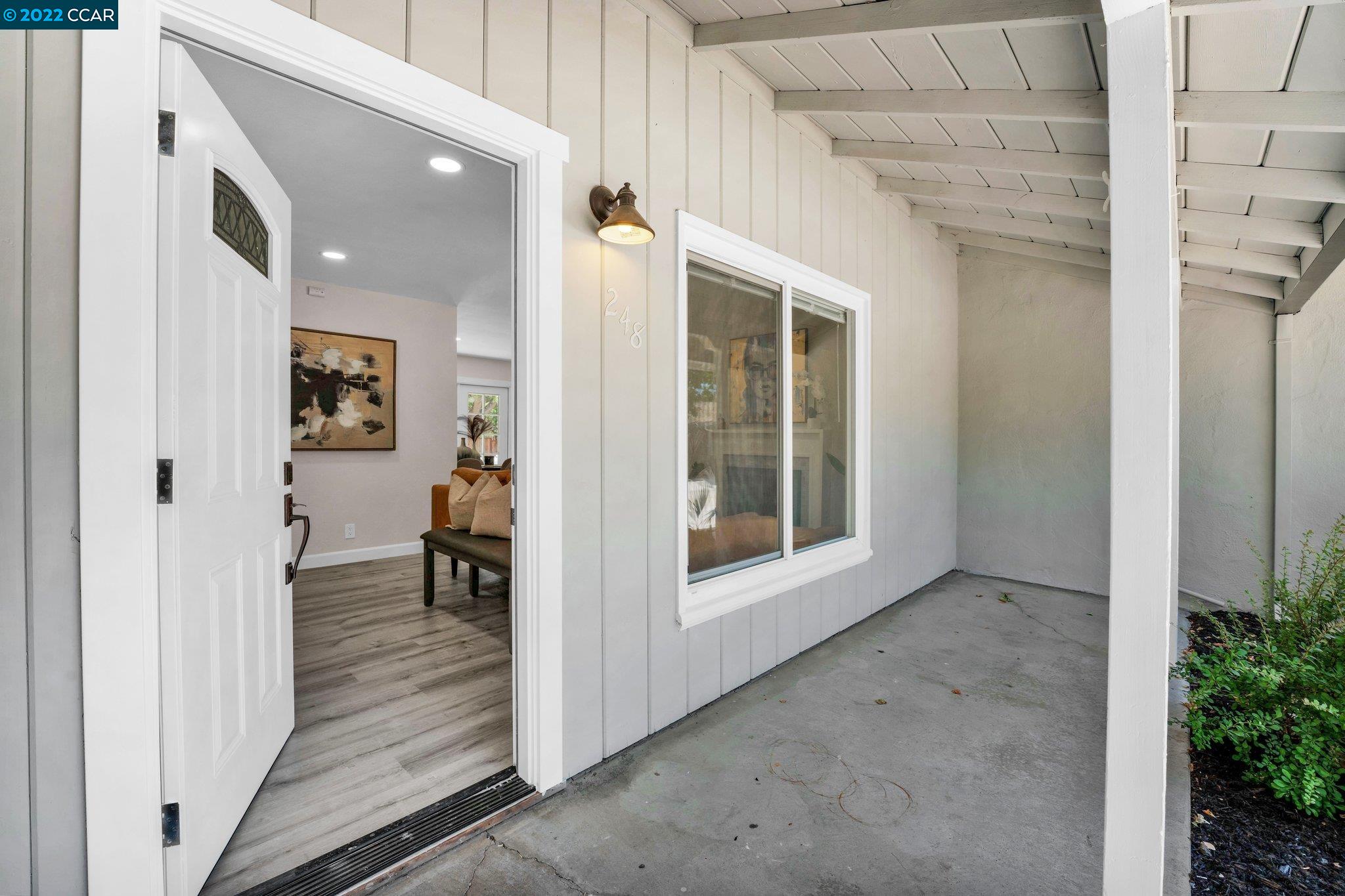 Listed by Josh Haller of Brickhouse Real Estate Partner
DRE# 01475720
Details:
Lot Sq Feet:
14,500
Fireplaces:
1
HOA?
No
Bank Owned?
No
Status:
Pending
Remarks:
Gregory Gardens charmer located at the end of a quiet court on a massive lot! 3 bedroom, 1 bath. Newly renovated home from new vinyl plank flooring throughout, central air and heat, recessed lighting, dual pane windows and fresh paint inside and out! Kitchen with granite countertops new stainless-steel refrigerator and large stainless-steel hood. gas and electric hook-up option for stove and dryer. Huge pie-shaped lot for future expansion or perfect for adding an ADU. French doors leading out to the large back patio for entertaining. Close to outstanding schools, shops, movie theater and parks. Centrally located to HWY 680 and public transportation. OPEN HOUSE 7/23 & 7/24 1PM TO 3PM
There are currently no open houses for this property. Please contact
Josh Haller
to schedule an appointment.