<![CDATA[ var dwellicious_data = { "address": "1445 Ramsay Cir ", "city": "WALNUT CREEK", "state": "CA", "zip": "94597", "zip4": "", "area": "", "subdivision": "", "county": "", "price": "1529000", "beds": "4", "baths": "2", "sqft": "2147", "lotsize": "11600", "yearbuilt": "1969-01-01", "proptype": "Residential", "mlsnum": "40999457", "active": true, "remarks": "Perched on a knoll in the Palos Verde neighborhood with panoramic views of Mount Diablo, this wonderfully maintained home is a must see. Step through the front entry to the bright formal living room & dining room with soaring vaulted ceilings, picture windows, and room to spread out. The eat-in kitchen features a double oven, breakfast bar, new lighting, and an easy flow to the family room boasting an impressive brick fireplace, and sliding glass door to the back yard. The retreat-like primary bedroom includes vaulted ceilings, a sliding glass door to a private deck, walk-in closet, and bathroom with a stall shower. Other features include a versatile downstairs layout of 3 bedrooms, one with a private slider to a back patio, fresh paint, an over-sized 2 car garage, park-like yard w/views, mature trees, and multiple seating areas, all just minutes, to shops, restaurants, freeways, BART, and feeding to WC/Acalanes School Districts.", "photos": [ { "displayorder": 0, "url": "//cdnparap30.paragonrels.com/ParagonImages/Property/P3/MAXEBRDI/40999457/0/0/0/ee87b78904b6f4fe8f78260480b2bd67/120/ab459876afb8f89a0412acac67a093d7/40999457.JPG", "caption": "" }, "displayorder": 1, "url": "//cdnparap30.paragonrels.com/ParagonImages/Property/P3/MAXEBRDI/40999457/1/0/0/a8c162c4658d1d4ff0fcbb01cf4109c6/120/ab459876afb8f89a0412acac67a093d7/40999457-1.JPG", "caption": "" }, "displayorder": 2, "url": "//cdnparap30.paragonrels.com/ParagonImages/Property/P3/MAXEBRDI/40999457/2/0/0/9c2bf65e3405f73d4fa2dc733815b55a/120/ab459876afb8f89a0412acac67a093d7/40999457-2.JPG", "caption": "" }, "displayorder": 3, "url": "//cdnparap30.paragonrels.com/ParagonImages/Property/P3/MAXEBRDI/40999457/3/0/0/e334b064178ed3a2725e071e5a3d68de/120/ab459876afb8f89a0412acac67a093d7/40999457-3.JPG", "caption": "" }, "displayorder": 4, "url": "//cdnparap30.paragonrels.com/ParagonImages/Property/P3/MAXEBRDI/40999457/4/0/0/80b7006b18dc6036022df096be70cd19/120/ab459876afb8f89a0412acac67a093d7/40999457-4.JPG", "caption": "" }, "displayorder": 5, "url": "//cdnparap30.paragonrels.com/ParagonImages/Property/P3/MAXEBRDI/40999457/5/0/0/3d619ce0f4d5ae8495e8a367c0ce360e/120/ab459876afb8f89a0412acac67a093d7/40999457-5.JPG", "caption": "" }, "displayorder": 6, "url": "//cdnparap30.paragonrels.com/ParagonImages/Property/P3/MAXEBRDI/40999457/6/0/0/689641d027ee5f464d289b974f9502d5/120/ab459876afb8f89a0412acac67a093d7/40999457-6.JPG", "caption": "" }, "displayorder": 7, "url": "//cdnparap30.paragonrels.com/ParagonImages/Property/P3/MAXEBRDI/40999457/7/0/0/3b7bfc4d53f298172cec95f0c258191d/120/ab459876afb8f89a0412acac67a093d7/40999457-7.JPG", "caption": "" }, "displayorder": 8, "url": "//cdnparap30.paragonrels.com/ParagonImages/Property/P3/MAXEBRDI/40999457/8/0/0/a14f4e81bce85ebcc43fd40998c82ed7/120/ab459876afb8f89a0412acac67a093d7/40999457-8.JPG", "caption": "" }, "displayorder": 9, "url": "//cdnparap30.paragonrels.com/ParagonImages/Property/P3/MAXEBRDI/40999457/9/0/0/1fe20744fa9846e5cd0f1321a8ea1689/120/ab459876afb8f89a0412acac67a093d7/40999457-9.JPG", "caption": "" }, "displayorder": 10, "url": "//cdnparap30.paragonrels.com/ParagonImages/Property/P3/MAXEBRDI/40999457/10/0/0/346f0354dab9372c004be83a184f745c/120/ab459876afb8f89a0412acac67a093d7/40999457-10.JPG", "caption": "" }, "displayorder": 11, "url": "//cdnparap30.paragonrels.com/ParagonImages/Property/P3/MAXEBRDI/40999457/11/0/0/6026212ad597df81e0d0fe9e29e6ff76/120/ab459876afb8f89a0412acac67a093d7/40999457-11.JPG", "caption": "" }, "displayorder": 12, "url": "//cdnparap30.paragonrels.com/ParagonImages/Property/P3/MAXEBRDI/40999457/12/0/0/ef3f87b2fb45de0214ab9dc6ec8bc6cd/120/ab459876afb8f89a0412acac67a093d7/40999457-12.JPG", "caption": "" }, "displayorder": 13, "url": "//cdnparap30.paragonrels.com/ParagonImages/Property/P3/MAXEBRDI/40999457/13/0/0/80b824ba0dd14b4b7f84d6bb42740057/120/ab459876afb8f89a0412acac67a093d7/40999457-13.JPG", "caption": "" }, "displayorder": 14, "url": "//cdnparap30.paragonrels.com/ParagonImages/Property/P3/MAXEBRDI/40999457/14/0/0/300b486a5414eecd08a5999de2343d00/120/ab459876afb8f89a0412acac67a093d7/40999457-14.JPG", "caption": "" }, "displayorder": 15, "url": "//cdnparap30.paragonrels.com/ParagonImages/Property/P3/MAXEBRDI/40999457/15/0/0/41674c56d4a691b43cc7831a7e43dec4/120/ab459876afb8f89a0412acac67a093d7/40999457-15.JPG", "caption": "" }, "displayorder": 16, "url": "//cdnparap30.paragonrels.com/ParagonImages/Property/P3/MAXEBRDI/40999457/16/0/0/0780464f2564594181f98ba2b076c4fc/120/ab459876afb8f89a0412acac67a093d7/40999457-16.JPG", "caption": "" }, "displayorder": 17, "url": "//cdnparap30.paragonrels.com/ParagonImages/Property/P3/MAXEBRDI/40999457/17/0/0/a48a3b03eaf60d2e065ec3fd93d68912/120/ab459876afb8f89a0412acac67a093d7/40999457-17.JPG", "caption": "" }, "displayorder": 18, "url": "//cdnparap30.paragonrels.com/ParagonImages/Property/P3/MAXEBRDI/40999457/18/0/0/72a17dd9b69be7c4a9aca75ea3f93e83/120/ab459876afb8f89a0412acac67a093d7/40999457-18.JPG", "caption": "" }, "displayorder": 19, "url": "//cdnparap30.paragonrels.com/ParagonImages/Property/P3/MAXEBRDI/40999457/19/0/0/b78b7dd0dc066d13af01d4e596fc12b2/120/ab459876afb8f89a0412acac67a093d7/40999457-19.JPG", "caption": "" }, "displayorder": 20, "url": "//cdnparap30.paragonrels.com/ParagonImages/Property/P3/MAXEBRDI/40999457/20/0/0/7c1eaef1dda2c467211485b75e39c587/120/ab459876afb8f89a0412acac67a093d7/40999457-20.JPG", "caption": "" }, "displayorder": 21, "url": "//cdnparap30.paragonrels.com/ParagonImages/Property/P3/MAXEBRDI/40999457/21/0/0/c1b6145962d81bd0fdf4a7d10cdadf87/120/ab459876afb8f89a0412acac67a093d7/40999457-21.JPG", "caption": "" }, "displayorder": 22, "url": "//cdnparap30.paragonrels.com/ParagonImages/Property/P3/MAXEBRDI/40999457/22/0/0/5adfeea891d2370e72cca060ffc64fec/120/ab459876afb8f89a0412acac67a093d7/40999457-22.JPG", "caption": "" }, "displayorder": 23, "url": "//cdnparap30.paragonrels.com/ParagonImages/Property/P3/MAXEBRDI/40999457/23/0/0/a8c38cc91d737e8750ddf214b343dd0f/120/ab459876afb8f89a0412acac67a093d7/40999457-23.JPG", "caption": "" }, "displayorder": 24, "url": "//cdnparap30.paragonrels.com/ParagonImages/Property/P3/MAXEBRDI/40999457/24/0/0/57b6a4bd9f37b031d4a6ea0e1ce9bc18/120/ab459876afb8f89a0412acac67a093d7/40999457-24.JPG", "caption": "" }, "displayorder": 25, "url": "//cdnparap30.paragonrels.com/ParagonImages/Property/P3/MAXEBRDI/40999457/25/0/0/37dbad510c3e4625955e22a3c26d2cab/120/ab459876afb8f89a0412acac67a093d7/40999457-25.JPG", "caption": "" }, "displayorder": 26, "url": "//cdnparap30.paragonrels.com/ParagonImages/Property/P3/MAXEBRDI/40999457/26/0/0/160c66fe325df84045bfc4cdb6abcc21/120/ab459876afb8f89a0412acac67a093d7/40999457-26.JPG", "caption": "" }, "displayorder": 27, "url": "//cdnparap30.paragonrels.com/ParagonImages/Property/P3/MAXEBRDI/40999457/27/0/0/970a31e5dac1b2006a80f18c728b2622/120/ab459876afb8f89a0412acac67a093d7/40999457-27.JPG", "caption": "" }, "displayorder": 28, "url": "//cdnparap30.paragonrels.com/ParagonImages/Property/P3/MAXEBRDI/40999457/28/0/0/01d4845fa813890420f9d4464daa9937/120/ab459876afb8f89a0412acac67a093d7/40999457-28.JPG", "caption": "" }, "displayorder": 29, "url": "//cdnparap30.paragonrels.com/ParagonImages/Property/P3/MAXEBRDI/40999457/29/0/0/70c58af18609c9aef5a4a498f9633558/120/ab459876afb8f89a0412acac67a093d7/40999457-29.JPG", "caption": "" }, "displayorder": 30, "url": "//cdnparap30.paragonrels.com/ParagonImages/Property/P3/MAXEBRDI/40999457/30/0/0/99bfd7a9a8e46b645fbc0870f467258b/120/ab459876afb8f89a0412acac67a093d7/40999457-30.JPG", "caption": "" }, "displayorder": 31, "url": "//cdnparap30.paragonrels.com/ParagonImages/Property/P3/MAXEBRDI/40999457/31/0/0/f4a296e1ba112f87a00426ebf824fbe9/120/ab459876afb8f89a0412acac67a093d7/40999457-31.JPG", "caption": "" }, "displayorder": 32, "url": "//cdnparap30.paragonrels.com/ParagonImages/Property/P3/MAXEBRDI/40999457/32/0/0/250b78d3efe972e4988cc298387c1e44/120/ab459876afb8f89a0412acac67a093d7/40999457-32.JPG", "caption": "" }, "displayorder": 33, "url": "//cdnparap30.paragonrels.com/ParagonImages/Property/P3/MAXEBRDI/40999457/33/0/0/e4c6d71599d750ea2c8853acf6f1849c/120/ab459876afb8f89a0412acac67a093d7/40999457-33.JPG", "caption": "" }, "displayorder": 34, "url": "//cdnparap30.paragonrels.com/ParagonImages/Property/P3/MAXEBRDI/40999457/34/0/0/56e7ccd8f646b8e01b38ffbf91132c74/120/ab459876afb8f89a0412acac67a093d7/40999457-34.JPG", "caption": "" }, "displayorder": 35, "url": "//cdnparap30.paragonrels.com/ParagonImages/Property/P3/MAXEBRDI/40999457/35/0/0/4ac06798c3ef68f6d2b2cd7eda9bd6ab/120/ab459876afb8f89a0412acac67a093d7/40999457-35.JPG", "caption": "" }, "displayorder": 36, "url": "//cdnparap30.paragonrels.com/ParagonImages/Property/P3/MAXEBRDI/40999457/36/0/0/09a5051cdebf66d0828dba87997320f2/120/ab459876afb8f89a0412acac67a093d7/40999457-36.JPG", "caption": "" }, "displayorder": 37, "url": "//cdnparap30.paragonrels.com/ParagonImages/Property/P3/MAXEBRDI/40999457/37/0/0/99039f1ec2943e061105844babc4632e/120/ab459876afb8f89a0412acac67a093d7/40999457-37.JPG", "caption": "" }, "displayorder": 38, "url": "//cdnparap30.paragonrels.com/ParagonImages/Property/P3/MAXEBRDI/40999457/38/0/0/d96ce985a57019c15b57041bcde8052e/120/ab459876afb8f89a0412acac67a093d7/40999457-38.JPG", "caption": "" }, "displayorder": 39, "url": "//cdnparap30.paragonrels.com/ParagonImages/Property/P3/MAXEBRDI/40999457/39/0/0/03e8075cad9a836965471846d6676193/120/ab459876afb8f89a0412acac67a093d7/40999457-39.JPG", "caption": "" }, "displayorder": 40, "url": "//cdnparap30.paragonrels.com/ParagonImages/Property/P3/MAXEBRDI/40999457/40/0/0/7aa11754360f1df39869b8ab16e56245/120/ab459876afb8f89a0412acac67a093d7/40999457-40.JPG", "caption": "" }, "displayorder": 41, "url": "//cdnparap30.paragonrels.com/ParagonImages/Property/P3/MAXEBRDI/40999457/41/0/0/34aad2578de58ad3095f685dfe44e4e3/120/ab459876afb8f89a0412acac67a093d7/40999457-41.JPG", "caption": "" }, "displayorder": 42, "url": "//cdnparap30.paragonrels.com/ParagonImages/Property/P3/MAXEBRDI/40999457/42/0/0/8dfe69d9bc8cafcd4369d6b6c7c64b8d/120/ab459876afb8f89a0412acac67a093d7/40999457-42.JPG", "caption": "" }, "displayorder": 43, "url": "//cdnparap30.paragonrels.com/ParagonImages/Property/P3/MAXEBRDI/40999457/43/0/0/80db0ee1df982452a57c4359c1de1442/120/ab459876afb8f89a0412acac67a093d7/40999457-43.JPG", "caption": "" }, "displayorder": 44, "url": "//cdnparap30.paragonrels.com/ParagonImages/Property/P3/MAXEBRDI/40999457/44/0/0/0696e0eedcad87259af2b01c1a83684c/120/ab459876afb8f89a0412acac67a093d7/40999457-44.JPG", "caption": "" }, "displayorder": 45, "url": "//cdnparap30.paragonrels.com/ParagonImages/Property/P3/MAXEBRDI/40999457/45/0/0/7f24f92ebff6aeb4148b68c27ed2f8a7/120/ab459876afb8f89a0412acac67a093d7/40999457-45.JPG", "caption": "" }, "displayorder": 46, "url": "//cdnparap30.paragonrels.com/ParagonImages/Property/P3/MAXEBRDI/40999457/46/0/0/900779151363d6cb43110f87089cfe3a/120/ab459876afb8f89a0412acac67a093d7/40999457-46.JPG", "caption": "" }, "displayorder": 47, "url": "//cdnparap30.paragonrels.com/ParagonImages/Property/P3/MAXEBRDI/40999457/47/0/0/7117590384fb042e7f78d9ec4031f1b7/120/ab459876afb8f89a0412acac67a093d7/40999457-47.JPG", "caption": "" }, "displayorder": 48, "url": "//cdnparap30.paragonrels.com/ParagonImages/Property/P3/MAXEBRDI/40999457/48/0/0/7716ea7acebcfa1d1f1364620b266d09/120/ab459876afb8f89a0412acac67a093d7/40999457-48.JPG", "caption": "" }, "displayorder": 49, "url": "//cdnparap30.paragonrels.com/ParagonImages/Property/P3/MAXEBRDI/40999457/49/0/0/0dcb6616ae824853f27d29639439e904/120/ab459876afb8f89a0412acac67a093d7/40999457-49.JPG", "caption": "" } ], "agent": { "name": "Joshua England", "phone": "925-7084847", "email": "joshua@blvdeastbay.com" }, "broker": { "name": "BLVD Real Estate", "phone": "", "email": "" } }; ]]>
1445 Ramsay Cir
WALNUT CREEK, CA 94597

Click here for map
Residential Home
$1,529,000
2,147 Sq Feet
4 Bedrooms
2 Bathrooms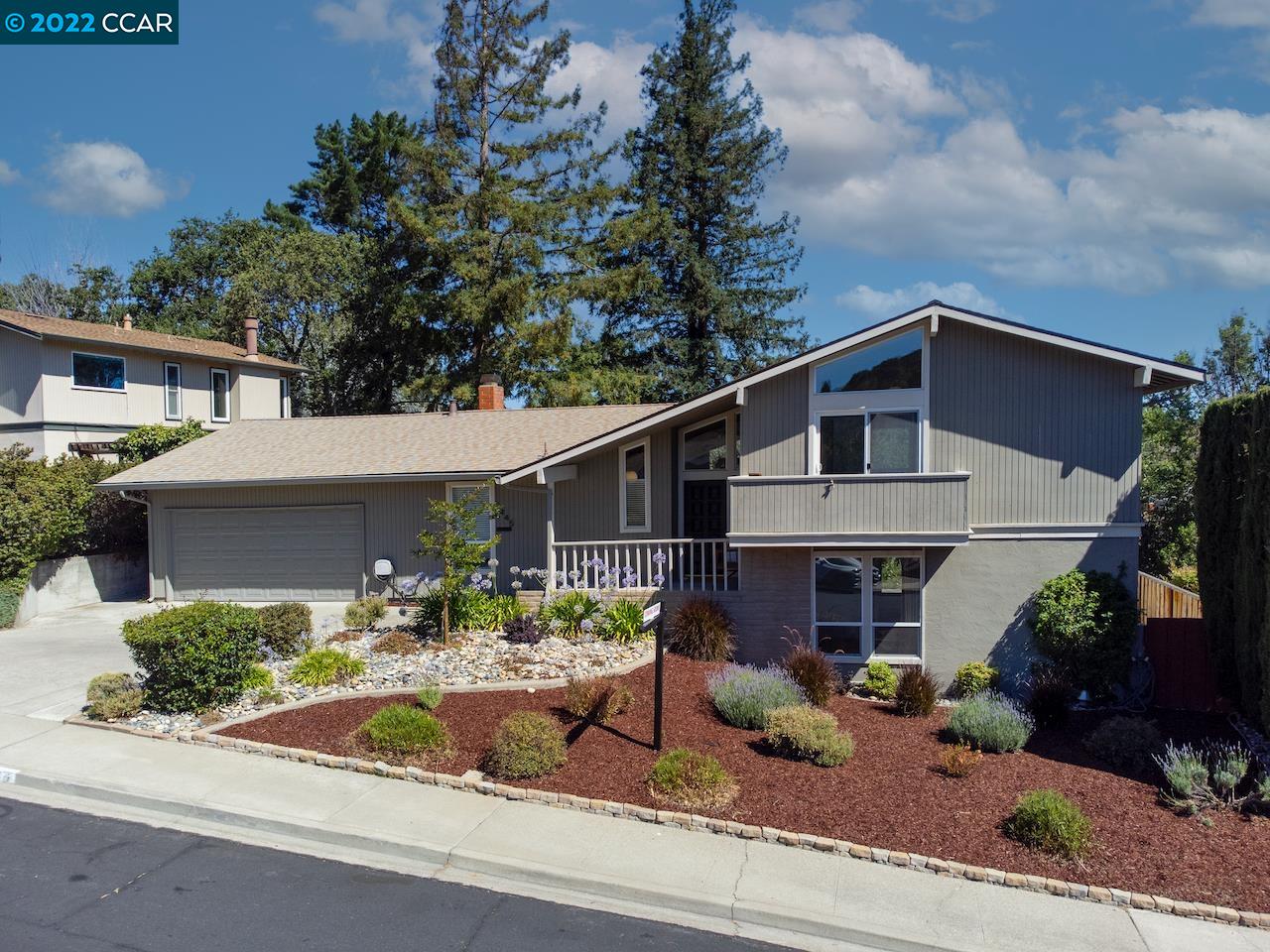 Details:
Lot Sq Feet:
11,600
Fireplaces:
1
HOA?
No
Bank Owned?
No
Status:
Active
Remarks:
Perched on a knoll in the Palos Verde neighborhood with panoramic views of Mount Diablo, this wonderfully maintained home is a must see. Step through the front entry to the bright formal living room & dining room with soaring vaulted ceilings, picture windows, and room to spread out. The eat-in kitchen features a double oven, breakfast bar, new lighting, and an easy flow to the family room boasting an impressive brick fireplace, and sliding glass door to the back yard. The retreat-like primary bedroom includes vaulted ceilings, a sliding glass door to a private deck, walk-in closet, and bathroom with a stall shower. Other features include a versatile downstairs layout of 3 bedrooms, one with a private slider to a back patio, fresh paint, an over-sized 2 car garage, park-like yard w/views, mature trees, and multiple seating areas, all just minutes, to shops, restaurants, freeways, BART, and feeding to WC/Acalanes School Districts.
There are currently no open houses for this property. Please contact
Joshua England
to schedule an appointment.