<![CDATA[ var dwellicious_data = { "address": "1751 Circuit Common #402", "city": "FREMONT", "state": "CA", "zip": "94539", "zip4": "", "area": "", "subdivision": "", "county": "", "price": "2300000", "beds": "3", "baths": "2", "sqft": "2100", "lotsize": "0", "yearbuilt": "2019-01-01", "proptype": "Residential", "mlsnum": "41004755", "active": false, "remarks": "Our beautiful/award-winning Penthouse model home is now for sale and loaded with designer extras and upgrades. Move-in Ready October 2022, just in time for the holidays. A chef's dream kitchen comes complete with, stainless appliances, Built-in Subzero Refrigerator, and Wolf gas cooktop. Tall windows in the great room allow for an abundance of natural light. The outdoor balcony off the kitchen offers pristine views of the community as well as additional dining space that is perfect for social gatherings. As the centerpiece of the second floor mezzanine with a wet bar, mini-refrigerator and this generous space opens boundless opportunities for entertaining and relaxation. From the mezzanine multi-panel stacking doors leads to a luxury outdoor terrace enhanced with a gas fireplace perfect for bringing the outdoors, inside. Don't miss this opportunity—call today to schedule an appointment Metro Crossing is located across the new Warm Springs BART and near highways 680 and 880.", "photos": [ { "displayorder": 0, "url": "//cdnparap30.paragonrels.com/ParagonImages/Property/P3/MAXEBRDI/41004755/0/0/0/be8924f51a69c17f6c29712baf7adb3e/120/683e110f244f669130b4ee57c85659b2/41004755.JPG", "caption": "" }, "displayorder": 1, "url": "//cdnparap30.paragonrels.com/ParagonImages/Property/P3/MAXEBRDI/41004755/1/0/0/d5a741e6b83a2676d30a0f813e3650da/120/683e110f244f669130b4ee57c85659b2/41004755-1.JPG", "caption": "" }, "displayorder": 2, "url": "//cdnparap30.paragonrels.com/ParagonImages/Property/P3/MAXEBRDI/41004755/2/0/0/e6b8192e23589e969f25641d3650ffbf/120/683e110f244f669130b4ee57c85659b2/41004755-2.JPG", "caption": "" }, "displayorder": 3, "url": "//cdnparap30.paragonrels.com/ParagonImages/Property/P3/MAXEBRDI/41004755/3/0/0/e02815a040f8c0441eda48ed34565516/120/683e110f244f669130b4ee57c85659b2/41004755-3.JPG", "caption": "" }, "displayorder": 4, "url": "//cdnparap30.paragonrels.com/ParagonImages/Property/P3/MAXEBRDI/41004755/4/0/0/d9dae8c0095df9a773ebc27e00c203c0/120/683e110f244f669130b4ee57c85659b2/41004755-4.JPG", "caption": "" }, "displayorder": 5, "url": "//cdnparap30.paragonrels.com/ParagonImages/Property/P3/MAXEBRDI/41004755/5/0/0/bd3f347f891ed7218bdf4067ebca507b/120/683e110f244f669130b4ee57c85659b2/41004755-5.JPG", "caption": "" }, "displayorder": 6, "url": "//cdnparap30.paragonrels.com/ParagonImages/Property/P3/MAXEBRDI/41004755/6/0/0/18afbc2279937d8e673ce98bc0530e31/120/683e110f244f669130b4ee57c85659b2/41004755-6.JPG", "caption": "" }, "displayorder": 7, "url": "//cdnparap30.paragonrels.com/ParagonImages/Property/P3/MAXEBRDI/41004755/7/0/0/145c318ee8a1cfb57690ad9063bdea4d/120/683e110f244f669130b4ee57c85659b2/41004755-7.JPG", "caption": "" }, "displayorder": 8, "url": "//cdnparap30.paragonrels.com/ParagonImages/Property/P3/MAXEBRDI/41004755/8/0/0/64d50a17b060e87e017046d745063768/120/683e110f244f669130b4ee57c85659b2/41004755-8.JPG", "caption": "" }, "displayorder": 9, "url": "//cdnparap30.paragonrels.com/ParagonImages/Property/P3/MAXEBRDI/41004755/9/0/0/5c6ce013829c9cd22741c230b3e1c385/120/683e110f244f669130b4ee57c85659b2/41004755-9.JPG", "caption": "" }, "displayorder": 10, "url": "//cdnparap30.paragonrels.com/ParagonImages/Property/P3/MAXEBRDI/41004755/10/0/0/32b02755b86dd46e1031f382f94061c7/120/683e110f244f669130b4ee57c85659b2/41004755-10.JPG", "caption": "" }, "displayorder": 11, "url": "//cdnparap30.paragonrels.com/ParagonImages/Property/P3/MAXEBRDI/41004755/11/0/0/ec0ea07c0017eab03a8f67c35b201e9b/120/683e110f244f669130b4ee57c85659b2/41004755-11.JPG", "caption": "" }, "displayorder": 12, "url": "//cdnparap30.paragonrels.com/ParagonImages/Property/P3/MAXEBRDI/41004755/12/0/0/d151cf00712a705fb344ffdc9a73366e/120/683e110f244f669130b4ee57c85659b2/41004755-12.JPG", "caption": "" }, "displayorder": 13, "url": "//cdnparap30.paragonrels.com/ParagonImages/Property/P3/MAXEBRDI/41004755/13/0/0/317d9aad858e0343cdc11de14baa993b/120/683e110f244f669130b4ee57c85659b2/41004755-13.JPG", "caption": "" }, "displayorder": 14, "url": "//cdnparap30.paragonrels.com/ParagonImages/Property/P3/MAXEBRDI/41004755/14/0/0/4bd4b318d51869c38cfad85e626853a5/120/683e110f244f669130b4ee57c85659b2/41004755-14.JPG", "caption": "" }, "displayorder": 15, "url": "//cdnparap30.paragonrels.com/ParagonImages/Property/P3/MAXEBRDI/41004755/15/0/0/fcbd70ac9fd0af1204762234ab5aace9/120/683e110f244f669130b4ee57c85659b2/41004755-15.JPG", "caption": "" }, "displayorder": 16, "url": "//cdnparap30.paragonrels.com/ParagonImages/Property/P3/MAXEBRDI/41004755/16/0/0/2927172508ea8d82f4431af478cb7399/120/683e110f244f669130b4ee57c85659b2/41004755-16.JPG", "caption": "" }, "displayorder": 17, "url": "//cdnparap30.paragonrels.com/ParagonImages/Property/P3/MAXEBRDI/41004755/17/0/0/b34e10558d8545fe9e79dd9cbdafd19f/120/683e110f244f669130b4ee57c85659b2/41004755-17.JPG", "caption": "" }, "displayorder": 18, "url": "//cdnparap30.paragonrels.com/ParagonImages/Property/P3/MAXEBRDI/41004755/18/0/0/0b71dca13d4088ea78cbc87dba5b1dd3/120/683e110f244f669130b4ee57c85659b2/41004755-18.JPG", "caption": "" }, "displayorder": 19, "url": "//cdnparap30.paragonrels.com/ParagonImages/Property/P3/MAXEBRDI/41004755/19/0/0/84ad4526feccce69548429a8997d192e/120/683e110f244f669130b4ee57c85659b2/41004755-19.JPG", "caption": "" } ], "agent": { "name": "Minji Lee", "phone": "415-2952482", "email": "mlee@tollbrothers.com" }, "broker": { "name": "Toll Brothers Real Estate,Inc.", "phone": "", "email": "" } }; ]]>
1751 Circuit Common #402
FREMONT, CA 94539

Click here for map
Condo
$2,300,000
2,100 Sq Feet
3 Bedrooms
2 Bathrooms
1 Partial Bath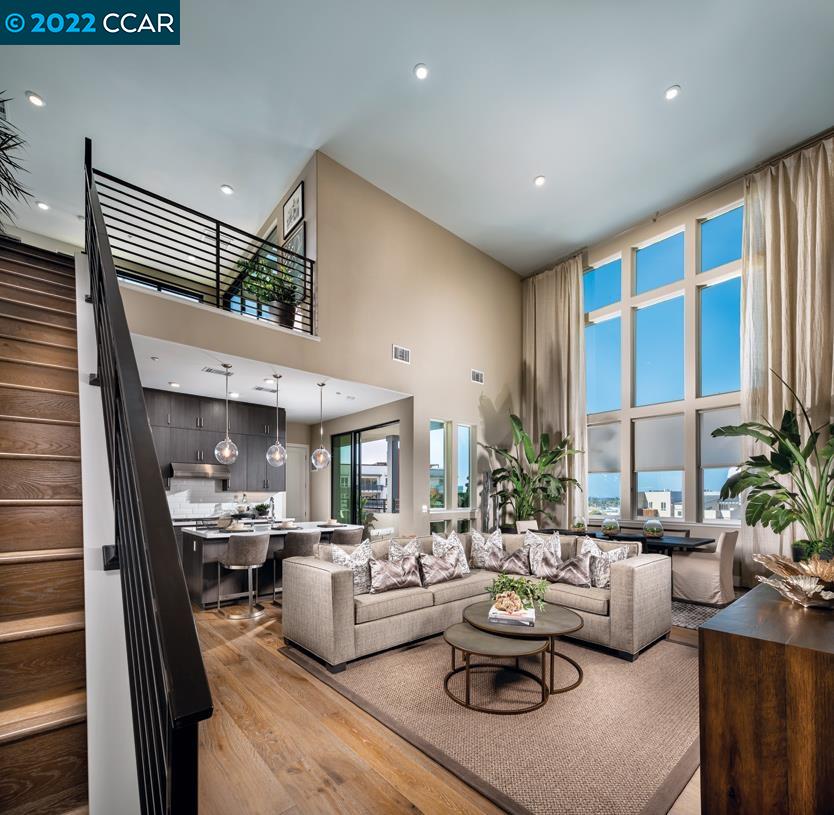 Listed by Minji Lee of Toll Brothers Real Estate,Inc.
DRE# 01401203
Details:
Lot Sq Feet:
0
Fireplaces:
1
HOA?
Yes
Bank Owned?
No
Status:
Pending
Remarks:
Our beautiful/award-winning Penthouse model home is now for sale and loaded with designer extras and upgrades. Move-in Ready October 2022, just in time for the holidays. A chef's dream kitchen comes complete with, stainless appliances, Built-in Subzero Refrigerator, and Wolf gas cooktop. Tall windows in the great room allow for an abundance of natural light. The outdoor balcony off the kitchen offers pristine views of the community as well as additional dining space that is perfect for social gatherings. As the centerpiece of the second floor mezzanine with a wet bar, mini-refrigerator and this generous space opens boundless opportunities for entertaining and relaxation. From the mezzanine multi-panel stacking doors leads to a luxury outdoor terrace enhanced with a gas fireplace perfect for bringing the outdoors, inside. Don't miss this opportunity—call today to schedule an appointment Metro Crossing is located across the new Warm Springs BART and near highways 680 and 880.
There are currently no open houses for this property. Please contact
Minji Lee
to schedule an appointment.