<![CDATA[ var dwellicious_data = { "address": "14349 Aaron Court ", "city": "VICTORVILL", "state": "CA", "zip": "92394", "zip4": "", "area": "", "subdivision": "", "county": "", "price": "530000", "beds": "6", "baths": "3", "sqft": "2756", "lotsize": "13085", "yearbuilt": "1998-01-01", "proptype": "Residential", "mlsnum": "CRIV22207949", "active": false, "remarks": "Come see this stunner! Enjoy cooking in this stylish kitchen with a center island and spacious cabinets, great for food preparation. Entertaining is a breeze with this great floor plan complete with a cozy fireplace! Primary bathroom features a separate tub and shower and dual sinks. Entertain on the covered back patio, perfect for barbecues. Don't wait! Make this beautiful home yours today. This home has been virtually staged to illustrate its potential.", "photos": [ { "displayorder": 0, "url": "https://media.crmls.org/medias/6788ee47-f24a-46de-8edc-4f0c7e80ca41.jpg", "caption": "" }, "displayorder": 1, "url": "https://media.crmls.org/medias/53e3e1e7-a159-4869-abc7-7f127d951a92.jpg", "caption": "" }, "displayorder": 2, "url": "https://media.crmls.org/medias/d56ec9e9-e2a8-4da2-9e28-8b25df13d9e3.jpg", "caption": "" }, "displayorder": 3, "url": "https://media.crmls.org/medias/e4d3c91a-cc83-4c09-af14-d5bf8414706a.jpg", "caption": "" }, "displayorder": 4, "url": "https://media.crmls.org/medias/e232d5b3-cb0a-4753-beb4-7e37c57c84ec.jpg", "caption": "" }, "displayorder": 5, "url": "https://media.crmls.org/medias/85531e41-4792-4b40-9ccc-2e963f58e0be.jpg", "caption": "" }, "displayorder": 6, "url": "https://media.crmls.org/medias/1937f322-60aa-4d5d-b09b-38f0a2e42f31.jpg", "caption": "" }, "displayorder": 7, "url": "https://media.crmls.org/medias/b1448c6b-1708-482e-b56b-fc38703997f5.jpg", "caption": "" }, "displayorder": 8, "url": "https://media.crmls.org/medias/64ed3626-9954-468f-bfdf-819c81b42095.jpg", "caption": "" }, "displayorder": 9, "url": "https://media.crmls.org/medias/2abae7c8-797d-419d-8c8f-8f7585f39b03.jpg", "caption": "" }, "displayorder": 10, "url": "https://media.crmls.org/medias/b5e30e5d-d721-46bb-b41a-62f2220608f4.jpg", "caption": "" }, "displayorder": 11, "url": "https://media.crmls.org/medias/1d594ea7-e407-45c0-9f4c-85ca39e47db0.jpg", "caption": "" }, "displayorder": 12, "url": "https://media.crmls.org/medias/21016e11-1efb-4c2d-97cd-d11f3539c20e.jpg", "caption": "" }, "displayorder": 13, "url": "https://media.crmls.org/medias/5bf587c1-2599-4c81-8aae-b237aabd7812.jpg", "caption": "" }, "displayorder": 14, "url": "https://media.crmls.org/medias/f51a2ca1-9963-40a4-ab43-c54a03dd8fc5.jpg", "caption": "" }, "displayorder": 15, "url": "https://media.crmls.org/medias/0d92bb77-f044-42f9-b858-e301564127c8.jpg", "caption": "" }, "displayorder": 16, "url": "https://media.crmls.org/medias/5351cafd-e2d4-47d9-b0df-78db57770cbf.jpg", "caption": "" }, "displayorder": 17, "url": "https://media.crmls.org/medias/82ba01ea-cd3c-4dc8-9c8e-7160c511bffb.jpg", "caption": "" }, "displayorder": 18, "url": "https://media.crmls.org/medias/05fbce72-b6fc-46fe-9a2c-24d07cd1ad2d.jpg", "caption": "" }, "displayorder": 19, "url": "https://media.crmls.org/medias/06fac066-0d83-49c7-b656-70c4ab100502.jpg", "caption": "" }, "displayorder": 20, "url": "https://media.crmls.org/medias/0e189802-badf-46dc-8255-461d18282c94.jpg", "caption": "" }, "displayorder": 21, "url": "https://media.crmls.org/medias/649f3223-7dd8-4adf-b3a9-d136b2552f9f.jpg", "caption": "" }, "displayorder": 22, "url": "https://media.crmls.org/medias/1f66444b-c3b3-4f4c-8bb9-7c042a829758.jpg", "caption": "" }, "displayorder": 23, "url": "https://media.crmls.org/medias/9a028919-78cf-41b9-b985-60c9d2e6fdb0.jpg", "caption": "" }, "displayorder": 24, "url": "https://media.crmls.org/medias/49400098-7285-4cb8-919d-580c30bfe3ae.jpg", "caption": "" }, "displayorder": 25, "url": "https://media.crmls.org/medias/3b6056a4-ddec-4725-96e2-cc1fc5f6d9e3.jpg", "caption": "" }, "displayorder": 26, "url": "https://media.crmls.org/medias/e78163f6-b563-4484-bc0a-faa228349d47.jpg", "caption": "" } ], "agent": { "name": "GABRIEL VALDEZ", "phone": "", "email": "gabriel.valdez@opendoor.com" }, "broker": { "name": "OPENDOOR BROKERAGE INC.", "phone": "", "email": "" } }; ]]>
14349 Aaron Court
VICTORVILL, CA 92394

Click here for map
Residential Home
$530,000
2,756 Sq Feet
6 Bedrooms
3 Bathrooms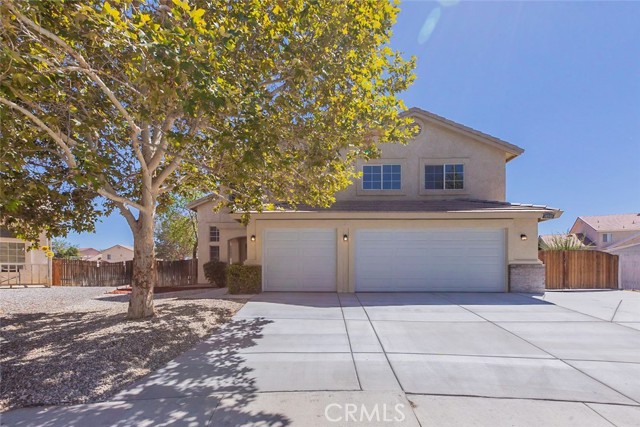 Details:
Lot Sq Feet:
13,085
Fireplaces:
0
HOA?
No
Bank Owned?
No
Status:
Pending
Remarks:
Come see this stunner! Enjoy cooking in this stylish kitchen with a center island and spacious cabinets, great for food preparation. Entertaining is a breeze with this great floor plan complete with a cozy fireplace! Primary bathroom features a separate tub and shower and dual sinks. Entertain on the covered back patio, perfect for barbecues. Don't wait! Make this beautiful home yours today. This home has been virtually staged to illustrate its potential.
There are currently no open houses for this property. Please contact
GABRIEL VALDEZ
to schedule an appointment.