<![CDATA[ var dwellicious_data = { "address": "117 Gentle Breeze ", "city": "IRVINE", "state": "CA", "zip": "92602", "zip4": "", "area": "", "subdivision": "", "county": "", "price": "4980000", "beds": "5", "baths": "5", "sqft": "5891", "lotsize": "8253", "yearbuilt": "2016-01-01", "proptype": "Residential", "mlsnum": "CRPW22259394", "active": false, "remarks": "Rare Opportunity to own an impeccably upgraded home that is highly coveted and behind the gates of the Groves of Orchard Hills. This Trevi home built by The New Home Company represents the epitome of a privileged lifestyle for discerning families who value hilltop seclusion & easy access to modern day conveniences. Enjoy beautiful panoramic city lights views from this well thought out home. A private home office, a great room and the gourmet kitchen occupy the main floor. The great room opens out and connects to the California style dining area for entertaining both casually or elegantly. The entertainer's kitchen is complete with high end appliances, and lots of cabinet space. There are 2 large islands that is the the perfect place to go from prepping to entertaining and can be the spot for casual meals. The spacious pantry accompanies this oversized kitchen perfectly. Oversized folding doors from the dining room and kitchen leads to the gorgeous backyard that is just as upgraded as the inside of the home. An incredible backyard awaits with a custom designed pool & spa with built-in BBQ area and more. The mindfully designed home features a total 5 Bedrooms + 6 Bathrooms. A custom junior suite on the main floor serves as a perfect space for multi-generational families. It featu", "photos": [ { "displayorder": 0, "url": "https://media.crmls.org/medias/4c1f3372-08b5-4f21-ac0d-7a0791a7bc50.jpg", "caption": "" }, "displayorder": 1, "url": "https://media.crmls.org/medias/2650c648-9d7f-47a7-b704-2b7b54a77d72.jpg", "caption": "" }, "displayorder": 2, "url": "https://media.crmls.org/medias/c1d5c4b6-055c-4a30-9c17-bd3ba7a37f48.jpg", "caption": "" }, "displayorder": 3, "url": "https://media.crmls.org/medias/f9ccb4a0-8a47-40ec-b009-ffbd8cbf4eee.jpg", "caption": "" }, "displayorder": 4, "url": "https://media.crmls.org/medias/3629d1d8-1695-49ff-9af6-031fe8c28409.jpg", "caption": "" }, "displayorder": 5, "url": "https://media.crmls.org/medias/ef580f6d-cce2-4371-bdc0-8e122cee8449.jpg", "caption": "" }, "displayorder": 6, "url": "https://media.crmls.org/medias/0b5a444c-6ea3-4886-9742-531cecf5ed7c.jpg", "caption": "" }, "displayorder": 7, "url": "https://media.crmls.org/medias/39bc399f-c5a6-418e-9da5-a87f4f97bc88.jpg", "caption": "" }, "displayorder": 8, "url": "https://media.crmls.org/medias/3e055076-f241-445a-a865-671363b97378.jpg", "caption": "" }, "displayorder": 9, "url": "https://media.crmls.org/medias/f0c58b98-1cfa-4ad4-a42d-4913873e54e7.jpg", "caption": "" }, "displayorder": 10, "url": "https://media.crmls.org/medias/e1ac9741-94ef-4d69-96a1-76d736c8d2e8.jpg", "caption": "" }, "displayorder": 11, "url": "https://media.crmls.org/medias/b6821001-44f8-4ca7-9019-d001b37cc765.jpg", "caption": "" }, "displayorder": 12, "url": "https://media.crmls.org/medias/3569ae47-6dc7-430d-9a60-6185300fea61.jpg", "caption": "" }, "displayorder": 13, "url": "https://media.crmls.org/medias/3bffeb7a-a66f-49d8-8a54-aa7f06cbd462.jpg", "caption": "" }, "displayorder": 14, "url": "https://media.crmls.org/medias/490bf37c-ac19-4541-ac93-4fe0a022af8d.jpg", "caption": "" }, "displayorder": 15, "url": "https://media.crmls.org/medias/c697d888-b8e7-4cc4-9412-031a5019c77f.jpg", "caption": "" }, "displayorder": 16, "url": "https://media.crmls.org/medias/76fdd7af-2eda-46d3-b253-29d36a9a99dd.jpg", "caption": "" }, "displayorder": 17, "url": "https://media.crmls.org/medias/00f1a5a7-4855-4b8d-a335-5bfb6acf58b7.jpg", "caption": "" }, "displayorder": 18, "url": "https://media.crmls.org/medias/59e9376f-2068-471f-97c5-d502a0589a4f.jpg", "caption": "" }, "displayorder": 19, "url": "https://media.crmls.org/medias/3b139085-fab1-484c-b604-cfd041311ea6.jpg", "caption": "" }, "displayorder": 20, "url": "https://media.crmls.org/medias/11b496c9-16c6-42ae-8465-7331cd836b82.jpg", "caption": "" }, "displayorder": 21, "url": "https://media.crmls.org/medias/ab3164a8-da2f-4484-ae32-0feab0811a77.jpg", "caption": "" }, "displayorder": 22, "url": "https://media.crmls.org/medias/17329431-1b70-4ed4-96eb-000f07dfe7d7.jpg", "caption": "" }, "displayorder": 23, "url": "https://media.crmls.org/medias/2e23649e-17cb-4de8-b947-44fcc25d8977.jpg", "caption": "" }, "displayorder": 24, "url": "https://media.crmls.org/medias/901cd7ec-478a-4730-b48e-808ae8baf145.jpg", "caption": "" }, "displayorder": 25, "url": "https://media.crmls.org/medias/edfa83e6-9fe2-4a48-85aa-ce8c1fb2ecac.jpg", "caption": "" }, "displayorder": 26, "url": "https://media.crmls.org/medias/d31dcdba-a88d-4b14-a7ba-468ec1e7da27.jpg", "caption": "" }, "displayorder": 27, "url": "https://media.crmls.org/medias/8e06c615-edb0-4566-9386-1061709eb5c9.jpg", "caption": "" }, "displayorder": 28, "url": "https://media.crmls.org/medias/c6b5f357-537b-448e-986d-9b29b97865b1.jpg", "caption": "" }, "displayorder": 29, "url": "https://media.crmls.org/medias/7b359a5c-5e25-4a90-b453-cacc190a3669.jpg", "caption": "" }, "displayorder": 30, "url": "https://media.crmls.org/medias/1562efed-0109-4763-a54a-97ab237f1aa6.jpg", "caption": "" }, "displayorder": 31, "url": "https://media.crmls.org/medias/35affeb3-3780-4ee8-9d85-66975a06605d.jpg", "caption": "" }, "displayorder": 32, "url": "https://media.crmls.org/medias/0056a10c-466a-4f9d-a744-e004199733bb.jpg", "caption": "" }, "displayorder": 33, "url": "https://media.crmls.org/medias/b305fff8-1bae-484f-b08e-8c2c8b914e69.jpg", "caption": "" }, "displayorder": 34, "url": "https://media.crmls.org/medias/40b00f52-3a3a-4362-98f3-ec5b8e742c29.jpg", "caption": "" }, "displayorder": 35, "url": "https://media.crmls.org/medias/40e2b70c-1111-4705-bf8c-91fb8524a9fd.jpg", "caption": "" }, "displayorder": 36, "url": "https://media.crmls.org/medias/4c9bb8b9-f666-4580-af12-b8a1bbf89783.jpg", "caption": "" }, "displayorder": 37, "url": "https://media.crmls.org/medias/8082b970-3bb6-4053-ab8a-72a7430a8a1b.jpg", "caption": "" }, "displayorder": 38, "url": "https://media.crmls.org/medias/2d95416a-13ae-4372-b171-21258b4fe78a.jpg", "caption": "" }, "displayorder": 39, "url": "https://media.crmls.org/medias/2da00c04-1006-4599-9b26-a129374019a9.jpg", "caption": "" }, "displayorder": 40, "url": "https://media.crmls.org/medias/1dd7a1dc-a2a5-4724-84fd-fb61ccc48fbf.jpg", "caption": "" }, "displayorder": 41, "url": "https://media.crmls.org/medias/e1dbbfdf-ee8d-4b01-8e7b-09d9eb692a3e.jpg", "caption": "" }, "displayorder": 42, "url": "https://media.crmls.org/medias/04a1caff-7345-4e36-82e0-4c894231ee35.jpg", "caption": "" }, "displayorder": 43, "url": "https://media.crmls.org/medias/c0269f7f-e56d-4061-bd47-b8aabb02e155.jpg", "caption": "" }, "displayorder": 44, "url": "https://media.crmls.org/medias/98f426f2-fd94-4e4d-885a-fe54b3b428d1.jpg", "caption": "" }, "displayorder": 45, "url": "https://media.crmls.org/medias/7c9a7f45-1755-4818-9470-da9fbc49593c.jpg", "caption": "" }, "displayorder": 46, "url": "https://media.crmls.org/medias/a15910f9-63e3-4d9d-ac55-d50073d5fb52.jpg", "caption": "" }, "displayorder": 47, "url": "https://media.crmls.org/medias/ecb94b76-0010-4d27-aaed-ebec3dcb5057.jpg", "caption": "" }, "displayorder": 48, "url": "https://media.crmls.org/medias/28ecc927-c70d-4db9-8a53-ed23a5c72939.jpg", "caption": "" }, "displayorder": 49, "url": "https://media.crmls.org/medias/4d055db1-00c2-4b61-8b77-545457ce4a52.jpg", "caption": "" }, "displayorder": 50, "url": "https://media.crmls.org/medias/1020ba18-083d-4bc6-9992-495d52be738c.jpg", "caption": "" }, "displayorder": 51, "url": "https://media.crmls.org/medias/97ec2cef-cd19-4e54-b9ab-258d365e2668.jpg", "caption": "" }, "displayorder": 52, "url": "https://media.crmls.org/medias/0aa58df3-c3e6-43c5-9c2e-e5ad176fbcc6.jpg", "caption": "" }, "displayorder": 53, "url": "https://media.crmls.org/medias/311a7e6f-3f31-4565-9b84-a3980426b23d.jpg", "caption": "" }, "displayorder": 54, "url": "https://media.crmls.org/medias/cd60af90-59bd-45cf-b41a-3fbe45ddb71c.jpg", "caption": "" }, "displayorder": 55, "url": "https://media.crmls.org/medias/eb0ad9bc-4a6a-43d3-b452-3782894e8508.jpg", "caption": "" }, "displayorder": 56, "url": "https://media.crmls.org/medias/2a462a98-3a1c-4bd6-be6e-5a2cb2095a1f.jpg", "caption": "" }, "displayorder": 57, "url": "https://media.crmls.org/medias/e2d0cb0b-0a04-4362-8641-879930baafc8.jpg", "caption": "" }, "displayorder": 58, "url": "https://media.crmls.org/medias/9097a389-5a42-4b4c-b43a-668f4a1cc83e.jpg", "caption": "" }, "displayorder": 59, "url": "https://media.crmls.org/medias/390b25de-d3ae-4413-85d2-5e220656654a.jpg", "caption": "" } ], "agent": { "name": "Jay Jung", "phone": "", "email": "BestAgentJay@Gmail.com" }, "broker": { "name": "Coldwell Banker Platinum Prop.", "phone": "", "email": "" } }; ]]>
117 Gentle Breeze
IRVINE, CA 92602

Click here for map
Residential Home
$4,980,000
5,891 Sq Feet
5 Bedrooms
5 Bathrooms
1 Partial Bath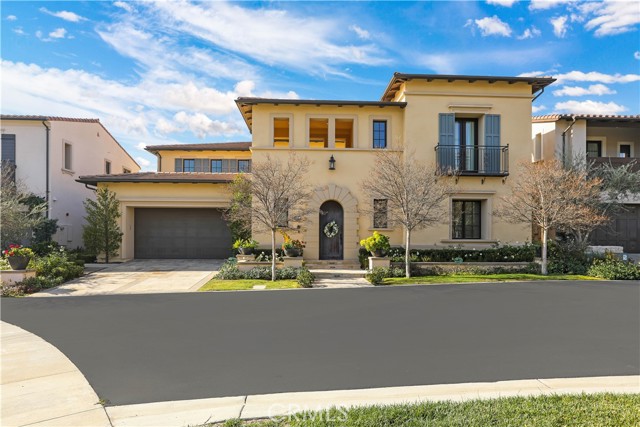 Listed by Jay Jung of Coldwell Banker Platinum Prop.
DRE# 01871184
Details:
Lot Sq Feet:
8,253
Fireplaces:
0
HOA?
Yes
Bank Owned?
No
Status:
Pending
Remarks:
Rare Opportunity to own an impeccably upgraded home that is highly coveted and behind the gates of the Groves of Orchard Hills. This Trevi home built by The New Home Company represents the epitome of a privileged lifestyle for discerning families who value hilltop seclusion & easy access to modern day conveniences. Enjoy beautiful panoramic city lights views from this well thought out home. A private home office, a great room and the gourmet kitchen occupy the main floor. The great room opens out and connects to the California style dining area for entertaining both casually or elegantly. The entertainer's kitchen is complete with high end appliances, and lots of cabinet space. There are 2 large islands that is the the perfect place to go from prepping to entertaining and can be the spot for casual meals. The spacious pantry accompanies this oversized kitchen perfectly. Oversized folding doors from the dining room and kitchen leads to the gorgeous backyard that is just as upgraded as the inside of the home. An incredible backyard awaits with a custom designed pool & spa with built-in BBQ area and more. The mindfully designed home features a total 5 Bedrooms + 6 Bathrooms. A custom junior suite on the main floor serves as a perfect space for multi-generational families. It featu
There are currently no open houses for this property. Please contact
Jay Jung
to schedule an appointment.