<![CDATA[ var dwellicious_data = { "address": "1041 LAUREL Way ", "city": "BEVERLY HI", "state": "CA", "zip": "90210", "zip4": "", "area": "", "subdivision": "", "county": "", "price": "22495000", "beds": "5", "baths": "7", "sqft": "9508", "lotsize": "22574", "yearbuilt": "1987-01-01", "proptype": "Residential", "mlsnum": "CL22212457", "active": false, "remarks": "Meticulous design and luxurious finishes beautifully combine in this transitional contemporary masterpiece. Gated, secluded, and spanning over 9,500 square feet of living space with five bedrooms and seven-and-a-half baths, this opulent retreat is prepared to cater to all lifestyles. Be greeted by the commanding entry way boasting double-height ceilings for a seamless flow through all spaces. Bathed in marble, the gourmet kitchen features an expansive center island, top-of-the-line appliances, extensive cabinetry, and much more. Escape to your lavish master suite with French doors to a private balcony overlooking the manicured grounds, fireplace, and sumptuous dual baths with walk-in closets. Additional amenities include theatre, custom oak floors, formal dining, office, Control4 smart-home system, and oversized motor court. From intimate dinners to grand soirees, the spellbinding garden is a true entertainer's delight. Relax by the grandiose fireplace or take a swim in the sprawling pool and spa, all enveloped by soaring hedges and lush greenery for maximum privacy.", "photos": [ { "displayorder": 0, "url": "https://media.crmls.org/mediaz/c0e7816e-216c-47b1-af4c-3dfe75129263.jpg", "caption": "" }, "displayorder": 1, "url": "https://media.crmls.org/mediaz/46a2969a-f0fd-4cad-b571-0b953e8f8bee.jpg", "caption": "" }, "displayorder": 2, "url": "https://media.crmls.org/mediaz/4290e644-fc37-4678-bcd1-aeb37abf4a7e.jpg", "caption": "" }, "displayorder": 3, "url": "https://media.crmls.org/mediaz/b30986ef-a5ac-4d5d-9e6e-1d2f15c11e27.jpg", "caption": "" }, "displayorder": 4, "url": "https://media.crmls.org/mediaz/7a4d29b9-23a0-47be-8b93-57f9b2155ab9.jpg", "caption": "" }, "displayorder": 5, "url": "https://media.crmls.org/mediaz/8edca583-d1d8-4690-a7aa-c81a89d25079.jpg", "caption": "" }, "displayorder": 6, "url": "https://media.crmls.org/mediaz/c616b89e-a246-4f53-bf06-f59e63e78217.jpg", "caption": "" }, "displayorder": 7, "url": "https://media.crmls.org/mediaz/b618a1d8-2f0c-434f-9522-3ebeded24965.jpg", "caption": "" }, "displayorder": 8, "url": "https://media.crmls.org/mediaz/d16f6659-feff-47d7-8905-681f489d7a21.jpg", "caption": "" }, "displayorder": 9, "url": "https://media.crmls.org/mediaz/9414b034-4347-469f-84c4-86bcc1876978.jpg", "caption": "" }, "displayorder": 10, "url": "https://media.crmls.org/mediaz/81d4d015-498c-4d65-8360-76ef75cbc698.jpg", "caption": "" }, "displayorder": 11, "url": "https://media.crmls.org/mediaz/7cedf7dd-eea2-4fab-ae17-382f1dd54a66.jpg", "caption": "" }, "displayorder": 12, "url": "https://media.crmls.org/mediaz/dc450941-16d5-4601-a3c8-6042344939d1.jpg", "caption": "" }, "displayorder": 13, "url": "https://media.crmls.org/mediaz/bca4aa26-9e10-4fc9-90be-d359d8b62e77.jpg", "caption": "" }, "displayorder": 14, "url": "https://media.crmls.org/mediaz/ee5bbff8-db64-4891-8b54-adbed72f0a75.jpg", "caption": "" }, "displayorder": 15, "url": "https://media.crmls.org/mediaz/628dc34e-f7df-45b9-a6ec-ec1188b65c37.jpg", "caption": "" }, "displayorder": 16, "url": "https://media.crmls.org/mediaz/8072b588-e0f6-4521-8884-d409e539ab9c.jpg", "caption": "" }, "displayorder": 17, "url": "https://media.crmls.org/mediaz/983b18c3-5cc0-4521-8e50-4c327bdba685.jpg", "caption": "" }, "displayorder": 18, "url": "https://media.crmls.org/mediaz/522fbfe8-bd03-4844-af43-53106e085e83.jpg", "caption": "" }, "displayorder": 19, "url": "https://media.crmls.org/mediaz/4d612da1-78b7-4ec0-bcf5-a87d556b9f38.jpg", "caption": "" }, "displayorder": 20, "url": "https://media.crmls.org/mediaz/9ffe4ca8-39ab-4124-96c6-4e3d71f4fafe.jpg", "caption": "" }, "displayorder": 21, "url": "https://media.crmls.org/mediaz/34ca80e2-78aa-4c4b-b204-7729c26efc1b.jpg", "caption": "" }, "displayorder": 22, "url": "https://media.crmls.org/mediaz/a641b705-2821-4781-8bab-d75c65e7745d.jpg", "caption": "" }, "displayorder": 23, "url": "https://media.crmls.org/mediaz/450dd78e-1892-483d-bcb9-257a24b35d91.jpg", "caption": "" }, "displayorder": 24, "url": "https://media.crmls.org/mediaz/9914ac71-38ab-48d1-916d-228b1e4e00e2.jpg", "caption": "" }, "displayorder": 25, "url": "https://media.crmls.org/mediaz/279a0abc-095b-4f72-8589-7ec99c8f5df9.jpg", "caption": "" }, "displayorder": 26, "url": "https://media.crmls.org/mediaz/78fff9ca-f916-4499-8042-eca8e3ed4d8c.jpg", "caption": "" }, "displayorder": 27, "url": "https://media.crmls.org/mediaz/99b7f4c9-74d0-44e3-83c9-ab82408ba20d.jpg", "caption": "" } ], "agent": { "name": "Jade Mills", "phone": "310-285-7508", "email": "homes@jademills.com" }, "broker": { "name": "Coldwell Banker Realty", "phone": "", "email": "" } }; ]]>
1041 LAUREL Way
BEVERLY HI, CA 90210

Click here for map
Residential Home
$22,495,000
9,508 Sq Feet
5 Bedrooms
7 Bathrooms
1 Partial Bath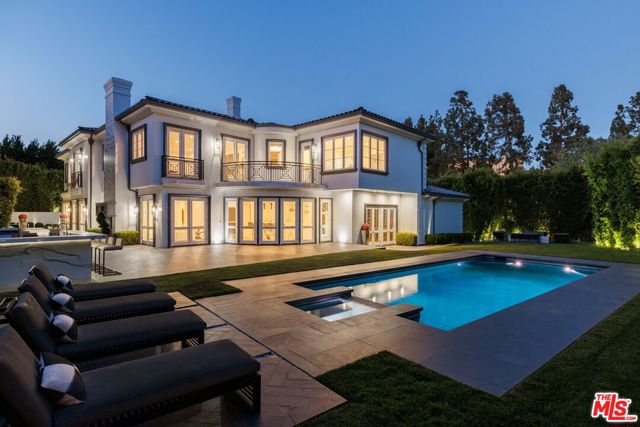 Listed by Jade Mills of Coldwell Banker Realty
DRE# 00526877
Details:
Lot Sq Feet:
22,574
Fireplaces:
0
HOA?
No
Bank Owned?
No
Status:
Expired
Remarks:
Meticulous design and luxurious finishes beautifully combine in this transitional contemporary masterpiece. Gated, secluded, and spanning over 9,500 square feet of living space with five bedrooms and seven-and-a-half baths, this opulent retreat is prepared to cater to all lifestyles. Be greeted by the commanding entry way boasting double-height ceilings for a seamless flow through all spaces. Bathed in marble, the gourmet kitchen features an expansive center island, top-of-the-line appliances, extensive cabinetry, and much more. Escape to your lavish master suite with French doors to a private balcony overlooking the manicured grounds, fireplace, and sumptuous dual baths with walk-in closets. Additional amenities include theatre, custom oak floors, formal dining, office, Control4 smart-home system, and oversized motor court. From intimate dinners to grand soirees, the spellbinding garden is a true entertainer's delight. Relax by the grandiose fireplace or take a swim in the sprawling pool and spa, all enveloped by soaring hedges and lush greenery for maximum privacy.
There are currently no open houses for this property. Please contact
Jade Mills
to schedule an appointment.