<![CDATA[ var dwellicious_data = { "address": "1410 TANAGER Way ", "city": "LOS ANGELE", "state": "CA", "zip": "90069", "zip4": "", "area": "", "subdivision": "", "county": "", "price": "29995000", "beds": "5", "baths": "8", "sqft": "14000", "lotsize": "22391", "yearbuilt": "2022-01-01", "proptype": "Residential", "mlsnum": "CL23242923", "active": false, "remarks": "Sited on the most prestigious cul-de-sac in the famed Bird Streets, this remarkable modern home designed by Vantage Design Group features the finest finishes, incredible volume, and jetliner views over the Los Angeles basin. A discreet facade leads to the upper level via a skylit foyer framing the perfect entry to a dramatic living space. Disappearing walls of glass create an idyllic indoor/outdoor entertainment area with panoramic views. Honed travertine, walnut millwork, and natural materials create a warm aesthetic blending seamlessly to the expansive outdoor deck. The home features a bar, spa, and multiple seating areas. The second level entertaining area is framed by a jaw-dropping infinity pool featuring a baja shelf, a cascading water wall, and a spa where one can soak amongst the sparkling city lights. A gorgeous Jade bar sits in front of a beautiful walk-in wine room, perfect for entertaining guests. The spacious private primary suite features a generous walk-in closet and opens to its own lounging deck with an outdoor fire pit. Lower level guest suites and a maid's quarter all feature stunning bathrooms and sweeping city views. Additional amenities include an elevator, smart home system, large gym with yoga area overlooking an atrium, steam room, dry sauna, outdoor pool", "photos": [ { "displayorder": 0, "url": "https://media.crmls.org/mediaz/28c75fd1-c91b-41f1-b99b-a3c7162cb560.jpg", "caption": "" }, "displayorder": 1, "url": "https://media.crmls.org/mediaz/91af845b-7480-4c0f-8024-396b78b8729a.jpg", "caption": "" }, "displayorder": 2, "url": "https://media.crmls.org/mediaz/cfc45499-826c-46b6-8983-4f06a519c3f4.jpg", "caption": "" }, "displayorder": 3, "url": "https://media.crmls.org/mediaz/69520ad4-6224-4c58-9719-8c044bdb00b5.jpg", "caption": "" }, "displayorder": 4, "url": "https://media.crmls.org/mediaz/464eedcd-7752-42b1-9293-c5b542abf2df.jpg", "caption": "" }, "displayorder": 5, "url": "https://media.crmls.org/mediaz/a02973c7-edd6-421c-811a-c396023648d9.jpg", "caption": "" }, "displayorder": 6, "url": "https://media.crmls.org/mediaz/54485eeb-c873-47e4-82bb-320761eb3ec9.jpg", "caption": "" }, "displayorder": 7, "url": "https://media.crmls.org/mediaz/5599db7c-9540-403c-95ff-9b9c86323921.jpg", "caption": "" }, "displayorder": 8, "url": "https://media.crmls.org/mediaz/cb174403-035a-4d57-9342-8e608369fe51.jpg", "caption": "" }, "displayorder": 9, "url": "https://media.crmls.org/mediaz/501c44af-cc1c-4cd0-a895-5b49b6d1deb5.jpg", "caption": "" }, "displayorder": 10, "url": "https://media.crmls.org/mediaz/698e545d-1658-46fc-a2c1-9df1ddb66807.jpg", "caption": "" }, "displayorder": 11, "url": "https://media.crmls.org/mediaz/2909be28-c20a-43ec-839b-c49f21049f4f.jpg", "caption": "" }, "displayorder": 12, "url": "https://media.crmls.org/mediaz/989259c6-b612-42f9-a04c-6ae737d9174c.jpg", "caption": "" }, "displayorder": 13, "url": "https://media.crmls.org/mediaz/d9f61d7d-ac33-4da7-985b-3f669316f1c2.jpg", "caption": "" }, "displayorder": 14, "url": "https://media.crmls.org/mediaz/fb55843f-583b-46ad-b362-9847865c2061.jpg", "caption": "" }, "displayorder": 15, "url": "https://media.crmls.org/mediaz/25a77c4d-004f-4bc3-80a5-47edcc42ccb5.jpg", "caption": "" }, "displayorder": 16, "url": "https://media.crmls.org/mediaz/f6b8d5ec-f0b3-489d-a0d0-f598c72832df.jpg", "caption": "" }, "displayorder": 17, "url": "https://media.crmls.org/mediaz/ca707bf6-2451-4b03-8a79-fec3a7927ed8.jpg", "caption": "" }, "displayorder": 18, "url": "https://media.crmls.org/mediaz/39b19b09-db96-454b-bcf5-b4938ebb6582.jpg", "caption": "" }, "displayorder": 19, "url": "https://media.crmls.org/mediaz/2e3ebda4-647c-42ed-9eaf-30f7095d0a8e.jpg", "caption": "" }, "displayorder": 20, "url": "https://media.crmls.org/mediaz/14dafcf9-b3d7-4886-9518-5ff80c3ad467.jpg", "caption": "" }, "displayorder": 21, "url": "https://media.crmls.org/mediaz/8c5eeb2a-64fe-45e6-9fcd-7cb0fd66383a.jpg", "caption": "" }, "displayorder": 22, "url": "https://media.crmls.org/mediaz/9c38954e-cc8d-4778-ba42-bdad8cfed64c.jpg", "caption": "" } ], "agent": { "name": "Branden Williams", "phone": "", "email": "brandenwilliams@mac.com" }, "broker": { "name": "The Beverly Hills Estates", "phone": "", "email": "" } }; ]]>
1410 TANAGER Way
LOS ANGELE, CA 90069

Click here for map
Residential Home
$29,995,000
14,000 Sq Feet
5 Bedrooms
8 Bathrooms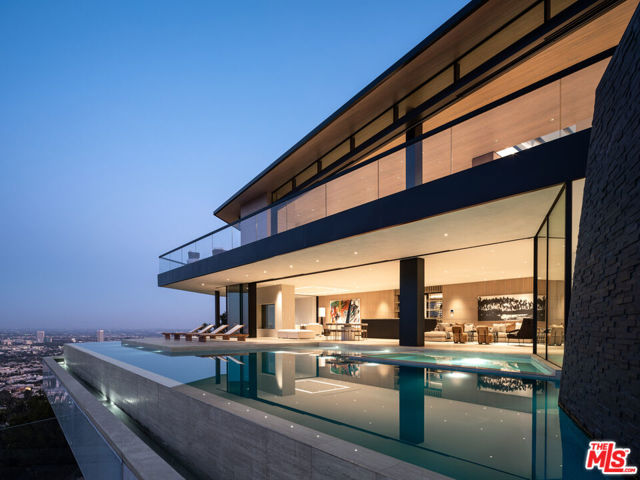 Details:
Lot Sq Feet:
22,391
Fireplaces:
0
HOA?
No
Bank Owned?
No
Status:
Pending
Remarks:
Sited on the most prestigious cul-de-sac in the famed Bird Streets, this remarkable modern home designed by Vantage Design Group features the finest finishes, incredible volume, and jetliner views over the Los Angeles basin. A discreet facade leads to the upper level via a skylit foyer framing the perfect entry to a dramatic living space. Disappearing walls of glass create an idyllic indoor/outdoor entertainment area with panoramic views. Honed travertine, walnut millwork, and natural materials create a warm aesthetic blending seamlessly to the expansive outdoor deck. The home features a bar, spa, and multiple seating areas. The second level entertaining area is framed by a jaw-dropping infinity pool featuring a baja shelf, a cascading water wall, and a spa where one can soak amongst the sparkling city lights. A gorgeous Jade bar sits in front of a beautiful walk-in wine room, perfect for entertaining guests. The spacious private primary suite features a generous walk-in closet and opens to its own lounging deck with an outdoor fire pit. Lower level guest suites and a maid's quarter all feature stunning bathrooms and sweeping city views. Additional amenities include an elevator, smart home system, large gym with yoga area overlooking an atrium, steam room, dry sauna, outdoor pool
There are currently no open houses for this property. Please contact
Branden Williams
to schedule an appointment.