<![CDATA[ var dwellicious_data = { "address": "4758 Avenida La Candela ", "city": "JOSHUA TRE", "state": "CA", "zip": "92252", "zip4": "", "area": "", "subdivision": "", "county": "", "price": "599000", "beds": "3", "baths": "2", "sqft": "1026", "lotsize": "19425", "yearbuilt": "1972-01-01", "proptype": "Residential", "mlsnum": "CL23245389", "active": false, "remarks": "Investor Opportunity - This 3bd/2ba turnkey home is fully furnished and carries finalized vacation-rental permits. Developed by Bravo's Best Room Wins" designer, the property's approximate 1/2 acre is completely gated and secured with stunning views of the mountains. Newer appliances, flooring, windows and doors throughout. Exterior additions include: new hot tub and cold plunge tub with filtration system, leveled and graded grounds with bocce ball court, hammocks and fire pit. The property is surrounded by native desert landscaping including mesquite trees and a natural rock garden. Seller is an Airbnb Superhost with thorough rental records and more than 150 reviews. Great investment opportunity or secluded full-time residence!", "photos": [ { "displayorder": 0, "url": "https://media.crmls.org/mediaz/30712e7c-e481-47dc-98ad-2bb23de3cb93.jpg", "caption": "" }, "displayorder": 1, "url": "https://media.crmls.org/mediaz/8b69c49d-10f9-4996-b75c-6265e43e405f.jpg", "caption": "" }, "displayorder": 2, "url": "https://media.crmls.org/mediaz/77ca2e6e-fd64-4550-96b7-80e2129d307d.jpg", "caption": "" }, "displayorder": 3, "url": "https://media.crmls.org/mediaz/469c4e60-4150-4d72-a47b-91b84b05d3f0.jpg", "caption": "" }, "displayorder": 4, "url": "https://media.crmls.org/mediaz/e636bba8-6421-459a-91f8-60c7239afba9.jpg", "caption": "" }, "displayorder": 5, "url": "https://media.crmls.org/mediaz/81ecdebd-0868-4c76-9d9d-bb3bf341398e.jpg", "caption": "" }, "displayorder": 6, "url": "https://media.crmls.org/mediaz/5e18989a-cf13-463c-800b-02df4e38ceb0.jpg", "caption": "" }, "displayorder": 7, "url": "https://media.crmls.org/mediaz/0dd88a58-4e87-46c5-b703-417640ffa603.jpg", "caption": "" }, "displayorder": 8, "url": "https://media.crmls.org/mediaz/44aa13dd-92aa-4fa7-bdf1-3d553712735c.jpg", "caption": "" }, "displayorder": 9, "url": "https://media.crmls.org/mediaz/7984ac27-6a94-4f99-b677-7c351aabd80f.jpg", "caption": "" }, "displayorder": 10, "url": "https://media.crmls.org/mediaz/919ebbbf-14b2-4b66-8195-5f7115f46f86.jpg", "caption": "" }, "displayorder": 11, "url": "https://media.crmls.org/mediaz/48c76f04-d487-427d-a680-a5615f824220.jpg", "caption": "" }, "displayorder": 12, "url": "https://media.crmls.org/mediaz/00f3e3b2-95b7-41cc-bafd-bde0eac98816.jpg", "caption": "" }, "displayorder": 13, "url": "https://media.crmls.org/mediaz/fc7f444c-41eb-4ddd-8bdc-4cf8fee371a6.jpg", "caption": "" }, "displayorder": 14, "url": "https://media.crmls.org/mediaz/dbc55d59-82ed-4a5e-92cd-db0b6e6d674a.jpg", "caption": "" }, "displayorder": 15, "url": "https://media.crmls.org/mediaz/1a4da1a4-1d9d-4764-9a5c-5a520cf2e6c6.jpg", "caption": "" }, "displayorder": 16, "url": "https://media.crmls.org/mediaz/d6f7e0d3-7d37-4f07-852b-9e020c099bfe.jpg", "caption": "" }, "displayorder": 17, "url": "https://media.crmls.org/mediaz/72d556b5-3b5b-4b3a-8b73-451ca77b7aa8.jpg", "caption": "" }, "displayorder": 18, "url": "https://media.crmls.org/mediaz/8565ab50-af96-4559-b34e-01772237e7a6.jpg", "caption": "" }, "displayorder": 19, "url": "https://media.crmls.org/mediaz/dc08783e-e7a0-44c2-8e5a-eb4af2ab00a6.jpg", "caption": "" }, "displayorder": 20, "url": "https://media.crmls.org/mediaz/9406b9df-0e64-4c65-bca8-158456ec5d3e.jpg", "caption": "" }, "displayorder": 21, "url": "https://media.crmls.org/mediaz/8d151c1c-0a73-4145-9e1b-f1c99ea9ceb7.jpg", "caption": "" }, "displayorder": 22, "url": "https://media.crmls.org/mediaz/2a08a26a-898b-437a-947d-a562b821aba2.jpg", "caption": "" }, "displayorder": 23, "url": "https://media.crmls.org/mediaz/79df8e3d-11c2-4a94-90d7-e27f47ceb46f.jpg", "caption": "" }, "displayorder": 24, "url": "https://media.crmls.org/mediaz/a58d3e9e-4485-4e46-afd8-db76431ed271.jpg", "caption": "" }, "displayorder": 25, "url": "https://media.crmls.org/mediaz/4a023b24-4b99-4965-a144-6c29e4920fbf.jpg", "caption": "" }, "displayorder": 26, "url": "https://media.crmls.org/mediaz/264f5206-6a5c-43c1-9083-a0df8d05d29d.jpg", "caption": "" }, "displayorder": 27, "url": "https://media.crmls.org/mediaz/a8298f31-8302-4002-bcd1-e82f747a8100.jpg", "caption": "" } ], "agent": { "name": "John Cole Martin", "phone": "310-770-1397", "email": "cole.martin@compass.com" }, "broker": { "name": "Compass", "phone": "", "email": "" } }; ]]>
4758 Avenida La Candela
JOSHUA TRE, CA 92252

Click here for map
Residential Home
$599,000
1,026 Sq Feet
3 Bedrooms
2 Bathrooms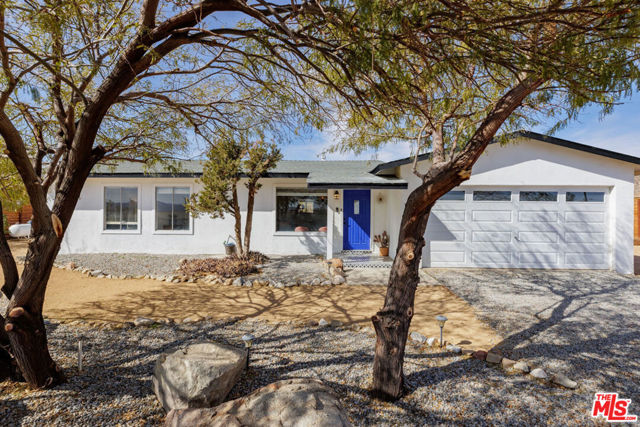 Details:
Lot Sq Feet:
19,425
Fireplaces:
0
HOA?
No
Bank Owned?
No
Status:
Expired
Remarks:
Investor Opportunity - This 3bd/2ba turnkey home is fully furnished and carries finalized vacation-rental permits. Developed by Bravo's "Best Room Wins" designer, the property's approximate 1/2 acre is completely gated and secured with stunning views of the mountains. Newer appliances, flooring, windows and doors throughout. Exterior additions include: new hot tub and cold plunge tub with filtration system, leveled and graded grounds with bocce ball court, hammocks and fire pit. The property is surrounded by native desert landscaping including mesquite trees and a natural rock garden. Seller is an Airbnb Superhost with thorough rental records and more than 150 reviews. Great investment opportunity or secluded full-time residence!
There are currently no open houses for this property. Please contact
John Cole Martin
to schedule an appointment.