<![CDATA[ var dwellicious_data = { "address": "15058 Fairacres Drive ", "city": "LA MIRADA", "state": "CA", "zip": "90638", "zip4": "", "area": "", "subdivision": "", "county": "", "price": "710000", "beds": "3", "baths": "2", "sqft": "1085", "lotsize": "5897", "yearbuilt": "1956-01-01", "proptype": "Residential", "mlsnum": "CRPW23039173", "active": false, "remarks": "What a lovely La Mirada Home! Sitting on a peaceful and quiet Cul-De-Sac and measuring 1,085 Sqft of living space, this home features 3 bedrooms, 2 full bathrooms, a spacious living room as you enter, a full separate dining area, and a cute kitchen also with an additional eating area, as well as a huge bonus room, which can be used as a family room or a 4th bedroom! Other features include tons of closet & cabinet space and plenty of natural light throughout! The home has amazing curb appeal with a wooden porch, and a vast green lawn in front! The lot is a fantastic size measuring just under 6,000 Sqft, and featuring 2 green lawns, a spacious back yard, a wooden back deck perfect for entertaining, an attached 2 car garage with laundry inside, and a long curved driveway giving you excess parking and even room for RV parking! This home has it all! The quiet neighborhood is in a wonderful location, just minutes from schools, parks, multiple shopping centers, restaurants & shops! Thank you so much for viewing this home!", "photos": [ { "displayorder": 0, "url": "https://media.crmls.org/medias/f6c9f94f-c55e-47a9-8c9c-985781ae12d5.jpg", "caption": "" }, "displayorder": 1, "url": "https://media.crmls.org/medias/1109c73f-681c-45e5-8d70-b8c1d49cbe46.jpg", "caption": "" }, "displayorder": 2, "url": "https://media.crmls.org/medias/a44b8c45-2597-47d9-a04e-03695f2b3bd3.jpg", "caption": "" }, "displayorder": 3, "url": "https://media.crmls.org/medias/fa38637d-4315-4ea0-b782-5a8936f2f858.jpg", "caption": "" }, "displayorder": 4, "url": "https://media.crmls.org/medias/c986fb15-af6e-4b0f-a31a-d0d1a2e789d7.jpg", "caption": "" }, "displayorder": 5, "url": "https://media.crmls.org/medias/a9c627b6-e002-4698-b3c4-bc4c6ea7fe87.jpg", "caption": "" }, "displayorder": 6, "url": "https://media.crmls.org/medias/f7013d09-63a6-4560-9919-0d499633554e.jpg", "caption": "" }, "displayorder": 7, "url": "https://media.crmls.org/medias/449baf16-a26a-4512-b7b6-481444044a27.jpg", "caption": "" }, "displayorder": 8, "url": "https://media.crmls.org/medias/2c4f35ca-a736-46fc-af60-899db49ec721.jpg", "caption": "" }, "displayorder": 9, "url": "https://media.crmls.org/medias/eb94b279-5b43-4585-a8cc-12ae8abf93e2.jpg", "caption": "" }, "displayorder": 10, "url": "https://media.crmls.org/medias/5ca421ab-b81d-4d18-be47-d7a280ea1061.jpg", "caption": "" }, "displayorder": 11, "url": "https://media.crmls.org/medias/1a05acd5-7953-410f-858e-301a27f395c1.jpg", "caption": "" }, "displayorder": 12, "url": "https://media.crmls.org/medias/9a957ce7-75d1-4fff-bdef-a70d41aa06f2.jpg", "caption": "" }, "displayorder": 13, "url": "https://media.crmls.org/medias/5e11d0b7-ac2a-4a46-b981-aa430eb670dc.jpg", "caption": "" }, "displayorder": 14, "url": "https://media.crmls.org/medias/fd1dda29-45ab-4659-b8b0-e4ed6126434c.jpg", "caption": "" }, "displayorder": 15, "url": "https://media.crmls.org/medias/b02df548-ff99-482f-902f-68f36c3d8297.jpg", "caption": "" }, "displayorder": 16, "url": "https://media.crmls.org/medias/b9e5c9dd-ea10-4fb6-82c0-f5fd21cfb123.jpg", "caption": "" }, "displayorder": 17, "url": "https://media.crmls.org/medias/50e143c2-510b-46be-be90-8dc16cbd26b9.jpg", "caption": "" }, "displayorder": 18, "url": "https://media.crmls.org/medias/e5d5dd01-66e8-4bbf-8529-4f54e17b5886.jpg", "caption": "" } ], "agent": { "name": "Angel&Pat Hernandez", "phone": "562-696-6515", "email": "angel@angelandpatty.com" }, "broker": { "name": "Realty One Group Synergy", "phone": "", "email": "" } }; ]]>
15058 Fairacres Drive
LA MIRADA, CA 90638

Click here for map
Residential Home
$710,000
1,085 Sq Feet
3 Bedrooms
2 Bathrooms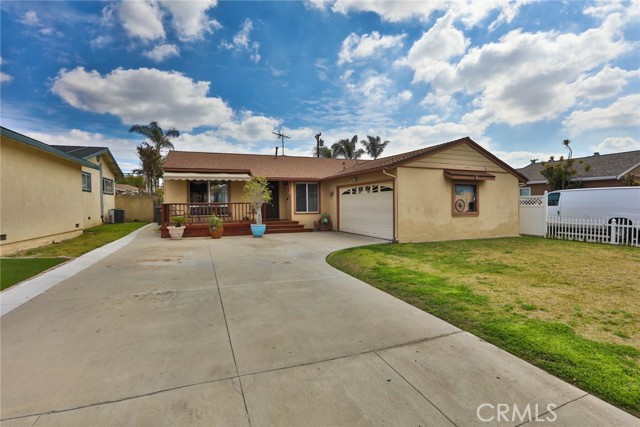 Details:
Lot Sq Feet:
5,897
Fireplaces:
0
HOA?
No
Bank Owned?
No
Status:
Pending
Remarks:
What a lovely La Mirada Home! Sitting on a peaceful and quiet Cul-De-Sac and measuring 1,085 Sqft of living space, this home features 3 bedrooms, 2 full bathrooms, a spacious living room as you enter, a full separate dining area, and a cute kitchen also with an additional eating area, as well as a huge bonus room, which can be used as a family room or a 4th bedroom! Other features include tons of closet & cabinet space and plenty of natural light throughout! The home has amazing curb appeal with a wooden porch, and a vast green lawn in front! The lot is a fantastic size measuring just under 6,000 Sqft, and featuring 2 green lawns, a spacious back yard, a wooden back deck perfect for entertaining, an attached 2 car garage with laundry inside, and a long curved driveway giving you excess parking and even room for RV parking! This home has it all! The quiet neighborhood is in a wonderful location, just minutes from schools, parks, multiple shopping centers, restaurants & shops! Thank you so much for viewing this home!
There are currently no open houses for this property. Please contact
Angel&Pat Hernandez
to schedule an appointment.