<![CDATA[ var dwellicious_data = { "address": "32581 Via Los Santos ", "city": "SAN JUAN C", "state": "CA", "zip": "92675", "zip4": "", "area": "", "subdivision": "", "county": "", "price": "1425000", "beds": "3", "baths": "2", "sqft": "1817", "lotsize": "5269", "yearbuilt": "2002-01-01", "proptype": "Residential", "mlsnum": "CROC23043571", "active": false, "remarks": "Welcome to Via Los Santos! We're offering a turnkey, single level home that's been designer upgraded within the past year. Situated in the popular Alipaz gated community close to schools, shopping and multiple recreational & dining opportunities this IS your location, location, location. The property sits on a large lot with a tropical backyard including spool/grotto/fountain plus built in slate stone bar & barbeque and professionally lit landscaping. Unique in every way and located in the heart of beautiful San Juan Capistrano in between San Juan Creek Trails, the legendary Ecology Center, San Juan Sports Park & Community Center. Property is remodeled throughout with appliances and TV's included. Updated paint, luxury vinyl flooring and ceiling fans add character to the vibe. Freshly tiled primary shower, including quartz counters, vanity area with storage drawers and walk-in closet with stylish built-ins from Tailored Living. Upgraded kitchen with oversized island, Kitchen Aid appliances, quartz counters and tiled backsplash. Guests can gather around the oversized kitchen island including breakfast bar, built-in trash/recycle combo plus wine fridge. New plantation shutters offer privacy & allow lots of natural light. LG Washer & Dryer are included along with a built-in dual lau", "photos": [ { "displayorder": 0, "url": "https://media.crmls.org/medias/cb68d031-5253-4043-ac46-e077ded4cc5f.jpg", "caption": "" }, "displayorder": 1, "url": "https://media.crmls.org/medias/72ffbdb8-f6e0-4f81-9abf-01476ae6dd4a.jpg", "caption": "" }, "displayorder": 2, "url": "https://media.crmls.org/medias/2c8a22ff-9c9e-45a6-af88-13a4dbf96735.jpg", "caption": "" }, "displayorder": 3, "url": "https://media.crmls.org/medias/c8a9a1e6-c5c4-46e8-9d5c-c2ff7dd98b0e.jpg", "caption": "" }, "displayorder": 4, "url": "https://media.crmls.org/medias/8be2a757-82e1-4e44-9ce4-a990fb1a4dc9.jpg", "caption": "" }, "displayorder": 5, "url": "https://media.crmls.org/medias/c72713fe-93ae-4acf-80ea-b7271f2a0781.jpg", "caption": "" }, "displayorder": 6, "url": "https://media.crmls.org/medias/22f0089b-5778-4028-811a-784f68c9fa6e.jpg", "caption": "" }, "displayorder": 7, "url": "https://media.crmls.org/medias/5bb81dea-742e-4273-b0d8-451d1dd509e7.jpg", "caption": "" }, "displayorder": 8, "url": "https://media.crmls.org/medias/ee842ebc-590e-4135-a02a-a72dd22ce57b.jpg", "caption": "" }, "displayorder": 9, "url": "https://media.crmls.org/medias/b63dce71-9695-4f81-9013-a7dcbf15176e.jpg", "caption": "" }, "displayorder": 10, "url": "https://media.crmls.org/medias/c10f6322-9005-4a9e-8ce9-c6250cfd7e2c.jpg", "caption": "" }, "displayorder": 11, "url": "https://media.crmls.org/medias/0f1e1ba9-fbe0-44a6-ba97-db813e6e7f54.jpg", "caption": "" }, "displayorder": 12, "url": "https://media.crmls.org/medias/a64aedf5-45e3-4328-a698-b5800cd2fe1b.jpg", "caption": "" }, "displayorder": 13, "url": "https://media.crmls.org/medias/0b94cb8c-a0d5-46ea-beca-3dfd0c64de28.jpg", "caption": "" }, "displayorder": 14, "url": "https://media.crmls.org/medias/3b6bec60-184c-48c8-a4f1-6450b9fcb933.jpg", "caption": "" }, "displayorder": 15, "url": "https://media.crmls.org/medias/a96f758a-0cf0-4c68-becf-b15bfe89f48c.jpg", "caption": "" }, "displayorder": 16, "url": "https://media.crmls.org/medias/93b698d2-d93c-49ec-9033-17ddf617c60f.jpg", "caption": "" }, "displayorder": 17, "url": "https://media.crmls.org/medias/e13fcc49-8aca-4905-8025-3697ca1c38e4.jpg", "caption": "" }, "displayorder": 18, "url": "https://media.crmls.org/medias/964a72b4-2e94-4d8d-b64d-879d6722e310.jpg", "caption": "" }, "displayorder": 19, "url": "https://media.crmls.org/medias/a4975894-b1fe-4581-80df-7e4230bd3dd8.jpg", "caption": "" }, "displayorder": 20, "url": "https://media.crmls.org/medias/832b385c-046c-42cf-8b59-ba1abf12dd5a.jpg", "caption": "" }, "displayorder": 21, "url": "https://media.crmls.org/medias/0b836615-4c94-4574-bf6a-5dc7d36983d5.jpg", "caption": "" }, "displayorder": 22, "url": "https://media.crmls.org/medias/6239e0e2-ea7f-4069-9d9c-4c0d3e0b58f4.jpg", "caption": "" }, "displayorder": 23, "url": "https://media.crmls.org/medias/6bcb85e7-0523-4153-a82c-4c9ddd16c3b1.jpg", "caption": "" }, "displayorder": 24, "url": "https://media.crmls.org/medias/82e9803e-02ae-492c-97a4-5c36e0d726a0.jpg", "caption": "" }, "displayorder": 25, "url": "https://media.crmls.org/medias/8eb6e32c-c7cc-4aaa-8133-417291239047.jpg", "caption": "" }, "displayorder": 26, "url": "https://media.crmls.org/medias/523bae3b-72d1-492e-83ee-abbb334a3096.jpg", "caption": "" }, "displayorder": 27, "url": "https://media.crmls.org/medias/6eb01e73-a576-4ff5-a6d9-d264b176a1af.jpg", "caption": "" }, "displayorder": 28, "url": "https://media.crmls.org/medias/1d61f776-1d08-43e8-8fd4-6c555c469d64.jpg", "caption": "" }, "displayorder": 29, "url": "https://media.crmls.org/medias/b62d3be9-e31a-46c9-965b-e74a6eb2a12c.jpg", "caption": "" }, "displayorder": 30, "url": "https://media.crmls.org/medias/1ed523e7-a738-4efd-8917-c31ce1d898c7.jpg", "caption": "" }, "displayorder": 31, "url": "https://media.crmls.org/medias/5792ccad-1571-4637-8cb1-945337b1a4b7.jpg", "caption": "" }, "displayorder": 32, "url": "https://media.crmls.org/medias/82d92c73-8d2e-4dfa-948c-f7bbc872683a.jpg", "caption": "" }, "displayorder": 33, "url": "https://media.crmls.org/medias/822254e7-af5e-4ebd-92e2-7608fa29b8b6.jpg", "caption": "" }, "displayorder": 34, "url": "https://media.crmls.org/medias/1ccce578-f854-4457-a285-153acbeecf2e.jpg", "caption": "" }, "displayorder": 35, "url": "https://media.crmls.org/medias/9406f7c7-c5fc-49bb-9a59-2dab83bac091.jpg", "caption": "" } ], "agent": { "name": "Julie Hile", "phone": "949-487-0555", "email": "julie@juliehile.com" }, "broker": { "name": "Superior Real Estate Network", "phone": "", "email": "" } }; ]]>
32581 Via Los Santos
SAN JUAN C, CA 92675

Click here for map
Residential Home
$1,425,000
1,817 Sq Feet
3 Bedrooms
2 Bathrooms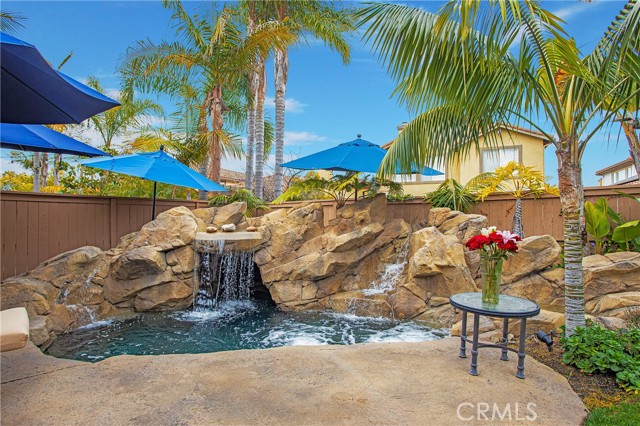 Listed by Julie Hile of Superior Real Estate Network
DRE# 01011043
Details:
Lot Sq Feet:
5,269
Fireplaces:
0
HOA?
Yes
Bank Owned?
No
Status:
Withdrawn
Remarks:
Welcome to Via Los Santos! We're offering a turnkey, single level home that's been designer upgraded within the past year. Situated in the popular Alipaz gated community close to schools, shopping and multiple recreational & dining opportunities this IS your location, location, location. The property sits on a large lot with a tropical backyard including spool/grotto/fountain plus built in slate stone bar & barbeque and professionally lit landscaping. Unique in every way and located in the heart of beautiful San Juan Capistrano in between San Juan Creek Trails, the legendary Ecology Center, San Juan Sports Park & Community Center. Property is remodeled throughout with appliances and TV's included. Updated paint, luxury vinyl flooring and ceiling fans add character to the vibe. Freshly tiled primary shower, including quartz counters, vanity area with storage drawers and walk-in closet with stylish built-ins from Tailored Living. Upgraded kitchen with oversized island, Kitchen Aid appliances, quartz counters and tiled backsplash. Guests can gather around the oversized kitchen island including breakfast bar, built-in trash/recycle combo plus wine fridge. New plantation shutters offer privacy & allow lots of natural light. LG Washer & Dryer are included along with a built-in dual lau
There are currently no open houses for this property. Please contact
Julie Hile
to schedule an appointment.