<![CDATA[ var dwellicious_data = { "address": "13002 Edderton Avenue ", "city": "LA MIRADA", "state": "CA", "zip": "90638", "zip4": "", "area": "", "subdivision": "", "county": "", "price": "1098000", "beds": "4", "baths": "2", "sqft": "2277", "lotsize": "13806", "yearbuilt": "1959-01-01", "proptype": "Residential", "mlsnum": "CRPW23044132", "active": false, "remarks": "Generous sized home with tons of charm and desirable features in the Gardenhill neighborhood of La Mirada. Huge 13,806 sq. ft. Pool lot with RV/Boat parking, RV Hookups, 2 separate garages, ample outdoor storage, fire pit, horseshoe pit, covered patio all in secluded and private yard at the end of the cul-de-sac. Park in one garage, turn the other into Man Cave/Workshop, perhaps more living space, both garages have toilets-like I said...ideal for man cave/workshop. Newer exterior paint, newer retaining wall in back, newer fencing in back. New floor in sun room, new roof over sun room, newer windows, new hot water heater in 2020, new AC in 2015, new pool pump in 2022. Large kitchen with Thermador appliances, Sub Zero fridge, indoor grill, tons of cabinet & counter space. HUGE living room with beamed ceilings, ceiling fans, skylights, rock fireplace and doors to back patio and bright & light sun room. Wall down between 3rd and 4th bedroom but can easily be converted to 4 bedrooms again. Master bedroom with bathroom, lots of closet space in bedrooms and large dining room located between the living room and kitchen. Walk to Gardenhill Elementary, close to shopping and restaurants. Add your personal touch, I believe this is the home you've been waiting for!!!!!", "photos": [ { "displayorder": 0, "url": "https://media.crmls.org/medias/5f93cf8b-826a-47f9-ab72-dce5fc35df7a.jpg", "caption": "" }, "displayorder": 1, "url": "https://media.crmls.org/medias/8cdc4101-f818-4951-9b2e-fce67fc8399e.jpg", "caption": "" }, "displayorder": 2, "url": "https://media.crmls.org/medias/ccb26dc1-6e9b-49c2-bc9e-0dd4903b17ca.jpg", "caption": "" }, "displayorder": 3, "url": "https://media.crmls.org/medias/e66da1f3-9f2d-4bb1-88b6-34fb1c1cdfc2.jpg", "caption": "" }, "displayorder": 4, "url": "https://media.crmls.org/medias/97ebb0ad-7d41-4968-8ce9-59be7f636986.jpg", "caption": "" }, "displayorder": 5, "url": "https://media.crmls.org/medias/d43c96b8-042b-4390-bb5f-eb253f4291c0.jpg", "caption": "" }, "displayorder": 6, "url": "https://media.crmls.org/medias/ec1aaf84-7260-4908-827b-577536c1914f.jpg", "caption": "" }, "displayorder": 7, "url": "https://media.crmls.org/medias/972e2b71-18e9-4b73-84db-f46d51a2c01a.jpg", "caption": "" }, "displayorder": 8, "url": "https://media.crmls.org/medias/29042959-d211-43fe-918b-fea8e9d59697.jpg", "caption": "" }, "displayorder": 9, "url": "https://media.crmls.org/medias/cdc4546a-1327-469a-92d7-eb9fa9175e53.jpg", "caption": "" }, "displayorder": 10, "url": "https://media.crmls.org/medias/865a93a1-edc4-4d8e-944d-d66df565529b.jpg", "caption": "" }, "displayorder": 11, "url": "https://media.crmls.org/medias/35a76155-725e-48f9-97f8-06a71a4288c3.jpg", "caption": "" }, "displayorder": 12, "url": "https://media.crmls.org/medias/60589ae5-62e1-4e99-b1e3-a8f48984e71c.jpg", "caption": "" }, "displayorder": 13, "url": "https://media.crmls.org/medias/483924d7-742d-46aa-9a02-0b2da0f2a24f.jpg", "caption": "" }, "displayorder": 14, "url": "https://media.crmls.org/medias/0c35aebc-5079-49b3-b16b-bc0c1d508155.jpg", "caption": "" }, "displayorder": 15, "url": "https://media.crmls.org/medias/4bcbc6d4-0bbf-419d-aede-2eea3c8402c7.jpg", "caption": "" }, "displayorder": 16, "url": "https://media.crmls.org/medias/571f283b-1465-47de-8017-98d204997e19.jpg", "caption": "" }, "displayorder": 17, "url": "https://media.crmls.org/medias/c6ccbfc4-d324-4717-9c3f-abb789c7cd1c.jpg", "caption": "" }, "displayorder": 18, "url": "https://media.crmls.org/medias/1a0b9494-1192-47a6-b724-289f5ce9054e.jpg", "caption": "" }, "displayorder": 19, "url": "https://media.crmls.org/medias/eb610c65-96ab-4c57-99fc-5058b22d1460.jpg", "caption": "" }, "displayorder": 20, "url": "https://media.crmls.org/medias/03b5d6d8-ab7b-4a2b-a063-f19fccaa0e8e.jpg", "caption": "" }, "displayorder": 21, "url": "https://media.crmls.org/medias/b51ce6e2-7a71-4de7-9730-c7211a2b7618.jpg", "caption": "" }, "displayorder": 22, "url": "https://media.crmls.org/medias/2eb30888-c91e-4810-9778-b4ba011f0f8e.jpg", "caption": "" }, "displayorder": 23, "url": "https://media.crmls.org/medias/b0e2cde1-2278-4498-9f59-890ffd9b82fd.jpg", "caption": "" }, "displayorder": 24, "url": "https://media.crmls.org/medias/f2ccfaa2-ecae-4d66-9eab-52a2288436fe.jpg", "caption": "" }, "displayorder": 25, "url": "https://media.crmls.org/medias/cad376bf-95a9-41c6-a77c-9da41a10342e.jpg", "caption": "" }, "displayorder": 26, "url": "https://media.crmls.org/medias/85d8e7ea-fe7f-457d-b0dd-9e9a22147d8f.jpg", "caption": "" }, "displayorder": 27, "url": "https://media.crmls.org/medias/7d33f1e1-8da9-4341-a427-779b02520d33.jpg", "caption": "" }, "displayorder": 28, "url": "https://media.crmls.org/medias/2b2939fd-704c-40b1-901b-73633e48e308.jpg", "caption": "" }, "displayorder": 29, "url": "https://media.crmls.org/medias/f4234c9c-2576-4363-923a-7087e266931d.jpg", "caption": "" }, "displayorder": 30, "url": "https://media.crmls.org/medias/2266e99f-1bdb-4119-bbe1-86b2fc149930.jpg", "caption": "" }, "displayorder": 31, "url": "https://media.crmls.org/medias/838bfd80-2e3a-4b7a-ab96-8f49c917f594.jpg", "caption": "" }, "displayorder": 32, "url": "https://media.crmls.org/medias/2d2abad3-dc6e-49c2-b74c-0bc898617403.jpg", "caption": "" }, "displayorder": 33, "url": "https://media.crmls.org/medias/35e14210-abb3-48dc-aa43-2b2e6dad8a7e.jpg", "caption": "" }, "displayorder": 34, "url": "https://media.crmls.org/medias/c77009d8-c87d-4990-b010-7126d9e7458c.jpg", "caption": "" }, "displayorder": 35, "url": "https://media.crmls.org/medias/e22cf57b-bbb2-4dd8-91ca-62db3b2d1838.jpg", "caption": "" }, "displayorder": 36, "url": "https://media.crmls.org/medias/1f7ba10c-c24a-43a6-aab7-fb0bbdd78d69.jpg", "caption": "" }, "displayorder": 37, "url": "https://media.crmls.org/medias/c3cb1738-88d2-479a-b9f0-9dc77e083a78.jpg", "caption": "" }, "displayorder": 38, "url": "https://media.crmls.org/medias/3bdccd90-7bad-46a1-94de-d1ec33318b0f.jpg", "caption": "" }, "displayorder": 39, "url": "https://media.crmls.org/medias/60b8110f-0106-47a8-b68e-81f4d2c20f80.jpg", "caption": "" }, "displayorder": 40, "url": "https://media.crmls.org/medias/cd921be8-8d73-429c-ac7e-f7fe6e428274.jpg", "caption": "" }, "displayorder": 41, "url": "https://media.crmls.org/medias/f1a2d6b4-4db6-4bfe-8165-782697a89c9b.jpg", "caption": "" }, "displayorder": 42, "url": "https://media.crmls.org/medias/57721648-f83a-4aa6-a023-462e03874a2b.jpg", "caption": "" }, "displayorder": 43, "url": "https://media.crmls.org/medias/a17846dc-20b0-4747-84ad-a6441dbfc242.jpg", "caption": "" }, "displayorder": 44, "url": "https://media.crmls.org/medias/d9fdb3b4-24a0-4b80-b561-9fa539438a24.jpg", "caption": "" } ], "agent": { "name": "Lisa Ancich", "phone": "", "email": "lisa.ancich@compass.com" }, "broker": { "name": "Compass Newport Beach", "phone": "", "email": "" } }; ]]>
13002 Edderton Avenue
LA MIRADA, CA 90638

Click here for map
Residential Home
$1,098,000
2,277 Sq Feet
4 Bedrooms
2 Bathrooms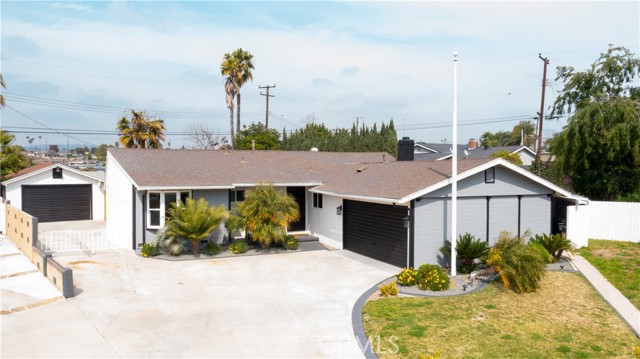 Listed by Lisa Ancich of Compass Newport Beach
DRE# 01261750
Details:
Lot Sq Feet:
13,806
Fireplaces:
0
HOA?
No
Bank Owned?
No
Status:
Pending
Remarks:
Generous sized home with tons of charm and desirable features in the Gardenhill neighborhood of La Mirada. Huge 13,806 sq. ft. Pool lot with RV/Boat parking, RV Hookups, 2 separate garages, ample outdoor storage, fire pit, horseshoe pit, covered patio all in secluded and private yard at the end of the cul-de-sac. Park in one garage, turn the other into Man Cave/Workshop, perhaps more living space, both garages have toilets-like I said...ideal for man cave/workshop. Newer exterior paint, newer retaining wall in back, newer fencing in back. New floor in sun room, new roof over sun room, newer windows, new hot water heater in 2020, new AC in 2015, new pool pump in 2022. Large kitchen with Thermador appliances, Sub Zero fridge, indoor grill, tons of cabinet & counter space. HUGE living room with beamed ceilings, ceiling fans, skylights, rock fireplace and doors to back patio and bright & light sun room. Wall down between 3rd and 4th bedroom but can easily be converted to 4 bedrooms again. Master bedroom with bathroom, lots of closet space in bedrooms and large dining room located between the living room and kitchen. Walk to Gardenhill Elementary, close to shopping and restaurants. Add your personal touch, I believe this is the home you've been waiting for!!!!!
There are currently no open houses for this property. Please contact
Lisa Ancich
to schedule an appointment.