<![CDATA[ var dwellicious_data = { "address": "6227 5th Street ", "city": "LOS ANGELE", "state": "CA", "zip": "90048", "zip4": "", "area": "", "subdivision": "", "county": "", "price": "4699999", "beds": "6", "baths": "7", "sqft": "4794", "lotsize": "6050", "yearbuilt": "2018-01-01", "proptype": "Residential", "mlsnum": "CL23251853", "active": false, "remarks": "MODERN CAPE COD DREAM! This beyond charming home with high end finishes is Feng Shui'd and has tall hedges creating privacy. House includes keyless entry, indoor/outdoor cameras, electric fence, and ADT security. MAIN FLOOR: 10' foot beamed ceilings, formal sitting room w/marble fireplace, mud room, office w/window seat, and has an en-suite bedroom. GOURMET KITCHEN: Wolf stainless appliances, large porcelain island, eat in kitchen, upscale built-in dining, reverse osmosis by Clear Water. House has AC/heating system run by NEST, extra wide plank European Oak floors, Himalayan sea salt fireplace, Accordion glass doors open to GRASSY YARD includes: POOL w/waterfall and electric cover w/safety fence, SPA, CABANA, mini playground w/swing set, and outdoor kitchen w/BBQ. TOP FLOOR SUITES: include large walk-in large linen closet, large laundry room, 3 en-suite bedrooms. Primary Suite has 11' beamed, vaulted ceilings w/marble fireplace, 2 walk-in closets, 2 bathrooms, w/ marble countertops, heated floors, oversized showers, 1 w/bathtub. TV tucks into tufted footboard, eliminating EFF's. BASEMENT LEVEL: has 9.5' ceilings, bar, game room, gym, 2 en-suite bedrooms, secret hidden door to a SECRET MOVIE THEATRE. Only a few mins from W 3rd Street's well-loved, Restaurant Row"! (Up to 4-5 cars", "photos": [ { "displayorder": 0, "url": "https://media.crmls.org/mediaz/e05eb8fc-e297-48dd-8f8d-aa8d0649ced8.jpg", "caption": "" }, "displayorder": 1, "url": "https://media.crmls.org/mediaz/e7d9880e-7ff8-4b1c-964c-7c31f8c53a95.jpg", "caption": "" }, "displayorder": 2, "url": "https://media.crmls.org/mediaz/5db133f1-90d1-4b5a-9be4-ef094140d400.jpg", "caption": "" }, "displayorder": 3, "url": "https://media.crmls.org/mediaz/aad33616-438c-4b0b-8b04-1ee232fcbc60.jpg", "caption": "" }, "displayorder": 4, "url": "https://media.crmls.org/mediaz/d895e228-a870-4f97-814f-8b93dbdabecc.jpg", "caption": "" }, "displayorder": 5, "url": "https://media.crmls.org/mediaz/92bf2e13-eb24-43a4-9df9-8c7be0e13b61.jpg", "caption": "" }, "displayorder": 6, "url": "https://media.crmls.org/mediaz/b3214822-13b4-4f8d-98e2-06bbbb563a0e.jpg", "caption": "" }, "displayorder": 7, "url": "https://media.crmls.org/mediaz/07d5c291-bb4a-46f5-b442-38fc77192e8c.jpg", "caption": "" }, "displayorder": 8, "url": "https://media.crmls.org/mediaz/6517882f-4bfb-479d-8d64-8c76a387671b.jpg", "caption": "" }, "displayorder": 9, "url": "https://media.crmls.org/mediaz/a5dc71e3-6159-4973-8d54-0337e31459aa.jpg", "caption": "" }, "displayorder": 10, "url": "https://media.crmls.org/mediaz/e0c2bf1d-f681-4524-af3b-1097189311ed.jpg", "caption": "" }, "displayorder": 11, "url": "https://media.crmls.org/mediaz/4c2b373d-27e2-45d0-ab16-dea5422729fe.jpg", "caption": "" }, "displayorder": 12, "url": "https://media.crmls.org/mediaz/9d8add68-ab13-4ff6-8b34-45f686d06386.jpg", "caption": "" }, "displayorder": 13, "url": "https://media.crmls.org/mediaz/dadee8fd-5afe-4ce0-aac9-20dc152921dc.jpg", "caption": "" }, "displayorder": 14, "url": "https://media.crmls.org/mediaz/714984e9-aedf-4465-9fbf-5efa2de05fee.jpg", "caption": "" }, "displayorder": 15, "url": "https://media.crmls.org/mediaz/96eba237-fe01-4b75-b59f-fba6ef40e5f1.jpg", "caption": "" }, "displayorder": 16, "url": "https://media.crmls.org/mediaz/8e518f9a-3867-481e-a988-335caf20b942.jpg", "caption": "" }, "displayorder": 17, "url": "https://media.crmls.org/mediaz/adbc3b2f-af3f-4e22-8862-da3ed856a4e3.jpg", "caption": "" }, "displayorder": 18, "url": "https://media.crmls.org/mediaz/61d928a2-118a-44ad-a3d8-362fb7195148.jpg", "caption": "" }, "displayorder": 19, "url": "https://media.crmls.org/mediaz/756b63e0-3245-4489-8e24-9ace21682f34.jpg", "caption": "" }, "displayorder": 20, "url": "https://media.crmls.org/mediaz/1f8959e3-2321-438c-8a4f-e6ad772b4e1e.jpg", "caption": "" }, "displayorder": 21, "url": "https://media.crmls.org/mediaz/51450549-0c88-4c96-b6ae-c86a0d04f00b.jpg", "caption": "" }, "displayorder": 22, "url": "https://media.crmls.org/mediaz/2cd83483-3dad-406e-9267-6a83352ec138.jpg", "caption": "" }, "displayorder": 23, "url": "https://media.crmls.org/mediaz/c93dc385-8a22-436c-adac-7a3fd659ff35.jpg", "caption": "" }, "displayorder": 24, "url": "https://media.crmls.org/mediaz/7d6d2fb3-975e-4fd7-90e7-9b497f1fa813.jpg", "caption": "" }, "displayorder": 25, "url": "https://media.crmls.org/mediaz/fb205b38-efec-4b40-8817-d6abae266ad5.jpg", "caption": "" }, "displayorder": 26, "url": "https://media.crmls.org/mediaz/775639be-5eb1-44f9-8d0c-aafbe96bc4e2.jpg", "caption": "" }, "displayorder": 27, "url": "https://media.crmls.org/mediaz/7528fb12-b254-4a0a-9db9-86c454bf7c48.jpg", "caption": "" }, "displayorder": 28, "url": "https://media.crmls.org/mediaz/803aa129-1d80-4dca-85c2-819141a4ee47.jpg", "caption": "" }, "displayorder": 29, "url": "https://media.crmls.org/mediaz/63cf4c5c-234b-47c5-903e-26c1cdccc164.jpg", "caption": "" }, "displayorder": 30, "url": "https://media.crmls.org/mediaz/82e0c38f-3a39-46a1-859f-fbe2a34e5ef3.jpg", "caption": "" }, "displayorder": 31, "url": "https://media.crmls.org/mediaz/0cc87e43-310e-41c3-ba15-fb90713509fe.jpg", "caption": "" }, "displayorder": 32, "url": "https://media.crmls.org/mediaz/980522a4-d86b-40be-a678-712c25910d9a.jpg", "caption": "" }, "displayorder": 33, "url": "https://media.crmls.org/mediaz/18feb35e-86bb-47e9-9132-8d759f8feb4c.jpg", "caption": "" }, "displayorder": 34, "url": "https://media.crmls.org/mediaz/698fd2e4-03ff-4df1-a670-158d7750c452.jpg", "caption": "" }, "displayorder": 35, "url": "https://media.crmls.org/mediaz/593b91e4-bb12-4db3-a30d-2506ea8c25bb.jpg", "caption": "" }, "displayorder": 36, "url": "https://media.crmls.org/mediaz/257c6ffd-ae1f-412c-b85c-a1b0e7ad711b.jpg", "caption": "" }, "displayorder": 37, "url": "https://media.crmls.org/mediaz/23c6058d-3120-458a-b859-9128b355a3c1.jpg", "caption": "" }, "displayorder": 38, "url": "https://media.crmls.org/mediaz/ee56ec3c-4590-40f7-8d1c-9cf84966ff69.jpg", "caption": "" }, "displayorder": 39, "url": "https://media.crmls.org/mediaz/530a5e85-41bd-495f-a267-765c69f04b0f.jpg", "caption": "" }, "displayorder": 40, "url": "https://media.crmls.org/mediaz/58c915bc-6c11-4d74-b125-6972d2037782.jpg", "caption": "" }, "displayorder": 41, "url": "https://media.crmls.org/mediaz/c5c1ddaa-6a56-4cd1-8621-c43a7cfd6121.jpg", "caption": "" }, "displayorder": 42, "url": "https://media.crmls.org/mediaz/061d28b2-a99d-49d5-be43-89396783a2e3.jpg", "caption": "" } ], "agent": { "name": "Josie Davis", "phone": "310-274-4000", "email": "JosieDavisRealEstate@gmail.com" }, "broker": { "name": "Nourmand & Associates-BH", "phone": "", "email": "" } }; ]]>
6227 5th Street
LOS ANGELE, CA 90048

Click here for map
Residential Home
$4,699,999
4,794 Sq Feet
6 Bedrooms
7 Bathrooms
1 Partial Bath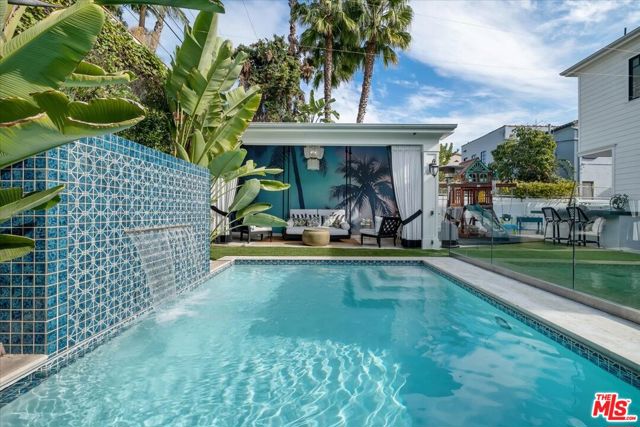 Listed by Josie Davis of Nourmand & Associates-BH
DRE# 02015322
Details:
Lot Sq Feet:
6,050
Fireplaces:
0
HOA?
No
Bank Owned?
No
Status:
Sold
Remarks:
MODERN CAPE COD DREAM! This beyond charming home with high end finishes is Feng Shui'd and has tall hedges creating privacy. House includes keyless entry, indoor/outdoor cameras, electric fence, and ADT security. MAIN FLOOR: 10' foot beamed ceilings, formal sitting room w/marble fireplace, mud room, office w/window seat, and has an en-suite bedroom. GOURMET KITCHEN: Wolf stainless appliances, large porcelain island, eat in kitchen, upscale built-in dining, reverse osmosis by Clear Water. House has AC/heating system run by NEST, extra wide plank European Oak floors, Himalayan sea salt fireplace, Accordion glass doors open to GRASSY YARD includes: POOL w/waterfall and electric cover w/safety fence, SPA, CABANA, mini playground w/swing set, and outdoor kitchen w/BBQ. TOP FLOOR SUITES: include large walk-in large linen closet, large laundry room, 3 en-suite bedrooms. Primary Suite has 11' beamed, vaulted ceilings w/marble fireplace, 2 walk-in closets, 2 bathrooms, w/ marble countertops, heated floors, oversized showers, 1 w/bathtub. TV tucks into tufted footboard, eliminating EFF's. BASEMENT LEVEL: has 9.5' ceilings, bar, game room, gym, 2 en-suite bedrooms, secret hidden door to a SECRET MOVIE THEATRE. Only a few mins from W 3rd Street's well-loved, "Restaurant Row"! (Up to 4-5 cars
There are currently no open houses for this property. Please contact
Josie Davis
to schedule an appointment.