<![CDATA[ var dwellicious_data = { "address": "407 Orange St #201", "city": "OAKLAND", "state": "CA", "zip": "94610", "zip4": "", "area": "", "subdivision": "", "county": "", "price": "475000", "beds": "1", "baths": "1", "sqft": "971", "lotsize": "19457", "yearbuilt": "1970-01-01", "proptype": "Residential", "mlsnum": "41022064", "active": false, "remarks": "Situated on a tree-lined street in the popular Adams Point neighborhood, this spacious condo is impressively updated from floor to ceiling. Clean LVP flooring flows seamlessly throughout while sleek recessed lighting and south-east facing windows keep rooms bright and welcoming. Enjoy an open-concept floor plan and your own balcony off the spacious living room. The well-appointed kitchen boasts a combination of white shaker cabinetry, open shelving, beautiful quartz countertops, and a suite of Samsung stainless steel appliances. The bedroom features ample space to relax and a full walk-in closet. The modern bathroom offers floating vanity, LED mirror, and soaking tub. In-unit Miele washer and dryer make laundry day a breeze. This unit includes one deeded garage parking space and is located just blocks from shops, restaurants, transit, Farmer's Market and more! Grand and Lakeshore Avenues moments away with Lake Merritt in your backyard. Enjoy all that Oakland has to offer!", "photos": [ { "displayorder": 0, "url": "//cdnparap30.paragonrels.com/ParagonImages/Property/P3/MAXEBRDI/41022064/0/0/0/1d97e82af59df7f27f5a03977e2341b1/128/fa589c306edc7301b71ae7bca8138d62/41022064.JPG", "caption": "" }, "displayorder": 1, "url": "//cdnparap30.paragonrels.com/ParagonImages/Property/P3/MAXEBRDI/41022064/1/0/0/894735810565f65ed07e0ffdfcaa8caa/128/fa589c306edc7301b71ae7bca8138d62/41022064-1.JPG", "caption": "" }, "displayorder": 2, "url": "//cdnparap30.paragonrels.com/ParagonImages/Property/P3/MAXEBRDI/41022064/2/0/0/80ddbe70005ce21da3b589d53c32e3f6/128/fa589c306edc7301b71ae7bca8138d62/41022064-2.JPG", "caption": "" }, "displayorder": 3, "url": "//cdnparap30.paragonrels.com/ParagonImages/Property/P3/MAXEBRDI/41022064/3/0/0/d957f4657274c3a9816db41c5a46b9d2/128/fa589c306edc7301b71ae7bca8138d62/41022064-3.JPG", "caption": "" }, "displayorder": 4, "url": "//cdnparap30.paragonrels.com/ParagonImages/Property/P3/MAXEBRDI/41022064/4/0/0/fb480b361561968954c0e6f7d33a6559/128/fa589c306edc7301b71ae7bca8138d62/41022064-4.JPG", "caption": "" }, "displayorder": 5, "url": "//cdnparap30.paragonrels.com/ParagonImages/Property/P3/MAXEBRDI/41022064/5/0/0/f2466fdeb9e3ece4108be7c905ba703c/128/fa589c306edc7301b71ae7bca8138d62/41022064-5.JPG", "caption": "" }, "displayorder": 6, "url": "//cdnparap30.paragonrels.com/ParagonImages/Property/P3/MAXEBRDI/41022064/6/0/0/fe2a7febe564e45c1b2183a012df7267/128/fa589c306edc7301b71ae7bca8138d62/41022064-6.JPG", "caption": "" }, "displayorder": 7, "url": "//cdnparap30.paragonrels.com/ParagonImages/Property/P3/MAXEBRDI/41022064/7/0/0/9035d98f2f544567d9f1ae016c33dc9f/128/fa589c306edc7301b71ae7bca8138d62/41022064-7.JPG", "caption": "" }, "displayorder": 8, "url": "//cdnparap30.paragonrels.com/ParagonImages/Property/P3/MAXEBRDI/41022064/8/0/0/6375db33f21067b6ef8a4890b83e195b/128/fa589c306edc7301b71ae7bca8138d62/41022064-8.JPG", "caption": "" }, "displayorder": 9, "url": "//cdnparap30.paragonrels.com/ParagonImages/Property/P3/MAXEBRDI/41022064/9/0/0/a34b4c78bc24aa1305235c56950a03c0/128/fa589c306edc7301b71ae7bca8138d62/41022064-9.JPG", "caption": "" }, "displayorder": 10, "url": "//cdnparap30.paragonrels.com/ParagonImages/Property/P3/MAXEBRDI/41022064/10/0/0/0535ea18bd14e3b52ac70e683765e392/128/fa589c306edc7301b71ae7bca8138d62/41022064-10.JPG", "caption": "" }, "displayorder": 11, "url": "//cdnparap30.paragonrels.com/ParagonImages/Property/P3/MAXEBRDI/41022064/11/0/0/1b52683eec91a1272b4ea09a2bac8bd0/128/fa589c306edc7301b71ae7bca8138d62/41022064-11.JPG", "caption": "" }, "displayorder": 12, "url": "//cdnparap30.paragonrels.com/ParagonImages/Property/P3/MAXEBRDI/41022064/12/0/0/285c984e07f02ea949c8ad00601aab14/128/fa589c306edc7301b71ae7bca8138d62/41022064-12.JPG", "caption": "" }, "displayorder": 13, "url": "//cdnparap30.paragonrels.com/ParagonImages/Property/P3/MAXEBRDI/41022064/13/0/0/ce585ee0940040632f9a4a9f5fe69cc5/128/fa589c306edc7301b71ae7bca8138d62/41022064-13.JPG", "caption": "" }, "displayorder": 14, "url": "//cdnparap30.paragonrels.com/ParagonImages/Property/P3/MAXEBRDI/41022064/14/0/0/16a5bc06452a2ef97c5a586f14596f38/128/fa589c306edc7301b71ae7bca8138d62/41022064-14.JPG", "caption": "" }, "displayorder": 15, "url": "//cdnparap30.paragonrels.com/ParagonImages/Property/P3/MAXEBRDI/41022064/15/0/0/8b64aa86135be17365fc17c5c193142a/128/fa589c306edc7301b71ae7bca8138d62/41022064-15.JPG", "caption": "" }, "displayorder": 16, "url": "//cdnparap30.paragonrels.com/ParagonImages/Property/P3/MAXEBRDI/41022064/16/0/0/dd4c838feea7a34cf0989b4db9de912d/128/fa589c306edc7301b71ae7bca8138d62/41022064-16.JPG", "caption": "" }, "displayorder": 17, "url": "//cdnparap30.paragonrels.com/ParagonImages/Property/P3/MAXEBRDI/41022064/17/0/0/18b5dbbd134a4381b5386bc27873ee15/128/fa589c306edc7301b71ae7bca8138d62/41022064-17.JPG", "caption": "" }, "displayorder": 18, "url": "//cdnparap30.paragonrels.com/ParagonImages/Property/P3/MAXEBRDI/41022064/18/0/0/31eca8e955510aa200ab39817fca04fd/128/fa589c306edc7301b71ae7bca8138d62/41022064-18.JPG", "caption": "" }, "displayorder": 19, "url": "//cdnparap30.paragonrels.com/ParagonImages/Property/P3/MAXEBRDI/41022064/19/0/0/b1b50774ff7f79cc22df73cbf3ced01a/128/fa589c306edc7301b71ae7bca8138d62/41022064-19.JPG", "caption": "" }, "displayorder": 20, "url": "//cdnparap30.paragonrels.com/ParagonImages/Property/P3/MAXEBRDI/41022064/20/0/0/72c2ca1c178534cd8a6f4397423fe18a/128/fa589c306edc7301b71ae7bca8138d62/41022064-20.JPG", "caption": "" }, "displayorder": 21, "url": "//cdnparap30.paragonrels.com/ParagonImages/Property/P3/MAXEBRDI/41022064/21/0/0/0064f6040d205315e31a22f4237ad404/128/fa589c306edc7301b71ae7bca8138d62/41022064-21.JPG", "caption": "" }, "displayorder": 22, "url": "//cdnparap30.paragonrels.com/ParagonImages/Property/P3/MAXEBRDI/41022064/22/0/0/6ff06ef32d4694f77824775fbbb173c6/128/fa589c306edc7301b71ae7bca8138d62/41022064-22.JPG", "caption": "" }, "displayorder": 23, "url": "//cdnparap30.paragonrels.com/ParagonImages/Property/P3/MAXEBRDI/41022064/23/0/0/6002bc0e3c403a889c92e0e8d4823240/128/fa589c306edc7301b71ae7bca8138d62/41022064-23.JPG", "caption": "" }, "displayorder": 24, "url": "//cdnparap30.paragonrels.com/ParagonImages/Property/P3/MAXEBRDI/41022064/24/0/0/84b38b1529976ae083860c4fc34a2c26/128/fa589c306edc7301b71ae7bca8138d62/41022064-24.JPG", "caption": "" }, "displayorder": 25, "url": "//cdnparap30.paragonrels.com/ParagonImages/Property/P3/MAXEBRDI/41022064/25/0/0/a4a37f2295888dcc2f74a818baf988bd/128/fa589c306edc7301b71ae7bca8138d62/41022064-25.JPG", "caption": "" }, "displayorder": 26, "url": "//cdnparap30.paragonrels.com/ParagonImages/Property/P3/MAXEBRDI/41022064/26/0/0/5f3a5f0f03a12a178576055bfc89b32a/128/fa589c306edc7301b71ae7bca8138d62/41022064-26.JPG", "caption": "" }, "displayorder": 27, "url": "//cdnparap30.paragonrels.com/ParagonImages/Property/P3/MAXEBRDI/41022064/27/0/0/8b3080122d4ae63a82e37b5203cc1395/128/fa589c306edc7301b71ae7bca8138d62/41022064-27.JPG", "caption": "" }, "displayorder": 28, "url": "//cdnparap30.paragonrels.com/ParagonImages/Property/P3/MAXEBRDI/41022064/28/0/0/323c55be28af0aa97498ed1c876be9fd/128/fa589c306edc7301b71ae7bca8138d62/41022064-28.JPG", "caption": "" }, "displayorder": 29, "url": "//cdnparap30.paragonrels.com/ParagonImages/Property/P3/MAXEBRDI/41022064/29/0/0/3e989b7348d69e08edc9e155b5c5f1eb/128/fa589c306edc7301b71ae7bca8138d62/41022064-29.JPG", "caption": "" }, "displayorder": 30, "url": "//cdnparap30.paragonrels.com/ParagonImages/Property/P3/MAXEBRDI/41022064/30/0/0/e0d04385afb939793716555ebe9b8171/128/fa589c306edc7301b71ae7bca8138d62/41022064-30.JPG", "caption": "" } ], "agent": { "name": "Maria Cavallo-Merrion", "phone": "510-919-8841", "email": "maria.cavallo@compass.com" }, "broker": { "name": "Compass", "phone": "", "email": "" } }; ]]>
407 Orange St #201
OAKLAND, CA 94610

Click here for map
Condo
$475,000
971 Sq Feet
1 Bedroom
1 Bathroom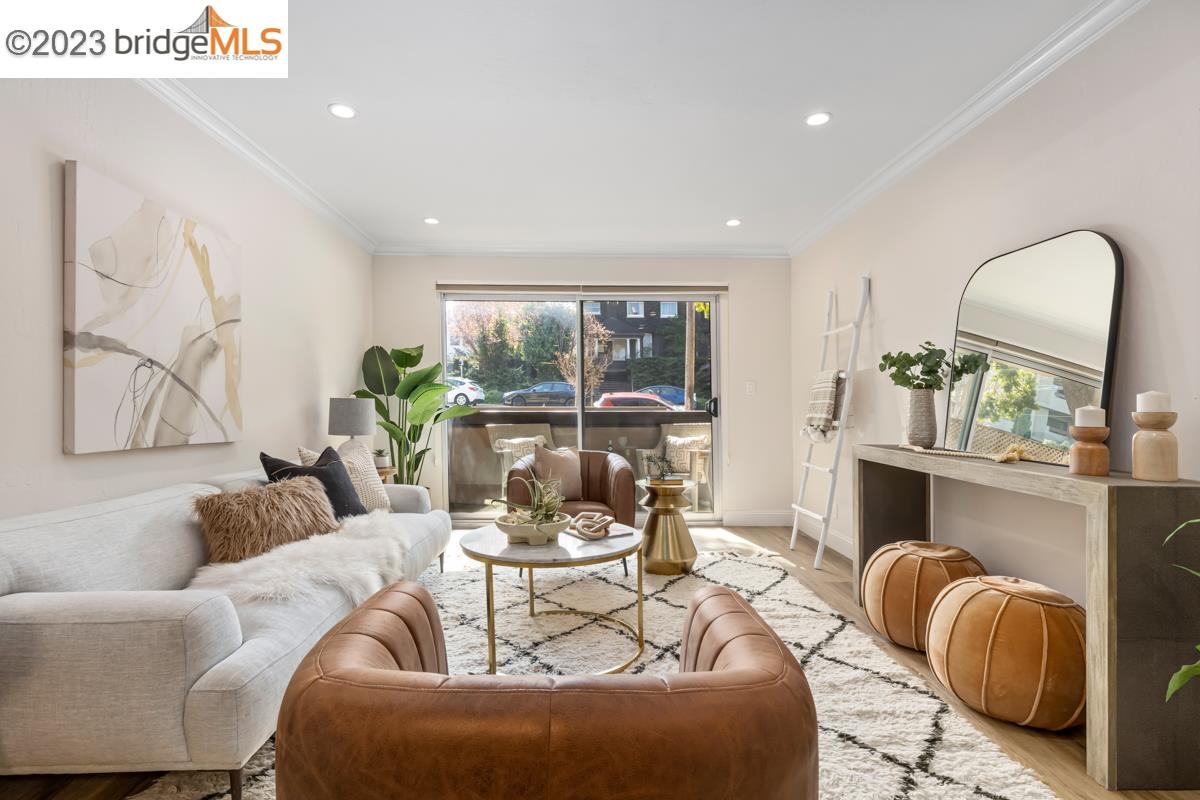 Details:
Lot Sq Feet:
19,457
Fireplaces:
0
HOA?
Yes
Bank Owned?
No
Status:
Sold
Remarks:
Situated on a tree-lined street in the popular Adams Point neighborhood, this spacious condo is impressively updated from floor to ceiling. Clean LVP flooring flows seamlessly throughout while sleek recessed lighting and south-east facing windows keep rooms bright and welcoming. Enjoy an open-concept floor plan and your own balcony off the spacious living room. The well-appointed kitchen boasts a combination of white shaker cabinetry, open shelving, beautiful quartz countertops, and a suite of Samsung stainless steel appliances. The bedroom features ample space to relax and a full walk-in closet. The modern bathroom offers floating vanity, LED mirror, and soaking tub. In-unit Miele washer and dryer make laundry day a breeze. This unit includes one deeded garage parking space and is located just blocks from shops, restaurants, transit, Farmer's Market and more! Grand and Lakeshore Avenues moments away with Lake Merritt in your backyard. Enjoy all that Oakland has to offer!
There are currently no open houses for this property. Please contact
Maria Cavallo-Merrion
to schedule an appointment.