<![CDATA[ var dwellicious_data = { "address": "4935 Stacy St ", "city": "OAKLAND", "state": "CA", "zip": "94605", "zip4": "", "area": "", "subdivision": "", "county": "", "price": "995000", "beds": "4", "baths": "2", "sqft": "1652", "lotsize": "8094", "yearbuilt": "1958-01-01", "proptype": "Residential", "mlsnum": "41022340", "active": false, "remarks": "Where else can you find both coffee and hiking trails just blocks from home? This 1950s Rancher is the perfect spot! Its beautifully renovated kitchen and bathrooms – not to mention the professionally landscaped and hardscaped rear yard and garden – make this the easiest move you'll ever make! The size of the living room will impress your guests while it boasts gleaming hardwood floors and a Mid-Century stone fireplace. The kitchen features new quartz countertops, new cabinet fronts, a new cooktop & oven, new light fixture, sink & faucet, and flows seamlessly through the expansive dining room to the sunny patio beyond. Each end of the house offers a choice of primary bedroom, one with an en suite bathroom and the other with French doors to the lush, terraced backyard! Two more bedrooms and a second full bathroom finish off the interior while the voluminous 2-car garage provides storage for all of your playthings. The solar panels will cut your power bills to the bone. Anthony Chabot Regional Park is nearby, as are Lake Chabot Golf Course, Oakland Zoo, Knowland Park, and Charlie May Coffee House!", "photos": [ { "displayorder": 0, "url": "//cdnparap30.paragonrels.com/ParagonImages/Property/P3/MAXEBRDI/41022340/0/0/0/b1ac239e3cf0ee72238346886077b6b2/128/9e78a6f9feba55af6cfa6bfaf53c832d/41022340.JPG", "caption": "" }, "displayorder": 1, "url": "//cdnparap30.paragonrels.com/ParagonImages/Property/P3/MAXEBRDI/41022340/1/0/0/fcaf30fd769134bb328ae7c8e2e0ed38/128/9e78a6f9feba55af6cfa6bfaf53c832d/41022340-1.JPG", "caption": "" }, "displayorder": 2, "url": "//cdnparap30.paragonrels.com/ParagonImages/Property/P3/MAXEBRDI/41022340/2/0/0/b8e074b37fdf1bd86c508d860e20dbd6/128/9e78a6f9feba55af6cfa6bfaf53c832d/41022340-2.JPG", "caption": "" }, "displayorder": 3, "url": "//cdnparap30.paragonrels.com/ParagonImages/Property/P3/MAXEBRDI/41022340/3/0/0/7b76f7a4b6fd82d6dd1212aa82d6eacb/128/9e78a6f9feba55af6cfa6bfaf53c832d/41022340-3.JPG", "caption": "" }, "displayorder": 4, "url": "//cdnparap30.paragonrels.com/ParagonImages/Property/P3/MAXEBRDI/41022340/4/0/0/03a90320dc28ec22f71ca8eb5bde640a/128/9e78a6f9feba55af6cfa6bfaf53c832d/41022340-4.JPG", "caption": "" }, "displayorder": 5, "url": "//cdnparap30.paragonrels.com/ParagonImages/Property/P3/MAXEBRDI/41022340/5/0/0/c215e523a5fa2608a65ed7ddb37d00f3/128/9e78a6f9feba55af6cfa6bfaf53c832d/41022340-5.JPG", "caption": "" }, "displayorder": 6, "url": "//cdnparap30.paragonrels.com/ParagonImages/Property/P3/MAXEBRDI/41022340/6/0/0/f7b4cd667ca774954c239e35a712584d/128/9e78a6f9feba55af6cfa6bfaf53c832d/41022340-6.JPG", "caption": "" }, "displayorder": 7, "url": "//cdnparap30.paragonrels.com/ParagonImages/Property/P3/MAXEBRDI/41022340/7/0/0/899a47635294e55f8826998ebfa9119f/128/9e78a6f9feba55af6cfa6bfaf53c832d/41022340-7.JPG", "caption": "" }, "displayorder": 8, "url": "//cdnparap30.paragonrels.com/ParagonImages/Property/P3/MAXEBRDI/41022340/8/0/0/27c4d4090622c117a5a55a6e6309609a/128/9e78a6f9feba55af6cfa6bfaf53c832d/41022340-8.JPG", "caption": "" }, "displayorder": 9, "url": "//cdnparap30.paragonrels.com/ParagonImages/Property/P3/MAXEBRDI/41022340/9/0/0/c6e0f39f3e12ed5c69db73b5548a81d7/128/9e78a6f9feba55af6cfa6bfaf53c832d/41022340-9.JPG", "caption": "" }, "displayorder": 10, "url": "//cdnparap30.paragonrels.com/ParagonImages/Property/P3/MAXEBRDI/41022340/10/0/0/48e00dd9ee8b41afbcd22028915e1502/128/9e78a6f9feba55af6cfa6bfaf53c832d/41022340-10.JPG", "caption": "" }, "displayorder": 11, "url": "//cdnparap30.paragonrels.com/ParagonImages/Property/P3/MAXEBRDI/41022340/11/0/0/a0e88f561d5274e59ff803b4882abdb5/128/9e78a6f9feba55af6cfa6bfaf53c832d/41022340-11.JPG", "caption": "" }, "displayorder": 12, "url": "//cdnparap30.paragonrels.com/ParagonImages/Property/P3/MAXEBRDI/41022340/12/0/0/01c9fb431c4f2fbea1bdb6564bf47a2b/128/9e78a6f9feba55af6cfa6bfaf53c832d/41022340-12.JPG", "caption": "" }, "displayorder": 13, "url": "//cdnparap30.paragonrels.com/ParagonImages/Property/P3/MAXEBRDI/41022340/13/0/0/9a1ff11514b5498e265024bc36bfb867/128/9e78a6f9feba55af6cfa6bfaf53c832d/41022340-13.JPG", "caption": "" }, "displayorder": 14, "url": "//cdnparap30.paragonrels.com/ParagonImages/Property/P3/MAXEBRDI/41022340/14/0/0/e22ad216a7843a3e318c28951b52441d/128/9e78a6f9feba55af6cfa6bfaf53c832d/41022340-14.JPG", "caption": "" }, "displayorder": 15, "url": "//cdnparap30.paragonrels.com/ParagonImages/Property/P3/MAXEBRDI/41022340/15/0/0/a693679d206e775274ed491250f5a226/128/9e78a6f9feba55af6cfa6bfaf53c832d/41022340-15.JPG", "caption": "" }, "displayorder": 16, "url": "//cdnparap30.paragonrels.com/ParagonImages/Property/P3/MAXEBRDI/41022340/16/0/0/1c077838e76678dc3b21f4ccab6c66bf/128/9e78a6f9feba55af6cfa6bfaf53c832d/41022340-16.JPG", "caption": "" }, "displayorder": 17, "url": "//cdnparap30.paragonrels.com/ParagonImages/Property/P3/MAXEBRDI/41022340/17/0/0/a07f07750ddd3748116ecae352bbee8b/128/9e78a6f9feba55af6cfa6bfaf53c832d/41022340-17.JPG", "caption": "" }, "displayorder": 18, "url": "//cdnparap30.paragonrels.com/ParagonImages/Property/P3/MAXEBRDI/41022340/18/0/0/5b44c0809c5b99b238db8db7b83a9484/128/9e78a6f9feba55af6cfa6bfaf53c832d/41022340-18.JPG", "caption": "" }, "displayorder": 19, "url": "//cdnparap30.paragonrels.com/ParagonImages/Property/P3/MAXEBRDI/41022340/19/0/0/dca247a32704aa06cd0dcd1cad2d629b/128/9e78a6f9feba55af6cfa6bfaf53c832d/41022340-19.JPG", "caption": "" }, "displayorder": 20, "url": "//cdnparap30.paragonrels.com/ParagonImages/Property/P3/MAXEBRDI/41022340/20/0/0/782aaeb638c852dd2bdfb78010a0ac1f/128/9e78a6f9feba55af6cfa6bfaf53c832d/41022340-20.JPG", "caption": "" }, "displayorder": 21, "url": "//cdnparap30.paragonrels.com/ParagonImages/Property/P3/MAXEBRDI/41022340/21/0/0/a5fbce05eb7ef4c623edbe0ef9145337/128/9e78a6f9feba55af6cfa6bfaf53c832d/41022340-21.JPG", "caption": "" }, "displayorder": 22, "url": "//cdnparap30.paragonrels.com/ParagonImages/Property/P3/MAXEBRDI/41022340/22/0/0/437758939f309999273bf0e986c69755/128/9e78a6f9feba55af6cfa6bfaf53c832d/41022340-22.JPG", "caption": "" }, "displayorder": 23, "url": "//cdnparap30.paragonrels.com/ParagonImages/Property/P3/MAXEBRDI/41022340/23/0/0/3248aaaa7b6ecf106e910806138aa661/128/9e78a6f9feba55af6cfa6bfaf53c832d/41022340-23.JPG", "caption": "" }, "displayorder": 24, "url": "//cdnparap30.paragonrels.com/ParagonImages/Property/P3/MAXEBRDI/41022340/24/0/0/dab3ce1af5ac6fe5dca7e4f474727fe6/128/9e78a6f9feba55af6cfa6bfaf53c832d/41022340-24.JPG", "caption": "" }, "displayorder": 25, "url": "//cdnparap30.paragonrels.com/ParagonImages/Property/P3/MAXEBRDI/41022340/25/0/0/e9a325aa16c4dc5c635f16eb742a2321/128/9e78a6f9feba55af6cfa6bfaf53c832d/41022340-25.JPG", "caption": "" }, "displayorder": 26, "url": "//cdnparap30.paragonrels.com/ParagonImages/Property/P3/MAXEBRDI/41022340/26/0/0/3a93cf848f89717aa5d54b6f9d43530b/128/9e78a6f9feba55af6cfa6bfaf53c832d/41022340-26.JPG", "caption": "" }, "displayorder": 27, "url": "//cdnparap30.paragonrels.com/ParagonImages/Property/P3/MAXEBRDI/41022340/27/0/0/a8a03cd1eca0ff9dbedd9f7d4997b20c/128/9e78a6f9feba55af6cfa6bfaf53c832d/41022340-27.JPG", "caption": "" }, "displayorder": 28, "url": "//cdnparap30.paragonrels.com/ParagonImages/Property/P3/MAXEBRDI/41022340/28/0/0/f0ef8fc57d9587f3c11251ca4758bc68/128/9e78a6f9feba55af6cfa6bfaf53c832d/41022340-28.JPG", "caption": "" }, "displayorder": 29, "url": "//cdnparap30.paragonrels.com/ParagonImages/Property/P3/MAXEBRDI/41022340/29/0/0/f4b1792efba0756b6dd5d5d9880d7acf/128/9e78a6f9feba55af6cfa6bfaf53c832d/41022340-29.JPG", "caption": "" }, "displayorder": 30, "url": "//cdnparap30.paragonrels.com/ParagonImages/Property/P3/MAXEBRDI/41022340/30/0/0/ddaafb34ec37b22c46b93154156da873/128/9e78a6f9feba55af6cfa6bfaf53c832d/41022340-30.JPG", "caption": "" }, "displayorder": 31, "url": "//cdnparap30.paragonrels.com/ParagonImages/Property/P3/MAXEBRDI/41022340/31/0/0/ec321f4d59e7ec3248202fa808dbaa14/128/9e78a6f9feba55af6cfa6bfaf53c832d/41022340-31.JPG", "caption": "" }, "displayorder": 32, "url": "//cdnparap30.paragonrels.com/ParagonImages/Property/P3/MAXEBRDI/41022340/32/0/0/5f33c9f60c6865b60b0c45e9af06323e/128/9e78a6f9feba55af6cfa6bfaf53c832d/41022340-32.JPG", "caption": "" }, "displayorder": 33, "url": "//cdnparap30.paragonrels.com/ParagonImages/Property/P3/MAXEBRDI/41022340/33/0/0/0c1d19abd310f561eb78f49b822580f4/128/9e78a6f9feba55af6cfa6bfaf53c832d/41022340-33.JPG", "caption": "" }, "displayorder": 34, "url": "//cdnparap30.paragonrels.com/ParagonImages/Property/P3/MAXEBRDI/41022340/34/0/0/dcb5df0b663f368d63bb505d830b746c/128/9e78a6f9feba55af6cfa6bfaf53c832d/41022340-34.JPG", "caption": "" }, "displayorder": 35, "url": "//cdnparap30.paragonrels.com/ParagonImages/Property/P3/MAXEBRDI/41022340/35/0/0/0c7d92583eecc1d20a219524401b89da/128/9e78a6f9feba55af6cfa6bfaf53c832d/41022340-35.JPG", "caption": "" }, "displayorder": 36, "url": "//cdnparap30.paragonrels.com/ParagonImages/Property/P3/MAXEBRDI/41022340/36/0/0/64cb07f15b1e3def45ab6300bb0ad4d4/128/9e78a6f9feba55af6cfa6bfaf53c832d/41022340-36.JPG", "caption": "" }, "displayorder": 37, "url": "//cdnparap30.paragonrels.com/ParagonImages/Property/P3/MAXEBRDI/41022340/37/0/0/7d3c4184763c7131bc2c178e2e029cbf/128/9e78a6f9feba55af6cfa6bfaf53c832d/41022340-37.JPG", "caption": "" }, "displayorder": 38, "url": "//cdnparap30.paragonrels.com/ParagonImages/Property/P3/MAXEBRDI/41022340/38/0/0/589d74b7dd360e365099a3d3686f51d8/128/9e78a6f9feba55af6cfa6bfaf53c832d/41022340-38.JPG", "caption": "" }, "displayorder": 39, "url": "//cdnparap30.paragonrels.com/ParagonImages/Property/P3/MAXEBRDI/41022340/39/0/0/05ba6b6510e22bfa6ae5d57582769745/128/9e78a6f9feba55af6cfa6bfaf53c832d/41022340-39.JPG", "caption": "" }, "displayorder": 40, "url": "//cdnparap30.paragonrels.com/ParagonImages/Property/P3/MAXEBRDI/41022340/40/0/0/893186b6f806778ca6303fee688f31ac/128/9e78a6f9feba55af6cfa6bfaf53c832d/41022340-40.JPG", "caption": "" }, "displayorder": 41, "url": "//cdnparap30.paragonrels.com/ParagonImages/Property/P3/MAXEBRDI/41022340/41/0/0/206eb56da5122738eebf508c0ab16996/128/9e78a6f9feba55af6cfa6bfaf53c832d/41022340-41.JPG", "caption": "" }, "displayorder": 42, "url": "//cdnparap30.paragonrels.com/ParagonImages/Property/P3/MAXEBRDI/41022340/42/0/0/df0f01a7bdfb9dfcb17e7f88ea7b4fd9/128/9e78a6f9feba55af6cfa6bfaf53c832d/41022340-42.JPG", "caption": "" }, "displayorder": 43, "url": "//cdnparap30.paragonrels.com/ParagonImages/Property/P3/MAXEBRDI/41022340/43/0/0/4968cf80860f2435d44d4de3b386774e/128/9e78a6f9feba55af6cfa6bfaf53c832d/41022340-43.JPG", "caption": "" }, "displayorder": 44, "url": "//cdnparap30.paragonrels.com/ParagonImages/Property/P3/MAXEBRDI/41022340/44/0/0/d2845de4f0cd92ce063f93597e9a86e4/128/9e78a6f9feba55af6cfa6bfaf53c832d/41022340-44.JPG", "caption": "" }, "displayorder": 45, "url": "//cdnparap30.paragonrels.com/ParagonImages/Property/P3/MAXEBRDI/41022340/45/0/0/b9916432efa43fed608e03b7ab8dc32e/128/9e78a6f9feba55af6cfa6bfaf53c832d/41022340-45.JPG", "caption": "" }, "displayorder": 46, "url": "//cdnparap30.paragonrels.com/ParagonImages/Property/P3/MAXEBRDI/41022340/46/0/0/c8cb31241d306c142f59c7d6e7b93c25/128/9e78a6f9feba55af6cfa6bfaf53c832d/41022340-46.JPG", "caption": "" }, "displayorder": 47, "url": "//cdnparap30.paragonrels.com/ParagonImages/Property/P3/MAXEBRDI/41022340/47/0/0/51dc7204b2ca935f26388f9844d0200c/128/9e78a6f9feba55af6cfa6bfaf53c832d/41022340-47.JPG", "caption": "" }, "displayorder": 48, "url": "//cdnparap30.paragonrels.com/ParagonImages/Property/P3/MAXEBRDI/41022340/48/0/0/27ceeb47e3db023be5fbc5bb13c3759c/128/9e78a6f9feba55af6cfa6bfaf53c832d/41022340-48.JPG", "caption": "" }, "displayorder": 49, "url": "//cdnparap30.paragonrels.com/ParagonImages/Property/P3/MAXEBRDI/41022340/49/0/0/c4c3da2e6ccc6a78b720e84217c02cce/128/9e78a6f9feba55af6cfa6bfaf53c832d/41022340-49.JPG", "caption": "" }, "displayorder": 50, "url": "//cdnparap30.paragonrels.com/ParagonImages/Property/P3/MAXEBRDI/41022340/50/0/0/5b524ca9629b41cbe3c8857b28f25251/128/9e78a6f9feba55af6cfa6bfaf53c832d/41022340-50.JPG", "caption": "" }, "displayorder": 51, "url": "//cdnparap30.paragonrels.com/ParagonImages/Property/P3/MAXEBRDI/41022340/51/0/0/5cf0d279fa009cd9f03b5d4de42d41ff/128/9e78a6f9feba55af6cfa6bfaf53c832d/41022340-51.JPG", "caption": "" }, "displayorder": 52, "url": "//cdnparap30.paragonrels.com/ParagonImages/Property/P3/MAXEBRDI/41022340/52/0/0/9575f6af99e06c5769e686a6cfc1ab2d/128/9e78a6f9feba55af6cfa6bfaf53c832d/41022340-52.JPG", "caption": "" }, "displayorder": 53, "url": "//cdnparap30.paragonrels.com/ParagonImages/Property/P3/MAXEBRDI/41022340/53/0/0/a5d1ded1d3587585a22d27068a97537f/128/9e78a6f9feba55af6cfa6bfaf53c832d/41022340-53.JPG", "caption": "" }, "displayorder": 54, "url": "//cdnparap30.paragonrels.com/ParagonImages/Property/P3/MAXEBRDI/41022340/54/0/0/48b1ba0a31f22f340dee01676fc4e4fa/128/9e78a6f9feba55af6cfa6bfaf53c832d/41022340-54.JPG", "caption": "" }, "displayorder": 55, "url": "//cdnparap30.paragonrels.com/ParagonImages/Property/P3/MAXEBRDI/41022340/55/0/0/63424410d65a5218b25fdf12d3bdd42f/128/9e78a6f9feba55af6cfa6bfaf53c832d/41022340-55.JPG", "caption": "" }, "displayorder": 56, "url": "//cdnparap30.paragonrels.com/ParagonImages/Property/P3/MAXEBRDI/41022340/56/0/0/d225814bf48401fb850169ade409b6a1/128/9e78a6f9feba55af6cfa6bfaf53c832d/41022340-56.JPG", "caption": "" }, "displayorder": 57, "url": "//cdnparap30.paragonrels.com/ParagonImages/Property/P3/MAXEBRDI/41022340/57/0/0/7192ad29afdca52b25becbb66ba6ba11/128/9e78a6f9feba55af6cfa6bfaf53c832d/41022340-57.JPG", "caption": "" } ], "agent": { "name": "Lorri Arazi", "phone": "510-333-2811", "email": "lorri.arazi@compass.com" }, "broker": { "name": "Compass", "phone": "", "email": "" } }; ]]>
4935 Stacy St
OAKLAND, CA 94605

Click here for map
Residential Home
$995,000
1,652 Sq Feet
4 Bedrooms
2 Bathrooms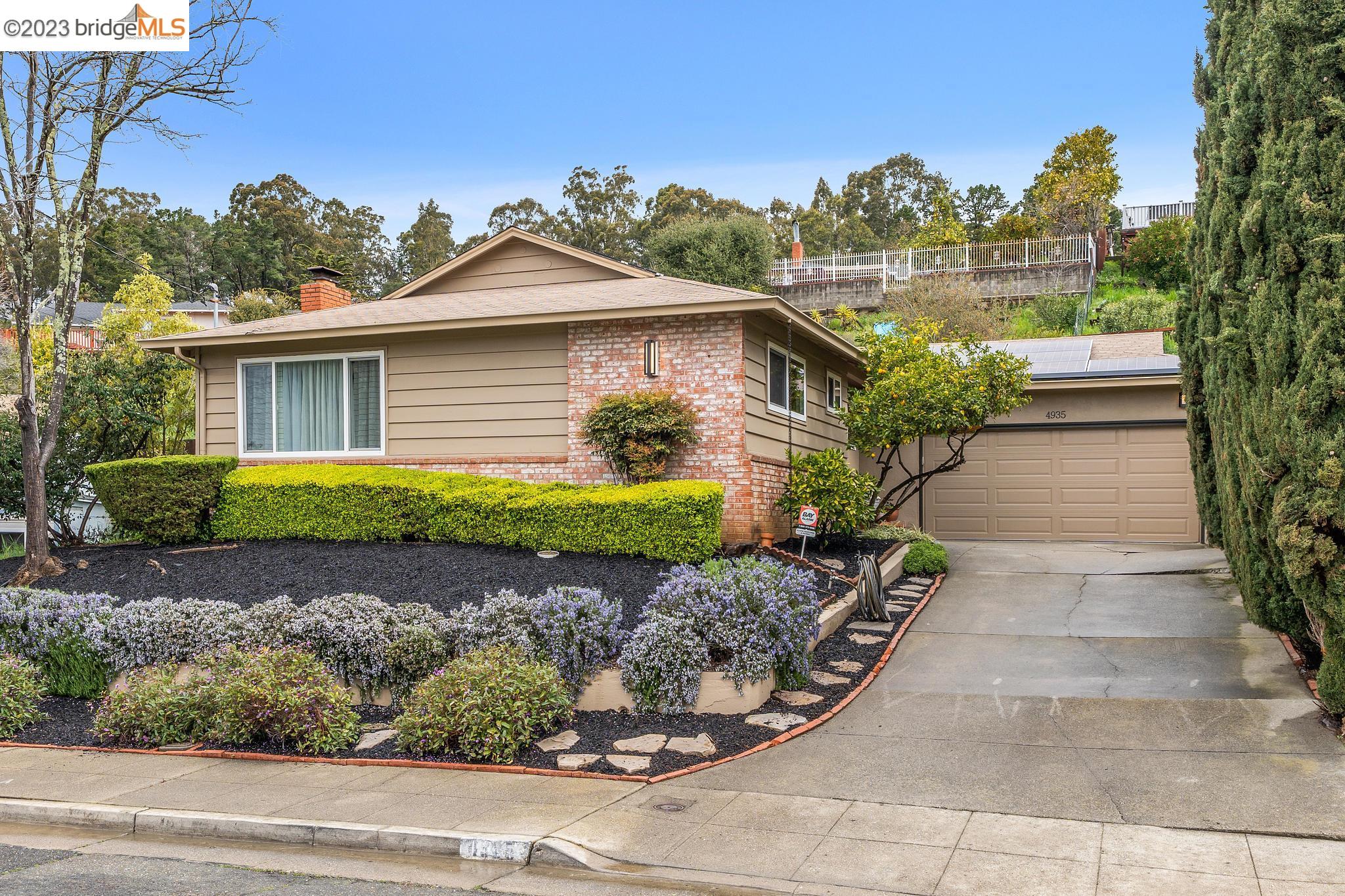 Details:
Lot Sq Feet:
8,094
Fireplaces:
1
HOA?
No
Bank Owned?
No
Status:
Sold
Remarks:
Where else can you find both coffee and hiking trails just blocks from home? This 1950s Rancher is the perfect spot! Its beautifully renovated kitchen and bathrooms – not to mention the professionally landscaped and hardscaped rear yard and garden – make this the easiest move you'll ever make! The size of the living room will impress your guests while it boasts gleaming hardwood floors and a Mid-Century stone fireplace. The kitchen features new quartz countertops, new cabinet fronts, a new cooktop & oven, new light fixture, sink & faucet, and flows seamlessly through the expansive dining room to the sunny patio beyond. Each end of the house offers a choice of primary bedroom, one with an en suite bathroom and the other with French doors to the lush, terraced backyard! Two more bedrooms and a second full bathroom finish off the interior while the voluminous 2-car garage provides storage for all of your playthings. The solar panels will cut your power bills to the bone. Anthony Chabot Regional Park is nearby, as are Lake Chabot Golf Course, Oakland Zoo, Knowland Park, and Charlie May Coffee House!
There are currently no open houses for this property. Please contact
Lorri Arazi
to schedule an appointment.