<![CDATA[ var dwellicious_data = { "address": "5000 French Creek Road ", "city": "SHINGLE SPRINGS", "state": "CA", "zip": "95682 9709", "zip4": "", "area": "", "subdivision": "", "county": "", "price": "1175000", "beds": "4", "baths": "2", "sqft": "2248", "lotsize": "505296", "yearbuilt": "1969-01-01", "proptype": "Residential", "mlsnum": "ME222024520", "active": true, "remarks": "NEW PRICE** Stunning 5 bed, 2.5 bath Modern Pool Estate nestled on 11.6 acres that can be rezoned & subdivided into sep lots! SPECTACULAR VIEWS & sunsets, this amazing new home has been completely remodeled and freshly painted, featuring new LVP Floors, a brand new modern Fireplace with wall hearth, a completely new kitchen, all new baths, new lighting, and more! Chef's kitchen boasts new Quartz counters, new elec. cooktop, wine fridge & a dining area with French doors to the patio capturing $1M views! Entertain family & friends this summer with an amazing outdoor kitchen complete with 2 built-in grills, a Trex deck and tons of space. Cool off in the newly lined sparkling pool, capture views of the cross fenced pasture & barn where serenity awaits. Spacious RV pad complete with water and electricity. This one-of-a-kind oasis exudes a peaceful & calm setting, yet just minutes to Hwy 50 and modern amenities. Welcome home to the all-NEW 5000 French Creek Rd estate!", "photos": [ { "displayorder": 0, "url": "https://mediarem.metrolist.net/metrolist/listingpics/bigphoto/2022/03/15/a14be12e-82ed-46d2-afc3-4623f42b32d5.jpg", "caption": "" }, "displayorder": 1, "url": "https://mediarem.metrolist.net/metrolist/listingpics/bigphoto/2022/03/15/e484aa6f-e8b1-4757-918b-3acf8eb6f6fb.jpg", "caption": "" }, "displayorder": 2, "url": "https://mediarem.metrolist.net/metrolist/listingpics/bigphoto/2022/03/15/fa7e4400-9c99-441a-906e-48a26a8b9c60.jpg", "caption": "" }, "displayorder": 3, "url": "https://mediarem.metrolist.net/metrolist/listingpics/bigphoto/2022/03/15/8224e52f-a782-487e-89da-054c826cf79f.jpg", "caption": "" }, "displayorder": 4, "url": "https://mediarem.metrolist.net/metrolist/listingpics/bigphoto/2022/03/15/5cfefb07-00cc-4b61-a956-79735bb901da.jpg", "caption": "" }, "displayorder": 5, "url": "https://mediarem.metrolist.net/metrolist/listingpics/bigphoto/2022/03/15/d6a02c7b-ff5a-4518-ab84-864abf516f86.jpg", "caption": "" }, "displayorder": 6, "url": "https://mediarem.metrolist.net/metrolist/listingpics/bigphoto/2022/03/15/9fc622e3-ff86-4328-b126-65ccc4d92a65.jpg", "caption": "" }, "displayorder": 7, "url": "https://mediarem.metrolist.net/metrolist/listingpics/bigphoto/2022/03/15/a7ef4e73-d934-4389-b683-62e586b7c18c.jpg", "caption": "" }, "displayorder": 8, "url": "https://mediarem.metrolist.net/metrolist/listingpics/bigphoto/2022/03/15/a617e5ec-1cc8-46d4-a7e6-c3c3eb018012.jpg", "caption": "" }, "displayorder": 9, "url": "https://mediarem.metrolist.net/metrolist/listingpics/bigphoto/2022/03/15/000d67c8-f063-487f-9a0c-efefdec1b887.jpg", "caption": "" }, "displayorder": 10, "url": "https://mediarem.metrolist.net/metrolist/listingpics/bigphoto/2022/03/15/86e7ab6d-d056-49ef-874e-b79b626d9d42.jpg", "caption": "" }, "displayorder": 11, "url": "https://mediarem.metrolist.net/metrolist/listingpics/bigphoto/2022/03/15/c97fa2c3-f133-4c23-af47-5b02c3017aa9.jpg", "caption": "" }, "displayorder": 12, "url": "https://mediarem.metrolist.net/metrolist/listingpics/bigphoto/2022/03/15/418ba8c8-fb34-4bf7-8811-7f6c6d7b3415.jpg", "caption": "" }, "displayorder": 13, "url": "https://mediarem.metrolist.net/metrolist/listingpics/bigphoto/2022/03/15/8c8e90a1-e186-407f-9732-d468401cd7d1.jpg", "caption": "" }, "displayorder": 14, "url": "https://mediarem.metrolist.net/metrolist/listingpics/bigphoto/2022/03/15/d257edab-9b15-48f9-87ec-06db1338d743.jpg", "caption": "" }, "displayorder": 15, "url": "https://mediarem.metrolist.net/metrolist/listingpics/bigphoto/2022/03/15/b91d70eb-f41c-4599-a013-76f122c600a8.jpg", "caption": "" }, "displayorder": 16, "url": "https://mediarem.metrolist.net/metrolist/listingpics/bigphoto/2022/03/15/5a9e12b1-966e-4566-969d-384c780b5e4c.jpg", "caption": "" }, "displayorder": 17, "url": "https://mediarem.metrolist.net/metrolist/listingpics/bigphoto/2022/03/15/60669097-522e-4833-8131-99c88ec40c87.jpg", "caption": "" }, "displayorder": 18, "url": "https://mediarem.metrolist.net/metrolist/listingpics/bigphoto/2022/03/15/5fdcf52e-417d-4e15-a5b1-0f5a0a86b58e.jpg", "caption": "" }, "displayorder": 19, "url": "https://mediarem.metrolist.net/metrolist/listingpics/bigphoto/2022/03/15/2ef2a780-061c-4f22-973d-23ba9cf6cd48.jpg", "caption": "" }, "displayorder": 20, "url": "https://mediarem.metrolist.net/metrolist/listingpics/bigphoto/2022/03/15/e1bbb41d-3956-4a48-b2b5-39702d453a3f.jpg", "caption": "" }, "displayorder": 21, "url": "https://mediarem.metrolist.net/metrolist/listingpics/bigphoto/2022/03/15/49a92f11-9807-440c-841f-1958739880eb.jpg", "caption": "" }, "displayorder": 22, "url": "https://mediarem.metrolist.net/metrolist/listingpics/bigphoto/2022/03/15/8e490f77-d018-4c1d-9e6d-6b262ed3395c.jpg", "caption": "" }, "displayorder": 23, "url": "https://mediarem.metrolist.net/metrolist/listingpics/bigphoto/2022/03/15/5311ab65-ad63-4e2a-883d-9eb5ad1a7754.jpg", "caption": "" }, "displayorder": 24, "url": "https://mediarem.metrolist.net/metrolist/listingpics/bigphoto/2022/03/15/39f1c08c-1d6c-446d-a7f2-920d7d0e9b1b.jpg", "caption": "" }, "displayorder": 25, "url": "https://mediarem.metrolist.net/metrolist/listingpics/bigphoto/2022/03/15/a22b97bb-8735-4dbf-b00e-3f44279eb540.jpg", "caption": "" }, "displayorder": 26, "url": "https://mediarem.metrolist.net/metrolist/listingpics/bigphoto/2022/03/15/28ebab77-d252-46dc-8662-54d35b5d99bf.jpg", "caption": "" }, "displayorder": 27, "url": "https://mediarem.metrolist.net/metrolist/listingpics/bigphoto/2022/03/15/1e49cf80-9187-4cd7-9cbc-7ab15c645c7f.jpg", "caption": "" }, "displayorder": 28, "url": "https://mediarem.metrolist.net/metrolist/listingpics/bigphoto/2022/03/15/dc6dc70e-736c-4064-868e-8149320e1670.jpg", "caption": "" }, "displayorder": 29, "url": "https://mediarem.metrolist.net/metrolist/listingpics/bigphoto/2022/03/15/d2b9d0f8-0538-462a-af5f-f451c9f3f135.jpg", "caption": "" }, "displayorder": 30, "url": "https://mediarem.metrolist.net/metrolist/listingpics/bigphoto/2022/03/15/b6521502-3b59-406e-b099-e9222e210ca1.jpg", "caption": "" }, "displayorder": 31, "url": "https://mediarem.metrolist.net/metrolist/listingpics/bigphoto/2022/03/15/3e6312d0-c11b-4918-b0aa-c18345ad260d.jpg", "caption": "" }, "displayorder": 32, "url": "https://mediarem.metrolist.net/metrolist/listingpics/bigphoto/2022/03/15/81e0caf2-bfd0-4b3c-85ee-b67c854dd89d.jpg", "caption": "" }, "displayorder": 33, "url": "https://mediarem.metrolist.net/metrolist/listingpics/bigphoto/2022/03/15/e6967c8d-bdda-4822-a388-8b230bb0244c.jpg", "caption": "" }, "displayorder": 34, "url": "https://mediarem.metrolist.net/metrolist/listingpics/bigphoto/2022/03/15/76350b3a-04de-4595-bc3a-9c2ac1316012.jpg", "caption": "" }, "displayorder": 35, "url": "https://mediarem.metrolist.net/metrolist/listingpics/bigphoto/2022/03/15/40057a3a-0e6a-4315-84fb-9403aed3a64f.jpg", "caption": "" }, "displayorder": 36, "url": "https://mediarem.metrolist.net/metrolist/listingpics/bigphoto/2022/03/15/95c6e67d-b732-431c-9ea2-0c2884ec30b3.jpg", "caption": "" }, "displayorder": 37, "url": "https://mediarem.metrolist.net/metrolist/listingpics/bigphoto/2022/03/15/1d1039ba-1ad0-4946-aa6d-018baa6aa191.jpg", "caption": "" }, "displayorder": 38, "url": "https://mediarem.metrolist.net/metrolist/listingpics/bigphoto/2022/03/15/047f89aa-6ac8-44bf-a604-88a5ddf1cc48.jpg", "caption": "" }, "displayorder": 39, "url": "https://mediarem.metrolist.net/metrolist/listingpics/bigphoto/2022/03/15/43b43bdb-97ad-492e-a704-e8568bf7dac8.jpg", "caption": "" }, "displayorder": 40, "url": "https://mediarem.metrolist.net/metrolist/listingpics/bigphoto/2022/03/15/f7ac47c1-d271-4b87-8482-df2cc8012c94.jpg", "caption": "" }, "displayorder": 41, "url": "https://mediarem.metrolist.net/metrolist/listingpics/bigphoto/2022/03/15/163e592d-4caa-4ef6-9d61-b0ed2a472ef1.jpg", "caption": "" }, "displayorder": 42, "url": "https://mediarem.metrolist.net/metrolist/listingpics/bigphoto/2022/03/15/b3ced14a-9c5f-4b85-bc49-c9e5f101104f.jpg", "caption": "" }, "displayorder": 43, "url": "https://mediarem.metrolist.net/metrolist/listingpics/bigphoto/2022/03/15/cc08e662-25fe-4b11-b4f1-ab3f15c368de.jpg", "caption": "" }, "displayorder": 44, "url": "https://mediarem.metrolist.net/metrolist/listingpics/bigphoto/2022/03/15/702334f4-cfe9-4cf4-b34b-1579b9fc547d.jpg", "caption": "" }, "displayorder": 45, "url": "https://mediarem.metrolist.net/metrolist/listingpics/bigphoto/2022/03/15/50b99346-6395-4825-ab51-f6447a9293a8.jpg", "caption": "" }, "displayorder": 46, "url": "https://mediarem.metrolist.net/metrolist/listingpics/bigphoto/2022/03/15/746c9744-149d-4ffc-9c70-c7fdab5b15fd.jpg", "caption": "" }, "displayorder": 47, "url": "https://mediarem.metrolist.net/metrolist/listingpics/bigphoto/2022/03/15/e102879f-f64d-4d2b-95f8-103c7a8ad7a2.jpg", "caption": "" }, "displayorder": 48, "url": "https://mediarem.metrolist.net/metrolist/listingpics/bigphoto/2022/03/15/6fea9775-bd35-44cf-a623-2fe24e1da8a2.jpg", "caption": "" }, "displayorder": 49, "url": "https://mediarem.metrolist.net/metrolist/listingpics/bigphoto/2022/03/15/8a4a6290-e176-483d-9a1a-b03482a6bc57.jpg", "caption": "" }, "displayorder": 50, "url": "https://mediarem.metrolist.net/metrolist/listingpics/bigphoto/2022/03/15/9d2fdd26-57aa-426f-868f-ccdae4db50e1.jpg", "caption": "" }, "displayorder": 51, "url": "https://mediarem.metrolist.net/metrolist/listingpics/bigphoto/2022/03/15/b111322c-8725-4be2-a746-03746836579a.jpg", "caption": "" }, "displayorder": 52, "url": "https://mediarem.metrolist.net/metrolist/listingpics/bigphoto/2022/03/15/591b9081-bbae-4525-9ffb-e85eeb8e3ab4.jpg", "caption": "" }, "displayorder": 53, "url": "https://mediarem.metrolist.net/metrolist/listingpics/bigphoto/2022/03/15/63cbd044-6cf8-4d6d-adfb-e30e3d7417fd.jpg", "caption": "" }, "displayorder": 54, "url": "https://mediarem.metrolist.net/metrolist/listingpics/bigphoto/2022/03/15/3df58963-07c1-40ac-8465-b75cbad073cf.jpg", "caption": "" }, "displayorder": 55, "url": "https://mediarem.metrolist.net/metrolist/listingpics/bigphoto/2022/03/15/f92b61e5-eba2-46c4-9bf9-9497d3c4e718.jpg", "caption": "" }, "displayorder": 56, "url": "https://mediarem.metrolist.net/metrolist/listingpics/bigphoto/2022/03/15/0224459b-8be3-4d81-b650-aed0212bbb0f.jpg", "caption": "" }, "displayorder": 57, "url": "https://mediarem.metrolist.net/metrolist/listingpics/bigphoto/2022/03/15/b5827e77-fccf-4913-886e-4b06ca23a90e.jpg", "caption": "" }, "displayorder": 58, "url": "https://mediarem.metrolist.net/metrolist/listingpics/bigphoto/2022/03/15/9fc77f7b-ec81-4055-ae53-38cc8b3fa4fe.jpg", "caption": "" }, "displayorder": 59, "url": "https://mediarem.metrolist.net/metrolist/listingpics/bigphoto/2022/03/15/01cc458c-c2a6-42ca-9668-efae2a16af6f.jpg", "caption": "" } ], "agent": { "name": "Ellie Ruiz Hitchcock", "phone": "916-817-7790", "email": "ellie.hitchcock@redfin.com" }, "broker": { "name": "Redfin Corporation", "phone": "", "email": "" } }; ]]>
5000 French Creek Road
SHINGLE SPRINGS, CA 95682 9709

Click here for map
Residential Home
$1,175,000
2,248 Sq Feet
4 Bedrooms
2 Bathrooms
1 Partial Bath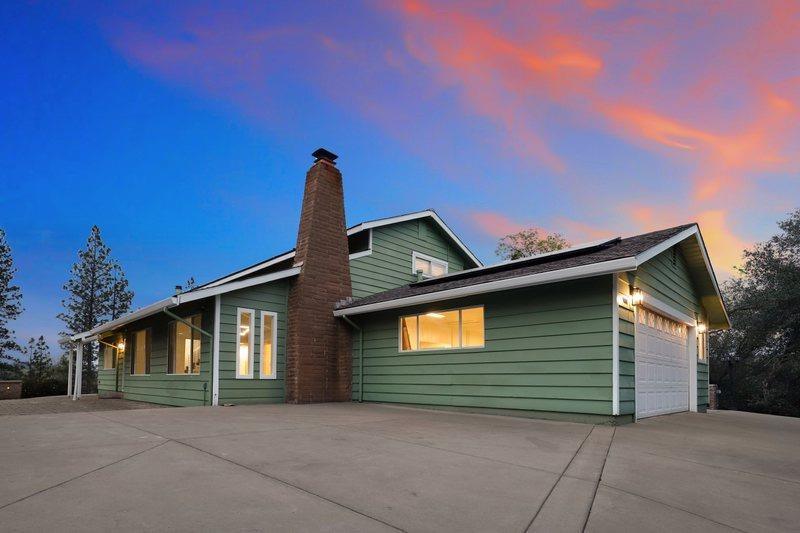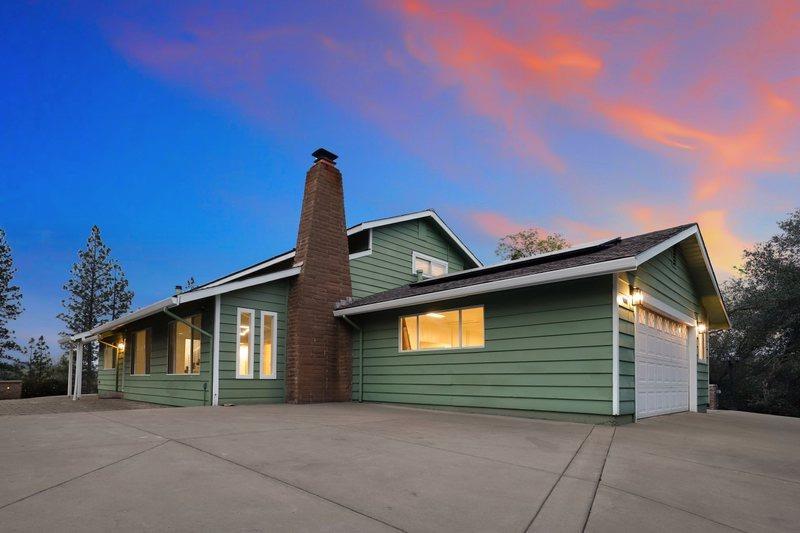 Details:
Lot Sq Feet:
505,296
Fireplaces:
1
HOA?
No
Bank Owned?
No
Status:
Active
Remarks:
NEW PRICE** Stunning 5 bed, 2.5 bath Modern Pool Estate nestled on 11.6 acres that can be rezoned & subdivided into sep lots! SPECTACULAR VIEWS & sunsets, this amazing new home has been completely remodeled and freshly painted, featuring new LVP Floors, a brand new modern Fireplace with wall hearth, a completely new kitchen, all new baths, new lighting, and more! Chef's kitchen boasts new Quartz counters, new elec. cooktop, wine fridge & a dining area with French doors to the patio capturing $1M views! Entertain family & friends this summer with an amazing outdoor kitchen complete with 2 built-in grills, a Trex deck and tons of space. Cool off in the newly lined sparkling pool, capture views of the cross fenced pasture & barn where serenity awaits. Spacious RV pad complete with water and electricity. This one-of-a-kind oasis exudes a peaceful & calm setting, yet just minutes to Hwy 50 and modern amenities. Welcome home to the all-NEW 5000 French Creek Rd estate!
There are currently no open houses for this property. Please contact
Ellie Ruiz Hitchcock
to schedule an appointment.