<![CDATA[ var dwellicious_data = { "address": "865 56Th St ", "city": "OAKLAND", "state": "CA", "zip": "94608", "zip4": "", "area": "", "subdivision": "", "county": "", "price": "1249000", "beds": "4", "baths": "3", "sqft": "2226", "lotsize": "5200", "yearbuilt": "1930-01-01", "proptype": "Residential", "mlsnum": "40993101", "active": true, "remarks": "Old world charm meets modern living in this thoughtfully renovated NOBE home. The 3-bed 2-bath front home features an open concept bright kitchen with new quartz countertops, shaker cabinets and stainless steel appliances, while the large living room maintains period details such as built-in cabinets, a faux fireplace, and expansive bay windows full of natural light. The dynamic office/bedroom with a dedicated full bathroom and entrance can be rented or used for working from home. In the back is a separate 1-bedr, 1-bath ADU with a redesigned kitchen and large primary bedroom upstairs. Extra storage in the garage and basement. This renovated home lies in an up-and-coming neighborhood as evidenced by many newly remodeled homes and families moving in. The property has many uses and is perfect for families, multigenerational living, those wanting income and those who dream big. Centrally located in NOBE, it's just minutes to BART, Berkeley and Emeryville. 3D TOUR @ tinyurl.com/865-56th-St", "photos": [ { "displayorder": 0, "url": "//cdnparap30.paragonrels.com/ParagonImages/Property/P3/MAXEBRDI/40993101/0/0/0/229a7b75a0803d855737c7d9432720ae/121/5cead82206bd71729d2478ae7853405a/40993101.JPG", "caption": "" }, "displayorder": 1, "url": "//cdnparap30.paragonrels.com/ParagonImages/Property/P3/MAXEBRDI/40993101/1/0/0/318f9af156842b3ed51330f5cc75d778/121/5cead82206bd71729d2478ae7853405a/40993101-1.JPG", "caption": "" }, "displayorder": 2, "url": "//cdnparap30.paragonrels.com/ParagonImages/Property/P3/MAXEBRDI/40993101/2/0/0/c19112082429aa8f768dbc66097a2d9f/121/5cead82206bd71729d2478ae7853405a/40993101-2.JPG", "caption": "" }, "displayorder": 3, "url": "//cdnparap30.paragonrels.com/ParagonImages/Property/P3/MAXEBRDI/40993101/3/0/0/891198555e339a5c7ef81c8728792264/121/5cead82206bd71729d2478ae7853405a/40993101-3.JPG", "caption": "" }, "displayorder": 4, "url": "//cdnparap30.paragonrels.com/ParagonImages/Property/P3/MAXEBRDI/40993101/4/0/0/19effd223e203d341fcb0309084307d5/121/5cead82206bd71729d2478ae7853405a/40993101-4.JPG", "caption": "" }, "displayorder": 5, "url": "//cdnparap30.paragonrels.com/ParagonImages/Property/P3/MAXEBRDI/40993101/5/0/0/15623a3e94160afed7242496af38e8d8/121/5cead82206bd71729d2478ae7853405a/40993101-5.JPG", "caption": "" }, "displayorder": 6, "url": "//cdnparap30.paragonrels.com/ParagonImages/Property/P3/MAXEBRDI/40993101/6/0/0/6026ec44fba3b3bcfc268d2b8f2ec010/121/5cead82206bd71729d2478ae7853405a/40993101-6.JPG", "caption": "" }, "displayorder": 7, "url": "//cdnparap30.paragonrels.com/ParagonImages/Property/P3/MAXEBRDI/40993101/7/0/0/e6e1c879e2af01fe645009b8f3ef609c/121/5cead82206bd71729d2478ae7853405a/40993101-7.JPG", "caption": "" }, "displayorder": 8, "url": "//cdnparap30.paragonrels.com/ParagonImages/Property/P3/MAXEBRDI/40993101/8/0/0/12b43b409048fe4353b67b4838b4f747/121/5cead82206bd71729d2478ae7853405a/40993101-8.JPG", "caption": "" }, "displayorder": 9, "url": "//cdnparap30.paragonrels.com/ParagonImages/Property/P3/MAXEBRDI/40993101/9/0/0/bbfe567daf4c3126aa91d850ffc30573/121/5cead82206bd71729d2478ae7853405a/40993101-9.JPG", "caption": "" }, "displayorder": 10, "url": "//cdnparap30.paragonrels.com/ParagonImages/Property/P3/MAXEBRDI/40993101/10/0/0/92b8e540bdb724b1c2f64768709ecb38/121/5cead82206bd71729d2478ae7853405a/40993101-10.JPG", "caption": "" }, "displayorder": 11, "url": "//cdnparap30.paragonrels.com/ParagonImages/Property/P3/MAXEBRDI/40993101/11/0/0/d05a21de18a97034b7301ce395a4ae0c/121/5cead82206bd71729d2478ae7853405a/40993101-11.JPG", "caption": "" }, "displayorder": 12, "url": "//cdnparap30.paragonrels.com/ParagonImages/Property/P3/MAXEBRDI/40993101/12/0/0/cfbbf7999821942b993128f3e3d52f05/121/5cead82206bd71729d2478ae7853405a/40993101-12.JPG", "caption": "" }, "displayorder": 13, "url": "//cdnparap30.paragonrels.com/ParagonImages/Property/P3/MAXEBRDI/40993101/13/0/0/76a55ddbfac8606caf62c03450b77479/121/5cead82206bd71729d2478ae7853405a/40993101-13.JPG", "caption": "" }, "displayorder": 14, "url": "//cdnparap30.paragonrels.com/ParagonImages/Property/P3/MAXEBRDI/40993101/14/0/0/c37b80b0d94aa2794b0387f1ea2033bc/121/5cead82206bd71729d2478ae7853405a/40993101-14.JPG", "caption": "" }, "displayorder": 15, "url": "//cdnparap30.paragonrels.com/ParagonImages/Property/P3/MAXEBRDI/40993101/15/0/0/ba7fb17c34fdfe10ff2faace68bafdf4/121/5cead82206bd71729d2478ae7853405a/40993101-15.JPG", "caption": "" }, "displayorder": 16, "url": "//cdnparap30.paragonrels.com/ParagonImages/Property/P3/MAXEBRDI/40993101/16/0/0/0ce131e6e964c70861bdde455799755c/121/5cead82206bd71729d2478ae7853405a/40993101-16.JPG", "caption": "" }, "displayorder": 17, "url": "//cdnparap30.paragonrels.com/ParagonImages/Property/P3/MAXEBRDI/40993101/17/0/0/6ba8995a8f36a4f0e1410d16e05d8078/121/5cead82206bd71729d2478ae7853405a/40993101-17.JPG", "caption": "" }, "displayorder": 18, "url": "//cdnparap30.paragonrels.com/ParagonImages/Property/P3/MAXEBRDI/40993101/18/0/0/2014119be0365da8587369182dfbea34/121/5cead82206bd71729d2478ae7853405a/40993101-18.JPG", "caption": "" }, "displayorder": 19, "url": "//cdnparap30.paragonrels.com/ParagonImages/Property/P3/MAXEBRDI/40993101/19/0/0/6adebc835d5f6a33366f60d035b6d8d7/121/5cead82206bd71729d2478ae7853405a/40993101-19.JPG", "caption": "" }, "displayorder": 20, "url": "//cdnparap30.paragonrels.com/ParagonImages/Property/P3/MAXEBRDI/40993101/20/0/0/b71b61c5ba555c41ed0354c66b651737/121/5cead82206bd71729d2478ae7853405a/40993101-20.JPG", "caption": "" }, "displayorder": 21, "url": "//cdnparap30.paragonrels.com/ParagonImages/Property/P3/MAXEBRDI/40993101/21/0/0/7013c6b68be3e17c7a69ea986c918a4b/121/5cead82206bd71729d2478ae7853405a/40993101-21.JPG", "caption": "" }, "displayorder": 22, "url": "//cdnparap30.paragonrels.com/ParagonImages/Property/P3/MAXEBRDI/40993101/22/0/0/9b8bbb94d7f322bd2a30d56281ee5398/121/5cead82206bd71729d2478ae7853405a/40993101-22.JPG", "caption": "" }, "displayorder": 23, "url": "//cdnparap30.paragonrels.com/ParagonImages/Property/P3/MAXEBRDI/40993101/23/0/0/6c1e20d117b0c1eaa04934cd6a763c01/121/5cead82206bd71729d2478ae7853405a/40993101-23.JPG", "caption": "" }, "displayorder": 24, "url": "//cdnparap30.paragonrels.com/ParagonImages/Property/P3/MAXEBRDI/40993101/24/0/0/06343aca7d784f6e26b2c4f1c80ef082/121/5cead82206bd71729d2478ae7853405a/40993101-24.JPG", "caption": "" } ], "agent": { "name": "David Lao", "phone": "510-545-3286", "email": "davidlaorealtor@gmail.com" }, "broker": { "name": "eXp Realty of California", "phone": "", "email": "" } }; ]]>
865 56Th St
OAKLAND, CA 94608

Click here for map
Residential Home
$1,249,000
2,226 Sq Feet
4 Bedrooms
3 Bathrooms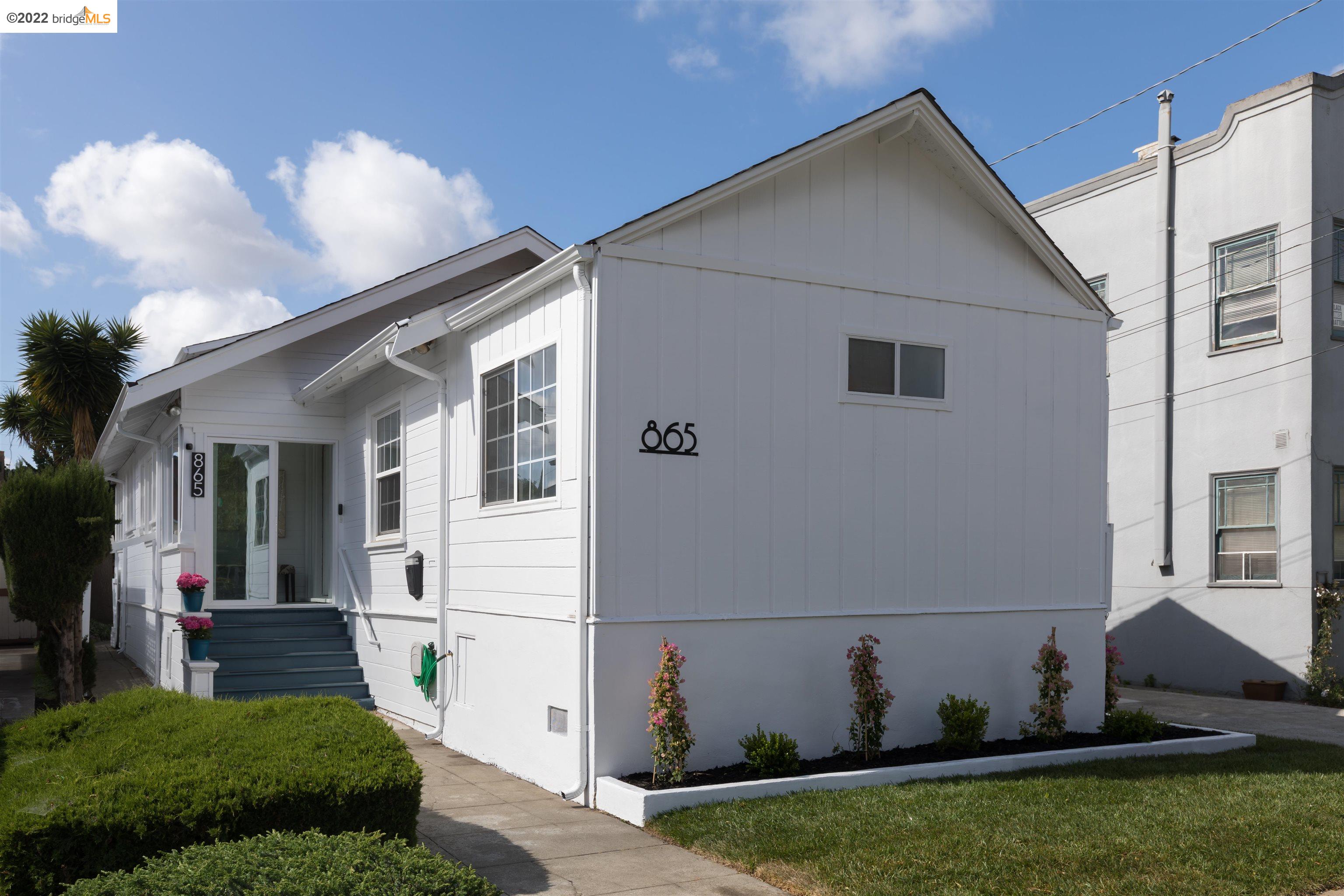 Listed by David Lao of eXp Realty of California
DRE# 02026279
Details:
Lot Sq Feet:
5,200
Fireplaces:
1
HOA?
No
Bank Owned?
No
Status:
Active
Remarks:
Old world charm meets modern living in this thoughtfully renovated NOBE home. The 3-bed 2-bath front home features an open concept bright kitchen with new quartz countertops, shaker cabinets and stainless steel appliances, while the large living room maintains period details such as built-in cabinets, a faux fireplace, and expansive bay windows full of natural light. The dynamic office/bedroom with a dedicated full bathroom and entrance can be rented or used for working from home. In the back is a separate 1-bedr, 1-bath ADU with a redesigned kitchen and large primary bedroom upstairs. Extra storage in the garage and basement. This renovated home lies in an up-and-coming neighborhood as evidenced by many newly remodeled homes and families moving in. The property has many uses and is perfect for families, multigenerational living, those wanting income and those who dream big. Centrally located in NOBE, it's just minutes to BART, Berkeley and Emeryville. 3D TOUR @ tinyurl.com/865-56th-St
There are currently no open houses for this property. Please contact
David Lao
to schedule an appointment.