<![CDATA[ var dwellicious_data = { "address": "1521 Mitchell St ", "city": "OAKLAND", "state": "CA", "zip": "94601", "zip4": "", "area": "", "subdivision": "", "county": "", "price": "449000", "beds": "2", "baths": "2", "sqft": "1061", "lotsize": "2520", "yearbuilt": "1920-01-01", "proptype": "Residential", "mlsnum": "40993630", "active": true, "remarks": "2 bedroom + den 2 bathroom approx 1,061 sqft on a 2,520 sqft lot in the Oak Tree/Fruitvale neighborhood. Tenants pay for electric, gas, and water and rent is 3,100/mo. Sewer Lateral Compliance. This is an amazing opportunity for an investor. Perfect for commuting as it is close to Fruitvale Bart Station and 880 freeway,", "photos": [ { "displayorder": 0, "url": "//cdnparap30.paragonrels.com/ParagonImages/Property/P3/MAXEBRDI/40993630/0/0/0/26d868242301a2244363e8abc236f04a/121/f14f6e83e1991d74b8d3c7dd4bcdeb96/40993630.JPG", "caption": "" }, "displayorder": 1, "url": "//cdnparap30.paragonrels.com/ParagonImages/Property/P3/MAXEBRDI/40993630/1/0/0/1d7085854bbcf8e812ba7439ea05f09f/121/f14f6e83e1991d74b8d3c7dd4bcdeb96/40993630-1.JPG", "caption": "" }, "displayorder": 2, "url": "//cdnparap30.paragonrels.com/ParagonImages/Property/P3/MAXEBRDI/40993630/2/0/0/8a9b40df1f3c46d0af9ce4c2745376d0/121/f14f6e83e1991d74b8d3c7dd4bcdeb96/40993630-2.JPG", "caption": "" }, "displayorder": 3, "url": "//cdnparap30.paragonrels.com/ParagonImages/Property/P3/MAXEBRDI/40993630/3/0/0/07d57eb2a539b69d72faf7c0687432e3/121/f14f6e83e1991d74b8d3c7dd4bcdeb96/40993630-3.JPG", "caption": "" }, "displayorder": 4, "url": "//cdnparap30.paragonrels.com/ParagonImages/Property/P3/MAXEBRDI/40993630/4/0/0/833bb5be57957f0dab9ae0a685757b16/121/f14f6e83e1991d74b8d3c7dd4bcdeb96/40993630-4.JPG", "caption": "" }, "displayorder": 5, "url": "//cdnparap30.paragonrels.com/ParagonImages/Property/P3/MAXEBRDI/40993630/5/0/0/e0c4205201805a277f4714a24f3ab17f/121/f14f6e83e1991d74b8d3c7dd4bcdeb96/40993630-5.JPG", "caption": "" }, "displayorder": 6, "url": "//cdnparap30.paragonrels.com/ParagonImages/Property/P3/MAXEBRDI/40993630/6/0/0/9d1b4b8de968713495f40ff96e54ee57/121/f14f6e83e1991d74b8d3c7dd4bcdeb96/40993630-6.JPG", "caption": "" }, "displayorder": 7, "url": "//cdnparap30.paragonrels.com/ParagonImages/Property/P3/MAXEBRDI/40993630/7/0/0/15903374e79c4a3b3ababfc4c30a79a1/121/f14f6e83e1991d74b8d3c7dd4bcdeb96/40993630-7.JPG", "caption": "" }, "displayorder": 8, "url": "//cdnparap30.paragonrels.com/ParagonImages/Property/P3/MAXEBRDI/40993630/8/0/0/5d6f715a0277eb2a043d2b1fb06a8509/121/f14f6e83e1991d74b8d3c7dd4bcdeb96/40993630-8.JPG", "caption": "" }, "displayorder": 9, "url": "//cdnparap30.paragonrels.com/ParagonImages/Property/P3/MAXEBRDI/40993630/9/0/0/cd268a79a3d3cd0bea4f7dc31a09c735/121/f14f6e83e1991d74b8d3c7dd4bcdeb96/40993630-9.JPG", "caption": "" }, "displayorder": 10, "url": "//cdnparap30.paragonrels.com/ParagonImages/Property/P3/MAXEBRDI/40993630/10/0/0/6c10f43e29d7426e18b052b176a13eaf/121/f14f6e83e1991d74b8d3c7dd4bcdeb96/40993630-10.JPG", "caption": "" }, "displayorder": 11, "url": "//cdnparap30.paragonrels.com/ParagonImages/Property/P3/MAXEBRDI/40993630/11/0/0/9efb94c7f3a45d6e4f9b5e277be3e2db/121/f14f6e83e1991d74b8d3c7dd4bcdeb96/40993630-11.JPG", "caption": "" }, "displayorder": 12, "url": "//cdnparap30.paragonrels.com/ParagonImages/Property/P3/MAXEBRDI/40993630/12/0/0/ee18e8923676e882d8827fa8ecb91f36/121/f14f6e83e1991d74b8d3c7dd4bcdeb96/40993630-12.JPG", "caption": "" }, "displayorder": 13, "url": "//cdnparap30.paragonrels.com/ParagonImages/Property/P3/MAXEBRDI/40993630/13/0/0/2ce83996b7caaf221d0f35fe7c49ded2/121/f14f6e83e1991d74b8d3c7dd4bcdeb96/40993630-13.JPG", "caption": "" }, "displayorder": 14, "url": "//cdnparap30.paragonrels.com/ParagonImages/Property/P3/MAXEBRDI/40993630/14/0/0/842b6b0f02bf61e9533f687ab1b34135/121/f14f6e83e1991d74b8d3c7dd4bcdeb96/40993630-14.JPG", "caption": "" }, "displayorder": 15, "url": "//cdnparap30.paragonrels.com/ParagonImages/Property/P3/MAXEBRDI/40993630/15/0/0/139e7aad36f3258a466aee6a53eea64d/121/f14f6e83e1991d74b8d3c7dd4bcdeb96/40993630-15.JPG", "caption": "" }, "displayorder": 16, "url": "//cdnparap30.paragonrels.com/ParagonImages/Property/P3/MAXEBRDI/40993630/16/0/0/12e76f8d479d67eb511e6846cd94614a/121/f14f6e83e1991d74b8d3c7dd4bcdeb96/40993630-16.JPG", "caption": "" }, "displayorder": 17, "url": "//cdnparap30.paragonrels.com/ParagonImages/Property/P3/MAXEBRDI/40993630/17/0/0/2bf4a0d0a16ea0cb51bd3dc82a8ff47d/121/f14f6e83e1991d74b8d3c7dd4bcdeb96/40993630-17.JPG", "caption": "" }, "displayorder": 18, "url": "//cdnparap30.paragonrels.com/ParagonImages/Property/P3/MAXEBRDI/40993630/18/0/0/408b04d6e0dafd80ca82b157c52a9868/121/f14f6e83e1991d74b8d3c7dd4bcdeb96/40993630-18.JPG", "caption": "" }, "displayorder": 19, "url": "//cdnparap30.paragonrels.com/ParagonImages/Property/P3/MAXEBRDI/40993630/19/0/0/cdd7f8fe8d55516d5037865da3e76430/121/f14f6e83e1991d74b8d3c7dd4bcdeb96/40993630-19.JPG", "caption": "" }, "displayorder": 20, "url": "//cdnparap30.paragonrels.com/ParagonImages/Property/P3/MAXEBRDI/40993630/20/0/0/08e35f3e7dff2176e5019a413adbb86e/121/f14f6e83e1991d74b8d3c7dd4bcdeb96/40993630-20.JPG", "caption": "" }, "displayorder": 21, "url": "//cdnparap30.paragonrels.com/ParagonImages/Property/P3/MAXEBRDI/40993630/21/0/0/5ecacbf54385ad1599dc4581ce188019/121/f14f6e83e1991d74b8d3c7dd4bcdeb96/40993630-21.JPG", "caption": "" }, "displayorder": 22, "url": "//cdnparap30.paragonrels.com/ParagonImages/Property/P3/MAXEBRDI/40993630/22/0/0/4dfbce483222e351bae91a4a310b453e/121/f14f6e83e1991d74b8d3c7dd4bcdeb96/40993630-22.JPG", "caption": "" }, "displayorder": 23, "url": "//cdnparap30.paragonrels.com/ParagonImages/Property/P3/MAXEBRDI/40993630/23/0/0/9fd0b571cd051f295ca12e405f2798aa/121/f14f6e83e1991d74b8d3c7dd4bcdeb96/40993630-23.JPG", "caption": "" }, "displayorder": 24, "url": "//cdnparap30.paragonrels.com/ParagonImages/Property/P3/MAXEBRDI/40993630/24/0/0/f920e22aefbec24cd09691f655c20265/121/f14f6e83e1991d74b8d3c7dd4bcdeb96/40993630-24.JPG", "caption": "" }, "displayorder": 25, "url": "//cdnparap30.paragonrels.com/ParagonImages/Property/P3/MAXEBRDI/40993630/25/0/0/c9331358d4fd98142231cf882527bf05/121/f14f6e83e1991d74b8d3c7dd4bcdeb96/40993630-25.JPG", "caption": "" }, "displayorder": 26, "url": "//cdnparap30.paragonrels.com/ParagonImages/Property/P3/MAXEBRDI/40993630/26/0/0/bd46705be2f6e1523b39b39df2e3c69a/121/f14f6e83e1991d74b8d3c7dd4bcdeb96/40993630-26.JPG", "caption": "" }, "displayorder": 27, "url": "//cdnparap30.paragonrels.com/ParagonImages/Property/P3/MAXEBRDI/40993630/27/0/0/3df835a33e502eb3262b4be3102d5d2a/121/f14f6e83e1991d74b8d3c7dd4bcdeb96/40993630-27.JPG", "caption": "" }, "displayorder": 28, "url": "//cdnparap30.paragonrels.com/ParagonImages/Property/P3/MAXEBRDI/40993630/28/0/0/cb56e209fc7734c25156540584db4dc7/121/f14f6e83e1991d74b8d3c7dd4bcdeb96/40993630-28.JPG", "caption": "" }, "displayorder": 29, "url": "//cdnparap30.paragonrels.com/ParagonImages/Property/P3/MAXEBRDI/40993630/29/0/0/714f1c0c6432626ec85083d32a65c8d1/121/f14f6e83e1991d74b8d3c7dd4bcdeb96/40993630-29.JPG", "caption": "" }, "displayorder": 30, "url": "//cdnparap30.paragonrels.com/ParagonImages/Property/P3/MAXEBRDI/40993630/30/0/0/4e2b03475f170b3908093b28f0b93b95/121/f14f6e83e1991d74b8d3c7dd4bcdeb96/40993630-30.JPG", "caption": "" }, "displayorder": 31, "url": "//cdnparap30.paragonrels.com/ParagonImages/Property/P3/MAXEBRDI/40993630/31/0/0/9263c13caae61117c65a5a2dd3cec805/121/f14f6e83e1991d74b8d3c7dd4bcdeb96/40993630-31.JPG", "caption": "" }, "displayorder": 32, "url": "//cdnparap30.paragonrels.com/ParagonImages/Property/P3/MAXEBRDI/40993630/32/0/0/9772045f046cada2ce49f1a0072ac662/121/f14f6e83e1991d74b8d3c7dd4bcdeb96/40993630-32.JPG", "caption": "" }, "displayorder": 33, "url": "//cdnparap30.paragonrels.com/ParagonImages/Property/P3/MAXEBRDI/40993630/33/0/0/2f9083fca28b5ca31ddc319e1819ed66/121/f14f6e83e1991d74b8d3c7dd4bcdeb96/40993630-33.JPG", "caption": "" }, "displayorder": 34, "url": "//cdnparap30.paragonrels.com/ParagonImages/Property/P3/MAXEBRDI/40993630/34/0/0/dcfdc3580ca75e2e30bd0652f666a043/121/f14f6e83e1991d74b8d3c7dd4bcdeb96/40993630-34.JPG", "caption": "" } ], "agent": { "name": "Frances Korkut", "phone": "510-778-0415", "email": "brookekorkuthomes@gmail.com" }, "broker": { "name": "Compass", "phone": "", "email": "" } }; ]]>
1521 Mitchell St
OAKLAND, CA 94601

Click here for map
Residential Home
$449,000
1,061 Sq Feet
2 Bedrooms
2 Bathrooms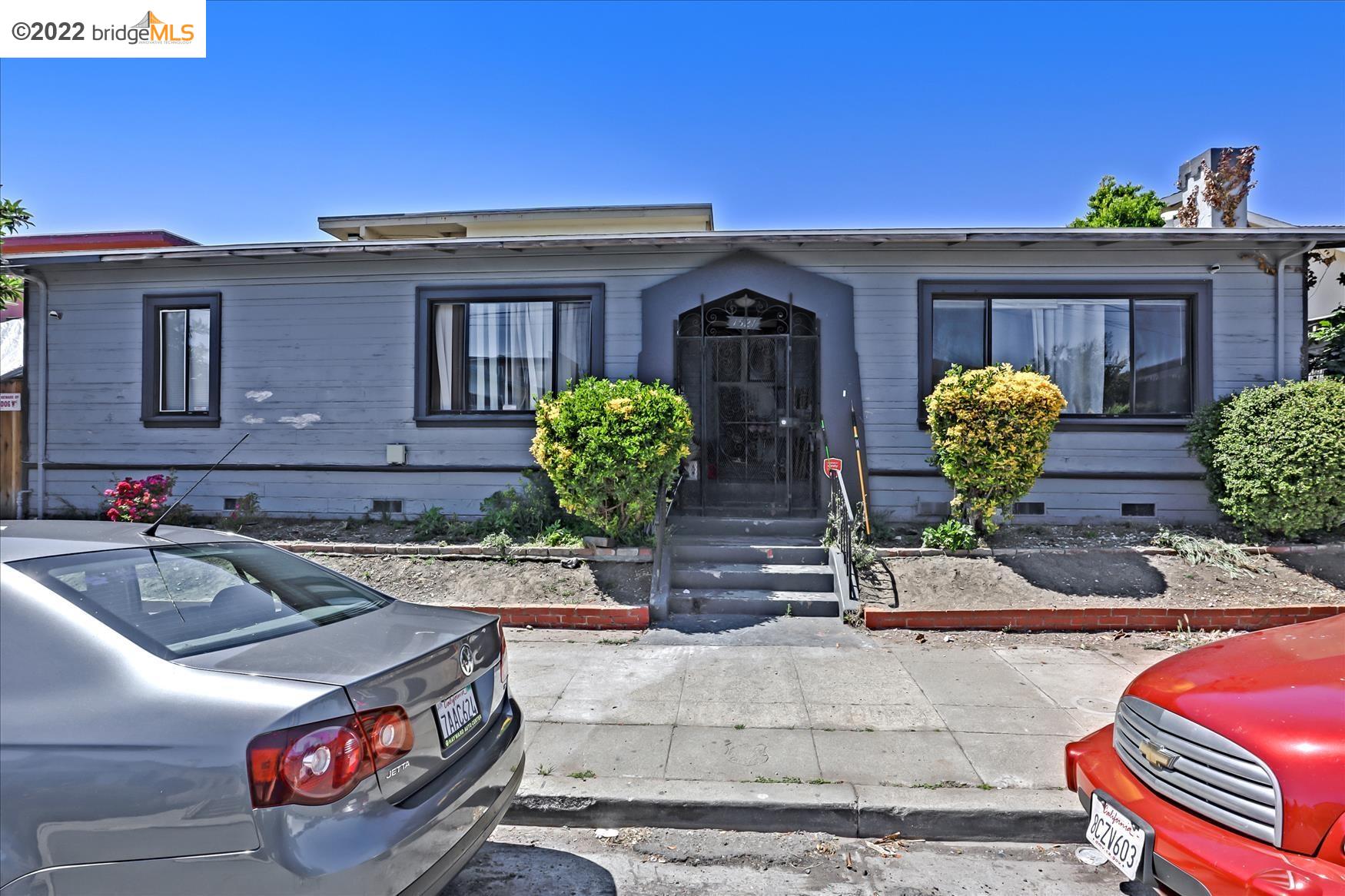 Details:
Lot Sq Feet:
2,520
Fireplaces:
0
HOA?
No
Bank Owned?
No
Status:
Active
Remarks:
2 bedroom + den 2 bathroom approx 1,061 sqft on a 2,520 sqft lot in the Oak Tree/Fruitvale neighborhood. Tenants pay for electric, gas, and water and rent is 3,100/mo. Sewer Lateral Compliance. This is an amazing opportunity for an investor. Perfect for commuting as it is close to Fruitvale Bart Station and 880 freeway,
There are currently no open houses for this property. Please contact
Frances Korkut
to schedule an appointment.