<![CDATA[ var dwellicious_data = { "address": "237 Alta St ", "city": "BRENTWOOD", "state": "CA", "zip": "94513", "zip4": "", "area": "", "subdivision": "", "county": "", "price": "699000", "beds": "4", "baths": "3", "sqft": "2500", "lotsize": "3174", "yearbuilt": "2015-01-01", "proptype": "Residential", "mlsnum": "40996015", "active": false, "remarks": "NEW PRICE REDUCTION! This Brentwood home is the perfect mix of quality finishes and comfortable spaces. The living room makes a great first impression with wide plank floors, a luxe accent wall and an abundance of windows. Graced with rich, dark wood cabinets, gleaming stainless appliances and an impressive center island, the eat-in kitchen flows seamlessly into a sunny family room with a corner gas fireplace. A comfortable guest room and a full bath with a walk-in shower are also found on the main floor. Upstairs, a versatile loft area adjoins a sun-filled primary retreat with a walk-in closet and a huge en-suite with a double vanity. Two additional bedrooms are found upstairs, as well as a laundry room with built-in linen storage and a well-appointed hall bath expertly designed to take the stress out of busy mornings. The Mission Grove community includes a popular park and is surrounded by convenient shopping and recreation.", "photos": [ { "displayorder": 0, "url": "//cdnparap30.paragonrels.com/ParagonImages/Property/P3/MAXEBRDI/40996015/0/0/0/1a648ba19692db3405fcfeb48bc6cf4a/121/e1fac0e5481532344f75cb5616f809dd/40996015.JPG", "caption": "" }, "displayorder": 1, "url": "//cdnparap30.paragonrels.com/ParagonImages/Property/P3/MAXEBRDI/40996015/1/0/0/fd0005e1e2d5d8748afbe1e9d08856ef/121/e1fac0e5481532344f75cb5616f809dd/40996015-1.JPG", "caption": "" }, "displayorder": 2, "url": "//cdnparap30.paragonrels.com/ParagonImages/Property/P3/MAXEBRDI/40996015/2/0/0/b7e8390edb34cd881240399ef286978f/121/e1fac0e5481532344f75cb5616f809dd/40996015-2.JPG", "caption": "" }, "displayorder": 3, "url": "//cdnparap30.paragonrels.com/ParagonImages/Property/P3/MAXEBRDI/40996015/3/0/0/a3accc5e661f22b27e1071543fee527b/121/e1fac0e5481532344f75cb5616f809dd/40996015-3.JPG", "caption": "" }, "displayorder": 4, "url": "//cdnparap30.paragonrels.com/ParagonImages/Property/P3/MAXEBRDI/40996015/4/0/0/f833b3627950f386ff35dcf8459f01e3/121/e1fac0e5481532344f75cb5616f809dd/40996015-4.JPG", "caption": "" }, "displayorder": 5, "url": "//cdnparap30.paragonrels.com/ParagonImages/Property/P3/MAXEBRDI/40996015/5/0/0/9860eddf13040169e399039393436eba/121/e1fac0e5481532344f75cb5616f809dd/40996015-5.JPG", "caption": "" }, "displayorder": 6, "url": "//cdnparap30.paragonrels.com/ParagonImages/Property/P3/MAXEBRDI/40996015/6/0/0/b7ec224f80568c11e8931ee75fd0c89a/121/e1fac0e5481532344f75cb5616f809dd/40996015-6.JPG", "caption": "" }, "displayorder": 7, "url": "//cdnparap30.paragonrels.com/ParagonImages/Property/P3/MAXEBRDI/40996015/7/0/0/e4c154c014f67fae32708b90dc6921e1/121/e1fac0e5481532344f75cb5616f809dd/40996015-7.JPG", "caption": "" }, "displayorder": 8, "url": "//cdnparap30.paragonrels.com/ParagonImages/Property/P3/MAXEBRDI/40996015/8/0/0/88c268d5abfc3ae1b4adbe94c3c0f7b1/121/e1fac0e5481532344f75cb5616f809dd/40996015-8.JPG", "caption": "" }, "displayorder": 9, "url": "//cdnparap30.paragonrels.com/ParagonImages/Property/P3/MAXEBRDI/40996015/9/0/0/d8bbab574ab17c9046704c39089b3602/121/e1fac0e5481532344f75cb5616f809dd/40996015-9.JPG", "caption": "" }, "displayorder": 10, "url": "//cdnparap30.paragonrels.com/ParagonImages/Property/P3/MAXEBRDI/40996015/10/0/0/19f7e9adee251b33311ba16fb7d62f4c/121/e1fac0e5481532344f75cb5616f809dd/40996015-10.JPG", "caption": "" }, "displayorder": 11, "url": "//cdnparap30.paragonrels.com/ParagonImages/Property/P3/MAXEBRDI/40996015/11/0/0/507e2b1f043e98f3bba56a61e6dc04a8/121/e1fac0e5481532344f75cb5616f809dd/40996015-11.JPG", "caption": "" }, "displayorder": 12, "url": "//cdnparap30.paragonrels.com/ParagonImages/Property/P3/MAXEBRDI/40996015/12/0/0/77699359ca1ceb95b0da5aa0c1028e2b/121/e1fac0e5481532344f75cb5616f809dd/40996015-12.JPG", "caption": "" }, "displayorder": 13, "url": "//cdnparap30.paragonrels.com/ParagonImages/Property/P3/MAXEBRDI/40996015/13/0/0/e19a904d95df1158830b99052e37044b/121/e1fac0e5481532344f75cb5616f809dd/40996015-13.JPG", "caption": "" }, "displayorder": 14, "url": "//cdnparap30.paragonrels.com/ParagonImages/Property/P3/MAXEBRDI/40996015/14/0/0/320119d304ae90d3793ae3af55edb750/121/e1fac0e5481532344f75cb5616f809dd/40996015-14.JPG", "caption": "" }, "displayorder": 15, "url": "//cdnparap30.paragonrels.com/ParagonImages/Property/P3/MAXEBRDI/40996015/15/0/0/aa237d14133657026f00f932bd648b5f/121/e1fac0e5481532344f75cb5616f809dd/40996015-15.JPG", "caption": "" }, "displayorder": 16, "url": "//cdnparap30.paragonrels.com/ParagonImages/Property/P3/MAXEBRDI/40996015/16/0/0/38a854328e824338d17ba5c7ef754f5a/121/e1fac0e5481532344f75cb5616f809dd/40996015-16.JPG", "caption": "" }, "displayorder": 17, "url": "//cdnparap30.paragonrels.com/ParagonImages/Property/P3/MAXEBRDI/40996015/17/0/0/97da953c5a62b091789560bc22ac7bf9/121/e1fac0e5481532344f75cb5616f809dd/40996015-17.JPG", "caption": "" }, "displayorder": 18, "url": "//cdnparap30.paragonrels.com/ParagonImages/Property/P3/MAXEBRDI/40996015/18/0/0/98761c0f4bcfd3a17b7565ce78da3cdb/121/e1fac0e5481532344f75cb5616f809dd/40996015-18.JPG", "caption": "" }, "displayorder": 19, "url": "//cdnparap30.paragonrels.com/ParagonImages/Property/P3/MAXEBRDI/40996015/19/0/0/3cb3730797b7b2b9381f286bd3cf71b2/121/e1fac0e5481532344f75cb5616f809dd/40996015-19.JPG", "caption": "" }, "displayorder": 20, "url": "//cdnparap30.paragonrels.com/ParagonImages/Property/P3/MAXEBRDI/40996015/20/0/0/dba939c9c24f63e55d11c7b82ac77cf3/121/e1fac0e5481532344f75cb5616f809dd/40996015-20.JPG", "caption": "" }, "displayorder": 21, "url": "//cdnparap30.paragonrels.com/ParagonImages/Property/P3/MAXEBRDI/40996015/21/0/0/160372af976b7523494c4758428671fd/121/e1fac0e5481532344f75cb5616f809dd/40996015-21.JPG", "caption": "" }, "displayorder": 22, "url": "//cdnparap30.paragonrels.com/ParagonImages/Property/P3/MAXEBRDI/40996015/22/0/0/3275708293b4500be911598f762d54ef/121/e1fac0e5481532344f75cb5616f809dd/40996015-22.JPG", "caption": "" }, "displayorder": 23, "url": "//cdnparap30.paragonrels.com/ParagonImages/Property/P3/MAXEBRDI/40996015/23/0/0/d7a2596854f62fd4ae9250dff7168240/121/e1fac0e5481532344f75cb5616f809dd/40996015-23.JPG", "caption": "" }, "displayorder": 24, "url": "//cdnparap30.paragonrels.com/ParagonImages/Property/P3/MAXEBRDI/40996015/24/0/0/528f771d7e2f04e23435c21e94925e5f/121/e1fac0e5481532344f75cb5616f809dd/40996015-24.JPG", "caption": "" }, "displayorder": 25, "url": "//cdnparap30.paragonrels.com/ParagonImages/Property/P3/MAXEBRDI/40996015/25/0/0/68689cbfa312028e3c75cdeda32099f2/121/e1fac0e5481532344f75cb5616f809dd/40996015-25.JPG", "caption": "" }, "displayorder": 26, "url": "//cdnparap30.paragonrels.com/ParagonImages/Property/P3/MAXEBRDI/40996015/26/0/0/358ebca163db1a60bfe5b87c4b4da00b/121/e1fac0e5481532344f75cb5616f809dd/40996015-26.JPG", "caption": "" }, "displayorder": 27, "url": "//cdnparap30.paragonrels.com/ParagonImages/Property/P3/MAXEBRDI/40996015/27/0/0/e9ccf2258683d7e9e30d85951fc9a558/121/e1fac0e5481532344f75cb5616f809dd/40996015-27.JPG", "caption": "" }, "displayorder": 28, "url": "//cdnparap30.paragonrels.com/ParagonImages/Property/P3/MAXEBRDI/40996015/28/0/0/0a5439be87731e17a69c30d4dcd2f4a2/121/e1fac0e5481532344f75cb5616f809dd/40996015-28.JPG", "caption": "" }, "displayorder": 29, "url": "//cdnparap30.paragonrels.com/ParagonImages/Property/P3/MAXEBRDI/40996015/29/0/0/fb37a76a688d602357e719e57063fe3e/121/e1fac0e5481532344f75cb5616f809dd/40996015-29.JPG", "caption": "" }, "displayorder": 30, "url": "//cdnparap30.paragonrels.com/ParagonImages/Property/P3/MAXEBRDI/40996015/30/0/0/cf880ddd0c916c21130ed745d5f7a585/121/e1fac0e5481532344f75cb5616f809dd/40996015-30.JPG", "caption": "" }, "displayorder": 31, "url": "//cdnparap30.paragonrels.com/ParagonImages/Property/P3/MAXEBRDI/40996015/31/0/0/7ee7e3e10ef615eb5ea850df48cf824b/121/e1fac0e5481532344f75cb5616f809dd/40996015-31.JPG", "caption": "" }, "displayorder": 32, "url": "//cdnparap30.paragonrels.com/ParagonImages/Property/P3/MAXEBRDI/40996015/32/0/0/7996f1e063618b0a8f0baeba5eadfd8c/121/e1fac0e5481532344f75cb5616f809dd/40996015-32.JPG", "caption": "" }, "displayorder": 33, "url": "//cdnparap30.paragonrels.com/ParagonImages/Property/P3/MAXEBRDI/40996015/33/0/0/cf57cd5ceb8eb3077c02e059f6d901ea/121/e1fac0e5481532344f75cb5616f809dd/40996015-33.JPG", "caption": "" }, "displayorder": 34, "url": "//cdnparap30.paragonrels.com/ParagonImages/Property/P3/MAXEBRDI/40996015/34/0/0/06a41be407dc0278c8d9a8b7b34d39fe/121/e1fac0e5481532344f75cb5616f809dd/40996015-34.JPG", "caption": "" }, "displayorder": 35, "url": "//cdnparap30.paragonrels.com/ParagonImages/Property/P3/MAXEBRDI/40996015/35/0/0/4184c848341b683a582fcc6091e5a239/121/e1fac0e5481532344f75cb5616f809dd/40996015-35.JPG", "caption": "" } ], "agent": { "name": "Reva Tolbert", "phone": "510-339-4761", "email": "reva.tolbert@cbnorcal.com" }, "broker": { "name": "Coldwell Banker Residential", "phone": "", "email": "" } }; ]]>
237 Alta St
BRENTWOOD, CA 94513

Click here for map
Residential Home
$699,000
2,500 Sq Feet
4 Bedrooms
3 Bathrooms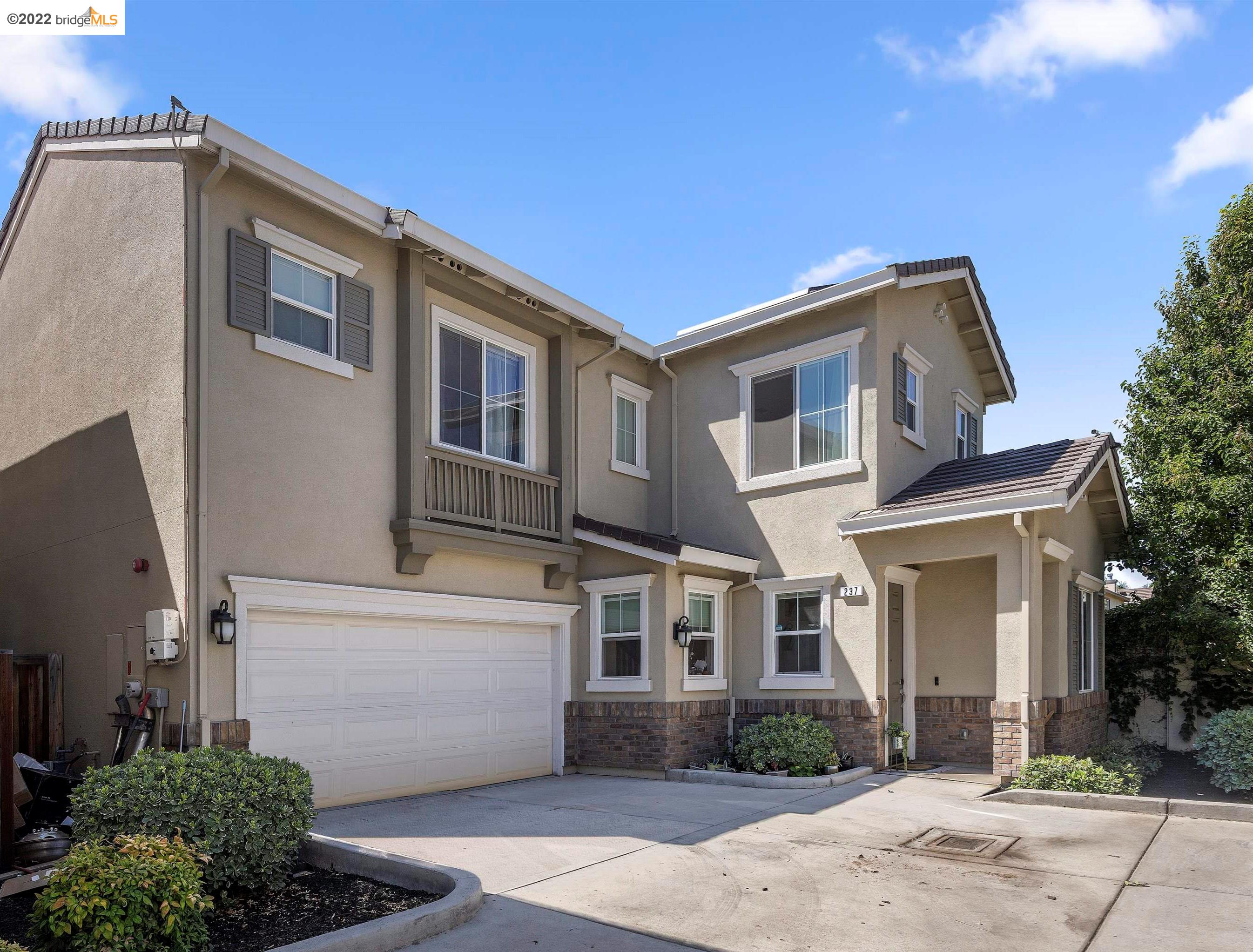 Listed by Reva Tolbert of Coldwell Banker Residential
DRE# 01231497
Details:
Lot Sq Feet:
3,174
Fireplaces:
1
HOA?
Yes
Bank Owned?
No
Status:
Pending
Remarks:
NEW PRICE REDUCTION! This Brentwood home is the perfect mix of quality finishes and comfortable spaces. The living room makes a great first impression with wide plank floors, a luxe accent wall and an abundance of windows. Graced with rich, dark wood cabinets, gleaming stainless appliances and an impressive center island, the eat-in kitchen flows seamlessly into a sunny family room with a corner gas fireplace. A comfortable guest room and a full bath with a walk-in shower are also found on the main floor. Upstairs, a versatile loft area adjoins a sun-filled primary retreat with a walk-in closet and a huge en-suite with a double vanity. Two additional bedrooms are found upstairs, as well as a laundry room with built-in linen storage and a well-appointed hall bath expertly designed to take the stress out of busy mornings. The Mission Grove community includes a popular park and is surrounded by convenient shopping and recreation.
There are currently no open houses for this property. Please contact
Reva Tolbert
to schedule an appointment.