<![CDATA[ var dwellicious_data = { "address": "6625 Hubbard Ln ", "city": "SUNOL", "state": "CA", "zip": "94586", "zip4": "", "area": "", "subdivision": "", "county": "", "price": "3499000", "beds": "5", "baths": "4", "sqft": "4675", "lotsize": "399785", "yearbuilt": "2009-01-01", "proptype": "Residential", "mlsnum": "40997062", "active": false, "remarks": "Nestled in the beautiful gated community of Little Valley, this grand estate is located on 9+ private acres in the gorgeous rolling hills of Sunol. Looking for privacy, look no further! The best kept secret in the East Bay is minutes to Fremont, Pleasanton, Livermore and just off of 680. Enter into soaring 20 foot ceilings and breathtaking views as you walk into the formal living room with windows opening up to the back terrace. Spacious kitchen with a large island, pantry and eat in breakfast nook with more spectacular views! Beautiful tile and wood floors throughout the main living areas. Formal dining room, primary bedroom as well as two bedrooms with a Jack and Jill bathroom on the first level along with den and guest bathroom. Enjoy sunset views over Mission Peak on the back patio with an outdoor kitchen and lush landscaping.", "photos": [ { "displayorder": 0, "url": "//cdnparap30.paragonrels.com/ParagonImages/Property/P3/MAXEBRDI/40997062/0/0/0/5e41a4eaf2e23b6f885e770113b78cfd/120/e8399df83f81e2521df390b2eb543495/40997062.JPG", "caption": "" }, "displayorder": 1, "url": "//cdnparap30.paragonrels.com/ParagonImages/Property/P3/MAXEBRDI/40997062/1/0/0/109fce9463a11ba67cc816728c7832cf/120/e8399df83f81e2521df390b2eb543495/40997062-1.JPG", "caption": "" }, "displayorder": 2, "url": "//cdnparap30.paragonrels.com/ParagonImages/Property/P3/MAXEBRDI/40997062/2/0/0/f186d64fa0ec8dd62190a53448fa94f2/120/e8399df83f81e2521df390b2eb543495/40997062-2.JPG", "caption": "" }, "displayorder": 3, "url": "//cdnparap30.paragonrels.com/ParagonImages/Property/P3/MAXEBRDI/40997062/3/0/0/b51fe73de773f4e92e15a0ce8ab9d0bc/120/e8399df83f81e2521df390b2eb543495/40997062-3.JPG", "caption": "" }, "displayorder": 4, "url": "//cdnparap30.paragonrels.com/ParagonImages/Property/P3/MAXEBRDI/40997062/4/0/0/6935e0be255c1ecd9cdccfbc6acd9de5/120/e8399df83f81e2521df390b2eb543495/40997062-4.JPG", "caption": "" }, "displayorder": 5, "url": "//cdnparap30.paragonrels.com/ParagonImages/Property/P3/MAXEBRDI/40997062/5/0/0/b38fbc894877d28c740809cbc2c3cd07/120/e8399df83f81e2521df390b2eb543495/40997062-5.JPG", "caption": "" }, "displayorder": 6, "url": "//cdnparap30.paragonrels.com/ParagonImages/Property/P3/MAXEBRDI/40997062/6/0/0/946dadbf38ed449bc52b63901aea1b63/120/e8399df83f81e2521df390b2eb543495/40997062-6.JPG", "caption": "" }, "displayorder": 7, "url": "//cdnparap30.paragonrels.com/ParagonImages/Property/P3/MAXEBRDI/40997062/7/0/0/a22eb6b843f85031850105ee5d26e7ef/120/e8399df83f81e2521df390b2eb543495/40997062-7.JPG", "caption": "" }, "displayorder": 8, "url": "//cdnparap30.paragonrels.com/ParagonImages/Property/P3/MAXEBRDI/40997062/8/0/0/aa4224d0c543571bc7eb65afe8bfece5/120/e8399df83f81e2521df390b2eb543495/40997062-8.JPG", "caption": "" }, "displayorder": 9, "url": "//cdnparap30.paragonrels.com/ParagonImages/Property/P3/MAXEBRDI/40997062/9/0/0/d9c92ce89da0a5181470dc3fc6253708/120/e8399df83f81e2521df390b2eb543495/40997062-9.JPG", "caption": "" }, "displayorder": 10, "url": "//cdnparap30.paragonrels.com/ParagonImages/Property/P3/MAXEBRDI/40997062/10/0/0/680e7f0576488e5ceb6d7f3b7c682f71/120/e8399df83f81e2521df390b2eb543495/40997062-10.JPG", "caption": "" }, "displayorder": 11, "url": "//cdnparap30.paragonrels.com/ParagonImages/Property/P3/MAXEBRDI/40997062/11/0/0/05e5b7718fef1d1a1e248f24404d9b44/120/e8399df83f81e2521df390b2eb543495/40997062-11.JPG", "caption": "" }, "displayorder": 12, "url": "//cdnparap30.paragonrels.com/ParagonImages/Property/P3/MAXEBRDI/40997062/12/0/0/edacffdebe99c42bd3fecfde8c1c17fa/120/e8399df83f81e2521df390b2eb543495/40997062-12.JPG", "caption": "" }, "displayorder": 13, "url": "//cdnparap30.paragonrels.com/ParagonImages/Property/P3/MAXEBRDI/40997062/13/0/0/bc9a385892642ff0dab89e3e50fa2793/120/e8399df83f81e2521df390b2eb543495/40997062-13.JPG", "caption": "" }, "displayorder": 14, "url": "//cdnparap30.paragonrels.com/ParagonImages/Property/P3/MAXEBRDI/40997062/14/0/0/eefe8b359c585d7bd0555eb648b89c07/120/e8399df83f81e2521df390b2eb543495/40997062-14.JPG", "caption": "" }, "displayorder": 15, "url": "//cdnparap30.paragonrels.com/ParagonImages/Property/P3/MAXEBRDI/40997062/15/0/0/5a3f25650e79c359ba0cc48addd89732/120/e8399df83f81e2521df390b2eb543495/40997062-15.JPG", "caption": "" }, "displayorder": 16, "url": "//cdnparap30.paragonrels.com/ParagonImages/Property/P3/MAXEBRDI/40997062/16/0/0/3777bb549fad4734f65db27493e8d2ab/120/e8399df83f81e2521df390b2eb543495/40997062-16.JPG", "caption": "" }, "displayorder": 17, "url": "//cdnparap30.paragonrels.com/ParagonImages/Property/P3/MAXEBRDI/40997062/17/0/0/da0d6e39365f60b1dfa14d423df8ea14/120/e8399df83f81e2521df390b2eb543495/40997062-17.JPG", "caption": "" }, "displayorder": 18, "url": "//cdnparap30.paragonrels.com/ParagonImages/Property/P3/MAXEBRDI/40997062/18/0/0/48bd3a79066130f24d2108bfd4c312bb/120/e8399df83f81e2521df390b2eb543495/40997062-18.JPG", "caption": "" }, "displayorder": 19, "url": "//cdnparap30.paragonrels.com/ParagonImages/Property/P3/MAXEBRDI/40997062/19/0/0/415e0e8e630cc18d485f4df49838895e/120/e8399df83f81e2521df390b2eb543495/40997062-19.JPG", "caption": "" }, "displayorder": 20, "url": "//cdnparap30.paragonrels.com/ParagonImages/Property/P3/MAXEBRDI/40997062/20/0/0/061ed2c8108b10ec2852054c73f12378/120/e8399df83f81e2521df390b2eb543495/40997062-20.JPG", "caption": "" }, "displayorder": 21, "url": "//cdnparap30.paragonrels.com/ParagonImages/Property/P3/MAXEBRDI/40997062/21/0/0/34e111d3acb82e427f3553e3d348d2ca/120/e8399df83f81e2521df390b2eb543495/40997062-21.JPG", "caption": "" }, "displayorder": 22, "url": "//cdnparap30.paragonrels.com/ParagonImages/Property/P3/MAXEBRDI/40997062/22/0/0/f0b59d8f6986f573a14a9da0d45e8acb/120/e8399df83f81e2521df390b2eb543495/40997062-22.JPG", "caption": "" }, "displayorder": 23, "url": "//cdnparap30.paragonrels.com/ParagonImages/Property/P3/MAXEBRDI/40997062/23/0/0/0b86a50de0b44dcd7bc86530b00f62e6/120/e8399df83f81e2521df390b2eb543495/40997062-23.JPG", "caption": "" }, "displayorder": 24, "url": "//cdnparap30.paragonrels.com/ParagonImages/Property/P3/MAXEBRDI/40997062/24/0/0/fa8188d83d3bf7c782379824e9c26ca5/120/e8399df83f81e2521df390b2eb543495/40997062-24.JPG", "caption": "" }, "displayorder": 25, "url": "//cdnparap30.paragonrels.com/ParagonImages/Property/P3/MAXEBRDI/40997062/25/0/0/a0650b9b34c781db37edb68b79b2145b/120/e8399df83f81e2521df390b2eb543495/40997062-25.JPG", "caption": "" }, "displayorder": 26, "url": "//cdnparap30.paragonrels.com/ParagonImages/Property/P3/MAXEBRDI/40997062/26/0/0/bf486bb53aa5e31a2981bd281a1fa3ec/120/e8399df83f81e2521df390b2eb543495/40997062-26.JPG", "caption": "" }, "displayorder": 27, "url": "//cdnparap30.paragonrels.com/ParagonImages/Property/P3/MAXEBRDI/40997062/27/0/0/643a404fcea23094ed735699427d8f82/120/e8399df83f81e2521df390b2eb543495/40997062-27.JPG", "caption": "" }, "displayorder": 28, "url": "//cdnparap30.paragonrels.com/ParagonImages/Property/P3/MAXEBRDI/40997062/28/0/0/9062dbf0eb9f2b0b74d3b9e782ac344a/120/e8399df83f81e2521df390b2eb543495/40997062-28.JPG", "caption": "" }, "displayorder": 29, "url": "//cdnparap30.paragonrels.com/ParagonImages/Property/P3/MAXEBRDI/40997062/29/0/0/341a7265e7cb478b11c6d8f2ec57083d/120/e8399df83f81e2521df390b2eb543495/40997062-29.JPG", "caption": "" }, "displayorder": 30, "url": "//cdnparap30.paragonrels.com/ParagonImages/Property/P3/MAXEBRDI/40997062/30/0/0/4c5232575bc38ed0f145fde504d90dee/120/e8399df83f81e2521df390b2eb543495/40997062-30.JPG", "caption": "" }, "displayorder": 31, "url": "//cdnparap30.paragonrels.com/ParagonImages/Property/P3/MAXEBRDI/40997062/31/0/0/8cedcba436148e1370f023bcff81fc50/120/e8399df83f81e2521df390b2eb543495/40997062-31.JPG", "caption": "" }, "displayorder": 32, "url": "//cdnparap30.paragonrels.com/ParagonImages/Property/P3/MAXEBRDI/40997062/32/0/0/c9aefd18f3750a66d829992d534f5b12/120/e8399df83f81e2521df390b2eb543495/40997062-32.JPG", "caption": "" }, "displayorder": 33, "url": "//cdnparap30.paragonrels.com/ParagonImages/Property/P3/MAXEBRDI/40997062/33/0/0/0d2ae7d19696c9a9ae80de7a868e922d/120/e8399df83f81e2521df390b2eb543495/40997062-33.JPG", "caption": "" }, "displayorder": 34, "url": "//cdnparap30.paragonrels.com/ParagonImages/Property/P3/MAXEBRDI/40997062/34/0/0/f3e6f40b42e305df85944f23f255beac/120/e8399df83f81e2521df390b2eb543495/40997062-34.JPG", "caption": "" }, "displayorder": 35, "url": "//cdnparap30.paragonrels.com/ParagonImages/Property/P3/MAXEBRDI/40997062/35/0/0/50b09eba853dde1523e2f5a25ee0a436/120/e8399df83f81e2521df390b2eb543495/40997062-35.JPG", "caption": "" }, "displayorder": 36, "url": "//cdnparap30.paragonrels.com/ParagonImages/Property/P3/MAXEBRDI/40997062/36/0/0/65ee48bd6d855ca70b1cbef45b5a575e/120/e8399df83f81e2521df390b2eb543495/40997062-36.JPG", "caption": "" }, "displayorder": 37, "url": "//cdnparap30.paragonrels.com/ParagonImages/Property/P3/MAXEBRDI/40997062/37/0/0/956ce204c29e6a67135ac4b84b01ed1a/120/e8399df83f81e2521df390b2eb543495/40997062-37.JPG", "caption": "" }, "displayorder": 38, "url": "//cdnparap30.paragonrels.com/ParagonImages/Property/P3/MAXEBRDI/40997062/38/0/0/0cc168e44bab9ed2c96af74134636681/120/e8399df83f81e2521df390b2eb543495/40997062-38.JPG", "caption": "" }, "displayorder": 39, "url": "//cdnparap30.paragonrels.com/ParagonImages/Property/P3/MAXEBRDI/40997062/39/0/0/f2355bd15332f86209a928c99b412997/120/e8399df83f81e2521df390b2eb543495/40997062-39.JPG", "caption": "" }, "displayorder": 40, "url": "//cdnparap30.paragonrels.com/ParagonImages/Property/P3/MAXEBRDI/40997062/40/0/0/7aa8b4ff40aaa16b7c10818f9124a95c/120/e8399df83f81e2521df390b2eb543495/40997062-40.JPG", "caption": "" }, "displayorder": 41, "url": "//cdnparap30.paragonrels.com/ParagonImages/Property/P3/MAXEBRDI/40997062/41/0/0/4e7b9092e32ca49de35efc3bc50f4f83/120/e8399df83f81e2521df390b2eb543495/40997062-41.JPG", "caption": "" }, "displayorder": 42, "url": "//cdnparap30.paragonrels.com/ParagonImages/Property/P3/MAXEBRDI/40997062/42/0/0/1bbf7787ef4fbd805fb4b026a57caf82/120/e8399df83f81e2521df390b2eb543495/40997062-42.JPG", "caption": "" }, "displayorder": 43, "url": "//cdnparap30.paragonrels.com/ParagonImages/Property/P3/MAXEBRDI/40997062/43/0/0/8aa0da8061762b663f0ecfc9c8864b2f/120/e8399df83f81e2521df390b2eb543495/40997062-43.JPG", "caption": "" }, "displayorder": 44, "url": "//cdnparap30.paragonrels.com/ParagonImages/Property/P3/MAXEBRDI/40997062/44/0/0/996d53f0fc335199d46b9e1a3eb848d5/120/e8399df83f81e2521df390b2eb543495/40997062-44.JPG", "caption": "" }, "displayorder": 45, "url": "//cdnparap30.paragonrels.com/ParagonImages/Property/P3/MAXEBRDI/40997062/45/0/0/3693d5fa8f9cefbe84a7f81e3645d088/120/e8399df83f81e2521df390b2eb543495/40997062-45.JPG", "caption": "" }, "displayorder": 46, "url": "//cdnparap30.paragonrels.com/ParagonImages/Property/P3/MAXEBRDI/40997062/46/0/0/ae93de7762662429219598b5fa1dbab1/120/e8399df83f81e2521df390b2eb543495/40997062-46.JPG", "caption": "" }, "displayorder": 47, "url": "//cdnparap30.paragonrels.com/ParagonImages/Property/P3/MAXEBRDI/40997062/47/0/0/8afdaa99a6690d7b7e409e25c125156f/120/e8399df83f81e2521df390b2eb543495/40997062-47.JPG", "caption": "" }, "displayorder": 48, "url": "//cdnparap30.paragonrels.com/ParagonImages/Property/P3/MAXEBRDI/40997062/48/0/0/647b367132279dbe9048487a35c413e1/120/e8399df83f81e2521df390b2eb543495/40997062-48.JPG", "caption": "" }, "displayorder": 49, "url": "//cdnparap30.paragonrels.com/ParagonImages/Property/P3/MAXEBRDI/40997062/49/0/0/224d4f1415eb49cfd3d93550a4869134/120/e8399df83f81e2521df390b2eb543495/40997062-49.JPG", "caption": "" }, "displayorder": 50, "url": "//cdnparap30.paragonrels.com/ParagonImages/Property/P3/MAXEBRDI/40997062/50/0/0/eb7de60d9fa1991af0412a113415e34f/120/e8399df83f81e2521df390b2eb543495/40997062-50.JPG", "caption": "" }, "displayorder": 51, "url": "//cdnparap30.paragonrels.com/ParagonImages/Property/P3/MAXEBRDI/40997062/51/0/0/8a3f6c86d426922966a57115bcb43dfc/120/e8399df83f81e2521df390b2eb543495/40997062-51.JPG", "caption": "" }, "displayorder": 52, "url": "//cdnparap30.paragonrels.com/ParagonImages/Property/P3/MAXEBRDI/40997062/52/0/0/305bcab27a6bd1bccdef23fad555ae17/120/e8399df83f81e2521df390b2eb543495/40997062-52.JPG", "caption": "" }, "displayorder": 53, "url": "//cdnparap30.paragonrels.com/ParagonImages/Property/P3/MAXEBRDI/40997062/53/0/0/88a891042e3f9ca425e47d11ca2c45ad/120/e8399df83f81e2521df390b2eb543495/40997062-53.JPG", "caption": "" }, "displayorder": 54, "url": "//cdnparap30.paragonrels.com/ParagonImages/Property/P3/MAXEBRDI/40997062/54/0/0/cdf3a1694f2dcffe183cee88a360c589/120/e8399df83f81e2521df390b2eb543495/40997062-54.JPG", "caption": "" }, "displayorder": 55, "url": "//cdnparap30.paragonrels.com/ParagonImages/Property/P3/MAXEBRDI/40997062/55/0/0/680d2e2b8ac298bce8b0151114bed8c0/120/e8399df83f81e2521df390b2eb543495/40997062-55.JPG", "caption": "" }, "displayorder": 56, "url": "//cdnparap30.paragonrels.com/ParagonImages/Property/P3/MAXEBRDI/40997062/56/0/0/74e29dc3f3e28dd190cca27e3ef75fb4/120/e8399df83f81e2521df390b2eb543495/40997062-56.JPG", "caption": "" }, "displayorder": 57, "url": "//cdnparap30.paragonrels.com/ParagonImages/Property/P3/MAXEBRDI/40997062/57/0/0/9d8d0c0e640e97489a49f5b62a1c3dec/120/e8399df83f81e2521df390b2eb543495/40997062-57.JPG", "caption": "" }, "displayorder": 58, "url": "//cdnparap30.paragonrels.com/ParagonImages/Property/P3/MAXEBRDI/40997062/58/0/0/f40b2129ab93b79dc8903895f5d6bab3/120/e8399df83f81e2521df390b2eb543495/40997062-58.JPG", "caption": "" } ], "agent": { "name": "Ali Schneider", "phone": "925-7842165", "email": "ali.schneider@redfin.com" }, "broker": { "name": "Redfin", "phone": "", "email": "" } }; ]]>
6625 Hubbard Ln
SUNOL, CA 94586

Click here for map
Residential Home
$3,499,000
4,675 Sq Feet
5 Bedrooms
4 Bathrooms
1 Partial Bath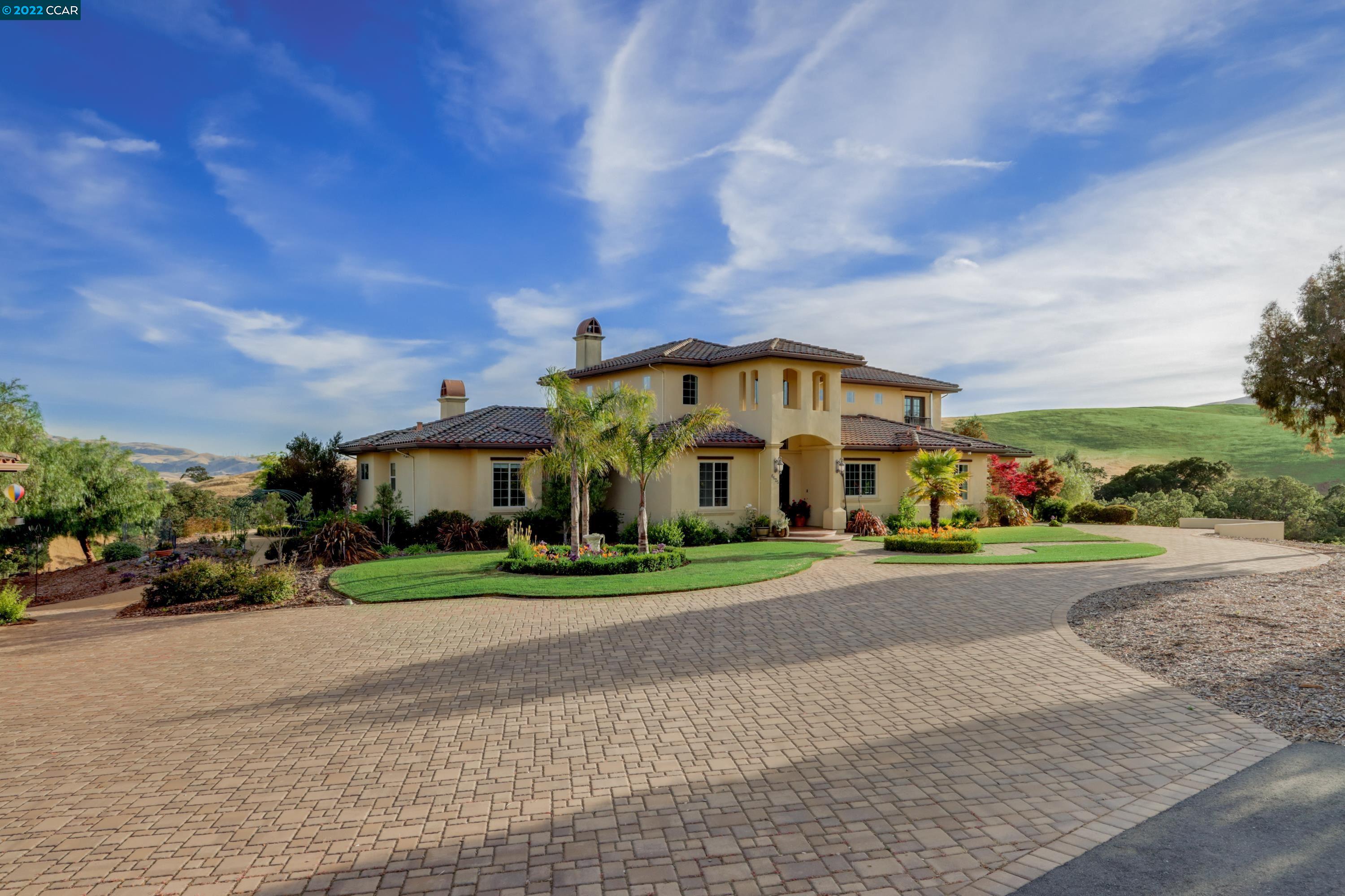 Details:
Lot Sq Feet:
399,785
Fireplaces:
3
HOA?
Yes
Bank Owned?
No
Status:
Pending
Remarks:
Nestled in the beautiful gated community of Little Valley, this grand estate is located on 9+ private acres in the gorgeous rolling hills of Sunol. Looking for privacy, look no further! The best kept secret in the East Bay is minutes to Fremont, Pleasanton, Livermore and just off of 680. Enter into soaring 20 foot ceilings and breathtaking views as you walk into the formal living room with windows opening up to the back terrace. Spacious kitchen with a large island, pantry and eat in breakfast nook with more spectacular views! Beautiful tile and wood floors throughout the main living areas. Formal dining room, primary bedroom as well as two bedrooms with a Jack and Jill bathroom on the first level along with den and guest bathroom. Enjoy sunset views over Mission Peak on the back patio with an outdoor kitchen and lush landscaping.
There are currently no open houses for this property. Please contact
Ali Schneider
to schedule an appointment.