<![CDATA[ var dwellicious_data = { "address": "1708 East Street ", "city": "TRACY", "state": "CA", "zip": "95376-2701", "zip4": "", "area": "", "subdivision": "", "county": "", "price": "499000", "beds": "3", "baths": "1", "sqft": "1219", "lotsize": "6100", "yearbuilt": "1954-01-01", "proptype": "Residential", "mlsnum": "41008531", "active": false, "remarks": "Great starter home or investment property situated close to freeways, elementary, middle, high school, parks, shopping, and a hospital. In this 6100 sq/ft lot with a 1219 sq/ft living area includes a 3 bedroom, 1 bath, plus a non permitted bonus room that includes its own bathroom with a shower offers a great opportunity for expansion. One possibility is converting this home into 3 units (ADU + a JADU (ADU expert with pre-engineered designs and financing are available). With an open-floor space plan, the living, dining, and kitchen flow smoothly. The main living areas are covered in ceramic tile flooring for easy maintenance that helps to keep the house cool. All the interiors have been recently painted and new laminated hardwood flooring installed in the bedrooms. It has central heating and air conditioning. Lots of options with this home, let's help you create the spaces you want!", "photos": [ { "displayorder": 0, "url": "//cdnparap30.paragonrels.com/ParagonImages/Property/P3/MAXEBRDI/41008531/0/0/0/64ce2bd5a295bc1afcc5445f8efae07a/114/27cc1271bf6f420bf9487726540d5ad0/41008531.JPG", "caption": "" }, "displayorder": 1, "url": "//cdnparap30.paragonrels.com/ParagonImages/Property/P3/MAXEBRDI/41008531/1/0/0/cdfea433ebe2ae070058d8e08405ceda/114/27cc1271bf6f420bf9487726540d5ad0/41008531-1.JPG", "caption": "" }, "displayorder": 2, "url": "//cdnparap30.paragonrels.com/ParagonImages/Property/P3/MAXEBRDI/41008531/2/0/0/18f3360ba202d8a80d457054e677afcb/114/27cc1271bf6f420bf9487726540d5ad0/41008531-2.JPG", "caption": "" }, "displayorder": 3, "url": "//cdnparap30.paragonrels.com/ParagonImages/Property/P3/MAXEBRDI/41008531/3/0/0/b31b26906eb1a549adadb72db2eebf90/114/27cc1271bf6f420bf9487726540d5ad0/41008531-3.JPG", "caption": "" }, "displayorder": 4, "url": "//cdnparap30.paragonrels.com/ParagonImages/Property/P3/MAXEBRDI/41008531/4/0/0/869c758d072fb12d8ab2047895f42e85/114/27cc1271bf6f420bf9487726540d5ad0/41008531-4.JPG", "caption": "" }, "displayorder": 5, "url": "//cdnparap30.paragonrels.com/ParagonImages/Property/P3/MAXEBRDI/41008531/5/0/0/9280c03eb17fbe6fb288be49656b12c7/114/27cc1271bf6f420bf9487726540d5ad0/41008531-5.JPG", "caption": "" }, "displayorder": 6, "url": "//cdnparap30.paragonrels.com/ParagonImages/Property/P3/MAXEBRDI/41008531/6/0/0/0aa1febb90e1093ab5b95521eaef03d1/114/27cc1271bf6f420bf9487726540d5ad0/41008531-6.JPG", "caption": "" }, "displayorder": 7, "url": "//cdnparap30.paragonrels.com/ParagonImages/Property/P3/MAXEBRDI/41008531/7/0/0/f476df550e927c3a2d3bef561815089e/114/27cc1271bf6f420bf9487726540d5ad0/41008531-7.JPG", "caption": "" }, "displayorder": 8, "url": "//cdnparap30.paragonrels.com/ParagonImages/Property/P3/MAXEBRDI/41008531/8/0/0/3eba104e20c9ebbe8e12161a938b21af/114/27cc1271bf6f420bf9487726540d5ad0/41008531-8.JPG", "caption": "" }, "displayorder": 9, "url": "//cdnparap30.paragonrels.com/ParagonImages/Property/P3/MAXEBRDI/41008531/9/0/0/b49295ff3c1a7f5969e93ca1803a69ff/114/27cc1271bf6f420bf9487726540d5ad0/41008531-9.JPG", "caption": "" }, "displayorder": 10, "url": "//cdnparap30.paragonrels.com/ParagonImages/Property/P3/MAXEBRDI/41008531/10/0/0/798fd0d8183d8b8bc0316d2bd875a849/114/27cc1271bf6f420bf9487726540d5ad0/41008531-10.JPG", "caption": "" }, "displayorder": 11, "url": "//cdnparap30.paragonrels.com/ParagonImages/Property/P3/MAXEBRDI/41008531/11/0/0/7817c79f9a5496c46183991f3c2dfe0c/114/27cc1271bf6f420bf9487726540d5ad0/41008531-11.JPG", "caption": "" }, "displayorder": 12, "url": "//cdnparap30.paragonrels.com/ParagonImages/Property/P3/MAXEBRDI/41008531/12/0/0/c7064744e9b7762bd4e59d14d06e5bcc/114/27cc1271bf6f420bf9487726540d5ad0/41008531-12.JPG", "caption": "" }, "displayorder": 13, "url": "//cdnparap30.paragonrels.com/ParagonImages/Property/P3/MAXEBRDI/41008531/13/0/0/7b0c8076b9089348152454e09b3ea073/114/27cc1271bf6f420bf9487726540d5ad0/41008531-13.JPG", "caption": "" }, "displayorder": 14, "url": "//cdnparap30.paragonrels.com/ParagonImages/Property/P3/MAXEBRDI/41008531/14/0/0/d2250dbc6f293c634b21e07086d497be/114/27cc1271bf6f420bf9487726540d5ad0/41008531-14.JPG", "caption": "" }, "displayorder": 15, "url": "//cdnparap30.paragonrels.com/ParagonImages/Property/P3/MAXEBRDI/41008531/15/0/0/d22d2a7b11cb60d2b3ff5d517e575f2c/114/27cc1271bf6f420bf9487726540d5ad0/41008531-15.JPG", "caption": "" }, "displayorder": 16, "url": "//cdnparap30.paragonrels.com/ParagonImages/Property/P3/MAXEBRDI/41008531/16/0/0/926a5fbbe34d2f9f78376855b688ed4f/114/27cc1271bf6f420bf9487726540d5ad0/41008531-16.JPG", "caption": "" }, "displayorder": 17, "url": "//cdnparap30.paragonrels.com/ParagonImages/Property/P3/MAXEBRDI/41008531/17/0/0/5cfdf6666d55b342c2653c23d78e144f/114/27cc1271bf6f420bf9487726540d5ad0/41008531-17.JPG", "caption": "" } ], "agent": { "name": "Louis Montalvo", "phone": "510-706-7088", "email": "louis.a.montalvo@gmail.com" }, "broker": { "name": "eXp Realty of California, Inc", "phone": "", "email": "" } }; ]]>
1708 East Street
TRACY, CA 95376-2701

Click here for map
Residential Home
$499,000
1,219 Sq Feet
3 Bedrooms
1 Bathroom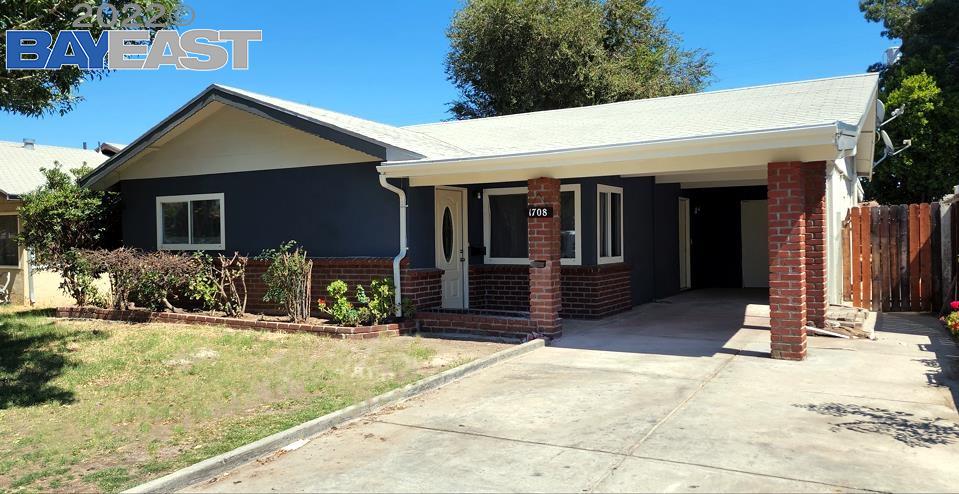 Listed by Louis Montalvo of eXp Realty of California, Inc
DRE# 01752596
Details:
Lot Sq Feet:
6,100
Fireplaces:
0
HOA?
No
Bank Owned?
No
Status:
Withdrawn
Remarks:
Great starter home or investment property situated close to freeways, elementary, middle, high school, parks, shopping, and a hospital. In this 6100 sq/ft lot with a 1219 sq/ft living area includes a 3 bedroom, 1 bath, plus a non permitted bonus room that includes its own bathroom with a shower offers a great opportunity for expansion. One possibility is converting this home into 3 units (ADU + a JADU (ADU expert with pre-engineered designs and financing are available). With an open-floor space plan, the living, dining, and kitchen flow smoothly. The main living areas are covered in ceramic tile flooring for easy maintenance that helps to keep the house cool. All the interiors have been recently painted and new laminated hardwood flooring installed in the bedrooms. It has central heating and air conditioning. Lots of options with this home, let's help you create the spaces you want!
There are currently no open houses for this property. Please contact
Louis Montalvo
to schedule an appointment.